NCF Nation:

Adrien Robinson
July, 20, 2011
7/20/11
11:00
AM ET
Time to rank the tight ends. This could end up being a position of strength in the league -- four of the eight teams have a player on the Mackey Award watch list, given annually to the best tight end in the nation.
[+] Enlarge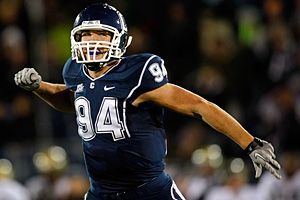 David Butler II/US PresswireRyan Griffin caught 31 passes for 245 yards and one touchdown last season.
1. Ryan Griffin, Connecticut.
No question he is athletically gifted and had a good season in 2010, catching 13 passes for 246 yards and a touchdown. But new offensive coordinator George DeLeone wants him to be pushed harder, to reach his full potential. Perhaps that is why
John Delahunt
also was listed atop the post-spring depth chart.
2. Nick Provo, Syracuse.
Provo has made himself quite valuable in the passing game, having caught 33 passes for 365 yards last season. Can he stay healthy all year?
3. Josh Chichester, Louisville.
Potential is a word that is thrown around a lot in these rankings. Going to use it again here with the 6-foot-8, 240-pound Chichester. It would not surprise me if he ended the season as the top tight end in the league. No question he is going to have a huge role in the Cardinals' offense, especially with questions in the receiving corps.
4. D.C. Jefferson, Rutgers.
Another player with mounds of potential, it is time for Jefferson to show why many believe he could be the best tight end in the league. Perhaps a new position coach in Brian Angelichio will help him live up to expectations.
5. Andreas Shields, USF.
Shields sits atop the post-spring depth chart following the loss of
Kevin Gidrey
. He did play in all 13 games last season and started the bowl game. He caught five passes for 74 yards and could be a bigger threat in the pass game this season.
6. Adrien Robinson, Cincinnati.
Robinson is not listed atop the Bearcats' post-spring depth chart, but I think he has the potential to win the job over
Travis Kelce
and
Blake Annen
(listed as No. 1 now). He is big, strong and athletic and needs to step up with
Ben Guidugli
gone.
7. Hubie Graham, Pitt.
Another player with potential after transferring from Illinois, Graham will play more of an H-back/tight end position and should have more of a role in the passing game than
Brock DeCicco
. Todd Graham likes them both.
8. John Delahunt, UConn.
There is a reason he is pushing Griffin for the starting job. Delahunt caught five passes for 76 yards, has good hands and is a good blocker. No question the Huskies have the best depth in the league.
Previous rankings:
July, 18, 2011
7/18/11
9:00
AM ET
I had a chance to catch up with Cincinnati quarterback
Zach Collaros
to find out how the offseason is going, what he thinks of all the pub going to
Geno Smith
and how he good he thinks this offense can be this season.
AA: What have been the biggest things you have worked on this offseason?
ZC:
We're running a lot as an offense, working hard on tempo, getting lined up faster, working on execution, working with receivers, getting our timing down on routes, doing 7-on-7s. As a senior class, we've taken it upon ourselves to lead the activities. We've embraced the role of leadership, we've had a positive summer, and grown closer as a team. Hopefully that translates onto the field.
[+] Enlarge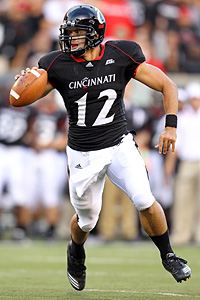 Andy Lyons/Getty ImagesZach Collaros threw for 2,902 yards and 26 touchdowns last season.
AA: How about you? How have you improved this summer?
ZC:
Physically, it's the best I've felt in a long time. We're in great condition -- the strength coaches always have us in great condition. In terms of football, I'm working on things that translate onto the field -- getting the ball off, not taking sacks. A big factor in summer is watching film, not just on the first two games, but stuff you did last year in ways you can improve. It hasn't been just me. Others have gotten after it in that aspect and that's going to help.
AA: A lot of people are talking about Geno Smith as being the best quarterback in the Big East. How do you feel when you hear that?
ZC:
I love being counted out. I've always looked at myself as an underdog. It adds that extra motivation you need more after coming off the season we had last year. It adds fuel to the fire, and reason to work harder, people doubting you.
AA: You lost Armon Binns, so who is going to step up in his place?
ZC:
Losing Armon hurts. He was a comfort zone for me. We came in together, we grew up together in the program, so losing him will take away that comfortability for me.
Anthony McClung
, Kenbrell [Thompkins],DJ [Woods] -- I can't say enough about how they've come in and taken over the leadership role. We don't miss a beat when it comes to 7-on-7s. They're working hard, setting a good example for the younger kids. All three of those guys did a great job with that, along with them, OJ Woodard is working hard as well. As for the tight ends,
Travis Kelce
is back on the depth chart now, of course
Adrien Robinson
is still here,
Blake Annen
is here. It all starts up front, though; those guys up front have been doing a great job.
AA: What gives you the confidence to know your offensive line is going to be better?
ZC:
Alex Hoffman has taken the lead with that group, as well as Randy Martinez. Those are two great guys in the program, great leaders for the younger guys. They're helping them to develop, and I'm very confident in those guys. It all starts with them. If they can protect and run block, the offense has a nice feeling.
AA: Given all the potential, what are your expectations for the offense?
ZC:
I think it's the same as it was last year. We had a lot of potential, and we had a lot of high expectations. High expectations are a good thing because you want to reach those expectations. We didn't last year. Turnovers killed us and not scoring touchdowns and kicking field goals and all that stuff. It comes down to execution. The experience will help me.
AA: How do you work on cutting down those turnovers?
ZC:
It all starts with the quarterbacks. I have to cut down on the interceptions. I had a lot of them last year coming from behind, forcing too many balls in there. Me making better decisions is what it all starts with. We fumbled a lot last year, which you can't do. If we cut back on that, we're going to have a really good season. In practice every day, we have a five-minute period dedicated to ball-security drills. I think some of it was unlucky last year. The balls didn't bounce our way. We want to change that this year.
AA: Defense was the weak link, though. How is that unit going to be better?
ZC:
Well, they're all returning, which is a good thing. They all have a year of experience and are sick of people telling them they were the weak link and stuff like that. They want to be better. We have great leaders like JK [Schaffer], Cam Cheatham has stepped up. They're good football players. I know they work very hard in the weight room, they're watching film and I have a lot of confidence the results on field are going to be much better this year.
AA: What goals have you set for yourself this season?
ZC:
I just want to win more games, get back to a bowl game and win the Big East. For myself, I want to have a higher completion percentage, to be in the 64, 65 percent range. As long as I can lead my team to wins. I want my teammates to look at me as a leader. If I can accomplish that, I will be happy.