NCF Nation:

Adron Tennell
January, 28, 2011
1/28/11
9:00
AM ET
ESPN the Magazine had a fascinating feature
looking back at the past 25 No. 1 high school recruits
, where they are now and what the ranking meant to them. With apologies to Vince Young, there aren't a ton of Big 12 talents on the list, but there have been plenty of great recruits to come through the Big 12. We took a look on Thursday at
how the All-Big 12 team stacked up as recruits
, and you saw quite a mixed bag.
Well, it's the same for the recruits who came to campus with high rankings and high profiles. Going back to 2006, here's how every Big 12 commit from the ESPNU 150 turned out. We'll look at 2006 in this post before eventually reaching 2010 and the current class, 2011, by signing day.
2006
No. 6: DeMarco Murray, RB, Oklahoma.
Murray set the school records for touchdowns (64) and all-purpose yards (6,498) as a Sooner. He's projected to be drafted on the first day of this year's NFL Draft.
No. 7: Sergio Kindle, OLB, Texas.
Kindle was a finalist for the Butkus and Hendricks Awards and was a two-time All-Big 12 performer with 176 career tackles. He was drafted by the Baltimore Ravens in the second round last year's NFL Draft, but missed his rookie season after fracturing his skull in a fall on the stairs at his home.
No. 13: Jevan Snead, QB, Texas.
Lost a quarterback battle to Colt McCoy following the 2005 season. Played sparingly as a freshman before transferring to Ole Miss. Went undrafted in 2010. Now plays for Arena League's Tampa Bay Storm.
No. 21: Gerald McCoy, DT, Oklahoma.
McCoy was a Lombardi finalist, a three-time All-Big 12 performer, a two-time All-American who left Oklahoma after his junior season and was selected No. 3 overall by the Tampa Bay Buccaneers in the 2010 NFL Draft.
No. 22: Eddie Jones, DE, Texas.
Jones just finished his career at Texas with an All-Big 12 honorable mention year in 2010. Finished his career with 111 tackles and 13.5 sacks.
No. 34: J'Marcus Webb, OT, Texas.
Webb played one year at Texas before transferring to Navarro College and eventually West Texas A&M. He was drafted in the seventh round of the 2010 draft and spent the season with the Chicago Bears.
No. 36: Adron Tennell, WR, Oklahoma.
Tennell finished his four-year career at Oklahoma with 40 catches, 505 yards and five touchdowns.
No. 42: Dustin Earnest, LB, Texas.
Earnest finished his career in 2010 with 84 tackles and a sack for the Longhorns.
No. 45: Mike Goodson, RB, Texas A&M.
Goodson was the Big 12 Freshman of the Year in 2006 with his career high 847 yards. He finished with 1,966 yards and 13 TDs in three seasons before being drafted in the fourth round by the Carolina Panthers.
No. 67: Phillip Payne, WR, Texas.
Caught his first career pass in 2009, his third year at UT, before transferring after the season.
No. 75: Derek Burton, DE, Oklahoma State.
Started 15 games in four years for the Cowboys, recording 67 career tackles.
No. 82: Ben Alexander, DT, Texas.
Made four career starts, with 51 tackles and half a sack in 38 career appearances.
No. 104: Terrance Anderson, CB, Oklahoma State.
Made 96 tackles in four years with the Cowboys. Had four career interceptions.
No. 110: Jonathan Nelson, CB, Oklahoma.
Started all 14 games in 2010 for the Sooners after earning All-Big 12 honorable mention as a junior in 2009. Finished career with 155 tackles and five interceptions.
No. 111: Jermaine Gresham, TE, Oklahoma.
Caught 111 passes for 1,629 yards and 26 touchdowns in three seasons, including an All-American season in 2008. Missed all of 2009 with knee injury. Drafted No. 21 overall in the 2010 draft by Cincinnati Bengals.
No. 137: Jeremy Beal, DE, Oklahoma.
Had 224 tackles, 58.5 tackles for loss, and 29 sacks in four seasons, including three All-Big 12 seasons, an All-American season and was a Hendricks Award finalist in 2009. Projects as middle-round pick in 2011 NFL Draft.
No. 141: Josh Freeman, QB, Kansas State.
Threw for 8,078 yards and 44 touchdowns and 34 interceptions in 35 career games. Also ran for 404 yards and 14 touchdowns as a junior. Drafted No. 17 overall by the Tampa Bay Buccaneers in the 2010 NFL Draft.
November, 27, 2009
11/27/09
9:35
AM ET
By
Tim Griffin
| ESPN.com
Oklahoma State cornerback/punt returner Perrish Cox can't wait for Bedlam.
The Cowboys have a strong chance to qualify for their first BCS bowl in school history with an impressive win Saturday at Oklahoma.
[+] Enlarge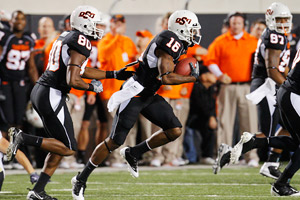 AP Photo/Sue OgrockiPerrish Cox returned a punt 67 yards for a touchdown against Colorado.
Cox has developed into one of the Big 12's most productive players. He leads the nation in passes defensed per game (1.9) and ranks among the top five in the Big 12 in punt return average (11.3 yards per return), kickoff return average (21.5 ypr) and interceptions per game (0.4).
We caught up with Cox earlier this week to talk about the development of his team's defense, his strong recent play and how important it would be to Oklahoma State to make a trip to a BCS bowl during his senior season.
What's this season been like? Could you have ever imagined your team going 9-2, considering you've lost Orie Lemon and Jamal Mosley for the entire season and Dez Bryant and Kendall Hunter for large parts of it?
Perrish Cox:
Truthfully, I don't know if I could have imagined it. But it's something you have to live with and improve as you go. We might have looked at this team a little differently at the start of the season. But we've tried to play hard to overcome everything that's happened to us.
Where does the resiliency your team has shown this season come from?
PC:
I can say that we have good leadership and leaders who know what to say and what to show to young players. We never quit and when you do that, anything can happen. We've had a lot of different people step up and make big plays for us. And our leadership from across the board has helped us out.
It's kind of a little weird the role reversal in this week's game against Oklahoma. You guys are the one needing a win to get to the BCS game and they are the one needing a win for bowl momentum. Is that a little unusual to you?
PC:
It would be huge for us in a lot of ways. First of all, a lot of people look at Oklahoma State as stepbrothers to OU. It would be great for us to leave the seniors with a win over them and get bragging rights.
The Cowboys are going to face the huge challenge of Oklahoma's nation-best 29-game home winning streak. How do you think you'll be able to combat that?
PC:
I guess their home-field advantage is pretty big and they have a different mind frame and thought to everything when they play there. You battle a little harder when you're trying to protect your home field. But getting a victory would be pretty big to all of us. It's something that would really help this program.
You've had a strong season, leading the nation in passes broken up. But it seems that some teams have been unwilling to test you in recent weeks. Is that a little disappointing?
PC:
It's kind of hard to stay focused sometimes. I get a laugh sometimes when I don't get much action. You just play your game, keep trying to do what you have to do. Sometimes, I get a chance to go against the best receiver. I just try to stay focused and stay ready when my time comes around.
Oklahoma will test you with some pretty good receivers in Ryan Broyles, Adron Tennell and Dejuan Miller. Is your secondary ready for them?
PC:
It will be a big challenge to go against them because they will have some pretty good receivers. We just have to stay focused on doing what we can to stop them. I think we'll be ready.
Are you surprised that Oklahoma has struggled so much this season?
PC:
It's shocking to see how their season is going for them and for them to be 6-5. That doesn't usually happen to them. But our goal was to go out with a bang and get to a BCS bowl. That was one of our bigger goals this season. And we have the chance to do that on Saturday.
You've become one of the most accomplished special-teams players in the league. Why have you become so proficient running back kicks?
PC:
Special teams are a big part of winning games and I want to be a part of it. You just have to think you can do it. It's always been a big thing around Oklahoma State and was something they talked to me about before I even got here. That's been my focus going forward.
Saturday's game will be your last regular-season game. Does it feel like the time has gone by quickly during your career?
PC:
Actually, it does. When I first got here, the seniors all told me it would go by very quickly. As you have your career, you don't think much about it until it's about time to leave. I'm about time to leave. It's kind of sad because it went so quick.
Your new defensive coordinator, Bill Young, has come in and helped transform this defense. What has his presence meant to your team and your defensive unit?
PC:
He means a lot and he's a little different from our old defensive coordinator, Tim Beckman. He was the kind of guy you didn't want to mess up because there was all that yelling and cursing he would bring. But Coach Young is a little different. He lets us do what we do and play straight. He'll get on you, but it's a little more measured. I think we've responded to it.
Another big improvement you've seen this season has been the work of your defensive line. How has that helped your secondary's play?
PC:
Our defensive linemen have never gotten to the quarterback like they have this season. The numbers overall are better for defense across the board and that's a big reason. We can play comfortable in the back end. In the years before this one, we would have to stay in our coverage from five to eight seconds. That's tough to play good defense for so long and to stick with the receivers while they are scrambling around. This year our defensive line has stepped up and really taken the pressure off of us.
There's been a lot of speculation that your team could end up in the Fiesta Bowl if you can win Saturday. What would it be like for you and the seniors to finish your career playing in a game like that?
PC:
I would feel like I've accomplished almost every goal we've set. The main thing we wanted to do is go to the national championship game, or at least a BCS bowl. We had talked about making it to the Big 12 championship, but if we can't do that, we'd rather go to a BCS game. For my class to be the ones to be able to help accomplish that would really give us something to leave school very proud about.
Posted by ESPN.com's Tim Griffin
Nothing like a couple of stunning upsets to turn around the order of the Big 12's power rankings -- at least everywhere but at the top.
1. Texas:
The Longhorns are cruising to their first Big 12 title with the biggest speed bump approaching at Oklahoma State. Texas stumbled in a similar situation last season at Texas Tech in the same position of the season, but appear more grounded this time.
Colt McCoy
had his best game in recent times and the self-proclaimed "Goon Squad" defense knocked another starting quarterback out of the game for the third straight week.
2. Oklahoma State:
Mike Gundy has been awaiting Texas' visit all season. The Cowboys don't have the weapons they were expecting at the start of the season without
Dez Bryant
and
Kendall Hunter
, but have made strong defensive growth under Bill Young the past several weeks.
3. Oklahoma:
An impressive victory at Kansas has to boost
Landry Jones
' confidence heading into Kansas State's visit. Jones' help is in place after
Ryan Broyles
(11 receptions) and Adron "Pooh" Tennell (six grabs) both produced career highs in catches against the Jayhawks. And the Sooners' defense was as salty as expected, snuffing out Kansas' strong offense.
4. Kansas State:
Who can believe the Wildcats are ranked this high? Not after their 3-1 Big 12 start that represents their best since 2000.
Daniel Thomas
produced a career-best 145 rushing yards, but the big story was the Wildcat defense, which forced four Colorado turnovers and has notched 10 sacks in the past two games. The Wildcats produced six sacks in the first six games of the season.
5. Iowa State:
Unbelievably gritty performance by coach Paul Rhoads' team, which beat Nebraska despite not having starting quarterback
Austen Arnaud
and leading rusher
Alexander Robinson
. The Cyclones have yielded only 17 points in their last two games -- the fewest in a two-game period since 1978. It won't get easier for them as they travel to suddenly resurgent Texas A&M, but the stunner in Lincoln makes the Cyclones appear to be a good bet to become bowl-eligible, as they need only one more win.
6. Kansas:
It appears the Jayhawks have been exposed after playing a pillow-soft nonconference schedule and then jumping into Big 12 play with recent back-to-back losses. Championship dreams appear flickering at best, and a bowl game shouldn't be presumed as a certainty, considering the Jayhawks play one of their last five games at home the rest of the season.
7. Nebraska:
Wasn't this team supposed to be the North favorite after the conference-opening victory over Missouri? Those thoughts have dissipated in the last two weeks with embarrassing home losses. The Cornhuskers were minus-8 in turnover margin, including four inside the Iowa State 6-yard line that doomed their chances of winning. And for all of the talk about
Cody Green
challenging for the quarterback job, Bo Pelini and Shawn Watson seem hesitant to pull the trigger and put the freshman in the lineup in place of
Zac Lee
.
8. Texas A&M:
It was the most satisfying victory in Mike Sherman's tenure at A&M as the Aggies whipped Texas Tech in the trenches for a convincing road win. The biggest reason was the Aggies' energized offensive line play, which enabled them to pile up a season-high 321 rushing yards. The maligned A&M defense allowed 520 yards, but forced three fumbles, intercepted two passes and held on fourth down twice.
9. Texas Tech:
Mike Leach was in rare form after his team's upset loss to Texas A&M, where he stated it would be easier to coach the Swedish bikini team than the Red Raiders. Of course, he's right after the way that Tech collapsed from A&M's rushing game. And a record crowd at Jones AT&T Stadium spent most of the second half booing
Taylor Potts
-- at least for those who were left. Potts' struggling performance and
Seth Doege
's relief work might lead to another quarterback switch against Kansas.
10. Missouri:
As much as the Tigers have struggled so far this season, they could surge back into contention in the wacky North Division with a late charge. To do so, they need get some more offensive production after being limited to 225 yards or less in two of their first three conference games and being outscored 101-36 -- the lowest three-game period of point production in coach Gary Pinkel's tenure. Their comeback starts against Colorado on Saturday.
11. Colorado:
Offensive momentum has been impossible to generate for the Buffaloes, who scored on their first drive against Kansas State and then didn't cross midfield until less than 6 minutes remained in their loss to the Wildcats. Coach Dan Hawkins inserted his son, Cody, back into the lineup to try to spark the offense. It didn't work.
Rodney Stewart
struggled for 49 rushing yards and never could balance the Buffaloes' pass-heavy offense. The defense played strongly against Kansas State, but in the end couldn't escape the poor field position it was forced to defend throughout the game.
12. Baylor:
The season that could have been haunts Baylor fans. No Robert Griffin means that the Bears seem to be playing out the season. The offense has sputtered in Big 12 play without Griffin, scoring 24 points in their last three games. It won't get any easier on Saturday when Nebraska, hungry for a win to boost it back into North title contention, will visit Waco.
September, 9, 2009
9/09/09
3:26
PM ET

Posted by ESPN.com's Tim Griffin
Despite the dire straits their team is facing, Oklahoma players still can joke with new starting quarterback
Landry Jones
about the growing fame of he and his mustache.
| | |
| --- | --- |
| | |
| | Tim Heitman/US Presswire |
| | If Landry Jones was nervous about taking over for Sam Bradford, he didn't show it versus BYU. |
The redshirt freshman will replace Heisman Trophy winner
Sam Bradford
for the foreseeable future. And the Sooners' new quarterback's facial hair is providing some levity for his teammates following the loss of Bradford and tight end
Jermaine Gresham
.
"We tease him about the mustache all the time," Oklahoma tackle Trent Williams said. "I'm predicting before the year is over, he'll shave that thing off."
His teammates have quickly gravitated to the redshirt freshman who has been pressed into duty after Bradford's shoulder injury last week against BYU.
Despite Bradford's absence, Jones is confident in his abilities for as long as he is needed.
"It's very unfortunate, but right now we have to move on and I have some huge shoes to fill," Jones told reporters earlier this week. "So I have to pick my game up as well."
His teammates have said that Jones reminds them of Bradford when he was younger because of his size, football acumen and his demeanor around his teammates.
"Landry is a laid-back dude," senior wide receiver
Adron Tennell
said. "He's a very easy-going guy. And with him now, when he talks we all listen."
Jones' first taste of action was a mixed mag in the Sooners' season-opening loss to BYU, as he completed only 6 of 12 passes for 51 yards. But the Sooners didn't turn the ball over with him in charge and he didn't make a bad throw.
Oklahoma coach Bob Stoops was particularly pleased with Jones' reaction after he took over the team.
"He couldn't have handled it better," Stoops said. "I didn't see him flinch once."
During a heralded career at Artesia (N.M.) High School, Jones led his school to two state championships and threw 89 touchdown passes in his two seasons as a starter. He was an Under Armour ESPN All-American, a Parade All-American and the New Mexico Gatorade Player of the Year.
He's brings a similar skill set as Bradford, without nearly the experience. His work as a redshirt gave him a slight edge over freshman
Drew Allen
for the backup job in training camp.
"I have no doubt he'll do a good job," Tennell said. "No matter what quarterback is out there, we'll try to make it easier for him. We've just got to do a better job of catching the ball."
The Sooners likely won't be tested as much against Idaho State, an FCS school that started the season with a 50-3 loss at Arizona State. But it will still test Jones' confidence, which has grown with his experience.
"I feel really comfortable now," Jones told reporters earlier this week. "I have a year under my belt. I kind of have all my checks down and have a feel for the tempo. So I feel really good."
No coach in the Big 12 has traditionally been able to circle the wagons in times of adversity like Stoops.
The Sooners claimed the Big 12 championship in two of the last three seasons after early-season losses to Texas. In 2006, they overcame the training camp loss of Rhett Bomar after he was kicked off the team. Later that season, Stoops coached around the injury of Adrian Peterson for the second half of the season and still won the Big 12 championship.
"Our guys know we expect whoever's out there to do well," Stoops said. "You have to move forward and play with the guys you have. Just like with all of the other injuries, somebody's got to step up and play. That's what a team does."
August, 14, 2009
8/14/09
5:50
PM ET
Posted by ESPN.com's Tim Griffin
NORMAN, Okla. -- Oklahoma coach Bob Stoops thinks that Heisman Trophy winner Sam Bradford has come back noticeably improved for his junior season.
Bradford broke Oklahoma single-season records with 50 touchdown passes and 4,720 passing yards last season, but he appears to have more confidence and a better deep arm after the first week of Oklahoma's practices.
| | |
| --- | --- |
| | |
| | AP Photo/Sue Ogrocki |
| | Sam Bradford has added 10 pounds on his frame since last season. |
"He's strong, he's quicker and the ball comes out that much faster," Stoops said. "With another year of experience out on the field, he'll think much quicker, too."
Bradford appears noticeably bigger after adding 10 pounds of muscle since the end of last year.
"Sam is getting better each and every day," senior wide receiver Adron Tennell said. "Throwing the ball, rolling out of the pocket, he's done it all. You can tell he's better than before."
Stoops said there's little separation between his backups who are playing behind Bradford at quarterback.
Redshirt freshman Landry Jones was presumed to have the edge, but redshirt freshman Ben Sherrard, junior John Nimmo and freshman Drew Allen all are in the mix for playing time.
"Those guys are still splitting their reps," Stoops said. "We keep snapping the ball and giving them experience. They are working well together and doing a nice job."
Sophomore defensive back Jamell Fleming has been hobbled by a back injury and sophomore defensive back Desmond Jackson "has an issue with academic misconduct" that he's working through, Stoops said.
Oklahoma's special teams have looked strong in recent practices. Kicker Jimmy Stevens showed improved range at Thursday's open practice with field goals of 50 and 53 yards.
Stevens' length is a big development for the Sooners. His longest kick last season was 42 yards and he shanked five extra points.
Stoops playfully chided about 300 fans who attended the Sooners' open workout Thursday night that they weren't cheering loud enough for Stevens' big kicks.
"They only cheer when there's an offensive play," Stoops said. "When the defense intercepts the ball they are quiet over there or when the kicker gets a nice 53-yard field goal."
One of the early revelations of fall practice has been wide receiver/punter Cameron Kenney, a transfer from Garden City Community College.
Kenney has jumped into the mix at wide receiver and also is challenging for the punting position against Tress Way. It's a weird combination of a speedy wide receiver who also is a strong punter.
"He's pretty good," Stoops said. "He's shows a lot of signs (as a receiver), but he needs to be more consistent, but he's doing a lot of good things.
"He's punted well, too. It's very rare because you don't see a lot of wide receivers who can punt the ball 40 yards like he can."
Oklahoma receivers coach Jay Norvell said that Kenney reminds him of former Oklahoma wide receiver Juaquin Iglesias because of his combination of size and strength.
"It's because of his quickness, his way of getting in and out of plays and the fact he's very strong to the ball," Norvell said. "Cameron can also run well after the catch. He's a hard worker and the guys who work the hardest get better faster."
Despite the loss of key playmakers like Iglesias, Manny Johnson and Quentin Chaney from last season, Norvell thinks his current group has the chance to be better than last year's productive group.
The emergence of Kenney, Tennell, Ryan Broyles, Jameel Owens, Brandon Caleb, Dejuan Miller and Mossis Madu has provided the Sooners with a deep cast of productive receivers.
"I think we're more athletic and explosive than we were last year," Norvell said. "Whether that will correlate into productiveness, I'm not sure. But we have athletes and in that respect we probably have more deep threats than we did last year."
July, 25, 2009
7/25/09
10:19
AM ET
Posted by ESPN.com's Tim Griffin
Happy Friday afternoon. Here are some of the better questions and e-mails that I received this week.
Brian Kimble of Beltsville, Md., writes: After seeing the preseason All-Big 12 list and looking back at several articles from you and other sources, it seems every time Oklahoma and Texas are compared position by position, player by player, it favors OU. Yet, most prognosticators (yourself included) pick Texas as the better team. What is your justification?
Tim Griffin: Brian, I give Texas a slight edge for a couple of reasons. First, I think Oklahoma's loss of four starters along the offensive line is huge. With only one starter returning, the Sooners will have their work cut out to fix that by Oct. 17 at the Cotton Bowl. And I, along with several other people I've talked to, believe that Texas is entering the season with a kind of a collective chip on its shoulder from how the 2008 season played out. The Longhorns' coaching staff is helping to feed that by at one time awarding the team an asterisk-influenced share of the Big 12 title in their team meeting room before taking it down. And I also think that Colt McCoy is driven to win a championship.
I think the difference between the two teams is very, very slight. But I favor the Longhorns by a hair for those reasons.
I do reserve the right to change my mind before game day. But if they were playing today, I would make the Longhorns a slight favorite, say by about a field goal.
---
Drew Kappel of Orange County, Calif., writes: Hey Tim, I was shocked to see that "The Catch", the Kordell Stewart-to-Michael Westbrook pass in the famous "Miracle in Michigan" was not on your Big 12 greatest moments. Did I miss something? I was waiting for that every week and I just assumed it would be number 1, and then I was shocked when it wasn't. That is one of the most famous moments in Big 12 history as far as many Buff fans are concerned.
Tim Griffin: Drew, I limited my choices to moments during the history of the Big 12. The "Michigan Miracle," which I agree was one of the greatest plays in college football history, took place on Sept. 24, 1994 -- a little more than two years before the first Big 12 game was played in 1996.
But it was a great play and definitely would have merited some kind of inclusion if I had allowed all plays in the history of each Big 12 school to be included.
But it was tough enough narrowing my choice to 25 with those in Big 12 history. I couldn't have imagined how difficult it would have been if I had to cull through every school's football history looking for memories.
Maybe I'll do that next summer.
---
Spencer from Oklahoma writes: Tim, I'm a fan of yours and enjoy reading your blog, including the latest entry regarding 100-yard receivers and rushers and 300-yard passers. I noticed something from that study, and I wondered what you thought of this.
I saw that Sam Bradford had 13 games of 300 yards. However, there were only two instances of receivers at Oklahoma having 100-yard games. One belonged to Ryan Broyles, the other to Jermaine Gresham. I found this astonishing.
The other QB to have 13 300-yard games was Kansas' Todd Reesing. However, notice the instances of 100-yard receivers for the Jayhawks. They have 15!! Dezmon Briscoe had seven, Kerry Meier had five and three others had one 100-yard game apiece.
Is this surprising that Oklahoma has only had two receivers with a single 100-yard game among its receivers, despite the passing numbers put up by Bradford? And does this speak to the versatility of Bradford using all his outlets? What are your thoughts?
Tim Griffin: My list includes only players who are returning for the 2009 season. What it might speak to even more than anything were the losses that the Sooners endured with the departure of Juaquin Iglesias and Manny Johnson. Iglesias had seven career 100-yard receiving games, including three last season. Johnson had three career 100-yard receiving games, including two last season.
But I've noticed that Bradford has matured, he seems to be less likely to focus on one receiver. I think that results in a wider inclusion of many receivers into his offense rather than one or two. And that results in the fewer number of 100-yard receivers around the Oklahoma program.
That being said, I look for Broyles to really emerge as a deep threat this season if he can stay healthy. And Adron "Pooh" Tennell looked ready to produce after a strong season. And I think both can develop into consistent big-yardage receivers if they grab enough passes.
---
Tim from New York City writes: I have a question that has Big 12 (actually Big 8) ties regarding a coach outside of the conference. Given Turner Gill's recent success at and brief turnaround of one of Division I's ultimate projects at Buffalo, is it a long shot to believe that he may make a return to his former conference? If so, what teams would make a good fit for him?
Tim Griffin: Turner Gill has done a masterful job in rebuilding Buffalo after leading the Bulls to the Mid-American Conference championship and the International Bowl last season.
That strong job obviously has to have caught the attention of his old coach, Tom Osborne, which would make some think that Nebraska would be a place he might end up as a head coach. For that to happen, Bo Pelini would have to go on to another job. I think Gill might need a tad more more seasoning at Buffalo. And I don't see any interest in Pelini pursuing any other jobs at this time.
Another job that will come open probably pretty soon will be Kansas State, where there's no indication that Bill Snyder is in the head coaching position for the long term. Maybe Snyder, who turns 70 on Oct. 7, will stay at his old school for two or three years. It would be interesting if Gill would be attracted to Kansas State and if the Wildcats would be attracted to him.
I think the job that would make sense to him would be at TCU in his hometown of Fort Worth, Texas. Obviously, Gary Patterson would have to being going somewhere and I don't know how much interest Patterson has in pursuing other jobs at this time.
But I personally think that TCU might be the best non-BCS job in the country. And it might be better than some jobs in the Big 12. The reason I consider this job so highly include its proximity to the fertile Texas recruiting area, the developing facilities at the school, the school's winning tradition and its conference affiliation.
Patterson currently has an easier road to the BCS in his own conference than he would if the Horned Frogs were playing in the Big 12. And I think he knows it.
But I would also think the chance to return home for Gill would be attractive if the opportunity to accept the TCU job if it ever materialized for him.
---
Rick Yarbrough from Tripoli, Libya, writes: Football over here is with a round ball and guys in shorts. I'm gonna miss the fall afternoons watching the Longhorns running up and down the field. With a Sunday - Thursday work week and 7 hours time difference, I'm looking to you to keep us up to speed on the Longhorns. Keep up the great work. I'll be catching your blog.

Tim Griffin: Rick, thanks for your work. Please check the blog often during the upcoming season for some updates of home on a pretty regular basis. It should be an interesting season.
And boy, do I envy your days off. You should be able to catch almost every college football game from everywhere, depending on the satellites.
---
Larry Soper writes: Tim: Nice article on Taylor Potts on ESPN.com earlier this week. Could you please tell me what the Texas Tech receivers look like for Potts with Michael Crabtree gone?
Tim Griffin: Obviously, the loss of two-time Biletnikoff winner will be a big one for Texas Tech. But I think the Red Raiders actually will be more balanced this season without one player commanding most of the catches like Crabtree has done for the last two seasons. I look for Detron Lewis to step up in the featured role with a chance to catch 90-100 balls if he can stay healthy. But I've always liked Edward Britton, who I think could really blossom if he matures in his role in the offense. I think the same could be true for Tremain Swindall as well. And I know that Mike Leach has always raved about Lyle Leong and Adam James as they have played in his system.
I wouldn't look for one player to catch most of the passes for Tech this season. But it will be interesting to see who Potts gravitates to as his receiver. We'll see that as the season plays out for the Red Raiders.
---
Tom Bates from Oklahoma City writes: Hey, Tim, I know media day is coming up for you. I wonder if you would list your favorite three players and three coaches in the Big 12 to talk with. And maybe give a reason why you find those guys to be the best interviews.
Tim Griffin: As far as players go, this would be my list. 1. Sean Weatherspoon, Missouri - Always has something interesting to say. 2. Gerald McCoy, Oklahoma - I can see why Sooner players have gravitated to him since his arrival. He's a leader and his words command respect. 3. Kerry Meier, Kansas - Polished and well spoken. He could have a career behind the microphone after his playing days are over.
As far as coaches, this is how I would rank them: 1. Texas Tech coach Mike Leach - You never know what know what he's going to say. And that's the beauty of him. 2. Baylor coach Art Briles - Still has enough small-town Texas high-school football coach in him to always have some interesting comments. 3. Colorado coach Dan Hawkins - I never had heard the word "conflama" before I met the Hawk. But it's grown in my vocabulary since being around him to describe the combination of conflict and drama.
I also loved his comment on taking his wife to an Abba concert during the 2007 season. "You stay married for 25 years by making sacrifices."
We could all learn from that attitude, I guess.
Have a good weekend. I'll catch up with you on Monday from the Big 12 media days in Irving, Texas. Thanks again for all of the good questions and please keep them coming.
March, 12, 2009
3/12/09
9:27
AM ET
Posted by ESPN.com's Tim Griffin
NORMAN, Okla. -- Considering all of the key receivers that left Oklahoma's team after last season, it's understandable why some aren't sold on the Sooners' returning talent at the position.
Leading returning receiver Ryan Broyles doesn't mind that at all. In fact, Broyles actually likes that many are considering his receiving corps as one of the Sooners' biggest positional question marks.
| | |
| --- | --- |
| | |
| | Stephen Brashear/Icon SMI |
| | Ryan Broyles will be one of quarterback Sam Bradford's go-to guys in 2009. |
"We've all been doubted around here before," Broyles said. "We just want to rise to the occasion and show what we can do when we get the chance."
The Sooners must replace playmakers Manuel Johnson, Juaquin Iglesias and Quentin Chaney from last season. That trio combined to produce 145 receptions, 2,368 yards and 21 touchdowns to spark an explosive passing game that catapulted Sam Bradford to the Heisman Trophy.
Their departure is expected to hamstring the Sooners' vertical passing game in Bradford's third season as a starter. But it's also bolstered the confidence of several players who are figuring that it's now their time to shine.
No player has been more vociferous this spring as 6-foot-4 senior wide receiver Adron Tennell, a senior who is poised to emerge as one of the Sooners' likely deep threats.
"I feel like I'm back in high school. I'm unstoppable and nobody can touch me," said Tennell, who has produced only 16 catches in the first three seasons at Oklahoma after struggling with a knee injury and talented teammates in front of him.
Tennell, known as "Pooh" by his relatives since childhood, arrived at Oklahoma as the most-heralded receiving recruit in recent history. One scouting service had him ranked as the third-highest recruit in the 2006 recruiting class, behind only Florida's Percy Harvin and USC's Vidal Hazelton.
But Tennell's development was stunted after he injured his knee on special teams late in his sophomore season against Texas Tech. The injury caused him to miss all of winter conditioning and spring practice before last season.
As the other players developed, Tennell's playing time diminished. He produced only nine catches for 68 yards last season.
"Being behind all of those guys who were here before me, I was hoping I'd get to play," Tennell said. "But when I didn't, I got anxious about having to sit and watch. Now, I'm trying to shine when I get my chance."
August, 19, 2008
8/19/08
11:01
AM ET
Posted by ESPN.com's Tim Griffin
New Baylor coach Art Briles is facing the challenge of his coaching career as he attempts to resuscitate a program that hasn't made a bowl trip since 1994.
The Big 12's South Division will never be a picnic for the Bears, who face the yearly challenge of playing schools like Texas, Oklahoma and Texas Tech.
So it's understandable that a relatively problematic quandary like picking his starter for the Aug. 28 opener against Wake Forest isn't that big of a deal for the new Baylor coach.
Briles has a lot of ways to go in deciding whether to start record-breaking QB Blake Szymanski, transfer Kirby Freeman from Miami or heralded freshman Robert Griffin as his starter.
All have shown flashes in training camp.
Waco Tribune-Herald beat writer John Werner thinks Briles' wavering as far as choosing a quarterback is a good idea. It will make Wake Forest coach Jim Grobe prepare in a lot of different ways when he considers whether Szymanski (the better passer), Griffin (most explosive runner) and Freeman (best combination quarterback and most experienced) will get most of the snaps.
I agree with Werner on this. Indecision might be the best decision for the next couple of weeks. And maybe even up to game time against the Demon Deacons.
Hope there's no hesitancy in diving into this steaming pile of hot links. Dig in, because dithering means you miss out.