NCF Nation:

Air Force Academy
October, 15, 2011
10/15/11
7:05
PM ET
FORT COLLINS, Colo. -- Boise State president Bob Kustra said Saturday his school
has not received an inviation from the Big East
, and has only had informational discussions with league officials.

Shortly before the Broncos played their first Mountain West game against Colorado State, Kustra addressed numerous reports that his school was a Big East target.
"They have to figure out what they're going to do and from what I read, they really haven't made those decisions yet so whenever that day comes, if in fact it would mean anything for our program, then would come the due diligence on our part," Kustra said. "But it's way premature since I have no indication of what they're up to and what their next steps are."
The Big East is down to six football playing members, and has said it would aggressively pursue new schools to add. Boise State, Air Force and Navy have been mentioned as football-only candidates, and UCF, Houston and SMU as all-sports candidates. But when asked whether the Big East had pressed Boise State for a decision, Kustra said, "I think they've talked to people. I wouldn't say they have aggressively pursued Boise State in terms of asking us to respond to an invite because clearly the commissioner has not done that. I can vouch for that, and he can vouch for that."
Still, Kustra said he is keeping all his options open, especially if it means joining a conference that has an automatic qualifying spot.
"If the day ever comes that will certainly factor in," Kustra said. "We will take that very seriously. We will consider that up against where we are, up against any other opportunities there might be. All options must remain on the table for Boise State University. In the meantime, this is a great place for Boise State to be in the Mountain West Conference. We're going to enjoy every minute of it."
October, 14, 2011
10/14/11
8:57
PM ET
The Mountain West and Conference USA will form a
football-only alliance
, hoping their partnership will help foster stability and get them an automatic spot into the BCS.


And if it helps keep Boise State, Air Force and UCF in their leagues, the better.
All three schools are in discussions about
possibly joining the Big East
. Mountain West commissioner Craig Thompson and C-USA commissioner Britton Banowsky confirmed those talks, but had little to say about whether or not they expected their respective members to leave. If Boise State and Air Force go, they would be football-only members in the Big East and in need of finding a home for their other sports. UCF would be a full member of the Big East.
There also is no word on the likelihood this alliance would get an automatic BCS bid. Still, both commissioners felt making this move was in the best interest of their respective conferences.
October, 13, 2011
10/13/11
3:00
PM ET
Boise State officially enters a new era Saturday at Colorado State, when the Broncos begin league play in the Mountain West.
They can only hope to have the same success they enjoyed in the WAC. During their 10-year run in that league, Boise State won eight league championships and posted a 75-5 mark in league games. That includes a perfect 40-0 record at home. To be sure, the Mountain West should provide more difficult competition.
[+] Enlarge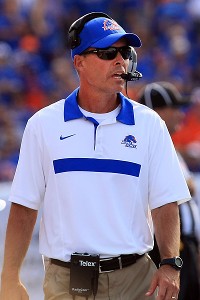 Brian Losness/US PresswireCoach Chris Petersen and Boise State face Colorado State for the first time this weekend.
But Boise State has never played many of the teams in the league before, so that provides one challenge. This will be its first ever game against the Rams.
"That's what everybody around the country is all about -- trying to win their league," coach Chris Petersen said. "We are under no illusions how difficult winning your league can be the first time you enter a new league with all the unknowns that come with it. We're excited to play. It's like you've been working the first part of the season to get yourselves ready for league play."
With TCU out of the Top 25, Boise State has no more ranked teams on its schedule right now and will be favored in every game the rest of the way. Many expect the No.5 Broncos to run the table and make it back into a BCS game. But much the same was expected last season, before an upset late in overtime against Nevada. The Mountain West has its share of bad teams the way the WAC did. Boise State should have no problems with UNLV (1-4), Wyoming (3-2, one win vs. FBS team) and New Mexico (0-5).
Potential road blocks?
Oct. 22, Air Force.
Granted, the Falcons just lost badly on the road to Notre Dame, but they do have a unique offense to try and stop. They have been hit hard with injuries on defense, so they are probably not as good as many thought they could be when the season started. Still,
Tim Jefferson
is one of the better quarterbacks in the league, and they do have the No. 2 rush offense in the country.
Nov. 12, TCU.
The Horned Frogs do not have the same dominating defense that they have had the past three seasons, but they played much better in a win against San Diego State last week. These teams have developed a nice rivalry over the past several seasons, splitting their past two bowl appearances. Boise State will have an edge in this one, but this should be the toughest game on the schedule.
Nov. 19 at San Diego State.
The Aztecs also might not be playing as well as people anticipated after a breakthrough season in 2010.
Ronnie Hillman
ranks No. 5 in the nation in rushing, but the Aztecs are still looking for some consistency out of their wide receivers. They rank No. 78 in the nation in passing. This is a game that should not be overlooked, because San Diego State is capable of putting up a big fight, and it comes on the heels of an emotional game against TCU.
January, 18, 2010
1/18/10
12:30
PM ET
Tim DeRuyter hasn't left the Air Force Academy just yet.
Despite published reports by both the Austin American-Statesman and the San Antonio Express-News stating that DeRuyter was leaving the Falcons to become the defensive coordinator at Texas A&M, a deal has yet to be reached.
Air Force athletic director Hans Mueh
told the Denver Post
that he's offered DeRuyter both money and incentives to stay with the Falcons, but that he's limited on what he can offer. DeRuyter earned $205,000 in 2009.
"We've done a few things to try to sweeten the pot a little bit," Mueh told the Denver Post. "Length of contract and maybe a little more money, but my threshold is met pretty fast."
Losing DeRuyter would be a big blow for the Falcons, who thrived on defense this past season. Air Force ranked 11th in the country in total offense allowing 288.31 yards per game and 10th in scoring defense with 15.69 points per game.
The defense, which will return six starters from 2009, was the reason the Falcons finished with eight wins for the third consecutive year.
October, 27, 2009
10/27/09
3:00
PM ET
Posted by ESPN.com's Graham Watson

Air Force quarterback Connor Dietz will miss at least three weeks after suffering a broken hand during last week's game against Utah.

Dietz suffered the broken bone during on an inside run on Air Force's fourth play of the game, but still finished the 23-16 overtime loss.

Dietz broke the bone behind the knuckle of his right throwing hand. He had surgery Monday and doctors inserted two pins at the site of the break.

Tim Jefferson, who began the season as the starting quarterback before suffering a sprained ankle against New Mexico on Sept. 19, will start this weekend's game against Colorado State. Since the injury, Dietz and Jefferson have been alternating starting assignments. Dietz has led the team to two wins, including a fourth-quarter win over Wyoming after Jefferson was ineffective.

The strength of Jefferson's ankle has been hit and miss this season, which has resulted in inconsistent play. However, Jefferson was back at practice on Monday and told local media that he felt better than he had in several weeks.
October, 10, 2009
10/10/09
7:40
PM ET

Posted by ESPN.com's Graham Watson
AIR FORCE ACADEMY -- Just kicked off here at the Air Force Academy and
Connor Dietz
is indeed the quarterback.
The temperature at kickoff was 19 degrees with a 9 degree wind chill. It's early, but the weather doesn't seem to be affecting TCU's No. 1 nationally ranked rushing defense. The Horned Frogs forced a three-and-out on Air Force's first drive.
October, 10, 2009
10/10/09
5:45
PM ET

Posted by ESPN.com's Graham Watson
AIR FORCE ACADEMY --- Air Force will not disclose its starting quarterback until after team warmups.
Starter
Tim Jefferson
has been hampered by an ankle injury he suffered against New Mexico on Sept. 19 and re-aggravated last week against Navy. He finished the game, but
Connor Dietz
took several first-team reps this week in practice.
Coach Troy Calhoun said that he would watch Jefferson in warmup and if he was hampered -- even a little bit -- he would not play.
I'll have more after the Falcons take the field for warmups.
October, 2, 2009
10/02/09
12:52
PM ET

Posted by ESPN.com's Graham Watson
Air Force cornerback Reggie Rembert got in some undisclosed trouble this offseason and almost missed his junior season. But what he learned while watching the games from the stands and on television was not only how important football is to him, but how important his teammates are. So when he made his home debut against San Diego State last week, he made his presence known by having two interceptions, a forced fumble, a team-high seven tackles and a fumble for a score.
This week he talks about his return, this week's game against Navy and what the Commander-in-Chief Trophy means to the Air Force Academy.
| | |
| --- | --- |
| | |
| | Paul Jasienski/Getty Images |
| | Air Force cornerback Reggie Rembert is excited to be back on the field. |
What was it like to finally get in a game and really contribute last week?
Reggie Rembert:
It felt great. It's been a while since I've really gotten to practice knowing that I'm going to play, so I had a different kind of mindset with practice. It just felt really good to get out there and play with my brothers.
Did you think you'd have as good a game as you did after missing so much time?
RR:
I mean, no, but I'm kind of happy I did. I didn't necessarily think I'd have the game of my life so far.
Would you consider that the game of your life?
RR:
I'd consider it the collegiate game of my life, that's for sure. I had some pretty outstanding games in high school, but for collegiate, yeah, definitely.
What was going through your mind that whole time when you were sitting out?
RR:
Just, man, I wish I could be out there. That's pretty much how anybody else would think of it. It sucked. I really wished I could have been out there playing with them because I had to watch a couple of the games in the stands for one and then the other one I had to watch on the TV. So that kind of sucked. I was just was wishing I could be out there.
Did you have to make amends with your teammates or anything like that?
RR:
No. Basically, when the time clock was up, I was back. They just kind of welcomed me back and we were ready to roll.
Now you guys are going into your first Commander-in-Chief game, what's the feeling around the team right now?
RR:
Everybody's really anticipating it. Everybody's really ready to roll. My last two years here we've lost, so we're just ready to put that on the table and keep moving forward.
Does this team feel like it's finally ready to take back the trophy?
RR
: Definitely. But every year the team is ready to take it back and everything, it's just pretty much we need to play mistake-free football if we want to take it back and we haven't done that the last two years.
Is it harder to focus on the Commander-in-Chief Trophy when you play in a conference and you're also trying to win your conference?
RR:
Yeah, it is. It's two different types of things. Like, the cadet wing really likes to see a win with Navy, but it's not necessarily our main focus. Our main focus is the conference. But, we do see the significance of the Commander-in-Chief Trophy and we still want to make that a victory.
That's got to be tough because the other two academies get to solely focus on the Commander-in-Chief Trophy and really put all their efforts into that.
RR:
Yeah, I mean, you got to take it how you can. We've got some things we've got to worry about and they're Independents. They can kind of focus a little bit more on this as opposed to winning a conference. It's maybe to their advantage a little bit.
How exciting is this week for you guys around campus? Do people talk to you more about the game?
RR:
Oh, yeah. It's a big game for the cadet wing. Everyone's just tired of losing. They're just like, 'Hey, whatever you do, please beat Navy this year.' It's that time now and they just keep kind of throwing that in your ear that they really want a victory.
November, 15, 2008
11/15/08
2:03
PM ET
Posted by ESPN.com's Graham Watson
COLORADO SPRINGS, Colo. -- Tim Jefferson isn't shy about admitting that he gets jitters.
After starting the last five games at quarterback for Air Force and posting a 5-0 record, the true freshman thinks the jitters might be good luck.
"I always get jitters before games," Jefferson said. "I've gotten jitters before games ever since I was 5 or 6 and I knew stuff was actually on the line. You know, I thought that I would stop getting nervous before games, but it's just natural to me. I've noticed that whenever I don't get jitters before games I don't play nearly as well as when I do get jitters before games. I think it's a thing that kind of helps me out. I hope I'm nervous before this game starts."
Jefferson will be playing in the biggest game of his young career Saturday when BYU visits Air Force for a tilt that will keep the winner in the hunt for a piece of the Mountain West title.
Air Force already has exceeded expectations. As one of the youngest teams in the FBS, Air Force has posted an 8-2 record and is all but guaranteed a bowl. And this week it received votes in the Associated Press poll. So as far as Jefferson is concerned, winning this game would just be yet another odds-defying moment in a season of odds-defying moments.