November, 21, 2011
11/21/11
8:00
PM ET
If Lane Kiffin keeps this up, he's in danger of becoming "coach Lane Kiffin," not "Lane @#%$@ Kiffin" or "%&@# Kiffin" or just "@#$%@," for short.
You say "Lane Kiffin" to a college football fan -- a football fan, really -- and you get many reactions. Most of the bad. Dude has some baggage. He's best known for off-field controversies in large part because he's not done much -- good or even bad -- on the field.
[+] Enlarge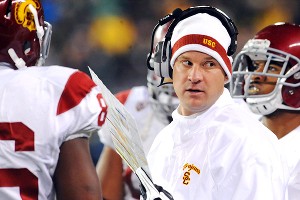 Steve Dykes/Getty ImagesAfter another big road win, it's time to state the obvious -- Lane Kiffin is a very good football coach.
Off the field? Well, take your pick of controversies. Kiffin was involved in a coup at USC that led to legendary offensive coordinator Norm Chow getting pushed aside. Kiffin fell afoul of team owner Al Davis as the Oakland Raiders coach and was fired after 20 games. At Tennessee, he trashed talked most of the league, infuriating commissioner Mike Slive, got in trouble with the NCAA and bolted after just a single season for USC.
This is old news, of course. And Kiffin has mostly behaved and avoided controversy at USC.
But we were left with an important question: Can he coach?
An 8-5 finish in 2010 didn't reveal much. It was adequate but hardly impressive. A 7-3 start was greeted by mostly positive reviews, then he lost consecutive games to Notre Dame and Oregon State.
So that was the question in 2011. Hate Kiffin. Love Kiffin. But, again, can he coach?
The 38-35 win at Oregon on Saturday hinted that, yes, he can. That he might be growing into the job. That he's matured as a leader and motivator. At 9-2 and ranked 10th in the AP Poll as well as the ESPN.com Power Rankings, he's a win over rival UCLA away from what would unquestionably be considered a successful season: a "true" South Division championship, 10 wins, a top-10 ranking, a win over top-five team (Oregon) and wins over rivals Notre Dame and UCLA.
There's always been some substance to the Kiffin dislike, even beyond the off-field issues. For one, more than a few folks saw him as born with a silver coaching spoon in his mouth, a guy had successfully conned his way into big-time jobs before he deserved them or was ready.
When he got hired at USC in 2001, three years after graduating Fresno State, he'd never been a position coach -- anywhere. He got the job because his dad, Monte Kiffin, was Pete Carroll's defensive mentor. Four years after arriving, Chow was pushed aside for him -- just in time for Kiffin to coach the 2005 Trojans, one of the most talented offenses in college football history. After two seasons, at age 31, he was hired by the Raiders.
When that didn't work out he immediately got hired by Tennessee, an SEC power. One year later, he took over USC, among the top-five programs in the nation. All that after going 5-15 (Raiders) and 7-6 (Tennessee).
The point is there wasn't much you could finger to justify why so many seemingly smart people kept hiring Kiffin.
Until Saturday in Eugene, though the performance at Notre Dame in a 31-17 win was pretty darn good, too.
The Trojans had effective plans on both sides of the ball against the Ducks, which got them a 38-14 lead. Sure, Oregon stormed back but Oregon does that. And, sure, if that 37-yard field goal to tie the game on the final play of regulation had been good, most money would have been on the Ducks in overtime.
Details and what might have beens. The W is what matters.
With no hope for a conference or national title or even the postseason, Kiffin has the Trojans playing their best football. They started slowly against a weak schedule but have steadily improved. He's kept the team motivated and focused, even though he's got plenty of underclassmen eyeballing the NFL.
Now, of course, comes the tough part: Losing 30 scholarships over three years will challenge the Trojans as they try to remain competitive at the top of the conference. We'll see how Kiffin and USC weather circumstances that would try Bear Bryant.
Still, Kiffin has started to push back against his critics with evidence of his skill. All the snarking about his past is backgrounded by his present, by what he created last weekend and this season.
But, Lane, make sure you take care of UCLA on Saturday. Don't make me come back next week with a "Never Mind."
April, 22, 2011
4/22/11
10:00
AM ET
LOS ANGELES -- The nominee for "Worst Person in the World" from the state of Tennessee has been a bit of a letdown on the West Coast. When he wore bright orange, Lane Kiffin was as loud as the Volunteers' uniforms. He was a controversy not waiting to happen. He called people out. He trashed-talked. He immediately started beeping loudly on the NCAA's radar.
But since he arrived in Los Angeles, ascending to what he called his "dream job" at USC, he's been mostly an all-business, old school, grumpy football coach.
"You been bored?" Kiffin quips. "You were all excited when I got hired here."
[+] Enlarge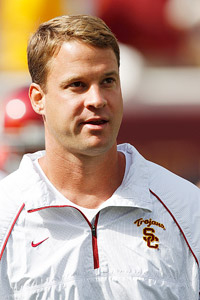 AP Photo/Andy King"If you are worried about what people are writing about you, win games," USC coach Lane Kiffin said.
Yes and no. Things have been pretty hectic around USC for the past year or so. While reporters often enjoy a little drama, there are limits. Typing fingers do cramp up, after all. The Reggie Bush mess. Pete Carroll leaving. Kiffin getting hired and the ensuing hullabaloo in Knoxville. NCAA sanctions. The comings and goings of scores of players. The comings and goings of athletic directors and school presidents. A five-loss season for a program that had grown accustomed to the number five representing a disappointing final AP ranking. Highly-rated recruiting classes, despite sanctions. Tennessee shipping its NCAA problems to Kiffin's new address. A seemingly endless wait for the NCAA to rule on USC's appeal of sanctions.
A notable void, however, has been controversy arising due to Kiffin's conduct at USC. Oh, he took a shot at rival UCLA after signing his 2010 recruiting class, but that was more a tempest in a thimble than a teapot. He sometimes provides assessments of players' shortcomings that can seem too honest. But, really, the only big story this spring at USC is injuries, which means there are plenty of stifled yawns by observers at practices. Who saw that coming?
"Sometimes I get people here that actually want to see that brash side," Kiffin said.
Just not many over the age of 21.
On the one hand, this is a good thing. It's possible that Kiffin shortly will be judged on substance, on whether he can coach or not, on whether he can lead the Trojans back to the top of the Pac-12 or not. His oft-noted limited résumé -- a 5-15 record coaching the Oakland Raiders and a 15-11 mark in two college seasons -- reveals little.
What is revealing is five losses a year after the Trojans, in their final season under Carroll, were unceremoniously smacked out of the conference's top spot by Oregon. What is revealing is watching practice and wondering, "Where did all the NFL-looking dudes go?" Just three years ago, USC looked better getting off the bus than any team in the country. No longer. Now they look like just about everyone else.
Part of that is injuries. Twelve members of the two-deep depth chart have practiced little or not at all this spring. The Trojans numbers were already down, which convinced Kiffin to sign a handful of early-enrollees who weren't up to previous standards just to get more available warm bodies.
Still, there are plenty of old school USC guys, starting with quarterback
Matt Barkley
and his top target,
Robert Woods
. They are a potentially dynamic pass-catch combination. Left tackle Matt Kalil, defensive end Nick Perry, safety T.J. McDonald and cornerback Nickell Robey are going to be playing on Sundays. D-tackle George Uko has been impressive this spring. But there are obvious holes -- for one, the offensive line is perilously thin and unproven -- and the backups don't look like the next generation.
"We got guys running with our twos that weren't even going to play football, but we found them in science class after a tryout," Kiffin said.
A touted recruiting class of 23 arrives in the fall, and many of those freshmen are going to immediately be in the mix for playing time. Toss in the expected return of the injured players, and the reinforcements will number 35.
But will they win? It may be nice that the hyperventilating from critics is trending down, but the bottom line is there is a bottom line, of which Kiffin is well aware: Winning.
Kiffin said he feels more comfortable this spring, and it's clear his players share that sentiment. Understand: The transition to Kiffin was challenging for many. Carroll had become an icon at USC. All those five-star players he signed did so in large part in order to join Carroll's "win forever" cult of personality. Carroll was all about bottomless enthusiasm and optimism. Kiffin is a different bird. For some veteran players, his approach, which often included unvarnished criticism, was tough to take.
"First spring, it was rough with getting guys to buy-in and accept that we didn't have Coach Carroll -- the 'there's a new coach, just deal with it,'" Barkley said. "Some guys were holding back and didn't like the way things were going."
Barkley said Kiffin has loosened up a bit. "Even this year, Coach Kiffin has given in a little bit, making it more fun for us, that competition style we were kind of used to before," Barkley said.
The person at USC who knows Kiffin best waves away the criticism that has dogged him. "It's basically one state," said USC defensive coordinator Monte Kiffin, Lane's pop.
"I know him. I've known him for 35 years. I feel I've got a pretty good feel for him," Monte Kiffin said. "If I thought he was a smart alec or wasn't a good head coach, first I wouldn't have gone to Tennessee or I would have taken opportunities to go back to the NFL [instead of going to USC]. They don't know him."
That's fair. An ill-fated tenure working under Al Davis and a single year at an SEC school shouldn't define Kiffin as a coach. And, ultimately, it won't. Kiffin knows what will, though.
"If you are worried about what people are writing about you, win games," he said.
Or else those negative assessments will begin to develop a foundation built on incontrovertible fact.
January, 13, 2010
1/13/10
4:52
PM ET
Boy, who have thought hiring a football coach could inspire such... feeling?
USC fans mourn Pete Carroll's departure with a
candlelight vigil
. Tennessee fans
mourn the loss
of Lane Kiffin with a, er, near-riot.
It makes sense that Tennessee fans feel jilted. But the reaction most everywhere else,
including LA
, also is mostly negative.
The pessimists think all those people who are saying bad things about Kiffin are way too generous.
The optimists can't understand this. They think Kiffin is a great hire.
In the interest of making everyone happy -- or, in the case of the pessimists, justified -- the Pac-10 blog will present talking points for each position.
The Kiffin Pessimist
Kiffin is bailing on Tennessee after only one season. He showed zero loyalty to the school that entrusted him, at just 33, with its cherished football program.
Kiffin was fired from his previous head coaching job, the Oakland Raiders, before the end of his second season. His record? 5-15. Said owner Al Davis, "I think he conned me like he conned all you people."
USC is entrusting its tradition-rich program to a coach whose career record is 12-21.
He's an immature, attention-seeking loudmouth. He popped off at Urban Meyer, Nick Saban and Steve Spurrier. His mouth earned a reprimand from the SEC.
In just one season, he committed at least six secondary NCAA violations.
Tennessee faces at least two more violations as the NCAA continues an ongoing inquiry into other infractions, including the possible misuse of recruiting hostesses and impermissible visits.
That's the NCAA baggage he brings to USC, a school facing its own NCAA inquiry. That hammering you hear outside? That's the NCAA building a gallows.
Three Vols freshmen were involved in a robbery on November 12. Two were later kicked off the team.
That's the sort of discipline he inspires.
Kiffin is trying to hire Norm Chow as his offensive coordinator. Recall that Kiffin was part of the palace coup that convinced a suddenly marginalized Chow to bolt USC for the Tennessee Titans. Sure they'll be swell together.
With Chow gone, Kiffin was USC's offensive coordinator when UCLA beat the Trojans 13-9 in 2006, costing them a berth in the BCS national title game.
Kiffin lost 19-15 at home this season to UCLA, which went 3-6 in Pac-10 play.
The Kiffin Optimist
One word: Recruiting.
Make that two words and a sentence: Recruiting, recruiting. Kiffin and recruiting coordinator Ed Orgeron will be the nation's best recruiting tandem, and nothing in college football is more important than great recruiting.
Xs and Os? The defense goes to Monte Kiffin, one of the great coaching legends on that side of the ball. The offense -- hopefully! -- goes to Norm Chow, one of the great coaching legends on that side of the ball.
So, great recruiting plus great schemes: We could stop there.
Lack of loyalty? Wait, phone's ringing. Hello. You want to offer Mr. Pessimist his dream job? Sorry. He's not going to take it. He's loyal.
Maybe the reason Kiffin has been hired for his third head coaching job in 17 months -- before he turned 35 -- is because everybody knows he's got loads of talent? It's not like the Raiders, Volunteers and Trojans hired him because they felt sorry for him.
The loudmouth stuff? Overblown. But he's been told to tone it down. He will.
The secondary NCAA violations? Randomly audit 10 other elite BCS programs. How do they compare to Kiffin? No, we don't know why those other schools didn't get as much publicity for their peccadillos.
Look, fans and media who don't understand the nature of NCAA violations and sanctions can prattle on about how horribly the Trojans will get hammered, but, please, just make sure they're around when the actual penalties are handed out. We want photos of the chagrined expressions.
When you oversee 85 young men, ages 18 to 23, the odds of going a year without any of them getting into trouble aren't great. That's just the way things go.
Chow's a pro. He and Kiffin, if reunited, will work fine together.
Kiffin took over a Vols team that went 5-7 in 2008 and lost to Florida by 24, Georgia by 12 and Alabama by 20. He went 7-6, beat Georgia 45-19 and lost to Florida and Alabama by a combined 12 points. Where did the Gators and Tide finish in the final polls?
Anyone recall the uproar when USC hired Carroll? Who thought that was an inspired decision in 2000?
When the pessimists unanimously back a position, always bet against them (Carroll taught us that).
November, 28, 2008
11/28/08
8:05
PM ET
Posted by ESPN.com's Bill Williamson
We have a winner in the Lane Kiffin-Al Davis battle.
It's Kiffin by a landslide.
Kiffin was fired by Oakland on Sept. 30 in what will be long remembered as one more bizarre firings in NFL history. Raiders owner Al Davis sautéed Kiffin in an hourlong press conference with comments that seemed aimd to ruin Kiffin's career.
Apparently, either the folks at the University of Tennessee missed the television highlights of Davis' diatribe or they just didn't pay any attention to it.
ESPN.com is reporting that Tennessee has a tentative agreement in place with the former Oakland coach to become the new head coach there. The report says Kiffin will take over the storied Volunteers program as soon as Monday. Did Kiffin's 20 games and his ugly departure from Oakland, hurt him?
Depending on how you view the NFL compared to the NCAA, the Tennessee job is arguably a much better job than the Oakland gig. Many coaches in the country would rather lead Tennessee every Saturday, than be in Al Davis' sights every Sunday. Even if Kiffin didn't get fired and had a better record than a 5-15 mark in Oakland, it would be impressive if he made this switch.
This is a big-time job. Tennessee can easily be atop the college football landscape again. It is considered a destination job where a coach can spend the remainder of his career. That cannot be said about the Oakland job. It is a steppingstone job at the very best.
But Kiffin has emerged wonderfully.
He won this battle with Davis. Sure, Kiffin had to file a grievance to get the remaining money from his contract and he may never get it even if wins the grievance. But his career is in fine standing.
Before Oakland, Kiffin was the co-offensive coordinator at USC. It was a fine job. But there was no guarantee he would be considered for the Tennessee job out of that position.
Frankly, I'm not sure if Kiffin is equipped for this job. It may be a tad early in his career.
Still, Kiffin made the most of his time in Oakland, even though it was rocky to say the least and he wasn't successful on the field. He showed enough coaching skill at the age of 33, and his ability to weather controversy seemed to impress Tennessee officials. Kiffin has moved on well from Oakland and he is probably in much better shape than he would be if he was never fired and he was still coaching in that situation.