December, 1, 2012
12/01/12
11:29
PM ET
By
ESPN Stats & Information
| ESPN.com
John David Mercer/USA TODAY SportsEddie Lacy ran for 181 yards for Alabama.
Alabama won its first SEC championship since 2009, handing Georgia an SEC championship game loss for the second straight season.
The Tide got it done on the ground. They ran for 350 rushing yards, the most in SEC championship game history.
Eddie Lacy
and
T.J. Yeldon
became the first teammates to each run for 100 yards in SEC championship game history. Lacy's 181 rushing yards are the third-most in the history of the SEC title game.
The Tide were committed to the run, as they ran the ball 51 times, two shy of the SEC championship game record of 53.
Two tight ends, too much
Alabama ran 36 times for a season-high 298 yards with two or more tight ends in the formation. The Tide ran out of this personnel package on 26 of their 34 second-half plays, gaining 199 yards and two touchdowns. Alabama averaged a season-high 5.5 yards before contact out of this formation.
AJ McCarron
completed 8 of 9 passes for 114 yards and a touchdown with two or more tight ends in the formation.
Getting it done inside the tackles
Alabama outrushed Georgia 304-72 inside the tackles. The Tide averaged 8.0 yards per carry on such runs, including a season-high 13 that gained 10 yards or more. Lacy (172) and Yeldon (125) led the way for Alabama, with both running backs gaining over 100 yards inside the tackles for the second time this season. They also did it against Missouri.
Strong run game leads to play action
McCarron completed 5 of 7 passes off play action for 116 yards and a touchdown. McCarron has 11 touchdown passes off a run fake this season, six more than he had all of last season. Eight of the 11 touchdowns have been on passes thrown 20 yards or longer, including Cooper's 45-yard touchdown against Georgia.
Georgia's defense allowed a season-high 512 total yards, just the second time the Bulldogs allowed 500 yards in the past seven seasons. For the first time since at least 2000, they've allowed 300 rushing yards in three straight games.
Alabama will most assuredly face Notre Dame in the BCS National Championship Game on January 7, as the SEC goes for its seventh straight BCS National Championship.
September, 10, 2012
9/10/12
4:35
PM ET
TUSCALOOSA, Ala. --
Jalston Fowler
,
who will likely miss the rest of the season recovering from knee surgery
, wasn't the leading rusher, the leading blocker or the leading receiver for the No. 1-ranked Crimson Tide. His name didn't appear first on any depth chart. In fact, he shared the distinction of being the No. 2 tailback with true freshman
T.J. Yeldon
.
But what Fowler lacked for in distinction on paper he made up for in usefulness on the field. His unique skill set -- a power runner with light feet and soft hands -- was put to use by the Alabama coaching staff. He was second on the team in yards rushing, but he was also a reason why the Alabama rushing game has been so effective this season in his role as a lead blocker at H-back.
[+] Enlarge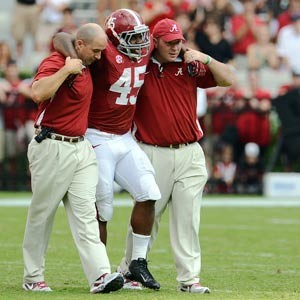 John David Mercer/US PresswireTide running back Jalston Fowler gets helped off the field during the fourth quarter against W. Kentucky.
Alabama coach Nick Saban said replacing Fowler's production will be a team effort. His loss at tailback hurts when considering starter
Eddie Lacy
's health concerns. He missed all of spring practice recovering from surgery to fix his battle with turf toe, only to sprain his ankle late in fall camp. He's been limited thus far, carrying the ball less than 10 times in each of the first two games.
The good news is Yeldon has emerged so quickly. The rookie was the first freshman in school history to rush for 100 yards in his debut. He followed up that performance by leading the team in receptions against Western Kentucky on Saturday. He and fellow freshmen
Dee Hart
and
Kenyan Drake
will take on more responsibility in Fowler's absence.
"I think we have what we have," Saban said. "We have backups at every one of the positions and roles that he filled. There may not be one particular guy. I think on special teams, there's a different guy on each special team that would take his place now. At running back, Dee Hart, Kenyan Drake will have a little more opportunity. Kelly [Johnson] was his backup at fullback, which is where he plays anyway. So we are going to miss him. It's going to take a number of people to replace him in various roles that he played on our team."
Junior receiver
Kevin Norwood
, who caught two touchdowns against Western Kentucky, said there's not much the team can do now other than move on.
"We're all going to pray for Jalston that hopefully he'll get back our there soon," Norwood said. "But the only thing we really can do is move on and make sure everybody is focused and preparing right for this team."
Guard
Chance Warmack
said he hasn't spoken to Fowler since the injury and hopes his recovery will happen swiftly. In the meantime, he said Alabama's lost a weapon on offense.
"Phenomenal player," Warmack explained. "Brought a lot to the offense. I don't want to count him out just yet. I don't know the specifics about how the injury is. Great guy, brought a lot to the offense. Very powerful back."
Fowler was one of three tailbacks in the SEC to average better than 6.9 yards per carry in 2011-12. He ran for 395 yards and four touchdowns on 56 carries.
Linebacker
Nico Johnson
went up against Fowler every day in practice. The 6-foot-1, 242-pound wrecking ball at tailback was routinely considered the most difficult man to bring down with the ball in his hands.
"He's more like a back like Trent (Richardson)," Johnson said. "He can run, catch out of the backfield, and he's tough to tackle. So, it's going to be real tough, but we've got enough guys and depth for somebody to step in and fill his role."
November, 3, 2011
11/03/11
10:49
AM ET
The price to see
No. 1 LSU vs. No. 2 Alabama
in person is growing alongside the hype for this weekend's matchup.
The average ticket price of $402 prior to the season is starting to look like a bargain, as fans are now looking at an average of $508 -- a 28% increase.
The cost is even more impressive when compared with ticket prices to the SEC Championship Game, annually college football's most financially successful conference championship game. A ticket to last year's game between Auburn and South Carolina went for an average of $460 on StubHub. Games in 2009 and 2008, which pitted Alabama against Florida, went for an average price of $573 and $488.
Glenn Lehrman of StubHub said this week's matchup has become the highest-demand ticket his company has seen for an Alabama home game. It's on pace to be the highest-selling college football game of the season and is only trailing the LSU-Oregon season opener. The highest-priced ticket Thursday morning was selling for about $5,000.
The hotel industry in Tuscaloosa is benefitting as well, although surprisingly there were still rooms available as of last week. A search last Thursday on Hotels.com indicated 22 hotels in Tuscaloosa ranging from $40 to $200 for the night of the game, and a search on Travelocity.com showed 20 hotels ranging from $40 to $215. Didn't buy then? You're out of luck -- the closest you'll get now is Birmingham, about 55 miles away.
Media members aren't faring much better in terms of trying to
cover the game
. Alabama expects approximately 600 credentialed media members. For an average game, roughly 350 credentials are granted.
September, 16, 2011
9/16/11
10:00
AM ET
SOUTH BEND, Ind. -- Harrison Smith could do nothing but watch from the sideline four years ago. The frustration that mounted with every play and every loss on seemingly every Saturday had to be put in reserve until he took the practice field the following Monday.
But Smith doesn't want to relive the year he didn't play, his freshman year -- the last time, and only the second time, Notre Dame started a season 0-3.
"All I'm looking at is Michigan State," Smith, now a fifth-year captain, said. "I'm not worried about what happened a couple of years ago, a week ago, yesterday. Focus on right now. Focus on Michigan State and that's where the team's at. That's all we can control, so we're putting everything into preparing for Michigan State."
Smith is one of just six current scholarship players who lived through the Fighting Irish's 2007 season, a campaign that got off to an 0-5 start and ended with a 3-9 record.
[+] Enlarge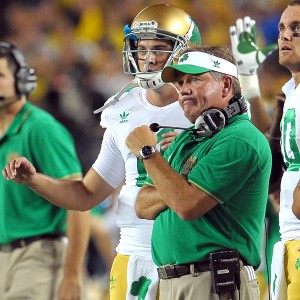 Matt Cashore/US PresswireDespite their 0-2 record, Brian Kelly's Irish have piled up over 1,000 yards of total offense.
But through two weeks and two losses this season, the similarities between the 2007 team and this one ends with the win column and a few familiar faces.
And, in the case of the only other Irish squad to start 0-3, the 2001 group, the parallels are even thinner.
No, Notre Dame certainly didn't envision itself still searching for win No. 1 as it welcomes the defending co-Big Ten champions into town Saturday, not in a season that began with a No. 16 ranking and BCS bowl aspirations.
But the Irish have done enough through two games to suggest that better days are on the horizon.
In two losses this season by a total of seven points, Notre Dame has 1,021 total yards of offense, something it hasn't done through two games since 1974. That season, Ara Parseghian's last as head coach, began with two wins by a combined score of 80-10. More importantly, it ended with a No. 6 ranking after an Orange Bowl win over Alabama made Notre Dame 10-2.
Quite a far cry from 2007, when the Irish were outscored 64-13 through two games. Or even 2001, Bob Davie's fifth and final season as head coach, when Notre Dame was outscored 44-20 and finished the season 5-6.
Which would explain Smith's reaction when asked if any memories from 2007 have popped up this week.
"No, I play DB, so we have a short memory," the safety said flatly, "so I don't remember anything."
The edgy demeanor pleased head coach Brian Kelly, whose message this week was sent by running a live practice Wednesday, the first time he's done so during a game week in his two seasons on the job.
"I think everybody's probably a little bit, I don't know -- I don't want to say annoyed -- but nobody's happy, and I'm OK with that," Kelly said. "Nobody should be in a great mood. We've got work to do, and I think those guys probably reflect the feelings of the entire team."
Kelly has been in this situation before, just never under the spotlight that comes with coaching the third-winningest program in college football history. He has suffered through five 0-2 starts in his previous 20 years as a head coach, even going 0-3 in 1999 and in 2000 at Div. II Grand Valley State. But Kelly finished only one of those five seasons with a losing record, going 4-7 in his first year at Central Michigan in 2004.
Naturally, Kelly has refused to call Saturday's contest against the No. 15 Spartans the most important game of his two-year tenure with the Irish.
And he won't look ahead to what's still left for Notre Dame to accomplish over 10 more games.
"I don't think you can look at it anymore about what's at the end of the season other than playing better right now," Kelly said. "We have to be focused right now on Saturdays, because we haven't played well. We can't think about what's in the future; we have to focus on making money right now. And that means winning for our guys. So it hasn't been hard for me to keep our guys focused because they're 0-2. They're focused on one at a time.
"Hey, if we string together seven or eight in a row, then we can start thinking about hey, what's it look like at the end of the season. But it's too early."
For now, a loss Saturday would be nothing more than just that.
"0-3," guard Trevor Robinson said, "would mean the fourth game is that much more important."
September, 24, 2010
9/24/10
6:41
PM ET
One of the biggest talking points about Boise State is its weak of strength of schedule and why the Broncos are not doing anything about it. Athletic director Gene Bleymaier has talked many times about the difficulty of getting top-tier opponents on their schedule, because most do not want to play in Boise.
Some headlines were made a few weeks ago when Nebraska came out and said a two-for-one deal to play Boise State fizzled because the Broncos wanted $1 million to play in Lincoln. Now there are more headlines today.
Alabama athletic director Mal Moore told The Tuscaloosa News that he has
never been contacted by Boise State to schedule a game.
Reached Friday for a response, Bleymaier said it was because he wants a home and home, not a one and done on the road.
"We'll play anybody in the country home and home," Bleymaier told ESPN. Although Boise State's 2011 schedule isn't yet finalized, Bleymaier said the Broncos do have a Southeastern Conference opponent -- Ole Miss. That is not a home-and-home, and Boise State is being paid $900,000 for the one-time trip.
So is this going to become a standard story, where all the athletic directors at the elite programs around the country are asked whether they have heard from Boise State? If not, then shame on Boise State?
The Broncos have every right to want a home-and-home agreement here. If Alabama wanted a piece of Boise State, then why not call up Bleymaier and schedule a home-and-home? Right, because Alabama has nothing to prove, and there is no reason for the Tide do that when they already play in the ultra competitive SEC. Well, if that was the case, then why is Alabama playing one marquee non-conference game a year?
Boise State has much more to prove and should make every attempt to strengthen its schedule. But it needs enough home gates, too.
September, 24, 2010
9/24/10
11:30
AM ET
We've got big games from coast to coast in Week 4, so let's check out the top 10 storylines to watch heading into Saturday:
[+] Enlarge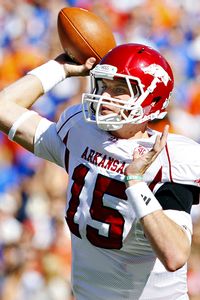 Kim Klement/US PresswireCan Arkansas quarterback Ryan Mallett lead his team to a win over the No. 1 team in the nation?
1. Does Arkansas have what it takes to beat Alabama?
Certainly the Razorbacks are much improved on defense, and
Ryan Mallett
has lived up to his Heisman Trophy billing. But does this team have a killer instinct? This is a team that had a 7-0 halftime lead over ULM, then blew a 24-10 fourth-quarter lead against Georgia last week before rallying for 31-24 the victory. Alabama will try to confuse Mallett the way it did last season. Offensively,
there are so many options for the Tide
, the Razorbacks are going to have to prove just how good they have become on defense.
2. Does Oregon State have a chance to beat Boise State?
Absolutely the Beavers have a chance. Is it going to happen? That is another question. Some keys to watch: Oregon State might not be able to run into the heart of that Boise State defensive line. Do the Beavers try to run sweeps to the outside with their speedy receivers to loosen them up? The Rodgers brothers, James and Jacquizz, are always a threat to take it the distance. The Boise State secondary has been vulnerable at times, so if
Ryan Katz
has time to throw, he could connect for some big plays.
3. Can Notre Dame close out a win?
So far 2010 has looked a lot like 2009 for the Fighting Irish, what with losing games in the closing seconds to Michigan and Michigan State. They could just as easily be 3-0 with a few more plays going their way. Instead, they are staring at the prospect of a 1-3 start, given the way Stanford has played going into the game. This could be a national statement game for Stanford quarterback
Andrew Luck
, who has 674 yards passing with 10 touchdowns and no interceptions.
4. Can the Big East represent in big nonconference games?
Pittsburgh, one of the popular preseason picks to win the Big East, fell flat on its face Thursday night in a 31-3 loss to Miami. That leaves Cincinnati and West Virginia this weekend in huge national profile games. Oklahoma visits the Bearcats, who have fallen on hard times just one season removed from an undefeated regular season. They hardly resemble the outfit that made it to the Sugar Bowl last season, having already lost to Fresno State and NC State. West Virginia, meanwhile, travels to LSU. The Mountaineers might be the best hope to win the Big East, but then again they nearly lost to Marshall.
5. How does Michigan State respond without coach Mark Dantonio?
Luckily, the Spartans play Northern Colorado, not exactly the toughest challenge. Dantonio suffered a heart attack in the hours after the Spartans' overtime win over Notre Dame, and offensive coordinator Don Treadwell will lead the team in his absence. A big game looms next week at home against Wisconsin. The bigger question is whether Dantonio will be back in time for that one.
6. Does South Carolina need to prove that it is for real even after beating Georgia?
Some believe the answer is yes. Well here it is, perhaps an even bigger test because the Gamecocks must play a better Auburn team on the road. Last week, Auburn struggled to stop Clemson running back
Andre Ellington
, who had 140 yards and a touchdown. This week, the Tigers face a bigger, more physical back in freshman stud
Marcus Lattimore
. The key for the Tigers: shutting him down to force
Stephen Garcia
into trying to win the game. South Carolina has the defense to be able to slow down Cam Newton.
7. How does Iowa respond after its heartbreaking loss to Arizona?
The Hawkeyes get an easier challenge this week against Ball State, but they are beginning life once again without
Jewel Hampton
, out for the season with a torn ACL. This game serves as an excellent tune-up headed into next Saturday's big game against Penn State. Iowa has to figure out how to get its offensive line going, perhaps the most glaring weakness on the team, which was completely exposed against the Wildcats.
8. How does Arizona respond after its big win over Iowa?
We can ask the question both ways. The Wildcats are up to No. 14 in the polls after that win, and now all of a sudden are a team everyone believes is right there in the mix for the Pac-10 title. They play a California team that lost to Nevada last week. What was striking in that game was the way Nevada dominated on both lines. That doesn't bode well going into this game, considering how strong Arizona looked on the offensive and defensive lines against the Hawkeyes.
9. Can Virginia Tech win at Boston College without Ryan Williams?
This is a crucial game for the Hokies, who could drop to 1-3 with a loss. Without Williams,
Darren Evans
and
David Wilson
will carry the load. But Evans has lost two fumbles in two weeks, and the Hokies traditionally struggle running the ball against the Eagles. That was until last season, when they had 235 yards on the ground. They are going to need another performance like that to win, but it's going to be much harder without their top runner.
10. Can Oregon keep up its scoring pace?
Hard to imagine the Ducks will be able to hang half a hundred on Arizona State, a team that came
thisclose
to beating Wisconsin on the road last week. Oregon has averaged over a point a minute in its three games this season, but the Sun Devils are no New Mexico and are certainly no Tennessee. Still, Arizona State has to be better in the red zone to have any shot at the upset.
September, 17, 2010
9/17/10
11:30
AM ET
Monster Saturday may have turned into a dud, but there are plenty of intriguing national storylines to watch in Week 3.
Here is a little sampling:
1. How does the ACC rebound?
To call the ACC's performance last week abysmal would be giving the word abysmal a bad name. Virginia Tech loses to James Madison. Miami and Florida State lay eggs in their big non-conference showdowns. Kansas beats Georgia Tech. N.C. State got the league off to a good start Thursday night with a win over Cincinnati, but that is not really saying much considering the Bearcats hardly look like their 2009 selves. Florida State-BYU, Maryland-West Virginia, East Carolina-Virginia Tech and Clemson-Auburn highlight Saturday. Here's hoping the league doesn't embarrass itself again.
2. What will we see out of Boise State?
The Broncos had the week off last week, but you wouldn't have known it for all the chatter about them once Virginia Tech lost. They finally return to the field Saturday against Wyoming to play in Game 2 after what feels like a very long layoff. The Cowboys have played Boise State tough in recent meetings. The game will be sold out, and the crowd fired up. Key to watch: Will the Wyoming spread offense be able to take advantage of a Boise State secondary that looked shaky at times in the opener?
[+] Enlarge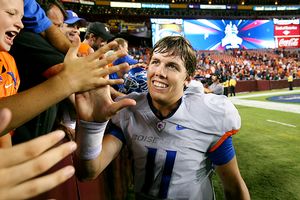 AP Photo/Joe Jaszewski/Idaho StatesmanThe last time we saw Kellen Moore and Boise State they were celebrating a win over Virginia Tech.
3. Jake Locker vs. Nebraska.
It may be unfair to pit one player against an entire team, but that is what this one is going to come down to on Saturday. Locker essentially had his Heisman campaign parked in a season-opening loss to BYU, a team that it turns out may not be as good as advertised. How will he do against a defense that continually brings pressure and is considered to be one of the best in the country? That will go a long way toward determining how people view Locker the rest of the way.
4. Can Georgia keep itself in the SEC East race?
It may be a stretch to say the Bulldogs are reeling, but Saturday's game against Arkansas has got to be considered a must-win. Georgia struggled in a 17-6 loss to South Carolina last week, with shoddy tackling headlining the defensive performance. While
Marcus Lattimore
and run-oriented South Carolina punished them last week, a different type of offense meets them this week behind pass-happy
Ryan Mallett
. Georgia is expected to open up more of its playbook for redshirt freshman
Aaron Murray
, but the onus is going to fall on the Georgia defense to stop Mallett and the Razorbacks.
5. Nick Foles vs. Adrian Clayborn.
Arizona faces its biggest test of the season against the No. 9 Hawkeyes, and this one is going to come down to the way quarterback Nick Foles is able to handle the pressure the Iowa defensive line is sure to bring. And by that we mean Clayborn, who is still waiting on his first sack of the season after notching 11 in 2009. Of course, there is this from ESPN Stats & Information: Since 1990, Pac-10 teams are 25-6-1 at home against Big Ten teams.
6. What does Denard Robinson do for an encore?
Surely the Michigan quarterback can't keep up his torrid pace, what with 885 yards of total offense in the first two games. He may not have to do as much Saturday against Massachusetts, though FCS teams have proven to be problematic for several teams this season. Still, Robinson has inspired awe throughout the country, and now word is out that high school players are leaving their shoelaces untied in order to be just like him.
7. Does Notre Dame rebound against Michigan State?
Surely a heartbreaking loss to Michigan won't be easy to get over, but the bigger question is whether
Dayne Crist
is 100 percent after he admitted he played against the Wolverines with blurred vision before being pulled from the game. If you thought the series against Michigan was a nail biter, check this out from ESPN Stats & Information: Over the past 10 meetings, the Notre Dame-Michigan State game has been decided by seven points or less eight times, with the game-winning score coming late in the fourth quarter or overtime in seven of the 10 meetings.
8. Any FCS upsets this weekend?
Already this year, five FCS schools have beaten their upper division opponents, headlined of course by James Madison over Virginia Tech. Last year there were only four. There isn't an overload of FCS-FBS games this week, but these are the teams on alert: Oregon, South Carolina, Michigan, Syracuse and San Jose State.
9. What do we see out of Alabama running back Mark Ingram?
The Heisman Trophy winner is getting his first action of the season after missing the first two games while recovering from knee surgery. Does Alabama need him to beat Duke? No. But they will need him for its run through the SEC, which begins next weekend with a huge game at Arkansas. Better get him game ready before then.
10. Any last-second heroics between Texas and Texas Tech?
We all remember the last time Texas visited Lubbock -- Graham Harrell to Michael Crabtree ruined the No. 1 Longhorns' shot at the BCS national championship. Point to remember from ESPN Stats & Information: Texas Tech has upset a top-10 Texas team twice in the Longhorns' previous four visits (2002 and 2008).
September, 3, 2010
9/03/10
11:30
AM ET
Our esteemed conference bloggers gave us their top 10 storylines to watch yesterday. Today, we present the top 10 storylines to watch across the country.
1. How does North Carolina recover emotionally from losing so many players?
We know North Carolina is going to be depleted on the field against LSU on Saturday.
Twelve players have been declared ineligible
, including six starters. Of those six, five are on what is supposed to be one of the best defenses in the country. Players are going to have to step up, yes, but you have to wonder what type of toll this is going to take on the team from a mental standpoint. North Carolina is going into one of the biggest national games in the country with one arm tied behind its back. Surely the players know this. Surely coach Butch Davis knows this. He is going to have to do one heck of a coaching job to get his players to focus on the actual game and not all the outside distractions.
2. Big debut for Notre Dame coach Brian Kelly:
Opinions are mixed on just how well Kelly will do in his first season as Irish coach. There are some who believe a 10-win season is possible. Others think seven wins is more likely. We will have to see how
Dayne Crist
does in the new spread offense, but more importantly -- how much better is the defense going to be this season? This is a team that returns nine starters from a defense that ranked 86th in the country last season. Yes, there is another new defensive scheme in place, but it should get a big test from Purdue and pass-happy quarterback
Robert Marve
.
3. How much of a home-field advantage will Virginia Tech have against Boise State?
We have gone over some of the matchups, most notably the Hokies running backs vs. the Boise State defense. But intangibles are going to play a role here. How does Boise State handle traveling across the country and going into what should be a hostile environment? It has practiced for the heat and humidity, but it is hard to simulate actual game conditions with 90,000 fans -- most of whom are against you. Boise State has played in front of hostile crowds before, but this should be especially loud.
4. How does Year 3 of the Rich Rodriguez era start?
Rodriguez could have the hottest seat of any coach in the country right now, what with NCAA sanctions looming and two straight losing seasons on his resume. Michigan fans want to win yesterday, let alone now. There is still uncertainty at quarterback, where up to three players could play against Connecticut. Every game Michigan plays these days feels like a must-win, but especially this one because of all the distractions outside the program.
5. No Tim Tebow, now what?
The
Florida Gators
are ranked so high in the preseason polls this year largely because of the expectations on new quarterback
John Brantley
. He has a different style to be sure, more of a drop-back passer with a much stronger arm, but many expect him to step in and keep the Gators offense rolling along. He will have to do it without two of the team's top receivers, Riley Cooper and Aaron Hernandez. Who is going to step up to be the leader of that receiving group? Will the Gators have an effective way to run the ball with Tebow gone? After all, Tebow led the team in rushing the past three seasons.
6. How does Alabama handle playing without Mark Ingram and defensive end Marcell Dareus?
Yes, the Tide is only playing San Jose State, but a big game against Penn State looms and the Tide could potentially be without both players in that one. Alabama has a capable back in
Trent Richardson
, and Damion Square is expected to play in Dareus' place. Both are going to need to get comfy out there before Sept. 11.
7. Does Nebraska have an offense to match its defense?
The Cornhuskers are getting much love based on the way their defense played last season, and their near-upset of Texas. But their offense was atrocious, ranking 99th in the entire country. Once again, there is quarterback uncertainty, so that does not exactly project the confidence that this unit is going to magically be better. In its four losses last season, Nebraska averaged 11 points.
8. Can Oregon State put enough pressure on TCU quarterback Andy Dalton?
Much of the focus on this game has centered around the Rodgers brothers and their return to Texas.
Jacquizz Rodgers
vs. the always strong TCU defense is a great matchup to watch. But another one is how Oregon State defends Andy Dalton. The last time we saw Dalton, he was frazzled into throwing three interceptions, including one that was returned for a touchdown in the Fiesta Bowl against Boise State. He threw only five in the regular season.
9. Georgia breaks in a new quarterback and new defense:
How are the Bulldogs going to look with a redshirt freshman in
Aaron Murray
leading the offense, and a new defense playing the 3-4? Georgia is going to need answers fast with a road game at South Carolina looming. The Gamecocks looked pretty good Thursday night.
10. Charlie Strong vs. Joker Phillips:
It's great to see two African-American head coaches making their debut in such a huge rivalry game. Their rise has helped increase the number of minority head coaches to 13 going into the 2010 season, up from nine in 2009.
August, 30, 2010
8/30/10
3:48
PM ET
Check out some of these pretty
cool factoids for Week 1
compiled by ESPN's Stats & Information group:
Alabama is the fifth defending champion in the past nine years to be ranked No. 1 in the AP preseason poll. The previous four all won at least their first 12 games of that next season
The ACC hasn't had a team go unbeaten through conference play since FSU in 2000.
The No. 15 Pittsburgh Panthers are the popular pick to win the Big East. The Panthers are coming off a 10-3 season, ago but they haven't won 10-plus games in consecutive seasons since a three-year stretch from 1979-81 (11 wins each season).
September, 5, 2009
9/05/09
11:27
PM ET

Posted by ESPN.com's Mark Schlabach
ATLANTA -- We've seen the best and worst of Beamer Ball at the Georgia Dome.
Sophomore
Dyrell Roberts
' 98-yard kickoff return for a touchdown gave the No. 7 Hokies a 7-6 lead in the first half. Punter Brent Bowden has been fantastic, too, pinning the No. 5 Crimson Tide deep in their own territory a handful of times.
But Virginia Tech's special teams also are a big reason it now trails the Crimson Tide 27-17 with about 10 1/2 minutes to play.
Alabama needed only two plays to go in front 24-17 early in the fourth quarter. New Tide quarterback
Greg McElroy
threw a 48-yard pass to diving
Marquis Maze
, and then
Mark Ingram
scored on a six-yard touchdown run up the middle.
On the ensuing kickoff, Alabama senior defensive back Chris Rogers stripped Tech's Davon Morgan of the football and recovered the fumble at the Hokie 20. The Tide were forced to settle for Leigh Tiffin's 20-yard field goal, which made the score 27-17.