NCF Nation:

Alameda Ta'amu
February, 28, 2012
2/28/12
11:04
AM ET
Maybe California's
Mychal Kendricks
really is a better inside linebacker than Arizona State's
Vontaze Burfict
, even when you don't consider Burfict's baggage.
[+] Enlarge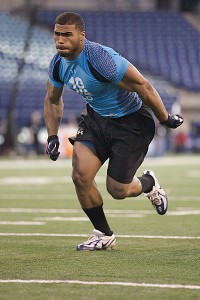 AP Photo/Michael ConroyCalifornia linebacker Mychal Kendricks had a strong workout at the combine.
Kendricks, the Pac-12 Defensive Player of the Year, was the top inside linebacker at the NFL combine on Monday in the 40-yard dash (4.47), vertical jump (39.5) and broad jump (10-7). He tied for fifth overall at the combine in both the vertical and broad jump. He also had a time of 4.19 in the 20-yard shuttle, the fifth fastest for linebackers.
And
there's this from Scouts Inc
.:
The surprise of the inside linebacker group was California's Mychal Kendricks (5-11 1/8, 239), who absolutely crushed his workout. Kendricks had the top 40 (4.47), vertical (39 1/4) and broad jump (10-7) in the group, and was in the top five in the short shuttle (4.19). He was also above-average on the bench with 24 reps.
Kendricks' explosiveness showed up during drills, when he stayed low to the ground, showed quick feet and was effective shaving the edge as a pass-rusher. He was under control at all times, and this performance combined with good things seen recently on film give him a realistic shot to come off the board late on Day 2.
Things went much worse for Arizona State ILB Vontaze Burfict (6-1 3/8, 248), whose 40 time (5.09) and broad jump (8-7) were well below the four-year averages. Burfict's 2011 film says he's a third-rounder, and when you add in those results along with character baggage and poor interviews his stock is beginning to plummet.
USC linebacker
Chris Galippo
also
struggled a bit
:
USC MLB Chris Galippo didn't do enough to show teams he's more than just a two-down linebacker who will come to the sideline on passing downs. Galippo almost lost his balance when asked to backpedal between bags, and he didn't show great burst out of breaks in coverage.
Another Pac-12 defensive standout was former USC end
Nick Perry
, who ran a blistering 4.64 40. That said, ESPN's Todd McShay is a bigger fan of Clemson's
Andre Branch
.
Clemson's Andre Branch (6-4 1/4, 259) and USC's Nick Perry (6-2 3/4, 271) are similar conversion/hybrid players and both rank on the edge of the first round. Perry has better workout numbers but Branch is more athletic and shows better bend as an edge rusher. Perry has more straight-line explosiveness, but Branch blows him out of the water in terms of change-of-direction skills and lateral quickness in space.
Another take on Perry:
USC DE Nick Perry had a strong day. There is some tightness in his hips, and it showed when he was asked to open up in space. But Perry moved well enough to give base 3-4 defenses something to think about as a possible outside linebacker. The 271-pounder is quick and gets to depth, and he showed that he can pluck the ball out of the air. His most natural fit is at defensive end, though. Perry showed above-average lateral mobility and quick hands during bag work.
There were a few Pac-12 defenders that didn't burn up the 40, though. Washington defensive tackle
Alameda Ta'amu
ran one of the slowest 40s at 5.37, but he injured his hamstring while doing so. For the defensive ends, Cal's
Trevor Guyton
(5.07) and Arizona State's
Jamaar Jarrett
(5,02) were among the slowest in their position group.
September, 23, 2011
9/23/11
9:00
AM ET
Stanford and Oregon were a combined 24-2 last year and both are presently ranked in the nation's top-10. They are the top of the Pac-12 North. The number of people who don't think one or the other will win the division is 17, and six of them are
Norwegian
, folks who as you well know are notoriously contrarian when it comes to college football analysis.
Looking up at the Ducks and Cardinal are four other the North teams, but the two top candidates for the three-hole will be in Seattle on Saturday scrapping it out for the right to become a "maybe" contender that could make the Norwegians look like giants of prognostication: California and Washington, neither of whom enjoy hearing about how great Stanford ("Blech," say the Bears) and Oregon ("Pfffftt," say the Huskies) are.
These two combined for 12-13 record last fall, with the Huskies managing to win seven games only because they pried No. 5 away from Cal on what suddenly -- wham! -- became the final play of the Bears season.
[+] Enlarge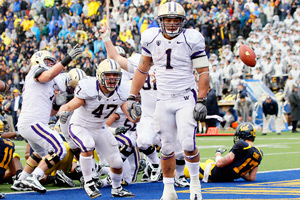 AP Photo/Marcio Jose SanchezChris Polk's 1-yard touchdown with no time left lifted Washington past Cal last season.
That dramatic finish -- a fourth-down, 1-yard TD plunge from Huskies running back
Chris Polk
as time expired on a 16-13 victory -- was the cornerstone of what is supposed to be a transformative season for Washington.
It was not greeted so warmly in Berkeley, where the Bears found themselves saddled with their first losing record in nine years under coach Jeff Tedford. Bears fans, suffice it to say, grumbled a bit, and the Bears themselves weren't exactly clicking their heels over the program's slide, either.
Tedford, however, is only willing to obliquely note that Cal might come to Seattle with an added chip on its collective shoulder.
"It was motivation through the whole offseason and the summer time, but this is a different team and they're a different team," Tedford said before adding. "It was odd how that game ended. It was somewhere we've never been before."
As if last year's game isn't enough of a poke in the eye, Cal adherents also might recall that the last time the Bears were inside Husky Stadium, they got bombed 42-1o, perhaps Jake Locker's career-best game.
These teams will come at each other with similarities: New starting QBs who have mostly exceeded expectations. And differences: Cal's defense ranks among the conference leaders; Washington's among the conference laggards.
As for Cal's
Zach Maynard
, this will be his SECOND -- not first, SECOND -- major road test. He mostly passed his first during an overtime win at Colorado, but Husky Stadium is notoriously tough on visiting foes, though it doesn't appear the house will be full.
"I think Zach is on track to become a very good player," Tedford said. "He has a lot of ability. He probably can use his legs better than any quarterback we've had here, so that is an added dimension to our offense."
While Maynard has been solid, sophomore
Keith Price
has been stellar for the Huskies. He leads the conference with 11 TD passes and ranks fourth in passing efficiency, ahead of some notables such as Arizona's
Nick Foles
and USC's
Matt Barkley
.
"He's playing phenomenal football for us right now," coach Steve Sarkisian said. "He's been lights out."
But Price will be playing against a tough Cal defense that has 11 sacks and ranks second in the conference in pass-efficiency defense.
Maynard will face a defense that ranks last in the conference in scoring (36.7 ppg) and 11th in total defense (452.0). Still, a review of the Huskies depth chart -- defensive tackle Alameda Ta'amu, defensive end Hau'oli Jamora, middle linebacker Cort Dennison, cornerback Desmond Trufant -- suggests this crew should be playing better.
Which is why much of the muttering in Seattle this week has been about well-compensated coordinator
Nick Holt
.
"I trust Nick Holt," Sarkisian said. "I believe in Nick Holt. I believe in our defensive staff. They are tremendous coaches. I've seen them coach for years. And we will get better."
How? Simple. Freaking stop dithering and go hit somebody.
"We're playing with some hesitation," Sarkisian said. "We're not letting loose and letting go. We're a little bit afraid to make a mistake."
The winner Saturday immediately announces itself as a top-half of the division team. And that is a necessary first step toward challenging Oregon and Stanford, who have finished one-two in the conference the previous two seasons.
The Norwegians have high hopes.
September, 15, 2011
9/15/11
10:15
AM ET
Ten issues to consider heading into the third week of games.
1.
Luck versus Foles
: Both
Andrew Luck
and
Nick Foles
are mature starters with lots of skills with NFL futures. They won't spend a lot of time comparing stats during the game, but it's hard to imagine both are completely uninterested in the other and how he performs. Quarterbacks study other quarterbacks. While both these guys want to win above all else, they'd also like to walk away with a better looking stat sheet than the other. Luck has a better running game and a better defense supporting him. Foles has better receivers. Who ends up with the best efficiency rating, oh and the W?
2.
Nebraska's O-line versus Washington's D-line
: The Cornhuskers offensive line is billed as perhaps the youngest in program history, with a freshman and two sophomore starters. And the 'Huskers 2010 O-line lost the battle with the Huskies D-line in the Holiday Bowl, rushing for just 91 yards. UW's 333-pound DT Alameda Ta'amu, in particular, dominated inside. While the Huskies pass defense has been suspect so far, the run defense is another story, ranking seventh in the nation. UW is talented and experienced up front. Nebraska is a run-first team, and quarterback
Taylor Martinez
is much more comfortable running than passing. While the Huskies pass defense, again, has been poor, coordinator Nick Holt certainly would feel better about his unit's chances if Martinez is forced to throw downfield to move the ball.
[+] Enlarge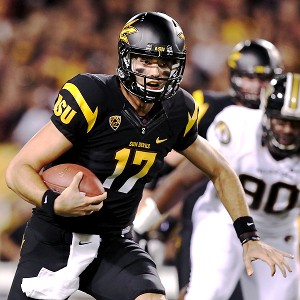 Christian Petersen/Getty ImagesCan Brock Osweiler repeat the dominant performance he had against Missouri last week when the Sun Devils face the Illini?
3.
Osweiler's encore
? Arizona State quarterback
Brock Osweiler
was a tour de force in the win over Missouri, passing for 353 yards and three touchdowns and rushing for 34 yards and a score. Also, he projects confidence and is a vocal leader. The Sun Devils will be challenged to match the intensity they showed against Missouri on the road at Illinois. That's where Osweiler's leadership comes in. He needs to rally the locker room and make sure distraction and complacency don't take root. It would be nice if he played like he did against Missouri, too.
4.
Can UCLA run against Texas
? Texas' defense has been stout in the first two games. It held BYU to just a field goal in the second half. It's yielding just 86.5 yard rushing per game. In the Bruins upset victory last year, the Longhorns couldn't stop UCLA's pistol offense, which raked up 264 yards on the ground. The Bruins are still a run-first team with a questionable passing game. But it will be much easier to throw downfield if the running game is gashing the Longhorns and giving them a sense of déjà vu.
5.
Washington State's defense makes a stand
? The Cougars defense has been outstanding so far, and it's particularly encouraging that it has been stout against the run, which hasn't been the case for three years. But Idaho State and UNLV are terrible, and San Diego State is not. In fact, it has two NFL prospects leading the offense in quarterback
Ryan Lindley
and running back
Ronnie Hillman
. Both put up huge numbers in 2010, and they will challenge the Cougs with a potent pass-run balance. Want to know if the Cougs D is for real? This game will tell. And if the D passes the test, Washington State should win because it should be able to score plenty of points against the Aztecs.
6.
Rodney Stewart gets going
: Colorado ranks 114th in the nation in rushing even though it has an A-list running back in Stewart. While the passing game has been impressive, coach Jon Embree is not the sort to abandon the run and surrender balance. Colorado State gave up 150 yards rushing to New Mexico. You'd think the Buffs can at least match that, even with a injury-riddled offensive line. And if Stewart gets going, that will open up chances for quarterback
Tyler Hansen
to find wide receiver
Paul Richardson
over the top.
7.
Pin your ears back, Trojans
: Despite a soft schedule featuring Wake Forest and Rhode Island, Syracuse ranks 107th in the nation in rushing (78.5 yards per game). While
Ryan Nassib
is a nice quarterback, life won't be easy for him against a strong Trojans pass rush if he's got no running game to keep the defense honest. He's already been sacked four times, and his offensive line hasn't seen the likes of the Trojans front four.
8.
Rediscover the run, Utes
: While
Jordan Wynn
is a gamer, he looked significantly better at USC than in the season opener. But he's not the sort who can win a game alone, at least not while he's still regaining his shoulder strength after surgery. He needs a running game, which he didn't have against USC. BYU plays tough defense, but the Utes need to establish a run threat and some offensive balance to make life easier for Wynn, both in terms of opening up the downfield passing game and protecting Wynn's surgically repaired shoulder.
9.
Road tough
? Good teams win on the road, and good conferences have teams that consistently win on the road. Utah, Arizona State, Washington and Washington State each can make statements for themselves and for the Pac-12 if they take care of business in hostile environments. None are favored to do so. If the conference goes 3-1 in these games, it will significantly bolster the conference's Q-rating nationally. Oh, and its computer rating in the BCS standings.
10.
Oregon and California
? Oregon plays Missouri State and California plays Presbyterian. What to watch? Something else.
August, 12, 2011
8/12/11
11:00
AM ET
It's time for our preseason All-Pac-12 team.
Feel free to disagree.

Offense

QB
Andrew Luck
, Stanford
RB
LaMichael James
, Oregon
RB
Chris Polk
, Washington
TE
David Paulson
, Oregon
WR
Juron Criner
, Arizona
WR
Jermaine Kearse
, Washington
OL Jonathan Martin, Stanford
OL Matt Kalil, USC
OL David DeCastro, Stanford
OL Ryan Miller, Colorado
OL Tony Bergstrom, Utah
K Erik Folk, Washingon
Defense

DE Nick Perry, USC
DT Alameda Ta'amu, Washington
DE Junior Onyeali, Arizona State
LB Vontaze Burfict, Arizona State
LB Shayne Skov, Stanford
LB Mychal Kendricks, California
LB Chase Thomas, Stanford
CB Cliff Harris, Oregon
CB Nickell Robey, USC
S T.J. McDonald, USC
S Delano Howell, Stanford
P Bryan Anger, California
PR Cliff Harris, Oregon
KR
Robert Woods
, USC
July, 28, 2011
7/28/11
9:00
AM ET

Arizona:
There has been a lot of speculation about receiver
Juron Criner
's absence this summer and the potential of him even playing this season. Coach Mike Stoops said the all-conference player was back participating with the team after having "some personal and family issues with his mother that he had to attend to."

Arizona State:
If Arizona State were to finish second behind USC in the South Division, they would still advance to the championship game because of the NCAA sanctions levied upon USC. If that were to happen, coach Dennis Erickson and quarterback
Brock Osweiler
agreed that they wouldn't care. "If you get in the game and you win it, you're going to the Rose Bowl," Osweiler said. "So whatever it takes to get there."
California:
Oregon isn't the only Pac-12 team tied to scout/street agent Willie Lyles. California also did business with Lyles. "I have no concern whatsoever about it," coach Jeff Tedford said. "We have the videos, we have the prospect list, and so I have absolutely no concern about it." What Tedford is concerned about is his first losing season, and he said he understood that Bears fans are unhappy with the recent trajectory of the program. "We have created a standard and expectation at Cal over the last nine years," he said. "Last season we fell short of that, and we're not hiding from that."

Colorado:
The Buffaloes have not won on the road since 2007, a span of 18 games. That second number was provided by new coach Jon Embree when asked about the first. He said it's a "sticking point" with him and one that he's noted -- probably more than once -- to the team. "I believe there is no one on our team that's played in a road win," he said. "Good teams win on the road. Obviously we haven't been a good team or I wouldn't be here. The thing I'm excited about is our first game's on the road [at Hawaii] because we need to address that issue immediately. I'll leave it at that. We need to address that issue immediately. It does not sit well with me." Sounds like Hawaii is circled in red ink on the schedule.

Oregon:
Ducks coach Chip Kelly had high praise for quarterback
Darron Thomas
. "I don't know if there's a ceiling with Darron," he said. "To come in as a first-time starter and go undefeated in the regular season, and undefeated in this conference and lead his team to a berth in the national championship game. And threw for the second most yards ever in a national championship game, I think the one thing that I remarked and I said it a lot last year is that it almost seemed like every week he just got better and better." Oh, and Kelly also said Thomas was "the toughest quarterback I've been around."

Oregon State:
Beavers coach Mike Riley provided a cautiously optimistic update on receiver
James Rodgers
, who blew out his knee last season at Arizona. "The one thing that you can never do with James is count him out," Riley said. "He had two major knee surgeries. He is running. He has always been deemed ahead of schedule. But I'm going to really play this conservatively. I'm going to see where he is. He's got a major doctor's appointment, kind of a last check up before camp coming up. We'll see what they say when he comes home from that. Then we'll go into fall camp and see where he is." Riley also said that he expects tight end
Joe Halahuni
(shoulder) to "be practicing the last couple of weeks of fall camp, then we'll see about game ready after that."

Stanford:
The Cardinal has plenty of questions at receiver, but a healthy return of
Chris Owusu
would answer many of those questions, including giving Stanford one of the conference's best deep threats. Said coach David Shaw, "Since Chris' last surgery I haven't said anything to him besides play every game. That's all I said to Chris. I said nothing else. I said, 'Chris, … we'll practice accordingly.' We will make sure we take the pounding off him in training camp. We need Chris to play in every single game." As for young receivers stepping up, Shaw didn't provide any names, though he did say if none did, he'd just throw more to the Cardinal's deep collection of tight ends.

UCLA:
Coach Rick Neuheisel hopes to take to the air this year, no matter who he has under center. Juniors
Kevin Prince
and
Richard Brehaut
will compete for the starting gig during fall camp, with each looking to bolster an anemic passing attack that ranked 116th out of 120 teams nationally last season. "Somewhere along the line, we lost our ability to throw the ball," Neuheisel said. "I don't think you can point to one factor."

USC:
If USC's new-look offensive line ends up being any good this season, a lot of the credit will go to Khaled Holmes, a converted guard who moved to center this offseason because of his cerebral nature. "This is an important move for us," coach Lane Kiffin said. "We do a lot of stuff on our offensive system. Khaled's a very smart football player, so he'll help us up front, because he's going to have two new guards next to him."

Utah:
Utes coach Kyle Whittingham didn't mince words when talking about the importance of QB
Jordan Wynn
, who is coming back from shoulder surgery. "Job 1, in fact, is keeping Jordan Wynn healthy throughout the course of the season," Whittingham said. Whittingham said Wynn's shoulder is "100 percent from a medical standpoint," but that doesn't mean the coaches won't be cautious with him. "[Offensive coordinator Norm] Chow has a plan in place to limit his throws early in camp and progress from there," Whittingham said. "What that number is, we're looking at is it 100 throws a day? Is it 80 throws a day? But we'll have a plan in place to make sure we don't wear him out early on in camp."

Washington:
The Pac-12 blog recently rated Washington in "great shape" at defensive tackle. That probably is no longer accurate, particularly with some injury issues at the position. Sione Potoa'e and Semisi Tokolahi will be limited early in camp, coach Steve Sarkisian said. Potoa'e has a sprained knee that needs to be watched, while Sarkisian previously said Tokolahi (ankle) likely won't be back before conference play begins on Sept. 24 against California. Toss in the retirement of Chris Robinson due to knee issues, and the Huskies have some issue at the position, at least beyond 330-pound Alameda Ta'amu. The depth, at least, figures to be young, with redshirt freshman Lawrence Lagafuaina and incoming freshman Danny Shelton.

Washington State:
While the return of QB
Jeff Tuel
and a top-flight receiving corps is good, the Cougars struggled on the offensive line in 2010, both pass blocking and run blocking. But coach Paul Wulff believes that might change this fall due to continuity, with four starters back as well as some other experienced backups. "I think a lot of things are solved," Wulff said. "Our running game, we're a lot more physical on the offensive line. We're athletic. We have experience. Our running backs are better. Our quarterbacks and then the continuity with some of our young receivers and Jeff are better. So all of those ingredients are going to equate to higher productivity."
July, 11, 2011
7/11/11
10:25
AM ET
No team in the Pac-12 wows you at defensive tackle. No team is a sure thing. There is a lot of "maybe" at the position. And probably some maybe not.
The uncertainty of quality -- both in terms of returning stars and depth -- made this a difficult position to rank. For example, Washington has a nice foursome at tackle, led by Alameda Ta'amu, who might be the best tackle in the conference.
That's great. Good for the Huskies. But they ranked 97th in the country in run defense last year. You sort of pause over that, you know?
So a lot of this ranking is feel thing, a projection of potential. And "great shape" here is relative to the conference. Nebraska, for example, wouldn't exchange its tackles -- Jared Crick and Baker Steinkuhler -- for any Pac-12 tandem.
Some of this figures to inspire a bit of debate.
Great shape
USC
: This may be in some part based on fumes from the Trojans reputation at the position. It definitely includes a vote of faith that they will get a 100 percent Christian Tupou back from the knee injury that killed his 2010 season. If so, the threesome of Tupou, George Uko and DaJohn Harris is strong. And if you toss in Armond Armstead -- who missed spring with an undisclosed medical condition that threatens his career -- you'd have a clear No. 1.
Washington
: Ta'amu seemed to find himself during the second half of last year, and the 330-pounder could end up getting some All-American consideration if he consistently plays like he did against Nebraska in the Holiday Bowl. Sione Potoa'e and Semisi Tokolahi are both experienced, and Lawrence Lagafuaina a space-grabbing, 344-pound redshirt freshman.
Colorado
: The Buffaloes are sneaky good here, even though they only ranked 48th in the nation in run defense in 2010. Both starters, Will Pericak and Curtis Cunningham, are back, but Conrad Obi was a revelation this spring. He looked like a future NFL draft choice, not a player who'd mostly been a bust. Nate Bonsu, who missed spring with a knee injury, also should help.
Good shape
Utah
: The Utes, who ranked 11th in the nation in run defense in 2010, lost Sealver Siliga, but they believe they have a budding star in, er, Star Lotulelei, while James Aiono, LT Tuipulotu and Joape Peta are solid. Also, Dave Kruger, who played end this spring, is 280 pounds and can play inside.
Arizona
: The loss of backup Willie Mobley to a knee injury hurts depth, but Justin Washington figures to take a step forward after an impressive true freshman season, Sione Tuihalamaka started four games in 2010. Depth is a question. The Wildcats ranked 33rd in the nation in run defense last fall.
Oregon
: On the one hand, Oregon lost both starting defensive tackles in Brandon Bair and Zac Clark from a unit that ranked 27th in the nation in run defense. On the other, they played so many guys last fall, the new starters are experienced players. Further, Ricky Heimuli, Taylor Hart, Wade Keliikipi, Isaac Remington and Jared Ebert played well enough this spring to suggest the position will be a strength in the fall.
Arizona State
: If Lawrence Guy didn't make his ill-fated decision to enter the NFL draft, the Sun Devils, who were 16th in the nation against the run last fall, would be in great shape here. As it was, Will Sutton had a great spring and looks like a potential All-Conference guy. Grinder Bo Moos is listed as the starter at the other tackle, though he could be eclipsed by Corey Adams. Toa Tuitea saw limited action last year.
UCLA
: The Bruins defensive line was terrible last year, ranking 108th in the nation against the run, but the talent is there for a significant turnaround. Cassius Marsh, Nate Chandler, Justin Edison, Donovan Carter and Seali'i Epenesa should do a much better job plugging the middle.
California
: Cal is actually fine here, despite the loss of NG Derrick Hill. For one, when you run a 3-4 defense, it's hard to rate your DTs, even if your DEs often operate like them. The Bears have two solid options at NG in Aaron Tipoti and Kendrick Payne, and it's also possible that touted 350-pound incoming freshman Viliami Moala will eclipse both of them.
We'll see
Oregon State
: Dominic Glover moves inside from end and Kevin Frahm has experience, but this unit didn't play well last year -- 89th in run defense -- even with one of the best DTs in the nation in Stephen Paea. 340-pound Castro Masaniai could help but he missed spring after shoulder surgery and has off-field issues. There's also Mana Tuivailala and Ben Motter.
Stanford
: Like Cal, Stanford runs a 3-4, so it naturally it is going to suffer a bit in DT rankings. More important: The loss of Sione Fua is significant. Terrence Stephens and Henry Anderson had solid springs but neither has much experience.
Washington State
: Brandon Rankin, a returning starter, was listed No. 2 on the depth chart behind Anthony Laurenzi after spring practices, with redshirt freshman Toni Pole No. 1 at the other tackle. Justin Clayton, Steven Hoffart and Xavier Cooper provide depth. It's not unreasonable for Cougars fans to expect improvement, perhaps significant improvement. But a team that ranked 115th in the nation in run defense the previous season is automatically a "We'll see" here.
June, 8, 2011
6/08/11
9:00
AM ET
SMU's legendary "Pony Express" backfield, Craig James and Eric Dickerson, have teamed up again for an award that recognizes college football's best tandem -- on either side of the ball -- the "Pony Express Award."
[+] Enlarge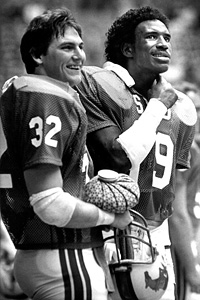 AP File PhotoRunning backs Craig James, left, and Eric Dickerson were dominant at SMU in the early 1980s.
The award, the press release said, "will look at two- and three-player tandems from across the nation, ultimately honoring the combination whose work ethic, desire, on- and off-field leadership and playmaking ability best fuel their team."
The award will be "voted on by a blue ribbon panel of experts that will form the award's board of directors," and will be announced at the end of the regular season.
"Eric and I were able to complement each other on the field in such a way that together we formed a much more potent weapon than even our individual talents would have suggested," James said in the release. "We have remained life-long friends, and each season we have always had fun talking about the great tandems that were making an imprint on the game that season. We decided someone should recognize these great combinations, and that really became the genesis of the Pony Express Award."
Said Dickerson: "You usually talk about football in terms of offensive and defensive units and the individual standouts on either side of the ball. But if you look at those units, usually there are a couple of guys who stick out and really form a very tough matchup. The most obvious would be a great quarterback and a standout receiver. In Craig and mine's case, it was two great running backs. On defense, it might be a pair of great safeties. These are the types of tandems we will be looking at."
The 48 tandems on the "Watch List" include seven from the Pac-12, including two from both Stanford and Washington.
Stanford
: QB
Andrew Luck
, WR
Chris Owusu
, TE
Coby Fleener
Stanford
: OT Jonathan Martin, OG David DeCastro
Arizona
: QB
Nick Foles
, WR
Juron Criner
Oregon
: QB
Darron Thomas
, RB
LaMichael James
, RB
Kenjon Barner
USC
: QB
Matt Barkley
, WR
Robert Woods
Washington
: DT Alameda Ta'amu, LB Cort Dennison
Wasington
: RB
Chris Polk
, WR
Jermaine Kearse
Some that might have been worth adding:
Arizona State
: LB Vontaze Burfict, DE Junior Onyeali
California
: LB Mychal Kendricks, S Sean Cattouse
Colorado
: RB
Rodney Stewart
, WR
Paul Richardson
Oregon
: CB Cliff Harris, S John Boyett
Stanford
: LB Shayne Skov, S Delano Howell
Washington State:
QB
Jeff Tuel
, WR
Marquess Wilson
May, 23, 2011
5/23/11
11:05
AM ET
Every team has hope heading into the offseason. And every team has concerns.
Ergo, we're going to run through the conference and look at the chief matters -- on the up and downside -- for each Pac-12 team.
Next up:

Washington
Biggest reason for hope
:
Chris Polk
+ an improved defense.
Washington flashed signs of becoming a physical football team in 2010, which means the Huskies looked -- again, at times -- like the program that became a national power under Don James. What does "physical" mean? It means you run the ball on offense and push folks around on defense. It's what old school UW fans want to see, and more than a few probably got teary-eyed during the Holiday Bowl when the Huskies pounded on Nebraska in a 19-7 victory, a shocking result considering what the Cornhuskers had done to the Huskies just under three months before. It also became clear late in the season that Polk is on the short list of best running backs in the nation, and that the Huskies are
this close
to developing a defensive culture that matches fiery coordinator Nick Holt. There are questions at linebacker heading into the 2011 season, but tackle Alameda Ta'amu and end Hau'oli Jamora lead an A-list crew on the D-line, and there's a solid mixture of experience and young talent in the secondary. The defense should be a top-half of the conference unit. While the offensive line will fall short of dominant, Polk is one of those backs who often can do it on his own. He almost never goes down on first contact.
Biggest reason for concern
: Will quarterback
Keith Price
be valuable or cost the Huskies?
Price asserted himself this spring in his competition with
Nick Montana
to replace Jake Locker. He flashed dual-threat ability that suggested he might become an offensive asset, not a liability as a first-year starter. We've already mentioned Polk, but the Huskies also are deep at receiver. If Price presents a consistent passing threat -- in other words, he's more than a game manager -- then the offense should be pretty darn potent. And there's reason to be optimistic beyond Price's spring performance. He turned in an admirable effort last fall starting for an injured Locker at Oregon -- not exactly the best place for a UW QB to make his first career start. Put it this way: While the Huskies don't look like a threat to win the North or even to win 10 games, if Price ends up ranking in the top half of the conference in passing efficiency, it's a good bet that the program will take another significant step forward in 2011.
May, 13, 2011
5/13/11
12:21
AM ET
Every season coaches talk about being young. But eventually those young starters and contributors become veteran players. And sometimes breakout stars.
Even more dramatic: Sometimes players go from star to superstar -- see Oregon running back
LaMichael James
-- who went from all-conference to unanimous All-American, Doak Walker Award winner and Heisman Trophy finalist.
So who do you think will make the biggest jump in 2011?
It's impossible to predict, but we've got five candidates.
Oregon State QB Ryan Katz will be in his second year as a starter, so he should make a jump. A lot depends on his supporting cast, particularly the health of his top targets: James Rodgers, Jordan Bishop and TE Joe Halahuni.
Arizona State lost receiver T.J. Simpson this spring, but Gerell Robinson stepped up and more than filled the void. The Sun Devils like to pass, and Robinson figures to be the top target.
Conrad Obi was an afterthought at Colorado before the this spring, but the talented but previously underachieving defensive tackle dominated this spring. He could work his way into the 2012 NFL draft.
USC cornerback Nickell Robey got picked on early in the 2010 season, but that won't happened in 2011. He improved dramatically last fall and he turned in an outstanding spring for the Trojans.
As for Washington's Alameda Ta'amu, he's a 330 pounder who's more than a big body in the middle of the Huskies D-line. He's an often dominant playmaker.
But who makes the biggest jump in 2011?
January, 14, 2011
1/14/11
11:00
AM ET
Who distinguished themselves during the bowl season? Here's our All-Bowl Team.
Offense
[+] Enlarge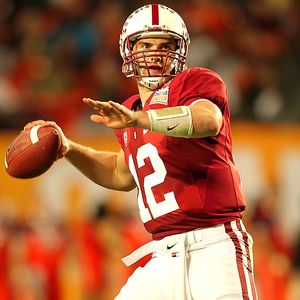 Mike Ehrmann/Getty ImagesAndrew Luck's performance helped key Stanford's blowout win against Virginia Tech.
QB Andrew Luck, Stanford
: Luck completed 18 of 23 passes for 289 yards and four touchdowns in the Cardinal's 40-12 win over Virginia Tech in the Discover Orange Bowl. He also rushed for 15 yards and was sacked just once.
RB Chris Polk, Washington
: Polk rushed for 177 yards on 34 carries with a touchdown in the Huskies win over Nebraska in the Bridgepoint Education Holiday Bowl.
RB Jeremy Stewart, Stanford
: Sophomore
Stepfan Taylor
actually rushed for more yards, but Stewart, a senior who's battled injuries throughout his career, had 99 yards on just five carries, including a 60-yard touchdown against Virginia Tech.
WR Jeff Maehl, Oregon
: Maehl caught nine passes for 133 yards with a long reception of 81 yards in the Tostitos BCS National Championship Game.
WR David Douglas, Arizona
: Douglas caught six passes for 91 yards in the Valero Alamo Bowl.
TE Coby Fleener, Stanford
: Fleenor had a career night in the Orange Bowl, catching six passes for 173 yards and three touchdowns.
OL Jonathan Martin, Stanford
: Stanford rushed for 247 yards and allowed just one sack. Martin will be an All-American candidate in 2011.
OL Chase Beeler, Stanford
: Beeler, the consensus All-American center, is the brains behind the bullies, leading one of the nation's best lines.
OL David DeCastro, Stanford
: The first-team All-Pac-10 performer had a number of key blocks against the Hokies.
OL Senio Kelemete, Washington
: Kelemete has a chance at All-Conference honors as a senior.
OL Cody Habben, Washington
: The Huskies rushed for 268 yards and allowed no sacks versus Nebraska. A nice way for the senior right tackle to go out.
Defense
LB Mason Foster, Washington
: Foster had a game-high 12 tackles, including two sacks in the Huskies win over Nebraska.
LB Shayne Skov, Stanford
: Skov had a game-high 12 tackles, with three sacks and another tackle for a loss against the Hokies. He also broke up a pass.
LB Casey Matthews, Oregon
: Matthews had six tackles, split a tackle for a loss and, most important, forced the late fumble from
Cameron Newton
that set up the Ducks touchdown that tied the count 19-19 late against Auburn.
LB Victor Aiyewa, Washington
: Aiyewa had three tackles for a loss and two forced fumbles in the Holiday Bowl.
DT Alameda Ta'amu, Washington
: Ta'amu dominated inside, recording a sack and recovering a fumble against the Cornhuskers.
DE Hau'oli Jamora, Washington
: The true freshman had three tackles for a loss and a sack versus Nebraska.
DE Kenny Rowe, Oregon
: Rowe was second on the Ducks with nine tackles, four of which came for a loss. He also had a sack and a forced fumble.
CB Cliff Harris, Oregon
: Harris had three tackles, two pass breakups and an interception. A second interception was not upheld by replay officials.
CB Richard Sherman, Stanford
: Sherman had just one tackle against Virginia Tech. It appears that the Hokies, who completed just 16 of 31 passes, decided not to throw his way.
S Delano Howell, Stanford
: Howell had an interception, a sack and four tackles in the Orange Bowl.
S Nate Felner, Washington
: Felner had four tackles and an interception in the Huskies win over Nebraska.
Special teams
K Rob Beard, Oregon
: There wasn't a lot of great kicking this bowl season in the Pac-10, but Beard connected on a 26-yard field goal against Auburn and scored a 2-point play on an option pitch.
P David Green, Stanford
: Green didn't punt much in the Orange Bowl, but he did average 46 yards when he did (three times).
KR Travis Cobb, Arizona
: Cobb returned five kickoffs for 179 yards, with a long of 64 yards.
September, 1, 2010
9/01/10
11:16
AM ET
Jake Locker
, Jake Locker, Jake Locker. This isn't an article about him.
It's about something that has been doing a perhaps surprisingly good job making Locker's life difficult the past few weeks: The Washington defense.
[+] Enlarge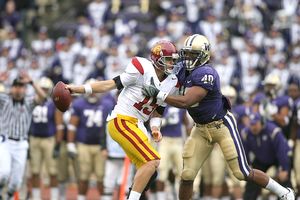 Tom Hauck/Getty ImagesMason Foster thinks the defense will be just as good as the team's highly-touted offense.
"We are actually holding the offense and making stops," linebacker Mason Foster said. "We've had pretty good battles throughout camp."
I know. No way. The Huskies lost their two best defensive players -- linebacker Donald Butler and end Daniel Te'o-Nesheim -- to the NFL from a unit that ranked eighth in the Pac-10 in total defense (389.5 yards per game) and ninth in scoring defense (26.7 ppg).
But the Huskies defense has consistently hinted during fall camp that it's not going to be the weakling counterpart to what should be an explosive offense.
"They've caused us some problems on offense," said coach Steve Sarkisian, who calls the offensive plays. "They've caused turnovers. They've gotten after the quarterback."
Foster, a senior and all-conference candidate, said the young guys who were forced into action last year are in far better physical condition. Along those lines, Sarkisian noted that junior noseguard Alameda Ta'amu is no longer just a massive mound of inert space filler -- who at his best is merely hard to move. After dropping 30 pounds to 330, he's a guy who can get into the backfield and make plays.
The secondary also appears significantly improved with corners Desmond Trufant and Quinton Richardson and safeties Nate Fellner, Nate Williams and Will Shamburger. The apparent successful return of end Everrette Thompson from a torn Achilles should bolster the pass rush.
But it's not just about maturing physically, getting healthy and conditioning better. A year ago, coordinator Nick Holt was only that slightly menacing guy who was always barking at them about not understanding what it takes to play great defense. Now the defensive guys and Holt are playing the same tune, one that probably sounds a bit like Rage Against the Machine.
"They've got a real mentality right now," Sarkisian said. "What I like most about it is they've really adopted Nick's personality. They are aggressive. They are tough. They are smart."
Of course, this also merely could be preseason optimism (or maybe the Huskies offense won't be all that potent). The unit certainly will be tested at BYU on Saturday. Sure, the Cougars only have 11 starters back and are replacing quarterback Max Hall. But they have won 43 games over the past four seasons: They are fairly close to the proverbial "reload not rebuild" category.
While there may be some sentiment about the trip for Sarkisian -- he was BYU's quarterback in 1995-96 -- the Huskies players probably don't look too fondly at the Cougars. In their 2008 game in Seattle, Locker scored what appeared to be a game-tying touchdown in the waning moments -- pending the PAT -- but he was flagged for a celebration penalty after flicking the ball into the air.
Just about everyone thought the penalty ridiculous, at least outside of Provo. Of course, barely anyone would remember the call if the Huskies hadn't blown the extra point and subsequently lost 28-27.
That was about as close to respectability as the Huskies would come during an 0-12 season that ended the Tyrone Willingham Era and brought in Sarkisian.
Moreover, one of BYU's quarterbacks -- it appears two will play versus the Huskies -- is true freshman Jake Heaps, a product of Washington State powerhouse Skyline High School. He picked BYU over Washington last winter, and there are just a few whispers that some of the Huskies might be eager to make him feel like he made a mistake.
"I didn't even really know he was from around here until a couple weeks ago," Foster said. "That's going to make it a little more exciting -- a big-time recruit from the state of Washington that went to another school and will play as a true freshman. It's going to be fun to get a couple of hits on him."
The Huskies -- suddenly -- have high expectations. Only two years removed from an 0-12 season, they are thinking about more than just earning their first bowl berth since 2002.
"It's a total turnaround," Foster said. "No more losing every game. The mindset is different. We're really looking forward to coming out in competing at the top of the conference this year."
A total turnaround likely would make Locker a leading Heisman Trophy candidate.
But that's not going to happen if the defense can't make stops.
July, 22, 2008
7/22/08
11:01
AM ET
Posted by ESPN.com's Ted Miller
These links go up to 11.
Hmm...