August, 9, 2013
8/09/13
9:00
AM ET
You want to find a good quarterback in the ACC? Plenty of places to look.
A solid receiver? Plenty of places to look.
A game-changing running back? Well, let's just say this is not a position of strength for the ACC headed into 2013.
Both 1,000-yard rushers from a year ago are gone. So are five of the top 10 rushers in the league. Now factor in recent developments from the offseason:
Virginia Tech back Michael Holmes was kicked out of school following his arrest after the spring game.

Pitt Rushel Shell decided to transfer, to hated rival West Virginia no less.

Maryland back Wes Brown has been suspended for the season after an offseason arrest.

Wake Forest leading rusher Josh Harris is not with the team while the Deacs wait for an answer from the NCAA on his eligibility.

NC State running back Shadrach Thornton was suspended one game after being charged with misdemeanor assault on a female following a June 6 arrest.
[+] Enlarge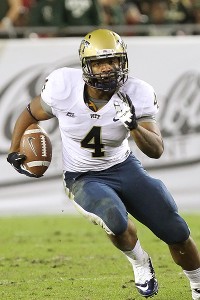 Kim Klement/USA TODAY Sports Running back Rushel Shell left Pitt for rival West Virginia.
Holmes and Brown were expected to be significant contributors this year; Shell and Harris were expected to start; Thornton led the Wolfpack in rushing last year.
So let us take stock of who remains. Essentially, the ACC has one big-time headliner in
Duke Johnson
at Miami, and several teams with talent and depth.
Take Florida State. The Noles have a great duo in
James Wilder Jr.
and
Devonta Freeman
. Syracuse has a 1,000-yard rusher returning in
Jerome Smith
, plus more depth than nearly everyone in the league. Duke has its top six rushers back from a year ago.
Still, the league overall has improving to do in this important category. In 2012, the ACC had the fewest 1,000-yard rushers of the five biggest conferences. It also only had two teams ranked in the Top 30 in rushing offense (Georgia Tech and Florida State), tied with the SEC for fewest among the top five conferences.
But here is the big distinction between the two. The SEC only had one team ranked in the bottom 30 in rushing offense last season: Arkansas. The ACC had a whopping six -- Virginia, Duke, NC State, Maryland, Wake Forest, Boston College -- the most among the power five.
Will fortunes improve this season? Let us take a look at one key statistic that could have some bearing. I broke down how many returning carries there are per team headed into 2013.

DUKE
Top returners: Jela Duncan, Josh Snead

Percent carries returning: 87 percent

What it means: Duke has perhaps the best opportunity of any team in the league to boost its rushing numbers this year, with its top six rushers back, a more mobile quarterback in Anthony Boone and four starters returning on the offensive line.

SYRACUSE
Top returners: Jerome Smith, Prince-Tyson Gulley

Percent carries returning: 82 percent

What it means: Syracuse has had a 1,000-yard rusher in five straight seasons, and has pretty terrific depth going into the season. It is a pretty safe bet the Orange will make it six straight 1,000-yard rushers.

BOSTON COLLEGE
Top returners: Andre Williams, Dave Dudeck

Percent carries returning: 75 percent

What it means: Though the Eagles don't have much in the way of depth, they do have experienced players returning in Williams and Dudeck. Given the way Steve Addazio likes to run the football, expect to see the Eagles much better than No. 115 in the nation in rushing.

VIRGINIA TECH
Top returners: Logan Thomas, J.C. Coleman

Percent returning carries: 70 percent

What it means: Even though this was a weak spot for the Hokies, they do return their top rushers even with Holmes gone. Thomas led the team in carries and rushing last season. Virginia Tech wants to change that this year.

GEORGIA TECH
Top returners: Zach Laskey, David Sims

Percent returning carries: 68 percent

What it means: Tevin Washington and Orwin Smith take nearly all the missing carries (176), meaning the Jackets have plenty of experienced players and depth to fill all their running back spots. Shouldn't be a drop-off here.

NC STATE
Top returners: Shadrach Thornton, Tony Creecy

Percent carries returning: 63 percent

What it means: Once he returns from suspension, Thornton will carry the load with Creecy, the way they did last season. Given the emphasis Dave Doeren puts on the run in his offense -- Northern Illinois ranked No. 12 in rushing offense last season -- the Wolfpack should not be in the bottom 30 again.

CLEMSON
Top returners: Tajh Boyd, Rod McDowell

Percent returning carries: 62 percent

What it means: Interesting stat here, considering the Tigers lose 1,000-yard rusher Andre Ellington. He is one of the biggest losses this team has to replace on offense. Having Boyd run as much as he does certainly helps these numbers, but there's no question Clemson has to find a way to replace Ellington's production.

MIAMI
Top returners: Duke Johnson, Eduardo Clements

Percent returning carries: 59 percent

What it means: Miami loses Mike James, but that just means Johnson moves into a starting role and will get more carries. If he continues the work he did last season, Johnson should be the leading rusher in the ACC this season.

WAKE FOREST
Top returner: Deandre Martin

Percent returning carries: 57 percent

What it means: Wake Forest is still waiting to see whether Harris will be eligible this season. There are serious concerns about this position right now, as coach Jim Grobe has said he still hasn't seen anybody step up and prove they can be an every-down back.

NORTH CAROLINA
Top returners: A.J. Blue, Romar Morris

Percent returning carries: 56 percent

What it means: The prevailing storyline in Chapel Hill has centered around replacing Giovani Bernard, the other 1,000-yard rusher in the ACC last season. Blue and Morris combined for 151 carries a year ago, so there might not be as big a drop-off in total production as some might anticipate. Each averaged more than 5 yards per carry.

MARYLAND
Top returners: Brandon Ross, Albert Reid

Percent returning carries: 48 percent

What it means: The Terps lost significant carries from Brown (90) and Justus Pickett (69). I also did not count Shawn Petty's 58 carries, because he went back to defense. Overall, Maryland feels good about Ross and Reid being able to carry the load, but questions still remain about whether this group can be consistent.

FLORIDA STATE
Top returners: James Wilder Jr., Devonta Freeman

Percent Returning carries:45 percent

What it means: This one is the most misleading among all ACC teams, because the Noles do return two terrific talents and expect contributions from a third in Mario Pender. Those lost carries are from Lonnie Pryor and EJ Manuel, along with Chris Thompson (who was out for the second half of the season anyway). Florida State should continue to be an excellent running team.

VIRGINIA
Top returners: Kevin Parks, Khalek Shepherd

Percent carries returning: 44 percent

What it means: UVa lost carries from Clifton Richardson, Perry Jones and Phillip Sims, but the Hoos believe they will be better running the ball this season -- especially if Taquan "Smoke" Mizzell is as good as advertised. He could be a breakout star.

PITT
Top returners: Isaac Bennett, Malcolm Crockett

Percent returning carries: 9 percent

What it means: I thought this number would be low with Shell and Ray Graham gone. But this is actually worse than anticipated. Pitt has little in the way of experienced players or depth at running back, and we are talking about a team that relies heavily on the run.
August, 2, 2013
8/02/13
6:00
PM ET
Maryland running back
Wes Brown
has been suspended for the 2013 season, the school announced Friday.
"We support the University of Maryland's decision," Head Coach Randy Edsall said. "I have spoken with Wes. He accepts the sanctions and understands what is expected of him moving forward."
Brown was suspended indefinitely last month after he was arrested and charged with assaulting a police officer. Earlier this week, prosecutors announced they would drop the charges against Brown because they believed he was resisting an unlawful arrest. A Baltimore Police spokesman told The Associated Press that Brown remained a suspect in a shooting in Baltimore in June. Brown's attorney maintains his client had no involvement in the shooting.
Brandon Ross
and
Albert Reid
are expected to carry the load for the Terps this season.
July, 8, 2013
7/08/13
3:30
PM ET
This past spring, Maryland's running backs were a highlight.

The
recent suspension of
Wes Brown
-- last year's second-leading rusher -- doesn't change that, as Brown didn't participate this spring because he was recovering from two surgeries. It does weaken the overall group, but it won't diminish Maryland's chances of getting to a bowl game this year. It's not clear how long Brown will be suspended, as the investigation is still ongoing, but Maryland is deep enough at the position that it could survive without its most talented back if need be.
Even if Brown weren't suspended, odds are
Brandon Ross
and
Albert Reid
would have had a leg up on the competition because they were so impressive this spring, along with redshirt freshman
Joe Riddle
. In the spring game, both Ross and Reid ran for over 100 yards. Ross, who was praised by coach Randy Edsall this spring for his ability to run inside or outside, had 123 yards on 10 carries, while Reid had 138 yards on 23 carries in the spring game. Ross came on strong toward the end of the season, as he had at least 100 rushing yards in two of the final three games.
In early April,
all three of the running backs scored
in a scrimmage -- a sign of much-needed improvement. All three were listed as co-starters on the depth chart heading into summer camp, but if Ross picks up where he left off, he could steal the spotlight. Ross last year led the team in rushing with 390 yards and Reid had 92, as Maryland had one of the worst running games in the country.
Don't forget, though, that the Terps were counting on a backup linebacker as their starting quarterback. If Maryland can actually pass the ball this year (and it should be able to, with the return of
C.J. Brown
), the Terps won't have to be so predictable and one-dimensional. Last year, Maryland's running game ranked No. 112 in the country at 103 yards per game.
While Brown's suspension will hurt the team's depth, it shouldn't hurt Maryland's chances of improving those numbers.
April, 15, 2013
4/15/13
11:00
AM ET
Seven ACC teams held their spring games this past weekend as practice begins to slowly wind down until August.
Heather
provided her Pitt recap
earlier this morning. Here is a quick look at the headlines from the other spring games across the league:

CLEMSON
The Tigers suffered a big hit during their spring game last Saturday, when the team lost backup quarterback
Chad Kelly
to
an apparent torn ACL
. Kelly was in a heated competition with
Cole Stoudt
for the backup job, but it now appears he could be lost for the season. Coach Dabo Swinney said Kelly was hurt while making a cut at the end of a run. Starter
Tajh Boyd
was held out of the game so the Tigers could get a good look at Kelly and Stoudt. The backup last season, Stoudt set a Clemson spring game record with 304 yards passing and threw four touchdown passes, but his White team lost to the Orange team 34-26 in front of a spring-game record crowd of 30,000.
Sammy Watkins
led all receivers with seven catches for 156 yards and two scores, while
Grady Jarrett
had three sacks.
Vic Beasley
had two sacks, giving him 10 sacks in four scrimmages.
Tight end
Sam Cooper
and tackle
Kalon Davis
also sustained knee injuries in the game, but they are not believed to be as serious.

DUKE
Anthony Boone
and
Jamison Crowder
were the stars of the spring game as the Blue Devils showed a glimpse of how good they can be on offense this season. Boone went 18-of-30 for 273 yards with two touchdown passes to Crowder, and two interceptions. Crowder finished with four catches for a team-high 71 yards as the Blue team beat the White 27-12.
Blue team end
Britton Grier
had two sacks and seven tackles, including three for loss.
Lucas Fisher
,
Sam Marshall
and
Keilin Rayner
each added sacks for the Blue team.
"I like where we're headed," coach David Cutcliffe said. "We're building some depth. I think we can be a more energetic defense. The big thing is focusing on why we give up big plays, but trying to play defense, trying to force longer drives. It's going to be interesting film to study. We got a lot out of this game."

FLORIDA STATE
Coach Jimbo Fisher did not name a starting quarterback after the spring game, so the competition will go on into the offseason. But highly touted
Jameis Winston
sent jaws dropping
with his standout performance, going 12-of-15 for 205 yards with two touchdown passes before leaving the game early to play in the Noles' baseball game against Duke.
"He came in there and he took advantage of opportunities," Fisher said. "That's what you got to do. You've got to go make plays and he's done a nice job of making plays. He took the opportunity to take the day with the stage he had and I thought he played pretty well for the most part."
Winston and
Clint Trickett
split time with the first team for most of the afternoon. Trickett was just 10-of-16 for 98 yards and an interception before switching to the second team, where he was 12-of-16 for 161 yards and a touchdown.
Jacob Coker
, also competing for the starting job, went 15-of-26 for 186 yards, a touchdown and two late interceptions.

MARYLAND
Running backs
Brandon Ross
and
Albert Reid
took center stage, as both ran for over 100 yards in a 13-13 tie between the White and Red teams on Friday night.
Ross had 123 yards on 10 carries, while Reid had 138 yards on 23 carries in the game.
Wes Brown
, who missed the spring with a shoulder/ankle injury, is expected to be healthy in the fall so the competition at this position is going to be an intriguing storyline during the offseason.
"I limited what the defense could do. It was still good to see them," coach Randy Edsall said. "That is what we have seen out of Brandon and Albert all spring along with how they run. The one thing we have to be able to do is run the ball efficiently. When we do that it opens up the passing game. With the skill guys we have at wide receiver it will make us more productive and a chance to get big plays. They ran the way they have been running all spring."

MIAMI
Stephen Morris
threw for a game-high 256 yards and four first-half touchdowns to lead the Orange team to a 35-20 win over the White team. Meanwhile, ACC freshman of the year
Duke Johnson
led all rushers with 120 yards on 10 carries as the Hurricanes showed how explosive they can be on offense this season.
"We're pretty dominant," receiver
Rashawn Scott
told local reporters
. "Everyone is communicating and … no one is frustrated. If we mess up, we all talk instead of yelling at each other."
At halftime, the Canes handed out four Spring awards to
Nantambu-Akil Fentress
(305 walk-on award),
Olsen Pierre
(defensive most improved player),
Danny Isidora
(offensive most improved player) and
Herb Waters
(special teams most improved player).

NORTH CAROLINA
Bryn Renner
went 16-of-27 for 216 yards and three touchdowns to lead the Blue team to a 34-10 win over the White. The running back who took center stage in the game was not
A.J. Blue
or
Romar Morris
but true freshman Khris Francis, who ran 20 times for 101 yards to lead the White team. Blue had eight carries for 30 yards, and Morris had 15 carries for 80 yards to lead the Blue team as the Tar Heels work to replace
Giovani Bernard
. Blue added a 33-yard touchdown reception on a screen pass.
"I thought all three of our running backs played well," coach Larry Fedora said. "But Khris, for his first time out there in a game-type atmosphere, he did a good job. He hit some holes and exploded in them. One time I thought he got stood up. I said something to him and the next time he's got his shoulders down and he's running north-south. That's what he's got to do, so he did some nice things."
Defensively, end
Kareem Martin
had seven tackles, including four sacks.
Travis Hughes
added a team-high 14 tackles, including two sacks.
April, 11, 2013
4/11/13
9:00
AM ET
With half of the conference playing spring games this weekend, here's a look at what to watch if you're keeping an eye on the ACC as spring ball comes to a close:

CLEMSON
When:
4 p.m. ET on Saturday (ESPN3)
What to watch:
Quarterbacks of the future. You know Tajh Boyd is good. Expect Cole Stoudt and Chad Kelly to take most of the snaps. Boyd played just four snaps in the last scrimmage. Let's see his backups.
The tight ends. Clemson tight ends Dwayne Allen and Brandon Ford have been the first team All-ACC tight ends the past two years. Clemson tight ends have 118 receptions and 21 touchdowns the past two years, perhaps the most underrated area in Chad Morris' offense. So who moves in there this year? Sam Cooper is the most experienced, but freshman Jordan Leggett has been impressive this spring.
How much better is the defense? All eyes will be on Brent Venables' group to see how much progress it has made this spring. If the D gets better, it could be a special season in Death Valley.
FLORIDA STATE

When:
2 p.m. Saturday, (ESPN3)
What to watch
:
The quarterbacks. It's been one of the hottest topics this spring in the ACC and arguably the biggest position battle in the conference. Check out Clint Trickett, Jacob Coker and Jameis Winston as they all battle to replace starter EJ Manuel.
The defensive line. The competition is on to replace Bjoern Werner and Tank Carradine. Mario Edwards Jr. is ready to jump in, along with Giorgio Newberry.
Don't forget the kicker. It's big at FSU. The Noles have to replace Dustin Hopkins, the ACC's all-time leading scorer and the NCAA's all-time kick scorer. It's your chance to see Roberto Aguayo, who was one of the nation's top kickers coming out of high school.
MARYLAND

When:
7 p.m. on Friday in Byrd Stadium
Parking/admission:
Free
What to watch:
The running backs. Both Brandon Ross and Albert Reid have had strong springs and will be competing for playing time come the fall.
The receivers. This group should be a strong point for the team this year, as Stefon Diggs, Deon Long and Nigel King are a talented trio.
New faces on defense. The Terps have to replace six starters on defense, including some of their best leaders in Joe Vellano and A.J. Francis.
DUKE

When
: 4 p.m. ET on Saturday (ESPN3) in Wallace Wade Stadium
Parking/admission:
Free
What to watch
:
Booooooone. Anthony Boone takes over at quarterback, and there have been rave reviews about him from within the program all spring. He's got a strong arm and is mobile.
New faces at safety. Some big names are gone, as Duke has to replace graduates Jordon Byas and Walt Canty, and Brandon Braxton, who moved back to receiver. Jeremy Cash, eligible now after transferring from Ohio State and sitting out last fall, headlines the group that includes sophomore Dwayne Norman (60 tackles in 2012 as true freshman) and redshirt freshman Corbin McCarthy.
Front and center: There is one hole to fill on the offensive line and Matt Skura takes over at center for Brian Moore.
MIAMI

When:
3 p.m. ET at Sun Life Stadium (ESPN3)
Gates open:
12:30 p.m.
Parking/admission:
Free
What to watch:
Defensive improvement. Is there any? The Canes were one of the worst in the country last year, but they return every starter up front.
The No. 2 QB. Who is it? Gray Crow started the last scrimmage as the backup to Stephen Morris and completed 8 of 13 passes for 73 yards, with a touchdown and interception. Ryan Williams, who entered the spring as the expected No. 2, completed only six of his 12 passes with a touchdown and an interception. The coaches will be watching these guys closely on Saturday, so should you.
Running back Dallas Crawford. You know Duke Johnson. It's time to get to know this guy. Those within the program have said Crawford has had a great spring and could be a rising star this fall. He scored two touchdowns in a scrimmage in Naples earlier this month.
NORTH CAROLINA

When:
3 p.m. ET on Saturday at Kenan Stadium (ESPN3)
Admission:
Free
Parking:
$5/vehicle
What to watch:
Gio's replacement(s). A.J. Blue and Romar Morris have been working to ease the loss of leading rusher Giovani Bernard. Can they be as effective as he was, how much progress have they made and who will replace Bernard in the return game?
The O-line. Former guard Jonathan Cooper should be a first-round draft pick later this month, and it won't matter how good Blue and Morris are if they can't find anyone to help block for them. A total of three starters have to be replaced on the offensive line.
Replacing big names on D. Cooper and Bernard aren't the only big names that will be missing. The defense is going to miss tackle Sylvester Williams, who could be another first-round draft pick, and linebacker Kevin Reddick (85 tackles, 8.5 for loss). How does the D look without them?
PITTSBURGH

When
: 7 p.m. ET on Friday at Bethel Park High School (ESPN3)
Gates open:
5:30 p.m.
Admission:
Free
What to watch:
The quarterbacks. Fifth-year senior Tom Savage has taken most of the reps with the first team, and redshirt freshman Chad Voytik appears to be the backup, but coach Paul Chryst has yet to name a starter.
The running backs. Earlier this month, it was announced that Rushel Shell has decided to transfer. Since then, the bulk of the carries have gone to junior Isaac Bennett, sophomore Malcolm Crockett and senior Desmond Brown. How they fare will go a long way in determining how Pitt fares in its first season in the ACC.
The offensive line. It's been problematic for the Panthers in each of the past two seasons, and Pitt now has to break in two new starters in Gabe Roberts and Adam Bisnowaty.
March, 1, 2013
3/01/13
9:00
AM ET
Maryland opens spring practice Saturday, with plenty of questions on both offense and defense. I had a chance to catch up with coach Randy Edsall earlier this week to preview the spring. Here is a little of what he had to say.
Going into the spring what's your No. 1 priority?
RE:
I want to get everybody to do their job, and to do their job to the best of their ability. Offensively, it's to make sure that we're going to take advantage of our playmakers and at least come out with eight offensive linemen we feel really good about and see how Ricardo (Young) can do handling all the snaps he's going to get. Then defensively, for us to come out as a swarming, tough physical defense in terms of trying to find out who our best 11 are and then work to create a top 22.
You mentioned Ricardo, obviously taking the majority reps with C.J. Brown still limited. How do you approach building the chemistry you need on offense and getting everything done to prepare for the fall knowing you don't have your starting quarterback?
[+] Enlarge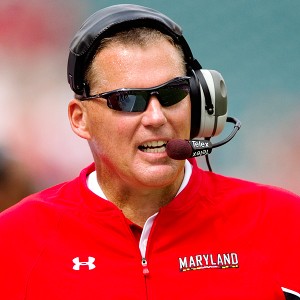 Howard Smith/US PRESSWIRERandy Edsall and Maryland begin spring practice on Saturday.
RE:
Hopefully from a 7-on-7 standpoint, C.J. gets some of that work. That will be great, but if not, just being on the field and having the presence and seeing things -- there's going to be plenty enough time between the summer and preseason practice in order to develop chemistry and consistency that we would want out of all those guys.
So the backup job is wide open for competition with Ricardo, and then Caleb Rowe and Perry Hills when they come back?
RE:
There's no question.
In terms of the running back situation, I know Justus Pickett transferred, and Wes Brown is out with an injury. Do you have concerns over depth?
RE:
Brandon Ross
is going to be the guy who's the No. 1 guy in the spring, and then
Albert Reid
, and
Joe Riddle
, and then we also have Kenny Goins. Kenny is a guy who can be a running back and/or a fullback. Wes had a shoulder done, then had ankle done from an old high school injury, so he'll be ready to go come the fall. We'll have four guys there, and then Kenny's a guy that can carry the ball, too.
What will you work on this spring to try and get the run game going?
RE:
That to me all starts up front with the offensive line and I really feel like going into the spring you've got
Mike Madaras
at left tackle, De'Onte Arnett at left guard, then you have Sal (Conaboy) and
Evan Mulrooney
at center,
Andy Zeller
at right guard, and
Nick Klemm
at right tackle. And Silvano Altamirano is a guard, and
Ryan Doyle
at tackle. My biggest thing is I want to find at least three tackles, three guards and we have two centers that have played. Now we have to get more consistent and do a better job up front. In terms of who we'll have at quarterback, who we'll have at running back, who we'll have at wide receiver gives us some weapons from a skill position. Now we have to do is make sure we're consistent up front, so that to me is the biggest thing offensively this spring is the offensive line and getting them to be more consistent with their assignments, more consistent with their technique and fundamentals and developing that cohesiveness with guys playing together and hopefully guys staying healthy.
You mentioned the skill position players you do have. At receiver, you've got this abundance of talent and depth. How do you see the competition playing out?
RE:
Deon Long and then
Amba Etta
behind him right now. Amba showed us a lot last year and we redshirted him. There we've got to have tremendous competition and guys with the ability to make plays. Then on the other side, you've got
Nigel King
, who came on at the end of the year last year, made some plays against North Carolina, and then another freshman
Malcolm Culmer
, whom we redshirted and then you have Stefon (Diggs) as a slot guy. It gives you a lot of opportunities to get the ball in peoples' hands who can make something happen after they catch it. Those are the things we have to do to make sure that we find guys who can make the plays on the ball and distribute that. We've got some weapons there. So if people want to load the box, you've got to make sure we can throw it and catch it, and if they want to worry about some of the receivers we have, then you've got to have the ability to run the football.
Is this the best group of talent and depth you've had at the skill positions?
RE:
Yeah I think so. That's where we have to get everybody to understand that yeah, they do have ability but they have to go out there and work hard each and every day. If they do that, we've got the ability to make a lot of things happen. We've got to get the people up front on the offensive line to be really tough, sound, good technicians and competing every play. If we do that, then because of the running backs and because of the receivers we have, that can make their job a little bit easier.
Defensively, you're losing a lot of your leaders. Where are you looking for the leadership on that group?
RE:
We played a lot of people on defense last year so it's not like we're going in with guys who haven't played a whole bunch. But now guys like
Dexter McDougle
,
Jeremiah Johnson
,
Cole Farrand
,
Darius Kilgo
,
Matt Robinson
, who we're going to make him an outside linebacker as opposed to a safety, and then
Keith Bowers
. Those are the guys that have to step up from a leadership standpoint. And then guys like
Quinton Jefferson
, who played last year as a true freshman. He has to be more productive for us this year and then
Anthony Nixon
is back, so it's just a matter of other guys stepping up in those roles. The thing is, we're going to be playing in the same scheme, so they'll be better from that standpoint. They'll be a year older more, a year more mature, a year stronger. But that's the thing: who are going to be those leaders?
What's the strongest part of the defense?
RE:
The one thing I take a look at in terms of up front, I really think Darius Kilgo has a chance to take his game to another level. Quinton Jefferson, him and
Justin Anderson
fighting it out at the one end and then Keith Bowers and,
Roman Braglio
-- a young man with a tremendous motor that we redshirted last year. We've got to get one of the safety spots shored up, between
Sean Davis
and
A.J. Hendy
and then I think at the corner, Will Likely and
Alvin Hill
, you may see them because they have a lot of skill set. They can find a way to get on the field, whether as a nickel or dime package. I think the strength of defense is the athletic ability and the ability to be able to run. That's something that's going to help us.
September, 6, 2012
9/06/12
4:00
PM ET
There was nothing pretty about the way Maryland beat William & Mary last week, most especially on offense.
Growing pains are to be expected when there are so many young, inexperienced players seeing time. Maryland started a true freshman at quarterback in
Perry Hills
, and running back in
Albert Reid
. In all, 12 true freshmen played for the Terps last week. It has been 12 years since
so many true freshmen
saw the field in the opener in College Park.
[+] Enlarge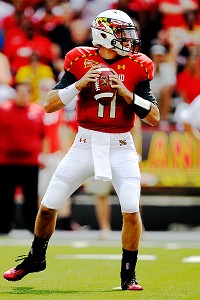 AP Photo/Luis M. AlvarezTrue freshman Perry Hills is looking to improve after throwing three interceptions in his Maryland debut last Saturday.
But as always, the spotlight always falls onto the quarterback, whether you are a true freshman or senior. With Hills in charge, the offense only managed one score, and it came in the fourth quarter after trailing for most of the game. One score and 236 yards against an FCS opponent is not the way Maryland needed to start the season. Nor are all the turnovers -- four of them to be exact. Hills had three interceptions and Reid had a fumble.
So to say there is a lot of work to be done before its game against Temple on Saturday is to say the sun rises in the morning. But Edsall has been encouraged with the way Hills has put his debut game behind him during his preparations this week.
"He knows he has a lot of things to work on and improve, but he is one of those guys who can put it in the rear-view mirror pretty quickly," Edsall said this week. "I think that was evident by what took place on Saturday with the lack of success, so to speak, in the first half. He ended up putting it behind him. After the other interception to start the second half he takes the team down for a score. His demeanor and his approach have been very good. It's what you expect from a freshman for his first start, to learn from it, make the corrections, and work to get better at the things you can control."
Offensive coordinator Mike Locksley said he thought Hills got rattled early in the game because of all the pressure William & Mary brought his way. He also thought Hills was a play behind in making his adjustments, something he has spoken to his quarterback about this week.
For his part, Hills said he has spent extra time going over the game tape to see how he can play better against the Owls. One of the biggest things he learned was the need to shrug off mistakes during the game.
"I know that if you keep thinking about it, it's going to ruin you for the rest of the game," Hills said. "I have to put it behind me; it's something as a quarterback that you have to learn to do. Sometimes bad things are going to happen, and you just have to learn how to deal with it, move on, and play each play."
August, 27, 2012
8/27/12
10:30
AM ET
It is time to consult my Magic 8 ball and come up with 10 preseason predictions for the ACC this season. If I get any of these wrong, place all of your blame on said Magic 8 ball.

1. Florida State will win the ACC.
Where have you heard that one before? This is the year it will happen! I do not have my fingers crossed behind my back. The best I can do is pinkie-swear with you that the Noles have the best team in the ACC this year and will finish the year ranked in the top five. Wait, that is two predictions in one. Double bonus!
2. The ACC will win its BCS game.
Yes indeed, as the BCS representative, Florida State will be the first to take baby steps toward improving the depressing BCS results. That defense is going to be simply outstanding.
3. Travis Blanks will be the freshman of the year.
Of all the true freshmen who are going to see playing time this year, I have the most confidence at this point to say Blanks will make the biggest impact on his team. Clemson needs help on defense, and Blanks has shown throughout the spring and summer he will be able to contribute in a variety of ways.
4. Maryland will be better this year.
I know the Terps lost quarterback
C.J. Brown
and have had a few other pretty significant injuries during preseason camp, but there is no way they will be worse than last season.
Perry Hills
will have his share of growing pains as a true freshman starting quarterback. But Randy Edsall now has a team committed to playing for him, and that will make a huge difference this year.
5. Miami will be better than expected.
Not many people have faith in the Hurricanes this year, with only 10 starters returning and limited depth at a variety of positions on the field. But I think
Stephen Morris
will be a major upgrade over Jacory Harris and there are plenty of young playmakers who will do well when pressed into playing time. Watch out for
Duke Johnson
, who has the potential to dazzle.
6. Perry Jones will rush for 1,000 yards.
There is depth and talent at running back for UVa, but Jones came oh-so-close to the coveted mark last year. He will be better this year and become the first Virginia running back to reach 1,000 yards since Alvin Pearman in 2004.
7. The ACC will have five teams ranked at some point this season.
Florida State, Clemson and Virginia Tech go into the season as the lone ranked ACC teams. But Georgia Tech and NC State are good enough to be in the Top 25 right now, so I think all five will be in the poll. They may even end the season that way.
8. Boston College will struggle.
I am having a hard time finding much to get excited about when it comes to this team. Coach Frank Spaziani finds himself on the hot seat, so he has to get back to a bowl game. I just don't see it. The best defensive player in the entire country is gone in Luke Kuechly. Not even he could save this team last year. Injuries to some of its best players are mounting, and the nonconference schedule is not easy with games at Northwestern, Army and home to Notre Dame. I worry about BC this year.
9. Rookie running back attack
. There are several true freshmen running backs who have a shot at having big seasons this year. Watch out for the aforementioned Johnson at Miami;
J.C. Coleman
at Virginia Tech;
Wes Brown
and
Albert Reid
at Maryland; and
Jela Duncan
and
Shaquille Powell
at Duke.
10. Brandon Jenkins and Bjoern Werner will get 20 sacks combined.
The two had 15 combined last year (Jenkins was second in the ACC with eight, while Werner had seven). Clemson's Andre Branch was the only ACC player to reach double digits in sacks last year. I think there will be more than one this year, given some of the talent returning.
August, 23, 2012
8/23/12
4:00
PM ET
Now that we are closing in on the start of the season, we have a much better idea of how many true freshmen could make an impact in the ACC this season based on preseason practice time and early depth charts.
Maryland could end up playing the most, and having players who make the biggest impact. You have quarterback
Perry Hills
starting in place of the injured
C.J. Brown
. Highly touted athlete
Stefon Diggs
has had an outstanding preseason camp. Don't forget about running backs
Albert Reid
and
Wes Brown
, who also have looked really good.
Here are a few young players to keep an eye on at each school.
Boston College: Justin Simmons, DB.
Defensive back is an area where Boston College needs help, especially after the loss of
Al Louis-Jean
, who's out six to eight weeks with a foot injury. Simmons already has made his presence felt. In a scrimmage last weekend, he had two interceptions. Also watch for defensive back
Bryce Jones
and linebacker
Steven Daniels
.
[+] Enlarge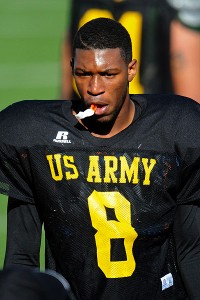 John Albright / Icon SMI The versatile Travis Blanks may line up at a number of positions on defense for the Tigers.
Clemson:
Travis Blanks, DB.
One of the top defensive backs in the country out of high school, Blanks enrolled early and had an impressive spring showing. He has followed that up with a great preseason, and will line up in a variety of positions -- nickelback, cornerback and some linebacker as well. On offense, watch for
Germone Hopper
, who has had some pretty explosive plays this fall.
Duke: Jela Duncan and Shaquille Powell, RBs; Ross Martin, PK.
Duncan and Powell have turned heads during the preseason, and coach David Cutcliffe said he would feel comfortable using both players in the opener against FIU. Martin is sure to get plenty of game experience as the starting kicker this year. Others to watch: receiver
Max McCaffrey
, tight end
Erich Schneider
and safety
Dwayne Norman
, who had an interception return for a touchdown in one scrimmage.
Florida State:
Ronald Darby, CB.
Do not be surprised if Darby ends up starting in the spot vacated by
Greg Reid
. Darby and
Nick Waisome
are competing for the starting job. Coaches like both players, but there is
something special
about Darby. Said coach Jimbo Fisher: Darby is "going to be a very, very good one." Also watch for defensive tackle
Eddie Goldman
and tight end
Christo Kourtzidis
.
Georgia Tech:
Anthony Autry and Micheal Summers, WR.
Georgia Tech only has four other scholarship wide receivers, so that increases the chances for Autry and Summers to play this season. Autry seems to have a slight edge over Summers. Others to watch: defensive back
D.J. White
.
Maryland:
In addition to Hills, Diggs, Brown and Reid, several others could make an impact this year. Punter
Brad Craddock
is competing for the starting position with redshirt freshman
Nathan Renfro
; and cornerback
Sean Davis
could be starting on opening day because he has done well, and there are some injuries on defense.
Miami:
Ereck Flowers, OL.
Flowers is listed as a starter right now at right tackle, helped in part because of
Seantrel Henderson
's absence. Offensive line coach Art Kehoe has been
extremely impressed
. Others to watch: defensive back
Tracy Howard
and running back
Duke Johnson
. Howard is listed on the two-deep behind
Ladarius Gunter
but has drawn raves so far and so has Johnson, who should also return kickoffs this year.
Deon Bush
is in the mix for a starting safety spot.
North Carolina: Quinshad Davis, WR.
Davis missed some early practice time because of a medical issue but has returned in the last week and has a big chance to make some noise. The Tar Heels are lacking depth at this position, and the way Larry Fedora likes to spread the ball around, he will take as many good receivers as he can.
NC State:
Charlie Hegedus, WR.
Receiver is a position of need for the Wolfpack, and Hegedus has seen more reps during fall camp with the injury to
Bryan Underwood
. One player NC State hopes you do not see this year is backup quarterback
Manny Stocker
, a true freshman behind veteran
Mike Glennon
.
Virginia:
Maurice Canady, CB.
Coaches are extremely high on Canady, who is in the mix to earn a starting spot in a secondary that has to be rebuilt this year. He has been working with the first team recently. Others to watch:
Michael Moore
at outside linebacker, and
Eli Harold
at defensive end.
Virginia Tech: J.C. Coleman, RB; Donaldven Manning, DB.
Both players enrolled in January and are virtual locks to play this season. Coleman has separated himself from another true freshman,
Trey Edmunds
, despite a hand injury. He has had an outstanding fall camp. Manning has had to deal with a hamstring injury, but his early enrollment works in his favor.
Wake Forest:
The Deacs rarely play true freshmen. But if there is one player who has a shot this year, it is defensive end
Tylor Harris
, who has stood out this fall for his pass-rushing ability -- something Wake Forest needs help improving this year.
August, 20, 2012
8/20/12
2:00
PM ET
Over the past several years, the Maryland backfield has produced few -- if any -- concerns.
Guys like Da'Rel Scott and Davin Meggett were known quantities. When they finished their careers, they ended up as some of the top rushers in school history.
But headed into this season, there are far fewer players established in the backfield. Scratch that. There are no established players in the backfield. Of the four running backs competing for playing time, true sophomore
Justus Pickett
is the only one with game experience.
Brandon Ross
, who has turned heads during fall camp, is a redshirt freshman.
Wes Brown
and
Albert Reid
are two very promising true freshmen who have earned praise so far this fall.
[+] Enlarge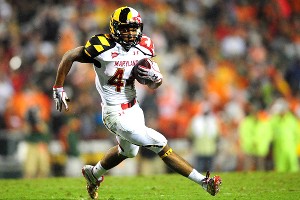 Andrew Weber/US PresswireSophomore Justus Pickett is the veteran in the Terrapins' backfield, rushing for 274 yards last season.
"I had to take on a leadership role just get everybody in the same level because you really can't go through one season with one running back," Pickett said in a recent phone interview. "Running back is a position where you need a good amount of depth there, so I just wanted to come in with great focus and motivate my fellow running backs."
Mix in true freshmen
Perry Hills
and
Caleb Rowe
at quarterback, and a major youth movement is under way for the Terps in the backfield -- leaving Pickett as the elder statesman of the group.
"It's definitely strange," Pickett said. "I knew going into it that I was going to be the oldest guy but now that it's here, the coaches look upon me to do things the older guys would have to do. I have to assume that responsibility. With C.J. (Brown) going down, it's even more responsibility on me that I have to pick up."
Pickett has no problems with that. Even though he has only played one season, he can share some advice with the younger players. Last year, he ran for 274 yards and a touchdown on 74 carries behind Meggett. Though he does have game experience, coach Randy Edsall has also praised the play of Ross, Brown and Reid as well throughout camp. Ross seems to be the most likely candidate to start the season opener, though Edsall has called Ross and Pickett co-No. 1 starters.
"I've been really impressed with Brandon," Edsall told local reporters last week. "Again, he's still got things he's got to work on, but ... he's got the ability to break a run just about every day. I like his speed, I like his power, but we've got to get him to be a better blocker, a better pass protector. But as far as carrying the ball, I really like the things that I do see out of him."
No matter who starts, the Terps are going to feature various running backs. Both Pickett and Ross said the competition has made them better.
"We all feed off one another," Ross said in a phone interview. "If one of us makes a big play, the other one wants to go in the next play and counter it. It's a friendly competition. We all want to do well but it's a battle out there."
And given the loss of Brown, there may be more placed on the shoulders of the running backs.
"We want it that way," Ross said. "We want to be able to run the football when we have to and when we want to. We definitely take pride in that, and we want there to be pressure on us."