NCF Nation:

Alejandro Maldonado
December, 6, 2011
12/06/11
8:32
PM ET
By
Gregg Found
| ESPN.com
There were 770 games played in the 2011 college football season. We give you the 10 plays that shaped the BCS Championship race.

1. Tyrann Mathieu returns fumble for TD
LSU 40, Oregon 27
Significance: These top-five teams were locked in a 6-3 game. The Tigers went three-and-out and punted, but
Kenjon Barner
fumbled the return at the three and LSU's playmaker snapped it up and went into the end zone for a momentum-shifting score.
2. Kirk Cousins completes 44-yard Hail Mary to Keith Nichol
Michigan State 37, Wisconsin 31
Significance: Wisconsin had its eyes on a perfect regular season and a spot in the title game. But after a last-second heave, ricochet, catch and then video review, that dream was dashed.

3. Oklahoma misses 28-yard field goal vs Texas Tech
Texas Tech 41, Oklahoma 38
Significance: The Sooners were preseason No. 1 and still undefeated, but trailed 31-7 at home. They mounted a comeback, but after Michael Hunnicutt's missed FG from 28 yards out there wasn't enough time left to overcome a 10-point deficit.
4. Tajh Boyd gets intercepted in the end zone
Georgia Tech 31, Clemson 17
Significance: Down 14 points, Clemson had just intercepted Georgia Tech, getting the ball at Georgia Tech's nine-yard line. But on the first play, Boyd was picked by Jemea Thomas, ending the Tigers' comeback and dashing their national-title hopes.

5. LSU's Eric Reid intercepts Alabama at the 1-yard line
LSU 9, Alabama 6 (OT)
Significance: In a 6-6 game in the fourth quarter, LSU's Eric Reid wrestled the ball away from Alabama TE
Michael Williams
at the one-yard line for an interception, preventing what could have been the winning score. LSU would win it in overtime.
6. Boseko Lokombo picks off Andrew Luck and returns it for TD
Oregon 53, Stanford 30
Significance: This was Stanford's last major obstacle to a perfect regular season. Down 16 points, Luck had Stanford driving. But the pick ended those hopes, putting the game out of reach and handing the Cardinal its only loss of the season.

7. Boise State misses 39-yard field goal as time expires
TCU 36, Boise State 35
Significance: Playing on the home turf where they had been dominant for so long, the Broncos went down a point after TCU made the gutsy call to go for two. But Boise drove down the field before Dan Goodale sailed his kick wide right as time expired and the Broncos were no longer unbeaten.
8. Brandon Weeden's pass intercepted in first play of second overtime
Iowa State 37, Oklahoma State 31 (2 OT)
Significance: The Cyclones came back from a 24-7 deficit to tie the game at 24 heading into overtime. But on the first play of the second overtime, Brandon Weeden was intercepted. Three plays later Iowa State scored to end Oklahoma State's dream.

9. Oregon misses 37-yard field goal as time expires
USC 38, Oregon 35
Significance: Even after their season-opening loss, the Ducks still had a shot at the BCS Championship. But USC, ineligible for postseason play, gave the Ducks a battle at Autzen Stadium. Down three, Oregon had the chance to send it into overtime. But Alejandro Maldonado missed a 37-yarder.
10. Robert Griffin III completes 34-yard TD pass with :08 left
Baylor 45, Oklahoma 38
Significance: Just like Oregon, Oklahoma still had a chance to sneak back into the title picture despite a loss. But Baylor's Heisman candidate Griffin shocked the Sooners with a game-winning touchdown pass with eight seconds left.
To see images of these plays,
click here
.
November, 20, 2011
11/20/11
2:00
AM ET
EUGENE, Ore. -- This is most strange. The ball didn't go where it was supposed to go. The kick went to the left of the yellow pole, the clock ran out and the Autzen Stadium scoreboard said, "
USC 38, Oregon 35
."
We now know what disbelief sounds like.
This wasn't the storybook ending summoned by 59,933 with their collective knowledge that Oregon and Chip Kelly don't waste amazing comebacks. It had been 38-14 in the third quarter, and all was lost. Then it felt certain Oregon was going to win after an unanswered 21-point barrage that was vintage Ducks.
Ah, but this weekend certainly taught us -- again -- that there are no sure things in college football.
"The game comes, the game goes," Kelly said. "It's about making plays."
Both USC and Oregon made a lot of them -- good and bad -- but the Trojans ended up celebrating when the Ducks' final 16-play, 66-yard drive ended with a missed 37-yard field goal from Alejandro Maldonado.
For the first time in 21 games, the Ducks lost in their home stadium. For the first time in 19 conference games, the Ducks lost, period. And for the first time in two years, the Ducks are out of the national title race.
Oregon can't spend too much time shaking its collective fist at the heavens. It now needs to beat Oregon State at home on Saturday to sew up the Pac-12 North championship. While missing out on a second consecutive national title game is a bummer, as consolation prizes go, the Rose Bowl is pretty darn good.
As for USC, it doesn't get a postseason, but it gets a red-letter victory for coach Lane Kiffin and quarterback
Matt Barkley
, who tossed four touchdown passes as the Trojans jumped all over the Ducks for two and a half quarters. They improved to 9-2 and 6-2 in conference play. If they beat rival UCLA next weekend, they would end up atop the South Division, even if NCAA sanctions ban them from enjoying the fruits of that. Further, they could knock UCLA out of the title game while finishing with 10 victories.
"To break the longest home winning streak in the country says a lot about this team and how far they have come," Kiffin said.
USC went three-and-out twice and fumbled on its first three possessions, but a 59-yard bomb from Barkley to freshman
Marqise Lee
ignited the offense. Barkley completed 26 of 34 passes for 323 yards. With
Robert Woods
hurting -- ankle and shoulder injuries -- Lee became the go-to guy, hauling in eight passes for 187 yards.
[+] Enlarge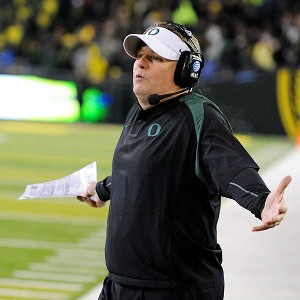 Steve Dykes/Getty ImagesChip Kelly and Oregon lost at home for the first time in 21 games, to a Pac-12 foe for the first time in 19.
USC stormed ahead 38-14 with 3:28 left in the third quarter. Only then did the Ducks wake up. Or, more accurately, freshman
De'Anthony Thomas
woke up the Ducks and Autzen Stadium with a 96-yard return of the ensuing kickoff for a touchdown.
The Ducks got a defensive stop and drove 75 yards for a touchdown in 2:16. With its lead cut to 11, USC seemed to tighten up. Barkley threw his only interception to John Boyett, and Oregon drove 60 yards for another TD. After a two-point conversion, the Trojans' lead was just three.
"It wasn't fun seeing the score go in the wrong direction," Kiffin said.
The Trojans drove to the Oregon 11-yard line as the clock dipped inside of three minutes. But Barkley and running back
Marc Tyler
fumbled a handoff exchange, and that set up Oregon's final -- and ultimately unsuccessful -- drive.
"You're going to lose," Kelly said. "None of us have delusions we're not going to lose in Autzen Stadium."
The Ducks earned a first down on the Trojans' 32-yard line with 38 seconds left with three timeouts. In fact, the Trojans called timeout to regroup. After 9- and 5-yard runs from
Kenjon Barner
, who led the Ducks with 123 yards on 15 carries, the Ducks had a first down on the 18 with 20 seconds left. That, typically, is an eternity to Oregon. But not this time. The well-oiled machine seemed to get some sand in its gears. An incompletion and a pass that lost 2 yards eliminated a game-winning touchdown as an option.
"What you don't want to do in that situation is force it," Kelly said.
Or miss the tying field goal that would keep your national title hopes alive.
"I don't know how to explain how we feel right now -- this hurts," Oregon receiver
Josh Huff
said. "We just thought we were going to come in and run over them, but they came out hard and we lost."
It was USC's first victory in the state of Oregon since 2005. It was the first time Kelly lost to a team that had just one week to prepare.
All of it felt a bit weird, but that's college football. Its capacity to astound is part of its appeal.
Unless, of course, your team just saw the ball go wide left.
February, 4, 2010
2/04/10
4:05
PM ET
Washington's
class of 30
ranked 20th in the country and featured one ESPNU 150 player.
It was another big step forward for the program and second-year coach Steve Sarkisian.
"It's a very complete class from front to back when you talk about 16 players on offense and 14 on defense," Sarkisian said. "It's one that can help us immediately and have an impact this fall for us in 2010 but also when we look at 2011, 12, 13 down the road.''
Top prospects
: Safety
Sean Parker
is likely to immediately work his way into the starting lineup.
Nick Montana
is the quarterback of the future. "The apple doesn't fall far from the tree," Sarkisian said of Montana in relation to his father, some guy named "Joe." Receiver
Jamaal Kearse
and running back
Deontae Cooper
may earn playing time, though likely as reserves.
Sione Potoa'e
should work his way into the rotation on the defensive line. At least a couple of the class' six linebackers will play next year.
Under the radar
: Sarkisian is very high on offensive tackle
James Atoe
. How high? He said Atoe "is a potential top-five NFL draft pick." Sarkisian called cornerback
Greg Ducre
a "tremendous man-to-man cover corner and that's what we want to get more to playing is man coverage.''
Issues?
When a team that went 0-12 a season ago signs a top-20 class, there really aren't many issues, particularly with a class this big that hits just about every position. The biggest disappointment might be losing kicker
Alejandro Maldonado
to Oregon.
Notes
: Cooper has already enrolled ... Montana, running back
Jesse Callier
and linebacker
Victor Burnett
are planning to enroll early and participate in spring practices. ... Two members of the class have older brothers on the current Husky team: Zach Fogerson's brother Johri is a running back and Jamaal Kearse's brother Jermaine is a wide receiver. ... Cooper Pelluer's father, Scott, is a former UW assistant coach and his uncle, Steve, was a standout quarterback for the Huskies in the 1980s.