NCF Nation:

Alex Butterworth
October, 14, 2013
10/14/13
4:30
PM ET
STATE COLLEGE, Pa. -- Bill O'Brien's gutsy decision to go for it Saturday on fourth-and-1 in the fourth overtime still has this town talking.
Punter
Alex Butterworth
tweeted Monday morning that everyone in his classes was still
chatting about the season-defining win
over Michigan. Defensive tackle
Derek Dowrey
said he was watching highlights in class -- and getting
"hyped all over again."
[+] Enlarge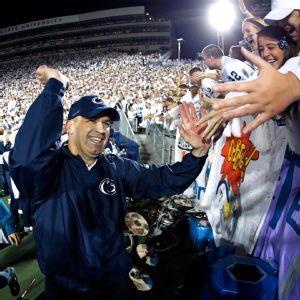 AP Photo/Gene J. PuskarNo coach in a BCS conference has gone for it on fouth down more since 2012 than Bill O'Brien.
Monday's conversations could have been markedly different had O'Brien decided to play it safe and instead try for the 33-yard field goal to force a fifth overtime. But there has been nothing safe about O'Brien's play-calling since he arrived in Happy Valley.
Since O'Brien took over, only two other coaches -- Air Force's Troy Calhoun and Army's Rich Ellerson -- have decided to go for it more often. Both coaches have left their kickers twiddling their thumbs on the sideline 57 times since the start of last season, while O'Brien has done it 51 times.
Penn State players were asked about all sorts of things Saturday night -- their surprise over the blocked field goal, their emotions after the game-winning TD, exactly when their shock gave way to joy -- but absent were any questions about whether they were surprised to see O'Brien march the offense out on the field in place of the field-goal unit.
No one asked because this was normal by O'Brien standards. There was no bewilderment from the players, the media or the fans. This was just Bill O'Brien. In fact, the head coach was thinking of gambling well before the game hit a Big Ten-record fourth OT.
He initially stuck two fingers in the air following
Christian Hackenberg
's improbable touchdown drive in the final minute of regulation. "I changed my mind and went with the PAT," he said.
So when that fourth-and-1 situation reared its head in overtime No. 4? When PSU found itself on the 16-yard line? When O'Brien had another chance to ditch the conservative play-calling? There was no question about what O'Brien wanted to do. He didn't hesitate.
"If you miss," one reporter told him, "you're going to get crucified by everybody."
"Of course I'm going to get crucified," O'Brien said, shrugging his shoulders. "That's part of the job. The thing is at that point in time, it was the fourth overtime and I felt like it was time for someone to win the game. We could sit here and keep trading field goals back and forth, but eventually it was time for someone to win the game -- and I had the opportunity to do it."
O'Brien, whose go-to play last season was the quarterback sneak, instead opted to call a handoff to his 205-pound tailback,
Bill Belton
. The junior didn't hit the hole right away, instead waiting for a block from his fullback -- pushing him forward with a left hand on his back -- and then diving forward for 3 yards.
"That was a heck of a run," O'Brien said.
It was a heck of a play-call, one that led to the game-winning score. But the decision was almost expected. O'Brien opted to go for it twice before in the game, including a curious first-quarter call when PSU found itself on its own 34. Against Indiana, PSU again kept kicker
Sam Ficken
on the sideline on a fourth-and-5 play from the IU 26. Pick out any random game, and you can find plenty of examples.
Conventional football knowledge dictates kicking the ball and, during Saturday's overtime, most coaches likely would've called upon their kicker for the 33-yard attempt -- especially considering Ficken hadn't missed a field goal under 40 yards since about 54 weeks ago. But there has been nothing conventional about these Nittany Lions ever since Jan. 7, 2012, when O'Brien became head coach and told a swarm of media, "I have a lot of confidence in my ability to lead us through what some say is a tough time."
He led Penn State to a tough win Saturday. And, although he was mostly reserved while fielding questions from reporters, he couldn't hide his emotions in the immediate aftermath of a 43-40 victory over Michigan. He jogged over to the student section, while fans leaned over the railing to pat his shoulder, arm, back, whatever they could get a hold of. He closed his eyes while thrusting his arms into the air.
At this rate, O'Brien will hit the century-mark for fourth down attempts by the final game of the 2014 season. He'll still be a gambler. But, out of all the fourth downs he has gone for or ever will go for, none might top this one.
"I've never been in a game like this," he said.
August, 28, 2013
8/28/13
10:00
AM ET
Every season, each Big Ten player, coach and team sets out to prove something. Maybe it's to prove last season was just a hiccup or that this season is the start of something special.
Whatever it is, some naturally have more to prove than others. So here's a look at 10 players, units and coaches in the Big Ten who have the most to prove:
[+] Enlarge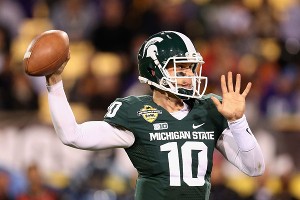 Christian Petersen/Getty ImagesAndrew Maxwell could be on a short leash in East Lansing, so he has plenty to prove.
1. Michigan State QB Andrew Maxwell.
Despite starting every game last season, Maxwell was just named the 2013 starter on Tuesday. So it's not exactly a stretch to think he's on a short leash.
Connor Cook
will get some playing time Friday,
Tyler O'Connor
is "in the mix" and true freshman
Damion Terry
wowed the staff in a recent scrimmage. If Maxwell doesn't quickly prove he's the right man for the job, he'll be watching the right man from the bench.
2. Iowa coach Kirk Ferentz/offensive coordinator Greg Davis.
Are Ferentz's best years behind him? And was last year's passing offense the start of a trend for Davis? The Hawkeyes finished last season at 4-8, their worst record since 2000, and finished with the nation's No. 114 offense. There are plenty of questions surrounding both of these coaches right now, and quieting them would certainly go a long way in proving Iowa's winning tradition isn't gone for good.
3. Penn State special teams.
The Nittany Lions ranked near the bottom statistically in nearly every special teams category in the Big Ten last year. They were tied for ninth in field goal percentage, 11th in punting average, last in kick return average and ninth in punt return average.
Sam Ficken
rebounded in the second half of the season after missing four field goals against Virginia, but he was sporadic again in the Blue-White Game.
Alex Butterworth
's hang time also needs to improve.
4. Purdue coach Darrell Hazell.
He guided Kent State to an impressive 11-3 record last season, became the Mid-American Conference coach of the year and nearly earned a berth in the Rose Bowl. But that was the MAC and this is the Big Ten. There's a big difference, and he wants to show fans of the gold and black that kind of success can carry over.
5. Michigan QB Devin Gardner.
He has big shoes to fill when it comes to replacing Denard Robinson, but expectations are already soaring for the player who has started just four career games at quarterback. Some sporting books have
increased Gardner's odds at the Heisman to 25-to-1
, which means increased confidence, and Michigan is expected to compete with Ohio State for the conference title this season. That's a lot of pressure and, by default, means Gardner has a lot to prove.
6. Wisconsin front seven.
New coach Gary Andersen is hoping the new 3-4 defense can create some headaches for opposing offenses, and the front seven here are trying to show they're quick studies. Wisconsin will have to rely on these seven to win, and their adjustment to the new scheme will have a direct impact on the number of marks in the "W" column.
7. Ohio State defensive line.
Having four new starters tends to mean there are question marks, and this young group will have to answer them.
Noah Spence
came in as the nation's No. 4 recruit back in 2012, and reports all seem to conclude he's living up to the hype. Depth here isn't great and neither is experience, but talent and health are the main things that matter.
8. Nebraska defense.
There's no problem on the offensive side of the ball with players such as
Taylor Martinez
and
Ameer Abdullah
, but defense is what's preventing this team from being great. The Huskers' run defense ranked 90th in the nation last season -- allowing 653 yards, 498 yards, 640 yards and 589 yards in their four losses -- and they could be even worse this year. Three new linebackers will take the field, and Nebraska lost two of its top pass-rushers. A lot to prove? You bet.
9. Michigan RB Fitzgerald Toussaint.
There's no way around it. You have to use the term "disappointment" when referring to Toussaint's 2012 season. Coming off a breakout 1,000-yard campaign in 2011, he struggled last season, averaging just four yards a carry and running inconsistently before breaking his leg against Iowa. He wants to show that 2012 was an aberration.
10. Badgers' receivers outside of Jared Abbrederis.
If you're having difficulty naming a Wisconsin receiver other than Abbrederis, don't feel bad. Abbrederis caught 49 balls last season -- more than all of the other Wisconsin wideouts combined (48).
Jordan Fredrick
,
Alex Erickson
and
Kenzel Doe
will need to step up to make sure secondaries don't just focus on the fifth-year senior.
March, 18, 2013
3/18/13
9:00
AM ET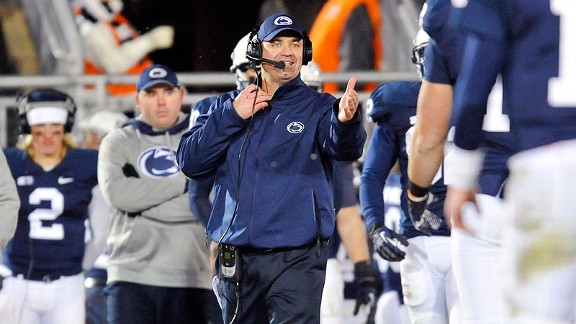 Randy Litzinger/Icon SMIBill O'Brien is excited about his team as he heads into his second season at Penn State.
The last time we saw Penn State, the Lions were celebrating a surprisingly strong finish to the 2012 season and saying farewell to a special senior class. Penn State since has turned the page and will begin spring practice Monday with a mix of familiarity and uncertainty. Bill O'Brien is not the "new coach" in Happy Valley anymore, and players have acclimated to O'Brien and his staff. But the Lions are looking for a starting quarterback for the second consecutive spring. They also must replace several outstanding defenders and fill holes on both lines. But the
depth crisis many of us envisioned
for the Lions when the NCAA sanctions came down last summer simply isn't there in State College.
ESPN.com caught up with O'Brien late last week to discuss spring ball.
What are some of the main objectives you're looking for when you get on the field again?
Bill O'Brien:
The No. 1 objective offensively is to make sure we come out of this spring practice with improvement from the quarterback position. We won't name a starter coming out of the spring, but at least at the end of 15 practices we'll have a good idea of how well these guys are grasping the system, Tyler Ferguson and
Steven Bench
. So that's a big deal for us offensively.
And defensively, some new guys will be in there, and seeing how those guys do, whether it's
Nyeem Wartman
at linebacker or
Jordan Lucas
at corner or some other guys who are going to be playing a little bit more next year, how much they improve. And then we'll work our special teams every single day, so hopefully we'll find some core special-teams players this spring.
What's your message to Steven and Tyler going into the spring? You're not naming the starter, but what do you want to see out of them?
BO'B:
[Thursday] I was talking to them, and I said, 'Look, I just want you guys to put your head down and go to work. Don't worry about what everybody else on the outside of the program thinks about your performance, whether it's in scrimmages or the Blue-White Game or whatever it is. Just try to get better every single day.' These are two really, really good kids. They're smart, they work hard at it, they're grasping it pretty well to this point. We're pretty excited about getting started with them. I don't want them to think about anything other than trying to improve and be as good a leader as they can be.
Will you have to change the offense for one or the other? Do they fit in with what you did last year?
BO'B:
We'll definitely be different. We'll be different in many ways. Matt [McGloin] had certain strengths we tried to play to, no question about it. Our system is expansive enough that you can have different parts in there to take advantage of the talents of the quarterbacks who are playing. So we'll be a different offense than we were last year.
Anything specific on what might change with these two quarterbacks or areas you can draw out more?
BO'B:
I'd rather not get into all of that, but I can tell you these are two guys who are big, they're strong, they're fast, they look to be accurate passers. We're just looking forward to working with them.
October, 29, 2012
10/29/12
10:00
AM ET
Backbackbackbackback ....
Team of the week:
Nebraska, Ohio State and Michigan State all notched big wins on Saturday. But a team that rarely sniffs this space gets the honor this week: Indiana. The Hoosiers deserve a nod after winning their first Big Ten game since 2010 with a two-touchdown triumph at Illinois. Sure, the Illini are pretty awful. But Indiana has been close all year long and finally got over the hump with a road win where its defense played well. And with Wisconsin losing, the Hoosiers are still very much alive for the Leaders Division title, as crazy as that might sound. The best news for head coach
Kevin Wilson
might be that his team wasn't overly exuberant about beating Illinois. "I think they expected it," he said. "They weren't just jumping up and down. We talked about how you want to get used to that feeling. We've been doing a lot of things right and it's nice to get a Saturday scoreboard to go our way, and we want a lot more of those."
Game of the week:
A much anticipated Saturday featuring many closely-matched teams did not actually produce any truly great games. The best of the bunch was Michigan State's 16-13 overtime win at Wisconsin, though the two offenses made that one hard to watch for long stretches. But at least there was a good finish, finally, by the Spartans, who drove the field for a tying touchdown with 1:08 left and then won in the first overtime. "We've been close, and we just kept coming," Michigan State coach Mark Dantonio said. "What I'd like to say is basically, 'Hey, we're not going to quit.'"
Biggest play:
We go back to East Lansing for
Andrew Maxwell
's game-winning touchdown pass in overtime to
Bennie Fowler
on third-and-8. It was a great back-shoulder throw by Maxwell and an even better grab by Fowler, who had to adjust to the ball while falling backward. Both players had drawn heavy criticism this season for their play, so it was nice to see them both succeed in a key moment. "This could be the spark that we need to kind of carry us over and propel us the rest of the way," Maxwell said.
[+] Enlarge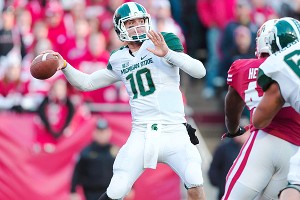 Jeff Hanisch/US PresswireMichigan State quarterback Andrew Maxwell came up big for the Spartans against Wisconsin.
Best play:
The stat sheet just says it was a 1-yard touchdown run by Ohio State's
Braxton Miller
. But anyone who saw the play knows it was a piece of performance art. Miller
stunned Penn State and his own teammates
with his contortions after he and
Carlos Hyde
looked absolutely stuffed on a goal line option-read play. Miller's twisting, mid-air juke job even had his own coaches going "Oh, my god" on their headsets. We need some "The Matrix" style slow-motion camera work to truly appreciate the most outstanding 1-yard run of the season. Whoa, indeed.
Best call:
The Nebraska defenders turned down an offer to have their blackshirts handed out after last week's win at Northwestern. They wanted to show consistency first, and they did so with a signature performance against Michigan. The Wolverines mustered only 188 yards and failed to score a touchdown (for the second straight week) in Nebraska's key 23-9. Yes, the injury to
Denard Robinson
was a huge factor, but it wasn't like Michigan was moving the ball at will before that, and the Huskers knocked him out of the game. Nebraska tortured Wolverines backup
Russell Bellomy
, who completed only 3-of-16 throws and had three interceptions. The blackshirts were well earned with this one.
Big Man on Campus (Offense):
Northwestern QB
Kain Colter
. When you call out your own offense for lacking an identity, as Colter did last week to ESPN.com, you'd better back it up. Colter sure did, running the ball 26 times for 166 yards and three touchdowns and throwing for 80 yards and a score in the Wildcats' 28-17 win over Iowa.
Big Man on Campus (Defense):
Michigan State DE
William Gholston
. The highly-talented junior hasn't always lived up to sky high expectations, but he was all over the place against Wisconsin. Gholston had 4.5 tackles for loss and a sack and put the hit on quarterback
Joel Stave
that changed the game (and possibly both teams' season).
Big Man on Campus (Special teams):
Ohio State's
Adam Griffin
has been a special teams ace, and he made one huge play at Penn State. The Nittany Lions called for a fake punt on the Buckeyes' 43, and punter
Alex Butterworth
threw to
Derek Day
, who was open for the first-down reception. But Griffin hustled back to break up the pass, and Ohio State would then march in for a touchdown that made it 21-10. "I thought that was the turning point of the game," Urban Meyer said afterward. Griffin's dad, two-time Heisman winner Archie Griffin, had to be proud.
Big (Fresh)man on Campus:
Get ready to see a lot of
Philip Nelson
highlights over the next three or four years. Minnesota's precocious true freshman was tremendous in just his second college game, completing 11 of his first 12 passes and going 15-for-22 for 246 yards with three touchdowns, all in the first half, in a 44-28 win over Purdue. Nelson was so good that Gophers fans are
asking what took so long
for him to play.
Worst hangover:
Wisconsin. Just when it seemed like the Badgers had bounced back and were ready to shoot up the Top 25, their offense got completely shut down against Michigan State. Worse, reports say Stave is out for the year with a broken collarbone, and backup
Danny O'Brien
was once again wildly ineffective at quarterback. Wisconsin probably will still go to the Big Ten championship game, but that beeping you hear is the sound of the Badgers backing their way into Indy.
Strangest moment:
Midway through the second quarter in the Michigan State-Wisconsin game, we saw one of the ugliest series you'll ever (hopefully) witness.
First, the Spartans blocked a punt after
Drew Meyer
took his eye off the snap and a Keystone Cops reenactment ensued. Michigan State ook over on the Badgers' 11-yard line, in great position to score. Except that the Spartans possession went like this: holding penalty, incomplete pass, false start, sack, incomplete pass, delay of game penalty. When it was all said and done, Michigan State had lost 23 yards and somehow winded up punting on fourth-and-33. That "drive" appeared to encapsulate all of the Spartans' problems this season in one horrific sequence, but at least they solved them late for the win.
October, 27, 2012
10/27/12
8:54
PM ET
STATE COLLEGE, Pa. -- The Ineligi-Bowl turned into an indelible moment for Ohio State.
The Buckeyes came into a frenzied Beaver Stadium and sliced up a red-hot Penn State team
35-23
, leaving no doubt which team is the best in the Leaders Division and the entire Big Ten. Ohio State improved to 9-0 and inched one step closer to its goal of a perfect 12-0 season under first-year coach Urban Meyer.


Here's how it went down:
It was over when:
Braxton Miller
squeezed a third-down pass into the hands of
Jake Stoneburner
, who had nothing but daylight in front of him for a 72-yard touchdown catch with 6:11 remaining. That made it 35-16 and extinguished any hope of a Penn State comeback.
Game ball goes to:
The Ohio State defense. Penn State's offense came into the night on a roll, but the Buckeyes applied pressure to quarterback Matt McGloin all night and didn't allow an offensive touchdown by the Nittany Lions until there was 9:49 left in the game.
Stat of the game:
Ohio State had 233 rushing yards to just 32 for Penn State. Miller piled up 134 of those, along with two scores. He was able to dominate the game in the second half despite completing just 7-of-19 passes.
Second-guessing:
Bill O'Brien's gambles have mostly paid off this season. But one backfired on fourth-and-nine from the Ohio State 43 in the third quarter. Penn State went for the fake punt, and
Alex Butterworth
's pass was broken up on a nice play by the Buckeyes'
Adam Griffin
(son of two-time Heisman Trophy winner Archie Griffin). Penn State's defense had been playing really well, and the flipping of field position helped Ohio State drive in for a touchdown to make it 21-10.
What it means:
It was an odd meeting of two good teams who can't play in a bowl game, so no result was going to have any postseason implications. But both teams are eligible to win the Leaders Division title, and now Ohio State has a virtual two-game lead in that race with three games left. Hey, it's something.
More importantly, it continued the Buckeyes' impressive march through the Big Ten in Meyer's first year. If Ohio State keeps on winning, Associated Press voters are going to have an interesting time figuring out to do with this team, which hasn't lost but also hasn't beaten a team currently ranked in the Top 25.
For Penn State, the loss halted some serious momentum as the team had won five straight coming into Saturday. The Nittany Lions had hoped for a dominating performance to impress recruits, more than 100 of whom attended the game. This was as close to a bowl game as Penn State is going to play over the next few years. Still, one loss doesn't erase what this team is accomplishing this year.