November, 23, 2009
11/23/09
10:16
AM ET
By
Tim Griffin
| ESPN.com
Bedlam will be a little bit bigger than normal Saturday.
Oklahoma State will be playing its most important game in its Big 12 history when the Cowboys visit Oklahoma.
The Cowboys are playing for style points when they gun for their first victory in Norman since 2001. OSU has produced one of two victories against Bob Stoops at Owen Field in his 11-season coaching tenure for the Sooners.
[+] Enlarge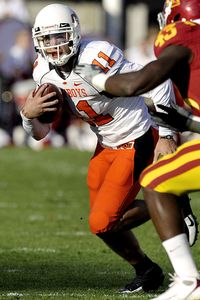 AP Photo/Steve PopeThe Cowboys are hoping Zac Robinson is able to play Saturday against Oklahoma.
But an impressive victory in Saturday's game over the skidding Sooners would boost the Cowboys' BCS at-large hopes into a possible berth into the Fiesta Bowl.
Since losing to Texas on Oct. 31, the 9-2 Cowboys have played as well as any Big 12 team. Their comeback against Colorado last week was a revelation of the grittiness the Cowboys have shown.
Despite playing without starting quarterback
Zac Robinson
, and after a sputtering start by backup
Alex Cate
, third-stringer
Brandon Weeden
directed the Cowboys back from an 11-point deficit to claim a 31-28 victory over the Buffaloes.
Robinson is considered questionable for Saturday's game against the Sooners and Weeden has been installed as the Cowboys' second-stringer if Robinson can't go.
After zooming from 19th in the BCS standings to 12th last week, the Cowboys remained static in Sunday's most recent standings. But snapping the Sooners' nation-best home winning streak would likely have some national bounce, despite the Sooners' disappointing 6-5 record so far this season.
In order for Oklahoma State to make the BCS as an at-large team, Texas must win the Big 12 title. If the Longhorns are upset in the conference championship game next week by Nebraska, the Cornhuskers would earn the Big 12's automatic BCS berth and Texas would earn the at-large berth.
The Cowboys must finish in the top 14 in the BCS standings when it is announced after next week's games. Undefeated TCU appears to be a lock if the Horned Frogs can wrap up their season with a victory over New Mexico on Saturday.
Another BCS at-large berth appears likely for the SEC title-game loser. That would leave the Cowboys attempting to make their case for BCS worthiness against other contenders like Boise State, Iowa or Penn State and the Cincinnati-Pittsburgh loser for two BCS at-large spots.
The Fiesta Bowl has had a long association with the Big 12. That connection might boost the Cowboys' chances when all other things are considered.
The game of football musical chairs will play out over the next few days. But if the Cowboys can finish the season 10-2, they will have a legitimate claim at an at-large spot.
Then, the excitement of fans about the chance to make a BCS bowl will be critical. If Oklahoma State athletic director Mike Holder can convince bowl officials that his supporters will flock to a BCS game, the Cowboys might be playing in their first BCS bowl game in January and their first major bowl since beating St. Mary's in the 1946 Sugar Bowl.
November, 20, 2009
11/20/09
12:19
AM ET
By
Tim Griffin
| ESPN.com
It wasn't an artistic success.
As a matter of fact, it was far from it.
But Oklahoma State persevered for a tight
31-28 victory over Colorado
, playing without starting quarterback
Zac Robinson
and overcoming a shaky first start by backup quarterback
Alex Cate
.
Former minor-league baseball player
Brandon Weeden
orchestrated the comeback with a stunning second-half passing display. His 168-yard passing effort was particularly noteworthy considering Cate was 0-for-9 in the first half.
The Cowboys overcame an 11-point deficit early in the third quarter to claim the triumph. But it will be interesting to see what kind of BCS bounce -- if any -- this game produces.
OSU was thought to be in a tight battle with teams like Iowa, Penn State and Boise State for an at-large spot.
They didn't look very deserving of a BCS bowl berth most of the game. But their performance in the fourth quarter stamped them as one of the most resilient OSU teams in history as they pushed their record to 9-2.
Coach Mike Gundy opted to rest Robinson in the game in order to save him for the Cowboys' regular-season finale at Oklahoma next week.
It nearly bit them as Colorado responded with a gritty effort that belied the Buffaloes' lack of bowl hopes as
Tyler Hansen
and
Cody Hawkins
both had their moments at quarterback for the Buffaloes (3-8).
But in the end, OSU had too much firepower. Underrated
Keith Toston
showed why he might be the best all-around running back in the Big 12 with 170 yards on 30 carries and a critical 47-yard touchdown reception that gave the Cowboys a short-lived lead early in the fourth quarter.
After after Colorado had reclaimed the lead on the ensuing kickoff, Weeden showed moxie in his responding drive. He hit 4-of-5 passes for 71 yards, converting two third-down plays along the way with critical completions. His 28-yard strike to
Justin Blackmon
was the game-winning play for the Cowboys.
And fittingly, OSU's defense salted away the victory. Linebacker Patrick Lavine killed one drive with a fumble recovery and Colorado's last drive was punctuated by a three-and-out from a Cowboy defense that allowed only 13 rushing yards and 251 total yards.
Gundy showed faith in Weeden directing the comeback and he did. The late rally keeps the Cowboys slim Big 12 South title hopes alive.
OSU can win the Big 12 South by beating Oklahoma next week and for Texas to lose remaining games against Kansas on Saturday and Texas A&M next week.
Despite the narrow victory, the Cowboys likely have a good shot at the school's first at-large BCS berth in school history. The victory looked remarkably like those that Iowa has been piling up in the Big Ten all season long.
OSU will be battling some heavy odds at Owen Field next week, where Oklahoma has a current 29-game winning streak that is the longest in the nation and a school record. Bob Stoops' teams are 65-2 at home in his career, including 49 wins there in their last 50 games.
The Cowboys are the only Big 12 team to ever beat Stoops in Norman with a triumph in 2001 that cost them the Big 12 South title that season. They'll have to have another similarly stunning victory next week to make history with their first berth into the BCS.
November, 19, 2009
11/19/09
4:03
PM ET
By
Tim Griffin
| ESPN.com
Here are some things I'll be watching when Colorado travels to Oklahoma State for tonight's game (ESPN, 7:30 p.m. ET).
What I'm looking for from Oklahoma State:

Will Zac Robinson be ready to play? Only five days after a vicious head-to-head shot from Texas Tech defensive back Jamar Wall, Robinson's condition is questionable coming into tonight's game. Robinson has displayed a lot of toughness and moxie over his career and undoubtedly would like to play on his Senior Night. But the Cowboys likely won't need him to beat the struggling Buffaloes. Backup Alex Cate would be ready to play if needed and the Cowboys have a consistent running game keyed by Keith Toston, Kendall Hunter and Beau Johnson to carry the team. It might not be really fancy, but that ground game could take a lot of pressure of a first-time starting quarterback -- if it was needed.
Oklahoma State's shot at the national spotlight: Tonight's game provides the Cowboys and the Big 12 with a rare shot at Thursday night exposure. And a big performance is important as OSU attempts to prove its worthiness for the first BCS at-large berth in school history. If the 8-2 Cowboys can beat Colorado tonight and then defeat Oklahoma in Norman next week, their argument for an at-large berth would be strong. But in order to cement those hopes and likely make a trip to the Fiesta Bowl, Mike Gundy's team needs a strong performance.
Bill Young's emerging OSU defense: Oklahoma State's defense under veteran coordinator Bill Young has really made strides in recent weeks. The Cowboys will attempt to handcuff a Colorado offense that has sputtered with the exception of wide receiver Markques Simas, who has produced 14 catches in his last two games. All-Big 12 candidate Perrish Cox, the Big 12's current defensive player of the week, will get the first shot at stopping Simas. It should be an intriguing battle between an emerging receiver and one of the nation's most underrated lockdown cornerbacks.
What I'm looking for from Colorado:

The play from streaky quarterback Tyler Hansen: Colorado's starting sophomore quarterback appeared to be headed for a redshirt season earlier this year as he rode the bench behind Cody Hawkins. But Hansen got the call midway through the season and has been alternately strong and struggling. He provides the Buffaloes more of a run-pass option than Hawkins and his teammates appear to gravitate to his inspirational leadership. But he's thrown more interceptions (four) than touchdowns (three) and will likely face a huge amount of pressure from the underrated OSU defensive front.
Can Colorado get anything from its offense? The Buffaloes have sputtered all season long, ranking 105th in total offense, 112th in rushing and 94th in scoring. They will need to produce something from their running game, particularly fumble-prone starter Rodney "Speedy" Stewart to keep OSU honest. And nothing from the past few weeks is indicative they will be able to do that. If they don't start fast, this one could turn ugly for the Buffaloes.
How Dan Hawkins approaches the game: With speculation swirling about potential replacements, the Colorado coach is coaching to keep his job. His teams have been one of the most penalized groups in the country, ranking 119th among the 120 FBS teams. He even had members of his operations staff dress in striped shirts at practice throwing penalty flags. The Buffaloes are at a huge competitive disadvantage as they try to stem a 10-game road losing streak against a team that is fighting for a spot in the BCS. The Buffaloes are the only team in the conference to already be eliminated from bowl contention. It will be a massive coaching effort to keep this group involved if they have some early problems. Can Hawkins keep his team close in the game? We'll have to see.
November, 19, 2009
11/19/09
8:17
AM ET
By
Tim Griffin
| ESPN.com
Here are some items of interest heading into this week's Big 12 games:
Will Zac Robinson play tonight for Oklahoma State?
Robinson has made 34 consecutive starts for the Cowboys and is their unquestioned team leader. He's developed into more of a running threat in recent weeks, reverting to the form that he showed earlier in his career. But his condition is iffy after a brutal head-to-head collision with Texas Tech cornerback Jamar Wall at the end of last week's game. Robinson's return to the lineup will be critical as the Cowboys try to win their way into the BCS this season. And if he can't go tonight, junior
Alex Cate
would get the first start of his career against Colorado in a huge game in the national spotlight for the Cowboys.
Colorado responds to its role as a spoiler:
The Buffaloes are the only Big 12 team without any bowl hopes heading into this week's games. Dan Hawkins predicted before the season that his team would "win 10 games with no excuses." That dream has long been dashed, but can the Buffaloes ruin Oklahoma State's BCS at-large hopes before a national television audience? In order to do so, they will have to play their best game of the season.
Big 12 title game or bust for Kansas State:
It's all or nothing for the Wildcats heading into their winner-take-all showdown with Nebraska for the North Division championship Saturday in Lincoln. If the Wildcats can notch an upset, they will qualify for their first championship game berth since 2003 and would qualify for a bowl. If they lose, they are through for the season. KSU coach Bill Snyder said he's never had a team in these circumstances in his 41-season career as a coach. The Wildcats have won only once at Nebraska since 1968 and will be battling huge odds to extend their season.
Can Roy Helu Jr. continue his recent running binge?
Helu has bounced back from an earlier shoulder injury to become the Cornhuskers' most consistent offensive threat, averaging 147 rushing yards per game in his last two games. His strong effort last week seemed to perk up the Cornhuskers' entire offense in a 31-17 triumph over Kansas. Another big game will be important as the Cornhuskers attempt to claim their first championship game berth since 2006.
Colt McCoy's last home game:
It will be an emotional game Saturday in Austin when McCoy concludes his home career at Darrell K. Royal-Texas Memorial Stadium against Kansas with the rest of his senior class. McCoy also can notch his 43rd career victory, giving him the NCAA record over David Greene. And the Longhorns can clinch a title game appearance this week with either an Oklahoma State loss or their own victory over the reeling Jayhawks.
Kansas responds to all of the off-the-field dramatics around the program this week:
Coach Mark Mangino's job appears to be in serious jeopardy after reports surfaced of an internal investigation by the school of Mangino's coaching methods. The slumping Jayhawks have dropped their last five games after starting the season 5-0 and soaring as high as No. 16 in the national polls. A victory would qualify the team for its third straight bowl appearance under Mangino -- a feat that has never occurred in the 120-season history of the program. But a loss would mean Kansas would have to qualify for a bowl game next week with a victory over Missouri, or stay home from the bowls entirely.
Can Oklahoma halt its road woes?
The Sooners are 1-4 away from Owen Field this season and have seen their scoring average plunge from 49.8 points at home to 16.8 points in games away from home. They need a big effort and a more consistent running game in order to beat Texas Tech in Lubbock for the first time since 2003. Bob Stoops will try to avoid his first three-game losing streak in any conference facility. Stoops has lost three consecutive games in the Orange Bowl, but has never endured a streak like that inside any rival Big 12 home stadium.
Who starts at quarterback for Texas Tech?
Mike Leach admitted earlier this week that he made a mistake by taking
Taylor Potts
out of the game last week when he removed him for
Steven Sheffield
midway through the Red Raiders' loss at Oklahoma State. Sheffield was game, but showed the effects of foot surgery he underwent only a month earlier. Will Leach start Potts against the talented Oklahoma defense and will he show more patience in sticking with him after an early mistake or two? Or will he prefer a lift from Sheffield, who seems to provide his team with a boost with his running abilities when he enters the game?
The Battle of the Brazos -- with legitimate bowl ramifications for a change:
It's been a long time since both Baylor and Texas A&M both had bowl hopes in a game between the two old rivals late in the season. The Aggies can wrap up their first bowl berth since 2007 with a victory. And the Bears can grab an improbable bowl berth -- thought to be an impossibility after the earlier season-ending injury to Robert Griffin -- by winning against the Aggies and beating Texas Tech next week in Arlington. Baylor will be facing some long odds as it attempts to beat A&M at Kyle Field for the first time since 1984. A victory here would clearly be Art Briles' biggest triumph since his arrival at Baylor.
Can Danario Alexander do it again?
Missouri's talented senior wide receiver has developed into the league's biggest offensive weapon in recent weeks after posting back-to-back 200-yard receiving games against Baylor and Kansas State. He will be gunning for a third straight 200-yard game -- a feat that would tie him with Tulsa's Howard Twilley and Nevada's Trevor Insley for an NCAA record. Missouri quarterback
Blaine Gabbert
will be leaning on Alexander a little more with the injury to starting wide receiver
Jared Perry
. But the 6-foot-5, 215-pound Alexander's hopes should be boosted by the fact he will be playing against an undersized Iowa State starting secondary that averages only 5-foot-9.
October, 2, 2009
10/02/09
9:01
AM ET

Posted by ESPN.com's Tim Griffin
Backup quarterbacks already played a big part in Big 12 play before October arrived.
Oklahoma's
Sam Bradford
was idled with a sprained shoulder, paving the way for
Landry Jones
to take over for the Sooners for the last two games. And a season-ending knee injury for Baylor's Robert Griffin last week has 2007 Baylor starter
Blake Szymanski
inserted back in the lineup – if he can overcome his own shoulder injury sustained in the same game in which Griffin went down.
Here's a look at the backup quarterback situations around the Big 12 heading into this week's games.
Ready to roll:
Kansas State
:
Behind starter
Carson Coffman
, the Wildcats have
Grant Gregory
, a fifth-year senior transfer from South Florida who has seen action in three games for KSU so far this season, rushing for 92 yards and passing for 21 yards. Gregory battled
Matt Grothe
for the starting job at South Florida and played in 21 games earlier in his career for the Bulls.
Has the hype:
Kansas:
If
Todd Reesing
were sidelined, Kansas coach Mark Mangino finally feels comfortable enough to turn to redshirt freshman
Kale Pick
, who was Kansas' offensive scout team player of the year last season. Pick is an adept runner who rushed for 47 yards against Northern Colorado, 87 yards against UTEP and an 18-yard scamper against Duke already this season. And Mangino could always turn to
Kerry Meier
, although he's much more valuable now playing every down as a wide receiver.
Nebraska:
Cody Green
came into the Nebraska program with hype that he could see sizable playing time this season as a freshman. He graduated from high school early and arrived in the spring, but a hip injury set him back. But finally healthy, he's shown flashes of brilliance early in his career. Green broke a 49-yard run on his first college carry and a 24-yard touchdown run last week against Louisiana-Lafayette. He's also showing maturity as a passer after completing 12 of 17 passes in mop-up time in three games for the Cornhuskers.
Texas:
Garrett Gilbert
was the most heralded quarterback prospect in the nation after he was selected as the Gatorade and Parade national player of the year last season in high school. Mack Brown has wasted little time getting him game action as Gilbert has completed 11 of 14 passes for 110 yards in three games this season. And his confidence in the offense has grown in each game he's played.
Texas A&M:
Ryan Tannehill
is listed as Jerrod Johnson's backup and would likely be installed if Johnson was sidelined for a long period of time. But Tannehill's first focus in the Aggies' offense now is as a wide receiver where he's produced 11 catches for a team-leading 201 receiving yards. But Tannehill aspires to play quarterback and got the first snaps at the position in the blowout victory over UAB last week when Johnson left the game. He waged a closer battle than expected this spring before Johnson claimed the starting job.
Who knows?
Baylor:
With Griffin's injury, Szymanski takes over. He's more tested than most backups, considering he threw for a school-record 2,844 passing yards during his season as a starter in 2007 and accounted for 27 career touchdown passes in 22 college games. But behind him is freshman
Nick Florence
, whose experience consists of one college game -- last week against Northwestern State. If Szymanski isn't ready to go Saturday night against Kent State, Florence would be entrusted with the starting job.
Colorado:
Behind starter
Cody Hawkins
, the Buffaloes currently have rangy freshman
Seth Lobato
listed as his backup. They might be in better shape if
Tyler Hansen
chose to be available. But Hansen, who orchestrated a victory over Kansas State last season as a freshman, has stated he wants to redshirt this season unless there's a season-ending injury for Hawkins.
Iowa State:
Austen Arnaud
is one of the most durable starters in the league. But behind him, Paul Rhoads has gotten freshman backup
Jerome Tiller
playing time in the first three 2009 games. Tiller showed flashes in spring practice, but still would be an inexperienced alternative.
Missouri:
Blaine Gabbert
is entrenched as the starter.
Jimmy Costello
has assumed the backup position and has played in two games this season with scant action in garbage time. Coaches like his live arm and feel for the Missouri offense, despite his lack of game experience.
Oklahoma:
After Bradford's injury, Jones was immediately thrust into the lineup and he's played well, including a school-record six touchdown passes against Tulsa. Freshman
Drew Allen
is the backup behind him, but coach Bob Stoops has avoided playing him yet with hopes of preserving a redshirt season if Bradford can return to the starting lineup quickly.
Oklahoma State:
Alex Cate
and
Brandon Weeden
staged a tight battle to back up
Zac Robinson
throughout preseason practice. Cate, a redshirt junior, won the No. 2 job but struggled in brief early playing time this season. He was outplayed last week by Weeden, a 26-year-old former minor-league baseball pitcher who rifled a pair of garbage-time touchdown passes against Grambling last week. But neither has much actual game experience with Cate playing in six career games and Weeden in two games.
Texas Tech:
Behind
Taylor Potts
, the Red Raiders have junior
Steven Sheffield
, who passed for 52 yards and threw a touchdown pass against Rice in the only live action for a Tech backup quarterback this season. Sheffield would be an inexperienced alternative if Potts can't play.
May, 27, 2009
5/27/09
9:19
AM ET
Posted by ESPN.com's Tim Griffin
Most coaches hope they never have to turn to their backup quarterback. But it's still a good insurance policy as any team gets ready for a season to have a trusted replacement who can bail out an injured or struggling starter.
Coaches in the Big 12 are no different. Here's a look at the top backup quarterbacks in the league. During my analysis, I placed particular importance on proven ability to play rather than future promise. And I also did not factor in highly regarded incoming freshmen players who will join their teams at schools like Texas and Kansas State later this summer.
Here's my ranking of the backup quarterbacks in the Big 12 in order.
1. Colorado: The conference's most fluid starting quarterback situation results in the Buffaloes having the top backup. With Cody Hawkins appearing to be nosing ahead at the end of spring practice, Tyler Hansen earns the nod because of his recent experience as a winning quarterback in the Big 12 -- even considering he is recovering from a broken thumb suffered in Colorado's spring game.
2. Baylor: Experience helps Blake Szymanski in case the Bears would ever need to replace Robert Griffin. Szymanski has made 13 career starts and has thrown for 3,561 yards and 26 career touchdown passes.
3. Kansas: Mark Mangino says he wants to keep the move of Kerry Meier to wide receiver permanent. If so, he would need to turn the backup quarterback job over to Kale Pick at some point this season. But it still has to be relatively reassuring for Mangino to know he can always turn to Meier, who made eight career starts and has completed 28 of his last 32 passes over the past two seasons.
4. Iowa State: Obviously, it was against the Iowa State offense. But redshirt freshman Jerome Tiller looks like he's ready to challenge Austen Arnaud for the starting position this summer after blistering the Cyclones' defense for 210 yards and adding a 65-yard TD run in the ISU spring game. That outing should enable new ISU coach Paul Rhoads to have some confidence if he has to turn to Tiller.
5. Oklahoma: With Sam Bradford likely to play most of the season, Bob Stoops probably won't turn to his backups that much. Redshirt freshman Landry Jones showed flashes in the Sooners' spring game, completing 5 of 12 passes for 73 yards and a touchdown during limited playing time. Drew Allen, who left high school a semester early to join the Sooners, looked painfully raw in his limited work.
6. Nebraska: For all of the pre-spring excitement about a battle for the quarterback job, Zac Lee easily won the starting spot. The Cornhuskers have several capable backups, with the best showing of the spring coming from converted linebacker LaTravis Washington. Kody Spano should be good to go by fall practice after he recovers from knee surgery. And Cody Green is the most heralded quarterback prospect in the Nebraska program, although he struggled with injuries and fell behind early after graduating from high school early to join the program this spring.
7. Oklahoma State: Mike Gundy hoped that former minor-league baseball player Brandon Weeden would distance himself from Alex Cate and earn the backup role behind Zac Robinson. Weeden struggled late in spring practice and couldn't widen the gap, leaving the backup battle continuing into the summer.
8. Missouri: After Blaine Gabbert claimed the starting job early in spring practice, as expected, scrappy walk-on Jimmy Costello had his moments, too. But Costello's performance leveled off late in spring practice and Blaine Dalton was pushing to unseat him as the backup before he was arrested and suspended from the team. Both Dalton and Ashton Glazer had typical freshman moments of great plays and shaky ones on a consistent basis.
9. Texas Tech: Taylor Potts was picked as the starter from the opening day of spring practice, but former walk-on Steven Sheffield appeared to have claimed the No. 2 job over Stefan Loucks and Seth Doege. All are relatively inexperienced in operating Mike Leach's offense.
10. Texas: Sherrod Harris struggled operating the Texas offense in the spring game. Some of his struggles might have been understandable considering he underwent arthroscopic surgery on his right knee only three weeks after spring practice finished. When Garrett Gilbert arrives this summer, it will push the Longhorns up several places on the list. But until then, they rank among the bottom Big 12 teams on the list.
11. Texas A&M: Expected competition in spring ball never materialized as wide receiver Ryan Tannehill was recuperating from a torn labrum. Instead, Tommy Dorman got most of the snaps behind Jerrod Johnson as the only other scholarship quarterback on the team. Dorman struggled with his consistency.
12. Kansas State: Carson Coffman appears to have claimed the starting job for the Wildcats -- at least until Grant Gregory and Daniel Thomas arrive to challenge him later this summer. His backups who played in the spring game struggled through a miserable effort against the Wildcats' defense, which is saying something. Collin Klein, Joseph Kassanavoid, Trey Scott and Milton McPeak combined to complete only 9 of 26 passes in the spring game with two interceptions and five sacks. Look for the Wildcats' quarterback depth to improve with the arrival of Gregory and Thomas.