March, 21, 2013
3/21/13
9:00
AM ET
It is no secret that Cincinnati has gotten inconsistent play out of its receivers the past two seasons, and it's one huge area that has to be addressed going into 2013.
[+] Enlarge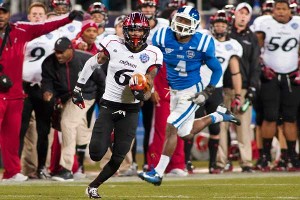 Jeremy Brevard/USA TODAY SportsWR Anthony McClung was one of the key players in the Bearcats' win against Duke in the Belk Bowl.
Perhaps a guy like
Anthony McClung
is ready for a featured role.
McClung has been reliable, if unspectacular, during his Bearcats career. But he certainly caught the attention of new coach Tommy Tuberville during the Belk Bowl against Duke. McClung had three catches for 110 yards and a touchdown -- just the second 100-yard game of his career.
Now, he has seemingly picked up where he left off this spring. In the first major scrimmage the team had, McClung was one of the biggest stars, with four receptions for 151 yards and three touchdowns. On his 73-yard scoring catch from
Munchie Legaux
, McClung faked out two defenders and sprinted into the end zone. In a second, smaller scrimmage, McClung had three catches for 28 yards.
With the Bearcats taking the week off for spring break, it is probably safe to say McClung has been one of the early standouts during practice. He certainly has ample opportunity to prove himself, with
Alex Chisum
banged up and incoming junior college transfer Johnny Holton set to come in this summer.
McClung is going into his senior year, and has a new coaching staff. Those could be providing him some big-time sources of motivation. Another source of motivation should be the top of the depth chart. Only three receivers caught more than 20 passes last season --
Kenbrell Thompkins
(34), McClung (34) and
Damon Julian
(24). Only McClung returns. Tight end
Travis Kelce
-- who led the team in receptions and receiving yards -- also is gone.
There clearly is a huge opening for McClung to capture for himself. So far this spring, it appears as if he is rising up to the challenge.
October, 4, 2012
10/04/12
1:00
PM ET
When Cincinnati receiver
Damon Julian
saw the ball sailing through the air toward him in the closing seconds against Virginia Tech last week, all he could think was, "Catch the ball this time!"
This was his opportunity to make up for an earlier dropped touchdown pass, a play that left Julian extremely frustrated. His coaches preach "snap and clear" as a way for players to erase an earlier mistake and just focus on the next play. So he looked the ball in, extended his arms and made absolutely sure he cradled the ball to his chest as he dove to the turf, to leave no doubt that he indeed made the catch.
[+] Enlarge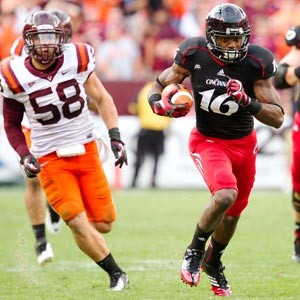 Paul Frederiksen/US PRESSWIREFrom backup to starting WR, Damon Julian is helping the Bearcats put points on the board this season.
That 39-yard touchdown reception
from
Munchie Legaux
gave Cincinnati a thrilling 27-24 victory over the previously ranked Hokies, and sent folks scrambling to their DVRs to rewind the incredible touchdown reception. At the time, Julian just thought he was doing his job. It was not until he watched the film later that he realized what he had done.
"When you go through something like that, you don't think about how it happened," Julian said in a phone interview with ESPN.com this week. "But when you go back and look at it ... It opened my eyes a lot. It is making more confident in myself, making me know that I can make certain plays."
Julian was an unknown headed into this season. He played sparingly last year, seeing time in three games and did not have a reception. Before the year began, Cincinnati figured to have players like
Alex Chisum
,
Anthony McClung
and
Kenbrell Thompkins
step up at the receiver position. Damon was a backup.
But he began turning heads in practice with all his hard work, and soon caught the eyes of his coaches. He earned the starting nod against Delaware State, and had four catches for 62 yards and a touchdown. He followed up that game with his spotlight-making performance against the Hokies.
"I can't say enough about Damon Julian," coach Butch Jones said. "He's really dedicated himself for his senior season. He's got a very quiet confidence about himself. He loves the opportunity to compete. After the game, he makes that winning catch and says, 'Thank you, coach. I love you.' I couldn't be more proud of an individual, the work he's put in to make this all possible."
While playing high school football in New Jersey, the schools that showed the most interest in him wanted him to play linebacker. Julian had his heart set on playing receiver. He decided to go the prep school route to bring his grades up and make a name for himself at his preferred position. He then transferred to Pierce Community College in Los Angeles.
In 2010, Julian led his team with 57 receptions for a team-high 1,073 yards and 11 touchdown. A former high school teammate of his, Reuben Johnson, kept bringing Julian's game film to the coaching staff. They took a look and set their sights on Julian. When he arrived last season, though, Julian said he was not fully committed to being the best he could be.
"I wasn't as consistent as I should have been," Julian said. "Going into practice sometimes, I didn't keep the same mentality. I would tend to bring on whatever my daily problems were so I didn't have a game mentality. So when I go to practice now, keep the same mentality, a game mentality."
So far that has paid off for Julian. And the Bearcats.
January, 23, 2012
1/23/12
9:00
AM ET
National signing day is inching ever closer, so it is time to take a look at the biggest recruiting needs for every team in the Big East.
Cincinnati

Defensive line.
Cincinnati loses a host of seniors from this position, including Co-Defensive Player of the Year
Derek Wolfe
,
John Hughes
,
Monte Taylor
, and
Rob Trigg
. Factor in the key contributors for 2012 will be seniors in
Dan Giordano
,
Brandon Mills
and
Walter Stewart
and it is time to reload at this position.
Receiver.
There is some promising young talent on the roster, but several guys are going to be leaving in the next few years. The Bearcats really need a guy who can stretch the field and make some big plays to join
Anthony McClung
and
Alex Chisum
.
Secondary.
The Bearcats are going to take a hit at this position after 2012, losing a ton of seniors-to-be, including Cam Cheatham,
Drew Frey
,
Dominique Battle
and
Reuben Johnson
. Senior safety
Wesley Richardson
is already gone. The lone four-star commitment the Bearcats have is from a safety, Marcus Foster.
UConn

Quarterback.
This need has been addressed in this recruiting cycle, with junior college transfer Chandler Whitmer and Casey Cochran already enrolled in school.
Tight end.
With the impending departure of
Ryan Griffin
and
John Delahunt
, the Huskies could use another young player to be groomed to take over. Tight end is a critical part of the UConn offense.
Offensive line.
UConn is losing its two best linemen in
Moe Petrus
and
Mike Ryan
. Of the 16 linemen currently listed on the roster, seven are juniors or seniors. Linemen generally take a redshirt season, so it never hurts to sign more to be able to restock.
Louisville

Linebacker.
The Cardinals are losing
Dexter Heyman
and have a lot of juniors and seniors on their roster at this position. It is no surprise, then, that three of the top players coming in are linebackers -- Keith Brown and James Burgess are already enrolled; four-star recruit Nick Dawson has given a commitment.
Offensive line.
Louisville has young players here, but not much depth, as evidenced this season when several true freshmen were forced to play much earlier than anticipated. It never hurts to build depth here, and the Cardinals have gotten a huge commit from four-star guard Abraham Garcia out of Miami.
Running back.
This was an area the Cardinals struggled in this season, having to move quarterback
Dominique Brown
to the position.
Victor Anderson
is gone, and this team could really used another back to carry the load.
Pitt

Quarterback.
This one is pretty self explanatory if you watched
Tino Sunseri
play.
Mark Myers
and
Trey Anderson
are also on the roster, but the Panthers are in definite need here -- which is why so many fans are looking forward to commit Chad Voytik coming to town.
Linebacker.
This has been an area of inconsistency for the Panthers, who lose their best player in
Max Gruder
. There are some young players with talent in
Todd Thomas
and
Ejuan Price
, but this position could definitely use an upgrade.
Receiver.
The play of the offense was disappointing this season, and that includes the receivers. Pitt could use some players to stretch the field.
Ronald Jones
was a start this season. But when you consider that
Cameron Saddler
,
Mike Shanahan
and
Devin Street
will all be upperclassmen in 2012, this is a definite area of need.
Rutgers

Receiver.
Mohamed Sanu
is gone, and
Mark Harrison
is a senior to be. There is plenty of young talent, but there is a reason Rutgers has commitments from four athletes. This gives the Scarlet Knights the flexibility to try them at receiver or running back, another area of need.
Running back.
Once
Savon Huggins
got hurt this year, Rutgers had
Jawan Jamison
and
Jeremy Deering
at running back and that was about it. Depth has to be developed here.
Offensive line.
Strides have absolutely been made at this position, but coach Greg Schiano likes to reiterate that the Scarlet Knights aren't going to pull themselves out of the hole they were in overnight. They need another solid draft class at this position to keep building.
USF

Secondary.
Injuries and inconsistent play this season showed the Bulls really lacked some depth and need some immediate help in this area, which is why they signed junior college cornerbacks Fidel Montgomery and
Josh Brown
. One of their top four-star commitments is cornerback Chris Bivins.
Quarterback.
Beyond
B.J. Daniels
, a senior in 2012, the Bulls have
Bobby Eveld
and
Matt Floyd
as the two heirs to take over. Eveld has been less than impressive, and we don't know much about Floyd. The Bulls would be served to get another quarterback in as they prepare for the future.
Running back.
Darrell Scott
is gone, and the Bulls are really in need of a game breaker at this position.
Demetris Murray
is going to be a senior, and nobody else really has stepped up at the position. Depth has to be built here, because USF goes into spring practice with four running backs on the roster.
Syracuse

Defensive line.
The Orange are losing
Chandler Jones
and
Mikhail Marinovich
and could really used some difference-makers up front who can help get after the quarterback. Depth is an issue here. One of their big commitments so far has been defensive end Josh Manley out of Georgia.
Secondary.
This was one of the weakest parts of the team and now the Orange lose
Phillip Thomas
and Kevyn Scott, and there was a lack of depth when injuries hit this position in 2011. Brooklyn prep safety Wayne Morgan would be a huge get to add to this unit.
Receiver.
Alec Lemon
is a senior,
Van Chew
is gone and who knows what happens with
Marcus Sales
. The bottom line is the Orange are in major need of a game-changer to turn 15-yard passes into 40-yard receptions.
West Virginia

Quarterback.
Geno Smith
is a rising senior and after him it is crickets in the form of one player behind him in
Paul Millard
. So consider this need majorly filled with Ford Childress, ranked No. 139 on the ESPNU 150.
Offensive line.
The most inconsistent part of the team in 2011, West Virginia has a major need here. The Mountaineers struggled so badly here they started converted defensive lineman
Curtis Feigt
late in the season.
Don Barclay
is gone, and
Joe Madsen
,
Jeff Braun
and
Josh Jenkins
are all upperclassmen.
Defensive line.
Julian Miller
,
Josh Taylor
and
Bruce Irvin
are gone, and there are depth concerns here. West Virginia has four commitments from defensive linemen already.
January, 20, 2012
1/20/12
10:00
AM ET
Every team has plenty to do in the offseason. Today, I present to you my top priorities for each Big East program headed into the 2012 season.

Cincinnati
Settle on a quarterback. If 2011 was any indication, then Munchie Legaux seems a sure bet to start next season. He showed flashes, but he needs to spend the bulk of his offseason developing a nice rhythm and chemistry with his receivers. That was one of the biggest roadblocks for him when he took over for Zach Collaros. Cincinnati has some good talent at receiver -- with Anthony McClung, Kenbrell Thompkins and Alex Chisum coming back -- so this must be a top priority.
Develop senior leadership. The Bearcats are losing the best senior class in school history, filled with leaders left and right. With guys such as Collaros, Isaiah Pead and JK Schaffer gone, who is going to take the responsibility of leading this team? That is something that must be worked on throughout the offseason.

UConn
Find a quarterback. Sounds the same as last season, right? The Huskies never really found one in 2011 and that is a big reason why they struggled. Spring practice has the potential to have five different quarterbacks taking reps in Johnny McEntee, Scott McCummings, Michael Nebrich, Chandler Whitmer and Casey Cochran. Somebody has to emerge to take a hold of this offense.
Work on improving the secondary. The weakest part of this team last season ranked No. 113 in the nation, so this is a clear area that has to get better. The Huskies were hurt when starting cornerback Blidi Wreh-Wilson missed a good chunk of the season with a knee injury, and they also had to rely on freshmen in Byron Jones and Ty-Meer Brown. This group will be much more experienced, so you have to hope they will be much better, too.

Louisville
Mature. The Cardinals were one of the youngest teams in the nation last season, and their immaturity showed at times. But now they enter the offseason with exceedingly high expectations. Many preseason lists have them ranked in the Top 25 and challenging for the Big East title. This team will still be young in 2012, so it will be imperative for coach Charlie Strong to help get this group to mature quickly and stay focused.
Work on the run game. Strong wants the run game to be the bread-and-butter of the offense, and this was an area that took a step back in 2011 with Bilal Powell gone. Louisville went from being ranked No. 1 in the Big East to No. 5 in the Big East, averaging 121.5 yards per game. That is down over 50 yards per game. Dominique Brown and Jeremy Wright are back, but they have to be consistent and the Cardinals probably need somebody else to emerge.

Pitt
New identity. A new coach means a new identity, so it will be interesting to see how the Panthers look under Paul Chryst and his new staff. We will find out when spring practice opens in March. There is plenty of talent on the roster, but the big question is how will the talent be utilized?
Is Tino the man? This is starting to sound like a trend, right? The Panthers have quarterback issues as well after Tino Sunseri had a season to forget. Much of his performance can probably be laid at the feet of former coach Todd Graham, who stubbornly tried to run an offensive system that was not suited for the players he had. You can be sure Chryst will open up the quarterback competition to see who emerges.

Rutgers
Handle expectations. The Scarlet Knights have not been so good in the past when the pressure is on. All you have to do is look back at what happened this season, with a shot to win a share of the Big East title. Now they are getting some preseason love and probably have their best team since 2006. So coach Greg Schiano is going to have to do a good job of managing preparation and focus because expectations were raised off a successful 2011 campaign.
Quarterback derby. Yet another Big East team with a quarterback question mark. Chas Dodd and Gary Nova ended up splitting the starts this past season. Now there is the possibility that former quarterback Tom Savage transfers back in. I don't know if Schiano can afford to keep playing musical chairs with his quarterbacks every season.

USF
Re-focus. The Bulls have to put 2011 behind them and focus on the future. This is still a team that has the talent to win. Coach Skip Holtz has to find a way to get that done. This is going to be a veteran team that has been through good times and bad. He needs leaders who will their teammates to victory, who know how to win close games and are determined to get this team back on top. Who are they?
New defense. USF brings in new defensive coordinator Chris Cosh from Kansas State, its third different coordinator in the past four years. Getting the players adapted to his scheme as soon as possible has to be a point of emphasis in the spring and throughout the offseason.

Syracuse
More offensive consistency. To be sure, Ryan Nassib and Alec Lemon both had career years and made strides for the Orange. But a lot of that was because the run game was inconsistent, and Syracuse found itself trailing late in several games. This team has to find a way to sustain drives and score -- Syracuse was No. 7 in the Big East in scoring offense (24.2 ppg).
Shore up the defense. The Orange lose some of their best players on the defensive line, and have to get better in the secondary, which was a major problem for most of the year. Syracuse ranked No. 98 in the nation in pass defense, and they lose some key contributors. Shamarko Thomas is really going to have to step up and take control of this group.

West Virginia
Big 12 or Big East? The Mountaineers are bent on leaving for the Big 12, regardless of any court outcomes. On-field issues have nothing on trying to figure out where you are going to be playing. And who you are going to be playing.
Defense. Coach Dana Holgorsen has hired a few defensive assistants, but still no word yet on who is going to run the show. That, of course, will determine the future course of this defense. It appears an inevitability that they will no longer use the 3-3-5 that former coordinator Jeff Casteel ran. Plus, players such as Keith Tandy, Najee Goode, Bruce Irvin and Julian Miller are gone. Shoring up this unit has to be tops on Holgorsen's list.
October, 22, 2011
10/22/11
4:04
PM ET
TAMPA, Fla. -- Cincinnati won an incredibly topsy-turvy game against USF
37-34 to take over sole
possession of first place in the Big East and become bowl eligible to boot.


A game that was poorly played in the first half turned into one of the most exciting games in the Big East this season. The fourth quarter alone featured three lead changes, none more definitive than the final drive that Cincinnati scored on to take the win.
After
B.J. Daniels
threw a 10-yard touchdown pass to true freshman
Andre Davis
with 1:27 to go to take a 34-30 lead,
Zach Collaros
marched the Bearcats 70 yards on seven plays, and scored on 2 yards out for the game-winning touchdown. Earlier in the quarter, Collaros had another rushing touchdown and a 30-yard touchdown pass to
Alex Chisum
to erase a 27-17 deficit and take a 30-27 lead.
Both drives were aided by multiple personal foul calls on USF. The game-winning drive had USF flagged for pass interference in the end zone, setting up the rushing score by Collaros -- who ended up with five total touchdowns on the day.
Collaros rebounded from a terrible first half in which he threw two interceptions -- including one in the end zone -- to post his first 300-yard game of the season. He had to be more effective, because USF did a nice job shutting down
Isaiah Pead
, holding him to 3.6 yards a carry.
B.J. Daniels threw an interception midway through the fourth quarter that made Bulls fans groan. But after forcing a Bearcats punt with about 3 minutes left, the Bulls found the moxie deep within to drive 83 yards down the field. That included a huge 21-yard flip pass from Daniels to
Demetris Murray
as it appeared Daniels was going down. Daniels also finished with over 400 yards passing as the ground game also was ineffective for the Bulls.
USF (4-3) has now dropped three straight and falls to 0-3 in conference. For Cincinnati (6-1, 2-0), the Bearcats are going back to a bowl after a disappointing 4-8 and have been one of the most surprising stories in the Big East. There was plenty that went wrong for both teams, from too many penalties, to too many turnovers, to too many mistakes on special teams.
But Cincinnati surely will take this huge victory.
June, 28, 2011
6/28/11
8:23
PM ET
We continue our team position rankings today with receiver. This is an area of great potential for plenty of teams around the league, especially with some of the high-octane offenses that we are going to see. Only three teams return their leading receiver from last season. The overriding theme seems to be this: there is a lot of talent, but much of it is unproven. So how are these receivers going to step up?
To make these rankings, I considered returning starters, accolades for returning starters, depth and potential.
[+] Enlarge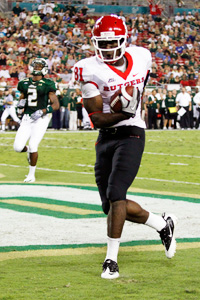 AP Photo/Mike CarlsonMark Harrison caught 44 passes for 829 yards and 9 touchdowns last season.
1. Rutgers.
The Scarlet Knights have proven talent and depth at this position, putting them at the top spot in these rankings. When healthy,
Mark Harrison
and
Mohamed Sanu
form one of the top 1-2 punches in the entire league. Add in
Brandon Coleman
, who had an outstanding spring, along with Tim Wright returning from injury and the top four looks as solid as it gets. Let's not forget incoming speedsters Miles Shuler and Tejay Johnson, who have the potential to play as well.
2. West Virginia.
The Mountaineers have
Tavon Austin
,
Stedman Bailey
and a whole bunch of questions at the position. But with the new offense Dana Holgorsen is bringing in, other receivers have a chance to be more effective. Austin is about as close as you can come to a surefire first-team All-Big East player.
Ryan Nehlen
had a nice spring and could be the surprise of the season. So could
Tyler Urban
, a converted tight end. How will
Brad Starks
do after shoulder surgery? Will
Ivan McCartney
live up to his potential? There is talent here and great potential if everybody lives up to expectations.
3. Cincinnati.
The Bearcats are stocked with talent, but many of these skill players have got to gain experience and fast with
Armon Binns
,
Marcus Barnett
,
Vidal Hazelton
and
Ben Guidugli
gone.
D.J. Woods
is expected to be a first-team All-Big East selection. But beyond he and
Anthony McClung
, you have got young guys -- junior college transfers
Kenbrell Thompkins
and Damon Julian, redshirt freshman Dyjuan Lewis, freshmen Shaq Washington, Chris Moore, Alex Chisum and Max Morrison. Thompkins showed great promise in the spring.
4. Pittsburgh.
The Panthers lose their leading receiver in Jon Baldwin, but the duo of
Mike Shanahan
and
Devin Street
could each be 1,000-yard receivers. Behind them, though, there are some questions and inexperience. Junior
Cameron Saddler
is going to have to step up. Redshirt freshmen
Salath Williams
,
Drew Carswell
, junior college transfer Josh Brinson and true freshman Justin Jackson are all young but have a chance to be big contributors. Pitt also is waiting to hear whether UNC transfer
Brendon Felder
will have his petition for immediate eligibility granted.
5. Syracuse.
The Orange have plenty of solid returning receivers in
Van Chew
,
Marcus Sales
and
Alec Lemon
but what this team is really lacking is big-play potential. In five games last season, Syracuse failed to complete a pass that went longer than 30 yards. In fact,
Ryan Nassib
averaged 6.5 yards per pass attempt. A healthy
Jarrod West
could help those numbers improve.
Dorian Graham
has to work on his hands, too.
6. USF.
The Bulls lose leading receiver
Dontavia Bogan
, but they return injured players
Sterling Griffin
and
A.J. Love
to the mix, which is going to be huge.
Lindsey Lamar
and
Evan Landi
also return, along with
Terrence Mitchell
,
Joel Miller
and
Faron Hornes
.
Deonte Welch
had a nice spring game and is listed as a backup behind Landi. True freshman Andre Davis has the potential to contribute as well. The Bulls have plenty of depth here but there are still some questions about this group, especially with Griffin and Love coming off injuries.
7. Louisville.
The Cardinals lose their top two receivers, and have got to figure out a way to make big plays and stretch the field with a young group.
Josh Bellamy
appears to be the go-to man headed into 2011, and much is going to be expected of
Andrell Smith
and
Michaelee Harris
. Both are coming off injuries and were unable to practice in the spring. True freshmen are most likely going to be relied upon, giving Eli Rogers and DeVante Parker and opportunity to play.
8. Connecticut.
A playmaker has got to emerge from this group to help out whoever is going to be playing quarterback. The Huskies lost leading receiver
Mike Smith
because of academics.
Kashif Moore
,
Ryan Griffin
and
Isiah Moore
return but UConn is going to need some of its redshirt freshmen like
Geremy Davis
and
Tebucky Jones
Jr. to step up. The Huskies are not preparing to run the spread, so the potential for a 1,000-yard receiver in this group is low.
Previous rankings: