April, 26, 2010
4/26/10
8:00
AM ET
The NFL's fortnight of drafting -- what, it was only three days? Really? -- came to an end this weekend. I already touched on the
first-round results
on Friday. Here's a look at where Big East players went the rest of the draft, with some quick comments on each pick:
Second round
No. 37:
Nate Allen, S, South Florida,
to Philadelphia: No surprise here, as Allen was mentioned as a possible first-rounder at various points.
Third round
No. 65:
Jerome Murphy, CB, South Florida
to St. Louis: Here is proof that college production isn't always the most important thing to NFL scouts. Murphy struggled against some of the Big East's better receivers, but he has great physical tools and hopefully will find his niche in the pros.
Fourth round
No. 99:
Mardy Gilyard, WR, Cincinnati,
to St. Louis: If you watched any Bearcats games the past two years, you know that the Rams got an absolute steal. Think
Sam Bradford
will like having Gilyard around?
No. 101:
Mike Williams, WR, Syracuse,
to Tampa Bay: He was a first-round talent who was lucky to get picked this high given his off-the-field issues.
No. 107:
Marcus Easley, WR, UConn,
to Buffalo: Easley had great workouts, and though some thought he would go higher than this, it's still a great story for a guy who was a walk-on this time a year ago.
Fifth round
No. 157:
Arthur Jones, DT, Syracuse,
to Baltimore: Jones was talked about as a possible first-rounder earlier in his career. This is a great value pick for a player who will always give maximum effort.
Sixth round
No. 177:
Carlton Mitchell, WR, South Florida,
to Cleveland: Mitchell looked impressive in his workouts, but falling to the sixth round makes you question if he made the right choice in skipping his senior year.
No. 182:
Nate Byham, TE, Pittsburgh,
to San Francisco: The best blocking tight end in the Big East during his career.
No. 204:
Tony Pike, QB, Cincinnati,
to Carolina: Pike has to be disappointed that he fell this low and that he was drafted by the same team that took
Jimmy Clausen
a couple rounds earlier.
Seventh round
No. 226:
George Selvie, DE, South Florida,
to St. Louis: How much would you have bet against the notion that Selvie would be a seventh-round pick at this time last year? Selvie's production dropped after his breakout sophomore year, and now he'll have to prove himself again.
No. 227:
Dorin Dickerson, TE, Pittsburgh,
to Houston: Surprised to see Dickerson go this low after his great Combine performance. He's a tweener who needs the right team to showcase his skills.
No. 231:
Selvish Capers, OT, West Virginia,
to Washington: Capers has a lot of talent and potential.
No. 237:
Ryan D'Imperio, LB/FB, Rutgers,
to Minnesota: The Scarlet Knights' linebacker was drafted as a fullback although he never played it in college.
No. 238:
Ricardo Mathews, DT, Cincinnati,
to Indianapolis: Mathews didn't get as much attention on the Bearcats' defense as some other players but had a nice senior season.
No. 249:
Robert McClain, CB, UConn,
to Carolina: McClain had four interceptions last year and also served as the team's punt returner.
Here's a handy-dandy list of NFL Draft picks per Big East school:
South Florida: 5
Rutgers: 3
Cincinnati: 3
Connecticut: 2
Pitt: 2
Syracuse: 2
West Virginia: 1
Louisville: 0
And, finally, some notable players who weren't drafted (I'll have more later on those who signed free-agent contracts):
Andre Dixon
and
Lindsey Witten
from UConn;
Aaron Webster
and
Alex Daniels
from Cincinnati;
Scott Long
from Louisville; and
Jarrett Brown
from West Virginia.
Which players had the best bowl performances from the Big East? Here's our all-bowl team:
OFFENSE
QB Tom Savage, Rutgers
There weren't a lot of big numbers for Big East quarterbacks in the postseason. The Scarlet Knights' true freshman completed 14 of 27 for 294 yards and two touchdowns, with one interception, in a win over Central Florida in the St. Petersburg Bowl.
RB Mike Ford, South Florida
Ford exploded for 207 yards on 20 carries -- almost all of them in the second half -- to help the Bulls beat Northern Illinois in the International Bowl.
[+] Enlarge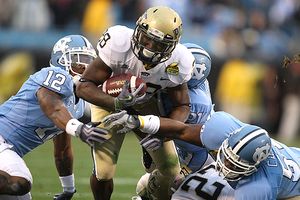 Streeter Lecka/Getty Images Dion Lewis had 159 yards and a touchdown on 29 carries in Pittsburgh's win over North Carolina.
RB Dion Lewis, Pitt
The sensational freshman had 159 yards on 28 carries and a score against North Carolina's tough run defense in the Meineke Car Care Bowl
RB Noel Devine, West Virginia
The Mountaineers' star ran for 168 yards on 16 carries in just three quarters against Florida State in the Konica Minolta Gator Bowl
WR Mohamed Sanu, Rutgers
Yet another freshman standout, Sanu had four catches for 97 yards and a score and also ran the ball 13 times for 41 yards and two more touchdowns.
WR Mike Shanahan, Pitt
Shanahan had five catches for 83 yards, many of them in traffic and in key spots, against North Carolina. And he's a freshman, too.
OT Anthony Davis, Rutgers
The future NFL first-rounder had his ups and downs this season. But he held off Central Florida's impressive pass rusher in a strong performance during his final college game.
OT Jason Pinkston, Pitt
North Carolina came into the Meineke game with the nation's No. 6 defense, but Pinkston helped the Pitt line move the chains and get the win.
C Moe Petrus, UConn
Petrus was part of a group that helped pave the way for 146 rushing yards against South Carolina in the Papajohns.com Bowl.
OG John Malecki, Pitt
OG Zach Hurd, UConn
DEFENSE
DE Lindsey Witten, UConn
The senior was part of a defensive line that overwhelmed the South Carolina offensive front.
DT Kendall Reyes, UConn
He had a one sack and put lots of pressure on Gamecocks quarterback
Stephen Garcia
.
DT Mick Williams, Pitt
The Big East co-defensive player of the year registered a pair of sacks against North Carolina.
DE Alex Daniels, Cincinnati
One of the few Bearcats who had a good night in the Allstate Sugar Bowl, Daniels had a pair of sacks and three tackles for loss against Florida.
LB Max Gruder, Pitt
Playing in his hometown, Gruder recorded 11 tackles and forced a fumble against North Carolina.
LB Scott Lutrus, UConn
The junior had nine tackles, a sack and a fumble recovery against South Carolina.
LB Steve Beauharnais, Rutgers
Another freshman, Beauharnais had seven tackles and a pair of sacks against Central Florida.
CB Billy Anderson, Rutgers
The little-known reserve returned an interception 19 yards for a touchdown near the end of the first half in a key play.
CB Jerome Murphy, South Florida
He had an interception, a fumble recovery and two pass breakups in the International Bowl.
S Robert Sands, West Virginia
Sands was just about everywhere in the Gator Bowl, recording 13 tackles, two of them for loss.
S Robert Vaughn, UConn
Vaughn had an interception and two pass breakups in the Papajohns.com Bowl.
SPECIALISTS
K Dan Hutchins, Pitt
Hutchins hit four field goals, including the game-winning 33-yarder, against North Carolina.
P Jake Rogers, Cincinnati
Rogers punted more than he has in a game all season, but he put half his six punts inside the Florida 20.
KR Mardy Gilyard, Cincinnati
He sure had plenty of opportunities, but he piled up a Sugar Bowl-record 207 return yards on eight attempts.
December, 30, 2009
12/30/09
7:32
PM ET
NEW ORLEANS -- Some news and notes from Wednesday of Allstate Sugar Bowl week:
You might be sick of hearing about Tim Tebow. But Cincinnati is looking forward to being on the same field as the most famous player in college football.
"I'm very excited to match up against him," linebacker JK Schaffer said. "I'm a true sophomore, so I used to watch him play when I was in high school."

Bearcats quarterback Tony Pike plays the same position and wears the same No. 15 as Tebow. He has expressed great admiration for the Florida star this week.

"With what he's done for college football, the way he's changed the game, it's an honor to be on the field with him," Pike said. "He's won national championships and the Heisman Trophy, but more than that it's what he does off the field. It's the way he's involved and gives back to everyone else. That's something special.

"He's a guy you watch and you're like, 'Wow, look at what he does.' And then all of a sudden you're playing against him."

Pike said he was looking forward to meeting Tebow but so far hasn't gotten the chance this week.

It's one thing to respect Tebow, but the Bearcats have to find a way to stop him. How are they preparing for Tebow's unique combination of size and speed?

Cincinnati interim coach Jeff Quinn said he's used five different players to simulate the Gators quarterback in practice, with Chazz Anderson taking the most scout reps.
Teams almost always say they have been practicing well before a big game. It's like the way every horse trainer swears his colt is in top shape the week before the Kentucky Derby.
Still, several Bearcats players insisted that Tuesday's workout at the New Orleans Saints indoor facility was one of their best practices in a long time.

"After that practice, I was like, 'Oh, man, we're ready,'" receiver Mardy Gilyard said. "'We can play right now if we wanted to.'"

On Wednesday, Cincinnati practiced inside the Superdome for the first time.

"There's a new level of excitement when you get in here and see the venue and the Allstate Sugar Bowl logo on the field," Pike said. "And guys really responded."
Cincinnati has tried to keep it under wraps all week, but the Bearcats are expected to have a new look on Friday night: white uniforms with white helmets, replacing their signature black hats.
Quinn pleaded ignorance when asked about it after practice. Not that the fashion statement will mean much.

"White, black, purple, pink -- give me anything," defensive lineman Alex Daniels said. "Give me the old leather helmets with the little strap. I just want to play football."
December, 30, 2009
12/30/09
4:58
PM ET
NEW ORLEANS -- The breakout star at the Allstate Sugar Bowl this week, at least in terms of media popularity, has been Cincinnati defensive lineman Alex Daniels.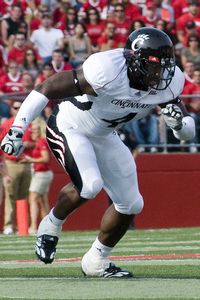 Duncan Williams/Icon SMICincinnati defensive lineman Alex Daniels has had a long road to the Sugar Bowl.
The senior, who didn't play much before this season and was rarely heard from during the year, has embraced the spotlight in the buildup to Friday's game against Florida. With his mohawk haircut and booming voice, Daniels would be a natural attraction for reporters. It also helps that he has quite a story to tell.
It's a tale that has become familiar for the scrappy Bearcats: the lowest of low points, adjusting to change, capped with redemption.
Daniels was one of the nation's top recruits as a high school senior in Columbus, Ohio, in 2005. More than 150 colleges offered scholarships, including some of the top programs in the nation. He decided to go to Minnesota, where he played linebacker as a true freshman and then moved to running back as a sophomore, finishing second on the team in rushing that year.
In 2007, though, Daniels and three other players were kicked off Minnesota for alleged sexual misconduct involving a woman whom prosecutors said was too intoxicated to give consent. Teammate Dominic Jones was the only one of the four charged with a crime, and he was convicted of fourth-degree criminal sexual conduct thanks in large part to a video of the incident that Daniels shot on his cell phone's camera.
While Jones served time, Daniels found his own kind of punishment. Humiliated, he returned to Columbus and the crime-infested neighborhood where he grew up.
"That was the first time for me with no football since I was 7," he said. "I was depressed, I was crying, I was emotional. I didn't know what I was going to do."
He put out feelers to colleges to see if anyone would give him another chance. Cincinnati coach Brian Kelly decided to stick his neck out for him, provided that Daniels pay his own way to school for a year and keep his nose completely clean.
Coming up with tuition, much less room and board, wasn't easy -- "my mom was a single parent, and we didn't really have nothing," Daniels said. For a while he drove back and forth from Columbus to Cincinnati. But with gas prices soaring and his 2000 Crown Vic having a hungry tank, Daniels said he spend nine or 10 nights sleeping in his car. (It's a story reminiscent of wideout
Mardy Gilyard
's, who slept in his car after having his scholarship revoked after his freshman year. Just call them the Boxcar Bearcats.)
Daniels worried for his own safety on the streets of Cincinnati, so he asked Bearcats linebacker Torry Cornett and running back
Jacob Ramsey
if he could bunk with them in their dorm room. That meant squeezing his 6-foot-4, 260-pound frame onto an air mattress in their dining area.
He took out student loans, he borrowed books for class. He said he even applied for food stamps but got turned down. He worked as car salesman at Jake Sweeney Automotive in Cincinnati.
"I sold a couple of cars," he says with a big grin. "I've got a nice face. I can sell anything."
Through all of that, Daniels said, he was forced to mature and confront his mistake in Minnesota.
"Imagine a 19-year-old kid ... being put out on the street and really having to figure out what do in life," he said. "It was a bad situation I put myself into. I felt like I paid for it, I dealt with it, I stepped up to the plate as a man. And I grew up overnight."
Daniels played mostly as a reserve last year but became a starter and a team leader as a senior. He had 50 tackles and a team-high 6.5 sacks in the regular season. He says his past experiences keep him from getting down if something bad happens in a game, and he tries to pass that attitude on to teammates.
"This team wouldn't be the same if he wasn't here," linebacker Andre Revels said.
"He's played great, and he's also really changed his life," linebacker JK Schaffer said. "We're all really proud of him."
While reporters wanted to know about Daniels' interesting past, he is soaking in the present. No player on either team seems happier to be in New Orleans this week.
"It's been a rocky road for me, but right now we're playing against
Florida,
man! Come on," he said, his voice rising like a preacher's. "This is like my national championship."
December, 28, 2009
12/28/09
4:55
PM ET
NEW ORLEANS -- It came as absolutely no surprise that Monday morning's Allstate Sugar Bowl news conferences were dominated by words like distraction and focus.
These two teams are in fairly unchartered waters, especially for a BCS matchup. Cincinnati, of course, lost head coach Brian Kelly after the regular season to Notre Dame, has an interim coach in Jeff Quinn who's already accepted the Buffalo job and a new next head coach in Butch Jones, who is staying in the shadows while in New Orleans.
And right now, the Bearcats seem pretty stable compared to their opponent. Florida watched as head coach Urban Meyer announced Saturday that he would step down after the game, only to reverse course Sunday morning and say he would take a leave of absence instead. Steve Addazio will serve as the interim coach during Meyer's leave, but nobody is really sure how long that will last.
Every question in Addazio's 17-minute news conference -- which was ostensibly to discuss the Gators offense -- revolved around the Meyer situation.
"There have been a lot of emotions in the last 24-to-48 hours," Addazio said. "But right now we've got to keep our focus on this game because that's what important."
The company line from Florida has been that Sunday's early-morning practice dispels any notion of Meyer's news taking a toll on the team. The Gators were so sharp and crisp in their pre-New Orleans workout that it helped Meyer decide not to take a permanent leave.
"That's not to say there aren't distractions," Addazio said. "Of course there are. What are we talking about here? Obviously, there's been a lot that's happened. But I think the testimony was the way the players came at 7:30 in the morning [on Sunday.]
"That speaks volumes about where the team is right now. There's a strong resolve, and it feels like we've really bonded together."
The players still aren't sure what's going to happen -- running back Jeff Demps said he didn't believe Meyer would return for the 2010 season -- but they've dealt with plenty of distractions all year, including defensive end Carlos Dunlap's arrest,
Tim Tebow
's concussion and trying to go undefeated and win a second straight BCS title. The Meyer situation might even provide some motivation.
"This might have added a lot of extra incentive," Tebow said. "You don't know if this is going to be his last game, so you want to finish it the right way for yourselves, the team and for coach Meyer."
Cincinnati has had a lot more time to deal with its unusual coaching transition, since Kelly left on Dec. 10. The Bearcats coaches and players insist that while there was a lot of emotion and turmoil in the couple of days after Kelly's announcement, they've gotten back to business.
"Everybody felt like it was the best decision for [Kelly] as a professional, but as a team right now we all came together to really understand that we still have a goal to be 13-0," said defensive lineman Alex Daniels, who was publicly critical of Kelly the night the coach left.
"We have a chance to play the defending national champions in Florida, and one of arguably the greatest players in college football in Tim Tebow. We don't care if a dog is coaching us, we'd go out there and play hard."
Cincinnati players said they could empathize with their opponents when the Meyer news broke over the weekend. But that doesn't mean they're any less anxious to hit the Gators in the mouth on Friday night.
"Like I told my teammates, we are not going out there to play sympathy football; we are going out there to win the game," Bearcats linebacker Andre Revels said. "At the end of the day when you're out on that field none of that stuff is going to matter. You are going out there to play football and right when those first snaps hit you are going to do what you've been doing or you're going to something different."