November, 24, 2012
11/24/12
9:49
PM ET
PASADENA, Calif. -- With Oregon topping Oregon State, Stanford knew it had to win on the road to capture the Pac-12 North. And the Cardinal did it in dominating fashion,
35-17
. Here's how it all went down at the Rose Bowl.


It was over when
: Stanford took a 28-10 lead midway through the third quarter on a touchdown run from
Stepfan Taylor
. On the ensuing kickoff,
Kenneth Walker
was hit by
Alex Debniak
and fumbled.
Usua Amanam
picked up the fumble and returned it 11 yards for the touchdown, giving Stanford 14 points in a 13-second span and a 35-10 lead.
Stat of the game
: 7 -- the number of times the Cardinal sacked UCLA quarterback
Brett Hundley
. Heading into the game, Stanford ranked second nationally in sacks.
Second-guessing:
The
Pac-12 preseason media poll
-- which predicted USC and Oregon in the conference championship game. Please accept a humbled frowny face on behalf of all us media types.
Game ball goes to
: Taylor turned in his usual workmanlike performance, carrying 20 times for 142 yards and two touchdowns -- including a 49-yard touchdown run.
What it means for Stanford
: The Cardinal claim the Pac-12 North by virtue of their tiebreaker over Oregon -- which they gained by beating the Ducks last week. They play UCLA again Friday -- this time serving as hosts for the Pac-12 title game.
What it means for UCLA
: The Bruins had already locked up the South Division with their victory over USC last week. There are certainly some things to work on before heading to Palo Alto, Calif. -- like pass protection, turnover reduction, cleaner special teams, run defense, etc., etc.
September, 1, 2012
9/01/12
1:37
AM ET
The No. 21
Stanford Cardinal
began life anew without Andrew Luck with a not-so-pretty
20-17 victory
over San Jose State. It was Stanford's ninth win in the last 10 meetings with the Spartans. Here's how it all went down in Palo Alto, Calif.


It was over when:
Locked -- surprisingly -- at 17-17 toward the end of the third quarter,
Alex Debniak
forced a San Jose State fumble on a third-and-long and Stanford's
Usua Amanam
recovered at the SJSU 38. The Cardinal worked their way to the SJSU 3-yard line and
Jordan Williamson
capped the drive with a 20-yard, go-ahead field goal. The Spartans had one last chance late in the fourth, but
Ed Reynolds
picked off
David Fales
on fourth-and-10 to secure the win.
Game ball goes to:
Stanford running back
Stepfan Taylor
turned in a steady performance, rushing for 124 yards on 26 carries with a touchdown.
Stat of the game:
Last year Stanford was third in the nation on third-down conversions (52.57 percent). Against the Spartans, Stanford was just 2-of-13.
Unsung hero:
Stanford corner/nickelback Amanam had two sacks -- both on CB blitzes -- a tackle for a loss and also had the crucial fumble recovery that swung the momentum back into Stanford's favor.
What it means:
For large portions of the game, Stanford was pushed around at the point of attack on both sides of the ball. That has to be a huge concern -- particularly on defense -- where the Cardinal are supposed to boast one of the top front-sevens in the conference.
What it means, take 2:
The Cardinal were also benefactors of various SJSU mistakes -- dropped balls, bad penalties etc. Safe bet that most teams in the Pac-12 won't be so generous.
Quotable:
"Our guys responded to some challenges -- some challenges that we made for ourselves that we have to go back and get fixed," said Stanford head coach David Shaw.
April, 6, 2012
4/06/12
9:00
AM ET
STANFORD, Calif. -- Stanford kicked off its second spring session after a three-week break this week, and here are some notes from the Pac-12 blog's visit on Thursday.


And the first quarterback of the post-Andrew Luck Era is ... Yeah, right. It's likely going to be either junior Brett Nottingham or senior Josh Nunes, but coach David Shaw said the competition will extend into fall camp. "I want them to finish spring in competition mode. And I want them to start fall camp in competition mode," he said. "I don't want to name a starter the week of the first game. I'd like to do it before that so we can start to settle in." Shaw called the competition "Neck and neck."
A recurring theme from the coaches -- Shaw and both coordinators -- is that members of the 2012 recruiting class are going to play in the fall. Several, in fact. Particularly in need areas such as the offensive line and secondary. Yes, those touted frosh O-linemen are going to see immediate action.
As for the competition among existing players to replace left tackle Jonathan Martin and right guard David DeCastro, those spots are still up in the air. Brendon Austin and Cole Underwood are in the mix at LT, and Khalil Wilkes and Kevin Danser are in a battle for DeCastro's guard spot.
Talented sophomore James Vaughters will get on the field, and don't be surprised if he ends up at inside linebacker. At least, that seems to be where defensive coordinator Derek Mason envisions him at present. Part of this appears to be his comfort with Kevin Anderson, who's been playing defensive end, and Alex Debniak backing up outside 'backers Trent Murphy and Chase Thomas.
By the way, Mason loves his linebacker depth. He said as many as 10 could play in the Cardinal's 3-4 next year.
Henry Anderson and Josh Mauro are locked in a tough competition to replace underrated defensive end Matt Masifilo.
The Cardinal need to replace both starting safeties. The name that comes up the most is Ed Reynolds, who was out last season with a knee injury. Jordan Richards, Kyle Olugbode and Devon Carrington are in the mix also, but Mason doesn't hesitate to bring up incoming freshmen Drew Madhu and Zach Hoffpauir.
It's pretty clear that the not-entirely-unreasonable questioning of whether Stanford can remain an elite team post-Andrew Luck is serving as motivation in the locker room. While the topic is hardly obsessed over, it's also fair to say everyone is aware of the widespread doubts heading into 2012.
January, 11, 2012
1/11/12
7:00
PM ET
With the announcement over the weekend that outside linebacker Chase Thomas is coming back for another season, it's worth taking a quick look at what Stanford's front seven will look like next season -- because the Cardinal are loaded.
With six of the starting seven returning (plus a seventh, Shayne Skov returning from injury), the Cardinal figure to be even better than this year's group, which finished with the No. 4 rush defense in the country (88.3 yards per game), 11th in sacks (3 per game) and 28th in tackles for a loss (6.8 per game).
Here's a look at the starters coming back and the one guy leaving.
CHASE THOMAS, OLB, 6-4, 240
2011 highlights: He led the Cardinal in sacks and tackles for a loss, and was first-team All-Pac-12 and Sporting News First Team All-American. A ferocious pass-rusher who skipped on the NFL for another season to gain size and put together a more consistent résumé on film. He should be one of the top outside linebackers in the nation again next season.
[+] Enlarge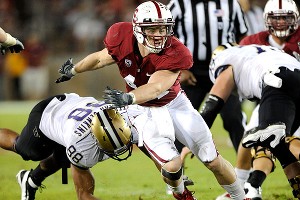 Bob Stanton/Icon SMIStanford's Chase Thomas should be one of the best outside linebackers in the nation next season.
TRENT MURPHY, OLB, 6-6. 242
2011 highlights: He quietly put together a strong season opposite Thomas, though didn't get as much publicity. Murphy started all 12 games and finished with 40 tackles, 10 for a loss and was second on the team with 6.5 sacks. He had a career high 10 stops against Oregon. Murphy is very good at setting the edges and his size and reach make him a difficult player to block.
JAREK LANCASTER, ILB, 6-1, 226
2011 highlights: One of the marquee special teams players forced into immediate action after the injury to Skov. He ended up leading the team in tackles with 70, including 3.5 sacks and seven tackles for a loss. Lancaster will likely add more size in the offseason. He has good speed and very good at shedding blocks. His open field tackling improved each week and he was stellar in the Fiesta Bowl loss.
A.J. TARPLEY, ILB, 6-2, 231
2011 highlights: Like Lancaster, split time until finally earning a starting role. A very instinctive linebacker who prefers to go through blocks rather than around them. He should also pack on a little more size in the off season. He finished third on the team with 57 tackles and had 1.5 sacks and four tackles for a loss. A very bright player who should have a fantastic career. His interception against USC was one of season's defensive highlights.
TERRENCE STEPHENS, NT, 6-2, 287
2011 highlights: He's understated for what he does, but also very good at it. He eats up blockers for the linebackers to do their thing. Stephens finished with 11 tackles, including four for a loss, and forced the fumble against USC in triple overtime that Tarpley recovered to close out the game. A vocal player who should grow into a leadership role on the defense.
BEN GARDNER, DE, 6-4, 263
2011 highlights: An outstanding season that earned him second-team All-Pac-12 honors. He finished with 35 tackles -- including 10 for a loss, adding 4.5 sacks and six quarterback hits. A high-motor player who earned the team's outstanding sophomore award. And, according to his Twitter account, the mullet will return in 2012. Phew.
SHAYNE SKOV, ILB, 6-3, 244
2011 highlights: He was the team's leading tackler with 19 in two and a half games until a knee injury in the third game of the season caused him to miss the rest of the year. The question mark is whether or not he'll return at 100 percent. And if he does, whose reps get reduced, Tarpley or Lancaster? Either way, the Cardinal should be deep at linebacker and if Skov can return healthy, he'll be one of the premier inside linebackers in college football.
MATT MASIFILO, DE, 6-3, 278
2011 highlights: The Cardinal are going to miss this guy more than most probably realize. He committed to the team in the midst of a 1-11 season and saw the rebuilding process all the way through. He was the only returning starter on the line this season and had 34 tackles, eight for a loss and 2.5 sacks. His possible replacements are Henry Anderson and Josh Mauro.
And this just covers the starters. Players like Anderson and Mauro saw playing time this season, along with nose tackle David Parry, outside linebackers Alex Debniak and Blake Lueders and inside linebackers James Vaughters and Joe Hemschoot.
The Cardinal are in fantastic shape if everyone stays healthy. And if they encounter another situation like they did this past year with a season-ending injury, they should be deep enough and experienced enough to absorb the blow. Plus, we'll see how head coach David Shaw and his staff treat some of the incoming freshman, like standout outside linebacker Noor Davis.
September, 3, 2011
9/03/11
5:00
PM ET
PALO ALTO, Calif. -- One quick note to report. Stanford outside linebacker Alex Debniak, who was questionable heading into today's game with a hamstring injury, has dressed and is available to play.

Debniak is No. 2 on the depth chart behind Trent Murphy. He took several snaps with the second-team defense during the pregame warm-up and didn't appear to be slowed by the injury.

Stanford fans have to be hoping the Cardinal aren't as rusty as the Stanford band that performed the national anthem. I'll be kind since it's the first game of the year. Let's just say they were far from mid-season form.
May, 20, 2009
5/20/09
1:10
PM ET
Posted by ESPN.com's Ted Miller
Not to brag, but I know everybody.
Yes, I'm so cool that I can practically recite every Pac-10 team's starting lineup. Practically. At least by September.
[I see all of you mustering Chevy Chase's perfectly mocking, "God, I admire you," from Fletch at this moment.]
That's why Rory Cavaille caused me travail. When he appeared on Oregon's post-spring depth chart with the No. 1 offense, I, well, had no freaking idea who he was.
Ergo, today's topic: Out of nowhere.
Rory Cavaille, WR, Oregon: Cavaille moved up the pecking order when Aaron Pflugrad decided to transfer. The 6-foot-3, 207-pound senior and former walk-on has caught just six career passes. But he's smart -- he was honorable mention Pac-10 All-Academic last year -- and he has good hands. The Ducks get an influx of talent at receiver from their 2008 recruiting class, but Cavaille apparently has played his way into the mix.
D.J. Shoemate, FB, USC: Pete Carroll loves fullbacks -- just ask him about Stanley Havili sometime (if you have an extra half hour) -- and Carroll loved Shoemate, a sophomore, after spring practices, telling the Orange County Register that he was the spring's most-improved player. Shoemate isn't a complete mystery, of course. He was a marquee recruit and he started the Rose Bowl when Havili was academically ineligible, but he has moved around a bit, seeing action before at receiver and tailback.
Kai Maiava, C, UCLA: The Bruins' offensive line is loaded with questions, but Maiava is a firm answer. Barring injury, he will start at center. He sat out last season after transferring from Colorado and missed half of spring ball with an ankle injury, but he's shown enough already to solidify his standing. As for his football bloodlines, yes, he's former USC linebacker Kaluka Maiava's brother and his uncle is pro wrestler/actor "The Rock" (Dwayne Johnson).
David Pa'aluhi, LB, Oregon State: Pa'aluhi wasn't a complete unknown -- the sophomore was impressive enough to top the depth chart entering spring -- but my guess is that, outside of folks who follow the Beavers, he's going to draw a "Who?" at least until the games start. First thing to know: Don't pick a fight with him. He's a mixed martial arts guy. Second, he's fast, reportedly running the 40 under 4.5. And he's got upside, considering he started playing football his senior year of high school.
Alex Debniak, RB-LB, Stanford: Coach Jim Harbaugh gushed about Debniak this spring as a guy who could see significant action at strongside linebacker and running back. The 6-foot-2, 220-pound sophomore appeared in eight games as a true freshman and finished with four total tackles. He and Will Powers were practically an either-or at linebacker this spring.
Posted by ESPN.com's Ted Miller
Optimism is a powerful thing. And spring is a time for renewal. So this is a "Best of" list, without any of the "Negative Nellie" stuff.
Best spring game performance by a quarterback: Stanford redshirt freshman Andrew Luck all but won the starting quarterback job over incumbent Tavita Pritchard after completing 18 of 25 passes for 352 yards and five touchdowns to lead the White team to a 42-17 victory over the Cardinal.
Best spring game performance by a quarterback II: Washington quarterback Jake Locker seemed fine working in a pro-style offense after completing 16 of 18 passes for 200 yards and two touchdowns. The two incompletions, by the way, were drops.
Best spring game performance by two quarterbacks: Oregon's Jeremiah Masoli and Justin Roper combined to complete 37 of 56 passes for 516 yards and five touchdowns and neither threw an interception in the Ducks' spring game. Perhaps it was the rainy weather only fit for a Duck?
Best spring, overall, by a quarterback: Under intense, national scrutiny ,USC's Aaron Corp threw only one interception throughout spring practices and was consistently solid throughout the session, which earned him the nod as the Trojans No. 1 quarterback over spectacular freshman Matt Barkley entering the offseason. Under coach Pete Carroll, every previous Trojan quarterback who had been tapped No. 1 out of spring started the season opener.
Best performance by a true freshman: Barkley made the recruiting gurus who ranked him No. 1 look smart.
Best spring game on defense: Talk about a penetrating performance. USC's backup defensive end Nick Perry had six tackles for loss, including four sacks, among his seven tackles. Yeah, USC's defense is going to be hurting in 2009.
Best spring on defense: Six guys stood out: Oregon cornerback Walter Thurmond III, UCLA's tackle Brian Price, Oregon State tackle Stephen Paea, Arizona State defensive tackle Lawrence Guy, Arizona linebacker Vuna Tuihalamaka and USC linebacker Malcolm Smith.
Best surprise: USC transfer and notorious underachiever Jamere Holland suddenly decided to become Oregon's best deep threat and turned in an outstanding spring. Golly, sometimes listening to your coaches helps.
Best breakout: While California has questions at receiver, the general feeling is sophomore Marvin Jones is almost certainly one of the answers.
Best 'it's about time' breakout: USC's Everson Griffen might be the nation's most talented pass-rusher, but his high-performance engine has also been a high-maintenance engine. Yet his effort and intensity were consistentthis spring, which meant no one could block him.
Best comeback: California offensive tackle Mike Tepper has been through a lot, but he's hoping his sixth year will just be about anchoring a line with a lot of upside. Read Tepper's story here.
Best comeback II: Got a funny -- mean, but funny -- note during the 2008 season that instructed the Pac-10 blog to refer to Oregon State receiver Darrell Catchings as Darrell Droppings. Can't do that now because Catchings lived up to his name -- the real one -- this spring.
Best position change: Arizona sophomore Robert Golden, a marquee 2008 recruit, switched from cornerback to strong safety this spring, and early word is he could become an All-Conference player at his new position. The move further allowed the Wildcats to switch Cam Nelson to free safety from strong and get Trevin Wade on the field to complement Devin Ross at corner.
Best coaching decision: Stanford coach Jim Harbaugh wants his best 11 on the field at any given time, and he's willing to get creative to do it. That's why he's got a handful of guys playing both ways, including Owen Marecic (fullback and middle linebacker), Michael Thomas (cornerback and receiver), Richard Sherman (cornerback and receiver) and Alex Debniak (linebacker and running back). Will it work? We'll see. But it's undoubtedly interesting.
Best candidate for a karmic change: No team had worse injury issues this spring than Washington State, which is clearly in the midst of a major rebuilding project. Then promising defensive end Cory Mackay, who'd impressed this spring, suffered a serious back injury after he fell asleep at the wheel of his car. The Cougars are overdue for some luck. Perhaps it arrives this fall?
Best catch of the spring: You may have already watched this grab. Watch Arizona State receiver Kerry Taylor one more time. It's worth it.
Best position in conference: The Pac-10 might have the nation's best collection of talent in the secondary, with USC and California boasting units that should rank among the nation's best. Consider: FS Taylor Mays (USC), SS T.J. Ward (Oregon), SS Josh Pinkard (USC), CB Walter Thurmond III (Oregon), CB Alterraun Verner (UCLA), CB Syd'Quan Thompson (California), CB Devin Ross (Arizona), CB Omar Bolden (Arizona State), FS Rahim Moore (UCLA), CB Shareece Wright (USC), among others.
Best position in conference II: Five running backs who eclipsed 1,000 yards in 2008 are back, led by California's Jahvid Best and Oregon State's Jacquizz Rodgers.
Best potentially surprising position: If you talked about good Pac-10 defensive linemen in recent years, you were basically talking about USC. Not in 2009. Nine of the Pac-10's top 30 players, at least by, er, one person's accounting, are defensive linemen, and that list included only one player from USC (Griffen, at No. 30) and didn't include Cal's Cameron Jordan.
Best quote: "How do we go from nine to one?" said Chip Kelly on what he believes are his marching orders as Oregon's new coach. "Nine" is where the Ducks finished last y
ear in the final coaches' poll.