September, 12, 2010
9/12/10
2:06
AM ET
Can I give a helmet sticker to James Madison? ...
Here are this week's top performers in the ACC:

Wake Forest safety Alex Frye:
He had two interceptions, a forced fumble and four tackles in Wake Forest's
54-48 win over Duke
on Saturday. Frye's first interception led to a Wake Forest touchdown which put the Deacons ahead 21-14 in the second quarter. His second interception, also in the second quarter, was returned 28 yards to the Duke 16 and the Demon Deacons scored two players later for a 35-21 lead. Frye has now intercepted a pass in each of his last three games dating back to last season. He has five career interceptions and three this season.
BC's defense.
The Eagles held Kent State to 4 rushing yards and forced five turnovers in
a 26-13 win.
Kent State had two fumbles and three interceptions. Alex Albright had his first career interception, and Wes Davis also picked off a pass for the Eagles.
Virginia coach Mike London.
He has already proven himself as an FBS coach. London took his team across the country -- a team picked to finish last in the ACC -- and put it in position to beat No. 16 USC. He flew the Cavaliers out there on Thursday, took them to the Coliseum on Friday to help ease their nerves, and
almost beat the Trojans on Saturday
. There were one too many mistakes and penalties, but it was a gritty effort to be commended.
Maryland's defense.
The Terps held Morgan State to just 85 total yards and forced three turnovers in a
62-3 rout.
It was the fewest yards allowed under coach Ralph Friedgen. Freshmen Matt Robinson and David Mackall were Maryland's leading tacklers with seven each. Demetrius Hartsfield's pick-six in the second quarter was Maryland's first since Alex Wujciak scored on a 70-yard interception return on Nov. 14, 2009 at NC State.
NC State linebacker Audi Cole.
He led the team with 12 tackles, including 3.5 for loss (19 yards), one sack (10 yards) and an interception in the Pack's
28-21 win over UCF
.
September, 9, 2010
9/09/10
4:01
PM ET
Wake Forest coach Jim Grobe conceded his program might have gotten a little lucky against Duke in recent years, but with a 10-game winning streak against the Blue Devils, the Deacs have also created some of their own luck.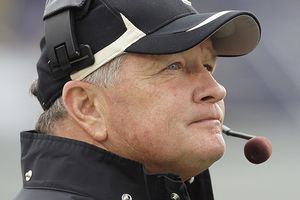 AP Photo/Rob CarrJim Grobe, entering his 10th season as Wake Forest's coach, has not lost to Duke.
Wake Forest has dominated the series since Grobe arrived in Winston-Salem, but not the games. Seven of the past nine games at BB&T Field have been decided by eight points or less, and another tight one is expected on Saturday when the two schools open conference play. Both are under the direction of first-year starting quarterbacks, coming off convincing wins against FCS opponents, and trying to get back to the postseason. The two schools are about 80 miles apart, and a combined 10 players from both programs were teammates at four area high schools.
"I think the two schools are similar," Grobe said. "We basically have the real student-athlete, guys that are good students and character kids that also play in a BCS conference, so we're very similar as institutions. But one of the things that stirs it up a little bit is I think we both have a lot of North Carolina kids on our roster. I think Duke has almost 30, and we're somewhere around 35 North Carolina kids on our roster. So, when you have a lot of kids that have played against each other in high school and in some cases gone to school with each other, I think it stirs things up a little bit."
There's plenty already riding on this one. A win Saturday will go a long way in helping get either program back to a bowl game, plus will factor into the ACC race. And of course, it's a natural rivalry.
"I think it's fair to say (that Duke is one of our biggest rivals)," said senior safety Alex Frye, who had an interception return for a touchdown in last year's 45-34 win. "Especially with the way that they play us every year, I think that you can say that they are definitely our biggest rivalry. I know they want this game probably more than any other team that we play."
The last time Duke won on the road in the first ACC game of the season was in 1981, with a 29-24 win against Virginia. The Blue Devils have lost the past 13 conference openers on the road, including in 2006, the only time Duke has started league play against Wake Forest (14-13 loss in Winston-Salem).
Duke coach David Cutcliffe knows every milestone is important for his program, and he'll be chasing another one on Saturday.
"I don't think you run and hide from the fact that it's a big football game for us," Cutcliffe said. "Anytime you play a conference game early, it helps set up a season. I've lived with that a big part of my career. They're critical games and you have to deal with it after, whether you win or lose. It factors in both ways for you.
"But I think certainly we know at Duke that every opportunity we have to stop a streak or to win a milestone game, that's kind of what we've had to do. We had to overcome the hurdle of winning just the first ACC game after three years not winning one. Then you had to try to win an ACC game on the road or maybe back-to-back ACC games.
"We've passed a lot of those milestones. Certainly losing to Wake for 10 years is something we have to address. It's fact. We're big boys. We've got to be able to handle that."
The question is whether or not they can handle the Deacs.