July, 18, 2011
7/18/11
9:00
AM ET
I had a chance to catch up with Cincinnati quarterback
Zach Collaros
to find out how the offseason is going, what he thinks of all the pub going to
Geno Smith
and how he good he thinks this offense can be this season.
AA: What have been the biggest things you have worked on this offseason?
ZC:
We're running a lot as an offense, working hard on tempo, getting lined up faster, working on execution, working with receivers, getting our timing down on routes, doing 7-on-7s. As a senior class, we've taken it upon ourselves to lead the activities. We've embraced the role of leadership, we've had a positive summer, and grown closer as a team. Hopefully that translates onto the field.
[+] Enlarge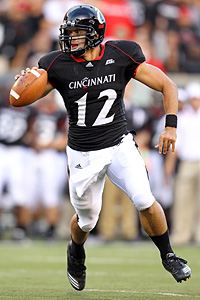 Andy Lyons/Getty ImagesZach Collaros threw for 2,902 yards and 26 touchdowns last season.
AA: How about you? How have you improved this summer?
ZC:
Physically, it's the best I've felt in a long time. We're in great condition -- the strength coaches always have us in great condition. In terms of football, I'm working on things that translate onto the field -- getting the ball off, not taking sacks. A big factor in summer is watching film, not just on the first two games, but stuff you did last year in ways you can improve. It hasn't been just me. Others have gotten after it in that aspect and that's going to help.
AA: A lot of people are talking about Geno Smith as being the best quarterback in the Big East. How do you feel when you hear that?
ZC:
I love being counted out. I've always looked at myself as an underdog. It adds that extra motivation you need more after coming off the season we had last year. It adds fuel to the fire, and reason to work harder, people doubting you.
AA: You lost Armon Binns, so who is going to step up in his place?
ZC:
Losing Armon hurts. He was a comfort zone for me. We came in together, we grew up together in the program, so losing him will take away that comfortability for me.
Anthony McClung
, Kenbrell [Thompkins],DJ [Woods] -- I can't say enough about how they've come in and taken over the leadership role. We don't miss a beat when it comes to 7-on-7s. They're working hard, setting a good example for the younger kids. All three of those guys did a great job with that, along with them, OJ Woodard is working hard as well. As for the tight ends,
Travis Kelce
is back on the depth chart now, of course
Adrien Robinson
is still here,
Blake Annen
is here. It all starts up front, though; those guys up front have been doing a great job.
AA: What gives you the confidence to know your offensive line is going to be better?
ZC:
Alex Hoffman has taken the lead with that group, as well as Randy Martinez. Those are two great guys in the program, great leaders for the younger guys. They're helping them to develop, and I'm very confident in those guys. It all starts with them. If they can protect and run block, the offense has a nice feeling.
AA: Given all the potential, what are your expectations for the offense?
ZC:
I think it's the same as it was last year. We had a lot of potential, and we had a lot of high expectations. High expectations are a good thing because you want to reach those expectations. We didn't last year. Turnovers killed us and not scoring touchdowns and kicking field goals and all that stuff. It comes down to execution. The experience will help me.
AA: How do you work on cutting down those turnovers?
ZC:
It all starts with the quarterbacks. I have to cut down on the interceptions. I had a lot of them last year coming from behind, forcing too many balls in there. Me making better decisions is what it all starts with. We fumbled a lot last year, which you can't do. If we cut back on that, we're going to have a really good season. In practice every day, we have a five-minute period dedicated to ball-security drills. I think some of it was unlucky last year. The balls didn't bounce our way. We want to change that this year.
AA: Defense was the weak link, though. How is that unit going to be better?
ZC:
Well, they're all returning, which is a good thing. They all have a year of experience and are sick of people telling them they were the weak link and stuff like that. They want to be better. We have great leaders like JK [Schaffer], Cam Cheatham has stepped up. They're good football players. I know they work very hard in the weight room, they're watching film and I have a lot of confidence the results on field are going to be much better this year.
AA: What goals have you set for yourself this season?
ZC:
I just want to win more games, get back to a bowl game and win the Big East. For myself, I want to have a higher completion percentage, to be in the 64, 65 percent range. As long as I can lead my team to wins. I want my teammates to look at me as a leader. If I can accomplish that, I will be happy.
July, 15, 2011
7/15/11
9:00
AM ET
The
team position rankings
have wrapped up, so now it is time to tackle another bear of an assignment: player rankings. I am going to start with offensive line. I thought about breaking this off into centers, guards and tackles, but wanted to have 10 at each position. That would leave center lacking. So I am going with all offensive linemen.
[+] Enlarge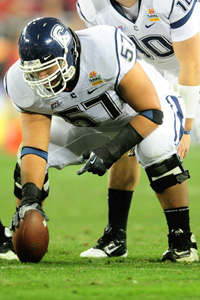 Mark J. Rebilas/US PresswireMoe Petrus has garnered plenty of attention, making the preseason Lombardi, Outland and Rimington award watch lists.
1. Moe Petrus, center, Connecticut.
The premier offensive lineman in the league has started every game he has played in headed into his senior season. That makes 39 for those scoring at home. Petrus is on three watch lists this preseason (Lombardi, Outland and Rimington) and he is the heart of a very solid Huskies offensive line.
2. Mike Ryan, tackle, Connecticut.
The Huskies have a formidable duo with Petrus and Ryan returning. Ryan is the only player coming back this season who was a first-team All-Big East selection, and is on the watch list for the Lombardi Award. Ryan helped an offensive line that allowed just 15 sacks last season and averaged 175 yards on the ground.
3. Don Barclay, tackle, West Virginia.
Another veteran player with plenty of starting experience, Barclay has started 27 games and was a second-team Big East selection last season. Barclay also is on two watch lists (Lomardi and Outland). Here is how valuable he is to the WVU starting line: He was on the field for more than 860 plays last season.
4. Joe Madsen, center, West Virginia.
Madsen, Petrus and Mario Benavides make quite a trio of terrific centers in the Big East. Madsen has also started every game he has played in (25), and he only allowed one sack last season. He is so good, he won the team's offensive player of the game honors three times last season.
5. Justin Pugh, tackle, Syracuse.
Pugh had quite the impressive debut season, starting all 13 games at left tackle as a redshirt freshman en route to second-team All Big East honors. He might not be huge (6-foot-5, 287 pounds), but he is athletic and should be among the best in the league.
6. Mario Benavides, center, Louisville.
Listing three centers among the top six should show you how good the top players at the position are this season. Benavides has started 24 games in his career but could be even better this season after offseason knee surgery.
7. Lucas Nix, tackle, Pitt.
Nix should be considered the rock of the Pitt offensive line as he returns for his third season as a starter. With Chris Jacobson moving to center, Nix provides some stability and should be key in helping the Panthers continue their strong ground attack.
8. Alex Hoffman, tackle, Cincinnati.
Hoffman has started 25 games and was a second-team All-Big East pick in 2009. Last season, the Bearcats had their share of early struggles, but he did help them get their first 1,000-yard rusher since 2004. He also is on the Lombardi Award watch list.
9. Jeremiah Warren, guard, USF.
Warren and Chaz Hine make up the best guard tandem in the Big East. In fact, guard is a position with plenty of question marks throughout the league. But that is not the case for the Bulls. Warren has started 26 games, and he and Hine will help anchor a line with three new starters.
10. Chaz Hine, guard, USF.
Hine has a remarkable story, going from walk-on to starter to one of the best guards in the league. Now that he will be in the second year of Skip Holtz's system, he should be even better.
June, 27, 2011
6/27/11
9:00
AM ET
Now by popular demand, we begin ranking the positions across the Big East. I know I am a little late to the party on this one, but better late than never, right? I asked on Twitter for suggestions on which position to start with today. There was no consensus. But I did like one suggestion: to work our way up from the line.
So first up is the offensive line. To make these rankings, I considered returning starters, accolades for returning starters, position switches and depth. The truth is, this is not an area of strength for the league as a whole. Most teams have depth concerns and questions at one or more positions.
[+] Enlarge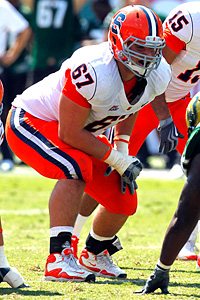 Cliff Welch/Icon SMI Justin Pugh earned all-conference honors last season as a freshman.
1. Syracuse.
The Orange have four returning starters, including two seniors. You have Justin Pugh, who made second-team All-Big East last year as a freshman. You have a more mature and experienced unit than the one last year, which had to replace four starters. There also is depth to have a nice eight-man rotation. The concern is at center, where Macky MacPherson is undersized. Actually, when you look at the entire group, it is undersized. Andrew Tiller is the only one who tips the scales at more than 300 pounds.
2. West Virginia.
The offensive line was an area of strength under Rich Rodriguez, but has struggled the past few years. It was hard to get a gauge on this unit in the spring, with both starting tackles Jeff Braun and Don Barclay out because of injuries. Starting guard Josh Jenkins also got hurt and is still not 100 percent. But the potential is there for this group to be significantly improved.
3. UConn.
The strength of this unit is at tackle and center, where the Huskies return first-team All-Big East selection Mike Ryan (20 career starts) and Adam Masters (18 career starts). Moe Petrus, a second-team all-conference pick, has 39 career starts. Their experience should help along the guards -- nobody on the roster has started a game at the position. The good news is that Gary Bardzak does have starting experience, but it came at center.
4. Pittsburgh.
The Panthers made so many position shifts during the spring that it is hard tell how this unit is going to shape up come fall. Chris Jacobson moving to center was one of the biggest moves, and Pittsburgh hopes it pays off with more stability there. Jacobson and starting tackles Jordan Gibbs and Lucas Nix have a combined 49 career starts, but Pitt has to make up for losing first-team Big East selection Jason Pinkston.
5. USF.
The Bulls are going to be young on the offensive line this season after losing first-team All-Big East center Sampson Genus, along with tackles Jamar Bass and Jake Sims (second team All-Big East). Chaz Hine and Jeremiah Warren are a solid tandem at guard, and Mark Popek at left tackle and Kevin McCaskill at center do have playing experience. But at right tackle, USF plans to go with redshirt freshman Quinterrius Eatmon. He does have loads of potential, but there will be a learning curve. Depth also is an issue, and the Bulls could have true freshmen in the rotation.
6. Cincinnati.
The Bearcats had their share of problems last season, ranking second-to-last in the Big East in sacks allowed (31). This year, they have to replace three starters on the offensive line with unproven players. Senior right tackle Alex Hoffman has taken on some leadership responsibility with the loss of Jason Kelce, but players like Austen Bujnoch, Andre Cureton, Sean Hooey and Evan Davis are going to have to step up. Depth could also be an issue here.
7. Louisville.
The Cardinals return just one starter in center Mario Benavides, who has been hampered with a knee injury. Ryan Kessling and Alex Kupper have playing experience, but most everybody else is pretty unproven, and that makes for one of the biggest question areas on the team headed into the fall.
8. Rutgers.
The Scarlet Knights own the bottom spot until the season starts and we can see how much this unit has improved. It is a well-known fact that they finished last in sacks allowed and were one of the worst rushing teams in the country last season for that reason. They suffered a blow when junior college transfer Dallas Hendrikson went down with a season-ending injury in the spring, but coach Greg Schiano said he saw plenty of improvement from this group. They certainly will have more experience, but how much better will they be?
March, 7, 2011
3/07/11
9:00
AM ET
CINCINNATI -- Dave Lawson gathered the Cincinnati defensive players together at the end of their hour-long conditioning session Thursday morning. He announced he had one final exercise for them.
The players nervously looked on, dreading the possibility of more squats or chin-ups or some other devilish torture their head strength coach had devised. What they got instead was a drinking game.
Lawson assembled a group team leaders to compete in a nutrition-drink chugging contest. As shouts of encouragements and taunts filled the Bearcats' weight room, 300-pound lineman John Hughes emerged victorious with a seven-second cleanup of his Gatorade can.
"You've got to do some things to make it fun," Lawson said afterward, "because this is hard work."
This time of year might as well be called the dog days of winter for Cincinnati players. Spring practice remains three weeks away. Their 2010 season is (thankfully) a distant memory, and the 2011 campaign still seems miles away. All that's going on is the drudgery of twice-a-week morning weight-lifting sessions and agility drills in which no footballs can be present because of NCAA rules.
[+] Enlarge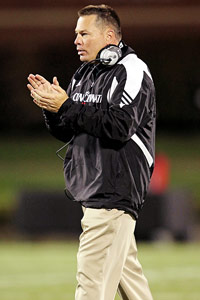 Andy Lyons/Getty Images"We pride ourselves on playing hard for six seconds and giving three great efforts," Cincinnati coach Butch Jones said. "So what we do in the weight room has to match what we do on the field."
There's no time to loaf, though. Not when the team is looking to atone for last season's disappointing 4-8 record. And not the way Lawson runs his workouts. Like the Gatorade-guzzling game that ended Thursday's hour, these sessions are defined by their speed.
When you picture football players lifting weights, you might think of beefy guys hoisting as much steel on their backs as they can, then resting to catch their breath or check out their muscles in the mirror. But Lawson's workout barely pauses. Players dash from circuit to circuit in a hurry, interrupted only by the sounds of Lawson blowing his whistle or barking out new assigned sets. "Controlled chaos" is how offensive lineman Alex Hoffman describes it.
This chaos serves a purpose. Cincinnati operates a no-huddle offense under head coach Butch Jones, who wants to play a tempo as fast as anybody in the country. To that end, signs around the Bearcats' football facility read "6-3." The six represents the number of seconds in the average play in football. The three is for first, second and third down.
"We pride ourselves on playing hard for six seconds and giving three great efforts," Jones said. "So what we do in the weight room has to match what we do on the field."
Lawson, who followed Jones from Central Michigan to Cincinnati, has tailored his program according to the team's style of play and the evolution of the sport. Gone are the massive 350-pound offensive linemen he used to train as an assistant strength coach under Don Nehlen at West Virginia. In are players who can sprint to the line of scrimmage over and over again while being in good enough shape to maintain their mental focus. Old-school strength methods like squats and dead lifts remain. But it also means heavy concentration on core muscles and flexibility.
"The spread system has really changed the way we condition," he said. "Everybody talks about sport-specific [programs]; we're training an energy-system specific in the weight room. People think conditioning is just running but ... instead of going out and pounding our legs with gassers after practice, we can get it in here with our lifting. I think that separates what we do from other places."
Players work out by position groups and are given 75 to 90 seconds to complete each circuit, which is designed to work the entire body and decrease injury risk. Most exercises include about six seconds of lifting or stretching, followed by about 20 to 30 seconds of recovery time, just like a football play. The defense and offense work out separately but follow the same routines, since the defense must play at the same pace as the no-huddle offenses it faces.
"It's all quick stuff, and we get a lot of reps, just like in our offense," Hoffman said. "It translates to what we do on the field."
The Bearcats approached their winter workouts with a renewed sense of urgency. They missed a bowl last season after winning two straight Big East titles, including a 12-0 regular season in 2009. Lawson said there was some natural resistance to a new way of doing things last winter when Jones replaced highly-successful coach Brian Kelly.
Cincinnati also did almost no agility or football-specific drills from January to March last year, because the program lacked a place to do it when bad weather made it impossible to go outside. The team's conditioning level fell behind as a result. This winter, the Bearcats have used their new bubble at the Jefferson Avenue Sports Complex, and Jones said the difference in player development is immeasurable.
Though the team struggled on the field last year, Lawson has made believers of his work in the weight room. Owing to a lack of depth in 2010, several Bearcats logged extraordinary minutes; defensive tackle Derek Wolfe, for example, played an average of about 85 plays per game while not missing a game.
"Derek Wolfe played the equivalent of two seasons last year," Jones said. "He would tell you exactly what [Lawson's] program has meant to him."
Lawson also snaps frequent before-and-after photos to show players how far they've come. Offensive lineman Andre Cureton has gone from 364 pounds last year to 301 now. Receiver
Kenbrell Thompkins
came in at a soft 182 pounds last summer as a junior-college transfer and is now a solid 195.
Will this offseason program help Cincinnati win more games in 2011? That question won't be answered until the fall. Meanwhile, the players are hoping this winter conditioning goes like that sports-drink contest: fast and fulfilling at the same time.
September, 16, 2010
9/16/10
11:16
PM ET
Well, it's pretty obvious that this isn't the same Cincinnati we remember from the past couple of years.
Gone is the aura of invincibility. Gone is the high-powered offense. Gone, at least so far, are any meaningful wins.


As bad as the Bearcats played at Fresno State in the opener, they were even worse Thursday night at NC State, losing 30-19 in a listless effort. It took two fourth-quarter scores to make the score look respectable after the Wolfpack built a commanding 30-7 lead.
Where oh where has the offense gone? Take away the fourth quarter against NC State and the 28-point third quarter against Indiana State, and Cincinnati has scored just four touchdowns in its other 10 quarters this season.
Of course, it's hard to score when your quarterback has no time. Bearcats offensive guard Alex Hoffman boasted earlier this week that
Zach Collaros
"wouldn't get touched" in Raleigh. Instead, he got sacked five times. The pressure kept Collaros from taking many shots downfield, and the offense rarely got anything going. Add the fact that
Isaiah Pead
didn't play with a knee injury, tight end
Ben Guidugli
left before halftime with an ankle injury and, of course,
Vidal Hazelton
is out for the season, and this suddenly looks like a below-average attack.
The Bearcats must play Oklahoma this week, and no one in their right mind would pick them to win based on how they've played so far. That means they could easily be 1-3 after four games under Butch Jones. That still doesn't rule out a run in the Big East, which looks as wide open as ever. But Cincinnati isn't going to contend unless it can raise its overall level of play in a hurry.
Jones was dealt a tough hand, having to follow Brian Kelly, opening with a brutal schedule and beset by injuries. But he could be facing questions from a spoiled fan base about why things have gone wrong so fast.
It's more bad news for the Big East , too. The league still hasn't beaten a BCS opponent. Even the struggling ACC now has notched a win against the Big East.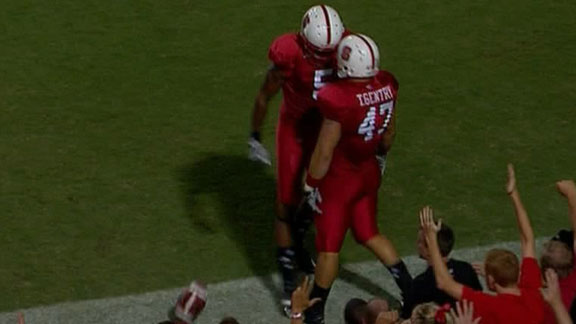 September, 15, 2010
9/15/10
10:02
AM ET
When Cincinnati settled for a field goal on its opening drive last week against Indiana State, there was no celebrating on the sidelines.
Instead, as quarterback
Zach Collaros
recalls, players were hanging their heads in frustration. At halftime of that game against one of the worst FCS programs around, the Bearcats led only 12-7. This came after mustering just two touchdowns in a 28-14 loss to Fresno State in the opener.
[+] Enlarge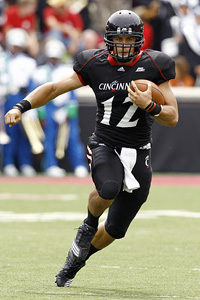 Frank Victores/US PresswireCincinnati quarterback Zach Collaros and the rest of the Bearcats offense has struggled early this season.
The offense that was the best in the Big East a year ago and predicted by many to be explosive again this year had suddenly become plodding.
"We were frustrated because we had great expectations for ourselves," Collaros said. "That kind of got us in a funk."
The Bearcats responded by scoring 28 points in the fourth quarter to blow last weekend's game open. Still, this offense hasn't yet looked like the one that scored 117 points in last season's first two games, or even like new coach Butch Jones' old high-scoring attack at Central Michigan. It ranks fifth in the Big East in scoring and just seventh in total offense, a neighborhood never known during the Brian Kelly era.
Cincinnati is hoping to get back to those high-flying days Thursday night at NC State (
ESPN, 7:30 ET
).
"Our offense has something to prove this week," offensive guard Alex Hoffman said. "We've kind of got a chip on our shoulders, especially as an offensive line."
Collaros was sacked eight times at Fresno State and hurried countless more. After that game, Jones opened up the competition at every offensive line spot, though he made just one change to the starting lineup, with Randy Martinez moved up to start at guard. Jones said he thought the line made "great strides, but we're still a work in progress."
They will also have their hands full against a blitz-happy NC State team that will be a whole lot more physical than lowly Indiana State.
"Our chemistry has been great this week, and we're all on the same page," Hoffman said. "We're going to protect Zach a lot better. He's not going to get touched."
A huge year was expected from Collaros, who turned in dazzling numbers in four starts replacing the injured Tony Pike last season. Collaros' stats through two games this year are solid -- he's completing 60 percent of his passes and has three touchdowns with no interceptions. But he also held onto the ball too long at times against Fresno, leading to some of those sacks.
"I was trying to make too many plays in the second half," he said. "I was trying to win a game by myself."
Jones has cautioned all along that, despite those four starts last year, Collaros is basically still a first-year starter at quarterback.
"Zach is still going through the evolution stages," Jones said. "People look at those four games, but it's still different when you're the starting quarterback. There's so much that goes into the leadership at that position, from making the right reads and the right decisions."
Collaros also no longer has as many weapons around him as he once did. Receiver
Vidal Hazelton
was lost for the year with a torn ACL in the Fresno game. Wideouts
Kenbrell Thompkins
and Dyjuan Lewis are ineligible. Running back
Isaiah Pead
missed the Indiana State game with swelling in his knee. The starting receivers are still strong, but Jones said there have been too many incompletions.
"Dropped passes are like turnovers in our offense," he said.
When the Bearcats are completing passes and avoiding negative plays, they get into a hyper tempo in their no-huddle offense. The pace picked up considerably in that third quarter outburst last week, and that's the way Cincinnati wants to play.
If that happens at NC State, then maybe this offense will look like its old familiar self.
"If we execute the way we know how, there's no question we'll put up big points and big numbers," Collaros said.
October, 13, 2009
10/13/09
4:00
PM ET

Posted by ESPN.com's Brian Bennett
Cincinnati's offense is full of sound and fury. Heisman Trophy candidate
Tony Pike
, star receiver Mardy Gilyard and the rest of the skill players garner most of the attention.
| | |
| --- | --- |
| | |
| | Rich Kane/Icon SMI |
| | Cincinnati prefers nimble, athletic offensive linemen, and even 313-pound Jeff Linkenbach is light on his feet. |
Hardly anybody ever talks about the Bearcats' offensive line, though. And that might just be the biggest key to Bearcats' 5-0 start and 42 points-per-game average.
"We don't get a lot of notoriety, but that's kind of how we are," senior center Chris Jurek said. "We like not getting our names called. We create for everybody else."
Consider this stat: The offensive line has allowed just three sacks this year despite 188 pass attempts. That's one sack for every 63 passes. The Bearcats rank fourth in the FBS in fewest sacks allowed but have thrown the ball more times than the three teams in front of them.
Some of that stems from the fact that Pike is often in the shotgun, and head coach Brian Kelly's offense is designed to get rid of the ball quickly to receivers in the open field. Still, you shouldn't underestimate how much the offensive line has contributed to the most prolific attack in Kelly's three-year tenure at Cincinnati.
"The biggest change in our offensive structure has been the offensive line," Kelly said. "[Previous coach] Mark Dantonio did a great job of building his offense here, but the offensive linemen, quite frankly, didn't fit the same profile" as Kelly's offense.
"So Year 1 and Year 2 were really about getting our offensive linemen to fit our style. In Year 3, we're so much further along in their ability to play in space, to be more of a zone team than a gap team, a team that can put their linemen out and get out in screens and things of that nature."
Dantonio -- who's now at Michigan State -- liked a Big Ten-style line, with big, hulking guys who could plow holes for the power run game. Kelly has a high-tempo offense that often requires the linemen to run down the field and spring receivers free. That requires svelte, athletic players.
"It's been a pretty significant progression in terms of our body types and conditioning," Jurek said. "Coach's style is to get smaller guys who are more athletic and put good weight on them. That's one of the things I've seen here, and we've been able to do it with a high level of success."
Other than left tackle Jeff Linkenbach, no Cincinnati offensive lineman weighs more than 293 pounds. And even Linkenbach's 311 pounds don't sit heavily on his 6-foot-6 frame. Jurek, Linkenbach and left guard Jason Kelce all started on last year's Orange Bowl team. Alex Hoffman and Sam Griffin are first-year starters who have made the right side just as formidable.
The line will face its biggest test of the season on Thursday night at South Florida. The Bulls' defensive front four, Kelly said, "is as good as you're going to see. They can match up with any SEC or Big Ten teams." Defensive ends George Selvie and Jason Pierre-Paul have been terrorizing tackles, and the interior linemen are nearly as fast and aggressive. The Bulls' No. 1 goal is to get to Pike and disrupt his timing.
"I don't feel as if these guys have been challenged up front like we are going to do on Thursday," South Florida linebacker Kion Wilson said. "They haven't been hit and been physically abused yet. That's what we plan on going out there and doing."
"Their offensive line plays very well together," Selvie said. "But I think we can do a very good job against them. We've just got to be aggressive, let them know we're ready to play and that it's going to be a long day for them."
Kelly will surely design his game plan around quick throws and screens, rolling the pocket and other things to slow down that South Florida pass rush. The rest of the job will fall on the offensive linemen. If that group remains anonymous Thursday night, then you know they got the job done.
"It will be a tough challenge for us Thursday night," Jurek said, "but I think we'll be up for it."
March, 18, 2009
3/18/09
10:00
AM ET
Posted by ESPN.com's Ted Miller
Not everything went smoothly during Paul Wulff's first year as Washington State's head coach, starting with a 2-11 finish.
Moreover, he's going to miss the first three days of the Cougars' fall practices because of NCAA sanctions he incurred for violations that happened while he was head coach at Eastern Washington.
| | |
| --- | --- |
| | |
| | AP Photo/Ted S. Warren |
| | Paul Wulff was 2-11 in his first season at Washington State. |
But the Cougars also posted a comeback victory in the Apple Cup, dumping Washington into the basement of the Pac-10, and outdid the Huskies during recruiting.
So there is some positive momentum as he looks toward his second season.
It seemed like a good time to check in with Wulff as he and his staff prepare for spring practices, which start March 26.
First, what's the latest on quarterback Marshall Lobbestael, who's coming back from a knee injury [and a suspension for a February arrest for an underage alcohol offense]?
Paul Wulff: I think he's going to be do everything but the team segments. A lot of individual work and he'll be able to some 7-on-7 drills.
So he's been reinstated from suspension?
PW: Yes. He had a lot of things to do, but yeah.
Let's put a cap on the 2008 season: First, what went right?
PW: After we played USC [on Oct. 18] we had a bye week, and I think our team changed a lot from a personality standpoint. We grew a lot. I know we didn't play well next against Stanford for a number of reasons, but really after that our team just played better football. We grew a lot. We played much more competitively against Arizona State and then Washington and Hawaii. We just played better. We tried not to compare ourselves against anyone else, we just compared ourselves to ourselves. And we improved as a football team down the stretch.
And what was the root of the struggles?
PW: It was a combination of things. It really wasn't one thing. I think as coaches, we demanded and changed so much of what these players were asked to do, from what they were accustomed to doing, on and off the field. I think there was a natural -- not an intentional resistance -- but just a little bit of what you would say is a culture shock to the system. I think that was part of the issue, in addition to trying to replace some key parts. We lost a four-year starter at quarterback [Alex Brink], we lost a couple of receivers and a tight end who had opportunities in the NFL. It was tough to replace all that experience. And then the injuries on the offensive side of the ball -- the quarterback situation. On defense it was similar, losing both safeties, some defensive tackles, we just couldn't overcome that. Our offense then put even more pressure on our defense. I know before our offense at Washington State has always been very successful. A lot of times that goes hand-in-hand with your relieving your defense, and we weren't able to do that last year.