January, 20, 2011
1/20/11
2:30
PM ET
TCU has made a name for itself with its defense, and with good reason. The Horned Frogs led the nation in total defense for a third straight year. That means TCU has now finished first in that category more times (five) than any other program since the NCAA began tracking statistics in 1937.

All five of those top rankings have come under head coach Gary Patterson (2000, 2002, 2008, 2009, 2010).

The Rose Bowl champion and second-ranked Horned Frogs are the third team to lead the nation in total defense in three consecutive seasons (Toledo, 1969-71; Oklahoma, 1985-87).

TCU actually finished No. 1 in six defensive categories: scoring defense (12 points), pass defense (128.8 yards), pass defense efficiency (94.9 rating), opponent third-down conversion percentage (24.1) and fewest first downs allowed per game (12).

As for the total defense, TCU allowed 228.5 yards a game -- 11.2 yards better than its 2009 average and the second-best mark under Patterson. Only the 2008 squad (217.8 yards) was better.

What makes the mark even more gratifying is the way the Horned Frogs were able to rebound despite losing NFL draft picks Jerry Hughes and Daryl Washington, and both starting cornerbacks.

The 2011 season will provide a critical test for both the offense and the defense. TCU returns six defensive starters and just five on offense. Defensively, TCU will need to find a replacement for Tejay Johnson, a three-year starter who quarterbacked the defense. TCU also loses three of its starting defensive linemen, including Wayne Daniels, who led the team with 6.5 sacks. Second leading tackler Colin Jones also will be gone, along with Alex Ibiloye.
December, 29, 2010
12/29/10
9:30
AM ET
LOS ANGELES -- TCU free safety Tejay Johnson remembers a 6-foot-2 wide receiver showing up as a freshman, intent on becoming a star playmaker on offense. Johnson stunned the youngster by telling him his future: "You're going to be a safety."
Players who sign up with the Horned Frogs and coach Gary Patterson often learn that their high school position matters about as much as their astrological sign. That's one of the secrets to the program's sustained success. Patterson and his staff scour Texas for athletes first and figure out where to put them later.
"The one thing that we always look at is, can the young man run?'" defensive coordinator Dick Bumpas said. "And if he can, then that's a good basis to start for a lot of positions."
[+] Enlarge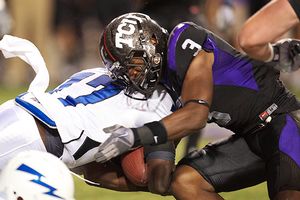 Dale Zanine/US PresswireTejay Johnson is the quarterback of a TCU defense made up players who have switched from other positions.
That philosophy is a big reason why the defense has consistently ranked as one of the nation's best, despite featuring mostly under-the-radar recruits. Patterson and his assistants have an uncanny ability to identify athletes and then teach them how to play defense, if necessary. Current NFL linebacker Stephen Hodge was converted from a high school quarterback to a safety for the Frogs. Last year's All-American defensive end, Jerry Hughes, starred at running back in high school.
Examples abound on this year's team as well. Safety Colin Jones was a prep running back. Starting cornerbacks Jason Teague and Greg McCoy were high school receivers. Defensive tackle Cory Grant came in as a tight end. Linebacker Tank Carder was known for being a former BMX world champion. Matt Anderson entered college as a safety and is now a backup defensive lineman.
"I honestly don't know how Coach P does that," senior defensive end Wayne Daniels said. "I don't think I've ever seen him miss with a position change."
Everything's bigger in Texas? It's more like everything's faster in Fort Worth. Patterson will gladly sacrifice a few inches of height and 20 or more pounds per player in exchange for speed. His 4-2-5 defense is by definition built on swiftness over bulk, with three safeties and one fewer linebacker on the field than the normal 4-3 alignment.
Some of the reason for playing a 4-2-5 is by necessity, Bumpas said. There are more cornerbacks and safeties out there than big guys who can play linebacker, and even in the talent-rich state of Texas, TCU often has to comb through the prospects that Texas, Oklahoma and Texas A&M don't want. Those schools usually want the big guys.
"We really look for potential, probably more so than a finished product," Bumpas said.
The 4-2-5 is a perfect base defense against spread offenses, as the Horned Frogs are basically in nickel all of the time. Of course, that might not be an advantage in Saturday's Rose Bowl Game presented by Vizio; Wisconsin's powerful attack is about as far away from a spread as you can find.
The keys to the 4-2-5 include flexibility and individual responsibility. TCU can put two safeties on one side of the field, bring one or two down for help against the run or send them on blitzes. The defensive front does a lot of shifting, and the pass coverage is divided into two halves of the field. Free safety Johnson is the quarterback of the defense, and weak safety Alex Ibiloye will make calls for coverage on his side.
"Free safety is definitely the hardest position," Carder said. "Coach Patterson gives us three or four different calls, and we've got to choose which one it is. We have a lot of responsibility to make the right calls, but they teach us well and line us up in the right spots."
At the end of each week, Patterson tests each defensive player on their assignments and coverages. He'll show a play on a video screen, pause it, then force each guy to show with a laser pointer exactly what his responsibility is in that situation.
"It's pretty intense," Jones said. "You get some instant feedback, and it's usually pretty negative if you mess up."
The Horned Frogs don't seem to mess up too much on Saturdays. Their defense has led the nation in yards allowed for the past three years and ranks No. 1 this year in points surrendered at just 11.4 per game. It's a senior-laden group that knows this system intimately.
"Structurally, they're a little bit different than what we see," Wisconsin offensive coordinator Paul Chryst said. "But what makes it different is how they play it. They play it really well, not just this year but for many years. They've got athletes that can move, they also know where they're going and what they're doing, so they don't play with hesitation."
Some incoming TCU players, like that freshman wide receiver, might hesitate at switching to a new position. But Johnson said that like most, the freshman quickly realized it was his best chance to get on the field and contribute.
At this point, why would anyone question TCU's winning formula?
September, 22, 2010
9/22/10
11:00
AM ET
The signature at TCU has always been defense, and that will never change as long as Gary Patterson is the head coach there.
Sure, the faces in the starting lineup change, as they have this season. But look at the top of the NCAA stat sheet, and there you see the Horned Frogs once again.
Their defense, which has been No. 1 in the country the last two seasons, is ranked No. 4 after three games. Impressive considering its top two players, Jerry Hughes and Daryl Washington are gone. Impressive considering two of its three games have come against opponents from automatic qualifying conferences.
Only four other teams ranked in the Top 25 in total defense -- Stanford, Alabama, Iowa and LSU -- have played at least two teams from AQ conferences. LSU is the only one that has played three in its first three games.
[+] Enlarge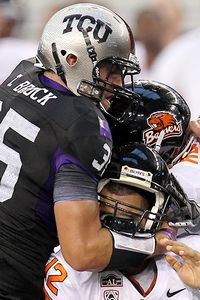 Ronald Martinez/Getty ImagesTanner Brock leads TCU in tackles with 19. TCU's defense is again one of college football's best.
"We've played with a lot of effort and a lot of intensity," Patterson said this week. "We've given up some plays and we have to keep getting better, but I don't think we've played our best football yet."
You always want to see steady improvement from your team as the season goes on, of course, and this week provides the next test. No. 4 TCU (3-0) plays SMU (2-1) in a nationally televised game Friday night
(8 p.m. EDT, ESPN)
. The Mustangs provide the third radically different type of offense TCU has seen from its FBS opponents so far this season.
SMU enjoys passing the ball under coach June Jones, a run 'n' shoot disciple. The Mustangs do have an effective runner this year in
Zach Line
, at 6-foot-1 and 235 pounds, but the primary objective will be to stop the passing attack.
Many of the new faces on that TCU defense are right in the secondary. Four-year starting cornerbacks Rafael Priest and Nick Sanders are gone, but it's important to remember their replacements got plenty of playing time last season while they both struggled through injuries. Greg McCoy and Jason Teague had four combined interceptions last season, while Priest and Sanders had one.
At strong safety, Colin Jones has re-emerged as the starter while Tyler Luttrell has been out with a hamstring injury. Jones went into last season penciled in as the starter but hurt his hamstring, and Luttrell ended up becoming the starter.
Jones is tied for third on the team with 15 tackles, including three for a loss. With the 4-2-5 defense TCU runs, it's incumbent on the safeties to make plays. That's why three of the four top tacklers are the safeties -- Alex Ibiloye and Tejay Johnson are right up there as well.
As for the other players who are gone, their replacements have stepped up big time, too. Tanner Brock, taking over for Washington, leads the team in tackles with 19. Only a sophomore, Brock is perhaps best remembered for making a helmetless block last year against SMU, on a punt return
Jeremy Kerley
returned 71 yards for a touchdown.
Stansly Maponga has taken over for Hughes, but it's Wayne Daniels who has emerged on the left side to put the stud on the end. Daniels has 3.5 sacks already this season. Of his nine tackles, six are for a loss. He made a statement right out of the gate, with two sacks in the opening win over Oregon State, helping get pressure on
Ryan Katz
and setting the tone for the entire game.
Overall, TCU is giving up 227.7 yards a game, and though that is ranked No. 4 in the country, it is the second-lowest total under Patterson. It's about 17 yards less than TCU gave up a year ago.
Still, it's only three games in, and Patterson doesn't want to get too high on his defense just yet.
"We're still trying to grow up," Patterson said. "You have to grow up in the first five or six ball games. We didn't feel we practiced well last week, so we have to come back and do a better job of that and not just do it on Friday and Saturday."
September, 13, 2010
9/13/10
5:44
PM ET
Here are your non-AQ players of the week:
Conference USA
Offense:
Bryce Beall
, RB, Houston. Ran for a career-high 195 yards and tied a career-high with three touchdown runs in a 54-24 win over UTEP.
Defense: Vinny Curry, DE, Marshall. Had 11 tackles, two sacks and two forced fumbles in a loss to West Virginia on Friday night.
Special Teams:
Kevin Fitzpatrick
, K, Tulsa. Tied a career-best when he made four-of-four field goals, including two in each half.
MAC
East Division
Offense:
Thomas Merriweather
, RB, Miami. Ran for 100 yards for the second time in his career, getting 105 yards on 15 carries and tied his career high with three touchdowns in a win over Eastern Michigan.
Defense: Muhammad Wilkerson, DT, Temple. Had six tackles, a career-high two sacks, a career-high three tackles for loss and one forced fumble in a 13-10 overtime win over Central Michigan last Thursday.
Special Teams: Freddy Cortez, K, Kent State. Made field goals from 45 and 41 yards in a 26-13 loss at Boston College. It was the first time in his career Cortez has made two field goals of 40-plus yards.
West Division
Offense:
Alex Carder
, QB, Western Michigan. Completed a career-high 24-of-33 passing for 298 yards and five touchdowns in a 49-14 win over Nicholls State. Carder became the sixth Bronco quarterback with five passing touchdowns in a game and the first since Oct. 8, 2005.
Defense: Dan Molls, LB, Toledo. Had a career-high 11 tackles, 2.5 tackles for loss, one sack and two interceptions in a 20-13 win at Ohio.
Special Teams: Jay Karutz, P, Eastern Michigan. Set a school record with a 49.5 punt average against Miami with three of the four inside the 20-yard line, including two that were downed inside the 1. His fourth punt was a 56 yarder that went out of bounds.
Mountain West
Offense:
Ronnie Hillman
, RB, San Diego State. Rushed for 150 yards and four touchdowns in a 41-21 victory over New Mexico State. The four rushing touchdowns set a conference freshman single-game high and are the most by a San Diego State player since Larry Ned had four touchdowns against Wyoming in 2001.
Defense: Alex Ibiloye, S, TCU. Forced three fumbles and added a team-high tying nine tackles in a 62-7 win over Tennessee Tech. Ibiloye became the first Horned Frog to force more than one fumble in a game since Jerry Hughes forced two against BYU in 2008.
Special teams:
Shaky Smithson
, WR/PR, Utah. Returned five punts for 128 yards, including a 77-yard touchdown, to help Utah beat UNLV 38-10. He is the first Utah player to return a punt for a touchdown since 2007.
Sun Belt
Offense:
Ryan Aplin
, QB, Arkansas State. Threw for a single-game school record 438 yards in a loss to Louisiana. That is the highest total for an FBS player this season. He currently has the second-most passing yards in the country with 716.
Co-Defense: Maurice Rolle, DB, Louisiana; Jonathan Massaquoi, DE, Troy. Rolle had a key interception of Aplin with 1:59 remaining to secure the win. Massaquoi had eight total tackles, a sack, a forced fumble and fumble recovery in a loss to Oklahoma State.
Special Teams:
Jerrel Jernigan
, KR, Troy. Became the fourth player in league history to return a kickoff 100 yards for a touchdown in a loss to Oklahoma State. Jernigan finished the game with 277 all-purpose yards and moved past former Middle Tennessee star Desmond Gee into fifth place on the SBC career list with 4,362 career all-purpose yards.
WAC
Offense:
Bryant Moniz
, QB, Hawaii. Completed 25 of 36 passes for 343 yards and three touchdowns in a 31-28 win at Army. Moniz led the Warriors to touchdowns in three of their first four possessions.
Defense: James-Michael Johnson, LB, Nevada. Had a team and career-high nine tackles, including 1.5 sacks in a 51-6 win at Colorado State. Nevada notched its first shutout since 2006.
Special teams: Anthony Martinez, K, Nevada. Made all three of his field goal attempts and six extra point in the win over Colorado State. The field goal attempts were the first of his college career, while the 15 points he scored in the game are tied for the third most of any kicker in the nation in a game this year.
September, 12, 2010
9/12/10
1:30
AM ET
Time to give out helmet stickers for some of the best Week 2 performances among the non-AQs.
Bryce Beall, Houston.
Beall set a career-high with 195 yards rushing in a
54-24 win
over UTEP on Friday night. Beall also tied his career high with three touchdown runs, and averaged 10.3 yards per carry as the Cougars racked up 308 yards on the ground.
Alex Carder, Western Michigan.
Carder went 24-for-33 for 298 yards and five touchdowns in the Broncos'
49-14 win over Nicholls State
. Carder became the first Western Michigan quarterback to throw for five touchdowns since Tim Hiller in 2005. Carder threw his five TDs to four different receivers:
Jordan White
(two),
Dallas Walker
,
Blake Hammond
Ansel Ponder
once each.
Alex Ibiloye, TCU.
The safety forced three fumbles in No. 4 TCU's
62-7 win over Tennessee Tech
. Nobody forced more than two fumbles for the entire 2009 season. Ibiloye totaled a team-high nine tackles, including 1.5 for loss.
Colin Kaepernick, Nevada.
Kaepernick turned in one of his classic performances, with 402 yards of total offense in a
51-6 win over Colorado State
. Once again, Kaepernick led the team through the air and on the ground, going 21-of-29 for 241 yards and a touchdown, with 11 carries for 161 yards rushing and two touchdowns on the ground. He has gone over 100 yards passing and rushing for the 11
th
time of his career.
Bryant Moniz, Hawaii.
Moniz took a hard hit in a loss to USC last week and missed several days of practice, but he looked good as new in a
31-28 win over Army
. Moniz went 25-of-36 for 343 yards and three touchdowns. He got off to a particularly fast start, going 17-of-22 for 239 yards and threw all his touchdown passes to give the Warriors a 21-0 lead.