March, 18, 2013
3/18/13
9:00
AM ET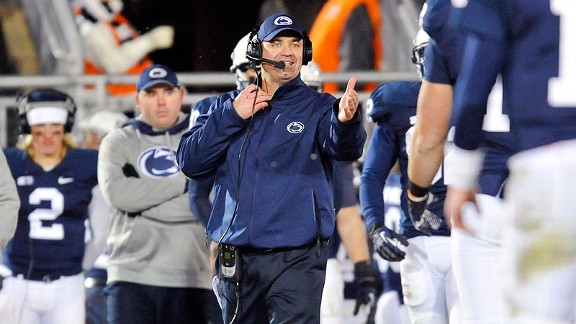 Randy Litzinger/Icon SMIBill O'Brien is excited about his team as he heads into his second season at Penn State.
The last time we saw Penn State, the Lions were celebrating a surprisingly strong finish to the 2012 season and saying farewell to a special senior class. Penn State since has turned the page and will begin spring practice Monday with a mix of familiarity and uncertainty. Bill O'Brien is not the "new coach" in Happy Valley anymore, and players have acclimated to O'Brien and his staff. But the Lions are looking for a starting quarterback for the second consecutive spring. They also must replace several outstanding defenders and fill holes on both lines. But the
depth crisis many of us envisioned
for the Lions when the NCAA sanctions came down last summer simply isn't there in State College.
ESPN.com caught up with O'Brien late last week to discuss spring ball.
What are some of the main objectives you're looking for when you get on the field again?
Bill O'Brien:
The No. 1 objective offensively is to make sure we come out of this spring practice with improvement from the quarterback position. We won't name a starter coming out of the spring, but at least at the end of 15 practices we'll have a good idea of how well these guys are grasping the system, Tyler Ferguson and
Steven Bench
. So that's a big deal for us offensively.
And defensively, some new guys will be in there, and seeing how those guys do, whether it's
Nyeem Wartman
at linebacker or
Jordan Lucas
at corner or some other guys who are going to be playing a little bit more next year, how much they improve. And then we'll work our special teams every single day, so hopefully we'll find some core special-teams players this spring.
What's your message to Steven and Tyler going into the spring? You're not naming the starter, but what do you want to see out of them?
BO'B:
[Thursday] I was talking to them, and I said, 'Look, I just want you guys to put your head down and go to work. Don't worry about what everybody else on the outside of the program thinks about your performance, whether it's in scrimmages or the Blue-White Game or whatever it is. Just try to get better every single day.' These are two really, really good kids. They're smart, they work hard at it, they're grasping it pretty well to this point. We're pretty excited about getting started with them. I don't want them to think about anything other than trying to improve and be as good a leader as they can be.
Will you have to change the offense for one or the other? Do they fit in with what you did last year?
BO'B:
We'll definitely be different. We'll be different in many ways. Matt [McGloin] had certain strengths we tried to play to, no question about it. Our system is expansive enough that you can have different parts in there to take advantage of the talents of the quarterbacks who are playing. So we'll be a different offense than we were last year.
Anything specific on what might change with these two quarterbacks or areas you can draw out more?
BO'B:
I'd rather not get into all of that, but I can tell you these are two guys who are big, they're strong, they're fast, they look to be accurate passers. We're just looking forward to working with them.
September, 12, 2012
9/12/12
10:20
AM ET
Penn State's passing attack is showing life under coach Bill O'Brien, but a familiar question surfaced Tuesday night when reports of another player departure began streaming in: Who will catch the ball for the Nittany Lions this season?

It's worth asking after Penn State confirmed Wednesday morning that junior wide receiver
Shawney Kersey
has left the program for personal reasons.
Kersey entered the season as Penn State's most experienced receiver. His five receptions in 2011 made him Penn State's leading returning pass-catcher, as seven others had left the program, either through graduation or transfer.
Justin Brown
, pegged as the team's top target for 2012, transferred to Oklahoma in August, and
Devon Smith
, who ranked third on the squad in receptions last fall, transferred to Marshall.
Kersey had six catches for 44 yards in Penn State's first two contests. He was listed as a starter on
this week's depth chart
for the Navy game.
Brown sparked
debate about the real reason for Kersey's departure
, tweeting Tuesday night: "Y they have to do that to my boy" and "They in no position to b giving guys the boot." He later tweeted that his comments had been taken out of context.
Although
Allen Robinson
(19 receptions) clearly has emerged as
Matt McGloin
's top target, and the tight ends, namely
Kyle Carter
, are more involved in O'Brien's offense, Kersey's loss certainly stings. An already thin position group is even thinner.
Penn State really needs
Alex Kenney
to emerge along with others like
Evan Lewis
and
Eugene Lewis
.
August, 4, 2012
8/04/12
9:44
PM ET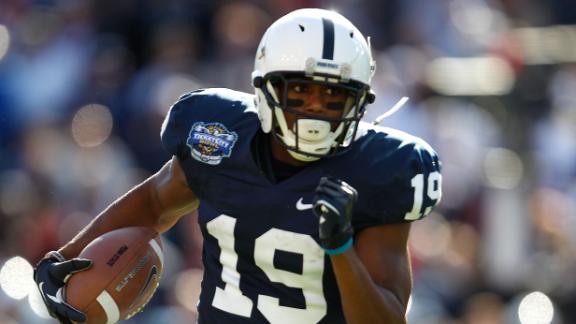 Penn State started 8-1 in 2011 because of a ferocious defense. The Lions rotated quarterbacks, failed to generate much of a passing attack and got a bunch of yards but not many touchdowns from
Silas Redd
.

They won four games without scoring more than 16 points, three in Big Ten play.
It's a blueprint the Blue and White likely must follow again in 2012 to have success in Bill O'Brien's first season. Although O'Brien is an offensive guru, the line should be better and new contributors should emerge, the Penn State offense, at present, simply doesn't look like it can score many points.
Wide receiver
Justin Brown
's
departure to Oklahoma
, as colleague Joe Schad first reported, is the latest blow for Penn State's offense. Make no mistake: The biggest came when All-Big Ten running back Redd transferred to USC. But Brown, the team's leading returning receiver with 35 receptions and 517 receiving yards, is a significant loss as well.
Brown is the ninth player to transfer from Penn State since the NCAA leveled heavy sanctions against the program July 23.
His departure leaves Penn State with no players who recorded more than five receptions in 2011. There's some talent at receiver and running back -- don't be surprised if
Alex Kenney
and
Bill Belton
take big steps this season. The tight end position will be featured more in O'Brien's offense. But Penn State undoubtedly is relying more on potential than proven track records.
Several Penn State fans who responded to me on Twitter tonight pointed out Brown's dropped passes and inconsistent play last season. That's true to an extent, but the team still would have benefited from having a senior with 19 career starts. He was the only Lions player to record at least one reception in every game last season.
Losing only Brown wouldn't sting Penn State too much. But the cumulative effect of losing Brown, Redd and standout kicker/punter
Anthony Fera
could cripple a unit that already had question marks before the sanctions hit, including a giant one at quarterback.
Redd, Fera and Brown accounted for 116 of Penn State's 251 points in 2011. No returnee accounted for more than 12 points last year.
The good news: Penn State's defense still should be very, very good, and the unit hasn't suffered a crucial departure (
Khairi Fortt
might have started at linebacker, but the Lions still should be fine there). This team has won without a dynamic offense recently, and it could again in 2012.
But there will be times when the offense must deliver. Penn State needs some mystery men to answer the bell.
June, 22, 2012
6/22/12
6:45
PM ET
Penn State hasn't suffered a great deal of attrition during the transition to new head coach Bill O'Brien.

But wide receiver
Devon Smith
's
departure on Friday
accentuates the need for more offensive playmakers to emerge. O'Brien announced Smith has left the team for personal reasons. It's unclear whether Smith's departure relates to the March incident where police allegedly found evidence of marijuana use in Smith's apartment. Smith was charged in April and has applied for the Accelerated Rehabilitative Disposition program as a first-time offender. He has a hearing scheduled for Wednesday.
Smith finished third on the team in both receptions (25) and receiving yards (402) in 2011. He averaged 16.2 yards per reception, but he wasn't a major difference-maker in Penn State's pass-challenged offense. Smith might be
best known for running into Joe Paterno
at a practice last August while on a pass route, causing injuries to the then-Lions coach.
While Smith wasn't a star, he started seven games in 2011 and had been listed as a starter on Penn State's post-spring depth chart, despite missing much of the spring with a foot injury. Penn State returns only one starting receiver in
Justin Brown
, and will need players like
Alex Kenney
, listed as Smith's backup on the most recent depth chart, to step up. Like the diminutive Smith (5-foot-7, 147 pounds), Kenney is a smaller receiver (6-foot, 193) who boasts very good speed.
The Lions will be much more reliant on their tight ends in O'Brien's offense, but they still need to build more depth at wide receiver for top quarterback
Matthew McGloin
. Unproven wideouts like
Allen Robinson
and
Shawney Kersey
need to have big summers.