October, 1, 2012
10/01/12
10:00
AM ET
One last look back at the weekend that was in the Big East.
The good
: The Big East went 3-1 Saturday, improving to 4-3 against the ACC this season and even exacting a bit of revenge against the MAC, as UConn topped Buffalo at home. This was the final real nonconference weekend for the Big East, and by and large it did not disappoint.
[+] Enlarge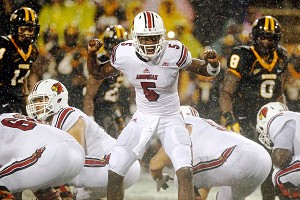 AP Photo/Rogelio V. SolisThe Cardinals and Teddy Bridgewater played through horrendous conditions to eke out a win.
The bad
: South Florida had the conference's lone loss, though the Bulls put forth a valiant effort against the No. 4 team in the country. UConn and Louisville both had offensive shortcomings but managed to come away with wins against far inferior opponents.
The ugly
: The Southern Miss field. Woof.
The clutch
:
Munchie Legaux
connected with
Damon Julian
for a 39-yard touchdown pass with 13 seconds left, leading Cincinnati to an upset over Virginia Tech. More consistency is needed for Legaux, but he took a huge step forward with the pressure and spotlight on him. Props to Julian for bouncing back from a dropped touchdown earlier in the fourth quarter as well.
The scare
: Louisville barely beat a winless Conference USA opponent in a game said opponent completed only two passes. And the Cardinals needed a botched punt to set up their game-winning touchdown drive. Yes, the conditions were awful, and the defense deserves plenty of credit. But this would have been as bad a loss as the conference could have had, regardless of the field, as the preseason No. 1 team survived a scare from a Southern Miss team in its first year under a new regime.
The improvement
: The numbers may not exactly reflect it, but USF's defensive line played a strong game against Florida State. The Seminoles rushed for 183 yards, one week after they rushed for 287 in a win over Clemson. Yes, the Bulls lost a third straight game, but a defense that had trouble at Ball State played much better against a potential national title contender, and this is something the team can build on as it enters conference play.
The gutsy call(s)
: Buffalo coach Jeff Quinn called for an onside kick following his team's first touchdown, one it recovered. In the third quarter,
Alex Zordich
hit
Alex Neutz
with a short pass, with Neutz then lateraling the ball to
Brandon Murie
for a 50-yard hook-and-ladder touchdown. The risk-taking almost paid off, as the Bulls climbed back from a 17-point deficit at UConn and had a chance to drive for the win at the end.
September, 29, 2012
9/29/12
3:37
PM ET
The final margin isn't what anyone in Connecticut would have hoped for, but the Huskies managed to hold off Buffalo in their final nonconference test,
24-17
.


UConn's offense got into the kind of rhythm early that it needed to before entering Big East play, as
Chandler Whitmer
completed 15 of 22 passes for 227 yards and a touchdown.
Lyle McCombs
rushed for 97 yards and a score, and
Martin Hyppolite
added 60 yards on six carries, including a 50-yard scoring run early in the second quarter for a 17-7 lead.
The Huskies had a 24-7 lead late in the third quarter, but their offense stalled down the stretch, netting just 27 total yards in the fourth quarter as the Bulls mounted a comeback.
Alex Zordich
hooked up with
Alex Neutz
, who then tossed the ball back to
Brandon Murie
for a 50-yard hook-and-ladder score in the third. The Bulls added a field goal late and got the ball for one last drive before
Yawin Smallwood
stuffed Zordich on fourth-and-4 from the Buffalo 39 to ice the game.
The hook-and-ladder was one of several wrinkles Buffalo tossed in throughout the afternoon, including a recovered onside kick following its first touchdown. But the Bulls' offense couldn't do much until the fourth quarter. They went for another onside kick following a late field goal and, despite not recovering, forced a three-and-out to get one last shot.
UConn's offense struggled late, and it failed to take advantage of generous field position down the stretch. But it took control early and did not turn the ball over, small steps for a maligned unit that still has plenty of work to do when conference play begins next week at Rutgers.
February, 10, 2011
2/10/11
9:00
AM ET
Now it's time to look at spring quarterback competitions in the MAC. There should be plenty of intrigue here, especially at Toledo and Miami (Ohio), where starters are returning from injury but finding they are not going to be shoo-ins to get their jobs back.
Ball State
Who's competing:
Kelly Page
and
Keith Wenning
will compete once again in the spring. They are no strangers to competing against each other -- Wenning won the starting job from Page in 2010 as a true freshman. With new coach Pete Lembo set to install his no-huddle offense, both players are going to have to audition for that job. Keep in mind, Page and Wenning are the only two scholarship quarterbacks on the roster.
Buffalo
Who's competing:
The Bulls did plenty of quarterback shuffling last season under first-year coach Jeff Quinn, but nobody seemed to stick as the starter. So the competition is open once again headed into the spring between
Jerry Davis
,
Alex Zordich
and
Alex Dennison
. Davis will be a junior, while Zordich and Dennison will be sophomores. Davis started the majority of games last season, but Zordich did start a handful as a true freshmen. Neither put up stellar stats as they tried to learn the spread offense.
Kent State
Who's competing:
Spencer Keith
returns, but he was wildly inconsistent last season, throwing for 2,212 yards, eight touchdowns and 11 interceptions. But with a new coach in Darrell Hazell, nobody is guaranteed of keeping their starting job. Expect a competition with
Giorgio Morgan
in the spring as Hazell installs more of a traditional offense. Morgan has been a career backup.
[+] Enlarge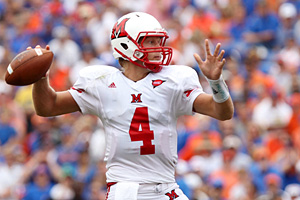 Kim Klement/US PresswireMiami Redhawks quarterback Zac Dysert will be battling for the starting job in 2011.
Miami (Ohio)
Who's competing:
This is going to be a tremendous competition between
Zac Dysert
and
Austin Boucher
, two quarterbacks equally capable of leading this team. Dysert started the first 10 games of the season before injuring his ribs and sitting out the rest of the way. In came Boucher, who had only thrown 14 career passes to that point. But Boucher closed the season 4-0, with a come-from-behind win in the MAC championship game and then a win the GoDaddy.com Bowl against Middle Tennessee. Dysert threw for 2,406 yards, 13 touchdowns and 12 interceptions, and completed 65 percent of his passes. Boucher threw for 1,120 yards, six touchdowns and three interceptions, and completed 64 percent of his passes. With a new head coach on Don Treadwell, both go in with clean slates and an opportunity to impress.
Ohio
Who's out:
Boo Jackson
Who's competing:
Jackson and Phil Bates Bates have been involved in quarterback competitions themselves, so being in this position is nothing new for Bates. But this is opportunity to prove once and for all why he deserves to be the starter after taking a back seat to Jackson last season. He is a senior and the most experienced quarterback on the roster. But two will push him --
Kyle Snyder
and
Tyler Tettleton
. Snyder redshirted as a true freshman last season, and Tettleton also redshirted and will be a sophomore. Tettleton attempted 23 passes in 2009.
Temple
Who's competing:
Chester Stewart
began last season as the starter before then-coach Al Golden decided on a switch and put
Mike Gerardi
into the starting lineup during the Bowling Green game in October. Gerardi started the rest of the way, but it wasn't enough to get the Owls into the MAC championship game. With new coach Steve Addazio taking over, both are in contention to become the starter. There is one more player in the mix --
Chris Coyer
, a 6-foot-3 dual-threat, left-handed quarterback who has drawn comparisons to Tim Tebow. Addazio coached Tebow at Florida. Coyer's bio says he worked out with Tebow in high school. Plenty of connections there for him to make a serious run at the starting job.
Toledo
Who's competing:
Another intriguing competition here between
Austin Dantin
, who began 2010 as the starter, and
Terrance Owens
, who filled in quite nicely down the stretch. Dantin injured his shoulder/collarbone at the end of October and missed the final four games of the season. Owens went 2-2 as a starter, but he ended up with a better quarterback rating than Dantin and threw 13 touchdowns to seven for Dantin.
November, 24, 2010
11/24/10
3:30
PM ET
Welcome to the final edition of Winless Watch, where just one team is left looking for that first win of the season.
Akron (0-11). Streak: L 11. The Zips have come oh-so-close to winning the last two weeks, but have fallen just short against Ball State and Miami (Ohio). Now they get a winnable game to close out the season -- at home against Buffalo (2-9) on Friday. The Bulls are having their own set of struggles -- they have lost six straight. Their only win was over an FBS team -- 28-26 to Bowling Green, which missed a 40-yard field goal for the win as time expired.
The Bulls have had a tough time under first-year coach Jeff Quinn as well.
Jerry Davis
started the season at quarterback but wasn't what Quinn was looking for to run the spread. Freshman
Alex Zordich
replaced him, but he is out with a rib injury, so Davis is back in. He has 14 touchdowns and 14 interceptions this season. The Bulls haven't been helped by their lackluster run game, either. They have an NCAA-worst three rushing touchdowns this season.
These are two of the worst offenses in the MAC and the country. They rank in the bottom in the league in scoring, and total offense. But the Zips have shown some signs of life. They have lost their last two games by a combined 12 points, including the overtime loss to the Cardinals. Last week against Miami, they fumbled late in the game as they were driving for the winning score.
Winning teams somehow find a way to win. That is what Rob Ianello is waiting to see out of his players.
"We have to make those plays we haven't made," Ianello said. "We've lost two games in overtime and one game on the last possession and all those games you can look at a few key plays that we haven't made and the opponent has.
"Last week, we turned it over twice. They didn't turn it over at all. As I told our team, we'll win when we get good enough to win. How do you get good enough? You make those plays you have to make in a close game. When you get the taste of victory then you understand what it takes, next time you get in a situation you make them again."
My pick
: Akron 21, Buffalo 17.
November, 15, 2010
11/15/10
2:00
PM ET
Let's take a look at the good and the bad for the non-AQs in Week 11.
[+] Enlarge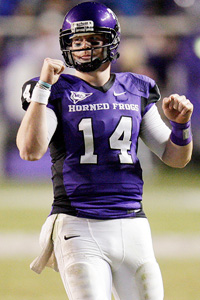 AP Photo/Mike FuentesQuarterback Andy Dalton and TCU slipped in the polls after a 40-35 win against San Diego State.
The good:
TCU and Boise State are still in the national championship conversation, though the debate is about their credentials more than anything else. The Broncos beat Idaho 52-14, and have now baten their WAC opponents by an average score of 50-8. For those who wonder why TCU dropped in the human polls after a 40-35 win against San Diego State, the Broncos beat a Hawaii team with the same record as San Diego State 42-7 at home. … Tulsa has won four straight games and is now in the hunt for the Conference USA West title. The Golden Hurricane are tied atop the West with SMU. But since the Mustangs hold the head-to-head win, Tulsa needs to win out and hope for SMU to slip in one of its final two games. … Northern Illinois has won seven straight for the first time since 2003. … FIU is in the driver's seat for the Sun Belt after beating Troy for the first time in school history. … BYU has won three straight, including its past two games 104-17. … FAU (4-5) has won three straight, and got its third one-point win of the season, 24-21 against Louisiana. ... North Texas has gone over 400 yards of total offense in all three games under interim head coach Mike Canales after only eclipsing that mark three times in the first seven games this season before he took over.
The bad:
This has been a tough season for Wyoming. The Cowboys went to a bowl game last season for the first time since 2004, and beat Fresno State 35-28 in a double-overtime thriller. But nothing has gone right this season. Wyoming (2-9) is winless in Mountain West play, and has lost six straight, including back-to-back losses to New Mexico and UNLV. That would make the Cowboys the worst team in the league. They have won just one game against FBS competition this year, at Toledo, and close out the season Saturday against Colorado State. Wyoming ranks near the bottom of the nation in passing offense, rushing offense, points scored and points allowed, and is No. 119 in total offense and No. 105 in total defense. The team has also had to overcome the death of Ruben Narcisse, killed in a car accident in September.
The heartache:
Central Michigan found itself down 38-24 with seven minutes to play against Navy, but the Chippewas never gave up, scoring with 4 seconds left to make it 38-37. Coach Dan Enos elected to go for two, because he thought his team had momentum and would have a hard time stopping Navy in overtime. But the 2-point conversion pass from
Ryan Radcliff
to
Kito Poblah
went over his head. Of their eight losses this season, five have been by a touchdown or less. "The entire team supported the decision to go for two," Enos said. …
Arkansas State was 4-5 heading into its game against Western Kentucky, with bowl hopes on the line. The Red Wolves erased a 21-7 halftime deficit and led 28-21 with 54 seconds left. But a bad snap in punt formation gave Western Kentucky the ball deep inside Arkansas State territory.
Willie McNeal
caught a 7-yard touchdown pass from
Kawaun Jakes
with no time left to send the game into overtime. Western Kentucky won it 36-35 when defensive back Derrius Brooks scored on a 2-point conversion on a reverse. Arkansas State coach Steve Roberts had no explanation for the botched snap. Arkansas State finishes up at Navy and FIU.
A few more helmet stickers:
UNLV running back
Tim Cornett
scored four touchdowns in a win against Wyoming, making him the first Rebel to score four touchdowns in a game since 1994. … Ball State safety Sean Baker intercepted two passes and returned a fumble 26 yards for a touchdown in a 20-3 win at Buffalo. … Miami (Ohio) freshman receiver
Nick Harwell
had 125 yards and a touchdown in a 24-21 win against Bowling Green. He now has 43 receptions for 600 yards over the past five games, after making just two catches for 15 yards in his first five games.
A few injury items to note:
Boise State suffered a big blow with the news that middle linebacker Byron Hout is out for the season with a broken foot. It's unclear whether he will be ready for a bowl game. … Ohio quarterback
Boo Jackson
is doubtful for Tuesday's game at Temple after getting injured in a bar fight a few weeks ago.
Phil Bates
has been hobbled by injury, but is expected to start. … Miami (Ohio) quarterback
Zac Dysert
(ribs) is a game-time decision for Wednesday's contest at Akron. … Buffalo quarterback
Alex Zordich
(ribs) is out for the season, and
Jerry Davis
is expected to start against Eastern Michigan.
Week 12 look ahead:
A few big games coming up: MAC East Division matchup between Ohio and Temple on Tuesday night. Both teams have one loss in conference. Fresno State is at No. 4 Boise State on Friday night. No. 23 Utah is at San Diego State, while Army and Notre Dame play in the first game at Yankee Stadium.
October, 22, 2010
10/22/10
10:00
PM ET
Buffalo will start true freshman quarterback
Alex Zordich
against Temple on Saturday, benching starter
Jerry Davis
.
Coach Jeff Quinn made the announcement in a statement released Friday evening. The two quarterbacks competed for the starting job this week, after Davis struggled in a loss to Northern Illinois. Quinn said in his statement: "Both quarterbacks -- Alex and Jerry Davis -- are prepared to play and help this football team get better."
Davis was just 7-of-23 for 101 yards with a touchdown and an interception in the 45-14 loss to the Huskies. Zordich came on in relief and went 2-of-3 for 19 yards. Davis has started every game this season but has been inconsistent for the Bulls (2-4), with 12 touchdowns and 12 interceptions on the year. The Northern Illinois game was his worst of the season.