October, 27, 2014
Oct 27
12:00
PM ET
Michigan State was getting casual.
The Spartans were winning Big Ten games, just as they had in 2013, but not with their standard precision and 60-minute focus. A near blown lead against Nebraska. Poor decisions from players and coaches against Purdue. A sloppy first half at Indiana.
Other than a fleeting moment against Nebraska -- when Huskers receiver
Alonzo Moore
nearly corralled a touchdown in the final minute -- the Spartans never looked like they actually might lose. But they didn't look right, either. They seemed to be losing their edge.
Well, it's back. MSU can thank in-state rival Michigan for restoring it just in time.
The decision by Wolverines players -- I believe
coach Brady Hoke when he says he had no involvement
-- to
drive a stake into the field at Spartan Stadium
before Saturday's game lit the fuse for MSU coach Mark Dantonio and his team. After all they had done since Mike Hart's "Little Brother" comment in 2007 -- a 5-1 mark against Michigan, a 63-24 record overall, an outright Big Ten title and a Rose Bowl championship, and another shared Big Ten title -- the Spartans were still being shown up on their home field.
Maybe Michigan's act was more about itself than its opponent. Pardon the pun, but the Wolverines' disintegrating season was at stake Saturday. Michigan's recent losses to MSU stem from inferior talent development, coaching and execution, but the Wolverines also haven't matched the Spartans' intensity. The staking was intended to stoke the Maize and Blue.
[+] Enlarge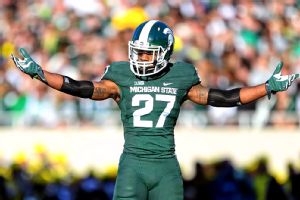 Mike Carter/USA TODAY SportsMichigan State -- with a little help from rival Michigan -- regained its edge on Saturday.
It had a stronger effect on the men in green, a bunch that feels disrespected, even when they aren't, and uses snubs, real or perceived, as fuel.
Despite a few errors, MSU bullied Michigan again. And with a chance to kneel on the ball or score another touchdown in the closing seconds, MSU left its starters in and rubbed Michigan's nose in the end zone dirt.
"Just felt like we needed to put a stake in them at that point," Dantonio said after the
35-11 win
.
The line was vintage Dantonio: premeditated and purposeful, smart and succinct, delivered with the trademark scowl on the outside but probably a small smile within. He paused for effect, then moments later addressed "the little brother stuff, all the disrespect" in a candid post-game session with reporters.
"Throwing the stake down in our back yard out here and coming out there like they're all that," he said. "It got shoved up ..."
Dantonio trailed off, but he made his point. We all know exactly where it got shoved.
Some teams are at their best when calm and cool. Dantonio and the Spartans are at their best when PO'd. Michigan's stake-and-shake sharpened Michigan State's focus.
The Spartans were supposed to beat Michigan. They have superior talent and coaching. But another watered-down win would have left an empty feeling before a two-week prep for the Ohio State showdown.
Instead, they recorded their most lopsided win against Michigan since 1967.
"We had enough emotion to carry us, but we also need to stay fresh and always need to bring our emotions to a football game," Dantonio said Sunday night. "That's sort of been a trademark of who we've become."
They had veered from their trademarks early in Big Ten play. Too many technical breakdowns on defense, too many risky throws by
Connor Cook
and even a poorly timed and executed fake punt attempt by Dantonio. And a casual attitude.
While MSU hiccuped, Ohio State had been punishing its opponents behind blossoming quarterback
J.T. Barrett
. The Nov. 8 narrative subtly shifted. An Ohio State win in Spartan Stadium, where the home side hasn't lost since 2012, began to look more plausible.
Then Saturday happened. The Spartans regained their swagger. Ohio State squandered a 17-0 halftime lead at Penn State and was extremely fortunate to win in two overtimes. Some who might have been leaning OSU might now be leaning MSU.
The Spartans shouldn't expect Ohio State to pull a similar pre-game stunt Nov. 8, nor should they expect the emotion from Saturday to carry them through the next 12 days. But the Michigan game reminded the Spartans of who they are and how they must play as the stakes get much, much higher.
"November ... defines you," Dantonio said Sunday. "We've got an off week, so we should be able to get fresh emotionally and fresh physically and have some additional time to work on Ohio State.
"There will be no excuses. We'll be ready to play."
Remember when
MSU used to pull silly stunts
like Michigan did? It used to be a silly program with a
silly coach
.
MSU is now an elite program with an elite coach. But this Spartans team hadn't looked elite until Saturday.
They needed a spark. Linebacker
Joe Bolden
and his Michigan teammates provided it.
MSU now can get back to its high-stakes mission: winning another championship.
October, 5, 2014
Oct 5
2:37
AM ET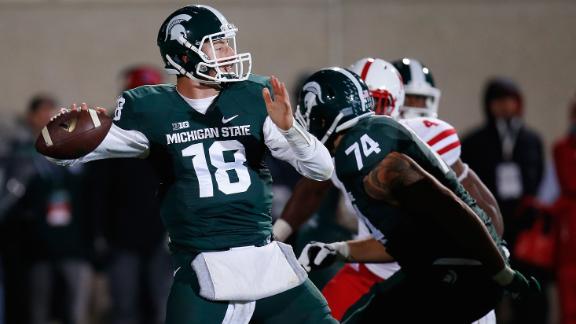 EAST LANSING, Mich. -- It wasn't joy that No. 10 Michigan State felt after notching the biggest win of its young season on Saturday night. Not frustration exactly, either.
No, the looks on the faces of the Spartans' players and coaches approached something else following their 27-22 victory over No. 19 Nebraska. They resembled confusion.
Just about anyone who watched the game from start to finish could relate. Michigan State thoroughly dominated Nebraska for three-plus quarters, leading 27-3 with 13 minutes left to play. Yet it took
Trae Waynes
' interception with 30 seconds left at his own 15 to stave off the Cornhuskers' furious rally.
[+] Enlarge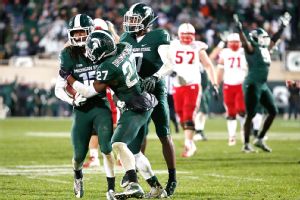 Gregory Shamus/Getty ImagesMichigan State's celebration after Trae Waynes' clinching interception was more relief than anything else, as Michigan State came close to coughing up a 24-point lead.
"It's uncharacteristic of us when we do get a lead like that to let people back in," Michigan State coach Mark Dantonio said. "That does not happen. But it happened, so we've got to deal with it and learn from that."
In a weekend when carnage enveloped many of the top-ranked teams in college football, the Spartans emerged from the rubble in great shape simply by surviving. By downing the last unbeaten team left in the Big Ten, they also reasserted their dominance in the conference -- that's 11 straight league wins, dating back to 2012 -- and kept their hopes for the College Football Playoff flickering.
Yet they also missed their chance to deliver an emphatic statement, one that maybe could have rinsed away more of the stink from a 46-27 loss at Oregon in Week 2. After a
Tony Lippett
32-yard reverse for a touchdown in the third quarter built that 24-point lead, many in green thought that statement was already crafted, including the students who fled for the exits. Even some players thought it was over.
"I was kind of like, 'This is pretty much in the bag,'" quarterback
Connor Cook
said. "We need to learn to not get too comfortable when we get a lead."
At least there was a good reason for the overconfidence. For 47 minutes, the Spartans' defense turned a powerful Nebraska offense into putty. The Huskers came into Saturday night averaging 354.8 yards rushing yards per game, second-best in the FBS, and their Heisman Trophy candidate tailback,
Ameer Abdullah
, had barreled through everyone while leading the country in rushing.
But Nebraska managed just 85 total yards and no points in the first half against Pat Narduzzi's defense, and Abdullah's Heisman campaign likely evaporated into the chilly October sky. Abdullah would finish with just 45 rushing yards on 24 carries, his lowest output since the infamous 70-31 Big Ten championship game loss to Wisconsin in 2012. His longest run of the night was just 9 yards. Forget the "No Fly Zone": Spartan Stadium was "Nowhere to Run."
The Michigan State defense, which had broken down late at Oregon and allowed some atypical explosive plays against three September tomato cans, finally began to round into its punishing form of the past few seasons. The Spartans never could quite deliver the final knockout punch in the second half, though.
"Our defense took like 10 steps forward," said Cook, who completed just 11 of his 29 pass attempts for 234 yards. "But our offense took a step back."
And that gave Nebraska the opening to nearly pull off the stunning comeback. Despite losing top receiver
Kenny Bell
to an injury in the first half, an ineffective Abdullah and a quarterback in Tommy Armstrong who got knocked around all night, the Huskers finally got off the mat to score a pair of fourth-quarter touchdowns on offense. Then
De'Mornay Pierson-El
's 62-yard punt return for a score with 3:22 left frayed nerves even further.
Alonzo Moore
nearly hauled in a one-handed touchdown catch the play before Waynes picked off his second pass of the game to end things and continued Nebraska's futility in marquee road games.
"I said [before the last Nebraska drive], 'How are we going to make our mark?'" Michigan State defensive end
Shilique Calhoun
said. "'How are we going to be known?'"
Last year's Rose Bowl champion Spartans were known for forcefully closing out games behind their running game, as they won every league contest by double digits. This year's team hasn't located that killer instinct just yet.
"We know we have great potential to have a really good team, and it's just something we have to do through finishing," offensive lineman
Travis Jackson
said. "We're just trying to make our identity as we go through the Big Ten."
Unfortunately, Michigan State will probably need to win by wide margins in conference play to convince a skeptical public -- and perhaps the selection committee -- that a Big Ten team deserves a playoff spot. The Week 6 chaos helped the Spartans' cause, but they have to overcome an early loss and the lack of any more signature games before the Nov. 8 showdown versus rapidly improving Ohio State.
This team showed how good it could be during stretches of the Oregon game and for a much longer period on Saturday night.
"If we play like that for 60 minutes, we're going to be a tough team to mess with," safety
Kurtis Drummond
.
It was the last 13 minutes that caused all the confusion.
"I'm just glad I'm not sitting here talking about how it slipped away," Dantonio said. "Somehow, some way, we finished it."
In this wacky weekend of college football, just surviving was enough for now. But Michigan State can restore some order to the process if it can tap its full potential the rest of the way.
November, 11, 2013
11/11/13
11:00
AM ET
Brady Hoke might turn out to be a legendary coach who has a long and storied career at Michigan.
But Hoke will be bucking some trends in order to get that done. In his third year in Ann Arbor, Hoke's Wolverines have taken a major step backward. After Saturday's 17-13 home loss to Nebraska, they're 6-3 with some challenging games ahead, and they're probably lucky not to have one or two more losses already.
Most of the truly great college football coaches in recent times have had their programs up and running by the third year. Alabama's Nick Saban and LSU's Les Miles won BCS titles in their third years at their current schools. Pete Carroll won an AP national title in his third season at USC.
[+] Enlarge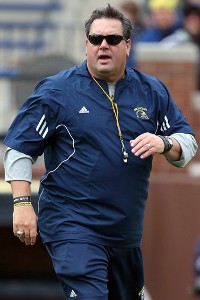 Leon Halip/Getty ImagesBrady Hoke's third season hasn't gone as anyone associated with the Michigan program hoped.
Brian Kelly led Notre Dame to a 12-0 regular season and BCS title game appearance in Year 3. Ohio State's Urban Meyer won a national title his second year at Florida, while Bob Stoops did the same in his second year at Oklahoma. Jim Tressel led Ohio State to a national title his second year and then went 11-2 with a Fiesta Bowl win in Year 3.
The same is true for some legends. Joe Paterno guided Penn State to an undefeated record in his third season as head coach. Bear Bryant went 8-1-2 at Alabama in Year 3. And it's the case for revered Michigan Men. Bo Schembechler was 11-1 and had an undefeated Big Ten record in his third year at the helm of the Wolverines, while the third season for Lloyd Carr resulted in the undefeated 12-0 campaign of 1997.
Hoke did have to revamp the program and rebuild for a new system after Rich Rodriguez left, but several of the coaches mentioned in the preceding paragraphs also had to make major transitions. And any argument preaching patience for Hoke loses some steam when you look at Minnesota, where Jerry Kill and his staff have an 8-2 record in Year 3.
There is hope, but Hoke would have to find precedent in two places he'd probably rather not look. Woody Hayes was just 6-3 in his third year at Ohio State before going undefeated and winning the Rose Bowl the following year. Michigan State took a step back in Mark Dantonio's third year with a disappointing 6-7 mark; the Spartans would win 11 games and a share of the Big Ten title the next season.
So maybe Hoke, who is just 6-5 in his last 11 games, will get things rolling after this difficult third season. But history shows that most truly great coaches have done so by this point.
Take that and rewind it back:
Team of the week:
Nebraska. Say what you want about Michigan's troubles, the Huskers still went into the Big House and snapped the Wolverines' 19-game home winning streak. And the Big Red offense is being held together by spit and string, at times. All-America guard
Spencer Long
is out for the season and senior quarterback
Taylor Martinez
is unavailable. Starting guard
Jake Cotton
is also out, and on Saturday, starting tackle
Jeremiah Sirles
went down with a knee injury. The Huskers turned to little-used
Zach Sterup
to replace Sirles. Take away a pick-six and a Hail Mary against Northwestern, and the Nebraska offense has scored just 30 points total in its last two games. With two victories.
Worst hangover:
The nightmare continues for Michigan. If the Wolverines don't win at Northwestern this week -- and the Wildcats are coming off a bye -- then a 6-6 finish with a five-game losing streak becomes a real possibility.
Best play:
For the second straight week, a late Nebraska play involving
Ameer Abdullah
takes this honor. This time, it was quarterback
Tommy Armstrong's pitch to Abdullah
on third-and-goal from the 5 for the winning touchdown.
Armstrong was ready to run on the option play until Michigan defensive end
Frank Clark
committed to him, and just before he got flattened, Armstrong had the presence of mind to flip the ball forward to Abdullah. The running back did the rest by diving into the end zone, helped by a nice block on the perimeter from receiver
Alonzo Moore
. It was one of the stranger-looking option plays and went down in the box score as a pass, but it couldn't have been any prettier for Nebraska fans.
Big Men on Campus (offense):
Wisconsin's
James White
ran for 147 yards and two touchdowns on 23 carries against BYU, and he added a receiving touchdown. Indiana receiver
Cody Latimer
had a career day versus Illinois, catching 11 passes for 189 yards and three touchdowns.
Big Man on Campus (defense):
Nebraska defensive end
Randy Gregory
recorded three sacks and a quarterback hurry as part of a dominating effort by the Blackshirts (and yes, they've earned that nickname again).
Big Man on Campus (special teams):
Minnesota punter
Peter Mortell
helped the Gophers hang on in the second half of a 24-10 win. He had punts downed at the Penn State 1, 2 and 12 while averaging 46 yards on four attempts.
[+] Enlarge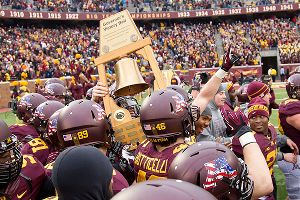 Brad Rempel/USA TODAY SportsMinnesota ran its record to 8-2 with a trophy win over Penn State on Saturday.
Break-dancing:
Forgive Minnesota for being a little new to the whole winning trophies thing. The Gophers captured the Governor's Victory Bell by beating Penn State for the first time since 2004, and in their postgame sideline celebration, they actually broke part of the trophy. "I think we were more worried about keeping [the trophy] together, so we could celebrate with it first," tight end
Maxx Williams
told the Minneapolis Star-Tribune. It's not like there is a lot of great history with that trophy, which has been around since only 1993.
The best part of the Gophers' victory celebration was clearly Jerry Kill's locker room dance. Watch it
here
.
Back to a bowl:
Iowa can officially chalk up last year's 4-8 season as an aberration. The Hawkeyes pounded Purdue 38-14 on the road to earn their sixth win and ensure they will be back in a bowl game this season.
"Obviously, it's not our endgame, but that's one nice byproduct of winning," coach Kirk Ferentz said. "It's something we don't take for granted. All you have to do is look back to last year. So it's great to get that accomplished."
With an off week to get ready for the final two games, Iowa should give Michigan and Nebraska all they can handle.
The Indiana effect:
We are thinking of adding a separate helmet sticker post each week just for games involving Indiana. The Hoosiers put up big numbers and allow opponents to do the same in their weekly shootouts. Against Illinois, IU got huge games from Latimer and running back
Tevin Coleman
(215 yards on 15 carries, two touchdowns). Illini receiver
Steve Hull
caught nine passes for 224 yards and two scores.
Nathan Scheelhaase
threw for 450 yards in a losing effort. The two teams combined for 1,262 total yards, which sounds like a lot until you remember that Indiana and Michigan went for 1,323 last month.
The winning team has scored at least 41 points in every one of the Hoosiers' nine games, and an average of 80.5 points has been scored in each of those contests. Don't expect that to change, as Wisconsin and Ohio State are next up on the schedule.
Fun with numbers (via ESPN Stats & Information):
In the past two weeks, Michigan lost a combined 49.2 expected points on rushing plays. Expected points added is a metric that measures the contributions of each unit to its team's net scoring margin. Therefore, Michigan lost almost 50 net points as a results of its rushes and sacks. An average EPA is 0, so if Michigan had had an average rush offense, and all else remained equal, the Wolverines would have been about even with Michigan State and would have beaten Nebraska by about 22 points.

Against Nebraska, Michigan gained zero or negative yards on 21 of its 36 rushes (58.3 percent). It was the Wolverines' second-most rushes and second-highest percentage of rushes that gained zero or negative yards in a game in the past 10 seasons.

Overall, Michigan added minus-26.3 expected points towards its net scoring margin on rushes (including sacks). That is the lowest rushing EPA for a team in an FBS game this season.

Coleman and his Indiana backfield mate Stephen Houston make an efficient pair. Houston is averaging 7.34 yards per rush, while Coleman is at 7.31. That ranks 10th and 11th, respectively, in the FBS among qualified rushers. They have combined for nearly 1,500 rushing yards despite averaging a little more than 22 rushes per game.

There are 123 FBS teams. Here are some of Purdue's national rankings: Points per game (120), rushing (122), passing yards per attempt (121), yards per play (121), points allowed (109), rushing yards allowed (111), third-down defense (122).

Minnesota is 8-2 and is passing the ball just 31.3 percent of the time. But that can definitely be a winning formula. Ranking right ahead of the Gophers is Stanford (35.5 percent of total plays are passes), while just below them is Auburn (30.8 percent).
February, 2, 2012
2/02/12
9:00
AM ET
The most relevant day of the year for outdated fax machines has come and gone. The ink is dry on those letters of intent, and -- with a few notable exceptions -- the recruiting classes of 2012 are complete.
There were a few surprises in the Big Ten on national signing day, but things went mostly as expected. That meant banner days in Columbus and Ann Arbor, as Ohio State and Michigan brought home what every analyst agrees were the league's top two classes. But final judgments on these recruiting efforts won't be passed until a few years from now, when the blue-chippers and the under-the-radar guys prove themselves on the field.
For now, though, we look back and hand out some awards for the Big Ten's big recruiting day:

Top class:
Ohio State
Michigan put together a terrific crew, too, but the Buckeyes take top honors. Urban Meyer secured the services of five ESPNU 150 players and 12 prospects rated at least four stars by ESPN. It's a class loaded with potential stars on the defensive and offensive lines, which should form the foundation of Meyer's program. Ohio State got pledges from six players who were originally committed to another Big Ten school, meaning Meyer weakened other teams while strengthening his own. Add in the fact that he got a late start on recruiting after his November hire, and this looks like one of the more impressive efforts in recent league history.

Player you'll see next season: Michigan LB Joe Bolden
In our recruiting roundtable discussion on Tuesday, all three ESPN.com experts picked Bolden as someone who could make an immediate impact. While Bolden just made the cut for the ESPNU 150, checking in at No. 142, he's got excellent size (6-foot-2, 225 pounds) and instincts for the game already. And Michigan will likely have playing time available as it searches for more playmakers at the linebacker spot.

Biggest surprise: Nebraska missing out on Andrus Peat
While the Huskers were never a lock to land this Top 10 overall prospect, Nebraska fans felt good about their chances with the star offensive tackle. Understandably so, since his older brother, Todd, is a defensive lineman for Bo Pelini. But the younger Peat went his own way and chose Stanford, a choice that would have seemed inconceivable 10 years ago. Nebraska still had a good signing day as defensive tackle
Aaron Curry
and athlete
Alonzo Moore
made last-minute choices to come to Lincoln. But Peat was the one who got away.

Wildest signing day: Iowa
There were few dull moments for Iowa on signing day. The Hawkeyes made some late offers and made some late additions like wide receiver
George Kittle
, whose father, Bruce, played offensive line at Iowa. There was also buzz about defensive back
Dinero Moss
switching his commitment from Minnesota to Iowa, and offensive line target
Alex Kozan
didn't show up at a signing day ceremony at his high school. Another recruiting target said
Iowa didn't have a scholarship for him
after telling him not to worry. What a day in Hawkeye Country.

Future award winner: Ohio State DE Noah Spence
The 6-foot-4, 245-pound Spence was rated as the No. 4 overall prospect in this class by ESPN.com and was the only five-star recruit to sign with a Big Ten school. He'll have a lot of competition on a now-stacked defensive line in Columbus, but Spence has all the tools to be a future star as an athletic pass-rusher for the Buckeyes.

Program on the rise: Minnesota
We're not predicting Big Ten titles in the Gophers' immediate future, but there's little question that second-year coach Jerry Kill has improved the overall talent and depth of his roster with his first full recruiting class. Minnesota needed offensive playmakers and appears to have addressed that with receivers
Jamel Harbison
and
Andre McDonald
. Four of the team's six junior-college transfers should provide some immediate help to a defense in desperate need of bodies. Kill might have found his quarterback of the future with in-state star
Philip Nelson
and a potential offensive line anchor in blue-chipper
Isaac Hayes
. This 31-man class won't rocket the Gophers to the top of the Legends Division, but it should lead to better things than 3-win seasons.

Big-splash recruit: Northwestern LB Ifeadi Odenigbo
Northwestern has landed some solid offensive recruits in recent years, but Pat Fitzgerald hadn't made a big splash on the defensive side until now. Odenigbo is an ESPNU 150 prospect who brings speed and play-making ability to the edge, where Northwestern needs a lot of help in pressuring opposing quarterbacks. The Wildcats need some game-changers on defense to take the next step, and Odenigbo helps in the process.
February, 1, 2012
2/01/12
11:30
AM ET
Most of the Big Ten recruiting classes are complete, and there haven't been too many surprises around the league. As we wait for some of the bigger names to make their selections, a few nuggets from around the league:
Michigan got a nice surprise Wednesday morning as running back Dennis Norfleet signed with the Wolverines. Norfleet, a Detroit native, had committed to Cincinnati but made the switch after receiving an offer from Michigan last week. "I've been going to Michigan for four years in a row and I still hadn't heard anything," Norfleet told the Detroit Free Press. "For it to come this way, at this time at the beginning of the signing date is a really crazy situation."
Ohio State's class is already loaded with pass-rushers and edge players, and you can add one more to the mix as Jamal Marcus signed with the Buckeyes. Marcus, a 6-foot-2, 230-pound linebacker/defensive end from North Carolina, joins a group of defensive ends and linebackers that coach Urban Meyer is calling the strength of the class. It'll be interesting to see how Ohio State manages its scholarship situation, as the team needs to have no more than 82 scholarships by August.
It could be a very big day for Nebraska, and the Huskers are off to a good start as defensive tackle Aaron Curry picked the Huskers over Iowa. Athlete Alonzo Moore soon followed by signing with Nebraska. Several other big prospects could pick Nebraska by day's end.
Cornerback Dinero Moss added some spice to the Iowa-Minnesota rivalry today. He had been committed to Minnesota but switched to Iowa at the last minute, announcing his selection on Twitter.
Much more to come throughout the day.