NCF Nation:

Alonzo Whaley
November, 23, 2012
11/23/12
3:55
PM ET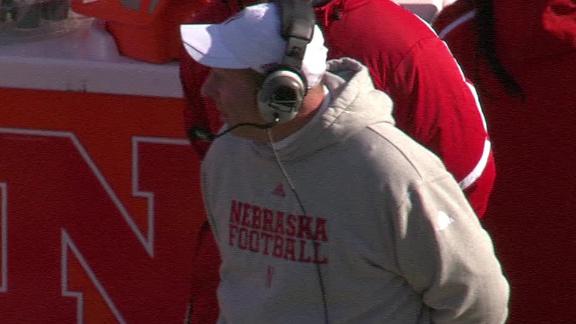 My eyes are burning after watching the Nebraska-Iowa game, but Husker eyes are smiling, and they should be.
Nebraska will represent the Legends Division next week at the Big Ten championship game in Indianapolis. The Huskers (10-2, 7-1 Big Ten) earned the right to face Wisconsin after
outlasting Iowa 13-7
in a sloppy game in frigid conditions at Kinnick Stadium. Coach Bo Pelini's team fulfilled his "win-out" pledge in Columbus in claiming its final six conference contests.
Everyone expected Nebraska to win Friday, but how it happened came as a surprise. The Big Ten's top offense marched 75 yards on its first possession before settling for a field goal, and then did very little after that point. In between the opening drive and Nebraska's 43-yard touchdown march late in the third quarter, the offense had only 48 total yards.
This win was all about the defense and running back
Rex Burkhead
, who returned from injury to give the sputtering Huskers attack a boost in the second half. Iowa's inept offense and hyper-conservative coaching staff also deserves an assist in Nebraska's win. Hawkeyes fans deserve better (more on this later).
Nebraska defensive end
Eric Martin
quietly had put together an all-conference caliber season -- 7.5 sacks, 11.5 tackles for loss -- but most Big Ten fans probably didn't notice him until today. Martin was the single most dominant player on the field at Kinnick Stadium, constantly harassing quarterback
James Vandenberg
and disrupting pass plays. Martin's stats are impressive (seven tackles, three tackles for loss, one forced fumble, two quarterback hurries) but hardly tell the full story of how much he impacted the game. He's a lock for at least second-team All-Big Ten honors and improved his case to be a first-team selection.
Other members of the Blackshirts stepped up as Nebraska overcame two first-half turnovers and several short fields. Safety
Daimion Stafford
had a terrific interception after a pass breakup by cornerback
Ciante Evans
, and linebacker
Alonzo Whaley
sealed the win by jumping a short pass route -- does Iowa have any other kind? -- in the closing minutes.
Nebraska held Iowa to 200 yards, 13 first downs and just 5-of-15 on third-down conversions.
Quarterback
Taylor Martinez
had his least effective performance of the season in the poor conditions (63 pass yards, 36 rush yards, one lost fumble), and the Huskers needed something to spark their offense. Enter Superman.
[+] Enlarge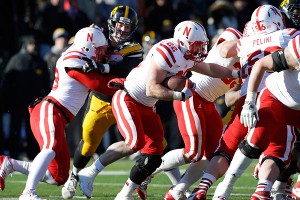 AP Photo/Charlie NeibergallThe Nebraska offense was stuck in neutral much of a the game, but running back Rex Burkhead (22) provided a much-needed spark.
Burkhead, out since Oct. 20 after aggravating a knee injury that has limited him all season, returned to the field with Nebraska trailing 7-3 in the third quarter. Pelini said it was Burkhead's decision to play, and the senior delivered. He had 16 carries for 69 yards and Nebraska's only touchdown, and his biggest play was a 9-yard run for a first down from the Nebraska 2-yard line. I'm still not sure how Burkhead stayed on his feet so long.
The game encapsulated Iowa's miserable 2012 campaign and some of the season-long issues that never got fixed.
Two examples of ineptitude:
After dropping an interception, Iowa drove to the Nebraska 19 late in the first half. After Vandenberg was dropped for no gain, Iowa let a bunch of time tick away before calling a timeout. The Hawkeyes then proceeded to earn an illegal substitution penalty (after a timeout, mind you). Moments later, Mike Meyer hooked a field goal and Iowa wasted a perfect opportunity to tack onto a lead in a game where points were at a premium.

Facing a third-and-4 near midfield midway through the fourth quarter, Iowa handed the ball to Mark Weisman, who was easily smothered short of the marker. First-year coordinator Greg Davis has had a lot of head-scratching calls this season, but this might have been the worst. The height of conservatism. Pathetic.
I didn't even mention the punt from the Nebraska 31-yard line in the first half.
Iowa's defense deserves better than what it got from the offense this season. The Hawkeyes must have set a record for most takeaways not converted into points. Or third-down pass routes run short of the marker.
Kirk Ferentz won't be fired because he makes too much money. So unless he leaves for the NFL, he'll be tasked to fix this mess. Vandenberg regressed as a senior and Davis left Hawkeyes fans banging their heads against the wall. I've defended Ferentz before, and his overall success at Iowa can't be denied, but the program has completely lost momentum, dropping its final six games. Iowa went 4-8 despite a very easy schedule that didn't include Ohio State or Wisconsin and had Penn State at home.
This is unacceptable for a program that won a BCS bowl game three years ago. It's certainly unacceptable for a coach making what Ferentz makes.
Nebraska, meanwhile, might be the sloppiest good team I've ever seen. The Huskers still make a lot of mistakes, but they've found ways to win since the Ohio State debacle.
And if the Blackshirts play like this and Burkhead continues to get healthy and contribute, Nebraska could win two more times this season, including Jan. 1 in Pasadena.
October, 17, 2012
10/17/12
10:01
AM ET
Saturday's game against Northwestern gives Nebraska's defense another chance to confront all of its demons.
Spread offense? Check. Mobile quarterback? Check. Road game? Check. All those conditions were also in place in the Cornhuskers' two losses this season to UCLA and Ohio State, when the defense surrendered a total of 99 points and 1,151 yards.
[+] Enlarge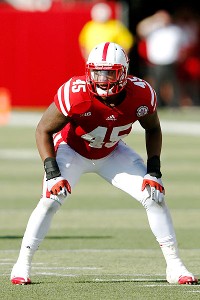 Joe Robbins/Getty ImagesAlonzo Whaley said the problem with the defense has been about focus and execution.
Nebraska spent last week's bye week taking a critical look at itself and why its defense was so easily exploited again in the 63-38 loss at Ohio State last time out. Coaches and players insist that there is not some fundamental flaw in the design of the defense that makes it vulnerable to these types of offenses.
"That's definitely overblown," linebacker
Alonzo Whaley
told ESPN.com "When we look at ourselves and criticize ourselves, we notice small things. We don't look at it as like, 'Dang, we cannot defend this thing.'"
Instead, Whaley said, the breakdowns come down to more simple, even mundane, problems. Blown assignments. Missed tackles. Lack of concentration.
"When you look at it schematically, it wasn't a big deal," he said. "There little things here and there, guys in the wrong position or not being where they're supposed to be. I don't think as a whole we have a problem defending spread offenses. I think as a whole we have a problem focusing for four quarters."
Head coach Bo Pelini isn't changing his approach or making any major personnel changes heading into this week. He reiterated his stance last week that the plan was sound but the execution was lacking against the Buckeyes. Playing a quarterback like
Braxton Miller
can make every little mistake look like a catastrophe.
"The play that jolted us a little bit defensively ... was when we had [Miller] surrounded by four guys and missed," Pelini said this week. "For whatever reason, from that point on, we felt like we lost our mojo a little bit. Our guys stopped. We started doing things that were out of character, and bam! Pretty soon it snowballed on us.
"When you screw up in a pro-style offense and you miss your execution, it's a lot easier for someone to make up for it. When that happens in a quarterback offense where you're spread out, those mistakes become magnified big time."
Now here comes Northwestern and
Kain Colter
. He's not the same type of player as Miller, and the Wildcats will move him around to different spots on the field. But Colter gave the Nebraska fits last year when he took over the controls in the second half, rushing for two touchdowns and throwing another one as Northwestern stunned the Huskers in Lincoln, 28-25.
Nebraska has spent a lot of time focusing on slowing Colter, and the bye week could help the players digest Pelini's preparation-heavy system. The Huskers had two of their best defensive performances of the season last year after the bye, allowing a combined 17 points in wins over Minnesota and Michigan State.
They had some physical practices during this year's idle week, and Pelini said he wanted "an angry team."
"The bye week allow it to hurt and sink in a little but more," Whaley said. "But I also think it allowed us to get that attitude and focus back. We know we have this in our control and can still be who we set out to be, even with the little hiccups we've had."
Are Nebraska's defensive problems against spread teams with mobile quarterbacks on the road just a hiccup, or the sign of a more fundamental flaw? Conditions are perfect this weekend to provide an answer.
October, 3, 2012
10/03/12
10:00
AM ET
The NASDAQ and the Nikkei got nothing on this market.
Stock up
Penn State's Killer Zs:
Zach Zwinak
was no better than the fifth-string tailback for the Nittany Lions this summer. But in the last two games, the 230-pound sophomore has rushed for 94 yards against Temple and an even 100 versus Illinois. "He's got good speed, but he's not a scat back," head coach Bill O'Brien said. "He's a physical, downhill guy that likes to press the line of scrimmage." Penn State's second-leading rusher is
Michael Zordich
, a senior whose 30 carries this year are just five shy of his previous career total. Don't sleep on these Zs.
Jordan Cotton:
The Iowa receiver came to campus as a well-regarded in-state recruit but spent two years doing not much of anything after a redshirt season. Cotton is finally emerging, with four catches in the Hawkeyes' last two games, including a 47-yard touchdown grab on a flea flicker last week against Minnesota. Cotton is averaging 20.2 yards per catch this season.
[+] Enlarge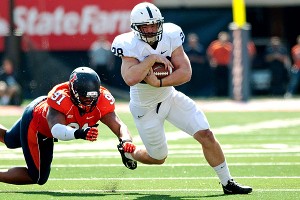 Bradley Leeb/US PRESSWIREZach Zwinak has rushed for a combined 194 yards in Penn State's past two games.
Ohio State's offensive line:
A maligned group most of the offseason and even early in the year, the Buckeyes' offensive front exerted its will last week at Michigan State. Ohio State ran for more than 200 yards against a Spartans defense that was leading the Big Ten and was among the best in the nation against the run. What's more, they closed out the 17-16 win by churning out yards and first downs in the final minutes when Michigan State knew the run was coming. Urban Meyer named his five starters the offensive MVP after the game. "Those five guys are locked and loaded," he said. "That's the group right now that I'm most pleased with."
Nate Sudfeld:
The Indiana quarterback didn't arrive on campus until this summer but looks like he should be starting going into Week 6. Sudfeld replaced an injured
Cameron Coffman
against Ball State and led a rally that nearly won the game for the Hoosiers. Last week, after IU fell behind Northwestern 20-0 in the first half, Sudfeld came on right before halftime and gave the offense a spark, leading a comeback that ultimately came up short. Sudfeld is still competing in practice with Coffman for the starting job, but his needle is definitely pointing up.
Blackshirts' seniors:
When Nebraska needed to make a defensive stand after falling 17 points down to Wisconsin last week, its seniors stepped up. Defensive tackle
Baker Steinkuhler
and linebackers
Will Compton
,
Alonzo Whaley
and
Sean Fisher
combined for eight tackles for loss and two sacks to stymie the Badgers and lead the comeback effort. Compton in particular had a terrific game. The Huskers veterans haven't always performed at an elite level, and they'll need to carry that Wisconsin effort over to this weekend and beyond in order to win the Big Ten.
Stock down
Minnesota's safeties:
Jerry Kill said one big reason his team couldn't stop the Iowa running game last week is that his safeties missed too many tackles in run support. Even
Derrick Wells
, who's had a fantastic season, turned in a poor performance, Kill said. The Gophers will spend much of the bye week working on improving that with their safeties, and getting
Brock Vereen
back fully healthy should help.
Michigan's road production:
As
Kyle Meinke writes
, the Wolverines are averaging 20.9 points per game on the road the past two seasons, compared with more than 40 at home. This year, Michigan has scored just 20 total points in its two games away from Ann Arbor (albeit against outstanding defenses in Alabama and Notre Dame).
Denard Robinson
's numbers are much worse away from the Big House as well. It's an issue the team must resolve before going to Purdue this week
Ex-Iowa running backs
: The grass isn't always greener, even if it's FieldTurf. As
Mike Hlas points out
, former Hawkeyes running backs
Marcus Coker
and
Mika'il McCall
aren't exactly flourishing after leaving Iowa City. Coker is the second-leading rusher
on his team
at FCS Stony Brook and ranks 66th in the division in rushing yards. McCall has 8 fewer yards than Coker at Southern Illinois. Neither of them have come close to walk-on
Mark Weisman
's 507 yards, which he's accomplished in a mere three games. So maybe it's not the player, but the system.
Peace, love and understanding between Spartans, Buckeyes:
Mark Dantonio wasn't the biggest fan of Urban Meyer during recruiting season last winter. Ohio State defensive tackle
Johnathan Hankins
said before last week's game that he would try to rip Michigan State running back
Le'Veon Bell
's head off. Hankins nearly had his eyes gouged out by the Spartans in a scrum. And defensive coordinator Pat Narduzzi complained that the Buckeyes didn't send over the proper game film. Can't we all just get along?
Illinois' offense:
Weren't the Illini supposed to be more explosive with Tim Beckman's spread attack? The team ranks 97th in the country in scoring at just 22.6 points per game and 96th in total offense. And those totals include a stat-padding 44-0 win over a truly awful FCS opponent (Charleston Southern). Not much has gone right for Illinois this year, but if the program wants to start building interest among its fans, scoring some points would be a nice way to start.
October, 1, 2012
10/01/12
9:00
AM ET
The Big Ten still is a mostly muddled mess after the first Saturday of league play. While Penn State made a statement and Iowa showed it shouldn't be counted out, few other squads looked truly impressive in Week 5. Wisconsin looked better than it has but still fell at Nebraska, and while Michigan State came close against Ohio State, the Spartans still haven't turned the corner on offense.
There's no shuffling at the top and very little separation throughout the rankings. Although both Wisconsin and Michigan State fall, while Penn State rises, you can slide a sheet of paper between these teams. Ohio State remains at the top but will be tested this week by Nebraska.
Let's get to the rundown ...
1. Ohio State (5-0, 1-0 Big Ten, last week: 1):
It's not easy to overcome three turnovers on the road, but the Buckeyes received enough magic from quarterback
Braxton Miller
and solid play along both lines at Michigan State. Linebacker
Etienne Sabino
stepped up in a big way for the defense. Urban Meyer's team has its flaws, but it can still win a lot of games in a flawed Big Ten. Ohio State showed it can win a big road game. Nebraska provides a nice test this week.
2. Nebraska (4-1, 1-0 Big Ten, last week: 2):
After a miserable start against Wisconsin, Nebraska rallied from 17 points down in the third quarter to record a win it absolutely had to have. It tied the second-largest comeback in team history, and provided
Taylor Martinez
and the offense some confidence heading to Ohio State. The Huskers are loaded with offensive weapons and received terrific linebacker play from
Will Compton
,
Alonzo Whaley
and
Sean Fisher
. They still put the ball on the ground too much, though, and can't afford another slow start in Columbus.
3. Northwestern (5-0, 1-0 Big Ten, last week: 3):
Thanks to
Kain Colter
, Northwestern remained perfect on the season and starts 5-0 for the third time in five years. The concern is that the Wildcats once again couldn't finish off a team after storming out to a 27-0 lead. No lead is truly safe with Northwestern, and while the defense has been very good most of the season, it needs to limit bad quarters like the third on Saturday. This is a young, maturing team that continues to win, but the tests get tougher beginning this week at red-hot Penn State.
4. Michigan (2-2, last week: 5):
In this year's sputtering Big Ten, sometimes it pays off not to play. Michigan moves up in the rankings after Purdue struggled to hold off Marshall on Saturday. There's not much separating the Wolverines and the Boilers, and we'll find out the superior team this week when they meet at Ross-Ade Stadium. Michigan's defense took a nice step at Notre Dame, but as usual, the team's fortunes likely rest on how quarterback
Denard Robinson
performs.
5. Purdue (3-1, last week: 4):
After storming out to a 42-14 halftime lead, Purdue had to hold on to win a shootout against Marshall and thus drop a spot. Although the Boilers won't face another passing offense quite like Marshall's this season, they have to be a bit concerned about their defense, which surrendered 439 passing yards and 534 total yards. Purdue faces another spread-ish offense -- and certainly a spread-ish quarterback in Michigan's Robinson -- this week in West Lafayette. The Michigan game begins a defining stretch for Danny Hope's crew.
6. Penn State (3-2, 1-0, last week: 9):
The Big Ten's hottest team makes the biggest move of the week, rising three spots after another impressive win against Illinois. Linebacker
Michael Mauti
is leading a revived defense, while quarterback
Matt McGloin
continues to perform well in the new offense. You can't say enough about the job Bill O'Brien has done in his first season as Lions coach. Penn State faces its biggest test since the season opener this week against Northwestern before a challenging stretch with three of four on the road.
7. Michigan State (3-2, 0-1, last week: 5):
The Spartans lost to Ohio State by only a point and were burned by a premature whistle that killed a potential fumble return for a touchdown. Then again, Michigan State had numerous opportunities to beat Ohio State and held a plus-3 turnover margin on its home field. The offense simply isn't coming together well enough, as good passing Saturday was offset by an invisible
Le'Veon Bell
. We still think the Spartans can make a run for the Big Ten title, but they haven't looked impressive in the early going.
8. Wisconsin (3-2, 0-1, last week: 8):
For a half and change, it looked like Wisconsin would make a major move up the power rankings. The Badgers came out hot against Nebraska and took a big lead behind the inspired play of linebacker
Chris Borland
and the poise of quarterback
Joel Stave
in his first career road start. But the same problem that plagued the Badgers in the first four weeks -- flimsy offensive line play -- coupled with a defense that couldn't keep pace with Martinez led to a crushing defeat. Wisconsin still can take some pluses from Saturday night. It needs to take another step this week against Illinois before next week's showdown at Purdue.
9. Iowa (3-2, 1-0, last week: 11):
Besides maybe Illinois, no team needed a win in Week 5 more than the Hawkeyes, and they delivered in a big way. Iowa took control from the get-go against Minnesota and brought home the bacon to fill its long-empty trophy case. Running back
Mark Weisman
continues to be one of the Big Ten's best early season stories, and the Hawkeyes' defense responded well from a poor performance against Central Michigan, receiving great play from the linebackers. An open week comes at a good time before Iowa resumes play at Michigan State.
10. Minnesota (4-1, 0-1, last week: 7):
Week 5 brought a reality check of sorts for Minnesota, which never really challenged Iowa and lost the Floyd of Rosedale for the first time since 2009.
As coach Jerry Kill said Sunday
, the Gophers really need top quarterback
MarQueis Gray
(ankle) to get healthy, as backup
Max Shortell
had three interceptions at Iowa. More unsettling was the play of Minnesota's defense, which couldn't stop Weisman. The Gophers can regroup during the bye week before their league home opener against Northwestern.
11. Indiana (2-2, 0-1, last week: 10):
Credit the Hoosiers for fighting back at Northwestern and making it a one-possession game in the fourth quarter. Indiana has some serious talent at wide receiver with
Kofi Hughes
and
Cody Latimer
, both of whom made circus catches Saturday. The Hoosiers also saw some good signs in their run game. But again, the defense continues to struggle mightily, surrendering more than 700 yards to the Wildcats. Until IU can defend like a Big Ten team, it won't win a Big Ten game.
12. Illinois (2-3, 0-1, last week: 12):
Oy vey. If we could drop Illinois to 13th, we would. Tim Beckman's program is in complete disarray just five weeks into his first season. From the turnovers to the special teams miscues to a supposedly elite defense showing cracks each week, Illinois is in a tailspin. The Illini really needed to build some confidence at home. Instead, they're going to have to get it together on the road against Wisconsin and then Michigan. There's a lot of talent in Champaign, but once again, it doesn't seem to matter.
October, 8, 2010
10/08/10
12:39
AM ET
MANHATTAN, Kan. -- So, everyone saw that, right?
We saw that blink-of-a first step that started a straight line to the end zone, capped by his appreciative, celebratory point at the band and surrounding fans who made the trip from Lincoln to Manhattan for the last time?
We saw that sprint around the defense, certain that any defender intent on closing off the sideline would get there a few crucial seconds too late?
We saw
Taylor Martinez
channel T-Magic and silence a sea of purple on the road for the second time in his brief five-start career, beating Kansas State
48-13
in his first conference game, weeks after leading a five-touchdown stomping of Washington in Seattle.
[+] Enlarge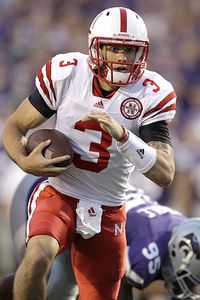 AP Photo/Charlie RiedelTaylor Martinez rushed for 241 yards on 15 carries and scored on runs of 14, 35, 80 and 41 yards. He also passed for 128 yards and a 79-yard touchdown.
We saw a redshirt freshman tempt us to throw his name in the same sentence with Heisman Trophy.
We ain't seen nothin' yet.
"He made some mistakes, but he did a lot of good things, obviously. He ran for a lot of yards," said coach Bo Pelini.
More yards, in fact, than any quarterback in the long history of Nebraska football. This isn't the old-school option attack the corn-fed Nebraskans grew up watching, but they'll gladly take it.
Martinez's 241 rushing yards stated loudly, to everyone watching inside the stadium and on the national telecast, that any team who beats Nebraska will have to beat him first. And if they do, they'll have to deal with his two friends, running backs
Rex Burkhead
and
Roy Helu
, who combined to run for 167 more yards on 19 carries, an average of almost 9 yards a carry. With apologies to Oregon, there might not be a rushing attack in college football more difficult to defend.
The defenses will get better than Kansas State, who entered Thursday night's game as the Big 12's worst run defense and outside the top 100 nationally. But Nebraska's got a pretty good one, and they held
Daniel Thomas
, the Big 12's leading rusher, to just 63 yards on 22 carries, almost 100 yards below his average of 157 a game.
But those same Blackshirts hate seeing Martinez every day as much as Kansas State did on Thursday, and the Wildcats only had to fail at catching him for a little more than three quarters.
"It's frustrating," said Nebraska linebacker Alonzo Whaley. "You never know what to expect from him. What you saw out here today, we've seen all camp. It's good to see him execute, and it's really confusing. It bothers us a lot. It bothers the defense when there's somebody so explosive."
The toughest part of defending Martinez is what Kansas State learned very quickly on Thursday night, and what every defense the rest of the year will have to compensate for better than the Wildcats.
"The hardest part is knowing he can outrun you," Whaley said.
Get used to it. And that goes for almost everyone. Martinez says he ran a "low 4.4" 40-time as a junior in high school and hasn't been clocked since. True or not, you won't hear any arguments from Manhattan for awhile.
And that blur we saw cross the goal line four times will get better fast, making more opponents resort to Kansas State's most-often used defensive strategy in the lopsided loss: the cuss and chase. (Not allowed at Kansas.)
"He's not a done project. Everybody's got to remember, he's a redshirt freshman. He's got a lot of work to do, but the thing about this kid is he's a fierce competitor. He doesn't say a lot because he strives for perfection in everything he does," said offensive coordinator Shawn Watson. "He's really easy to motivate in that aspect because he wants to be a great player. He wants to be the best."
Pretty soon, he might be.
We saw that half step Kansas State got on Martinez's 79-yard touchdown pass to
Kyler Reed
in the third quarter. It stretched the lead to a comical 38-6 after a hard-earned field goal from the Wildcats.
Martinez might not be handing out those half steps to defenses for much longer.
"Honestly, because of the way these games have evolved, you haven't seen him as a passer. He's a really good passer," Watson said. "He's got passing talent. We haven't thrown it that much."
Just seven times on Thursday and 64 times in five games. And why would they? Kansas State would have liked nothing more.
When the season began, Nebraska had a quarterback controversy. Or at least claimed to have one, with Pelini insisting Martinez and his backups were "close" before fall camp began. Here's guessing it wasn't much of a controversy very long in the coaches' meetings. After Martinez's debut in the season opener, Watson admitted that his status as the team's starting quarterback was "clear" by the end of fall camp.
Ya don't say.
He looks ready to hit that lengthy stride plenty more times and take Nebraska on a ride in its final season in the Big 12. After Thursday night, the path looks clear: a date with the Sooners for a storybook Big 12 title game between the Big 12's only two teams currently in the top 10.
Getting there will be fun. It might come with a few bumps in the road, like the mistake-filled performance against South Dakota State a week ago that Watson said left Martinez feeling "insulted," both by his own performance and the coaches' decision to pull him late in the game.
But performances like those fuel performances like this, when his fifth touchdown of the night sent fans to the exits with just over 12 minutes left to play.
Martinez won't talk about it now, but plenty of schools in the Pac-10 saw the Corona, Calif., native long before Thursday night, when the rest of America caught up. They didn't see their future starting quarterback.
Understatement perhaps, but...bad move.
After Thursday's win, all Nebraska is left looking for is Martinez's ceiling.
"We'll see," Watson said. "The kid's been amazing."
October, 5, 2010
10/05/10
9:02
AM ET
Nebraska coach Bo Pelini is blunt when he grades his team's run defense.
"Average," he said.
Average run defenses don't stop
Daniel Thomas
. Teams that don't stop Daniel Thomas run a high risk of losing to Kansas State.
Nebraska plays Kansas State on Thursday night in a nationally televised game on ESPN for its conference opener.
[+] Enlarge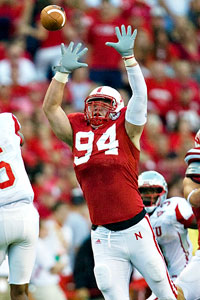 Bruce Thorson/US PresswireDefensive tackle Jared Crick thinks the key to Nebraska's defense is communication. "Once we get that done, we can be a dangerous group."
The Blackshirts don't need to be told that improvement is needed if they don't want a campaign for a second consecutive North title to get derailed before it gets rolling.
"All the things that's happened to us, as far as wrong things in the run game, have been our fault," said defensive tackle Jared Crick. "They've been busts, misalignments, things that we can fix. Despite what people are saying about our run defense, I'm still very optimistic about what we can do as a unit when we're clicking."
A year ago, with Ndamukong Suh plugging the middle of the defense, the Huskers ranked ninth nationally and second in the Big 12 against the run. So far in 2010, they've been the definition of Pelini's assessment of average. Through four games, Nebraska has slid to sixth in the Big 12 and No. 52 nationally out of 120 teams.
Fixing the problems that have precipitated the fall starts with communication.
"Even if it's not defensive coaches' call, as long as we're on the same page we're going to be fine. That's just communication, making sure everybody's talking to each other and everybody knows what's going on. That's the biggest thing we need to improve," Crick said. "Once we get that done, we can be a dangerous group."
The Huskers have one of the Big 12's most talented defensive lines, headlined by Crick and defensive end Pierre Allen. Defensive tackle Baker Steinkuhler and
spectacularly mustachioed defensive end Cameron Meredith
fill out the line. The Huskers are also breaking in new starters, Lavonte David and Alonzo Whaley, at linebacker. They've made plays but have also made mistakes, which is what raw first-year starters do.
"We have guys who know what they're doing, it's just this is their first season starting. It's a little different, your first season. You're not as confident in yourself; you're trying not to mess up instead of going out there and playing a good game," Crick said. "I definitely saw improvement from our linebackers throughout the whole season."
Nebraska faced Thomas in its final regular season game last year and kept him out of the end zone, but he rushed for 99 yards on 19 carries in the Huskers 17-3 win.
"He ran extremely hard, he didn't take the sideline," Crick said. "He fought for every yard he got and that's very respectable out of a running back. A lot of guys will take the sideline when they get it or won't stand up in case another dude will come and hit them and injure them or something."
Thomas has been even better this season, and his 628 yards in four games are more than half his production in 12 outings a season ago.
"We're up to the challenge," Crick said. "The biggest thing is just going to be us have to play our game. It doesn't matter what they run at us, we have to be on our game and play our roles. If we do that, we can stop any running game in the country. That's what we're looking for and hopefully we can execute."