NCF Nation:

Amarlo Herrera
November, 4, 2013
11/04/13
7:00
AM ET
ATHENS, Ga. -- Todd Grantham made one point abundantly clear in 2010 as soon as he arrived at Georgia to become the Bulldogs' defensive coordinator. He was here to beat Florida, because beating the Gators is the jumping-off point for every goal the Bulldogs hope to achieve in any given season.
"When we go to recruit a guy, the first thing I ask is, 'Can we beat Florida with this guy?' Because if you beat Florida, your chance of winning the SEC East got a whole lot better," Grantham said after Saturday's
23-20 win over Florida
extended Georgia's series winning streak to three games.
[+] Enlarge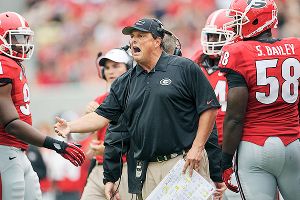 AP Photo/Paul AbellTodd Grantham's defensive unit is a big reason why the Bulldogs have won three straight games against Florida.
Let's put that in perspective. The Georgia-Florida rivalry wasn't even competitive when Grantham joined Mark Richt's staff. Even Florida's mediocre teams found ways to win in Jacksonville -- like when the 2002 Gators who would finish with an 8-5 record handed Georgia its only loss that season and cost the Bulldogs a chance to play for the BCS title.
Dating back to 1990, Florida had won 17 out of 20 games against Georgia when Grantham arrived and seven of nine since Richt took over in 2001. And in the last two games in the series that Willie Martinez served as Georgia's defensive coordinator, Florida's 2008 and 2009 teams beat Georgia by a combined 90-27 margin.
The common theme in each of Georgia's three straight series wins, however? Grantham's defense made big plays when it mattered most and kept Florida out of the end zone. Although they did not turn the ball over on Saturday, the Gators totaled eight turnovers in the teams' previous two meetings, and they have scored just three offensive touchdowns in the last three meetings in Jacksonville.
"Like I said when I first came here, I think I understand who the fans want to beat when you're playing here, and I know that Florida's one of the teams that they want to beat," Grantham said. "So that's why we make it a big game with our players. I think that's one of the reasons that we've had guys step up, meaning Jarvis [Jones] two years ago,
Corey Moore
made a play today. I've seen
Damian Swann
make a play, Amarlo [Herrera], Ramik [Wilson] – a lot of guys made some plays, but they know it's time to man up and go play."
Perhaps the biggest defensive play of Saturday's win came midway through the fourth quarter, when Grantham decided to blitz safety Moore when Florida faced third-and-12 against the reeling Bulldogs. Moore tracked down Gators quarterback
Tyler Murphy
and sacked him for a 14-yard loss at the Florida 43-yard line. That forced the Gators to punt, and Georgia's offense was able to run out the clock on the ensuing possession and protect its narrow advantage.
"I really almost said to Coach Grantham, 'Go sic em. Go get em,' " Richt said. "When I'm saying that, I'm saying, 'Bring the house. Bring more than they can block. Play man coverage with no safety help and let's just see what the heck happens.' Something big's going to happen one way or the other and I held my tongue on it, and he called the blitz. And I'm like, 'I'm with you 100 percent,' and I really was."
Maybe that was a glimmer of hope for Grantham's young defenders. Earlier in the season, maybe they would not have successfully made that play. He pointed to the overtime win against Tennessee, where the Bulldogs were unable to slow down the Volunteers as they mounted a second-half rally, as a time when his defense wasn't tough enough.
"The other team's going to make plays and they're going to do things," Grantham said. "But when that happens, you've got to have the mental toughness and the maturity to go put the fire out, and we preach to our guys all the time about, 'This is what you live for. Seize the moment. Enjoy the opportunity. Go make a play.' "
Believe it or not -- and the fourth-year coordinator's detractors within Georgia's fan base will likely be stunned by this revelation -- Georgia has held all but one opponent (Tennessee) below its season average for total offense. And after yielding 400-plus yards in four of the first five games, the Bulldogs have held their last three opponents below the 400-yard mark and to an average of 68.5 yards per game below their season averages.
They're dead last in the SEC in scoring defense (31.6 ppg), however, in part because of frequent special-teams meltdowns and offensive mistakes deep in Georgia territory.
Georgia ranks 112th nationally and last in the SEC in opponent yards per point -- a statistic that divides the number of points a team allows by the yardage its opponent covered to score. The five teams that rank immediately behind Georgia's average (12.1) on that list have a combined 7-35 record this season: Cal (1-8), Colorado (3-5), Idaho (1-8), UTEP (1-7) and Iowa State (1-7).
Of course, Georgia's defense could always have made more stops after being placed in those bad positions. And the Bulldogs certainly could stand to become more effective on third down (they're 12th in the SEC, allowing opponents to convert 42.5 percent of the time).
But little by little, Grantham's defense is beginning to show some promise -- and perhaps Moore's sack is another sign that the light is flipping on for Georgia's defenders who lacked on-field experience when the season began.
"Part of the job as a coordinator is you've got to be aggressive in those situations and let the players go win the game," Grantham said. "Individual performance wins the game. We put them in one-on-one matchups on that. We were in one-on-one matchups in coverage, we were in one-on-one matchups up front and the guys executed the call and we stopped them. ... In my mind, you want to end the game. That's what I wanted to do was end the game right there."
September, 9, 2013
9/09/13
7:00
AM ET
ATHENS, Ga. -- Winning is the best salve in sports, so Georgia's defensive lapses aren't as painful as they would have been if the Bulldogs had lost to South Carolina on Saturday and entered their bye week with an 0-2 record.
That alone is a relief for the young defenders who allowed 34 points and 460.5 yards per game against Clemson and South Carolina, surrendering 6.7 yards per play to the two highly ranked opponents.
"It definitely would have stunk. We probably would have been in full pads every day, hitting," outside linebacker
Jordan Jenkins
said of the bye-week practices. "It wouldn't have been a fun environment in Athens for these next two weeks."
The members of Todd Grantham's defense realize that their shoddy tackling would have been the reason for the extra hitting, just as it was the reason they practiced in full pads twice last week leading up to the South Carolina game. They are simply nowhere near where they need to be if Georgia is to remain in the national championship conversation through the rest of the season.
[+] Enlarge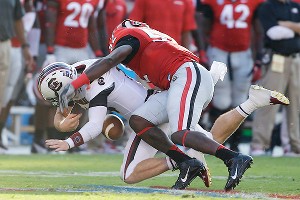 AP Photo/John Bazemore)Amarlo Herrera forces a fumble by South Carolina QB Connor Shaw.
The Bulldogs' offense has mostly bailed them out thus far, but there have been too many missed tackles and busted coverages preventing Georgia's defense from even being considered competent to this point.
"We've still got some things to fix," Jenkins said. "There were still some moments where some guys didn't know what to do. It still wasn't as much as it was last week, but we're just a defense that's coming along and we've just got to fix some small things. I know that's getting repetitive, but I feel like this week was really something that we needed as a defense."
South Carolina finished with 454 yards of total offense and actually averaged more yards per play than did Georgia -- 7.4 to 7.1 -- but there were a couple of bright spots for the Bulldogs in the second half.
For starters,
Amarlo Herrera
continued his difference-making play at inside linebacker. A week after notching 12 tackles against Clemson, Herrera made another 12 stops -- none bigger than when he met Gamecocks running back
Mike Davis
at the goal line on a fourth-down option run and forced a turnover on downs.
"They just came out in a formation that we knew and [South Carolina quarterback
Connor Shaw
] checked, so I kind of knew by the alignment what play they were going to run," Herrera said. "So I just ran to the running back."
Herrera also tracked down Shaw from behind in the third quarter and forced a fumble that
Josh Harvey-Clemons
recovered at Georgia's 25-yard line.
Because of those two giveaways, the Gamecocks mustered just six points in the second half on Saturday, despite generating 221 yards of offense and averaging 7.9 yards per play in the half.
Some of those yards played out in ugly fashion for the Bulldogs, such as when Davis broke a 75-yard run deep into Georgia territory, setting up a 3-yard touchdown run where he ran straight through tackle attempts by Herrera,
Ramik Wilson
, Harvey-Clemons and
John Taylor
. Or when
Nick Jones
twice burned freshman cornerback
Brendan Langley
for touchdown catches in the second quarter.
"It's not easy to play corner in this league, or any league for that matter, in college football," Georgia coach Mark Richt said. "You're going to get challenged, especially if you're a rookie. And he got challenged. He got beat once or twice, but he hung in there."
Certainly some of Georgia's early problems were to be expected. With a big group of inexperienced players taking over for 12 major contributors -- most notably NFL first-round picks Jarvis Jones and Alec Ogletree -- from the 2012 defense, naturally there have been some growing pains.
Langley is a true freshman who lined up against All-American
Sammy Watkins
and an array of other talented Clemson receivers in his first college game. Other new starters like
Leonard Floyd
, Harvey-Clemons,
Sterling Bailey
, Wilson and
Tray Matthews
intrigue the coaches with their talent, but sometimes frustrate them by not performing as consistently as they'd like.
"We're young and we're learning," Harvey-Clemons said. "A lot of us -- like me and Corey [Moore] -- this is our first time playing, so once we get together and get some games under us and get that chemistry going, I feel like there will be a lot of trouble for offenses to come."
The open date comes at a good time for the Bulldogs (1-1), allowing them to regroup from as tough a first two weeks as Georgia has ever faced in program history. With a week off followed by a visit from North Texas (1-1) before LSU (2-0) comes to Athens on Sept. 28, Grantham and company can use the rocky first two games as a teaching tool in a low-pressure environment before life gets difficult again.
LSU has diversified its offense this season and will present a bigger challenge than its run-heavy attacks of the past. And Tennessee's and Missouri's offenses will likely try to spread the field and tear holes in Georgia's defensive scheme, as well.
In short, this is a nice break, but the Bulldogs must be better prepared to be on the defensive soon. They know it as well as anyone.
"We find a way to make a play, make a turnover, keep grinding," Grantham said. "I think that I saw some improvement over last week. I thought our front guys were physically stout at the line of scrimmage. I think we've got to do a better job on the edges in the run game. … We've just got to keep working and if we do that, we'll be fine."
October, 23, 2012
10/23/12
4:00
PM ET
To say that there's some frustration on Georgia's defense is quite the understatement.
Senior safety
Shawn Williams
made that abundantly clear while speaking with the media Monday night when he
called the play of the defense "soft
."
[+] Enlarge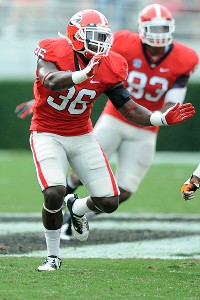 AP Photo/Don KellySafety Shawn Williams had some strong words for his defensive teammates.
"We're playing too soft as a defense," Williams said. "That goes for the D-line, linebackers, corners, safeties, everybody. We're just not playing with the same attitude we were last year. I don't know what it is."
In Georgia's 29-24 win over Kentucky on Saturday, the Bulldogs surrendered 206 yards rushing yards and allowed two scoring drives of 75 yards or more. However, Georgia surrendered just 329 total yards of offense, the second-lowest total by an offense this season against Georgia.
Senior linebacker
Christian Robinson
told ESPN.com on Tuesday that he agreed Georgia's defense has to be more physical, but he also said the defense has to stay together, not take shots.
"I'm sticking to what I've been taught since I've been growing up -- everyone should be quick to listen and slow to speak and slow to anger," Robinson said. "At this point, we're a team and we have to stick together, and as a team, I'm not going to call anybody out. We're just going to try and fix the issues that we have.
"Yes, we need to be more physical -- that's anytime you play any opponent. We always have room to improve."
Williams also suggested on Monday that certain players should see the field more than others.
"Personally, if I was the coaches, I can't tell them what to do, but I'd have
Amarlo Herrera
in the game more," Williams said. "I wouldn't bring him out. ... I want to see Amarlo and [Alec] Ogletree in the game at linebacker; I don't want to see anybody else at linebacker. I feel like they're two guys that are going to go out and give you all they got, no matter if they mess up or do right. I feel like they're going to get to the ball and tackle. That's what we need."
Herrera and Ogletree both start inside for the Bulldogs. Herrera registered three tackles Saturday and is second behind only Williams in tackles this season with 50. Williams has 51. Ogletree finished Saturday's game with a team-high 11 tackles and has 33 total tackles on the year.
It's probably not a good thing that the defensive captain is calling players out like that. Is he wrong in his assessment? Maybe not, but this isn't the time to create any sort of rift within a unit, especially one that has struggled to this point. And definitely not before such an important game like this weekend's bout with No. 2 Florida.
"I know the coaches put the players on the field that they think can get the job done, and until that changes, we're going to continue to play the guys we have and put our best foot out there to beat teams," said Robinson, who was left off of Williams' list of players who should play more.
Clearly, this defense hasn't been as good as it was last year, even with basically the same lineup. Brandon Boykin is gone, but the issues we've seen can't be placed on one player being out of the lineup.
Georgia is ninth in the SEC in total defense (367.4 yards per game) and is giving up nearly 170 rushing yards a contest. Last year, the Bulldogs surrendered more than 360 yards of offense four times. This year, that's happened three times already.
Mark Richt said last week that communication issues in the secondary have helped generate big plays for opposing offenses. That happens when the core of your secondary misses multiple games. But it's halfway through the season. Communication issues should be almost nonexistent, and so should the big plays.
"Once you do close that loophole of a big play, then you have a chance to really play some good defense," Richt said.
September, 7, 2012
9/07/12
8:19
PM ET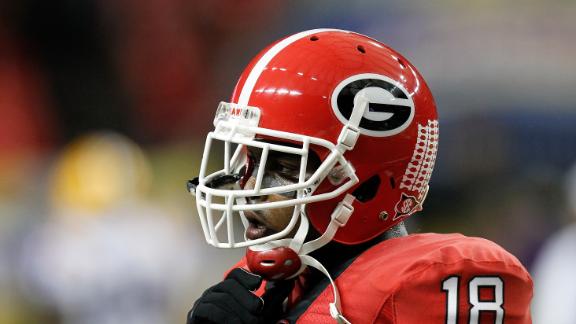 ATHENS, Ga. -- Georgia will be without All-America free safety
Bacarri Rambo
and linebacker
Alec Ogletree
for perhaps the game where they can least afford for them to be absent. Saturday night's visit to Missouri pits the Bulldogs against perhaps the most explosive offense they will face all season -- and they'll do so without four defensive starters.
Georgia coach Mark Richt announced weeks ago that starting cornerback
Sanders Commings
and outside linebacker
Chase Vasser
would be suspended for the first two games and now ESPN.com has confirmed that Rambo and Ogletree will join them on the suspended list as continued punishment for failing offseason drug tests.
All four players started games last season -- Commings started all 14, in fact, and Rambo started 13 after being suspended for the opener against Boise State -- and would have played key roles against Missouri's passing attack.
May, 10, 2012
5/10/12
11:30
AM ET
ATHENS, Ga. -- Complacency is always a concern when bringing back a top-rated team or unit. Players can't hide from the fact that they're good and everyone around them will make sure they know it and make sure they remember what they did.
Georgia defensive coordinator Todd Grantham doesn't want his defense, which ranked fifth nationally in 2011, to forget either. But it's
what
he doesn't want his players to forget that has this unit ready to pick up and surpass last year's success.
"You don't let guys forget where they came from," Grantham said. "Don't let guys forget what got them there and you build from there."
That's why Grantham is making sure he gets back to the basics with his players. We're talking hustling to the ball, right form and playing physical basics. Every year, his plan has always been to go right back to simple fundamentals.
[+] Enlarge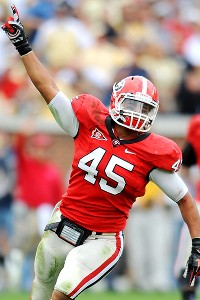 Radi Nabulsi/ESPN.comChristian Robinson says this defense has the makings of being one of the best ever at Georgia.
Losing those loses a defense.
"To me, you break it down into five phases and you go back every year and you start over," Grantham said.
Five phases:
Pre-spring workouts

Spring practice

Summer workouts

Fall camp

Regular season
Fundamentals 101 comes in right when spring ball starts. Proper footwork is harped on. Correct field placement is set up over and over. The right tackling technique is perfected … and then perfected again.
In order to combat complacency, the same motions run by All-American linebacker -- and sack master --
Jarvis Jones
are run by wide-eyed nervous freshmen. The goal is to have the older guys pick things up quickly and then assist the youngsters. Grantham wants his players to get better individually, but then focus on improving the team as a whole from the ground up.
That's why Grantham thinks his defense was much better in 2011. Fundamentals made that group even more comfortable in Grantham's 3-4 and helped it evolve as the season progressed. The Bulldogs allowed 277.2 yards per game (51 yards less than 2010), forced 32 turnovers and recorded 100 tackles for loss for minus-439 yards.
"Yeah, we knew our system better, but I thought we were a more mentally and physically tough team and we played defense the way you're supposed to play it -- physical and aggressive," Grantham said. "When you're all on the same page and speaking the same language, those things can happen."
This spring, players bought right into what Grantham preached. Rising senior linebacker
Christian Robinson
said no one seemed concerned about being content. He said players looked at what they
didn't
do last year as a spark for the spring. Players dwelled on the 35 points given up to Boise State, the 45 to South Carolina, the 42 to LSU and the 33 to Michigan State -- all losses.
Even when players felt good, Robinson said coaches directed them to video screens to bring them down a notch.
"We're not perfect, so when we go in our meeting rooms we watch the tape and there are always things to get better at," Robinson said.
And if film work doesn't help, coach Mark Richt can cut into the confidence when needed.
"You're really not a great defense until you play great and we haven't done that in 2012," he said. "We haven't had a chance to do that yet. There's an anticipation of having a chance to be pretty good if everybody keeps it together, stays healthy and does their part."
One humbling thought is that Georgia will be without four key starters suspended early for poor off-field behavior. The secondary takes the biggest hit with All-American safety
Bacarri Rambo
and cornerbacks
Branden Smith
and
Sanders Commings
out. Inside linebacker
Alec Ogletree
is also suspended.
Grantham and his players agree that while they're disappointed in the boneheaded decisions made, they aren't dwelling on the situation. Grantham used it as an opportunity to create better depth by inserting younger players. He's no stranger to changing lineups, as he had 11 different ones in 14 games in 2011.
He also received a boost when star wide receiver
Malcolm Mitchell
moved to corner. He should start the season on defense.
Richt hopes this turns into a situation like last year when linebackers
Michael Gilliard
and
Amarlo Herrera
stepped up when Robinson and Ogletree were injured. It also gives coaches a chance to cross train players more, something Grantham prides himself on. (Look at safety
Shawn Williams
playing linebacker last year).
Earlier this spring, Jones proclaimed that Georgia had the nation's best defense. Time will tell on Jones' statement, but after going through the spring motions, at least one of his teammates sees where Jones is coming from.
"We have an opportunity to do something special, as a defense and as a team," Robinson said. "If we go out and do what we know and what we've learned, we could be one of the best ever to play at Georgia."
May, 8, 2012
5/08/12
11:00
AM ET
We all know that defense wins championships and the SEC is very much a testament to that. Alabama possessed the nation's No. 1 defense last season and now possesses another national championship. Runner-up LSU ranked second nationally.
Alabama ran away with the crown as the nation's and the SEC's best defense, but that title is for the taking in 2012. Alabama is down key players from last year's squad, like linebackers Courtney Upshaw and Dont'a Hightower, defensive tackle Josh Chapman, and defensive backs Mark Barron, Dre Kirkpatrick, and DeQuan Menzie.

Alabama's defense isn't as green as the 2010 group, but it's still drawing some comparisons to it. That's exactly what the Tide wants to hear.
Nico Johnson
seems primed to be a true leader at linebacker, while
Adrian Hubbard
could be a budding star at Upshaw's old position. Defensive backs
Robert Lester
and
Dee Milliner
are back and will be joined by a couple of JUCO standouts and talented sophomores
Vinnie Sunseri
and
Ha'Sean Clinton-Dix
.
Jesse Williams
could be a real force at defensive tackle along with end
Damion Square
.
Then you have LSU. The Tigers lost All-World cornerback Morris Claiborne to the NFL draft and two starting linebackers. Michael Brockers is gone at defensive tackle as well. But LSU is still loaded. The Tigers return Heisman finalist
Tyrann Mathieu
and
Tharold Simon
, who should be fine with an expanded role at cornerback. Junior
Kevin Minter
really stepped up at linebacker last year and should pick up right where he left off. Even without Brockers, the line is solid with future first-rounder
Sam Montgomery
at one end position and the underrated
Barkevious Mingo
at the other. The two combined for 17 sacks last season.
Bennie Logan
and
Anthony Johnson
should provide some meat nastiness in the interior, while the very talented
Eric Reid
is back at free safety.
Georgia and South Carolina both finished the 2011 season ranked in the top five nationally in total defense. South Carolina was third, while Georgia was fifth, respectively. The Gamecocks lost first-round defensive end Melvin Ingram, but return freshman standout
Jadeveon Clowney
and
Devin Taylor
, who many thought would be better than Ingram last season.
Kelcy Quarles
is back at defensive tackle and the coaches think he'll be even better in his second year.
Shaq Wilson
and
Reginald Bowens
, who combined for 96 tackles last year, will grab time at linebacker again, while the very athletic
DeVonte Holloman
returns to the Spur for his senior year. There are questions in the secondary, but seniors
D.J. Swearinger
(safety) and
Akeem Auguste
(cornerback) return.
Georgia returns nine defensive starters. Brandon Boykin is gone at corner, and the Bulldogs will enter the fall with a lot questions in the secondary, especially with starters
Branden Smith
,
Sanders Commings
and
Bacarri Rambo
suspended to start the season. Star freshman receiver
Malcolm Mitchell
moved to corner this spring and fits right in, but there are depth issues at the position.
Other than that, the Bulldogs are still pretty stacked. Inside linebacker
Alec Ogletree
will serve a suspension to start the year, but Georgia will fill his spot by committee. Mike Gilliard,
Cornelius Washington
,
Christian Robinson
,
Amarlo Herrera
and
Ramik Wilson
provide Georgia with a very solid linebacking unit alongside star
Jarvis Jones
, who racked up 19.5 tackles for loss and 13.5 sacks. Georgia's defensive line should also be pretty stout with the massive
John Jenkins
and
Kwame Geathers
battling in the middle.
Abry Jones
really progressed at end as well this spring.
Or maybe someone else will step up and take the crown ...