October, 12, 2014
Oct 12
9:00
AM ET
The Coastal gets shaken up again as the ACC Black Cat struck in Atlanta. Duke's
Josh Snead
is among those to earn a helmet sticker Saturday after helping the Blue Devils upset Georgia Tech.

Duke RB Josh Snead:
The Blue Devils spread the carries around, which makes Snead's 100-yard effort in Duke's
31-25
win over Georgia Tech all the more impressive. Snead totaled only 14 carries but registered 102 yards and a touchdown. He did most of his damage in the first half, as the Blue Devils worked into an offensive rhythm, before scoring a 4-yard touchdown in the second half. It was not a must-win game for Duke, but it was close to it after a loss to division foe Miami.
Boston College QB Tyler Murphy:
Murphy and Boston College have suffered through ups and downs this season, but he was dominant on the ground and efficient through the air in a
30-14
win at NC State. Murphy had a 47-yard touchdown run in the first half and sealed the win in the fourth quarter with a 26-yard score. It was part of another 100-yard effort rushing to go along with 12-of-19 passing. In six games, Murphy has 711 rushing yards. The Eagles need Murphy at his best if they hope to make it back to a bowl game, as the schedule turns much tougher with road games at Virginia Tech and No. 1 Florida State and home contests against Clemson and Louisville.
Florida State WR Rashad Greene:
The senior quietly topped 100 receiving yards again in FSU's
38-20
win over Syracuse, but in the process secured his place in Florida State football's pantheon of receivers. Greene became the school's career leader in receptions Saturday and now has 215 receptions over his four seasons. Greene has been the model of consistency, and with the loss of
Kelvin Benjamin
and Kenny Shaw, Greene is showing the Florida State fanbase just how valuable of a commodity he truly has been the last four years.
Miami QB Brad Kaaya, RB Duke Johnson and WR Phillip Dorsett:
Cincinnati does not play much, if any, defense, but the Hurricanes' offense was impressive nonetheless in a
55-34
win Saturday. Miami showed off its big-play ability with rushes of 80, 62 and 40 yards and a touchdown pass of 79 yards. Kaaya was 17-of-24 with 286 yards and three touchdowns. Duke Johnson needed only 10 rushes to put up 162 yards. Dorsett was slightly more impressive, totaling 143 yards on only three receptions. Dorsett entered the game averaging 31.3 yards per catch, and he actually improved upon that with Saturday's performance.
Clemson PK Ammon Lakip:
Widely criticized for a poor effort against No. 1 Florida State in a game the Tigers should have won, Lakip made three critical second-half field goals to stave off an upset-minded Louisville,
23-17
. With backup quarterback
Cole Stoudt
unable to move the offense into the end zone, Dabo Swinney called upon Lakip for all nine of the Tigers' second-half points. Lakip converted on all of his kicks, including a 45-yard field goal to open the half. And after the Cardinals tied the game at 17-17 in the third, Lakip hit the go-ahead field goal and added some insurance late in the fourth quarter. It was a pivotal three points, as the Cardinals were forced to go for the touchdown from inside the 5-yard line in the waning seconds.
September, 1, 2014
Sep 1
10:30
AM ET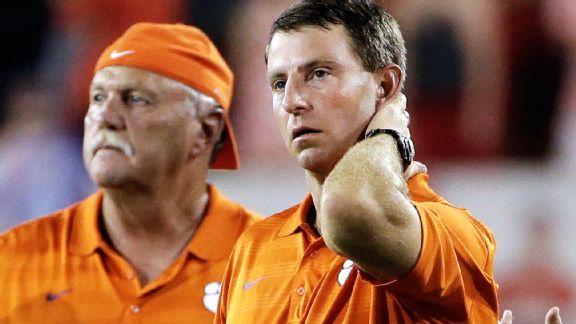 AP Photo/David GoldmanDabo Swinney and Clemson will try to move on after a Week 1 loss to Georgia.
Before
Todd Gurley
ran roughshod over his defense, and before Jeremy Pruitt thwarted his offense yet again -- long before Saturday's stumble at Georgia even kicked off, in fact, Dabo Swinney was preaching the message that one game wouldn't define Clemson's season. And of course, that's true. In fact, Saturday's 45-21 loss between the hedges won't even define Clemson's September, with No. 1 Florida State still looming in a few weeks.
"Every goal that we have is still in front of us," Swinney said after the game. "We're 0-1, and we have a long way to go. The season starts tomorrow. That's the mentality that we have."
But of course, the season started Saturday, and it started with a loss, no matter how Swinney wants to frame it.
Swinney is an optimist. It's his nature. It's how he shrugged off a thumping by Florida State last season by explaining that the lopsided score wasn't indicative of the true talent difference between the two teams. It's how he made peace with yet another loss to South Carolina last season, selling the notion that Clemson was the better team, undone by just a few too many turnovers.
And so Swinney was back to work Sunday, 11 games still left on the schedule and a litany of "what if" moments already in his rearview mirror.
If Clemson could've just tackled better, Gurley might not have run for 198 yards and three touchdowns, utterly embarrassing the Tigers' defense for the second straight season.
"Todd Gurley was the best player on the field, and it wasn't close," Swinney said. "He's a special player."
It was Gurley who returned a kickoff 105 yards for a touchdown to even the score at 21, and if Clemson could've brought him down before he reached the end zone, things might've been different.
All offseason, Swinney lamented the kicking game as his biggest concern, even with the losses of
Tajh Boyd
and
Sammy Watkins
, and of course,
Ammon Lakip
missed his lone field goal try that could've sent the Tigers to halftime with a lead. If only there hadn't been so many dropped passes, so many mental errors in that first half, maybe that missed kick wouldn't have loomed so large, anyway.
Clemson's average starting field position in the second half was its own 17, and Swinney said the offense became too conservative while pinned deep in its own territory. If only that field position had been better, perhaps there wouldn't be lingering questions today about
Cole Stoudt
and an offense that looked sharp early but disappeared late, mustering a woeful 15 yards and just one first down in the second half.
It's Week 1, after all, and the "what ifs" are as meaningful a statistic as anything. But no matter what happens in the next 11 games, Week 1 did matter for Clemson and for the conference.
Yes, Gurley is a special player, but Clemson will face more of them, starting with
Jameis Winston
on Sept. 20. That the Tigers knew just what to expect from Gurley and still were incapable of slowing him down isn't an aberration.
Yes, a few plays swung the game, but that's how it goes against great teams -- and indeed, Georgia may be a great team. In fact, the Bulldogs will move forward with eyes on the College Football Playoff, and even if Clemson manages to upend Florida State later this month, it may find itself on the outside looking in thanks to those few bad plays between the hedges.
Yes, the field position was a problem. Adversity strikes in every game, but a team is measured not by the size of the obstacle but by its response. Clemson had none. For the second straight year, a Pruitt-coached defense appeared to have all the answers for the Tigers' up-tempo scheme.
Swinney said he's learned more about his team from those rocky 60 minutes than he might've expected to learn in four weeks of a normal season, but there are still so many questions.
The offense had its moments, but Clemson had nine three-and-outs, and 12 of its 15 drives lasted six plays or fewer. That vaunted defensive line recorded just a single sack, while Georgia ran for 328 yards -- the most the Tigers' defense has surrendered to a non-option team since Swinney took over as coach. Whether Stoudt's line -- 16-of-29 for 144 yards and an INT -- was indicative of poor performance or too many drops by his receivers is of little consequence. Clemson needs to improve in both areas.
Deshaun Watson
looked impressive on one drive, perplexed on another, and the impact the freshman will make this week remains frustratingly unclear.
And then, of course, there's the biggest question: What does it all mean for the ACC?
Fair or not, Clemson bore the weight of this new system, in which each team is evaluated within the context of its conference. A win over Georgia would've meant credibility for the endlessly discredited ACC. The loss removes perhaps the biggest safety net the conference might've had on what promises to be a razor-thin line it must walk for the next three months.
Florida State looked flawed against an unranked Oklahoma State team. NC State, Syracuse, Georgia Tech and North Carolina all struggled, to some degree, against FCS-level competition. And Clemson lost by 24 points to Georgia in a game that probably was far closer than the score indicated. The problem, however, is that no one knows whether the playoff selection committee will remember how close the Tigers came when it's time to make a decision on who's in and who's out.
A lot can happen in the next 11 games, and Swinney is right to focus on what's ahead. But the path to the playoff grew more narrow with Saturday's loss, and for all the data Swinney accumulated and for all the film there is to study, there's really only one thing that's certain.
"All we know about our football team right now," Swinney said, "is we're not going to win them all."
August, 15, 2011
8/15/11
9:00
AM ET
It was a busy weekend in the ACC. Here's a look back at the highlights from the scrimmages, according to the sports information departments of the teams that provided reports:

BOSTON COLLEGE
Coach Frank Spaziani told reporters after the 70-minute scrimmage that there were some good things, but "it's like a jigsaw puzzle with all the pieces in the box; they're not connected yet."
Offensive highlights:
Defensive highlights:
Linebacker Nick Clancy and defensive back Sean Sylvia led the team with four tackles each.
Sophomore linebacker Jake Sinkovec had one interception and one fumble recovery.

CLEMSON
Quarterback
Tajh Boyd
had an impressive performance, as he completed 10 of 12 passes for 168 yards and a touchdown to highlight the new offense in Clemson's 75-play scrimmage in Memorial Stadium on Saturday morning.
Offensive highlights:
Defensive highlights
:
The first-team defense did not allow a scoring drive.
Martin Jenkins led the team with seven tackles, including a tackle for loss.
Corico Hawkins had five tackles and a fumble recovery, while freshman defensive end Corey Crawford had five stops, including a sack.
Special teams highlights:
Clemson's three kickers, Chandler Catanzaro, Ammon Lakip and Brian Symmes were a combined 16-of-16 on the day in field goal attempts and extra points against a live rush.
Notable:
Three Tigers missed the scrimmage because they were going through graduation exercises across the street from Memorial Stadium in Littlejohn Coliseum. Starting offensive tackle Landon Walker, starting safety Rashard Hall and reserve defensive end Kourtnei Brown all graduated from Clemson on Saturday. It was especially noteworthy for Hall, who has been at Clemson just three years. He joins Nick Eason (now in the NFL with the Arizona Cardinals) as the only scholarship football players to graduate with two years of athletic eligibility remaining.
Four players missed the scrimmage due to injury. Those players were defensive back Xavier Brewer (sprained foot), defensive back Garry Peters (bruised calf), Andre Branch (head injury), DeShawn Williams (sprained ankle).

GEORGIA TECH
Georgia Tech coach Paul Johnson had mixed reviews after the Yellow Jackets' first scrimmage, which ran 90 minutes inside Bobby Dodd Stadium on Saturday morning.
"It was like a lot of first scrimmages, there were way too many balls on the ground and way too many penalties," Johnson said. "But we hit some big plays. When you play against each other there's positives and negatives on both sides. It's a starting place and we'll look at it and try to make some improvements."
Offensive highlights:
While no official statistics were kept, quarterback Tevin Washington passed for well over 100 yards, including a 63-yarder to senior A-back Roddy Jones. Redshirt freshman quarterback Synjyn Days threw the only touchdown of the day, to true freshman Jeff Greene.
Greene ran with the first unit Saturday as most of the veterans -- junior Stephen Hill, senior Tyler Melton, sophomore Jeremy Moore and junior Daniel McKayhan -- all sat out with injuries.
Washington scored the only other touchdown Saturday on a 1-yard QB keeper.
Defensive highlights:
Defensive end Emmanuel Dieke had a sack, true freshman Jamal Golden intercepted a Vad Lee pass, and Steven Sylvester and Isaiah Johnson both recovered fumbles.
Special teams highlights:
Sophomore Justin Moore booted a 45-yard field goal on his only attempt.
David Scully's 52-yard attempt was long enough, but just wide left.

MIAMI
The most important news out of Miami's first scrimmage was that quarterbacks
Jacory Harris
and
Stephen Morris
combined for five touchdown passes and only one interception. That sounds like improvement. Miami's quarterbacks combined for 407 passing yards on 38-of-52 passing for six touchdowns and only one interception.
Offensive highlights:
Receiver Tommy Streeter had the best offensive day for the Canes, catching five passes for 71 yards and three touchdowns, two of which came from Harris.
Lamar Miller had runs of 16 and 31 yards on the opening drive.
Defensive highlights:
Senior defensive back JoJo Nicolas led all defenders with eight tackles (six solo), with two tackles for loss.
Ramon Buchanan and freshman Gionni Paul and each had six total tackles, with Paul also recording a tackle for loss.
The defense totaled eight tackles behind the line of scrimmage for a total loss of 29 yards

VIRGINIA TECH
The Hokies' offense was the highlight, but what does that mean for the defense? Coach Frank Beamer pointed out that there were some long plays allowed, as the offense racked up 398 yards of total offense in the 78-play scrimmage at Lane Stadium on Saturday afternoon. The touchdowns came against Tech's second- or third-team defense, though, so the jury is still out.
"I thought it was a good first scrimmage -- better than most," Beamer said, according to the team's scrimmage report. "You take into consideration that you're trying to get everyone some work, people who don't know quite what they're doing, and that makes things a little ragged. I thought overall, though, it was a sharp scrimmage. The quarterbacks made some nice plays and Wilson got a couple of long plays against the defense, and we need to see what's going on there. Overall, the effort was good and the play was good."
Offensive highlights:
Backup quarterback Mark Leal led the quarterbacks with 116 yards passing, completing 6 of 13. He also threw an interception. Beamer said Leal is No. 2 on the depth chart behind Logan Thomas. Ju-Ju Clayton, who has dropped to No. 3 on the depth chart, completed 6 of 10 for 51 yards, while starter Thomas completed 4 of 8 for 79 yards, with an interception, in limited action.
Tailback David Wilson scored against the Hokies' second-team defense on a 22-yard run. Wilson led all rushers with 57 yards on five carries. Freshman Michael Holmes added 54 yards rushing on a game-high 11 carries.
Defensive highlights:
Freshman tackle Luther Maddy led the team with eight tackles, including two for a loss, and a sack. Freshman Michael Cole added six tackles, while Telvion Clark and Jack Tyler each finished with four.
Barquell Rivers had three tackles and an interception.
Jayron Hosley and freshman Ronny Vandyke also had interceptions. Hosley intercepted a Logan Thomas pass, while Vandyke intercepted a Trey Gresh attempt.
Special teams highlights:
The kickers connected on 5-of-6 attempts. Cody Journell hit from 35, 22 and 35 yards, while Justin Myer drilled a 52-yarder and a 28-yarder. "Cody's kicking extremely well," Beamer said. "Myer has a load of potential, and he needs to win some of the kicking contests during the week. That shows consistency, and that's where he is right now. Cody is usually winning it or right in the running at the end."