December, 28, 2009
12/28/09
4:55
PM ET
NEW ORLEANS -- It came as absolutely no surprise that Monday morning's Allstate Sugar Bowl news conferences were dominated by words like distraction and focus.
These two teams are in fairly unchartered waters, especially for a BCS matchup. Cincinnati, of course, lost head coach Brian Kelly after the regular season to Notre Dame, has an interim coach in Jeff Quinn who's already accepted the Buffalo job and a new next head coach in Butch Jones, who is staying in the shadows while in New Orleans.
And right now, the Bearcats seem pretty stable compared to their opponent. Florida watched as head coach Urban Meyer announced Saturday that he would step down after the game, only to reverse course Sunday morning and say he would take a leave of absence instead. Steve Addazio will serve as the interim coach during Meyer's leave, but nobody is really sure how long that will last.
Every question in Addazio's 17-minute news conference -- which was ostensibly to discuss the Gators offense -- revolved around the Meyer situation.
"There have been a lot of emotions in the last 24-to-48 hours," Addazio said. "But right now we've got to keep our focus on this game because that's what important."
The company line from Florida has been that Sunday's early-morning practice dispels any notion of Meyer's news taking a toll on the team. The Gators were so sharp and crisp in their pre-New Orleans workout that it helped Meyer decide not to take a permanent leave.
"That's not to say there aren't distractions," Addazio said. "Of course there are. What are we talking about here? Obviously, there's been a lot that's happened. But I think the testimony was the way the players came at 7:30 in the morning [on Sunday.]
"That speaks volumes about where the team is right now. There's a strong resolve, and it feels like we've really bonded together."
The players still aren't sure what's going to happen -- running back Jeff Demps said he didn't believe Meyer would return for the 2010 season -- but they've dealt with plenty of distractions all year, including defensive end Carlos Dunlap's arrest,
Tim Tebow
's concussion and trying to go undefeated and win a second straight BCS title. The Meyer situation might even provide some motivation.
"This might have added a lot of extra incentive," Tebow said. "You don't know if this is going to be his last game, so you want to finish it the right way for yourselves, the team and for coach Meyer."
Cincinnati has had a lot more time to deal with its unusual coaching transition, since Kelly left on Dec. 10. The Bearcats coaches and players insist that while there was a lot of emotion and turmoil in the couple of days after Kelly's announcement, they've gotten back to business.
"Everybody felt like it was the best decision for [Kelly] as a professional, but as a team right now we all came together to really understand that we still have a goal to be 13-0," said defensive lineman Alex Daniels, who was publicly critical of Kelly the night the coach left.
"We have a chance to play the defending national champions in Florida, and one of arguably the greatest players in college football in Tim Tebow. We don't care if a dog is coaching us, we'd go out there and play hard."
Cincinnati players said they could empathize with their opponents when the Meyer news broke over the weekend. But that doesn't mean they're any less anxious to hit the Gators in the mouth on Friday night.
"Like I told my teammates, we are not going out there to play sympathy football; we are going out there to win the game," Bearcats linebacker Andre Revels said. "At the end of the day when you're out on that field none of that stuff is going to matter. You are going out there to play football and right when those first snaps hit you are going to do what you've been doing or you're going to something different."
December, 5, 2009
12/05/09
6:49
PM ET
PITTSBURGH -- As Cincinnati went through pregame warmups under falling snow at Heinz Field, receiver/kick returner
Mardy Gilyard
tried to warm his teammates' spirits by telling everybody, "Hey, we're on the beach."
But with 1:26 left to go before halftime, the beach -- where the Bearcats frolicked last year during Orange Bowl week -- seemed awfully far away. Pittsburgh's dominating running game and pass rush had caused things to snowball against Cincinnati, which found itself trailing 31-10. Even Gilyard, ever the optimist, admitted that "it started to get real cold."
[+] Enlarge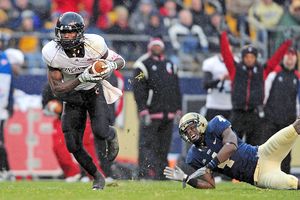 Andrew Weber/US PresswireThe Bearcats' Mardy Gilyard caught five passes for 118 yards and a touchdown. He also racked up 256 kickoff return yards.
That's when the rest of the team turned to Gilyard for some heat. Running back
John Goebel
, several defensive players and even head coach Brian Kelly grabbed him on the sideline. We need something on this kickoff, they implored.
"I prayed that I could take one back," Gilyard said. "And then everything parted like the Red Sea."
Gilyard's 99-yard return for a touchdown finally gave Cincinnati some life, and the defending Big East champions refused to die the rest of the way. Despite trailing by two touchdowns early in the fourth quarter, the No. 5 Bearcats rallied to win
45-44
thanks to Pitt's late missed extra point and a 29-yard touchdown pass from
Tony Pike
to
Armon Binns
with 33 seconds left.
"Our guys are resilient," Kelly said. "Our guys believe, I believe in them, and you've got to have that belief. We've won 18 consecutive regular-season games. Don't count us out."
But is it enough to count the 12-0 Bearcats into the BCS title game? Barring a loss by Texas in the Big 12 title game later Saturday night, Cincinnati will join the 2004 Auburn squad as the only BCS conference teams to go undefeated and not play for the national title in the BCS era. Even a Texas loss might not do it, as Cincinnati would still have to climb past undefeated and No. 4 TCU.
Kelly said he didn't think his team deserved to get into the BCS title game ahead of Texas, but that it should go instead of TCU with a Longhorns' loss. Cincinnati players said they feel they've done enough to play for a national championship. And so, apparently, does Pitt receiver
Jonathan Baldwin
, who interrupted the Cincinnati postgame news conference to shout, "Good job. Now go win the championship."
"We did our part," senior safety Aaron Webster said. "Now it's in other people's hands."
Big East commissioner John Marinatto, who attended Saturday's game, said the league "strongly believes Cincinnati should be in the championship game" and that any undefeated BCS conference team deserves that privilege. However, Marinatto is not a playoff advocate and did not sound like someone ready to promote sweeping change.
"We recognize as a group the system is not perfect," he said. "At our annual meetings, we'll get together and talk about whether anything needs to be changed."
In order to even make this debate relevant, Cincinnati had to make a lot of changes defensively on Saturday.
Pittsburgh (9-3) scored on each of its first five possessions. Freshman sensation
Dion Lewis
carried 29 times for 108 yards in the first half alone as the Panthers' offensive line obliterated the Bearcats defense. Cincinnati looked like toast.
Pitt scored only twice after halftime, though, as Lewis -- who finished with a school-record 47 carries for 194 yards and three scores -- had to work a little harder. The defense incorporated more run blitzing, often bringing Andre Revels or J.K. Schaffer to the point of attack to shore up its deficiencies.
"We came in as a defense at halftime and said, 'We just have to tackle him,'" Webster said. "'Don't try to get the big hit, because he'll just dribble out of them. Just tackle and play the next down.'"
A few stops were all the Bearcats' offense needed. They scored three touchdowns in the final 11:09. When Pitt missed the extra point after a Lewis score with 1:36 left, Kelly had one thought: "Cool."
"I was like, man, they're going to give us a shot here," he said.
But Kelly said the comeback would not have been possible without Gilyard's first-half kickoff return. The team often follows his exuberant personality, and Gilyard has had the uncanny ability the past two seasons of coming up with a huge play when the Bearcats need it the most. That's one big reason why the Bearcats are back-to-back Big East champions.
"I'm a praying man, and God is good," Gilyard said.
In other words, for Cincinnati, life's a beach.
December, 3, 2009
12/03/09
1:57
PM ET
There's no O. Henry twist or cheap M. Night Shyamalan gimmick at the end of the 2009 Big East season. Cincinnati's players saw this coming the moment the league schedule first came out.
"We knew the Big East championship was going through Pittsburgh," Bearcats tight end
Ben Guidugli
said. "We talked about this game while we were lifting weights, while we were at camp. This is the game we've been waiting for."
[+] Enlarge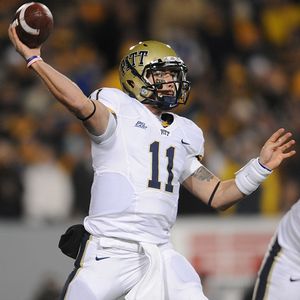 James Lang/US PresswireQuarterback Bill Stull and Pitt have long anticipated facing Cincinnati in the final game of the season.
It's the game the entire Big East has waited for, at least ever since both teams clearly established themselves as the league's two best back in October.
Technically, Saturday's game at Heinz Field isn't a conference championship title event like those that will be staged in Atlanta, Dallas and Tampa this week. But it functions just the same, since the Big East trophy will be on hand for one team to hoist after the final gun (technically Cincinnati would be league co-champion if it loses, but somehow we doubt the Bearcats will be in the mood to do much celebrating in that scenario).
The outcome affords potential dizzying highs and baleful lows for each side. The No. 5 Bearcats (11-0, 6-0) still have hopes of reaching the BCS title game if Nebraska upsets Texas on Saturday. Or they could lose to Pitt and fall to the Meineke Car Care Bowl, while possibly seeing coach Brian Kelly bolt for Notre Dame.
The No. 15 Panthers (9-2, 5-1) can validate the Dave Wannstedt era with their first BCS bid since 2004. But a loss would send them tumbling way down the Big East bowl food chain, possibly to a mid-December outpost in Birmingham, Ala. or St. Petersburg, Fla.
"We're not really even thinking about losing," Pitt quarterback
Bill Stull
said. "There are so many positives on our side for this game. It's at home and it's senior day. That alone gives us a burning desire to win this game."
The game offers a fascinating contrast in two distinctly different, but almost equally effective, offensive styles.
Kelly runs a high-tempo, spread system that places quarterback
Tony Pike
in the shotgun, allowing him to deliver quickly to whichever of his many receivers are open -- or more open, as is usually the case. The Bearcats, who are the sixth-highest scoring team in the FBS, strike so fast it's as if they're in a perpetual two-minute drill.
Wannstedt, clinging to his NFL and defensive roots, prefers an old-school power running game that still finds gainful employment for fullbacks and multiple tight ends. But it's far from monolithic, as the Panthers use the running skills of freshman
Dion Lewis
to set up deep passes for skilled wideouts like 6-foot-5
Jonathan Baldwin
and hybrid athlete
Dorin Dickerson
. Pitt ranks 22nd in the nation in scoring.
"Both offenses can be very prolific and move the ball," said UConn coach Randy Edsall, whose team lost by three points at Pitt and by two at Cincinnati. "What is comes down to is, can Cincinnati stop Pitt's running game and play-action game, and is Pitt going to be able to stop the passing attack? Whichever defense makes the most stops is going to win. It should be a tremendous game."
Each team is likely to stick with what it does best. Pitt will try to get pressure up front with its terrific defensive line, hoping to disrupt the rhythm for Pike, who threw six touchdown passes last week in his return from a left forearm injury.
"I would be hard-pressed to find a weakness on their team," Panthers linebacker Max Gruder said. "Right when you turn the film on, you see how many playmakers they have. They're going to make completions, because they always do; we just have to tackle well when they do."
Despite playing on grass in potentially near-freezing weather, Kelly said he doesn't plan on altering his style much. The Bearcats will shoot for the big play on offense and hope their defense holds up better than it did in recent games against UConn and Illinois.
"It's just going to be one team's will against the other in the end," Cincinnati linebacker Andre Revels said.
And the Big East couldn't have scripted a more appropriate ending to the 2009 season.
December, 2, 2009
12/02/09
4:30
PM ET
Cincinnati linebacker Andre Revels doesn't put much stock into the notion that his defense has shown some serious vulnerability over the past few games.
"That's for people outside to think about," Revels said. "We don't go into statistics. We don't go into why this is happening or why that's happening. The only thing we're worried about is throwing up W's, and right now we're doing a good job of that so you can't really question it."
[+] Enlarge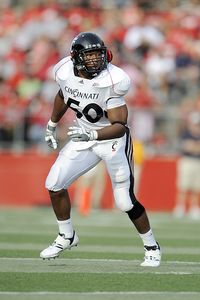 Rich Kane/Icon SMILinebacker Andre Revels isn't concerned about the perception the Cincinnati defense is struggling heading into the game against Pitt.
Revels has a point. The No. 5 Bearcats (11-0, 6-0 Big East) haven't been beaten this year and have won 17 straight regular-season games. So any worrying about issues seems like mere nitpicking.
Still, Cincinnati has a major test on its hands this week at No. 15 Pittsburgh (9-2, 5-1) in the battle for the Big East's BCS bid. And Pitt's offense has the potential to turn those recent vulnerabilities into a fatal flaw.
For much of the season, the Bearcats were ranked among the nation's leaders in most defensive statistics. Then came the Connecticut game, in which the Huskies piled up 462 yards and 45 points in their two-point loss. West Virginia scored only 21 points in a three-point loss at Nippert Stadium, but the Mountaineers had 390 yards and 202 on the ground. Then last week, Illinois scored 36 points and rolled up 476 yards in a 13-point defeat.
So Cincinnati hasn't exactly been stuffing people. Now comes Pitt, which is second in the Big East in total offense, is averaging 32.2 points per game and has dynamic options in both the run and pass games.
"We've given up some points in the last few weeks, there's no doubt about it," Cincinnati coach Brian Kelly said. "But I'm confident we can compete and keep the score to where it doesn't have to be a shootout, and we don't have to score every time we have the ball."
In some ways, the Bearcats' ability to score so many times has hurt the defense. Cincinnati ranks last out of 120 FBS teams in time of possession at just 26:03 per game. That means the defense has been on the field nearly 34 minutes of every game, often without much rest after a fast-strike scoring drive from the offense.
"We're battling the best we can," Kelly said. "We certainly don't help them in the style of offense we play because we score quickly. But I'd rather put more points on the board at the end of the game."
UConn, in particular, showed that a strong offensive line can overpower Kelly's 3-4 defense at the point of attack. The Bearcats aren't the biggest team up front; backup noseguard Brandon Mills, for instance, weighs just 266 pounds. Pitt has probably the best offensive line in the Big East.
"Their offensive line, they look just mean on film," Revels said. "Their stances are aggressive. They come off the ball aggressive. It's just going to be a real aggressive game."
Cincinnati's defensive vulnerabilities of late haven't been lost on the Panthers.
"We see certain things we think we'll be able to do," Pitt quarterback
Bill Stull
said. "We've seen the close games they were in the last couple of weeks, like UConn, West Virginia. Those came down to the fourth quarter. We understand certain things we've got to do."
The thing is, even when other teams have found ways to make the Bearcats' defense bend, the team hasn't broken. They are still 11-0, after all.
"I don't feel like you can have problems if you're winning," Revels said.
December, 1, 2009
12/01/09
1:57
PM ET
CINCINNATI -- I asked the first question at Brian Kelly's news conference today, an actual football-related query.
The next six questions or so were all
about Notre Dame
. The Cincinnati coach answered each one with some version of, we're staying focused on Pitt. He seemed a little exasperated at times, his voice rising.
But it's impossible not to ask Kelly about the Irish job opening. He remains perhaps the
best choice
for that gig, as Pat Forde wrote today. And at no point has Kelly ever said he's not interested in Notre Dame, nor should anybody expect him to do so.
Is all the talk a distraction to the players? Only two players were made available to the media this week, and both came to today's news conference -- tight end
Ben Guidugli
and linebacker Andre Revels. Both insisted that the Pitt game was the main thing on their minds this week.
"Anything that's being talked about besides winning this game is really not what we're interested in," Guidugli said. " We don't want anything to take away from what we've accomplished. Talking about issues like this, I feel, is a real damper on how far we've come and what we've got to do now in the next few days."
The bottom line is that this team has been through these rumors before. With so much on the line this week against Pitt, including a perfect regular-season record and second straight Big East title, there shouldn't be too much concern about losing focus.
A few health notes from today's news conference: Kelly said running back
Jacob Ramsey
(foot) looked good in practice on Monday and should be a big part of Saturday's game. Safety Drew Frey suffered a concussion against Illinois but is doing better. He'll go through exertion tests this week to see if he can play.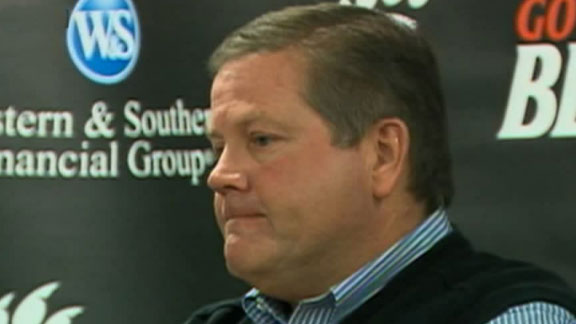 May, 21, 2009
5/21/09
11:00
AM ET
Posted by ESPN.com's Brian Bennett
We've talked about guys who've had big springs, guys who might emerge and guys who came out of nowhere.
But there were also players who missed all or part of the spring because of injuries, suspension, academics or whatever. And several of them are key parts to their team. Here's a look at some players who need to come through this fall after being absent for at least part of spring ball.
Cincinnati: Linebacker Andre Revels was held out of most of the spring after minor offseason knee surgery. The senior is one of the few experienced players on the Bearcats' defense and will be counted on this fall. Young defensive back Dominique Battle was expected to compete for a starting cornerback job this spring but was sidelined at times with an ankle injury.
Connecticut: The Huskies were remarkably injury- and issue-free this spring. They'll hope that continues this fall.
Louisville: The Cardinals are a different team offensively when receiver Scott Long is healthy. Unfortunately, he missed most of last season with injuries and sat out the spring following ACL surgery. He should be good to go in the summer.
Pittsburgh: Starting cornerback Aaron Berry was suspended for the final part of spring drills for violating team rules. Pitt needs him to have his act together and be on the field.
Rutgers: The Scarlet Knights had a lot of important players miss time this spring with various injuries, including safety Joe Lefeged, leading returning rusher Kordell Young, running back Jourdan Brooks and several of their young receivers.
South Florida: Seemingly every offensive linemen the Bulls missed time with an injury or another problem this spring. Obviously, Jake Sims (finger), Zach Herman (concussion), Sampson Genus (knee) and Jeremiah Warren (academics) all will be needed in the fall for South Florida to contend.
Syracuse: First-team all-Big East defensive tackle Arthur Jones tore his pectoral muscle before the spring and was unavailable. The timetable for his return isn't clear, but Syracuse would have a hard time without him.
West Virginia: The Mountaineers could use Jock Sanders back in the lineup. The speedy receiver/running back was suspended for the spring after a DUI arrest. He will try to return to the team once he completes his court case.
February, 10, 2009
2/10/09
11:39
AM ET
Posted by ESPN.com's Brian Bennett
Fear not, Big East football fans. In less than a month, South Florida will be back on the practice field, with the rest of the league teams starting their spring drills shortly afterward.
There will be no shortage of situations to follow during the spring. There's a new head coach at Syracuse, new coordinators almost everywhere and no fewer than five teams seeking a new quarterback.
We've got all the story lines covered here in our team-by-team spring primer:
Spring practice starts: March 31

Spring game: April 25
What to watch:
• Defense, defense, defense. Safety Aaron Webster is the only returning defensive starter from 2008, so this spring will be about finding out who's ready to step into bigger roles. Several backups have experience, including linebacker Andre Revels and defensive end Curtis Young. But all jobs should be open. And with this week's firing of defensive coordinator Joe Tresey, the Bearcats could be working under a new scheme.
• Cincinnati brings back quarterback Tony Pike, receiver Mardy Gilyard and its top two rushers in Jacob Ramsey and John Goebel. But the spring will be time to find new playmakers as well. Isaiah Pead averaged 6.6 yards a carry in limited duty as a freshman and should see his role increase. The bubble wrap will come off promising redshirt freshman Quentin Hines. Receiver D.J. Woods had a solid freshman season and will need to build upon that to help replace Dominick Goodman.
• You don't normally pay much attention to punters in spring practice, but this is an exception. The Bearcats have to find a suitable replacement for two time All-American Kevin Huber.