NCF Nation:

Andrew Baggett
September, 25, 2014
Sep 25
10:00
AM ET
Saturday will bring two teams closer than the 165 miles that separates their games.
Missouri's trip to face No. 13 South Carolina (3-1, 2-1 SEC) and Tennessee's game against No. 12 Georgia (2-1, 0-1) in Athens, Georgia, stand as reminders of what inches can mean in a football game.
A year ago, Missouri (3-1, 0-0) and Tennessee (2-1, 0-0) were inches from huge wins against their respective Saturday opponents.
For Missouri, kicker
Andrew Baggett
clanked a 24-yard field-goal attempt off the left goal post in a stunning home overtime loss to South Carolina. At Tennessee, there are still haunting visions of Vols receiver
Alton "Pig" Howard
stretching across the goal line inside Neyland Stadium, seemingly giving the Vols a shocking upset victory in overtime against Georgia, only for the ball to slip out just before hitting the pylon. Bulldogs kicker
Marshall Morgan
nailed a game-winning field goal on the ensuing possession.
[+] Enlarge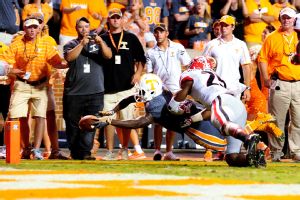 Scott Cunningham/Getty ImagesTennessee's Alton Howard fumbled the ball through the end zone during overtime on this play last season, and Georgia went on to win.
"Alton was making a play," Tennessee senior linebacker
A.J. Johnson
said. "If it hadn't have been for him, we wouldn't have been in the game. He was making plays for us all through the game, and he was trying to make another play and the ball slipped out. That wasn't on him -- that was him just trying to make a play and help the team."
Two heartbreaking losses that didn't exactly define either program, but have left faint scars that could be rubbed away with a little redemption Saturday.
"Missing those [field goals] is a bad feeling, but especially missing one like that last year is unforgettable," said Baggett, who missed two field goals in that game and actually received threats via social media afterward.
"Regardless, I have to make that. When it's sideways on the ground, I have to hit that."
Both teams went down much different paths after those losses. They both rebounded -- Tennessee upset No. 11 South Carolina two weeks later and Missouri became SEC Eastern Division champion -- but the Vols missed out on being bowl eligible by
one win
.
Both teams have tried to put the losses behind them, but Saturday does serve as a platform for redemption for both teams. They can squash their demons from last season's showdowns and get a nice jump in SEC play.
Saturday is the SEC opener for both teams, and wins by both would propel them to the top of the division and help them take a crucial lead on such a topsy-turvy side of the conference.
"This is where it really counts," Johnson said. "Every game really counts on this stretch, because it's SEC play. We don't have any SEC losses, so this will be a big win for us."
A Tennessee win against Georgia would show how far this program has come under second-year coach Butch Jones. With a leg up in the divisional race, this season's 34-10 loss to No. 4 Oklahoma would be forgotten.
For Mizzou, this is a chance to regroup after an ugly home loss to unranked Indiana last week. The defense surrendered 241 rushing yards and the offense was atrocious on third downs, converting just 5 of 16 attempts (24 percent).
"It's kind of a coming-to-Jesus moment for us as a team," redshirt senior offensive lineman
Mitch Morse
said. "Really figuring out what we need to fix. We can bring more to the table, and that shows that we're going to this week."
Last season's loss to South Carolina was the only loss for quarterback
Maty Mauk
during his month-long stretch of being the Tigers' starting quarterback, and he sees similarities in last season's loss and last week's performance against the Hoosiers.
"The main thing I remember is there was a lot left out there for us," Mauk said. "It was kind of similar to Indiana. There was so much more that we could've done, so much left out there, and to know that you were 3 points away in overtime, it's frustrating.
"That's going to be the motivation for us this week -- that we want to come out, start fast and finish strong."
November, 20, 2013
11/20/13
8:00
AM ET
For eighth-ranked Missouri (9-1, 5-1 SEC) to win the SEC Eastern Division, the Tigers have to win their two remaining conference games.
It's plain, it's simple and it won't be easy.
Those two games are at No. 24 Ole Miss (7-3, 3-3) and home against No. 12 Texas A&M (8-2, 4-2). Less than a month after being comfortably in the East driver's seat, Mizzou now has the stressful job of keeping its foot on the pedal toward Atlanta by ending the regular season 2-0. With South Carolina owning the head-to-head series with Mizzou and ending SEC play with just two losses, a Tigers' loss in the next two weeks will cancel their reservations in the SEC championship game.
That's a lot of pressure for an SEC newbie, but don't tell that to the Tigers. With the microscope fixed just over their heads, anxiety could derail this team. So far, it hasn't. Mizzou has won two straight by a combined 59 points since that heartbreaking 27-24 overtime loss to the Gamecocks and players feel refreshed and energized heading into Saturday's pivotal showdown in the Grove.
"I feel like this football team isn't even looking at it as pressure," senior cornerback
E.J. Gaines
said. "It's just opportunity and what we can accomplish. These captains and seniors are leading this team in the right direction and they don't look at it as pressure. They're excited about it."
[+] Enlarge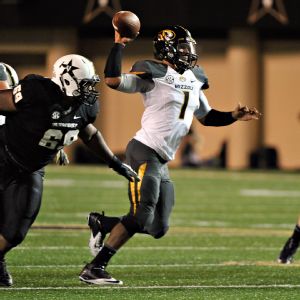 Getty ImagesThe Tigers will have QB James Franklin back in the starting lineup as they chase down an SEC East crown starting Saturday at Ole Miss.
Such confidence for a team that had its magical run temporarily halted when
Andrew Baggett
's field goal attempt ricocheted off the Tigers' home goalpost against South Carolina. A special season hung in the balance after that loss, as momentum and excitement suddenly faded.
But only temporarily, as Gaines said the seniors gathered the team and lifted the drooping heads that hung in Mizzou's dejected locker room. Gaines said his classmates talked about still having their SEC and BCS goals intact and "keeping your eyes on the prize."
With that, senior receiver
L'Damian Washington
said spirits lifted and practices bounced as they prepared for Tennessee the following week.
"We just felt sorry for Tennessee because they were up next on our schedule and we knew that we were ready to play football again and take our anger out on someone," Washington said.
Boy, did they.
The Tigers rolled 31-3 behind 502 yards of offense before trucking Kentucky 48-17 the following week. Players have quelled the misery from the South Carolina game. Losses like that can cause teams to step back or step forward. Mizzou, which has averaged 464 yards and 39.5 points in the past two games, has stepped forward.
"We definitely got stronger from it," Washington said.
"Mentally, man, we're there. We know that we stepped up. We know that we can't take one play off in each game because each play is so costly. We know what our goal is, we know where we're headed and we know that that one loss doesn't define us."
The first step is beating a red-hot Ole Miss team that has won four straight by not dipping below 521 yards in the process, including 751 yards last week against Troy. The Rebels are also trying to make a statement about just how far they've come as well.
It helps that starting quarterback
James Franklin
(shoulder) is back and that the bye week helped other nagging nicks this team had.
For coach Gary Pinkel, he doesn't think this team should feel the pressure of essentially having a one-game playoff this weekend and the next. To him, it's about Saturday and Ole Miss. Everything else is a distraction.
"That is clutter," Pinkel said. "Teams that prepare right don't let that affect them. They focus on what they can control, and that is playing well. That is when your mental toughness kicks in, and you do not let outside things change your focus. I will be really disappointed if we put all those kind of pressures on ourselves. That does not help you play well."
October, 19, 2013
10/19/13
6:50
PM ET
COLUMBIA, Mo. -- Back in August, Missouri coach Gary Pinkel asked his seniors what they wanted people to say about this football team come January.
Would it be the same team that limped through its first season in the SEC? Or would it make statement to the league -- and the nation -- that it could compete in the toughest conference?
Last year might have been a dud for the Tigers, but through seven games, they are one of the hottest teams in college football after taking Georgia and Florida down in consecutive weeks. After their 36-17 victory against the Gators on Saturday inside Memorial Stadium, it's safe to say people are thinking quite highly of this Mizzou team.
"I thought we were going to be a good football team," Pinkel said. "I don't know why nobody else thought we were going to have a good football team. I don't know, but I love my guys."
It was easy to write off Mizzou before the season after that less-than-impressive 2012 campaign. Injuries were catastrophic, but the perception was that this team was never tough enough to survive in the SEC.
[+] Enlarge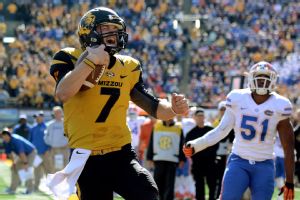 Denny Medley/USA TODAY Sports In his first career start, Missouri freshman Maty Mauk threw for 295 yards in a win against East foe Florida.
Now, the Tigers (7-0, 3-0 SEC) are sizzling. Their 36 points against Florida were the most the Gators have given up in league play since surrendering 41 to LSU in October 2011. That also snapped Florida's 13-game streak of allowing 20 points or less in SEC play. Mizzou's 500 yards of offense were the most against Florida since the Gators gave up 512 to Kentucky in October 2007.
Backup quarterback
Maty Mauk
filled in for
James Franklin
(shoulder) swimmingly with 295 yards and a touchdown.
Henry Josey
ran for 136 yards and a score, while the defense gave up just 2.5 yards per play and had six sacks.
In three SEC games, Mizzou has averaged 466 yards and outscored teams 128-71. With Saturday losses by Georgia and South Carolina, Mizzou has a two-game lead over the SEC East powers heading into next week's visit from the Gamecocks.
As injuries pile up, Mizzou is getting all three division heavyweights at the most opportunistic of times, but it's time to give the Tigers credit. This is a good team that could be one win away from essentially clinching the SEC Eastern Division in its second year in the league.
"We have a lot of guys who are good football players," Pinkel said. "You can be as competitive as you want, but if you're not a good football player it's not going to matter.
"We have guys making plays. These aren't just average guys out there."
Added Mauk: "We want to be that team that Coach Pinkel talks about."
It's on its way, but the Tigers aren't quite popping bottles of Gatorade. They're happy, but their goals are much bigger than just beating Florida.
Wide receiver
L'Damian Washington
said he and the seniors went to the coaches before the season and said they wanted more than just a bowl game. During SEC media days, Washington said the goal for 2013 was 11 wins or more. He was laughed at, even by a local radio station, he said, but he knew this team was capable of a special rebound.
[+] Enlarge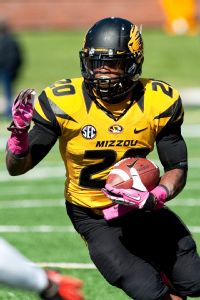 AP Photo/L.G. PattersonMissouri running back Henry Josey scores on a 6-yard touchdown run in the third quarter.
"We said, 'Let's not be complacent. Let's not talk bowl games,' " Washington said. "A bowl game is cool, but let's talk BCS, let's talk national championships.
"We believed in ourselves, and that's all that matters."
While the Tigers are believing, you have to wonder what's going through the Gators' minds. In back-to-back games, the offensive has been totally inept, gaining just 391 yards combined with 16 offensive points and one touchdown. Florida's 151 yards Saturday were its lowest since registering 114 against Alabama in the 1999 SEC championship game.
Mizzou kicker
Andrew Baggett
even outscored Florida, 18-17, with five field goals and three extra points.
"We are just not really a good football team," Florida coach Will Muschamp said, "certainly not today. That's all on my shoulders.
"I am pretty disappointed that we have not had more positive strides offensively at this point of the season."
These programs are now going in opposite directions. Mizzou has a stranglehold on the SEC East and controls its destiny to Atlanta. Florida (4-3, 3-2) is two games back and has a regressing offense.
Mizzou players are excited, but cautious. The road to Atlanta is clear, but obstacles still remain, and a slip-up next week to a reeling South Carolina squad could kill momentum. As good as this team is, it's all about hunger and humility from here on out.
"You have to act like you've been there at one point in your life," defensive end
Kony Ealy
said. "You can't get your head full of air and be up in the clouds or you will get knocked down to the ground really fast. You have to stay humble."
November, 10, 2012
11/10/12
5:14
PM ET
Missouri 51, Tennessee 48 (4 OT):
Redshirt freshman kicker
Andrew Baggett
connected on a 35-yard field goal, lifting the Tigers to a thrilling four-overtime road victory at Neyland Stadium.
Missouri needed a near-miracle just to get the game to overtime, trailing 28-21 in the final minute of regulation. The Tigers converted two fourth downs, including a 25-yard touchdown pass from
James Franklin
to
Dorial Green-Beckham
on 4th-and-12 to tie the game at 28-28 with 47 seconds left.
Boos rained down from the fans at Neyland when the Volunteers decided to run out the clock and go to overtime.
The teams exchanged touchdowns in the first two overtimes, and Missouri receiver
Marcus Lucas
made another impressive catch, an 18-yard reception reminiscent of Green-Beckham's regulation haul, to send it to a third overtime tied at 42.
The teams exchanged touchdowns and failed two-point conversion attempts in the third overtime, then Tennessee coach Derek Dooley made an interesting decision in the fourth overtime, electing to go for it on fourth-and-3 at the Missouri 18. Quarterback
Tyler Bray
's pass to
Zach Rogers
fell incomplete and the Vols paid for it when the Tigers capitalized with Baggett's game-winning kick.
The loss keeps Tennessee (4-6, 0-6 SEC) winless in conference play while the Tigers (5-5, 2-5) picked up their second SEC win.
Franklin's day was a good one, as he went 19-of-32 for 226 yards with four touchdowns and an interception. He also picked up 43 yards on the ground, and senior running back
Kendial Lawrence
rolled to a 153-yard, two-touchdown day on 21 carries, which included a 77-yard third-quarter touchdown run.
Tennessee was awful in the penalty department, committing 11 for 80 yards.
South Carolina 38, Arkansas 20:
Connor Shaw
and the Gamecocks receivers found plenty of room downfield en route to the resounding victory against the Razorbacks at Williams-Brice Stadium.
Shaw, the Gamecocks' junior quarterback, was 14-of-22 passing for 272 yards and two touchdowns. He was able to hit on big plays down the field early and often -- the first coming on a 29-yard pass to a wide-open freshman tight end
Jerell Adams
.
The Razorbacks moved the ball well themselves in the first half, getting inside the Gamecocks' 10 on three straight drives, but only yielded 10 points from those three trips. The first ended in a lost fumble by
Dennis Johnson
, the second resulted in a 6-yard touchdown pass from
Tyler Wilson
to
Keon Hatcher,
and the third stalled before becoming a short
Zach Hocker
field goal.
Shaw continued his downfield assault before the half, hitting a wide open
Bruce Ellington
for a 42-yard touchdown at the 1:30 mark, giving South Carolina a 21-10 lead going into halftime.
The defense got in on the act in the third quarter when
D.J. Swearinger
stepped in front of a Wilson pass and returned it 69 yards for a score and a 31-10 lead.
The Gamecocks put ample pressure on Wilson, sacking him four times and picking up four hurries as well. Wilson was productive when he did have time (26-of-41, 277 yards) but threw two interceptions with his two touchdowns.
South Carolina was able to keep the chains moving fairly well, converting 7-of-13 attempts on third down. That's an area where Arkansas struggled mightily (3-of-17). The turnover battle went in the Gamecocks' favor also, 3-1, with the only South Carolina turnover coming with Shaw taking a shot in the end zone holding a 38-13 lead in the fourth.