March, 22, 2012
3/22/12
9:00
AM ET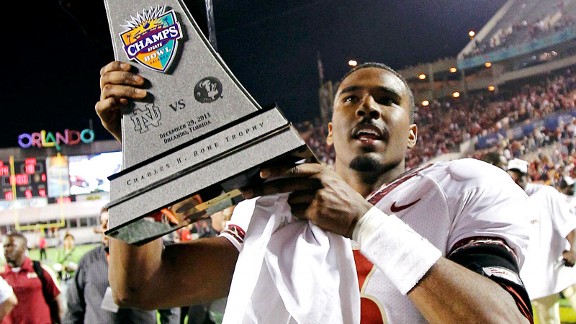 AP Photo/John RaouxQuarterback EJ Manuel and the Seminoles will focus on more offensive versatility this season.
TALLAHASSEE, Fla. — If Florida State is going to return to the upper echelon of college football in 2012, which it has been trying to do for more than a decade, the Seminoles are going to have to be more explosive on offense.
Last season, FSU ranked No. 4 nationally in scoring defense, allowing only 15 points per game, and ranked among the top 10 in net punting and kickoff returns.
The Seminoles were explosive on defense and special teams during a 9-4 season in 2011, but their offense, because of inexperience and injuries, was far from potent. FSU ranked 39th in scoring (30.6 points per game), 77th in total offense (369.1 yards), 33rd in passing (257 yards) and 104th in rushing (112.1 yards).
"When you're a great football team, you've got to be great in all three phases," FSU coach Jimbo Fisher said. "There are days on offense when you're not going to score 35 points. You've got to be good in all three phases in case that happens."
Fisher believes the pieces are in place for FSU to be better on offense this coming season. Quarterback
EJ Manuel
, who was plagued by shoulder and leg injuries in 2011, is back for his senior season. FSU's offensive line will be stronger and more experienced after four freshmen started in its 18-14 victory over Notre Dame in the Champs Sports Bowl. Tailback
Chris Thompson
is back after missing most of last season with a back injury, and the Seminoles will bring back one of the country's deepest and most talented receiver corps.
As long as the Seminoles stay healthy, Fisher expects his offense to be better in 2012.
"Everything that could have gone wrong on offense last year went wrong," Fisher said.
FSU's problems started in spring practice, when it lost starting offensive tackle
Andrew Datko
to shoulder injuries. Manuel injured his left shoulder in FSU's 23-13 loss to Oklahoma on Sept. 17 and missed the next game, a 35-30 loss at Clemson. Thompson broke two vertebrae in his back in a 35-30 loss at Wake Forest the next week and missed the rest of the season. Without Thompson, FSU's running game was never able to get going.
Fisher believes Manuel is the kind of quarterback that can lead FSU to an ACC championship and BCS bowl game. Manuel completed 65.3 percent of his passes for 2,666 yards with 18 touchdowns and eight interceptions and ranked No. 18 nationally in pass efficiency (151.2 rating) last season.
"I don't know if he played great, but he played pretty well," Fisher said. "He was banged up. Staying healthy is going to be critical for him this year."
Manuel, from Virginia Beach, Va., played most of the Champs Sports Bowl after breaking the fibula in his left leg. The injury hasn't completely healed, but Manuel is expected to participate in most of spring practice.
"It will be fine," Manuel said. "It really doesn't hurt much because it's not a weight-bearing bone. It was really painful when I was hurt, but I didn't know it was broken. I thought it was like a deep thigh bruise."
Fisher said Manuel earned the respect of his teammates by playing with a broken leg in the bowl game.
"He's very tough and very competitive," Fisher said. "He plays with pain really well. The team always comes before 'me' with him, which is a great quality."
Manuel will have plenty of weapons at his disposal. The Seminoles' top four receivers –
Rashad Greene
,
Rodney Smith
,
Christian Green
and
Kenny Shaw
each caught more than 25 passes last season – are coming back. Fisher said junior
Willie Haulstead
, who missed last season with a concussion, and redshirt freshman
Kelvin Benjamin
might be as good as any of FSU's returning receivers. Benjamin, from Belle Glade, Fla., is 6 feet 6 and 242 pounds.
"I'm extremely excited about these freshmen we have coming in," Manuel said. "Guys that were young last year like Rashad Greene and Kenny Shaw are going to be better. Our offensive line is going to be more experienced and it needs to get stronger, which they're doing."
Finding depth at tailback and solidifying the offensive line are FSU's priorities this spring. Thompson is expected to participate in spring practice, and sophomore
Devonta Freeman
is working his way back from a lower back injury. Freshman tailback Mario Pender, of Cape Coral, Fla., enrolled at FSU in January and will also compete in spring practice.
Keeping Manuel healthy will be FSU's priority when the season begins.
"Last year was frustrating, but I think it's something you build character from," Manuel said. "Injuries are a part of the game. You're never going to be healthy. You've got to play whether you're 80 or 90 percent or 20 percent. If you're going to play, you have to go out there with the mindset to win."
December, 28, 2011
12/28/11
10:30
AM ET
There has been talk of Florida State using the Champs Sports Bowl as a springboard into 2012, a way for the Seminoles to brush off the disappointment of unachieved goals this year and reset the bar for next season.
None of that will happen, though, unless coach Jimbo Fisher can find a way to squeeze more offense out of what appears to be a nearly empty tube.
Just one season after winning the Atlantic Division title, Fisher's play calling has been called out by fans. The offensive line has taken its fair share of criticism, too, and it's easy to see why: FSU enters Thursday's game against Notre Dame with the nation's No. 99 rushing offense, ranked No. 111 in sacks allowed and No. 73 in total offense. The Seminoles beat Florida in the regular-season finale with only 95 yards of total offense. They had four offensive touchdowns in the final three games, including just one against Miami and one against Virginia.
While defense is the hallmark of a championship team -- and there's no doubting the Noles' defense -- it's only part of the equation. And if Florida State fans are going to expect more, the Noles will have to produce more against the Irish.
It's been a perplexing end to what was supposed to be a productive season for first-year starting quarterback
EJ Manuel
and his supporting cast. FSU entered the season with depth at running back, experience on the offensive line, and Manuel had big-game experience as a backup. Part of the problem can be attributed to injuries.
The extended losses of senior linemen Andrew Datko and David Spurlock have led FSU to start six different offensive line combinations. No single group has been together in the same position for more than three consecutive games. It's now possible that as many as four freshmen will play against Notre Dame. Manuel was also injured earlier this season, and a total of 13 starters or key reserves have missed a combined 64 games. Six FSU offensive linemen have missed games this season, and running
Chris Thompson
, the team's leading rusher in 2010, suffered a season-ending back injury in the middle of the season.
"I've never been through injuries like we've been through this year," Fisher said. "In the end it gave a lot of young guys time to develop and play. Hopefully we'll play well in the game and I think going into the spring and hopefully next year, it makes it look very promising."
It will only look that way, though, if Florida State wins -- and manages more than 95 yards in the process.
August, 12, 2011
8/12/11
11:23
AM ET
ESPN.com is releasing its preseason all-conference teams today. You'll notice this one has a few differences in it from what was voted on at ACC's media days. Here are the ACC players who get my vote:
OFFENSE
WR
Conner Vernon
, Duke
WR
Dwight Jones
, North Carolina
TE
George Bryan
, NC State
T Blake DeChristopher, Virginia Tech
T Andrew Datko, Florida State
G Brandon Washington, Miami
G Omoregi Uzzie, Georgia Tech
C Dalton Freeman, Clemson
QB Danny O'Brien, Maryland
RB
Montel Harris
, Boston College
RB
David
Wilson, Virginia Tech
DEFENSE
DE Quinton Coples, North Carolina
DE Brandon Jenkins, Florida State
DT Tydreke Powell, North Carolina
DT
Brandon Thompson
, Clemson
LB Luke Kuechly, Boston College
LB Sean Spence, Miami
LB Kenny Tate, Maryland
CB Chase Minnifield, Virginia
CB Jayron Hosley, Virginia Tech
S Ray-Ray Armstrong, Miami
S Eddie Whitley, Virginia Tech
SPECIAL TEAMS
PK Will Snyderwine, Duke
P Shawn Powell, Florida State
SP Greg Reid, Florida State
June, 24, 2011
6/24/11
3:30
PM ET
I know there are many ACC enthusiasts out there who will be saddened to hear that I am not going to rank the offensive linemen by position (centers, guards and tackles). Instead, I'm going to put them all together and just rank the top 10 offensive linemen in the ACC this year.
[+] Enlarge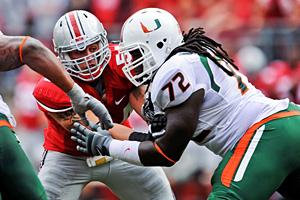 Jamie Sabau/Getty ImagesBrandon Washington started every game last season and was credited with 56 pancake blocks.
1. Brandon Washington, Miami:
He was one of three offensive linemen to start all 13 games last year and finished second on the team with 56 pancake blocks. He graded out at 99 percent against Pittsburgh, the highest grade of any starter all season, and 95 percent against Virginia Tech.
2. Andrew Datko, Florida State:
He has played his entire career at left tackle, where he has protected the quarterbacks' blind side extremely well. He allowed just one sack in 11 games (all starts) last year, stifling heralded pass-rushers from Oklahoma, Miami, Clemson, Florida and Virginia Tech. He was penalized just three times and had only five missed assignments in 691 snaps. Datko's season average grade of 87 was second on the team only to Rodney Hudson.
3. Blake DeChristopher, Virginia Tech:
He's the veteran on the offensive line, with 37 career starts. He was a second-team All-ACC selection at tackle last fall when he graded out at 83 percent with a team-leading 59 knockdown blocks.
4. Jonathan Cooper, North Carolina:
He is the veteran on the line with 22 career starts. He started all 13 games last year and played a team-high 875 snaps. He led the Tar Heels in knockdown blocks for the second straight year with 55. He graded out at 83 percent, tied with James Hurst for the best on the team.
5. Jaymes Brooks, Virginia Tech:
He's entering his third season as starting right guard, and is powerful and explosive. He had a season-high nine knockdowns against Florida State in the ACC championship game, and eight in the opener against Boise State.
6. Dalton Freeman, Clemson
: He has started each of the past 22 games at center and finished second on the team with 58 knockdown blocks. He allowed just two sacks and was third on the team with a grade of 80.6 percent. He led the team in knockdown blocks in six games and four of the last seven.
7. James Hurst, North Carolina:
He was one of the top freshmen in the country last year, and made an immediate impact with 12 starts at left tackle. He was third on the team with 33 knockdown blocks and tied with Cooper for a team-high grade of 83 percent.
8. Omoregie Uzzi, Georgia Tech:
He was a second-team all-conference guard last year and started all 12 games he played in. He's strong, has good lateral quickness, and has become more fundamentally sound. He should be the leader of the line this year.
9. Zebrie Sanders, Florida State:
He started all 14 games last year and was the only Seminole lineman credited with at least one knockdown block in 13 of 14 games. He finished second on the team with 37 knockdown blocks, and had a season average grade of 81 percent, which was the best of his career. He ranks third among all FSU linemen with 37 career starts, including 23 consecutive.
10. Landon Walker, Clemson
: He has played in 39 games (35 starts). Last year he had 30 knockdowns, at least one in every game, and had five and a team-high 87 percent grade against Auburn.
June, 24, 2011
6/24/11
2:00
PM ET
Ranking offensive linemen is not easy. But hey, either is being an offensive lineman. Here are your best "big uglies."

1. North Carolina:
Three starters and one part-time starter return from last year's team, and this line could be the biggest and best since Butch Davis was hired. Guard Jonathan Cooper (22 starts), center Cam Holland (20) and tackle James Hurst (12) have combined for 54 career starts. Travis Bond has four starts and is the leading candidate to take over at the other guard position.

2. Miami:
The Canes return nine of their top 10 offensive linemen including four starters from last year, and Joel Figueroa was granted a sixth season of eligibility. Even with the coaching change, the Canes should be strong up front. Center Tyler Horn is a veteran, Brandon Washington is a difference-maker, and there's enough competition that Seantrel Henderson spent most of the spring as a backup.

3. Clemson:
First-year offensive line coach Robbie Caldwell has four returning starters to work with in Landon Walker, Antoine McClain, Dalton Freeman and David Smith. They also have top reserve Mason Cloy, who has 19 career starts and has played in 38 games. There is plenty of depth for a dependable rotation.

4. Virginia Tech:
All four returnees started every game last year, and there is enough depth that the Hokies should be able to rotate the most players up front they ever have. It's a veteran group led by Blake DeChristopher, Andrew Lanier, Jaymes Brooks and Greg Nosal.

5. Florida State:
Despite the losses of Rodney Hudson and Ryan McMahon, there's experience up front. This fall, the starting lineup will consist of tackle Andrew Datko, left guard Bryan Stork or David Spurlock, center Jacob Fahrenkrug, right guard Spurlock or Stork, right tackle Zebrie Sanders. Just how good they'll be remains to be seen as the majority of them were out with injuries this past spring.

6. NC State:
The Pack lost Jake Vermiglio and will be without injured left guard Andrew Wallace for about half of the season, but Zach Allen, Camden Wentz and R.J. Mattes are returning starters. There's also a lot of talent waiting to emerge with young players like Duran Christophe, Rob Crisp, Tyson Chandler, Torian Box and Andy Jomantas.

7. Virginia:
Four players return with a combined 64 career starts in Anthony Mihota, Austin Pasztor, Oday Aboushi and Morgan Moses, who started the final seven games of the season as a true freshman. Pasztor is in his fourth season as a starter and has 32 career starts.

8. Boston College:
Despite the losses of Anthony Castonzo, Thomas Claiborne and Rich Lapham, the Eagles are almost settled up front, it's the experience behind the starters that's reason for concern. The No. 2 offensive line is comprised entirely of redshirt freshmen. Mark Spinney returns at center, the projected starting guards are Nathan Richman and Ian White, who started three games as a freshman, and the tackles are Emmett Cleary and John Wetzel.

9. Maryland:
It's been an injury-prone group the past two seasons and that didn't change this past spring. Left tackle Justin Gilbert, one of the top linemen on the team, reinjured the same knee he had ACL surgery on and will be out until October. R.J. Dill was also injured this spring, though he played in the spring game, and Justin Lewis was rehabbing from offseason surgery. Pete White also missed practices, so the group needs to solidify the two-deep roster.

10. Georgia Tech:
The Jackets return three starters in guard Omoregie Uzzi, guard Will Jackson and tackle Phil Smith. Sophomore Jay Finch played extensively last season and Ray Beno and Nick McRae were key reserves. Redshirt freshmen Catlin Alford and Morgan Bailey could also work their way into the rotation. Uzzi will be the leader of the line, but they were outplayed by the defense this spring.

11. Wake Forest:
Four starters are back, but the Deacs will sorely miss the experience and leadership of former center Russell Nenon. Garrick Williams started the final three games of 2010 -- two at guard and one at center, but he struggled with the snaps towards the end of spring and isn't where the staff needs him to be yet.

12. Duke:
The Blue Devils should take another step forward this season under offensive line coach Matt Luke, and they need to -- Duke's running game was last in the ACC last year and 104th in the country. Brian Moore replaces a three-year starter at center, but given his experience at right guard the past two seasons, it should be a smooth transition. That will leave a hole, though, at the right guard position, where Laken Tomlinson and John Coleman are the top candidates.
October, 9, 2010
10/09/10
7:49
PM ET
MIAMI GARDENS, Fla. -- FSU running back
Ty Jones
(ankle) has been running around during warmups, and looks like he'll be good to go, and left tackle Andrew Datko (shoulder) is expected to return to the starting lineup. Zebrie Sanders will move back to right tackle. Haven't heard of any lineup changes yet for Miami.
Quarterback play is critical Saturday night, and
Christian Ponder
has been the better of the two. If
Jacory Harris
makes better decisions and cuts down on his interceptions, it could be the difference in the game. With Ponder healthy and Datko back in the lineup, FSU's passing game has the potential to take another step -- if, of course, that veteran offensive line can hold off the Canes.
September, 30, 2010
9/30/10
10:19
AM ET
Here's a look at what to watch this week in the ACC: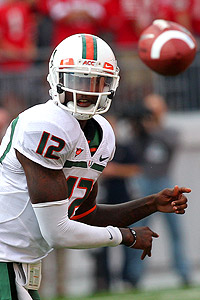 Aaron Josefczyk/Icon SMIThe Hurricanes need Jacory Harris to cut back on his interceptions.
Turnovers in Death Valley and College Park. Miami quarterback Jacory Harris has thrown six in the past two games. Clemson is No. 7 in the country in turnover margin, gaining seven and losing two. Duke had five turnovers this past weekend against Army and Maryland is tied for No. 10 in the country in turnover margin with 10 gained and four lost.

Clemson's offensive line vs. Miami's defensive line. One particular matchup will be right tackle Landon Walker against Miami defensive end Allen Bailey, but it needs to be a group effort. Protecting quarterback Kyle Parker and giving him time will be key, but it won't be easy. Miami is second in the nation in sacks, averaging 4.67 per game, and leads the nation in tackles for loss with 11.33. Bailey also played 12 snaps at tackle against Pitt.

Boston College's quarterback. The Boston Globe has reported that freshman Chase Rettig will start against Notre Dame, but coach Frank Spaziani hasn't confirmed it. All we know for sure is that it won't be Dave Shinskie. Regardless, it could be the difference in the game.

FSU's revamped offensive line. Left tackle Andrew Datko has missed the past two games with a shoulder injury and is listed as day-to-day. Henry Orelus and Garrett Faircloth are both expected to play. Zebrie Sanders could move from right to left tackle.

Georgia Tech's energy. That's right, it's that simple, and it's been missing. Paul Johnson said this week he wants his team to "play like their hair's on fire" and with a sense of urgency.

Atlantic vs. Coastal. All five ACC games this weekend are interdivisional matchups, the first time that has happened since the ACC split into the Atlantic and Coastal divisions in 2005. The Atlantic Division has home-field advantage in four of the five matchups.

The record books. NC State quarterback Russell Wilson needs one more touchdown throw to move into sole possession of second place in NC State history in that category behind ACC record-holder Philip Rivers. With 59 touchdown passes for his career, one more will also move him into seventh place in the ACC record books.

Virginia Tech in the red zone. The Hokies have been inside the 20-yard line 18 times and scored nine touchdowns. They kicked four field goals last week against Boston College, but will need to have more success against the No. 19 offense in the country or make more even stops on defense.

Virginia's defense vs. Florida State's offense. Virginia boasts the ACC's top scoring defense, allowing just 12.3 points per game. Florida State's offense is third in the conference in scoring (35.2/game) and ranks first in total offense (434.5 yards/game). Virginia has allowed 280.3 yards per game, which ranks second in the league to Miami.

North Carolina's revamped secondary against ECU quarterback Dominique Davis. The Tar Heels' secondary was one of the positions hit hardest by the suspensions, but those players have held their own. They'll get another challenge against the No. 9 scoring offense in the country and a passing game averaging just shy of 300 yards per game.
January, 12, 2010
1/12/10
11:37
AM ET
Bowl season deserves more than just helmet stickers. It deserves its own team. Regardless of whether they won or lost, these ACC players had an impact this postseason. Here is your 2009 All-ACC bowl team:
[+] Enlarge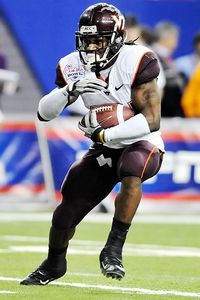 Todd Kirkland/Icon SMIRyan Williams ran for 117 yards and two touchdowns in the Chick-fil-A Bowl.
Offense and Special Teams
QB: E.J. Manuel, Florida State:
The Gator Bowl MVP completed 17 of 24 passes for 189 yards, had 73 rushing yards on 14 carries and one touchdown with zero turnovers. He led the Noles to 415 total yards in their 33-21 win over No. 18 West Virginia.
RB: Ryan Williams, Virginia Tech:
Williams ran for 117 yards and two touchdowns in the Chick-fil-A Bowl win over Tennessee. He finished the season with 1,655 rushing yards and broke Kevin Jones' single-season school record (1,647).
RB: Jermaine Thomas, Florida State:
He had 121 yards rushing on 25 carries and two touchdowns. He also had one catch for nine yards and posted his fourth 100-yard game of the season. He led FSU back from a 14-3 first quarter deficit against West Virginia in the Gator Bowl.
WR: Rich Gunnell, Boston College:
Gunnell finished with six catches for 130 yards, breaking Pete Mitchell's school record for yards receiving with 2,659 in his career. His 61-yard touchdown reception in the second quarter closed the gap to 14-13 against USC in the Emerald Bowl.
WR: Greg Little, UNC:
He finished with seven catches for 87 yards and two touchdowns in the loss to Pitt in the Meineke Car Care Bowl.
WR: Jarrett Boykin, Virginia Tech:
His 64-yard reception to the Tennessee 3 in the final seconds of the first half was a major turning point in the game. The Vols had already begun to head to the locker room, but officials determined there were still two seconds left on the clock. The play led to Matt Waldron's 21-yard field goal and a 17-14 halftime lead. Boykin finished with four catches for 120 yards.
TE: Jimmy Graham, Miami:
He had three catches for 30 receiving yards against Wisconsin in the Champs Sports Bowl and became the seventh Hurricane to record at least 200 receiving yards this season. Graham closed out his only season with the Canes with 15 catches for 213 yards and five touchdowns.
OL: Ed Wang, Virginia Tech:
In his final performance, Wang paved the way for a career-day for Williams, and helped the Hokies rack up 438 total yards of offense.
OL: Sergio Render, Virginia Tech:
Like Wang, Render was impressive in his final performance as a Hokie, and helped Virginia Tech use a balanced offense and gave quarterback
Tyrod Taylor
the time he needed to make plays.
OL: Rodney Hudson, Florida State:
The All-American returned to the lineup after missing two games with knee sprain and helped FSU rack up 415 total yards, 37 minutes time of possession and he did not allow a sack.
OL: Andrew Datko, Florida State:
He teamed with Hudson on the left side (where two of three rushing touchdowns came) and kept a WVU team averaging 2.6 sacks per game without one.
OL: Dalton Freeman, Clemson:
He graded out at 80 percent with seven knockdowns. Freeman was key to Clemson averaging 5.5 yards per rush and a Clemson bowl record 6.8 yards per play against Kentucky in the Music City Bowl.
K: Dustin Hopkins, Florida State:
He tied a school bowl record converting 4 of 5 field goal attempts and scoring a season-high 15 points on a windy day. His 42-yarder at the end of the first half pulled FSU within 14-13.
P: Chandler Anderson, Georgia Tech:
He had a career-high seven punts with an average of 49.1 yards and a long of 59 yards. Three of his punts were downed inside the 20 and only one was returned.
Spc: C.J. Spiller, Clemson:
Spiller finished his career with 172 all-purpose yards (68 rushing, 57 receiving), giving him an ACC record 2,670 for the season and 7,588 for his career. He finished his career in second place in FBS history in all-purpose yards.
Posted by ESPN.com's Heather Dinich
There are some teams in the ACC that are stacked at a particular position or positions -- meaning there's not just depth there, but depth and legitimate all-conference talent. Here's a quick look at who in the conference is simply loaded:
UNC front seven: All four starters return on the defensive line, and there is outstanding depth both there and in the secondary. On the line, tackle Cam Thompson is coming off his best season at UNC, tackle Marvin Austin and end E.J. Wilson both started the majority of games last season, and Robert Quinn had 6.5 tackles for loss, two sacks and two forced fumbles.
Linebackers Bruce Carter and Quan Sturdivant both started every game last season, and the position is the deepest it's been in recent years. Carter led the team with 11 tackles for loss and Sturdivant led the nation with 87 solo tackles.
Georgia Tech running backs: Jonathan Dwyer, Roddy Jones, Anthony Allen, Marcus Wright -- so many players, only one football.
Georgia Tech secondary: Morgan Burnett, Rashaad Reid, Mario Butler, Dominique Reese, and Cooper Taylor all have experience, and the group also welcomes back Jerrard Tarrant from a suspension.
Virginia Tech running backs: Darren Evans and Ryan Williams are all the Hokies will need, but they've also got Josh Oglesby and Kenny Lewis Jr. as players they can count on.
Boston College secondary: The Eagles return DeLeon Gause, Wes Davis and Roderick Rollins, who have combined for 32 career starts. This should be the best group BC has had in a while.
Clemson defensive line: The Tigers return three starters across the front, and coach Dabo Swinney has said this unit could be the strength of the entire team. Ricky Sapp is the leader, senior Kevin Alexander is a returning starter, and there are really three starters returning for the two defensive end positions, including DaQuan Bowers, who started six games last year and finished with 47 tackles, the most among the linemen.
Miami wide receivers: Travis Benjamin, Aldarius Johnson, Thearon Collier, LaRon Byrd, Kendal Thompkins, Tommy Streeter ... the Hurricanes could field a team that consists entirely of receivers.
Florida State offensive line: The Noles are oozing with talent here. Tackle Andrew Datko, guard Rodney Hudson and center Ryan McMahon combined to start all but one game last season. What was the youngest offensive line in the FBS last season could be one of the best this year. For the first time since 2004, all five starters return.
Wake Forest offensive line: The Demon Deacons return eight offensive linemen with a total of 118 career starts among them. Jeff Griffin and Joe Birdsong are Wake's returning starters at tackle while Barrett McMillin and Joe Looney each started at guard in 2008. Russell Nenon, who started the season at guard, moved to center at midseason following an injury to Trey Bailey. Bailey returns after fully healing from a broken ankle. The Deacons also welcome back Chris DeGeare who missed the 2008 season while getting his academics in order.
October, 16, 2008
10/16/08
3:33
PM ET
Posted by ESPN.com's Heather Dinich

Florida State left guard Rodney Hudson was sick to his stomach. It was one of the first practices of the season, and Hudson had caught a virus. He couldn't keep anything down, but refused to miss a minute of practice or complain about being ill.
"Nobody ever knew," said running back Antone Smith. "When I found out, I was like, he's a winner, this guy is a winner."
Hudson is only 19 years old, but he talks about "helping out the young guys" like he's a senior. He and offensive line coach Rick Trickett are two of the main reasons the youngest offensive line in the nation has matured quickly enough to make a difference. Their progress has been the root of the Seminoles' offensive success, and paved the way for Smith and a running game that had been lacking in previous years.
"I'm as surprised as I can be," coach Bobby Bowden said. "I mean, I'm as surprised as I can be. All five games, I'm just surprised. I just didn't think they could do this good. I mean, when you put that offensive line together, you would say, 'Well, this group is going to be pretty good one of these days, but they're not going to be ready yet.' Well, they're performing like they're juniors."
Posted by ESPN.com's Heather Dinich

1. Clemson: Quarterback Cullen Harper said Tuesday he's dealing with a sprained AC joint in his throwing shoulder, an injury he suffered in the season opener against Alabama. Clemson's injuries and inexperience on the offensive line are obviously part of the problem, but a bit of tension between Harper and coach Tommy Bowden won't help things. Bowden said Harper needs to play better after going 14-of-18 passing for 192 yards and a touchdown against the Citadel. Harper said "come to me and say it."

2. Florida State: Finding the right combination on the offensive line is the main priority right now before heading into ACC play against Wake Forest. Offensive line coach Rick Trickett publicly called out left tackle Zebrie Sanders, saying "I didn't think he played very well." Trickett was impressed with Andrew Datko and right guard David Spurlock, "but the other guys, those two freshmen, we've got a little ways to go there." Trickett still hasn't made much use of junior college transfer Joe Tonga at right tackle.

3. Georgia Tech: Most of the focus has been on the offense, but the Yellow Jackets' secondary has quietly picked off four passes in two games. It's quite an improvement considering they only had five interceptions all of 2007. Part of that is a result of the tremendous pressure Georgia Tech is bringing up front, but it's also showed a fearlessness from younger players. True freshman safety Cooper Taylor had six tackles against Boston College and cornerback Rashaad Reid made his first career interception.

4. NC State: The Wolfpack is looking for offensive playmakers to replace injured starters, as they're down to their third-string tight end, leading rusher Jamelle Eugene is out and top wide receiver Donald Bowens is out. Keep an eye on T.J. Graham, a blazing wide receiver and kickoff man who is the league's top freshman in all-purpose yards. And tight end George Bryan made the most of his promotion, as he had five catches for 41 yards and a touchdown last week. Quarterback Russell Wilson, who was out last week with a severe concussion, will make his comeback in Death Valley.



5. Virginia Tech: Despite quarterback Sean Glennon being outspoken about the staff's decision to use Tyrod Taylor last weekend, coach Frank Beamer said that wasn't the reason he put a muzzle on the quarterbacks this week. "I just think we spend all our time talking about quarterbacks and I want to talk about Georgia Tech." Beamer is looking for his team to block better and more consistently and wants his offensive line to continue to improve. The most progress came in the kicking game, and the tackling improved from Week 1 to Week 2.