April, 29, 2014
Apr 29
11:30
AM ET
Clemson coach Dabo Swinney didn't want to do it.
When he met with former quarterback Chad Kelly on the Monday following Clemson's spring game, Swinney said his original plan was to suspend Kelly -- not dismiss him from the team entirely -- but the meeting "just didn't go well."
"There's just certain things you can't tolerate, and that's just the bottom line," Swinney said. "It wasn't a good meeting. It was a simple decision that was made. He moved on and we moved on."
So did more than half the ACC this spring, to a new era of quarterbacks.
Cole Stoudt
's tenure began swiftly at Clemson, ending what was one of the most intriguing quarterback competitions in the ACC and capping a spring that was filled with quarterback news throughout the conference.
[+] Enlarge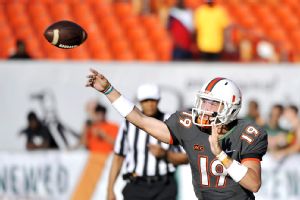 Steve Mitchell/USA TODAY SportsKevin Olsen became Miami's first-string quarterback when Ryan Williams tore his ACL.
At Miami, quarterback
Ryan Williams
tore his ACL, leaving
Kevin Olsen
the undisputed starter heading into summer camp.
At Duke, Brandon Connette announced his decision to transfer to the West Coast, leaving
Anthony Boone
in an unfamiliar role of being the lone leader.
Boston College named Florida transfer
Tyler Murphy
its starter, Syracuse reaffirmed
Terrel Hunt
as its starter,
Justin Thomas
is the main man at Georgia Tech,
Will Gardner
took the lead at Louisville and
Chad Voytik
became the obvious choice at Pitt.
What began as a position up for grabs in the ACC is largely no longer a mystery, as many schools determined their starting quarterback this spring, or at least had separation occur -- if not by performance, then by default. While most of the quarterbacks throughout the league are still unproven (six schools don't have any starting experience returning to the position, and four schools brought in transfers to help), many enter summer camp at least sure of where they stand on the depth chart.
"I had my meeting with the coaches before all that happened, and I felt comfortable with where I was," said Stoudt, who will make his first career start in the season opener at Georgia. "They said I was going to be the guy and everything. I know there were some things that happened, but I'm happy with the situation, and I'm happy I'm the guy going into fall camp, so it's exciting."
Nine of the 14 schools in the ACC will introduce a first-year starting quarterback this fall. Of the 11 teams that entered spring with quarterback competitions, eight found answers -- or at least had an obvious front-runner emerge.
At Miami, Williams had distanced himself from Olsen through his decision-making and accuracy, but the torn ACL meant an instant promotion for Olsen. Still, coach Al Golden said his confidence in the position remains high.
"I think we're not going to change what we do," Golden said. "We need to do a really good job of establishing the running game, keeping it simple, doing what we do best. Getting into more third-and-manageables. We were in way too many third-and-longs last year to possess the ball and convert. Clearly the two young men we have here on campus right now can do it. The two coming in will also have an opportunity to compete."
[+] Enlarge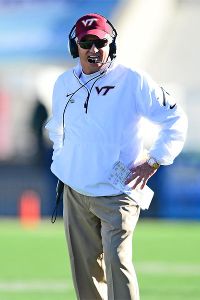 Andrew Weber/USA TODAY SportsVirginia Tech coach Frank Beamer is still looking for a starting quarterback to emerge.
The only three schools that didn't come close to naming a starter this spring were Virginia Tech, Virginia and Wake Forest. It's not a stretch to say that the Hokies' hopes of returning to the ACC title game hinge on having a dependable quarterback emerge, and as one of the premier programs in the Coastal Division, it will continue to be one of the most-watched storylines of the summer. Those within the program have been eagerly awaiting the arrival of Texas Tech transfer
Michael Brewer
and true freshman
Chris Durkin
. The staff has made it perfectly clear they won't name a starter until those two are added to the competition this summer.
"The big question really is the quarterback," coach Frank Beamer said. "I think
Mark Leal
,
Brenden Motley
and
Andrew Ford
all have had their moments. Some of it's good; some of it's not as good as you like. I think Michael Brewer coming in, Chris Durkin coming in, will enter into the competition there. We'll see how that ends up. But that's certainly the critical question for our football team right now."
The critical question for the rest of the conference becomes how these new starters will perform when it counts. Now that most of them have earned their starting jobs, there's pressure to keep them.
"I've said that if we were to play tomorrow, [
Will Gardner
] would run out there as our starter," Louisville coach Bobby Petrino said. "… There will certainly be competition for it in the fall. He'll have a chance to go out each day and prove that he's either the better quarterback, or someone passes him by."
More often than not, the ACC's new quarterbacks were able to prove it this spring.
March, 7, 2014
Mar 7
9:00
AM ET
Breaking down the spring in the ACC Coastal division:

Duke
Spring practice over
What we learned:
Momentum rolls on. It's hard to believe the Blue Devils are already done with spring ball, but coach David Cutcliffe opted to open practice in February to capitalize on the momentum that was created last season. After the spring game ended Saturday, he praised the way his players handled the practices. There was a great deal of retention and not a lot of re-teaching, so coaches were able to get much more out of their players this spring.
Max McCaffrey emerges. Jamison Crowder had a spectacular 2013 season, but it was essentially him and then everybody else in the receiver group. That may not be the case this season. McCaffrey earned praise from coaches and teammates for the way he improved during the spring. Offensive coordinator Scottie Montgomery said McCaffrey made as many plays as anybody else on the offense this spring.
Stepping up on the line. The Blue Devils lost three starters on their defensive line -- both ends in Kenny Anunike and Justin Foxx, and defensive tackle Sydney Sarmiento. But it appears as if the players behind them are ready to step up and make a seamless transition. Defensive ends Jordan DeWalt-Ondijo and Dezmond Johnson each had two sacks in the spring game. Kyler Brown also made the switch from linebacker to defensive end and had a sack in the spring game as well.

Georgia Tech
Spring start:
March 24
Spring game:
April 18
What to watch:
Justin Thomas takes over. After Vad Lee announced his transfer from Georgia Tech, the quarterback reigns fell to Thomas, who played in 10 games this season. The Jackets had their share of highs and lows under Lee, but what the staff is going to be looking for first and foremost is Thomas' ability to hold on to the football. Georgia Tech had 24 giveaways and ranked No. 12 in the ACC in turnover margin.
Defensive line questions. The Jackets lose three starters on the defensive line, including All-ACC defensive end Jeremiah Attaochu -- who had 22.5 sacks over the last two seasons. Who will step up and fill that type of production? The most experienced backups returning are sophomores Tyler Stargel and Patrick Gamble. Also, Travin Henry will get a look at defensive end after playing wide receiver last season.
Offensive line questions. Georgia Tech also loses three starters on the offensive line -- tackles Ray Beno and Will Jackson and center Jay Finch. The trio combined to start 117 games in their careers, so there is no doubt this is going to be a much less experienced unit in 2014. The good news is All-ACC guard Shaq Mason returns to help anchor the new-look line.

Miami
Spring start:
Started March 1
Spring game:
April 12
What to watch:
Quarterback derby. Stephen Morris is gone, but the Canes do have at least one experienced quarterback on the roster in Ryan Williams, a Memphis transfer who has served as Morris' backup the last two seasons. As a true freshman with the Tigers, Williams started 10 games -- all the way back in 2010. Challenging Williams is redshirt freshman Kevin Olsen, who had a bit of a rocky first year in Miami, along with Gray Crow.
Defensive improvements. Perhaps more than what happens at quarterback, Miami must see improvements out of its defense this season. Embattled defensive coordinator Mark D'Onofrio kept his job but the status quo cannot persist. Every single area of the defense must be upgraded. Ranking No. 13 in the ACC in total defense just can't happen again.
Defensive improvements, Part II. To try and help the secondary, Miami already moved Dallas Crawford over to safety, where the Canes could use the help. But Miami must be stronger on the defensive front. The Canes only had 12 sacks in eight conference games. By comparison, BC led the way with 25 sacks in conference games. This is a big opportunity for guys like Al-Quadin Muhammad, Tyriq McCord and Ufomba Kamalu to really step up.

North Carolina
Spring start:
Started March 5
Spring game:
April 12
What to watch:
The quarterbacks. Marquise Williams took over as the starter when Bryn Renner was gone for the season and ended up helping the Tar Heels make a bowl game after a 1-5 start. But coach Larry Fedora said the competition is open this spring. Look for Mitch Trubisky and Kanler Coker to give Williams a major push.
Defensive line questions. Kareem Martin and Tim Jackson are both gone, leaving big holes in the North Carolina front. Martin ended up notching 21.5 tackles for loss to rank No. 3 in the ACC. So who are the next guys up? At end, Junior Gnonkonde and Jessie Rogers are the top two contenders, while Shawn Underwood, Devonte Brown and Justin Thomason will compete for one of the tackle spots.
Replacing Ebron. Eric Ebron was dynamic at tight end for the Tar Heels last season, leading the team with 62 receptions for 973 yards, while adding three touchdowns. Will the Tar Heels be able to replace that type of production with just one player? Jack Tabb would be next in line among the tight ends, but this is a huge opportunity for the North Carolina receiving group as well. We saw plenty of promise out of young guys like Bug Howard, T.J. Thorpe and Ryan Switzer.

Pitt
Spring start:
March 16
Spring game:
No spring game. Last day of practice April 13
What to watch:
The quarterbacks. Chad Voytik played really well in relief of an injured Tom Savage in the bowl game, but coach Paul Chryst said the competition to win the starting job is open headed into the spring. At this point, Voytik and Trey Anderson are the only scholarship quarterbacks on the roster. So you can bet the biggest goal of all is to keep them both healthy.
Replacing Aaron Donald. One of the biggest surprises in all of college football this past season was the emergence and utter dominance of Donald at defensive tackle. Donald swept every major defensive award after notching 28.5 tackles for loss, 11 sacks, 16 quarterback hurries and four forced fumbles. Darryl Render is the next man up.
Complementary receiver. Devin Street is gone, leaving Tyler Boyd as the only standout receiver on the roster. Not only do the Panthers have to develop a consistent No. 2 receiver, they also have to develop some depth. Watch for Manasseh Garner, a former H-back who moved to receiver late last season when Street got hurt. He is more physical than Boyd, and has some extended playing experience.

Virginia
Spring start:
Started March 1
Spring game:
April 12
What to watch:
The quarterbacks. David Watford is not guaranteed to win his starting job back after last season, when he threw eight touchdown passes to 15 interceptions. Greyson Lambert and Matt Johns are also in the mix and reps with the first team will be split. In fact, Lambert got the first-team reps when the Hoos opened spring ball last weekend.
Andrew Brown. The highly-touted freshman will have every opportunity to win a starting job at defensive tackle, and it all starts in spring ball. The No. 3-ranked player in the ESPN 300 comes in with tons of hype; now can he translate that into on-field success? He, Donte Wilkins and Chris Brathwaite will be competing to start next to David Dean.
Mr. McGee. Jake McGee was the best player the Hoos had among the group of tight ends and receivers a year ago, leading the team with 43 catches for 395 yards. This spring, McGee has now moved over to receiver so the Hoos can take advantage of his athletic ability. Plus, Virginia is lacking playmakers at the position, so we'll see how much this move benefits both McGee and the offense.

Virginia Tech
Spring start:
March 27
Spring game:
April 26
What to watch:
Quarterback. Mark Leal heads into the spring with a leg up in the quarterback competition but make no mistake, there is no set starter. He will get competition from freshmen Andrew Ford and Brenden Motley in the spring, with freshman Chris Durkin and Texas Tech transfer Michael Brewer arriving in summer. This competition will likely drag on into the fall.
Front seven. The Hokies are losing five terrific players up front, including ends James Gayle and J.R. Collins, and linebacker Jack Tyler, who racked up 100 tackles in back-to-back seasons. There is no doubt a major priority this spring is finding their replacements and building depth along the line and at linebacker. Who will step up as the leader of this group with Tyler gone?
Skill players. This has been an ongoing theme over the last two seasons and will continue to be a theme until the Hokies have consistently good players at running back and receiver. Offensive coordinator Scot Loeffler is excited about the return of tight end Ryan Malleck, and his entire tight end group for that matter. A healthy Malleck and improvement from Kalvin Cline means the Hokies could simultaneously improve their run and pass game.