NCF Nation:

Andrew Furney
January, 14, 2014
1/14/14
10:00
AM ET
Today we put a bow on the 2013 season (almost -- a few more review posts are coming up, and then probably a few more after that). But today across the blogosphere, we're categorizing some of the top moments and individuals from the Pac-12 season. These are set in stone and in no way open to argument or interpretation.
Best coach
: Arizona State's Todd Graham was voted as the league's coach of the year by his peers. And it's hard to argue with that, given the fact that the Sun Devils had the best league record and won their division. But you can't discount the job of the L.A. coaches (interim or otherwise). Ed Orgeron did a phenomenal job in relief at USC before Steve Sarkisian was hired, and Jim Mora shepherded his team through a difficult time early.
Best player, offense
:
Ka'Deem Carey
was named the Pac-12 offensive player of the year. And the Pac-12 blog agrees. Certainly, cases can be made for Oregon quarterback
Marcus Mariota
, who was on the Heisman Trophy track before being derailed by a knee injury. And there is the debate between Carey and Washington running back
Bishop Sankey
,
which will rage until the end of days
.
Best player, defense
: The coaches went with Arizona State defensive tackle
Will Sutton
. And there's nothing wrong with that selection. But cases certainly can be made for outside linebackers
Trent Murphy
(Stanford) and
Anthony Barr
(UCLA).
Best moment
: Lots of them. Shocking upsets (see below) and stellar individual performances dusted the landscape of the 2013 Pac-12 season. But in terms of moments that were seared into our memories, it's tough not to think about UCLA's come-from-behind win at Nebraska way back on Sept. 14, following the death of Nick Pasquale. Specifically,
Anthony Jefferson
recovering a red zone fumble and then sprinting off the field to give the ball to Mora, followed by a big hug. It was as authentic and genuine a moment as you'll find in sports.
[+] Enlarge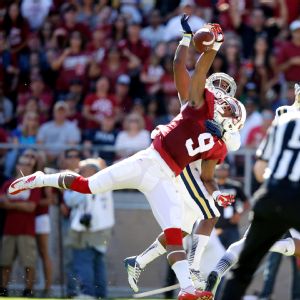 Ezra Shaw/Getty ImagesStanford's Kodi Whitfield had a highlight touchdown grab against UCLA.
Biggest upset
: Take your pick between Utah topping Stanford or Arizona topping Oregon. Both were road losses for the favorites and both shook up the national and league landscape. Granted, Utah's win over Stanford came earlier in the season, and early-season losses are easier to rebound from. Oregon's loss to Arizona came at the end and cost the Ducks all kinds of postseason possibilities.
Best workhorse performance
: It's a tie between Stanford's
Tyler Gaffney
and Carey -- both of whom put in the work in their teams' victories over Oregon. Carey rushed for 206 yards and four touchdowns on 48 carries; Gaffney carried 45 times for 157 yards and a touchdown.
Best play:
One of the most subjective categories, for sure, but
Kodi Whitfield
's
one-handed touchdown catch
against UCLA was nothing short of spectacular. He elevated between two Bruins defenders and backhanded the ball out of the air for a 30-yard touchdown. Something about UCLA-Stanford brings out the one-handed catches. Recall in 2011,
Andrew Luck
hauled in a one-handed catch against the Bruins, and a few plays later,
Coby Fleener
snagged a one-handed dart from Luck for a touchdown.
Best performance, offense
: Again, wildly subjective. Take your pick from
Ty Montgomery
's five-touchdown day against Cal,
Marion Grice
's four touchdowns against USC or Wisconsin, or
Myles Jack
's four touchdowns against Washington.
Brandin Cooks
had a pretty nice day against Cal with his 232 receiving yards. There were games with seven touchdown tosses from Mariota and
Taylor Kelly
.
Connor Halliday
's losing effort against Colorado State was spectacular. In terms of impact, it's hard not to go back to Carey's effort against Oregon.
Best performance, defense
: As in every other category here, plenty to go around. But think way back to Washington State's win over USC.
Damante Horton
had a 70-yard interception return that tied the game at 7-7 in the second quarter. Then, after
Andrew Furney
's 41-yard field goal put the Cougars ahead 10-7 with 3:15 left in the game, Horton picked off
Max Wittek
, which allowed WSU to run out the clock.
January, 22, 2013
1/22/13
7:00
PM ET
For last week's Take 2, Ted and I shared
our favorite games that we covered in person
during the 2012 season. Of course, just because it was the best game in-person doesn't necessarily mean it was the best game. As I pointed out in my Take 2, the Stanford-Washington game wasn't exactly great football. Rather, it was the environment and energy in the stadium that made it my favorite of 2012.

Naturally, this prompts the next question: What was the best game of the 2012 season?
There are lots of ways that people value what makes the best game -- so narrowing the list down to five was tough (and ESPN mandate only allows five options -- so great matchups like the Territorial Cup and Oregon State-UCLA just missed the cut). Some people prefer a good offensive shootout. Others like a hard-nosed, defensive grind. Others just like an upset for the sake of an upset, so I tried to get a dusting of all of the above when picking the options for your Tuesday poll question.
So, what was the best regular season Pac-12 game of 2012?
Your options, in no particular order:
Oregon at USC:
While this Nov. 3 showdown didn't live up to the buildup in terms of team expectations (at least for USC), the game itself was a classic. The Ducks won 62-51 behind 321 rushing yards and five touchdowns from
Kenjon Barner
and four touchdown passes from
Marcus Mariota
.
Matt Barkley
threw for 321 yards and five touchdowns and
Marqise Lee
caught 12 balls for 157 yards and two scores. It kept fans glued to the TV and defensive purists reaching for sick bags.
Washington at Washington State
: Ah, the Apple Cup. Say what you want Washington fans, this was still a great game to watch. The Cougars overcame an 18-point, fourth-quarter deficit (the largest fourth-quarter comeback in the storied history of the rivalry) and
Andrew Furney
came through with one of the more clutch kicking performances of the season. He drilled a 45-yarder with less than 2 minutes left in the game to tie it at 28-28, and then he popped a 27-yarder in overtime for the win. Perhaps even more shocking? Washington State had three, count 'em, three rushing touchdowns!
Arizona at Stanford
:
Josh Nunes
took a lot of guff from Stanford fans this year. They should be grateful for his performance in the Cardinal's thrilling 54-48 win over Arizona in overtime. He accounted for five touchdowns -- three on the ground and two in the air -- while throwing for 360 yards and no interceptions. He carried the vaunted Stanford defense against an Arizona team that lit them up -- including 132 yards and three touchdowns from
Ka'Deem Carey
and 491 passing yards and three touchdowns from
Matt Scott
. The teams matched for 617 total yards of offense and the Cardinal showed they could win even when their defense gets scorched. And yes, Arizona, Scott, Carey and
Austin Hill
absolutely scorched Stanford's 'D.'
Stanford at Oregon
: This one is for the defensive purists. The only thing better than Stanford's defensive gameplan was the way the Cardinal executed it. The Cardinal kept the Ducks' explosive offense to 405 total yards (198 on the ground) and Oregon was just 4 of 17 on third downs and 0 for 2 on fourth down. Shockingly, it was
Kevin Hogan
's first road start and just the second of his career -- but he wasn't fazed by the Autzen environment. And there was plenty of high drama as
Zach Ertz
caught the controversial game-tying touchdown and
Jordan Williamson
drilled a 37-yarder in overtime for the victory. Not to mention Oregon was No. 1 at the time and this game reshaped the entire college football landscape.
UCLA at Arizona State
: Anyone watching this game got some outstanding insight into the future of quarterbacking in the league. After ASU jumped ahead 14-0, the Bruins battled back, setting up a fantastic fourth quarter that saw
Taylor Kelly
drive his team to a late touchdown drive to go ahead 43-42 with 1:33 left in the game. On the ensuing drive,
Brett Hundley
brought his team down, which set up a 33-yard
Ka'imi Fairbairn
game-winner as time expired on the 45-43 UCLA win. The outcome helped UCLA lock up the South and was one of the most thrilling games of the year.
January, 14, 2013
1/14/13
11:00
AM ET
Here's a collection of great moments/storylines from the 2012 Pac-12 season in no particular order:
Clutch catches: A couple from Arizona wide receivers come to mind. There was Austin Hill laying out in the season opener against Toledo for a 30-yard touchdown -- quite possibly the best catch in the Pac-12 this season -- and Tyler Slavin's snag in the New Mexico Bowl. Zach Ertz's haul-in against Oregon was as clutch as it gets.

[+] Enlarge

Russ Isabella/US PresswireUtah's Reggie Dunn was a threat to go the distance every time he touched the ball.

Dunn and done: It was a record-setting year for Utah's All-American kick returner Reggie Dunn. He set the NCAA single-season record with four 100-yard kickoff returns for touchdowns. He set the NCAA mark for career 100-yard kickoff returns with five, the single-game 100-yard kickoff return record with two and the kick return average in a game at 74.0. He also tied the NCAA record for kick return touchdowns in a game from any distance with two. His performance prompted one of the best quotes of the year from Utah coach Kyle Whittingham. "I can't believe they kicked to him," Whittingham said after the Colorado game.

Having their moment: Colorado is going to get mentioned a lot in this post -- mostly because of what others did to it. But in a season loaded with disappointments, it was a gritty fourth-quarter performance that stands out as a highlight for the Buffs. Trailing 31-14 in the final frame, Colorado outscored the Washington State Cougars 21-3 in the final 7:06 for their only win of the season, a 35-34 victory in Pullman, Wash.

The other side of Colorado: Feeling good after reading that, Buffs fans? Here comes the rub. Pac-12 teams exploded against Colorado this year with several record-setting performances. We've already mentioned Dunn getting one of his kickoff return TDs against the Buffs. But before that, Matt Barkley and Robert Woods had record-setting days against Colorado. Barkley threw six touchdowns and completed 95 percent of his passes (19 of 20), giving him the Pac-12 career touchdown record. Woods caught eight balls to set the USC career receptions record and he became the first USC player to have four touchdown catches in one game. A couple of weeks later, Arizona's Ka'Deem Carey ran for a league-record 366 yards and five touchdowns, averaging 14.6 yards per carry. In conference games, Colorado was outscored, on average, 49-17.

Clutch kicks: In what was a very off year for Pac-12 kickers, a few key moments stand out: Ka'imi Fairbairn's 33-yard game winner lifted the Bruins to a 45-43 win at Arizona State; Jordan Williamson's 37-yarder in overtime downed Oregon and changed the entire landscape of college football; and WSU's Andrew Furney was oh-so-money in the Apple Cup, drilling a 45-yarder to tie the game in the closing minutes and then hitting a 27-yarder in overtime.

UW shockers: For as shocking as the Apple Cup demise was for the Huskies, they also provided a couple of big shockers of their own, knocking off a pair of top-10 teams. A week after Stanford stunned USC (not as stunning as it was at the time), Washington held the No. 8 Cardinal without an offensive touchdown in a 17-13 home win. A month later -- to the day -- it snapped No. 7 Oregon State's six-game winning streak, also at the Clink.

SoCal slugfest: Before the season, we all looked to the Oregon-USC game as the first of two that would determine the conference championship. As it turned out, neither team even reached the title game. But the game itself didn't disappoint. It was a 62-51 thrill ride in which Kenjon Barner rushed for 321 yards and four touchdowns, Barkley threw for 484 yards and five scores and the two schools gained 1,345 yards of total offense between them.

Quarterback controversies: Midseason switches and turnover at the position seemed like a constant throughout the Pac-12. Only four schools -- Arizona State, Oregon, UCLA and Washington -- started the same quarterback in every game this season. Injury caused changes at Arizona, Cal, Oregon State, USC and Utah, while competitions/switches happened at Washington State, Stanford, Oregon State and Colorado. In the end, it was a good move for Stanford -- which went on to win the Pac-12 title. At Oregon State, the competition is certainly wide open after the Alamo Bowl collapse. Colorado has some things to figure out with a new coaching staff and we'll see if Connor Halliday can hold on to the job next year.

Heisman shutout: The Pac-12 didn't have a finalist for the first time since 2008 -- despite strong seasons from Marqise Lee, Barner, Carey, Johnathan Franklin, etc. Barkley was the preseason favorite, but fizzled as USC imploded. Despite having the nation's top wide receiver and three of the four consensus All-American running backs, the Pac-12 was snubbed out of a trip to New York.

Stanford's staying power: Surely, 2012 was the year Stanford would come back to earth. No Andrew Luck, no Coby Fleener, no Jonathan Martin and David DeCastro. But behind a fierce defense, the Cardinal won the league title, Kevin Hogan is 5-0 as a starter at quarterback and the Cardinal won the Rose Bowl. Not bad for a rebuilding year.

Coaches are better than ever: Jim Mora, Todd Graham and Rich Rodriguez all took their teams to bowl games in their first seasons. Mike Riley has his team back in the Top 25. David Shaw has won the coach of the year honor twice in two seasons. Chip Kelly is back. Sonny Dykes has an exciting offense. Mike MacIntyre has a history of rebuilding. The Pac-12 might have the hottest crop of coaches in the country. That's a very good thing.

2-0: There are many ways to judge the talent of a conference. BCS bowl games are the biggest litmus test. The Pac-12 went 4-4 in the bowl season, but won both of its BCS games: Stanford beating Wisconsin in the Rose Bowl and Oregon thrashing Kansas State in the Fiesta Bowl. History judges the best of the best. And there was no doubt those two teams earned everything they got this year.
December, 10, 2012
12/10/12
11:25
AM ET
It wasn't easy putting together an All-Pac-12 team for 2012. Lots of tough choices, particularly at running back, where four guys were deserving.
It was difficult to leave off UCLA's
Johnathan Franklin
and Stanford's
Stepfan Taylor
. As a tandem, they are better than just about any other conference's first-team backs.
Oregon, the highest-ranked Pac-12 team at season's end, led the way with six players. UCLA and Stanford, which played for the Pac-12 title, had four each. Oregon State had three. California, Colorado and Washington were shut out.
Offense
QB
Marcus Mariota
, RFr., Oregon
RB
Ka'Deem Carey
, So., Arizona
RB
Kenjon Barner
, Sr., Oregon
WR
Marqise Lee
, So., USC
WR
Markus Wheaton
, Sr., Oregon State
TE
Zach Ertz
, Jr., Stanford
OL
Khaled Holmes
, Sr., USC
OL
David Yankey
, Jr., Stanford
OL
Hroniss Grasu
, So., Oregon
OL
Xavier Su'a-Filo
, So., UCLA
OL
Jeff Baca
, Sr., UCLA
K
Andrew Furney
, Jr., Washington State
KR
Reggie Dunn
, Sr., Utah
Defense
DE
Dion Jordan
, Sr., Oregon
DT
Star Lotulelei
, Sr., Utah
DT
Will Sutton
, Jr., Arizona State
DE
Scott Crichton
, So., Oregon State
OLB
Anthony Barr
, Jr., UCLA
ILB
Michael Clay
, Sr., Oregon
OLB
Chase Thomas
, Sr., Stanford
CB
Jordan Poyer
, Sr., Oregon State
CB
Ifo Ekpre-Olomu
, So., Oregon
S
Ed Reynolds
, So., Stanford
S
Deone Bucannon
, Jr., Washington State
P
Jeff Locke
, Sr., UCLA
November, 26, 2012
11/26/12
10:00
AM ET
Taking stock of Week 13 in the Pac-12.
Team of the week
: Quick: Name the team that you saw as a certainty to lose this past weekend. Washington State, right? The Cougars were 2-9, mired in controversy, and their best defensive player, OLB
Travis Long
, was out with an injury. Further, rival Washington was riding high, having won four games in a row. And when the Huskies took an 18-point lead into the fourth quarter, that certainty felt confirmed. Heck, the Pac-12 blog even tweeted a postmortem, declaring the Cougs dead. But despite all that was against them, the Cougars rose up and won. Kudos, particularly to the seniors, who end their careers on a high note.
Best game
: The Apple Cup was exciting -- it went to overtime -- but it was terribly sloppy. No. 1 Notre Dame's 22-13 win over USC, while certainly not elegantly played by the Trojans, was a high-stakes affair that wasn't resolved until the waning moments of the fourth quarter. While Notre Dame was seemingly in control throughout, USC's offensive talent made it seem as though things could change quickly. The Fighting Irish stopped USC eight straight times inside the 10-yard line with 2:33 left to ice the game, which was pretty darn dramatic (though USC fans might use another term).
Biggest play
: With less than six minutes left and the score tied at 27, Arizona lined up to punt from its 15-yard line. The Wildcats already had lost momentum, allowing a 10-point lead to slip away, but there was no reason it couldn't swing back their way. Unless they gave up a blocked punt, which they did.
Kevin Ayers
got the block, and it was recovered at the Arizona 8-yard line. A TD run from
Cameron Marshall
later, the Sun Devils took a lead they'd never relinquish.
[+] Enlarge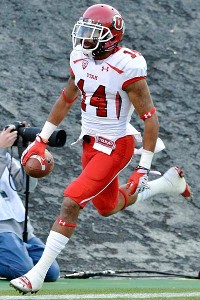 Ron Chenoy/US PresswireUtah's Reggie Dunn runs into the end zone after his one 100-yard TD kickoff return late in the fourth quarter against Colorado.
Defensive standout
: Arizona State LB
Brandon Magee
, a Pac-12 blog favorite, collected a career-high 17 tackles -- 14 solos -- with three coming for a loss in the Sun Devils' win over Arizona.
Defensive standout II
: Stanford outside linebacker
Chase Thomas
, who has had a better season than his overall numbers indicate, was dominant against UCLA, recording two sacks in the win over the Bruins.
Offensive standout
: It hasn't been the scintillating year many projected for Oregon WR/RB
De'Anthony Thomas
, a preseason Heisman Trophy candidate, but he came through big for the Ducks when they needed him in the Civil War. With
Kenjon Barner
banged up, Thomas turned in his best game of the season, rushing for 122 yards on 17 carries with three touchdowns. TD runs of 5 and 29 yards in the third quarter transformed a close game into a blowout.
Special-teams standout
: Utah's
Reggie Dunn
quite simply has posted the best season a college football kick returner has ever had. In the win over Colorado, just after the Buffs tied the game with a 100-yard kickoff return, Dunn went 100 yards for a score on the ensuing kickoff, providing the winning points. It was the fourth time this season and fifth time in his career Dunn has gone 100 yards for a touchdown on a kick return. Both are NCAA records.
Special-teams standout II
: Washington State kicker
Andrew Furney
came up big in the Cougs' come-from-behind Apple Cup win. He tied the game with a 45-yard field goal and won it in overtime with a 21-yard kick. On the night, he was 3-for-3.
Smiley face
: It was reasonable to wonder how Stanford might react at UCLA after its emotional, hard-fought win at Oregon. But the Cardinal were efficient, businesslike and dominant on both sides of the ball against a very good Bruins team. I'd bet if you asked the SEC champion which team it wouldn't want to play for the national title, Stanford might be the first team mentioned.
Frowny face
: Late in the fourth quarter and holding a nine-point lead, Notre Dame stopped USC eight straight times inside the 10-yard line. First, you give credit to Notre Dame, which plays outstanding defense. Then you acknowledge that Lane Kiffin's play calling at this crucial moment was ... terrible, as
L.A. Times columnist Bill Plaschke wrote in detail here
.
Thought of the week
: With the Rose Bowl berth on the line, UCLA gets a second crack at Stanford on Friday in the Pac-12 championship game. With just six days separating that and their regular-season game, how might this matchup look different? Did the Bruins save some schematic ideas? Remember: UCLA already had won the South Division. With Oregon's win over Oregon State, the Cardinal needed to win at UCLA to earn the Pac-12 North Division crown. The Bruins' stakes were much lower: pride. If you're one for realpolitik in college football, a win Saturday would have sent the Bruins to boisterous Autzen Stadium for the Pac-12 title game. UCLA's chances to get to the Rose Bowl might be better at Stanford than they would have been at Oregon.
Questions for the week
: Who had Stanford and UCLA as their North and South Division winners in August? Anyone? Anyone? I can't recall a published prediction picking either. But I now have written a post-it note that is now stuck to my desk: "There are no sure things. There are no sure things. Never forget." Of course, you know I will forget this.
November, 25, 2012
11/25/12
9:00
AM ET
Upsets aplenty in the final week of the regular season.
Andrew Furney, K, Washington State: The kicker was absolutely nails in the Apple Cup, converting all three of his field goal attempts, including a 45-yard game-tying field goal late in the fourth and the game-winner in overtime. He also hit a 21-yard kick to open the scoring in the Cougars' 31-28 win.
Reggie Dunn, KR, Utah: Utes' coach Kyle Whittingham said what we were all thinking after Utah's 42-35 win over Colorado: "I can't believe they kicked to him." Dunn did it again -- returning a kickoff 100 yards for the fourth time this season. It proved to be decisive points.
Marion Grice, RB, Arizona State: When the Wildcats turned the ball over, it was Grice who made them pay, rushing for three touchdowns (all off of turnovers) and 156 yards on 18 carries (8.7 average) during Arizona State's 41-34 win.
Brandon Magee, LB, Arizona State: A few different defensive players from ASU could get the nod, but Magee was on fire, notching 17 total tackles (14 solo) plus a game-high three tackles for a loss.
Chase Thomas, LB, Stanford: He tallied two sacks and two tackles for a loss in Stanford's 35-17 win over UCLA -- which locked up the Pac-12 North for the Cardinal and set up a rematch with the Bruins next week in the conference championship game.
Stepfan Taylor, RB, Stanford: For the eighth time this year he provided the Cardinal with a plus-100-yard rushing performance, tallying 142 yards on 20 carries (7.1 average) and two touchdowns.
De'Anthony Thomas, RB, Oregon: For just the second time this year, Thomas crossed the 100-yard rushing mark, totaling 122 yards on 17 carries (7.2 average) with three touchdowns in the Ducks' 48-24 win over Oregon State.
Oregon's back seven: They tallied four interceptions, broke up four passes and kept the dangerous Oregon State receiving tandem of Markus Wheaton and Brandin Cooks out of the end zone.
October, 6, 2012
10/06/12
9:47
PM ET
The
Oregon State Beavers
overcame an uncharacteristically inefficient first half on offense, but pulled away from Washington State in the second half en route to a
19-6 home win
.
Luckily for No. 14 Oregon State (4-0, 3-0), Washington State's offense didn't look much better.


The teams combined for eight turnovers -- including three interceptions by Washington State quarterback
Connor Halliday
, who was eventually replaced by
Jeff Tuel
. Oregon State quarterback
Sean Mannion
also had a three-interception day.
Considering the big numbers both of these teams were capable of, the outcome is a bit of a surprise.
Oregon State cornerback
Jordan Poyer
hauled in three interceptions for the Beaver defense, which held Washington State (2-4, 0-3) to 227 total yards of offense and no touchdowns.
The Beavers held a 6-3 advantage at halftime following a pair of
Trevor Romaine
field goals and one from WSU's
Andrew Furney
.
But they found the end zone in the third quarter when Mannion (25-of-42, 270 yards) connected with
Markus Wheaton
on a 12-yard score in the corner of the end zone.
"Wipe that slate clean, we have a brand new second half," Mannion told the Pac-12 Network after the game. "...That's great about our whole offense. We realize we're going to have some good plays and some bad plays. You have to play with a short memory."
Washington State, while struggling offensively, appeared to take another step forward as a defense. safety
Deone Bucannon
, defensive tackle
Ioane Gauta
and
Casey Locker
all had interceptions for the Cougars. Linebacker
Travis Long
also played well with a sack, three tackles and a pass breakup.
But the Cougars, who rushed for just 20 yards, couldn't get much going offensively. Halliday was 9-of-20 for 81 yards with the three picks before Tuel replaced him. Tuel went 11-of-17 for 126 yards and an interception.
Despite the shaky performance, Mannion was 5-of-7 for 64 yards on OSU's second to last drive of the game, a 12-play march that spanned 86 yards and was capped with a
Tyler Anderson
1-yard touchdown run.
September, 30, 2012
9/30/12
4:22
AM ET
SEATTLE -- The occasional bloody lip can be a good thing. A body blow -- while it might stun momentarily -- is sometimes just what the lungs need to suck in fresh air.
And for 30 minutes Saturday night at CenturyLink Field, the
Washington State Cougars
swung and clawed and took their best shots at the No. 2 team in the country. They went for it on fourth down. They tried an onside kick. On offense, they attacked at the heart of their opponent and on defense they blitzed without fear or consequence.
And for a period -- a brief period, mind you -- the
Oregon Ducks
had a little blood on their lips.
But the Ducks calmly reached up, wiped it away, and delivered a potent and dismissive second-half performance en route to a
51-26 victory
.
This was a good thing, because it's only going to get harder for the Ducks (5-0, 2-0 Pac-12). Unlike their nonconference blowouts, things are a little tougher in the Pac-12. The athletes are a little faster and they hit a little harder. So facing a bit of an adversity is just what a team in the midst of a national title run could use.
"Absolutely," said Oregon running back
Kenjon Barner
. "With our team, we know we're going to get everybody's best shot. Credit to Washington State because they played a great first half. They did everything you are supposed to do in that first half. They just did a great job. But we're a strong-willed team and we know when we execute and do what we're supposed to do, it's hard to stop us."
Barner got the Ducks going early. After the defense forced a three-and-out on Washington State's first possession, Oregon calmly marched 50 yards in four plays, ending with a 22-yard Barner run -- the first of his three rushing touchdowns on the night. The Ducks cruised out to a 20-3 lead and it looked like another sleepwalk.
But the Cougars didn't fold as others have.
Carl Winston
added a 2-yard touchdown run to Andrew Furney's 18-yard field goal to make it 20-9 after the missed PAT. Then
Brett Bartolone
caught a 26-yard touchdown from
Connor Halliday
midway through the second quarter following a 34-yard field goal from Oregon's
Rob Beard
. It was 23-19 and the folks at CenturyLink were thinking another upset could be possible -- following Washington's stunner Thursday night over No. 8 Stanford.
[+] Enlarge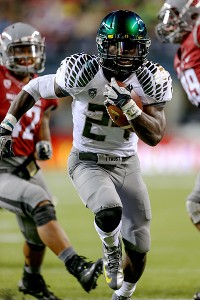 Otto Greule Jr/Getty ImagesKenjon Barner rushed for 195 yards and three touchdowns, two of which came in the second half.
"We battled away," said Washington State coach Mike Leach. "Some of our field goals should have been touchdowns. We gave them two relatively easy touchdowns early. I think if we played with more control, we wouldn't have. We played pretty courageously throughout the rest of it."
And with less than four minutes to play in the half, Washington State drove inside the red zone and looked poised to, at the very least, make it a one-point game. That's when the Oregon defense really broke loose.
Three consecutive sacks (
Dion Jordan
,
Michael Clay
and
Wade Keliikipi
) put the Cougars out of field goal range and shifted the momentum heading into the locker room.
"We understood that they gave us their best shots," said Jordan. "So the second half we went out and focused on going out and trying to finish the game. Guys made big plays … it was wonderful.
"We knew they were going to keep fighting and they weren't going to change much in what they were doing. We just had to turn up the dial as a team and as a unit and that's what guys did. We got after it and played smart football."
And therein lies the maturity of the Ducks. They opened the second half with a grinding, 18-play drive (their longest since last year's game against LSU, when they had a 19-play drive) that went 76 yards and took up 6 minutes, 20 seconds.
De'Anthony Thomas
capped the march with a 4-yard touchdown.
"We knew we were going to get the ball to beginning of the second half and that first drive was going to be key for us to set the tone for what we wanted to do," said Oregon coach Chip Kelly. "Everybody contributed and made plays. I thought we were balanced. They made us work for it. Give them credit. I thought defensively they had a good plan and it took us a while to get on the right track."
When the Cougars finally did get back on the field, the drive was ended when
Avery Patterson
intercepted Halliday and returned it 34 yards for a touchdown and a 37-19 advantage.
The Ducks no longer tasted blood. They smelled it, sacking Halliday seven times in the game, with two each from
Taylor Hart
and Keliikipi.
"We turned it up and tried to get him out of the pocket a little bit and get their offensive line on their heels," Jordan said. "Those guys got more tired than we were in the second half."
Barner would add a 10-yard touchdown on Oregon's next possession for the third Ducks score of the quarter. He capped a fantastic game with an 80-yard touchdown run in the fourth, finishing with 195 yards on 20 carries.
"That's what it's all about," Kelly said. "You get a chance and hopefully you don't make the same mistakes twice and every week is its own season and how the games themselves unfold. We know in this league it's going to be a 60-minute game … We think we're built to play for the whole game and a lot of guys kept fighting and battling and they finished."
September, 10, 2012
9/10/12
10:00
AM ET
Taking stock of the second week of games in the Pac-12.
Team(s) of the week
: We refuse to make a distinction between Oregon State, UCLA and Arizona, teams with losing records in 2011 -- two with new head coaches as a result -- that beat ranked teams on Saturday. So this is a tip of the cap to the troika. And, yes, Kevin and I believe it worthy to note that we both
wrote about the Beavers and Bruins pulling upsets
, but we were lame in our
inability to pull the trigger on upset predictions
.
[+] Enlarge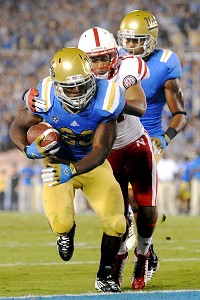 Cal Sport Media/AP PhotoJohnathan Franklin has put together impressive back-to-back performances.
Best game:
UCLA's win over Nebraska had the most impressive moments on both sides of the ball, as well as a defining play: Maligned defensive end
Datone Jones
' thunderous sack of
Taylor Martinez
for a safety that gave the Bruins a 29-27 lead, one they would never relinquish. There's plenty of new to the Bruins -- coach Jim Mora, quarterback
Brett Hundley
, etc. -- but UCLA fans should be happy that older guys -- Jones, running back
Johnathan Franklin
, etc. -- who have suffered through a period of extended mediocrity are making a huge impact with improved play.
Biggest play:
Arizona cornerback
Jonathan McKnight
, who missed the 2011 season with a knee injury, returned an interception 48 yards for a touchdown early in the fourth quarter to give the Wildcats a two-touchdown advantage over Oklahoma State. Coach Rich Rodriguez called it the biggest play of the game, and it is the moment when Arizona Stadium embraced the idea of an impending upset of the 18th-ranked Cowboys.
Offensive standout:
It might be time to at least start considering a Heisman Trophy campaign for UCLA's Franklin, who presently
leads the nation in rushing
by a wide margin with 215.5 yards per game and a stout average of 10.5 yards per rush. Yeah, 10.5. After rushing 214 yards last week against Rice -- "It's just Rice!" everyone said -- he followed up with a career high 217 rushing yards against Nebraska. He also caught three balls for 59 yards and a touchdown.
Defensive standout:
Stanford safety
Ed Reynolds
grabbed two interceptions, returning one 71 yards for a touchdown, in the Cardinal's dominant win over Duke. He's tied for the national lead with three picks and has 144 return yards.
Special teams standout:
Washington State kicker
Andrew Furney
booted a 60-yard field goal in the Cougars' win over Eastern Washington, second longest in school history.
Smiley face:
Going 6-1 versus other automatic-qualifier conferences -- Washington was the lone loser at No. 3 LSU -- provides a major boost to the conference, particularly the three wins over ranked teams. Will any other conference be able to say it beat three ranked teams from other AQ conferences this regular season? We'll see -- the SEC has a chance.
Frowny face:
The newest members of the Pac-12, Colorado and Utah, turned in the worst performances of the weekend. At least Washington was playing on the road against a national power. The Buffaloes lost at home to an FCS team, and the Utes went down to a Utah State program that it had owned before it jumped from the Mountain West to the Pac-12.
Thought of the week:
Washington plays host to USC on Oct. 13. Know what that means? It means that we'll hear lots of "transitive property of college football." If the Trojans don't thoroughly dominate the Huskies, as LSU did in a 41-3 win, then we'll hear lots of crowing about how USC is overrated. What that means, of course, is Pac-12 fans should point out that every SEC team that Arkansas beats this year is worse than Louisiana-Monroe.
Questions for the week:
A conference wants two things: national title contenders and depth. The Pac-12 had the first to begin the season. No one doubts USC or Oregon. Now there are
five ranked Pac-12 teams and two others getting votes
. That's a show of respect for what transpired this past weekend. The key now is maintaining. Can the Pac-12 finish the regular season with five ranked teams and one playing for the national title? That would be the ideal scenario.
September, 9, 2012
9/09/12
9:00
AM ET
This was a pretty special weekend for the Pac-12. And special weekends deserve a special number of helmet stickers.
Chris Coyle, Arizona State, TE
: Coyle matched a school record for a tight end with 10 catches for 131 yards and two touchdowns in ASU's win over Illinois. Here's a little perspective: Last year he caught six balls for 73 yards -- for the entire season.

Matt Scott, Arizona, QB
: Scott completed 28 of 41 passes for 320 yards and two touchdowns in Arizona's 59-38 win over No. 18 Oklahoma State. He also carried 19 times for 55 yards, including an 8-yard score.
Mark Banker, Oregon State, defensive coordinator
: Oregon State's defense dominated the Badgers, at least until they made things interesting with a late touchdown (and nearly recovered an onside kick). Wisconsin gained just 207 yards -- versus 352 for Oregon State -- and rushed for a meager 35.
Ed Reynolds, Stanford, safety
: Reynolds notched his second and third interceptions of the season -- including a 71-yard pick-six against Duke. Last year, Stanford's leader in interceptions was Michael Thomas with three. Reynolds has matched that in the first two games.
Johnathan Franklin, UCLA, RB
: After posting 214 yards last week, he followed it up with a career high 217 rushing yards against Nebraska. He also caught three balls for 59 yards and a touchdown.
Kenjon Barner, Oregon, RB
: Barner turned in a sensational performance, rushing for 201 yards and three touchdowns on 34 carries to propel Oregon to a 42-25 win over Fresno State.
Andrew Furney, Washington State, K:
Kick a 60-yard field goal and you're in. That simple. He did miss a 40-yarder, which made him questionable for a sticker. But come on, 60 yards! Second-longest kick in school history.
September, 8, 2012
9/08/12
8:50
PM ET
The Pac-12 should stop scheduling Sacramento State. And Colorado might want to rethink its ideas about FCS teams.


Sacramento State, which won at Oregon State in the 2011 opener,
beat Colorado 30-28
with a 30-yard field goal as time expired.
Colorado, 0-2 after losing to Colorado State in the opener, is now 1-2 all-time against FCS teams. It lost to Montana State in 2006.
The Buffaloes didn't just lose, they got beaten. They jumped to a 14-0 lead, but the Hornets didn't back down. They outgained the Buffs 466 yards to 341. While Sac State did most of its damage through the air, it still outrushed Colorado 154 yards to 153.
But the biggest difference was at quarterback. Sophomore
Garrett Safron
threw for a career-best 312 yards on 25-of-37 passing for the Hornets. He also was 4-for-5 for 53 yards on the game-winning drive.
Colorado quarterback
Jordan Webb
was just 12 of 24 for 160 yards. In Webb's defense, it's clear the Buffs don't have much talent at receiver.
The lone bit of good news for Colorado was freshman fullback
Christian Powell
, who ran for 147 yards and three touchdowns.
Colorado was hoping to get its young team off to a fast start against a very soft early schedule. Now that the Buffs are 0-2 against that soft schedule, it's not easy to see where victories -- even a victory -- will come.
A notoriously bad team on the road, Colorado will be at Fresno State next weekend.


California 50, Southern Utah 31
: California led just 20-17 in the third quarter, but the the Bears erupted in the fourth quarter to post an easy win. Quarterback
Zach Maynard
completed 17 of 23 passes for 229 yards with a touchdown and an interception. Running back
Isi Sofele
rushed for 104 yards on 19 carries, and wide receiver
Keenan Allen
had two touchdowns, one on a 69-yard punt return. It was the Bears' first victory inside newly renovated Memorial Stadium. A week after looking terrible in a loss to Nevada, the Bears piled up 518 yards, scoring 30 points in the fourth quarter. Still, it was hardly an impressive win. The Bears defense, expected to be strong, surrendered 371 yards. The Thunderbirds had just 209 yards in a 34-3 loss to Utah State the previous week. Cal is at Ohio State next weekend.


Washington State 24, Eastern Washington 20
: Mike Leach has his first win coaching the Cougars, but his offense is still not clicking.
Jeff Tuel
threw a pair of touchdown passes to
Isiah Myers
, but the Cougs were outgained by the FCS Eagles 469 yards to 355. The Cougs' highlight, in fact, was a 60-yard field goal just before halftime from
Andrew Furney
. Tuel completed 20 of 26 passes for 171 yards and two touchdowns with no interceptions. He may have cemented his hold on the starting job, as backup
Connor Halliday
completed just 5 of 11 for 76 yards with an interception. Washington State is at UNLV on Friday.
August, 31, 2012
8/31/12
2:22
AM ET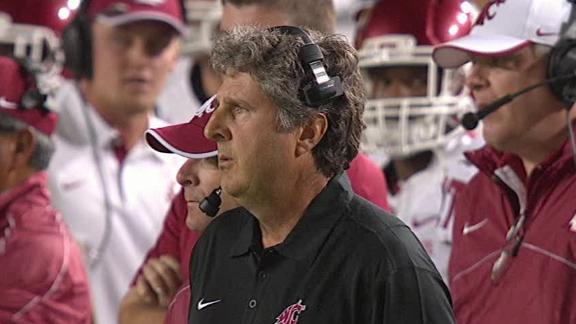 Arizona State dominated Northern Arizona, which shouldn't be shocking, but the way BYU dominated Washington State in coach Mike Leach's debut was a bit surprising.


BYU 30, Washington State 6
: Leach's first game as Washington State's coach was ... awful. Really, nothing good about it. At all.
Well, kicker
Andrew Furney
made 47- and 41-yard field goals.
The Cougars, expected to be strong on offense and weak on defense, were weak on both, but slightly better on defense. They were outgained 426 yards to 224. They didn't score a touchdown.
The Cougars rushed for negative-5 yards. So that was bad. Quarterback
Jeff Tuel
completed 30 of 45 passes for 229 yards -- 5.1 per attempt -- and tossed a pair of interceptions. It will be interesting to see if Leach takes a serious look at backup
Connor Halliday
.
Making a blowout game even worse were 18 penalites -- 10 for 112 yards against BYU -- called by the Pac-12 officiating crew. About a third appeared to be questionable to bad calls.
While the performance was poor, it's not necessarily time for Cougs fans to panic. BYU was a good team playing at home. The Cougars play Eastern Washington next week, and then face UNLV and Colorado. A 3-1 start is still plausible.
But this was not the start Washington State fans envisioned. It was a stinker. Pure and simple.


Arizona State 63, Northern Arizona 6:
While Northern Arizona is a mediocre FCS team, Arizona State looked like a well-oiled machine in coach Todd Graham's debut.
The Sun Devils outgained the Lumberjacks 554 yards to 237, including an 305-88 advantage in rushing yards. Even better news: Just one ASU turnover and four penalties.
Making his first start, quarterback
Taylor Kelly
completed 15 of 19 passes for 247 yards and a touchdown. Backup
Michael Eubank
rushed seven times for 36 yards and a score.
It was an impressive effort on both sides of the ball, but a better measure of the Sun Devils will come over the next two weekends: Illinois comes to town Sept. 8, followed by a visit to Missouri -- now an SEC team! -- the next Saturday.