NCF Nation:

Andrew Miller
November, 8, 2012
11/08/12
11:00
AM ET
After eight straight seasons of at least 10 wins, four ACC titles and five appearances in the ACC championship game, Virginia Tech (4-5, 2-3 ACC) enters Thursday night's ESPN game against No. 10 Florida State (8-1, 5-1) unranked, unimportant in the national picture, and needing to win two of its final three games just to become bowl eligible.
The preseason Coastal Division favorites are playing at home, but they're still in very unfamiliar territory.
Virginia Tech as underdogs in Lane Stadium? On a Thursday night?! This is not the norm in ACC country.
"For a Virginia Tech team not to be at the top, yeah, it does surprise you because they've been there so consistently," Florida State coach Jimbo Fisher said. "It shows the injuries, attrition -- things can happen in a season. They're still the same coaches, still the same players, they'll still be doing pretty good, but sometimes the reasons for winning and losing are very small and sometimes the breaks don't go your way."
Not much has gone right for the Hokies at all this season.
Virginia Tech is in fifth place in the Coastal Division standings and hasn't been ranked in the Top 25 since losing to Pittsburgh in Week 3. The Hokies have lost five of their past seven games, including the past two during back-to-back road trips to Clemson and Miami. They have struggled in all three phases of the game, but the miscues on defense and special teams have been the most surprising, considering those have been trademark strengths of coach Frank Beamer's tenure.
Offensively, quarterback
Logan Thomas
has struggled mightily behind an inexperienced line that lost its only veteran, center
Andrew Miller
, to a season-ending injury in mid-October. Having to replace eight starters on offense took a greater toll than many had expected. Thomas already has thrown more interceptions this year (12) than he had all of last season (10).
[+] Enlarge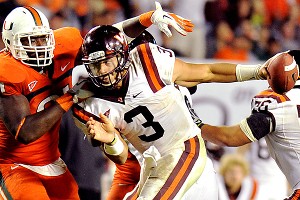 Steve Mitchell/US PRESSWIRELogan Thomas has struggled this season, having already thrown more interceptions (12) than all of last season (10).
Thomas' teammates said he took last week's 30-12 loss to Miami particularly hard.
"It was really tough," receiver
Corey Fuller
said. "He just wasn't there. He didn't pick his head up, he didn't say anything. He had a towel over his head the whole bus ride home, whole plane ride back home. I wanted to send him a text the day after, ask him how he was doing, but I just felt like I needed to give him some space, let him be, because he really seemed shaken up about it.
"He came out this week, he's been throwing great passes all week. I think he's feeling confident and ready to move on and come out and play."
He's going to have to in order to keep pace with Florida State quarterback
EJ Manuel
, who ranks second nationally in passing efficiency (174.03) and has completed 70 percent of his passes. FSU's offense is No. 3 in the country at 44.78 points per game.
Virginia Tech's offense has long been one of the most criticized in the ACC, but this year there is plenty of blame to go around in Blacksburg. Some within the program have struggled to pinpoint just what has been the problem, but Beamer said it's simple: They just haven't played well enough consistently.
"I have said so many times that there is a thin line between winning and being OK and not winning," he said. "Winning every Saturday is hard. You play a lot of people you are better than and sometimes you play a lot of people that are better than you. The way that ball bounces on Saturday is just a thin line. We got used to 10-win seasons and I am proud of those and I am proud of this football team …
"… I think everybody in our operation here could have done something better to help this football team. But the thing I am looking at is we got a tremendous football team coming in here Thursday night and is ranked and should be. They are as good as it gets in college football and that is what we put our attention to."
The Hokies haven't quit, nor should they with bowl eligibility still on the line.
"Two things we're playing for: One is a bowl game, of course, and then we're playing for pride," Fuller said. "You don't ever want to just give up and throw in the towel. We're playing to say, 'Ok, we've lost some, but we can still have pride. We didn't roll over and let everybody just run over us.' "
That would be an even bigger surprise than the Hokies' current place in the ACC race.
November, 1, 2012
11/01/12
6:00
PM ET
Here are your injury reports for tonight's game in Sun Life Stadium (7:30 p.m. ET, ESPN, #VTvsMIA)

MIAMI

Probable
Surgery/Out for the season:
VIRGINIA TECH

Out for Season
Probable

October, 20, 2012
10/20/12
11:00
AM ET
CLEMSON, S.C. -- This is
the REAL Death Valley
, right?
As far as Clemson fans are concerned it is.


It's an absolutely spectacular fall football Saturday here. The Clemson fans were zipping down I-85 South early this morning, and the tailgates were set up more than three hours before kickoff. This is not a sleepy football town. I tweeted earlier that if Clemson played all night games, the Tigers might never lose at home. They shouldn't lose this afternoon, either -- not with the matchup against Virginia Tech's secondary favoring Clemson, and not with the concerns the Hokies have on their offensive line. Those will be the two main keys to the game, of course along with quarterback play between Virginia natives
Tajh Boyd
and
Logan Thomas
-- two friends and great competitors.
I spoke with Thomas this week, and he said he was confident in
Michael Via
at center, and it should help the Hokies to have
David Wang
at left guard. Virginia Tech football (@VT_football) tweeted that, barring a setback in warm-ups, Wang should be able start. If the Hokies can continue the success they had running the ball against Duke with true freshman
J.C. Coleman
, that might be their best defense -- to sustain some drives and keep
DeAndre Hopkins
and
Sammy Watkins
off the field as much as possible. That's going to be a tough matchup for the Hokies' young secondary. If they play man, they might just get burned.
It's an important game for both teams -- one neither can really afford to lose. Virginia Tech, though, is facing even more pressure, considering the Hokies have yet to win a game away from Lane Stadium this season and they lost to Clemson twice last season. A win in Death Valley would prove last week's three quarters against Duke were legit.
October, 17, 2012
10/17/12
9:00
AM ET
It wasn't a players-only meeting.
It was, however, a player-driven meeting.
With their coaches in the room this past Thursday, Virginia Tech quarterback
Logan Thomas
, center
Andrew Miller
, cornerback
Antone Exum
and even kicker
Cody Journell
took it upon themselves to speak up and address the struggles the team has faced in the first half of the season heading into the Duke game.
"They heard everything we had to say," Thomas said of the coaching staff. "I think they kind of fed off of it."
Apparently, everyone in the program did.
[+] Enlarge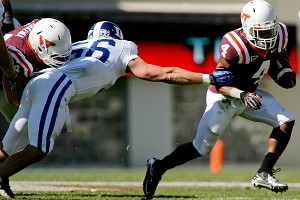 Peter Casey/US PRESSWIREFreshman J.C. Coleman rushed for 183 yards and two touchdowns in the Hokies' comeback victory against Duke.
Virginia Tech finally woke up this past weekend and scored 41 unanswered points in the final three quarters of a 41-20 win against Duke for what was the biggest comeback in program history under coach Frank Beamer. It was a critical Coastal Division win that kept the Hokies' hopes of defending the division title alive, and just the kind of confidence-booster the team needed heading into Saturday's game at No. 19-ranked Clemson. Virginia Tech had a better team last year and still lost twice to Clemson -- once in the regular season and again in the ACC championship game. Saturday's game will reveal if Virginia Tech truly turned the quarter in the second half of the Duke game -- and if it is capable of an even bigger comeback in the second half of the season.
"That's one thing we've been talking about the last couple of weeks," said true freshman running back
J.C. Coleman
, whose 183 rushing yards last week were the most by a true freshman under Beamer. "The ACC goal is still there. We can still go to the ACC championship. We're just trying to come together as a team and finish and win out the rest of the season and come out on top, at the Orange Bowl. We can still win the ACC championship. We can still win the Orange Bowl."
Problem is, a very talented Clemson team is standing in the way -- again.
Last year the Hokies were held to 13 total points against the Tigers in two games. Many of the same playmakers are still in the lineup for Clemson, while the Hokies had to replace eight starters on offense this year, including four on the offensive line. That group took an even bigger hit last weekend when Miller suffered a season-ending ankle injury against Duke.
The message in Blacksburg, though, has always been not to dwell on the past.
"I'm not even really thinking about what happened last year other than we just want to go down there and play the best game we can and hopefully steal one from their home turf because it's a much-needed win if we can get one," said Thomas. "To me I don't think [last year's losses to Clemson] matters, but to other people it matters a whole bunch. Some people will say revenge, but revenge isn't in our hearts. I just want to go out there and play the best game I can and steal one from their place like they stole one from ours last year."
Virginia Tech lost 23-3 in Blacksburg last year, scoring its second-fewest points in a home game since Frank Beamer took over the program in 1987. Clemson coach Dabo Swinney said his team is expecting Virginia Tech's best shot.
"This is a big game," Swinney said. "They are pretty much in it from a conference standpoint, and so are we. There's not a lot of room for error for either team from a conference standpoint. It's a game that I don't have any doubt we're going to get their very best, and it's going to take our very best to win."
Thomas said he's confident the Hokies can pick up where they left off against Duke -- playing their most complete football to date.
"We definitely can keep it up," he said. "We just have to be able to come out of the gates fast and keep that momentum going. We played pretty good the past 10 quarters offensively. Our confidence has been a big key for us. If we can keep our confidence up, keep things moving, keep things churning, we should be just fine."
October, 14, 2012
10/14/12
7:48
PM ET
Virginia Tech starting center
Andrew Miller
will miss the rest of the seaon after a left ankle injury he sustained in Saturday's 41-20 win over Duke,
the school announced on Sunday
.

This is a huge loss for the Hokies heading into Saturday's game at Clemson -- and the second half of the season.
Virginia Tech has been hanging onto its hopes of winning the Coastal Division title this year by a thread. And now it has to deal with losing its most experienced leader on an already rebuilt offensive line. Much of Virginia Tech's offensive struggles this year can be traced back to the inconsistency and lack of toughness up front. This obviously isn't going to help matters.
From the release:
Miller, the lone veteran on an offensive line that had to replace four starters from a year ago, had ankle surgery Sunday morning. He suffered a broken fibula and torn ligaments in his left ankle. With a recovery time of 4-5 months, Miller is questionable for next spring's practice session.

Miller suffered the injury in the third quarter against Duke and was replaced by Michael Via. Via was forced into the position because backup center Caleb Farris missed Saturday's game with an ankle injury. Miller has started the last 21 games at center for Tech and has played over 1,400 offensive snaps in his career. Virginia Tech's depth chart along the interior offensive line is now to be determined until the status of Farris and guard David Wang (ankle/knee) is determined.
November, 26, 2011
11/26/11
3:16
PM ET
CHARLOTTESVILLE, Va. -- A few quick notes on the depth charts for you:

Virginia Tech center Andrew Miller is going to try to play today, according to a school spokesman, despite nagging hip and ankle injuries, but the staff is going to determine it from how he's warming up here and pretty much leave the decision up to him. If Miller can't go, Michael Via will take his place, and he has played sparingly at center. Defensively, outside linebacker Alonzo Tweedy is available, despite a high ankle sprain, and his role will likely be limited to special teams and designated situations on defense. He hasn't practiced a lot recently. Kyle Fuller is expected to start at cornerback instead of Cris Hill.

There are no lineup changes for Virginia.
April, 26, 2010
4/26/10
3:55
PM ET
Before the Rose Bowl, Ohio State quarterback
Terrelle Pryor
and head coach Jim Tressel met and discussed how the game marked the halfway point of Pryor's career.
[+] Enlarge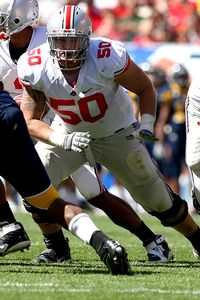 Aaron Josefczyk/Icon SMIMichael Brewster has started the last 23 games at center for the Buckeyes and should be a Rimington Trophy candidate this season.
It was a midterm exam, in front of 92,000 proctors. And
Pryor aced it
.
But Pryor isn't the only member of Ohio State's decorated 2008 recruiting class to reach halftime in Columbus.
As Pryor delayed his college decision on national signing day in 2008, much of the buzz at Ohio State swirled around three decorated offensive line prospects: Michael Brewster, Mike Adams and J.B. Shugarts. All three players were ESPNU 150 selections. ESPN recruiting ranked Brewster and Shugarts as the nation's
No. 2 and No. 3 offensive tackle prospects
, while Adams ranked No. 8.
All three are now preparing for their junior seasons at Ohio State.
"They're at the midpoint of their careers, not unlike Terrelle," head coach Jim Tressel said. "You'd like to think that they can be real good leaders and good veterans."
Pryor's development in the second half of his career likely will determine whether Ohio State wins a national title for the first time since 2002, but equally as important, if not more so, is the progression of his classmates on the offensive line.
"Adams, Brewster and Shugarts have now all gotten their feet more than wet now for a couple years," offensive coordinator/offensive line coach Jim Bollman said. "Going into their third year, now it's time for them to really start kicking it in."
Brewster certainly has done so, having started the last 23 games at center for the Buckeyes. The 6-5, 293-pound junior from Orlando will contend for the Rimington Trophy this fall and serve as one of the line's leaders along with guards Justin Boren and Bryant Browning.
Shugarts also saw the field as a true freshman but missed six games with a shoulder injury that required surgery. He earned the starting right tackle spot in 2009 and will start at either right tackle or left tackle this season.
Adams has battled injuries and spotty play his first two seasons, but enters the summer with a decent to strong chance of landing the starting left tackle spot.
"Those guys work extremely hard, those three," Browning said. "They've got kind of a brotherhood. You see those guys in the weight room together, watching extra film together, and I feel like they're close on and off the field. They're doing anything they can to be great offensive linemen."
Since Brewster is a proven player at center and Shugarts took a step in that direction last fall, Adams found himself in the spotlight this spring. Adams failed to grab the starting left tackle spot last year, forcing Ohio State to shift versatile veteran Jim Cordle to protect Pryor's blind side.
The Dublin, Ohio, native has been an enigma early in his college career. One look at the 6-8, 300-pound Adams reveals the obvious physical gifts he possesses, but entering spring practice, he had yet to produce consistent results on the field. Adams missed Ohio State's first two games last year -- sources said he was suspended for a violation of team rules, though Tressel never confirmed it -- and didn't see much action during Big Ten Play.
"There's competition at his position right now," Browning said, "but he's working hard, doing whatever it takes so he can get a chance to get out there."
This spring, the Buckeyes opened the competition at left tackle, as Adams, Andrew Miller, Marcus Hall and Shugarts all saw time. Adams seemed to make strides toward the end of the session and
drew praise for his performance
in Saturday's spring game.
Ohio State star defensive lineman Cameron Heyward is doing all he can to help linemen like Adams, Shugarts and Brewster take the next step.
"It's a work in progress, it's not going to happen right away," Heyward said. "They'll have good days, and they'll also have bad days. And our guys are pushing them. We're not just going to let them sit back and enjoy it because it's going to be a rough battle.
"They were highly touted offensive linemen coming in, and they really want to step up and be great this year."