NCF Nation:

Andrew Norwell
September, 29, 2013
9/29/13
2:35
AM ET
COLUMBUS, Ohio -- Earlier in the week, Urban Meyer called Wisconsin the "king of the Big Ten." After yet another Ohio State victory on Saturday night, no questions remained about the real league royalty: the team with King James on its sideline.
Yet this was hardly a coronation. The No. 4 Buckeyes had to fight until the final minute to hold off the No. 23 Badgers
31-24
in front the third-largest crowd in the history of the Horseshoe. Plenty of people probably checked in on this prime-time game to find out just how good Ohio State truly was after it had cruised against soft competition for the first four weeks.
They might have come away still unsure.
"I don't know if we made a statement," safety
C.J. Barnett
said. "We know we had our doubters. Hopefully, we proved them wrong. But if not, it doesn't matter. We're just going to keep working."
Meyer's team looked ready to provide a resounding impression at various points in the game. Quarterback
Braxton Miller
returned from his 11-quarter injury absence and immediately led the offense on a touchdown drive in just four plays. The Buckeyes went end to end as fast as LeBron James, who cheered on his home state school from the 20-yard line during the first half.
[+] Enlarge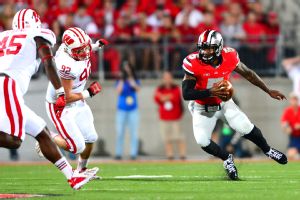 Andrew Weber/USA TODAY SportsBraxton Miller threw for 198 yards and rushed for 83 in his first game since injuring his knee Sept. 7.
Miller, reunited with running back
Carlos Hyde
for the first time this season, threw four touchdown passes and put his team up 31-14 with his final one late in the third quarter. Take that, Oregon and Clemson and other teams jockeying for BCS title game position.
But Wisconsin, which hasn't lost a game by more than seven points since 2010, refused to buckle. The hard-luck Badgers outgained the Buckeyes (399-390) and cost themselves a better chance at the upset because of a missed field goal, several costly penalties and a defensive breakdown at the end of the first half. Saturday's game was billed as the de facto Leaders Division title game. It might well have just pitted the two best teams in the entire Big Ten.
"They did exactly what we thought they were going to do," Ohio State receiver
Philly Brown
said. "We knew it going into this game that it was going to be a brawl."
Just not exactly the type many expected. The young Buckeyes defensive front seven accomplished the nearly impossible by shutting down Wisconsin's running game and its star tailbacks,
Melvin Gordon
and
James White
. The Badgers finished with just 104 rushing yards on 27 carries, while Gordon -- the leading rusher in the FBS heading into Saturday -- was limited to 74 yards on 15 attempts before a leg injury ended his night early.
The longest Wisconsin rush of the night was White's 17-yard touchdown run in the fourth quarter. Mostly, however, White and Gordon found little space to maneuver and plenty of defenders in their area.
"I really think we showed to the country that we can stop the run and that we're not anybody to be messing around with," Ohio State linebacker
Ryan Shazier
said. "They have a great offensive line, and I feel like our D-line is going to be great also."
Yet the Badgers countered with a surprisingly effective passing game. Quarterback
Joel Stave
threw for 295 yards, 207 of them going to receiver
Jared Abbrederis
. Despite everyone in the stadium knowing whom Stave would target, Abbrederis repeatedly found ways to get open while burning Ohio State's all-America cornerback
Bradley Roby
several times.
"He's got my vote for All-Big Ten," Meyer said. "He did an incredible job."
The bad news in the secondary got much worse late in the game when senior safety
Christian Bryant
suffered a broken ankle trying to make an interception. Bryant is one of the top leaders on the defense, and Meyer was so upset about the season-ending injury that he slapped the podium in his postgame news conference and said, "Doggone it. Hard part of the game, boy."
Bryant's on-field absence could be felt next week at Northwestern. As far as off the field, it could last even longer.
"I'm not worried about the playing [aspect]," Barnett said. "I'm worried about the leadership aspect. It's going to take all of our leaders to do more. I've got to do more."
The injury hurts, but the Buckeyes still boast an enviable position. They hold a virtual two-game lead over Wisconsin in the Leaders race by owning the head-to-head tiebreaker. After Saturday's "GameDay" showdown at No. 17 Northwestern, the Buckeyes should have smooth sailing until the season-ender at Michigan, which might or might not have fixed its troubling flaws by then.
Critics might harp on Saturday's narrow margin of victory, but they would underrate Wisconsin if so.
"It's a Big Ten win," offensive lineman
Andrew Norwell
said. "To beat a Big Ten team, that says something, especially a ranked team. This was a big win for us."
Not, however, a dominant one. The Buckeyes might need those while trying to convince pollsters and Big Ten skeptics that they belong in the national championship picture. Saturday's game was more reminiscent of last year's team, which eked out several close victories on its way to 12-0.
Still, the wins keep piling up. Meyer has never known an unhappy postgame "Carmen Ohio" sing-along as a head coach, having produced 17 straight victories. When you can bring LeBron James in for a pregame speech with scores of recruits watching, that bodes well for the future.
"I don't know," Meyer said when asked about the impact of James' presence Saturday. "I just know that I love athletes that handle their business."
The Buckeyes keep doing that every week. Until someone can dethrone them, that's the only statement that matters.
April, 3, 2013
4/03/13
11:00
AM ET
COLUMBUS, Ohio -- Several factors usually get mentioned first as reasons for Ohio State's 12-0 season in 2012.
Braxton Miller
's heroics.
Carlos Hyde
's emergence. The play of the defense down the stretch, led by
John Simon
and
Ryan Shazier
.
But one factor probably doesn't get mentioned enough: the performance of the team's offensive line. A major question mark going into last season, the line shaped up as one of the best in the Big Ten last year under the tutelage of Ed Warriner. And with most of the group back and some better depth, the unit provides a strong reason to believe in the Buckeyes again in 2013.
[+] Enlarge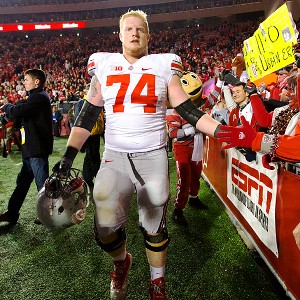 Jeff Hanisch/USA TODAY SportsLeft tackle Jack Mewhort, an all-Big Ten-level talent in 2012, could be the Buckeyes' next great leader.
Warriner turned in one of the better coaching jobs in the league last year, rounding into shape a crew that was previously undistinguished and underwhelming. He turned
Reid Fragel
, a former tight end, into a standout right tackle who should get drafted later this month.
Corey Linsley
went from playing guard to one of the conference's top centers, while
Jack Mewhort
developed into a top-flight left tackle. One of the indelible images of the Buckeyes' season was the line pushing around Michigan State's terrific defense to grind out the victory in East Lansing.
About the only thing Warriner had to worry about last season was health, as there was no experience and precious little depth behind the starters. He doesn't have the same worries this spring.
"It's a nice feeling to know you probably have a backup tackle and a backup guard," he told ESPN.com.
Four starters are back, so the real battle this spring is to replace Fragel at that right-tackle spot. Right now, sophomores
Chase Farris
and
Taylor Decker
are splitting a lot of first-team reps there, with
Darryl Baldwin
also in the mix.
"Those two guys have a lot of ability," Warriner said. "The more comfortable they get and the more confidence they get, one of them could take off -- or maybe both will and we'll play by committee. But they have high-level talent and all the traits of really good linemen."
Head coach Urban Meyer said Tuesday that redshirt freshman
Pat Elflein
has been one of the surprises of the spring, and he could add depth at guard or tackle. Warriner also said
Jacoby Boren
is making strides at center. While the team suffered a setback when reserve
Antonio Underwood
tore his anterior cruciate ligament late last week, the Buckeyes should still be able to rotate more guys on the offensive line this fall.
"If the next man in can play a certain amount but the level doesn't drop off enough to hurt our team, we might do that just to keep the unit fresh and hopefully be smart throughout the season," Warriner said.
But Ohio State will want its veterans on the field as much as possible. Mewhort, whom ESPN.com voted as a first-team All-Big Ten performer, has been hailed as one of the team's best leaders and anointed by Meyer as a possible replacement for Simon in that regard.
"He's what you want in terms of an attitude, of work ethic, of being a competitor," Warriner said. "When you're a first-year starter at a new position with a new coaching staff, sometimes you just worry about your own business, and that was him to some degree last year. But now, he's taking kind of a bigger role with his leadership on offense and even the team as a whole."
Warriner said guards
Andrew Norwell
, a first All-Big Ten team honoree by the media last season, and
Marcus Hall
have made maybe the biggest improvements of anyone on the line this offseason. Along with Linsley, whom Warriner said has "elite-level strength," the Buckeyes have the potential to field four all-conference type linemen.
"We think we possibly could, if they play up to their ability level," he said. "The good thing about the group is, they don't really care about that. If we won the Big Ten and none of them made all-conference, they wouldn't care a bit. That's the kind of unselfish players they are."
Warriner said he has challenged the group to help lead a top-five national offensive attack this season. Ohio State led the Big Ten in scoring last year (37.2 points per game) and finished second in rushing yards per game (242.3). The offensive line led the way, though players like Miller and Hall sure helped.
"We know the quality of our skill guys can erase some things and create some big plays," Warriner said. "If you block it for six, you might get 16. At some places, if you block it for six, that's what they'll get -- six yards."
Everything works in concert. But don't forget the Buckeyes' offensive line when talking about reasons for the team's success.
August, 30, 2011
8/30/11
3:49
PM ET
In a different world where Ohio State players had never received any free tattoos or traded memorabilia, Saturday's lineup against Akron would look a lot different.
As it is, three key offensive starters and one defensive backup are suspended for the first five games, and quarterback Terrelle Pryor is gone for good. That means young and inexperienced players are taking on a larger role at the start of the season. But Luke Fickell said this isn't a Keanu Reeves movie, so don't refer to the new guys as "The Replacements."
"We're not trying to focus on them on being replacements," the Buckeyes' head coach said. "It's just like we had seniors graduate -- it's next man up. We're not going to sit back and wait until those guys are able to come back. Our idea is, hey, that guy steps forward and takes his opportunity.
[+] Enlarge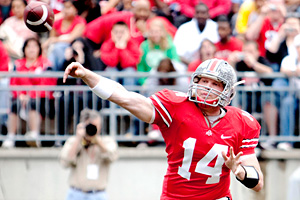 Greg Bartram/US PresswireJoe Bauserman is expected to start at quarterback in Saturday's opener.
"Everybody knows the story of Wally Pipp, and if that's the case, that's the best thing that can happen to us. Someone will have to come and fight their way back into the lineup when they're eligible to play."
With that said, here's a look at how Ohio State plans to fill in the gaps:
-- Quarterback. Senior
Joe Bauserman
and freshman
Braxton Miller
are officially listed as co-starters, but Fickell said Tuesday that Bauserman would
get the first snaps on Saturday
.
"It's leadership," Fickell said when asked why Bauserman will start. "He's done a really good job through camp. I've been impressed with the things we've asked him to do and what he's done."
But Fickell insisted that both quarterbacks would be needed this year and that he wants to see them in the heat of competition. Especially the youngster, Miller.
"Obviously, his abilities have impressed us all, and that's why he's here," Fickell said. "Until you do it and perform, we'll keep our judgments to ourselves. We know he can do it. We know he has the ability to do it. Being able to handle all the situations is what's important. We don't lack confidence in what he does, I can tell you that."
-- Running back. If there's a real chance at a Wally Pipp situation, maybe it's here. Daniel "Boom" Herron rushed for more than 1,000 yards last season, but the Buckeyes have a stable of impressive, young backs who have a chance to shine in the first five games.
That stable will be a little lighter early on, as
Jaamal Berry
is questionable for the opener with lingering hamstring problems. Junior
Jordan Hall
, a versatile, do-it-all performer, is listed as the starter, with bigger backs
Carlos Hyde
and
Rod Smith
as his backups. Even without Herron, Ohio State expects its running game to be the strength of the team.
-- Wide receiver.
DeVier Posey
is the best and by far the most experienced wideout on the roster. In his absence, sophomore Corey "Philly" Brown must take on a larger responsibility as the No. 1 target.
"He's a guy who has really stepped up from the spring," offensive coordinator Jim Bollman said. "He's the one guy who's really got any experience. But it's a totally different role for him now than last season."
Brown might be playing more of a complementary role if Posey were eligible. Instead, younger players will be pushed into action. Redshirt freshman Verlon Reed won a starting receiver's job out of fall camp.
"The wide receivers have [been] unbelievable," Fickell said. "They've been as impressive a group, as I think, throughout camp. Maybe that's a little because we knew we had a lot of young guys, and we didn't know what to expect."
-- Left tackle. Mike Adams is one of the best, if not the best, offensive tackles in the league. Bauserman and Miller won't have that security blanket. But the Buckeyes feel they're in good hands with sophomore Andrew Norwell, who was an ESPN.com All-Big Ten Freshman team member last season.
The problem with Adams' absence is it hurts the overall depth. Ohio State lists three true freshmen as backups on the offensive line, and redshirt freshman Eric Kramer is next in line behind Norwell.
"I'm not going to lie," center Mike Brewster said, "we're a little thin."
-- Defensive end. Solomon Thomas sealed the Sugar Bowl win with his interception against Arkansas' Ryan Mallett, but he was likely ticketed for a backup role. Ohio State should still be in good shape up front with senior Nathan Williams and promising sophomore Johnathan Hankins at end, while tackle John Simon can slide outside as well. Again, experienced depth is the biggest issue, as a pair of freshmen are currently listed as the backups at defensive end.
Reinforcements will arrive by Game 6. The Buckeyes hope the new guys -- don't call them "the replacements" -- can hold the fort until then.
June, 24, 2011
6/24/11
1:30
PM ET
The preseason position rankings march on with the offensive lines. Team rankings are below, and we'll take a look at the individual rankings for tackles, centers and guards early next week.
Looking at the league landscape, offensive line could be a major strength throughout the Big Ten this season. Although standout players such as Outland Trophy winner Gabe Carimi and All-American Stefen Wisniewski depart, I see improved depth for several teams as well as quite a few multiyear starters.
Honestly, there
aren't any bad lines in the league
; just some with more question marks than others.
Let's get to the rundown.
1. Wisconsin:
Talk about an ability to reload. The Badgers lose All-Americans Carimi and John Moffitt, plus the versatile Bill Nagy, and they still shouldn't take any steps backward. Injuries have allowed Wisconsin to build depth the past few seasons, and four of the five spots look extremely solid. Tackle Ricky Wagner, center Peter Konz and guard Kevin Zeitler lead a group that will block for the league's top running back tandem. Wisconsin's track record up front is impossible to ignore, and this year's line should continue the trend.
[+] Enlarge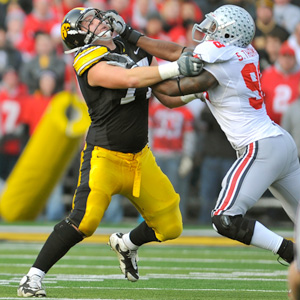 David Purdy/Getty ImagesWill arm length be an issue for former Iowa left tackle Riley Reiff in the NFL?
2. Iowa:
The line is undoubtedly Iowa's biggest strength and should be one of the nation's elite units in 2011. Iowa returns starting experience at all five positions and should have decent depth. Left tackle Riley Reiff, projected as a first-round pick in the 2012 NFL draft, will enter the fall as a leading candidate for the Outland Trophy. James Ferentz is one of the league's top centers, and Markus Zusevics is poised for a big year at right tackle.
3. Ohio State:
Depth is the only reason the Buckeyes' line isn't higher in the rankings. Ohio State boasts arguably the nation's top center in Mike Brewster, and first-team All-Big Ten tackle Mike Adams will be back after a five-game suspension to begin the season. The Buckeyes need big things from tackle Andrew Norwell during Adams' absence, and tackle J.B. Shugarts must play like a veteran. After struggling to put two sets of capable linemen on the field this spring, Ohio State has to find more depth in preseason camp.
4. Michigan:
This is another group that could climb up the rankings by season's end. Center David Molk is a terrific piece to build around, and if gifted players like Taylor Lewan and Patrick Omameh continue to develop, Michigan's line will be a major strength. The concerns are Molk's ability to stay healthy and an adjustment to a new offensive system under Al Borges. The line did an excellent job of protecting
Denard Robinson
in 2010, allowing a league-low 11 sacks.
5. Illinois:
The Illini flat-out punished opponents at the line of scrimmage on several occasions last season, and I really like the potential for the front five in 2011. The biggest reason? Left tackle Jeff Allen, one of the Big Ten's most experienced linemen. Allen and center Graham Pocic will contend for All-Big Ten honors, and if Corey Lewis gets healthy, this should be one of the league's top offensive lines.
6. Purdue:
Expectations are high for a line that coach Danny Hope thinks will be Purdue's strength in 2011. Left tackle Dennis Kelly is an All-Big Ten candidate with NFL potential who has started the past 24 games. Center Peters Drey and tackle Nick Mondek help anchor the group. The big question is whether mammoth guard Ken Plue, a multiyear starter, can get out of Hope's doghouse to help lead the way. Plue will be pushed by James Shepherd this summer. The combination of experience up front and the return of running back
Ralph Bolden
bode well for the Boilers.
7. Northwestern:
The Wildcats boast the nation's second most experienced line (137 combined career starts), but experience must start translating to production. This group still must prove it can spark a decent rushing attack after several years of decline. Left tackle Al Netter is an All-Big Ten candidate and center Ben Burkett enters his fourth season as the starter. If Northwestern gets more consistent play from right tackle Patrick Ward and others, it should be a solid group.
8. Penn State:
This is a big year for Penn State's O-line, which has heard the criticism and has vowed to erase it in 2011. The tackle spots look solid with Quinn Barham and Chima Okoli, but Penn State needs to shore up the interior after losing Wisniewski, a mainstay for the past four seasons. If veterans like Johnnie Troutman and DeOn'tae Pannell step up and turn in consistent performances, the line should hold up nicely.
9. Nebraska:
The Huskers ranked ninth nationally in rushing last season but have quite a few question marks up front. Center Mike Caputo is a building block and sophomore tackle Jeremiah Sirles is a returning starter, but Nebraska has little proven experience. The Huskers will benefit from a healthy Marcel Jones at right tackle, and Yoshi Hardwick adds depth. This could turn out to be a decent group, but the experience issue combined with a scheme change creates some uncertainty.
10. Michigan State:
Not to put too much pressure on the line, but arguably no position group will have more influence on Michigan State's season. The Spartans must replace both starting tackles and their starting center, never an easy task. All-Big Ten guard Joel Foreman returns to lead the group, but Michigan State needs immediate contributions from unproven players. The coaches feel they've upgraded the athleticism up front by moving players like Dan France and Blake Treadwell over from the defensive side.
11. Minnesota:
The Gophers boast a mix of veterans and youth, and it'll be interesting to see whether the group comes together this fall. Hopes are high for young tackles Eric Olson and Jimmy Gjere, but they'll need help from seniors like Ryan Wynn and Chris Bunders on the interior. Minnesota needs to regain its swagger as an elite rushing offense, and it starts up front this fall. This is a group that certainly has a chance to make strides.
12. Indiana:
I like some of Indiana's individual pieces, but as a group, the Hoosiers must show they can create space for the running backs. Indiana switched to the pistol offense in hopes of sparking the ground game but produced barely 100 rushing yards a game in 2010 (112th nationally). The line allowed only 12 sacks and must continue to protect its unproven quarterbacks this fall, but getting the run game going is paramount. Returning starters Will Matte, Justin Pagan and Andrew McDonald give Indiana hope.
April, 6, 2011
4/06/11
1:00
PM ET
COLUMBUS, Ohio -- Off-field issues continue to dominate the discussion around Ohio State, but the Buckeyes have plenty to address between the lines.
Not only does Ohio State lose 24 seniors from the 2010 team, but the Buckeyes will be without five players, including four offensive starters, for the first five games this coming season. The cumulative loss in production has coach Jim Tressel calling this his youngest team at Ohio State.
Here are the five players suspended for the first five games of 2011:
* returning starter
Filling these gaps is a primary goal for Ohio State this spring. The team is in good shape at some positions and thinner at others.
Here's a breakdown of the five positions,
from the most shaky spot to the most stable
.
QUARTERBACK
[+] Enlarge

AP Photo/Terry GilliamJoe Bauserman is the most experienced of Terrelle Pryor's backups and is the favorite to start.

Sidelined: Terrelle Pryor, three-year starter (2010 stats: 210-for-333 passing, 2,772 yards, 27 TDs, 11 INTs, 754 rush yards, 4 TDs)

Fill-ins: Joe Bauserman (senior, two-year backup, appeared in every game last season and completed 16 of 22 pass attempts); Kenny Guiton (sophomore, appeared in five games last season and completed 1 of 2 attempts); Taylor Graham (freshman, redshirted in 2010); Braxton Miller (true freshman, enrolled early and participating in spring)

The skinny: Quarterback is undoubtedly Ohio State's biggest concern because Pryor has held the starting job since September 2008. Bauserman is a veteran but lacks game experience, while the others essentially have none. Although Bauserman and Guiton have an edge right now in the spring, Graham and especially Miller could close the gap. Guiton and Miller are the most mobile of the group, although Bauserman moves pretty well, too.

Quotable: "Braxton is lost. Kenny and Joe have the best grasp on it. Taylor's somewhere in between. We've had four practices. I hope in the next 11, we get a lot more looks that will really make you think, 'OK, this guy.' If I had a game tomorrow, Joe would start, but Kenny has looked good and the two young guys, they're so hesitant because they don't know much, and we have to wait until we get out there and chase them when people are allowed to tackle them." -- Tressel
WIDE RECEIVER
Sidelined: DeVier Posey, two-year starter (2010 stats: 53 receptions, 848 yards, 7 TDs)

Fill-ins: Corey Brown (sophomore, eight catches for 105 yards and a touchdown in 2010); Chris Fields (sophomore, three catches for 22 yards in 2010); James Louis (freshman); T.Y. Williams (freshman)

The skinny: If the quarterback spot weren't so important, receiver would be Ohio State's most pressing need. Posey, graduating senior receiver Dane Sanzenbacher and graduating senior running back Brandon Saine accounted for 131 of the team's 228 receptions in 2010. Brown is a good bet to start and Fields could land the other spot in Posey's absence. Ohio State also could use its running backs as receivers more this fall. The 6-foot-5 Williams is an intriguing prospect because of his size. New assistant Stan Drayton has his hands full in his first year.

Quotable: "Coach Drayton said DeVier is like Coach Posey now. He knows the offense so well and I'm sure coach Drayton is still getting caught up a little bit." -- center Mike Brewster
LEFT TACKLE
[+] Enlarge

Greg Bartram/US PresswireLosing Mike Adams for five games will really test Ohio State's O-line depth.

Sidelined: Mike Adams, started throughout 2010 season, consensus first-team All-Big Ten selection

Fill-ins: Andrew Norwell (sophomore); Marcus Hall (sophomore, redshirted in 2010 because of academic issues); Jack Mewhort (sophomore)

The skinny: Overall offensive line depth is an issue for Ohio State this spring, and the lack of bodies could prevent the Buckeyes from having a full-blown spring game. Players are rotating at several spots during practice, and Mewhort and Hall both are in the mix for starting jobs at guard, too. Hall's return should help Ohio State survive without Adams, as hopes were high for Hall before his academic issues last season. Norwell backed up right tackle J.B. Shugarts as a freshman in 2010 and could be the answer during Adams' suspension.

Quotable: "We only have 10 linemen right now. We'll get a couple more for [preseason] camp. But I'm really, really impressed by the guys. They've been rotating around, playing left tackle, left guard. It has been encouraging." -- Brewster
DEFENSIVE END
Sidelined: Solomon Thomas (2010 stats: 14 tackles and a win-clinching interception in the Sugar Bowl as a reserve)

Fill-ins: Nathan Williams (senior, 46 tackles, 9.5 tackles for loss, 4.5 sacks, four passes defended, one interception in 2010); Adam Bellamy (sophomore, 11 tackles, two tackles for loss in 13 games in 2010); Melvin Fellows (sophomore)

The skinny: Ohio State lacks many true defensive ends and will need a big year from Williams, a returning starter, at the rush end position. Thomas likely would have started if not for the suspension, but the Buckeyes have some flexibility up front. Most of Ohio State's defensive linemen play both inside and outside. John Simon, who started last season at defensive tackle, lined up at end for part of Wednesday's practice. Ohio State boasts better depth at the inside position, so players like Simon and Bellamy could see more time on the outside.

Quotable: "You've got your Johnny Simons and your Nate Williamses back, and you hope they can be the core and the leadership. They might not be production leaders because of where they are [on the field], but that's where it starts." -- co-defensive coordinator/assistant head coach Luke Fickell
RUNNING BACK

Sidelined: Dan Herron, 17 career starts, first-team All-Big Ten in 2010 (2010 stats: 216 carries, 1,155 rush yards, 16 touchdowns, 19 receptions, 180 receiving yards)

Fill-ins: Jordan Hall (junior, 37 carries, 161 rush yards, 2 TDs in 2010); Jaamal Berry (sophomore, 32 carries, 266 rush yards, 1 TD in 2010); Carlos Hyde (sophomore, 24 carries, 141 rush yards in 2010); Rod Smith (freshman, redshirted in 2010)

The skinny: Of the five positions where Ohio State loses a player to suspension, running back looks to be the strongest by far. Herron had a strong performance in Big Ten play last fall and could be missed, but the Buckeyes should be very deep in the backfield. They have variety in size, skill sets and running styles, and they will be able to give defenses different looks. Hall and Berry both looked good at times last season, and Smith generated a lot of buzz during practices before the Sugar Bowl. Fullback Zach Boren said running backs coach Doc Tressel has noted that the team has seven players capable of starting in the backfield.

Quotable: "It's a stable of backs. To me, it's one of the most impressive backfields in the country. All those guys, you can tell they're trying to do the right things because they know whoever's going to have that little edge, they need to make sure they're doing the right things off the field as well. There's so many running backs, it's going to be hard to get them all on the field." -- Brewster
February, 4, 2010
2/04/10
10:02
AM ET
Ohio State Buckeyes
The class
Recruits:
18 (16 high school seniors, two prep school players, one player enrolled already)
Top prospects:
Defensive back
Christian Bryant
should see the field early. Running back
Roderick Smith
could be a factor as the starting job remains a bit unsettled. Linemen
Darryl Baldwin
and
Andrew Norwell
and wide receivers
James Louis
and
Corey Brown
also come in with plenty of accolades.
Sleepers:
Speedy
Bradley Roby
is a late signee who only gained major attention in recruiting after switching from wide receiver to cornerback as a senior. Quarterback
Taylor Graham
struggled with injuries in high school but has a good pedigree as the son of former NFL QB Kent Graham. Defensive tackle
Johnathon Hankins
is a big body on the interior.
Needs met:
Ohio State addressed a mini need in the secondary with Bryant and Roby. The Buckeyes would have liked one more offensive lineman --
Seantrel Henderson
or Matt James -- but they added depth at both wide receiver and running back.
Analysis:
Ohio State might not have hit a home run with this class, and the Buckeyes lost a few key in-state products to other teams, namely
Jordan Hicks
. But Jim Tressel and his staff brought in plenty of speed and versatility, and added several key wide receivers who could contribute early following graduation losses and Lamaar Thomas' transfer. Unless Henderson dumps USC in the coming weeks, Ohio State will need to add more offensive linemen in the 2011 class.
Scouts Inc. grade:
B
What Jim Tressel said:
"If you asked coach [Jim] Bollman how many offensive linemen he would have liked, we had pigeonholed two. He probably would have liked three or four, but we could afford two within our budget. So we'll see how we end up there."

"With the way the game has changed, you need so many guys who can play out in space. In this class, we have a lot of guys with skills and speed."
February, 1, 2010
2/01/10
5:00
PM ET
Jordan Hicks' decision to leave the state of Ohio and
play his college ball at Texas
didn't come as a major surprise.
Though Hicks attended high school in the Cincinnati suburbs, he only moved to Ohio in the sixth grade from South Carolina and had family connections to the Texas coaching staff. As he told reporters Friday after
announcing his choice
, "I don't feel like I turned my back on Ohio State. ... I wasn't born here. ... Ohio State is an Ohio school. I'm not from Ohio. I really don't have that connection there from growing up liking them."
Sounds reasonable enough. But any time an elite high school prospect leaves a Big Ten state to play elsewhere, it creates anxiety among fans. And this year, Ohio State has struggled a bit to seal off its borders.
Of ESPN Scouts Inc.'s top 15 ranked players from Ohio, only four are heading to Ohio State. Prospects like Hicks (Texas), running back Spencer Ware (LSU), quarterback Andrew Hendrix (Notre Dame), safety Latwan Anderson (West Virginia) and offensive lineman Christian Pace (Michigan) will play for other teams.
It's important to remember Ohio produces a ton of great high school players, and not all of them will end up in Columbus. Ohio State has landed highly-rated local products like Darryl Baldwin, an ESPNU 150 player, as well as Andrew Norwell and Tyrone Williams. The Buckeyes also are in the mix for offensive lineman Matt James from Cincinnati.
But on the whole, Ohio State likely will sign fewer in-state players than most years.
The Buckeyes currently have eight in-state commitments from a class of 18. Last year, Ohio State signed 14 Ohio products in a class of 25. In 2005, Ohio State signed 11 Ohio products out of 18. Ohio State signed a small class of 15 in 2003, but all but three players came from the state. In 2002, Ohio State's 24-man class featured a whopping 18 players from the state.
So is this year an anomaly or a cause for concern? To get a better perspective, I checked in with Scouts Inc.'s Midwest recruiting expert
Bill Kurelic

, whose blog is a must read.
Here's what Kurelic had to say: "They have done OK in Ohio this year, but they certainly haven't dominated like in most years. But I don't see it as a trend. They lost out on Welch and Hendrix, but those two are from Catholic high schools and it was going to be a tough sell for OSU to keep them away from Notre Dame. They lost out on Ware, but he just never seemed overly interested.
"On the good side of things for OSU fans is that [Jim] Tressel may be set to dominate Ohio again next year like he has in most years. He has two of the top 5 Ohio juniors committed and he seems in good position to get the top six or seven guys in Ohio on his list. So I think this year is just one of those years."
Kurelic is referring to defensive ends Kenny Hayes and Steve Miller, both of whom are on the
ESPNU 150 watch list

.
Bottom line: Ohio State's in-state recruiting should be fine in the long term, though the Buckeyes must beware of intruders after this year.
July, 14, 2009
7/14/09
5:28
PM ET
Posted by ESPN.com's Adam Rittenberg
Illinois picks up a major commit at tight end, while Penn State bolsters its quarterback position and other teams add key pieces. Here's your latest recruiting rundown in the Big Ten.
ILLINOIS
2010 verbal commits: 8
ESPNU 150 Watch List: Safety Corey Cooper, quarterback Chandler Whitmer, tight end C.J. Fiedorowicz
Quick take: Fiedorowicz is a big get for the Illini, who lose starting tight end Michael Hoomanawanui after the 2009 season. Illinois also will be breaking in a new starting quarterback and could lose superstar wideout Arrelious Benn to the NFL draft, so Fiedorowicz should be a big help during the transition.
INDIANA
2010 verbal commits: 9
ESPNU 150 Watch List: None
Quick take: Things have slowed down a bit for the Hoosiers, who are still glowing from the commitment of defensive end Jibreel Black from Cincinnati. Indiana has found a good offense-defense balance so far in the 2010 class.

IOWA
2010 verbal commits: 10
ESPNU 150 Watch List: Defensive end Matt Hoch, tackle Andrew Donnal

Quick take: Both lines have been the focus of Iowa's recruiting so far, and the Hawkeyes made a big splash with Donnal, who could protect his fellow Ohioan Ricky Stanzi at some point down the line. At least seven of Iowa's commits could contribute on the offensive or defensive lines.
MICHIGAN
2010 verbal commits: 15
ESPNU 150 Watch List: Quarterback Devin Gardner, wide receiver Jeremy Jackson, wide receiver Ricardo Miller, guard Christian Pace, safety Marvin Robinson
Quick take: The nucleus for Michigan's 2010 class is in place, and the team hasn't added a commit since Courtney Avery on June 20. There are a ton of great athletes in this group, and Michigan likely will turn its attention to line play to wrap up the class.

MICHIGAN STATE
2010 verbal commits: 9
ESPNU 150 Watch List: Defensive end William Gholston, linebacker Max Bullough, quarterback Joe Boisture

Quick take: After landing its first seven commits from within state borders, Michigan State went into enemy territory -- or Mark Dantonio's home state, depending on how you look at it -- to pick up offensive linemen Travis Jackson and Michael Dennis. The two Ohio natives balance out a class that is shaping up well for the Spartans.
MINNESOTA
2010 verbal commits: 10
ESPNU 150 Watch List: None
Quick take: The Gophers already have a strong in-state recruiting haul, and they went to the southeast for running back Donnell Kirkwood, a workhorse-type back who generated a lot of interest. Minnesota also remains in the mix for arguably the nation's biggest prize, local product Seantrel Henderson.

NORTHWESTERN
2010 verbal commits: 6
ESPNU 150 Watch List: None
Quick take: Pat Fitzgerald should never have a hard time recruiting linebackers, and Northwestern landed a good one -- with a good name -- in Chi Chi Ariguzo from Columbus, Ohio. Ariguzo can also play safety and should contribute on special teams early in his career. Northwestern has yet to land an in-state prospect.
OHIO STATE
2010 verbal commits: 8
ESPNU 150 Watch List: Tackle Andrew Norwell, linebacker Jamel Turner, defensive end David Durham, running back Roderick Smith

Quick take: A quiet week for the Buckeyes after filling their backfield needs with Smith and quarterback Taylor Graham. Ohio State hopes to go back into Florida for star linebacker Jeff Luc and possibly linebacker Deon Rogers.
PENN STATE

2010 verbal commits: 12
ESPNU 150 Watch List: Wide receiver Adrian Coxson, running back Silas Redd, center Miles Dieffenbach, defensive end Kyle Baublitz, defensive tackle Evan Hailes, quarterback Robert Bolden

Quick take: Does Penn State currently have the Big Ten's best recruiting class for 2010? It sure looks that way as Bolden gives the Nittany Lions six watch list commitments out of 12 overall. Both Bolden and Paul Jones should be able to operate effectively in the Spread HD offense.
PURDUE
2010 verbal commits: 7
ESPNU 150 Watch List: Quarterback Robert Marve (2007 watch list)

Quick take: The quality of Purdue's commits seems to be getting better as quarterback Sean Robinson and defensive tackle Josh Davis came aboard. Robinson joins Marve and Caleb TerBush in the quarterback mix, while Davis boasts excellent size (6-foot-5, 250) for a young interior lineman.
WISCONSIN
2010 verbal commits: 8
ESPNU 150 Watch List: Safety Frank Tamakloe

Quick take: The quarterback position might be a question mark this season, but it's shaping up well for the future as Joseph Brennan committed to the Badgers. Brennan has good mechanics and accuracy, and he should get better with increased strength. Cameron Ontko could be a contributor at fullback or H-back down the line.