NCF Nation:

Andrew Peterson
July, 27, 2012
7/27/12
11:00
AM ET
Arkansas coach John L. Smith announced Thursday that the three players arrested in May for burglary
will not be a part of the Razorbacks' football team
this fall.
That means receivers
Marquel Wade
and
Maudrecus Humphrey
, and tight end
Andrew Peterson
won't have a chance to help the Hogs as they look to go on multiple title runs this year. All three were charged with felony residential burglary after, according to arrest reports, they were accused of stealing textbooks, DVDs, laptops and more than $4,800 in cash from a university dorm.
[+] Enlarge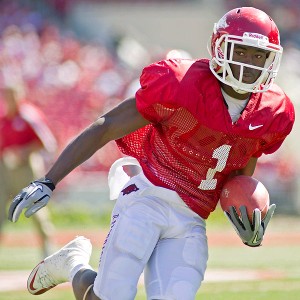 Beth Hall/US PresswireMarquel Wade had a standout performance in Arkansas' spring game, hauling in six passes for 136 yards.
Smith said during SEC media days in Hoover, Ala., last week that any player who didn't appear in Arkansas' media guide wouldn't be a part of the football team this fall. Well, the three were not in it, and on Thursday, Smith reiterated that same message to members of the media.
"Apparently I was not clear the last time," Smith said. "I said, 'Read the press guide. If you see his name in the press guide he would have a chance.' If you don't see it there then you won't see him. Read the press guide, right?"
The biggest hit is the loss of Wade, who had the potential to be a dynamic player both on offense and special teams. Wade could have lined up in multiple spots on the field for Arkansas on offense, but figured to do most of his damage in the slot. He's fast and slippery, making him a valuable target for
Tyler Wilson
, who watched as three of his top receivers from last year departed for the NFL. He was also first in line to replace Joe Adams at punt returner.
While Wade bided his time last year, he made significant strides this spring and was one of the stars of Arkansas' spring game, catching six passes for 136 yards and a touchdown. He would have been a great complement to
Cobi Hamilton
in the offense and would have provided the Hogs with a very dangerous option over the middle and down the field.
But Wade, along with Humphrey and Peterson, couldn't commit to
following the plan Smith laid out
for the three to follow if they planned to return to the team this fall.
"That's what they're going to have to do," Smith said during the 2012 SEC meetings in Destin, Fla. "It's a matter of you getting up -- you're not a member of this football team -- and you earn your way back onto this team. It's going to be very, very hard and they understand that. And it's going to be demanding."
Apparently, it was too demanding.
Smith never elaborated on what the players would have to do, but he made it very clear that they would have to follow the plan precisely if they wanted to sniff a chance to play this fall. That didn't happen and this now becomes yet another distraction that Arkansas' football team has to deal with in a year in which the Hogs could be a major player in the SEC title race. Losing Wade certainly wasn't what Arkansas wanted, but finding some closure to this is something the team needed heading into fall camp.
They won't avoid the questions about all three, but at least they can devise game plans without having to wonder if any of the three would be back this fall.
It's not like Arkansas doesn't have the talent to replace Wade, but he was expected to be a special part of this offense because of his versatility. His absence certainly will be felt, but all Arkansas can do now is move on.
Smith left the door open for all three to return at some point, but when that will be is unknown.
"There's always a possibility down the road [next year] but I would not expect any of those guys to be here," he said.
June, 28, 2012
6/28/12
10:36
AM ET
Arkansas wide receivers
Marquel Wade
and
Maudrecus Humphrey
and tight end
Andrew Peterson
pleaded not guilty
to felony charges tied to the burglary of their fellow students' dorm room.

The players entered their pleas on Wednesday in Washington County Circuit Court.
Interim coach John L. Smith released a statement on Wednesday concerning the three players:
"Marquel Wade, Maudrecus Humphrey and Andrew Peterson are not members of our football team and once the legal system has ruled on their status we will determine their status with the team."
Smith is staying consistent with what he said during the SEC spring meetings in Destin, Fla., when he stated that the statuses of the three players wouldn't change until the legal system played out.
Wade was expected to be a very important part of Arkansas' offense this fall. He didn't put up a ton of numbers as a freshman in 2011, but there's no denying that Wade has a chance to be a very dynamic player in the Razorbacks' offense, which lost three wide receivers to the NFL. He has tremendous speed and athleticism and could be used all over the field, including the return game.
If these players are found not guilty and do return to Arkansas' football team, you can expect some sort of punishment from Smith, both publicly and behind closed doors. He's already said that he's
devised a plan
that the three will have to agree to and abide by if they do make it back onto the team.
Here's what Smith said in Destin about the plan for the players:
"That's what they're going to have to do. It's a matter of you getting up -- you're not a member of this football team -- and you earn your way back onto this team. It's going to be very, very hard and they understand that. And it's going to be demanding."
But if they are found guilty, Smith will have a big decision on his hands. Dismissing these players would leave holes on Arkansas' roster, especially with Wade, but it would show that Smith isn't going to tolerate such foolishness while he's in charge. He won't be taken advantage of.
Regardless of what happens with these players and Arkansas, this should be a pretty interesting situation for the Razorbacks.
May, 14, 2012
5/14/12
9:00
AM ET
Three Arkansas football players
were arrested Saturday
and charged with burglarizing dorm rooms.
University police arrested wide receivers
Marquel Wade
and
Maudrecus Humphrey
, and tight end
Andrew Peterson
after security video showed the players allegedly walked into rooms where items had been taken. The police report valued the stolen property, including computers and textbooks, at almost $5,000.
[+] Enlarge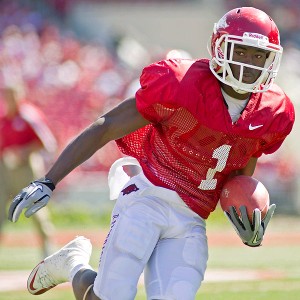 Beth Hall/US PresswireRazorbacks coach John L. Smith immediately and indefinitely suspended receiver Marquel Wade and two other players in his first test of discipline since being hired to replace Bobby Petrino last month.
Arkansas coach John L. Smith indefinitely suspended the three:
"We have high standards for our student-athletes, and I expect them to conduct themselves appropriately. Poor conduct and misbehavior will not be tolerated and is not what we expect from the University of Arkansas football program."
The video that police viewed showed the three players walking the hallways, checking doors and entering rooms inside the dormitory. Police said a witness saw Peterson and Humphrey opening doors, and that another witness identified Peterson as having been in her room.
Some of the stolen items were recovered from a bookstore near campus and in Peterson's room. The report also said a store clerk identified the three as regularly selling used items.
Wade was charged with a felony count of burglary, while Humphrey and Peterson were both charged with nine felony counts of burglary.
Since March, six Arkansas players have been arrested, making 2012 even harder for the football program. Stack those arrests on top of Bobby Petrino's embarrassing exit, and this has been far from the start that Arkansas wanted.
Before the Petrino situation rocked the program, the Razorbacks were expected to be a team that contended for the SEC championship and maybe even the national championship. Since then, the road to multiple title for Arkansas seems to be a little muddier.
Saturday's arrests certainly don't help. Wade only caught eight passes for 62 yards in 2011, but the expectations are for him to be a major contributor in the passing game, especially with the departure of receivers Joe Adams, Greg Childs and Jarius Wright. Wade was also dynamic in the return game, averaging 25.6 yards per kickoff return and returning one kick 85 yards for a touchdown.
Smith was brought in to make the transition to the season easier for players after Petrino's firing. The thought was that this team would be lost if an outsider was brought in, so athletic director Jeff Long went with a very familiar face in Smith, who spent the past three seasons as Arkansas' special teams coach.
This isn't exactly rallying around your new coach. It's having no regard for him or your team. This incident is something a new coach doesn't want to deal with and shouldn't have to deal with. Obviously, Smith will have to see how things play out legally, but losing a player like Wade could put a wrench in Arkansas' plans this fall.
So once again, this team is left trying to pick itself up after yet another boneheaded incident that's brought more embarrassment. Players will no doubt say the right things and scold the wrongdoers, but this act has to be tiring in Fayetteville.
If this team really wants to show that its success isn't going to be all about the coach, it has to make sure the players are more focused going forward. Six arrests doesn't mean players have gotten out of hand, but it isn't a great number to have on your spring résumé. They also stand as more distractions.
And Arkansas doesn't need anymore distractions going forward.