NCF Nation:

Andrew Williams
July, 23, 2014
7/23/14
10:30
AM ET
HOOVER, Ala. -- At SEC media days,
Auburn
coach Gus Malzahn confirmed the worst -- sophomore defensive end
Carl Lawson
had indeed undergone ACL surgery on the knee that he injured the last week of spring practice.
[+] Enlarge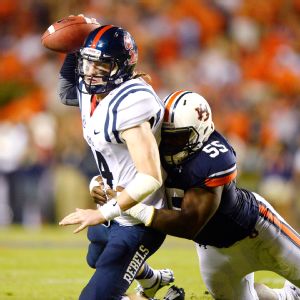 AP Photo/Todd J. Van EmstCarl Lawson's absence at defensive end will be felt, but Auburn has capable bodies ready to fill in.
Lawson waited until the first week of May to have the surgery, and now, the Auburn coaches are hoping to get him back "toward the end of the year."
"That's yet to be determined," Malzahn said of Lawson's return date. "But he is an unbelievable worker. He's a physical specimen, put together extremely well. He's very determined, so we'll see where that goes."
The former five-star recruit, ranked No. 2 overall in the 2013 class, was in line to replace top pass-rusher
Dee Ford
this fall. Ford led the team with 10.5 sacks and 14.5 tackles for loss last season, but Lawson showed glimpses of greatness when he got the opportunity. As a freshman, he was second on the team with four sacks.
However, it's time for Auburn to move on. If the Tigers get him back for the last two, three, four games, it would be a huge lift, but they have to worry about how to replace his production prior to his return, if he comes back at all.
Senior
LaDarius Owens
is already penciled in at one of the two starting defensive end spots. He started 12 games a season ago, and, though he missed all of spring practice, he's expected back for the beginning of fall camp.
The question will be who starts opposite of Owens and who else will be in the rotation once the season gets underway.
The candidates
Elijah Daniel, sophomore:
If not for Lawson, Daniel might have been talked about more last season. He too was a top recruit coming out of high school, ranked No. 34 overall in the ESPN 300, and he wasn't far behind his teammate with 2.5 sacks as a freshman. The plan was for the duo to play opposite each other down the road, but with Lawson out for the foreseeable future, the time is now for Daniel. Can he step out of Lawson's shadow and make his own mark?
DaVonte Lambert, junior:
Fans don't know his name yet, but Lambert might prove to make the biggest impact of anyone in Auburn's 2014 recruiting class. He arrived on campus last month, meaning he'll have to pick up the defense in a hurry, but there's no doubting his physical tools. The 6-foot-2, 275-pound junior college transfer was the top-rated defensive lineman in the ESPN JC50, and he's eager to get on the field for the Tigers.
Andrew Williams, freshman:
As the other newcomer on this list, Williams has yet to go through an organized practice with his new team. He was in high school just two months ago. Don't be fooled, though. That didn't stop Lawson and Daniel from making an impact their freshman season, and Williams could be on a similar path. The Georgia native practically lives in the weight room, which should help ease his transition at the next level.
Gabe Wright, senior:
The Auburn coaching staff experimented with Wright at defensive end this spring due to injuries and a lack of depth at the position, but nobody thought it would stick. That sentiment has since changed with Lawson's injury, and there's a chance the so-called "Rhino Package," with Wright on the edge, will be used more often than not.
Montravius Adams, sophomore:
Wright wasn't the only defensive tackle to try his hand on the edge this spring. Adams, who measures in at 6-foot-4, 306 pounds, took reps at defensive end, and Malzahn mentioned his name, along with Wright's, as a player who could help fill the void left by Lawson's injury.
Analysis
The early leader in the clubhouse is Daniel because he has the experience to go along with the talent, and both Wright and Adams are better suited for defensive tackle. However, fall camp will be critical for the newcomers, specifically Lambert. If he can pick up the defense and impress the coaches, he has as good a chance as anybody to start the season opener.
Regardless of who starts, expect Ellis Johnson and Rodney Garner to rotate a lot of bodies throughout the game and use a variety of packages. The key will be generating a pass rush, an area in which they struggled last season when Ford wasn't on the field.
The loss of Lawson shouldn't be understated -- the coaches will try to get him back as quickly as possible -- but there are enough capable bodies to make do without him.
February, 7, 2014
2/07/14
9:00
AM ET
AUBURN, Ala. -- The ink is dry, and
Rashaan Evans
is headed to Alabama. It was the surprise of signing day. The local product left his hometown to play for the enemy, and the people of Auburn were stunned to say the least. It's a rivalry centered around momentum, and the Crimson Tide stole it back on Wednesday.
But just how close did Evans come to signing with the Tigers?
[+] Enlarge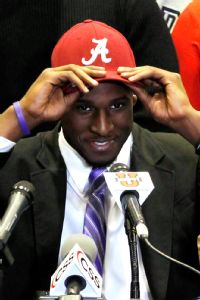 AP Photo/Butch DillAuburn feels good about its recruiting class even with Rashaan Evans headed to Alabama.
"When I was up there at the podium, I was thinking 'Man, maybe I should go to Auburn,' but then I really thought about it and Alabama was the best place for me," he said.
Apparently, Evans wasn't the only one who thought he should go to Auburn or who thought he had already signed with the Tigers. The school's athletic department put his bio on the website along with the other recruits who had signed that day. An embarrassing blunder no doubt, but it just goes to show how tight this battle really was.
Auburn signees
Jakell Mitchell
and
Stephen Roberts
made the short drive from their ceremony at Opelika (Ala.) High School to be at Evans' announcement. Roberts said he knew the outcome already, but Mitchell was just as surprised as everybody else, surprised and disappointed.
"I was looking forward to getting him in the Auburn family," Mitchell said. "But he made the best decision for him and his family. I hope he does great."
No hard feelings.
It wasn't easy for Evans' parents either. Both went to Auburn for a period of time, and both still live in Auburn. His father, Alan Evans, says he will still root for the Tigers in every game except the Iron Bowl. That doesn't change what happened, though. He still has to go around town with everybody fully aware that his son is playing for the school across the state.
"I know the Auburn people," he said. "They're the type of people that are going to take this with a grain of salt. They'll move on, and there will be another Rashaan Evans. I think Rashaan has to move on, and I think Auburn has to move on. I think they'll be OK."
The folks in town probably haven't moved on just yet, but the same can't be said for Auburn coach Gus Malzahn. According to Evans, Malzahn wasn't aware of the decision until the Alabama hat came out of the bag, but he didn't dwell on it. He and his staff had work to do.
"You recruit guys year-round, but we're very excited about the guys we have," Malzahn said, when asked about Evans. "We couldn't be happier. We've got some outstanding guys that are going to help us win a whole lot of games, and the future is very bright.
"We focus on the guys that are here. We've got one of the best classes in college football, not only talent-wise but everything else that goes with it."
Who can argue with that? When the smoke finally cleared, Auburn had signed 23 players including five early enrollees and finished with
the No. 8 class
on ESPN. It's a class that included 17 four-stars and 12 recruits ranked in the ESPN 300, and it's a class that features the No. 1 junior college player, the No. 2 pocket passer, and the No. 5 running back.
The loss of Evans might have left a sour taste on signing day if not for both
Braden Smith
and
Andrew Williams
, a pair of ESPN 300 prospects, choosing to sign with the Tigers.
"Sometimes you don't get a guy that maybe you thought you were going to get or maybe felt like you were going to get, but then you get two that you got in on late," athletic director Jay Jacobs said. "You just wish people well and know that we're real excited about what we've got going on here."
Sooner or later, that's what Malzahn and the people of Auburn will do with Evans. They'll wish him well until next November when he's on the opposing sideline.
December, 10, 2013
12/10/13
1:15
PM ET
The hits keep coming for the Pac-12. First, the nation's deepest and most ambitious conference in terms of scheduling gets just one BCS bowl team.
Then it doesn't have a Heisman Trophy finalist
, even with two candidates who are superior to the players who were invited.
[+] Enlarge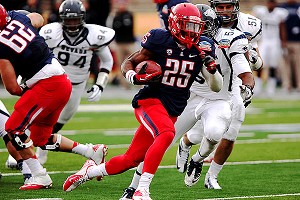 AP Photo/Eric DraperArizona RB Ka'Deem Carey has rushed for more than 100 yards in every game he has played in this season.
Arizona RB
Ka'Deem Carey
is the nation's best running back. He is a better running back than Auburn's
Tre Mason
and Boston College's
Andre Williams
, who are two of the six Heisman finalists.
What that means is that if you had all the college -- or NFL -- coaches pick a running back, the vast majority would choose Carey first. Why? Again, he's better than Mason and Williams.
And, if this is about pure numbers, Carey's numbers are superior to Mason's, who apparently got invited to New York because he posted an undeniably great performance in the SEC title game against Missouri. If that was the selling measure, then the Auburn offensive line should have been sent to New York.
Then there's Oregon QB
Marcus Mariota
, whose Heisman case is hampered by the Ducks losing two of their final four games. Of course, that didn't change the fact that
he's been better than three of the four QB finalists
over the entire season.
None of the four invited QBs --
Jordan Lynch
of Northern Illinois,
Johnny Manziel
of Texas A&M,
AJ McCarron
of Alabama and
Jameis Winston
of Florida State -- has a resume without holes.
Lynch played against weak competition. Manziel lost his final two games of the season and played poorly while doing so. McCarron's candidacy was about career achievement, but he lost to his team's arch-rival to end the season, thereby missing out on his much-celebrated drive for a three-peat.
Winston, the overwhelming favorite as the best player on the best team, obviously had his off-field issue. No charges were filed, but the incident was hardly a shining and blameless moment for Winston.
Who's to blame for nobody from the West Coast heading to NYC? Well, we hate to bring out a hackneyed harrumph but it's obvious: East Coast Bias.
Notice anything about the finalists? Yep, none play in the Mountain or Pacific Time Zones. To get off the Pac-12 train for a bit, consider that Fresno State QB
Derek Carr
, who is probably a better NFL prospect than Manziel, McCarron and Lynch, wasn't invited. He only led the nation in passing and threw 10 more TD passes than anyone else.
This bias isn't about some evil and corrupt dislike of all things West Coast. It's about a limited and flawed radar of evaluation. And, you know, going to bed early.
But East Coast voters aren't the only ones who suffer from bias. Here's a guess that when the regional voting patterns are revealed that Mariota's and Carey's support will only be lukewarm out West. That's because many West Coast voters suffer from a form of college football Stockholm Syndrome, where they are unduly influenced by the dominant and oft-repeated East Coast narrative, even if it runs counter to the conclusions of their own eyes and brains.
Before Oregon lost to Stanford, there was no East Coast Bias to fret. Folks loved Mariota and he led every Heisman poll. But when he lost, he plummeted unlike any other candidate who had an off-game. His consideration died completely when the Ducks also lost at Arizona.
It's a case of out of sight, out of mind, a condition that none of the other finalists back East had to deal with as they were re-evaluated despite shortcomings not unlike Mariota's.
When the odd ending to the season forced Heisman voters to revisit their pecking order, they apparently didn't include players outside their time zones. Bad finishes for Manziel, Lynch and McCarron? Neh.
A bad finish for Mariota? Wait… who's that?
For Carey, it was just a matter of everyone knowing he's the nation's best running back but not caring because he played for a 7-5 Arizona team. Are there really voters in the country who would be willing to step up to a microphone and say, "Mason/Williams are better than Carey"? I hope not.
And, despite a tireless effort from the Wildcats sports information department to point out that Carey's 15 consecutive games with over 100 yards hasn't been accomplished IN A DECADE, voters went all lazy because I'd bet at least 50 percent of them never watched him play all season.
Sour grapes? Absolutely. But sour grapes based entirely on facts and sound logic.