NCF Nation:

Andrew Williamson
August, 25, 2014
8/25/14
2:00
PM ET
What James Franklin did in his three seasons at Vanderbilt was nothing short of special. Call it astounding, fantastic or incredible.
Perennial SEC cellar dweller for most of its existence, Vanderbilt became relevant under Franklin.
No one will forget the transformation the program underwent thanks to Franklin, but it's time to move on, and that's exactly what the football team is doing now that the Derek Mason era is well underway.
[+] Enlarge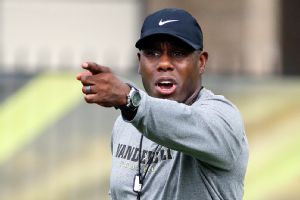 AP Images/Mark HumphreyWhy the numerous staff changes for Derek Mason? "It didn't look like good football last season," he said.
"James guided the ship, but those guys won games," said Mason, who was Stanford's defensive coordinator before arriving at Vanderbilt. "That's what they see now. It's really not about who's at the helm, it's about what they can get done collectively. You have to have great leadership in order to find great success."
Franklin, who is now the head coach at Penn State, went 24-15 in three seasons at Vanderbilt and instilled a tough, winning mindset that catapulted the Commodores out of the "pushover" column. Last fall was a heck of a finale for Franklin, as Vandy beat Florida, Georgia and Tennessee all in the same season for the first time ever.
Now, the Commodores are looking to build off that success and take the next step with new management. They want to go from competitive to champions under Mason.
"We thirst for that," defensive lineman
Adam Butler
said. "We thirst for the SEC championship. We thirst to be better than we were previous years. We feel like we've been downplayed for so long. It's time to make a change."
That's something Vandy has never experienced, but this group believes Mason, who has yet to coach a game as a head coach, can take the program to that level because of his résumé and his more verbalized vision for the program.
The goal under Franklin was to win immediately -- one team, one game. For Mason, he wants his players thinking, breathing and talking championships. Mason's theme is to think big in order to do big things. It sounds cliché -- because it is -- but it's also a motivator for the Commodores. After having to stay quiet when it came to the word "championship" or even "bowl," players are practically screaming about them.
"[Mason] thinks about championships – you gotta talk it to believe it," safety
Andrew Williamson
said. "That's what I really look forward to, just going out there working with him and working toward a championship because that's really our next step."
Butler said he also likes the approach Mason takes to work. He knows when to flash that infectious smile and when to show his tough, business side. It's that side that Butler said has helped the Commodores keep their edge.
"Well, you know Coach Franklin, a lot of people like to call him a walking headline," Butler said. "He's about the camera, he loves the camera, he loves the media. So does Coach Mason, to an extent, but Coach Franklin had his own sort of way of saying things. It was in a more joking way. He was serious when he needed to be, but Coach Mason, he doesn't play any games at all, and that's what I love about him. He's serious, he's about business, and he's about winning."
And Mason sees that same personality in his players. They aren't looking for sympathy after losing their last coach. He sees a little anger in guys and plenty of players looking to prove something, just like he is.
"We're not afraid of anybody, and we're not going to back down from anything," Mason said. "We're going to play every game, and I tell you what, we're going to find ourselves on the big side of wins, rather than the small side of losses.
"This team is an audacious team. They understand who they are, and they understand what everybody's perception is [of Vanderbilt]. The only perception that counts is theirs."
And the perception in Nashville is that Vandy will continue to be a winner without Franklin. The metaphorical chip has been securely placed on the Commodores' shoulders, and they're ready to move on with their new captain.
"We have a tremendous amount of pride in what we've done here and what we're doing," tight end
Steven Scheu
said. "We're building a power in the SEC, which pretty much everybody in the nation did not think Vanderbilt could do. It's nice to be able to show everybody that we are to be reckoned with and that it's not impossible to win at Vanderbilt."
July, 14, 2014
7/14/14
8:30
PM ET
HOOVER, Ala. -- Derek Mason had the media eating out of his palm the second he strolled into the Hyatt Regency Hotel on Monday wearing a sharp black bow tie and a patterned gold jacket. Then he did the rarest thing you'll see at a conference media days gathering: He opened his mouth and meaningful words came out.
In a sea of vanilla quotes and too-tight windsor knots, Mason set himself apart at SEC media days. He stepped to the podium, proudly called himself the new head coach on the block and added that, "The great thing is I'm undefeated, so I'm feeling real good about where we're at." Later he was asked who the most underrated team in the league might be this season, and without the slightest pause he said it was his own.
[+] Enlarge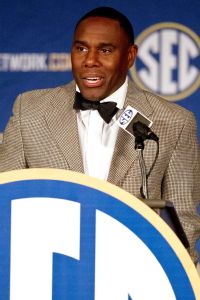 Marvin Gentry/USA TODAY Sports"I think our opportunity to compete for an SEC East title is now," new Vanderbilt coach Derek Mason said.
While the rest of the country might see Vanderbilt as a nice little rebuilding project that can raise the league's SAT scores, Mason dared to be confident.
"I think our opportunity to compete for an SEC East title is now," he said.
If James Franklin was audacious about raising expectations at Vanderbilt, his successor is taking it one step further. Everything is on the table for Mason. He wants to recruit nationally. He wants to play freshmen right away. He wants to throw the SEC for a loop with his West Coast roots.
"My job is to compete," Mason said. "My team has to be competitive. I need to be competitive from a recruiting standpoint, from a coaching standpoint, from selling of our program, our city. Those things are what I've been charged with to do. I really embrace that from the standpoint of here is the opportunity, let's go."
Stanford's former defensive coordinator will have his fair share of challenges as a first-year head coach, to be sure. He's inheriting a team that lost its starting quarterback, both its top receivers and more than half of its defense from a year ago. With games against Ole Miss, South Carolina, Georgia and Florida on the schedule, it's going to be an uphill battle.
But Mason believes linebacker
Caleb Azubike
is going to be a star,
Andrew Williamson
is the best safety you've never heard of, and the tight ends, led by
Steven Scheu
, could be a real weapon.
"Our team is a team of probably no-name young men who have a chance to do something great," Mason said. "It's talented across the board."
Just how talented remains to be seen. But if media days was a barometer, Vanderbilt won't be lacking in confidence.
While other coaches deflected and dodged questions on Monday, Mason happily navigated the fray.
Late in the day, he went up to two workers carrying the SEC championship trophy. He stopped to pose alongside it, made the Vanderbilt "V" with his right hand and called the prize "what we are chasing."
November, 9, 2013
11/09/13
7:10
PM ET
GAINESVILLE, Fla. -- Ron Zook called it "noise in the system" when negativity swirled around his third and final season at Florida. But Zook never lost to Vanderbilt, much less by blowout in the homecoming game.
That would be Will Muschamp's Gators, who lost their fourth consecutive game, an emotionally draining
34-17 loss
served up on a platter for Vanderbilt (5-4, 2-4 in the SEC) on Saturday. It was the Commodores' first victory in Gainesville since a 7-0 victory in 1945, the first game of the series.
"You're not going to win many games turning it over four times and spotting the ball on the 10, 22 and 4," a dejected Muschamp said after the loss that dropped the Gators (4-5, 3-4) below .500 during the season for the first time since 1992.
[+] Enlarge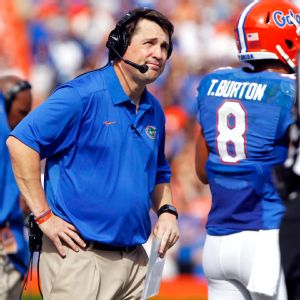 Kim Klement/USA TODAY SportsWill Muschamp and the Gators lost their fourth game in a row, and their first to Vanderbilt at home since 1945.
"We're not good enough to overcome critical mistakes like that. You hold a team under 200 yards. ... Emotionally, it takes the wind out of your sails when you turn the ball over. You throw it to them, you give it to them inside the 10-yard line three times, you're not going to win. We're not good enough to overcome those things. We've got to take care of the ball."
The obvious scapegoat was quarterback
Tyler Murphy
, who was responsible for all four of Florida's turnovers. He threw three interceptions -- each returned deep into UF territory -- and gave Vanderbilt a sack-fumble just before the first half ended.
"I didn't play well," Murphy said. "I mean, when you throw three interceptions, you put the defense in a bind. You kill your momentum offensively. I've got to play better."
Murphy, who took the reins of the offense after
Jeff Driskel
was lost for the season in Week 3, is one of many Gators backups who have been thrust into starting positions. Florida has lost nine players for the season to injury, including five starters.
But Muschamp, Murphy and his teammates refuse to use the injuries as an excuse. The Gators and their fans expected even a hobbled team to defeat Vanderbilt.
The Commodores came to Gainesville with the nation's 85th-ranked scoring defense (30.3 points per game). Murphy took advantage with a career-high 305 yards on 30-for-46 passing, but much of that production came with Vandy safely ahead in the second half.
The expected advantage for Florida's defense, which entered the game No. 5 in the nation in total defense, was even more pronounced.
Vanderbilt came to Gainesville as one of the slowest-starting teams in the country. The Commodores were outscored 85-24 in the first quarters of its first eight games. On Saturday, however, the Commodores scampered through openings in a mistake-prone Gators defense, intercepted Murphy deep in UF territory and took a 10-0 lead, setting an ominous tone.
Murphy's second interception was just as damaging. The junior, who has been struggling with a shoulder injury sustained against LSU on Oct. 12, lofted a long pass into the swirling wind and badly underthrew
Quinton Dunbar
. Vanderbilt safety
Kenny Ladler
easily corralled the ball at the 50 and set up the Commodores offense at the Florida 22. Four running plays later, the Gators were looking at a 17-0 deficit just over 20 minutes into the game.
After a penalty gave them the ball at their own 9-yard line, the Gators finally showed some life with one of their clock-chewing drives. On the 13th play, freshman running back
Kelvin Taylor
ran for 10 yards to set up a first-and-goal, but Murphy checked out of a straight-ahead run to a short-side option that he fumbled out of bounds. After two incompletions, UF settled for a field goal amid a shower of boos from the stands.
"It was a miscommunication between me and the line," Murphy said. "That's just once again [where] we shot ourselves in the foot in the red zone. We got a field goal and needed a touchdown."
Murphy's nightmarish day continued on the third play of the second half. His throw behind
Trey Burton
was bobbled into the arms of Vanderbilt safety
Andrew Williamson
, who followed the first-half script and returned the ball 38 yards to Florida's 4-yard line to set up the Vanderbilt offense for another easy touchdown and an insurmountable 24-3 lead.
After voicing their displeasure, the fans left in droves throughout the second half. Afterward, Muschamp took full responsibility for what they had witnessed.
"I'm a competitor. I don't like losing. I certainly don't like the product we are putting on the field, and that's my responsibility. I take full credit for that," he said. "When it's good, it's good. When it's not good, it's not good, and it hasn't been good. And that's on me. We'll make the decisions to move forward that we need to do to help this football team in the latter part of the season as we move forward. That's my plan. I'm not asking for anybody to be happy. I'm not asking anybody to give a pass.
"My expectation, I'll guarantee, is as high or higher than anyone sitting in those stands. There's nobody more let down or hurt or competitive edge dented a little bit by this run. So it's on me. We'll get it turned. I can assure you that."
The players took a less defiant tone and were more stunned at what their season has become.
"Very shocking," Murphy said. "We come here, everyone in that locker room came to Florida to win and we're not winning, and you know that's unacceptable. As players we know it's unacceptable, and we're just going to keep fighting and keep pushing. We're going to try to make the best out of this season."
With the heat rising after every loss, Muschamp said he is not worried about his job and plans to consider staff changes at the end of the season, as he has done before.
"You evaluate everything at the end of the season and that's certainly what I will do," he said. "I've done that my first two years and I'll do that this year. I'm not worried about that."