September, 4, 2014
9/04/14
1:00
PM ET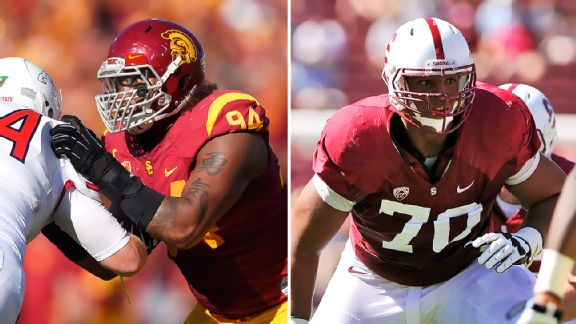 AP Photo, Icon SMILeonard Williams and Andrus Peat are among the top NFL prospects in all of college football.
STANFORD, Calif. -- Stanford has become a frequent stop for NFL scouts traversing the country for the top college talent. For coach David Shaw, who spent nine years as an assistant coach in the NFL, those are visits he enjoys.
The conversations help Shaw gauge where the stock of his own players stands, and perhaps more importantly, give him informed opinions on players he'll be charged with scheming against. One of his major takeaways is especially relevant this week with No. 14 USC coming to The Farm to play No. 13 Stanford.
"You ask [the scouts] the question 'Who is the best offensive player you've seen? Who is the best defensive player you've seen?'" Shaw said. "Some of them said [Stanford receiver
Ty Montgomery
] on the offense. Some said some other guys, which is great.
"All of them said
Leonard Williams
at USC [on defense]. It's not just me, everybody sees it."
Williams rolled his ankle in practice Tuesday and didn't practice Wednesday, but even at less than 100 percent, the 6-foot-5, 300-pound physical freak will have the Cardinal's full attention on Saturday. The Stanford coaching staff learned its lesson a year ago in USC's 20-17 upset in Los Angeles, when Williams played despite a lingering shoulder injury.
"We didn't think he'd play last year," Stanford offensive coordinator Mike Bloomgren said. "Not only did he play, but he played in a big way. He adversely affected our game plan. I can tell you that."
And that performance came against a veteran offensive line that sent four players to NFL training camps this year, including a pair of draft picks in guard David Yankey and tackle Cam Fleming. This time, Stanford is still green in trenches. Talented, sure, but one game together against UC Davis wouldn't exactly qualify as ideal preparation to face a player of Williams' caliber.
That's where
Andrus Peat
comes in.
What Williams represents as an NFL prospect on the defensive line, Peat does on the offensive line. At 6-foot-7 and 316 pounds, the junior is a prototypical NFL left tackle and also a potential top-10 pick in the 2015 draft.
"He's a fantastic player and prospect," USC coach Steve Sarkisian said. "Knew about him coming out of high school. Went to Stanford and they have just continued to develop him like they've done with the linemen in the past. I think he's obviously become, if not the leader, then one of the leaders of that offensive unit and it shows in his play, but it also shows in his demeanor and body language."
A year ago, there weren't many opportunities to see Williams, who lines up at multiple spots on the line, and Peat go head-to-head, but it figures to happen at times on Saturday. When it does, count on NFL scouts to be watching closely.
"I can't wait," said Bloomgren, who also coaches the offensive line. "Every chance they get to line up on each other, I hope USC puts him there and I don't think our guy will back down and I don't think any of our guys would back down from him. But that's going to be a pretty epic battle when 70 [Peat] goes against 94 [Williams]."
ESPN draft analyst Todd McShay ranks Williams as the No. 2 draft-eligible prospect for next year's draft, but, like Peat, Williams has another year of eligibility remaining if he chooses to use it. McShay's evaluation of Williams projects him at defensive end in the NFL and colleague Mel Kiper Jr. agrees.
"If Williams doesn't wow you with quickness on the edge, realize he's 290-plus pounds and won't get pushed around even if he moves inside," Kiper wrote. "At his size, he's a special athlete who could line up as a defensive end and drive a tackle back or line up on the outside shoulder of a guard and create problems with power and quickness as well. He's the kind of disruptive, versatile lineman who can succeed in any system."
Both McShay and Kiper rank Peat among the nation's top-10 prospects for next year, but it's still too early to forecast whether Peat or Williams will head to the NFL after this season.
For Shaw, the Peat-Williams matchup is intriguing, but he'd just assume any future meetings between the two players occur on Sundays.
"Hopefully Leonard will be a top-5 pick this year and hopefully Andrus will be a top-5 pick next year," Shaw said wishfully.
Even when Williams is lined up away from Peat, it should provide for good theater. Stanford's offensive line is as highly touted a unit as any in recent memory despite its collective lack of game experience. How it fares against USC's front seven should provide some insight into how the Cardinal's season will progress.
January, 1, 2014
1/01/14
9:00
AM ET
The 100th edition of the Rose Bowl Game presented by VIZIO kicks off later today. Here's a look at 10 reasons why No. 4 Michigan State could beat No. 5 Stanford in Pasadena.
[+] Enlarge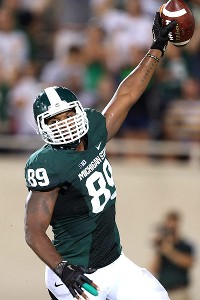 Mike Carter/USA TODAY SportsMichigan State will send Shilique Calhoun, and many other defenders, at Stanford's offense.
1. MSU can match Stanford's physicality:
Stanford's only two losses this season came against teams with big, physical players, especially up front. The Cardinal can simply overpower most of their Pac-12 foes, but Michigan State can match them along the line of scrimmage. Even without middle linebacker
Max Bullough
, the Spartans defense should be able to contain a traditional offense like Stanford's. Spread teams give the "Spartan Dawgs" slightly more trouble, but Stanford isn't one of them.
2. The kicking game:
No one is talking enough about MSU's edge in special teams. Stanford's
Ty Montgomery
is an exceptional return man, but Michigan State has arguably the nation's best punter in
Mike Sadler
and a superior kicker in
Michael Geiger
, who has connected on 14 of 15 field-goal attempts. MSU also has been brilliant in executing special-teams fakes and has had nearly a month to brainstorm some for the bowl.
3. Shilique Calhoun:
Michigan State's improved pass rush has made an already elite defense even better this season, and Calhoun is the biggest reason why. He has 7.5 sacks and 14 tackles for loss and can pressure Stanford quarterback
Kevin Hogan
in obvious passing situations. Calhoun will be challenged by Stanford mammoth left tackle
Andrus Peat
in what should be one of the game's best individual matchups.
4. Big-play receivers:
This item would have been laughed at a year ago, but MSU's receiving corps turned things around early this season. Players such as
Bennie Fowler
,
Keith Mumphery
,
Tony Lippett
and
Macgarett Kings
can stretch defenses, and the group has repeatedly helped out quarterback
Connor Cook
with tough catches. Coordinator Dave Warner said the upgrade at receiver play has been the biggest difference with this year's offense.
5. No-fly zone:
MSU undoubtedly will miss Bullough's run-stopping ability, but it has the luxury of committing more defenders to the run than most teams, especially against offenses like Stanford's. Cornerbacks
Darqueze Dennard
and
Trae Waynes
are talented enough to be left on their own against a Stanford team that features only one player (Montgomery) with more than 27 receptions. Dennard also could help against the rush.
6. The magic man:
There's no doubt Cook has had the magic touch during Michigan State's nine-game win streak, making tough throws into traffic and on the move. He has gotten away with mistakes, some of which have turned into big plays for the Spartans. Will the magic run out against Stanford? It's possible, but Cook had his first career 300-yard passing performance in the Big Ten championship. The bigger the stage, the better he seems to play.
7. Sparta West:
Big Ten fans love to complain that the league's bowl games are essentially road games. Well, the Rose Bowl will feel like Spartan Stadium as Michigan State fans have traveled here in large numbers. At least half of the stadium will be green, and MSU should feed off of the crowd after going 7-0 at home this season. The ideal weather conditions likely favor Stanford, but the overall environment gives MSU an edge.
8. Langford in the fourth quarter:
Michigan State has won its past nine games by double digits and often finishes off its opponents with strong fourth quarters. The Spartans have outscored their opponents 105-27 in the final 15 minutes this season, and running back
Jeremy Langford
has delivered several long scoring runs down the stretch. Stanford has been outscored 85-82 in the fourth quarter this fall.
9. Extra prep time for coaches:
This could be an edge for both teams as both coaching staffs are excellent, but Mark Dantonio and his assistants have been excellent in their preparation throughout the season. Defensive coordinator Pat Narduzzi has had ample time to study Stanford's offense and its line combinations, and the offense could incorporate some new wrinkles in the pass game. Definitely expect a PG-named fake or two from Dantonio.
10. Sparty:
Michigan State has the coolest non-live-animal mascot in the country in
Sparty
, a chiseled warrior with a glare that intimidates anyone he encounters. Stanford's mascot looks like a 6-year-old's art project, with big googly eyes and a stupid grin on its face. Sparty will crush the tree and inspire Michigan State's players to do the same to Stanford. And yes, I grew up in Berkeley, Calif.
September, 9, 2013
9/09/13
5:15
PM ET
LINCOLN, Neb. -- Buzzwords around Nebraska football tell a story representative of the program's progression over the past decade and a half.
There was dominance in the mid-to-late 1990s.
Chaos followed, from about 2002 until Bo Pelini arrived to coach in 2008.
Now, it's relevance -- or a lack thereof.
Nebraska last finished a football season ranked in the top 10 in 2001, the same year it most recently played in a BCS bowl game. And while Pelini's record is impressive -- he sits among four first-time coaches to win nine games in each of his first five seasons -- the Huskers finished outside of the top 15 in four of those years.
Nebraska is not moving the meter nationally. It is not connecting consistently with elite recruits. It rates as an afterthought outside of its conference and, often, outside of its state.
The Huskers over the past few years have failed on the big stage. In three conference title games, Nebraska lost heartbreakers to Texas in 2009 and Oklahoma a year later before Wisconsin ran it out of Lucas Oil Stadium last December.
The same Badgers welcomed Nebraska rudely to the Big Ten two years ago in a top-10 showdown.
[+] Enlarge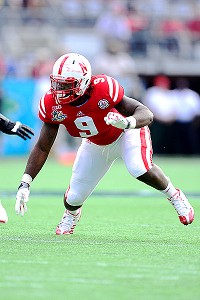 AP Photo/Scott A. MillerSenior Jason Ankrah said he didn't even know where Nebraska was before he was recruited.
And really, that's it. As a borderline elite program, chances to vault into the national conversation arrive rarely. At every chance of late, save for perhaps a 10-3 win over 20th-ranked Oklahoma in 2009, Nebraska found a way to stay out of sight, out of mind.
The next opportunity comes Saturday at noon ET. The Huskers dropped in the Associated Press poll after each of their two wins to open this season. A victory over 16th-ranked UCLA won't entirely fix Nebraska's image, but it's the only way the Huskers can stay relevant until November.
With South Dakota State on deck and a soft opening set of Big Ten games that include Illinois, Purdue and Minnesota, the Huskers won't make any noise if they're 6-1 when Northwestern visits on Nov. 2.
Not until a Nov. 9 trip to Michigan would Nebraska demand more than a passing glance on the national landscape.
Unless, that is, it wins on Saturday.
The road back to relevance goes through Michigan. Until then, UCLA offers Nebraska its only ticket to the big show.
Senior defensive end
Jason Ankrah
said he understood the "sense of urgency."
It's time to make a statement, he said.
"We set our goals to do certain things this year," Ankrah said, "and they're just another team in our way."
That said, the Huskers wanted UCLA on their schedule this year, according to Ankrah, after the Bruins beat Nebraska 36-30 last year at the Rose Bowl.
"We're in the same boat as a lot of other teams," linebacker
Michael Rose
said. "We're a program trying to re-establish ourselves. We've got the right players and the right coaches. I don't think there's a lack of respect at other places for Nebraska."
No, but Rose got to know a pair of high-profile recruits two years ago after he committed to Nebraska. The Huskers made the final two for
Devin Fuller
out of New Jersey and
Andrus Peat
of Arizona.
Fuller is now a top receiving target for UCLA quarterback
Brett Hundley
. Peat starts at left tackle for Stanford. Maybe a couple of conference titles this century would have provided an edge for the Huskers.
Senior center
Cole Pensick
grew up around this program. His dad, Dan, played defensive tackle for former coach Tom Osborne. Cole attended Lincoln Northeast High School. To him, relevance was never the issue. Friends of his father surrounded Cole as a kid. He lived through the championship era of the '90s and heard stories about the significance of Nebraska football to a worldwide fan base.
"It's kind of giving me chills right now just thinking about it," Pensick said, "how many people out there love Nebraska."
I-back
Ameer Abdullah
came to Lincoln from Homewood, Ala., learning quickly of the tradition.
Abdullah, discussing the importance of Nebraska's relevance, rattled off a few stats -- the Huskers have won more games than any other program over the past 50 years. They've sold out every home game since 1962.
The list continues.
Nebraska's notable tradition and passionate fan base, at some point, provide a crutch: The Huskers have fought for a decade to regain their edge, but hey, no program can claim more victories since 1970.
Ankrah grew up in Maryland. He graduated high school in 2009. Before Nebraska began to recruit him, Ankrah said, he knew little about the Huskers.
"I'm not going to lie," Ankrah said. "I did not know where Nebraska was."
That's relevance for you. Irrelevance, more precisely.
UCLA is coming to Lincoln. Opportunity awaits.
March, 28, 2013
3/28/13
2:39
PM ET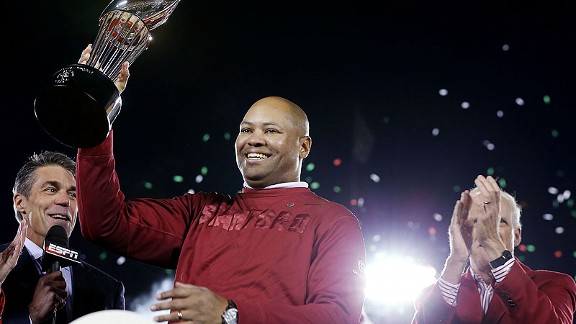 Jeff Gross/Getty ImagesThe Cardinal adopted a blue-collar attitude under Jim Harbaugh (not pictured) and David Shaw and became national title contenders. Now that they've found success, can they stay hungry?
STANFORD, Calif. -- The first step in Stanford's national ascendancy was wearing blue shirts a mechanic would wear at the gas station. The message then-coach Jim Harbaugh was trying to deliver was simple: Sure, Stanford is one of the nation's elite universities, chock full of members of the privileged class. But the football team wanted to adopt a blue-collar mentality.
It was such an obsession for Harbaugh that he once congratulated a reporter for noticing the Cardinal seemed eager to sneak in a few shots after the whistle blew.
That was good enough for 8-5 in 2009, Year 3 under Harbaugh. It was the program's first winning record since 2001.
Over the next three years, however, Stanford won 35 games and lost five. The Cardinal were a missed chip-shot field goal from going 3-0 in BCS bowl games. Yet during that span the locker room theme was a lack of national respect. Players saw doubt from every angle: Could the program survive the loss of Toby Gerhart? Surely things are done now that Harbaugh is off to the NFL? A team simply can't replace Andrew Luck, can it?
Oh, and Stanford has an Oregon problem.
Doubts were addressed. Wins piled up. The Ducks were plucked in their own house last November.
Now it's the spring of 2013. Much to everyone's chagrin on the Farm, respect has arrived.
Now just about everyone
views Stanford as a top national title contender. Even SEC fans seem to tip their hats to the Cardinal's bruising brand of run-the-ball-and-play-tough-defense football.
Ah, but this is where the "C" word comes in. Stanford coach David Shaw knows his biggest enemy is complacency. His team taking winning for granted. His team feeling entitled. His team, well, acting like USC a year ago.
[+] Enlarge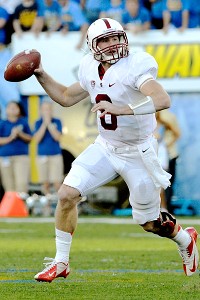 Richard Mackson/US PRESSWIREThe Cardinal welcome back 16 starters, including quarterback Kevin Hogan, who was 5-0 after entering the starting lineup.
"You can't talk your way into winning games," Shaw said. "The circumstances that surround a game never matter. Only the game matters. We've done a good job as coaches here really beating that into the players' heads. The first question I asked guys before we started spring football was 'Are we collectively hungry?' You have to have that hunger."
Said linebacker
Shayne Skov
, "People have finally started to notice what we've been doing around here but we have to stick to the same plan we've had every single year, the same method. Guys are still hungry."
Hunger is good because talent is not the question. The Cardinal, which starts its second spring session April 1, welcomes back 16 starters from last year's Rose Bowl champions, including quarterback
Kevin Hogan
, who went 5-0 as the starter and was the quarterback of record in the clutch 17-14 overtime win at Oregon.
But returning starters doesn't tell the whole story, particularly on the offensive line, where four starters are back. Stanford has a troika of extremely talented sophomores who are fighting for starting jobs or at least playing time.
Andrus Peat
-- 6-foot-7, 310 pounds and two years ago the nation's No. 1 prep offensive lineman -- is the likely starter at left tackle, which allows Morris Trophy winner
David Yankey
to move inside to his natural guard position. There are NFL teams that have weaker combinations on the left side of their line.
Meanwhile,
Kyle Murphy
is pushing
Cameron Fleming
at right tackle and is certain to see action at multiple positions and act as a sixth O-lineman when Stanford goes "big," as it is wont to do. Inside at guard, 317-pound
Josh Garnett
is in the mix, which could allow veterans
Kevin Danser
or
Khalil Wilkes
to take over at center.
However this crew stacks up, it's getting tested by the Pac-12's best defensive front seven. Suffice it to say, when Stanford goes full-go in practice, things get pretty salty.
Stanford's two biggest questions -- tight end and running back -- don't seem to worry many folks around the program. The return of Tyler Gaffney from pro baseball eased concern at running back, while there's young talent at tight end, not to mention a deeper crew at receiver.
Of course, Stanford is sharing its "national title contender" label with a familiar foe: Oregon. Winning the Pac-12's North Division might turn out to be nearly as difficult as winning the national title. But the Cardinal bucked its Oregon problem last year, and that victory still resonates, both as fact and symbol.
Every Stanford player or coach (or fan) quickly picks up the story when someone refers to the biggest play of that game, and perhaps of the college football season: Backup safety
Devon Carrington
slipping by
De'Anthony Thomas
to catch Ducks quarterback
Marcus Mariota
from behind to prevent a long touchdown run in the first half.
"That play exemplified the heart and determination we are going to play with," Shaw said. "There also were multiple times we had a guy in space with
Kenjon Barner
and we tackled him. Last couple of years, we missed that tackle. You miss that tackle, and it's over."
Oregon could no longer simply outrun Stanford. And if Oregon can't outrun Stanford, no one can.
Stanford may still view itself as a blue-collar team, but it's moved into college football's penthouse. The question is no longer can it stay there. The new question is whether it can take the next -- and final -- step up.
December, 30, 2012
12/30/12
10:00
AM ET
LOS ANGELES -- Before a Stanford offensive lineman ever sees the field, he must first negotiate "The Room." And The Room can be tougher than any drill, any conditioning program or even any defensive end or linebacker he will face. Because it's in the The Room where line coach Mike Bloomgren not-so-silently passes judgment on who does or doesn't have the chops.
And it's not just Bloomgren. It's the veterans, too --
Sam Schwartzstein
,
David Yankey
,
Kevin Danser
– who will self-police and critique those who desire more playing time.
"Everything those guys get in that room is earned," said Stanford head coach David Shaw. "And it's a tough room. You walk in that room, you better have thick skin. Cause it's not just Mike that's going to get on you. Sammy's gonna get on you. David Yankey's gonna get on you. If you can handle that room and come out and perform, you deserve to play."
[+] Enlarge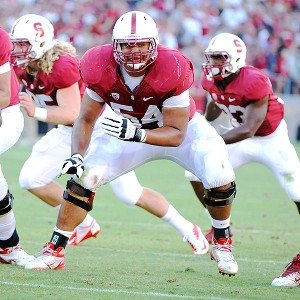 AP Photo/Rob HoltDavid Yankey and Stanford's offensive line have kept grinding down foes despite constant turnover.
For as much credit as Stanford gets for overcoming the losses of Toby Gerhart, Jim Harbaugh and Andrew Luck over the past few seasons, forgotten is that the offensive line has had to re-invent itself several times over with multiple standouts leaving for the NFL. The philosophy remains the same. But the personalities of each line have changed throughout the years.
"It starts in recruiting," said Bloomgren, who began his career as a graduate assistant at Alabama and cut his teeth for four seasons as an offensive assistant with the New York Jets. "We were fortunate to plug in the three new guys last year and have them grow (Schwartzstein, Yankey and
Cameron Fleming
). Then you lose David DeCastro and Jonathan Martin a year early and it's like, wow, now we have to do it again. David Yankey comes around and wins the Morris Trophy (given to the Pac-12's top lineman) and is a consensus All-American. It's a compliment to those guys and how they work and striving to get better. They call themselves the Tunnel Worker's Union. Those guys buy into that stuff."
Along with assistant Ron Crook -- who manages the tight ends and offensive tackles -- Bloomgren also coordinates Stanford's rushing attack, which has produced a three-time 1,000-yard rusher in
Stepfan Taylor
. And like any good running back, Taylor knows where his bread is buttered. He's rushed for 1,000 yards behind three very different offensive line units.
"They are a lot more goofy than last year," Taylor said. "They are great guys. I wouldn't want to be behind any other line. They are physical, tough, smart and athletic. That's the thing. They are really big athletic guys running around. It all starts with them and to win games, they have to do their job. And we are winning games so they are obviously doing their job."
Stanford's downhill, power-running approach is appealing to prospective offensive lineman. And the fact that they have offensive packages that involve as many as eight offensive linemen at a time is also attractive.
"For us, we've played one true freshman on the offensive line, up until this year, during the last five years," Shaw said. "This year we've played three. And those guys have earned that.
Andrus Peat
,
Kyle Murphy
,
Josh Garnett
. Those guys have earned that. And those guys have taken some beatings in that room. Some verbal assaults, if you will.
"… There are a lot of places that play five starters and the rest of the guys watch. They've had success and that's great. But we're going to play eight -- at least eight -- just in the Rose Bowl. And we've been that way all year. If we can play nine, we'll play nine. A young guy comes in and knows he's going to have a chance to play. That he won't sit on the bench for three years. If he does it right. If he can survive in our room, he'll get a chance to play."
Danser -- who became a full-time starter this year after seeing lots of time the last couple of years as a reserve -- has seen some great offensive linemen come and go. And he's witnessed each season how the line has rediscovered a new identity and how each group takes on a life of its own.
"It really comes down to the work we do in the winter, spring and summer," Danser said. "It really forms this unit. It takes leaders like Sam and leaders in the past like Chase Beeler, James McGillicuddy, David DeCastro, Jonathan Martin, Andrew Phillips. It's that leadership that makes this a great unit."
And the trio of freshmen who have made their debuts this year know they are getting their trial by fire on the field -- and in The Room.
"The coaches and the older guys won't let anything slide," Garnett said. "They always find something. Yankey tells me you have to find something. You never do it right. Always be nit-picky and find something you did wrong. That's what we're all about -- getting to that next level, never being content. You are always looking for the perfect block."
November, 29, 2012
11/29/12
5:00
AM ET
1. Just warning you: If you're an unaffiliated college football fan who wants a ticket for the BCS National Championship Game in Miami, then root for the
Georgia Bulldogs
. At the TeamTix website, where fans reserve seats at market prices to see their team in the postseason, Notre Dame tickets Wednesday were offered at $1,190, Alabama tickets at $950, and Georgia tickets at $300.
2. Bill McCartney feels that his protégé, Jon Embree, was wronged by Colorado. I get that. Embree didn't get a fair shake. But racism? McCartney said that since CU gave Dan Hawkins five years to succeed, Embree should have gotten five years. Hawkins getting five years is the exact reason why Embree wasn't going to. It had nothing to do with race. Southern Mississippi fired Ellis Johnson after one season. He's white.
3. The rain is settling in Palo Alto, Calif., and it isn't supposed to stop before the Pac-12 championship game Friday evening. That means wet, mucky turf for No. 8 Stanford and No. 16 UCLA. Both teams are effective on the ground. But the job that Cardinal offensive-line coach Mike Bloomgren has done in developing freshmen
Andrus Peat
,
Kyle Murphy
and
Josh Garnett
into 20-to-30-plus-play guys means that Stanford is two deep along the front in what appears to be a grind-it-out game.
February, 6, 2012
2/06/12
11:10
AM ET
The Big Ten recruiting classes are signed and sealed, and although a few more recruits could come aboard, we have a good idea of what the rosters will look like heading into the 2012 season.
That means it's Power Rankings time. Again.
We're taking a post-signing day look at where the league stacks up. There aren't too many changes from our
previous rundown
, but some teams received a bump from strong recruiting classes.
As they say on Twitter, #legooo.

1. Michigan State:
The Spartans' recruiting class didn't crack ESPN's top 25, but it features several strong prospects and is loaded up at wide receiver and defensive back. Mark Dantonio tells us he can't remember recruiting 10 athletes like the ones Michigan State added in the class. Michigan State already is one of the Big Ten's most athletic teams, so this bodes well for the Spartans as they look for another big season.
2. Michigan:
Brady Hoke and his staff rode a fast start to 2012 recruiting and finalized a class ranked No. 7 nationally. The Wolverines started three freshmen on defense in 2011 and added several more who can contribute early in their careers, including linebacker Joe Bolden, cornerback Terry Richardson and defensive tackle Ondre "Pee Wee" Pipkins. If Michigan can maintain its momentum on defense after losing several stud linemen, it will be very tough to beat in 2012.
3. Ohio State:
Urban Meyer announced himself with a superb recruiting class featuring arguably the nation's best crop of defensive line prospects. Ohio State would have been an improved team in 2012 after its first seven-loss season since 1897, but the recruiting class boosts the Buckeyes even more. The defensive front seven should be a deeper and stronger unit, and players like Noah Spence, the Big Ten's top-rated recruit, have a chance to contribute immediately.
4. Nebraska:
The Huskers missed on their top signing day target (offensive lineman Andrus Peat) but still inked a solid class that should help at positions like linebacker, where Big Red lacked size and depth. Linebacker Michael Rose could contribute early in his career. Nebraska also addressed the departure of standout cornerback Alfonzo Dennard with talented juco addition Mohammed Seisay.
5. Wisconsin:
Quality not quantity was the theme for Wisconsin, which signed only 12 players, the Big Ten's smallest class by five recruits. The Badgers lost two offensive line commits to other schools but added a decorated quarterback in Bart Houston and some solid players to the defensive back seven, including linebacker Vince Biegel. This is the type of season that will test Wisconsin's ability to reload and provide a true gauge of the program's progress under Bret Bielema.
6. Penn State:
New coach Bill O'Brien and his staff had to scramble to keep the class together, and the 2012 recruiting haul didn't quite match what Penn State adds in most seasons. The coaches were able to keep some good prospects and fulfilled a need at wide receiver with Eugene Lewis and others. It'll be interesting to see how quarterback Steven Bench turns out after Penn State lost verbal commit Skyler Mornhinweg to Florida.
7. Purdue:
The Boilers added speed in their 2012 class, and they loaded up on quarterback prospects for the future with four signal-callers. But Purdue also beefed up along the offensive line with Jordan Roos and others. With coaching changes and personnel changes throughout the Leaders Division -- not to mention Ohio State's bowl ban -- Purdue has an excellent chance to make some noise in 2012.
8. Iowa:
The big story in Iowa City isn't so much the recent recruiting class but the seismic changes going on in one of the nation's more stable programs. After having the same coordinators for the past 13 seasons, Kirk Ferentz must replace both Norm Parker and Ken O'Keefe, who left late last week for a post on the Miami Dolphins' staff. Iowa will have new leadership on both sides of the ball, creating some uncertainty but also some excitement. The Hawkeyes added some nice pieces in the 2012 class, such as running back Greg Garmon and defensive end Faith Ekakitie.
9. Northwestern:
Although the Wildcats' class didn't crack the national rankings, it looks like the best haul in Pat Fitzgerald's tenure as head coach. Northwestern picked up a potential difference-maker on defense in defensive end/linebacker Ifeadi Odenigbo. Malin Jones could be the team's answer at running back, a spot that has suffered during Fitzgerald's tenure. The Wildcats also added the league's top transfer in former USC receiver Kyle Prater.
10. Illinois:
It might take a year for Tim Beckman and his staff to make a big splash on the recruiting scene. Illinois' 2012 haul didn't receive great reviews, but the Illini are pursuing several nationally elite 2013 prospects from within the state. Linebacker recruits Tajarvis Fuller and Tyrone Neal should help Illinois in the defensive back seven. There's enough talent on the squad to get back to a decent bowl, but Beckman and his staff have plenty of work ahead.
11. Minnesota:
The Gophers inked a class that drew good reviews from ESPN's analysts. Jerry Kill and his staff retained several top in-state prospects, including offensive lineman Isaac Hayes, wide receiver Andre McDonald and quarterback Philip Nelson. McDonald and fellow wideout Jamel Harbison could be immediate contributors for an offense that needs more options. But defense must be the top offseason focal point for Minnesota, which added several juco defenders.
12. Indiana:
Although the Hoosiers remain at the bottom, we liked their recruiting class, which should first and foremost provide immediate help on defense. Junior college defenders like Tregg Waters and Jacarri Alexander likely will step in right away for a struggling unit. Indiana also will increase the competition at quarterback with heralded prep prospect Nate Sudfeld and juco addition Cameron Coffman.
February, 2, 2012
2/02/12
12:00
PM ET
Stanford head coach David Shaw has a lot to smile about after hauling in a top-15 recruiting class on Wednesday.
With six ESPNU 150 players
-- including three of the top offensive linemen in the country and athletic playmakers on both sides of the ball -- Shaw said his team fills much-needed holes and adds depth at other spots.
Here's part one of a Q&A with the second-year head coach.
What are your first impressions of this group?
David Shaw
: This group has what we're looking for. We wanted to address the offensive line and make sure we had some more playmakers at the wide receiver position. We were going to take a running back if he was a difference-maker. That's what Barry (Sanders) is. Defensively, to be able to come in with the defensive line we've put together in this class, I think is a credit to our coaches and our coaching style and our scheme that these guys are excited to come play for us. Then to get a couple of the top defensive backs at the safety and corner position in the nation is really exciting.
So the offensive line was a target position this year? It didn't just work out that way. You guys were going after linemen all the way?
DS
: No question. We hadn't gotten enough in the last couple of years. As well as we've played, we haven't been deep. Thankfully for our strength and conditioning program, our guys have stayed pretty healthy so we haven't had to play down to our younger guys. We needed depth, especially with two guys leaving early for the draft. We needed guys to come in and compete right away and I think we've brought some guys in that can do that.
Coach (Mike) Sanford tweeted after Andrus Peat announced: "Our staff reaction was priceless!" What does priceless mean and what was the reaction?
DS
: It's something you don't feel in the NFL. You draft a guy and you know he's there and you draft him and you get excited. But to sit there waiting and not knowing for sure. Having a good feeling, but not knowing for sure that he was coming to us. Then the announcement was made and we saw the hat. Guys were jumping up and down and pumping fists and high fiving. It was pretty loud. I think it was heard pretty much around the building. Not too much longer, we had the same reaction when
Kyle Murphy
did his announcement. We jumped up and down and high fived and guys were yelling. It's been a special, special day for us because these guys are our type of guys. They aren't prima donnas that want to come in on a silver platter. The guys we've been recruiting, they want to come in and work and earn what we give them.
How exciting will it be to see these offensive linemen grow together?
DS
: It's going to be exciting. Anytime you start with a player that does the things you can't teach -- size and athletic ability and flexibility and nastiness -- that's when it's really fun as a coach because now you are teaching the finer points of the game. The techniques and the calls. You're not trying to make up for something ability wise the player doesn't have. This group is really exciting. I think they are humble and they are hungry. The guys on our team are going to welcome them in as true competitors and teammates. It will be a fun group to work with.
You talked about having "that feeling," how confident were you leading up to the Barry Sanders announcement?
DS
: Very. I think when Barry came to campus for the first time, I think it opened his eyes. I think he saw a place -- like so many guys on our team and committed to us -- the first time on campus it hit them that this is a place they are looking for. It hit them that there is a place out there that is first in academics but doesn't slight in the football category. That's what Barry saw. Barry Sanders is a famous individual. And to be able to sit down and have lunch with Andrew Luck, who is also a famous individual, for people to recognize him, but not bother him -- you're sitting in a place where there are a lot of people that are famous in their own rights in what they do and are really good at what they do. There is an environment that is very comforting to a guy like that who does have some fame and some notoriety to be around people that are just like him.
Noor Davis committed early and was so outspoken in support of the program to other recruits -- how much does it help when you have a guy who is going to sell the program for you and hasn't even signed his letter yet?
DS
: I think every program in the nation always has one or two of those guys who commit early and is determined to help build the class. Noor has a lot nicknames around here for us. My favorite one is "The Senator." We're talking about a big kid who is imposing physically and extremely intelligent and very well-spoken, very thoughtful in every word that he says, but also very convincing. When you have a guy like that that can be talking to other recruits, he's an example of what we're looking for. Much like Andrew Luck before him and guys we have now that can talk to other recruits and give them an example of what a Stanford man is.
February, 2, 2012
2/02/12
9:00
AM ET
The most relevant day of the year for outdated fax machines has come and gone. The ink is dry on those letters of intent, and -- with a few notable exceptions -- the recruiting classes of 2012 are complete.
There were a few surprises in the Big Ten on national signing day, but things went mostly as expected. That meant banner days in Columbus and Ann Arbor, as Ohio State and Michigan brought home what every analyst agrees were the league's top two classes. But final judgments on these recruiting efforts won't be passed until a few years from now, when the blue-chippers and the under-the-radar guys prove themselves on the field.
For now, though, we look back and hand out some awards for the Big Ten's big recruiting day:

Top class:
Ohio State
Michigan put together a terrific crew, too, but the Buckeyes take top honors. Urban Meyer secured the services of five ESPNU 150 players and 12 prospects rated at least four stars by ESPN. It's a class loaded with potential stars on the defensive and offensive lines, which should form the foundation of Meyer's program. Ohio State got pledges from six players who were originally committed to another Big Ten school, meaning Meyer weakened other teams while strengthening his own. Add in the fact that he got a late start on recruiting after his November hire, and this looks like one of the more impressive efforts in recent league history.

Player you'll see next season: Michigan LB Joe Bolden
In our recruiting roundtable discussion on Tuesday, all three ESPN.com experts picked Bolden as someone who could make an immediate impact. While Bolden just made the cut for the ESPNU 150, checking in at No. 142, he's got excellent size (6-foot-2, 225 pounds) and instincts for the game already. And Michigan will likely have playing time available as it searches for more playmakers at the linebacker spot.

Biggest surprise: Nebraska missing out on Andrus Peat
While the Huskers were never a lock to land this Top 10 overall prospect, Nebraska fans felt good about their chances with the star offensive tackle. Understandably so, since his older brother, Todd, is a defensive lineman for Bo Pelini. But the younger Peat went his own way and chose Stanford, a choice that would have seemed inconceivable 10 years ago. Nebraska still had a good signing day as defensive tackle
Aaron Curry
and athlete
Alonzo Moore
made last-minute choices to come to Lincoln. But Peat was the one who got away.

Wildest signing day: Iowa
There were few dull moments for Iowa on signing day. The Hawkeyes made some late offers and made some late additions like wide receiver
George Kittle
, whose father, Bruce, played offensive line at Iowa. There was also buzz about defensive back
Dinero Moss
switching his commitment from Minnesota to Iowa, and offensive line target
Alex Kozan
didn't show up at a signing day ceremony at his high school. Another recruiting target said
Iowa didn't have a scholarship for him
after telling him not to worry. What a day in Hawkeye Country.

Future award winner: Ohio State DE Noah Spence
The 6-foot-4, 245-pound Spence was rated as the No. 4 overall prospect in this class by ESPN.com and was the only five-star recruit to sign with a Big Ten school. He'll have a lot of competition on a now-stacked defensive line in Columbus, but Spence has all the tools to be a future star as an athletic pass-rusher for the Buckeyes.

Program on the rise: Minnesota
We're not predicting Big Ten titles in the Gophers' immediate future, but there's little question that second-year coach Jerry Kill has improved the overall talent and depth of his roster with his first full recruiting class. Minnesota needed offensive playmakers and appears to have addressed that with receivers
Jamel Harbison
and
Andre McDonald
. Four of the team's six junior-college transfers should provide some immediate help to a defense in desperate need of bodies. Kill might have found his quarterback of the future with in-state star
Philip Nelson
and a potential offensive line anchor in blue-chipper
Isaac Hayes
. This 31-man class won't rocket the Gophers to the top of the Legends Division, but it should lead to better things than 3-win seasons.

Big-splash recruit: Northwestern LB Ifeadi Odenigbo
Northwestern has landed some solid offensive recruits in recent years, but Pat Fitzgerald hadn't made a big splash on the defensive side until now. Odenigbo is an ESPNU 150 prospect who brings speed and play-making ability to the edge, where Northwestern needs a lot of help in pressuring opposing quarterbacks. The Wildcats need some game-changers on defense to take the next step, and Odenigbo helps in the process.
February, 1, 2012
2/01/12
2:05
PM ET
What had been a good national signing day for Nebraska took a disappointing turn as coveted offensive tackle prospect
Andrus Peat
picked Stanford ahead of the Huskers.
Peat, ranked as the nation's No. 9 overall prospect by ESPN Recruiting, picked the Cardinal rather than join his brother Todd, a Huskers defensive tackle, in Lincoln. Nebraska received pledges from
Aaron Curry
and
Alonzo Moore
earlier in the day, but Peat, from Tempe, Ariz., was definitely the team's biggest prize on the board.
"It was really tough," Peat said on ESPNU after making the announcement. "Me and Todd, we've had a really strong relationships. I have a lot of respect for coach [Bo] Pelini and what they're doing over there. I just thought Stanford was the best fit for me."
Nebraska's class includes only two offensive linemen, led by four-star prospect
Paul Thurston
.
February, 1, 2012
2/01/12
2:00
PM ET
Stanford's offensive line is looking better and better by the hour.
Andrus Peat
(Tempe, Ariz.), the No. 2 offensive tackle in the country, announced he's headed to Stanford. He's the fifth ESPNU 150 player to commit to the Cardinal.
"It's an offensive lineman's dream," Peat said during his announcement.
The five-star tackle, who stands 6-7, 300-pounds, joins an offensive line class that includes highly-regarded linemen
Joshua Garnett
and
Nick Davidson
, among others.
Peat was also considering USC, Florida State and Nebraska. Wearing a red tie (giveaway?), he pulled out the Stanford hat, giving the Cardinal, arguably, the strongest offensive line recruiting class in the country.
June, 9, 2011
6/09/11
1:30
PM ET
We
released our ESPNU 150 on Wednesday
, but like you might have read, more than half of those on the list remained uncommitted to any single program.
According to our recruiting experts,
here are the rest of the players still considering Big 12 schools.
You can see more on each player by clicking his name.
3. Dorial Green-Beckham, WR (Springfield, Mo./ Hillcrest)
Green-Beckham is wide open with offers from virtually everyone. To date, he has visited only Oklahoma and Missouri.
12. Gunner Kiel, QB (Columbus, Ind./Columbus East)
Kiel continues to keep his recruitment well guarded, and although a decision will most likely come during the summer, it might not be made public until later.
15. Jameis Winston, QB (Hueytown, Ala./Hueytown)
Winston favors five schools -- Alabama, FSU, LSU, Oklahoma and UCLA. This will likely be a Seminole/Crimson Tide battle.
22. Andrus Peat, OT (Tempe, Ariz./ Corona Del Sol)
Nebraska, USC, Texas, FSU and Notre Dame are five of Peat's favorites. He will visit Notre Dame and Texas this summer, and he hopes to get to Auburn and Florida.
27. John Theus, OT (Jacksonville, Fla./ The Bolles)
He has narrowed his list to Georgia, Alabama, Florida, Notre Dame, Texas and Arkansas. His older brother signed with Georgia in the 2010-11 recruiting cycle.
31. Geno Smith, RB (Atlanta/ Saint Pius X Catholic)
Smith is down to five schools -- Alabama, Auburn, Texas, Notre Dame and Tennessee. He plans to see all of them this summer.
41. Nelson Agholor, ATH (Tampa, Fla./ Berkeley Prep)
Agholor's first trip during the offseason was to Texas. FSU, USC and Georgia are often mentioned as top schools.
45. Dominique Wheeler, WR (Crockett, Texas/ Crockett)
Wheeler is focused on Oklahoma, Baylor, SMU, TCU, Oklahoma State and Texas Tech.
55. Evan Boehm, OG (Lee's Summit, Mo./ Lee's Summit West)
Schools such as Missouri, Oklahoma, Auburn, Alabama, Nebraska, Iowa, Arkansas, Stanford, Michigan and Michigan State are involved with Boehm. He wants to see Missouri, Oklahoma, Auburn, Alabama, Nebraska and Iowa this summer.
78. Barry Sanders, RB (Oklahoma City, Okla./ Heritage Hall)
The five primary teams in the hunt for Sanders are Alabama, FSU, Oklahoma State, Auburn and Stanford. Oregon and Notre Dame have made up a ton of ground and are gaining momentum. He wants to visit FSU and Notre Dame this summer.
91. Vadal Alexander, OG (Buford, Ga./ Buford)
Alabama, Auburn, LSU, USC and Texas are the front-runners for Alexander. He will visit the Crimson Tide in June.
93. Dalton Santos, ILB (Van, Texas/ Van)
Santos has backed out of his commitment to Oklahoma State and says Oklahoma, Arkansas, Tennessee and Alabama are in the hunt.
98. Ty Darlington, C (Apopka, Fla./ Apopka)
Darlington could start to cut his list soon, but expect Oklahoma and Auburn to make any final group.
119. Avery Young, OT (Palm Beach Gardens, Fla./Palm Beach Gardens)
Recently Virginia Tech has tried to jump into the mix for Young, who has had Oklahoma and Florida at the top of his list.
142. Lorenzo Phillips, OLB (Patterson, La./Patterson)
This linebacker now has double-digit offers from teams such as LSU, Alabama, Texas A&M, Tennessee and Nebraska. He wants to visit Alabama, Clemson and Florida this summer.