NCF Nation:

Andy Katzenmoyer
September, 8, 2010
9/08/10
8:43
AM ET
Most coaches would take one look at Brian Rolle and think strong safety or running back.
A 5-foot-11, 218-pound middle linebacker? Maybe in the Sun Belt, but never at Ohio State, a program rich in linebacker tradition that can hand pick the players to put in the center of its defense.
This is the team that produced Chris Spielman, Andy Katzenmoyer, James Laurinaitis and other prototype middle linebackers. Why would the Buckeyes settle for less?
[+] Enlarge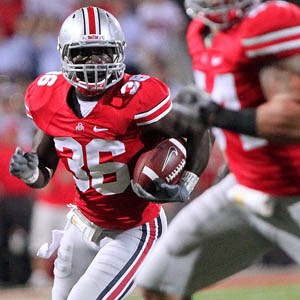 AP Photo/Terry GilliamWhile not a prototypical linebacker, Brian Rolle is the undeniable leader of Ohio State's defense.
Because Rolle isn't less.
"I suppose if you plug him into the computer, Brian Rolle doesn't fit," Buckeyes head coach Jim Tressel said. "But he sure can play football."
Rolle's résumé speaks for itself. After two seasons as a special-teams standout, Rolle stepped into a starting role in 2009 and recorded 94 tackles, seven for loss, with an interception, a fumble recovery and a rare defensive PAT after picking off a pass on a two-point conversion attempt and racing 98 yards to the end zone.
He opened his senior season with a bang Thursday night, recording his first career pick-six, a 30-yard interception return to the end zone in a 45-7 rout of Marshall.
Rolle might lack ideal middle-linebacker size, but he has all the other tools to excel at the position.
Let's start with his voice, which can be heard just about any time on the practice field or during a game.
"Most people think I'm talkative, but it's just if I have something to say to somebody, I'll say it," said Rolle, one of six co-captains for the Buckeyes this fall. "I'm the quarterback of the defense, so I feel like I'm obligated to make all the calls and tell guys where they need to be and where they line up.
'There's more weight on my shoulders to do things right, and as a senior, I know I'm going to have guys looking up to me even more."
Rolle's loquacious personality stands in stark contrast to the man flanking him on most plays. Ohio State standout outside linebacker Ross Homan is more of a silent assassin, and Rolle jokes that those who don't know Homan well "would think he was a mute or something."
Added Rolle: "The only thing I really hear him say during the game is, 'B-Rolle, what's the call?'"
Despite their differences, Rolle and Homan mesh well together. Both were preseason All-Big Ten selections by most media outlets.
And after playing behind Laurinaitis and Marcus Freeman for several years, Rolle and Homan have a vision for their own legacy.
"We saw how great James and Marcus worked together," Rolle said. "I was thinking, me and Ross, if we continue to do what we're doing and we go in with our heads on right and lead like seniors are supposed to, in the years to come, the coaches will be able to talk to the young guys about how great we were our senior year in leading this team hopefully to a national championship."
The next step toward that goal arrives Saturday, as No. 2 Ohio State hosts No. 12 Miami
(ESPN, 3:40 p.m. ET)
.
For Rolle, this one's "personal."
He grew up in Immokalee, Fla., a football hotbed in South Florida. His cousin Antrel Rolle was an All-American cornerback for Miami who played in the 2003 Fiesta Bowl against Ohio State.
Needless to say, Brian Rolle was all about the U.
"Growing up, that was the only thing that mattered in college football," he said. "Being from South Florida, you either were a Gator fan or a Cane fan, and I was a Cane fan. Miami was my first love."
As Rolle moved up through the high school ranks, he pictured himself wearing a Miami jersey.
"There was no doubt in my mind," he said. "My sophomore to senior year, I just knew I was going to play at Miami. But I didn't get that offer I wanted."
Miami went through a coaching transition during Rolle's senior year. Despite numerous overtures to the program, Rolle never got a chance to be a Cane.
"I took a lot of unofficial visits there, went up to a bunch of games, talked to a bunch of coaches," he said. "In the end, I was sad about it, but now I'm at Ohio State, it's my senior season, and I feel blessed to be here now."
The Buckeyes feel blessed to have Rolle directing their defense -- all 5-11, 218 pounds of him.
"Brian is unique," Tressel said. "He's probably not as big as some of the guys we've had, but he's got tremendous instincts and fabulous leadership skills. He's an excellent tackler, he plays the pass very well, loves the game, loves to prepare for the game.
"Glad he's on our side."
August, 2, 2010
8/02/10
8:18
AM ET
Ohio State has won or shared the last five Big Ten championships. According to the media, the Buckeyes will celebrate a sixth consecutive title in late November.
For the third straight year, Ohio State has been picked as the Big Ten preseason favorite. Led by All-America candidate Cameron Heyward, the Buckeyes aim to match a team record with their sixth consecutive Big Ten crown after doing so from 1972-77.
No one will be surprised by Ohio State's selection. The bigger drama came at the No. 2 spot, as media around the country seem to be split on Iowa and Wisconsin. Iowa got the nod from the Big Ten press corps, coming in at No. 2 after an Orange Bowl championship in January. Wisconsin rounds out the preseason poll at No. 3 (unlike other leagues, the Big Ten only reveals the top three teams in preseason voting).
The media's selections for preseason players of the year mirrored last year's choices: Ohio State quarterback
Terrelle Pryor
(offense) and Michigan State linebacker Greg Jones (defense). It marks the first time this has happened since 1998, when Wisconsin running back Ron Dayne and Ohio State linebacker Andy Katzenmoyer received the honors.
Pryor is certainly more deserving of the honor this year than he was in 2009, when Big Ten media members got drunk in the hype surrounding the Buckeyes signal-caller. He comes off of his best career performance against Oregon in the Rose Bowl, winning the game's offensive MVP honors. I voted for Wisconsin junior running back
John Clay
, who won 2009 postseason Offensive Player of the Year honors and could be even better this fall. Clay is the better choice, but both he and Pryor are Heisman Trophy candidates entering the fall.
Jones lived up to the hype in 2009, sharing postseason Defensive Player of the Year honors with Penn State's Jared Odrick. The three-year starter ranked third nationally in tackles with 154 and fifth in the Big Ten in sacks with nine.
Both player of the year races should be very competitive, especially the defensive side, as Iowa's Adrian Clayborn and Heyward will challenge Jones.