September, 25, 2014
Sep 25
2:00
PM ET
Last week, ESPN surveyed 97 FBS coaches to find out which of their peers
was the most underrated
. It was little surprise that Duke's David Cutcliffe topped the list. Take an annual doormat and turn it into a division champ and a coach gets plenty of credit, and Cutcliffe's success in the one-time quagmire that was Duke football has secured his status as one of the sport's best. Paradoxically, he's now properly rated because, for so long, he'd been so underrated.
If only the same could be said for his quarterback.
If Cutcliffe built the winner at Duke,
Anthony Boone
has been its caretaker. In 16 career starts, Boone has won 14 games. Think about that. He's 14-2 as a starting QB at Duke, a place where all other quarterbacks in the past decade compiled a record of 23-75.
And yet, when the preseason watch lists emerged last month, in a conference in which
Jameis Winston
was the only other established quarterback, Boone was largely an afterthought.
[+] Enlarge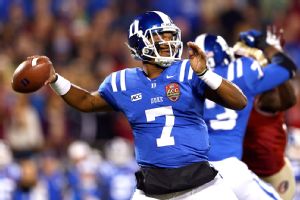 Streeter Lecka/Getty ImagesDuke's Anthony Boone doesn't have spectacular statistics, but he's proven that he knows how to win at a program that's not known for its success historically.
"I don't pay attention to that stuff," Boone said. "If I did, last year they said we'd win five or six games and we won 10. It's all predictions, but what matters is who produces on Saturdays."
Boone's Saturdays have been a mixed bag, by his own admission.
At his best, Boone was outstanding last season, including throwing for 427 yards and three touchdowns in a shootout with Johnny Manziel and Texas A&M in the Chick-fil-A Bowl. At his worst, even Boone understands the victory in the ledger was in spite of his effort, not because of it.
"I care whether my team wins or loses on Saturday, and that may or may not be because of me," Boone said. "If you look back at Virginia Tech [last season], my defense really helped me. It's not just the quarterback."
Against Virginia Tech, Boone completed just seven passes and threw four interceptions, but Duke eked out a 13-10 win. Boone was coming off a collarbone injury that sidelined him for three weeks early in the season. It took a while to get a feel for the offense when he returned, but the midseason nadir — 51 percent completions, seven interceptions, no touchdowns in three games against the Hokies, UNC and Miami — still resulted in three Duke victories.
That stretch seems to define Boone in a way. Why credit the QB when it was his supporting cast that carried the team for so long?
Heck, Boone might not have even been the most appreciated quarterback on his own roster.
Brandon Connette
played the understudy role to perfection a year ago, subbing in during red-zone chances and proving to be a valuable weapon in high-profile moments. Connette would crash into the end zone for a touchdown and Boone would rush from the sideline to celebrate his backup's moment of triumph.
"He doesn't really get the credit he deserves but he doesn't care about that as long as we're winning games," receiver
Jamison Crowder
said.
But here's more context: Set aside Boone's brutal three-game stretch midseason, and his numbers warrant acclaim. He's completed 64 percent of his throws. He's averaged 7 yards per pass. He's thrown 26 touchdowns to just seven interceptions, running for six more scores.
He's not Winston, but like his ACC counterpart, Boone was a baseball star in high school and plays with an underrated athleticism. He doesn't have the frame of Peyton or Eli Manning, Cutcliffe's prized pupils from his earlier days in coaching, but his arm might be every bit as strong. And, of course, he's smart. That's the one given at Duke, that a QB has the wits to play, and Boone's ability to read defenses continues to astound his teammates.
Boone's good, but few outside his own locker room seem to notice.
"He's not as tall, but he's more athletic, he can run, he's fierce," Cutcliffe said. "He's got as strong an arm as anyone we've had. And what Anthony does is, he wins. He finds ways to win football games."
Boone gets another chance to win Saturday in Miami. It's a typical Duke game, really. The Blue Devils are 4-0, but they're still unranked in the AP poll. They're the defending division champs, having beaten the Hurricanes by 18 points just a year ago, yet Miami is favored by a touchdown. Even in a battle of quarterbacks, Miami's highly recruited true freshman
Brad Kaaya
seems to be the far more interesting story.
Boone doesn't care. At Duke, being underrated is half the fun, and Boone is underrated even by Duke's standards. Boone's legacy with the Blue Devils is already secure where it matters most, and the rest is just window dressing, anyway.
"Everybody likes to have 1,000 people pat them on the back, but at the end of the day, I have my team and my fan base and my family and friends," Boone said. "If I don't get the recognition, that's fine. I go out to help my team win, whether people think I can or not. I have my team, and that's all the belief I need."