NCF Nation:

Anthony Gildon
December, 29, 2011
12/29/11
11:30
AM ET
Let's play a quick game of fill in the blank: Oregon fans are ... What comes to mind? Keep it clean, folks. Behave!
Yes, it is fair to say that Oregon fans have eagerly, zealously and vociferously embraced the recent success of their team. The seed that was planted when Kenny Wheaton went the other way against Washington in 1994 is now a full-grown oak, and Oregon fans enjoy pointing out that their oak is more stately and beautiful than yours.
[+] Enlarge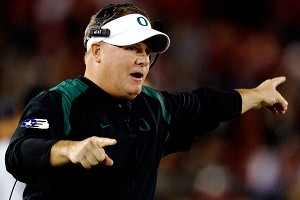 Jason O. Watson/US PRESSWIRENCAA sanctions appear to be the only thing that could derail Chip Kelly's Oregon juggernaut in the near future.
Eleven other Pac-12 teams want Oregon to go away. We have bad news for those 11. Not happening.
With the Rose Bowl on Jan. 2 against Wisconsin, the Ducks are playing in their third consecutive BCS bowl game. No other team in the country has played in three consecutive BCS bowl games. But this rise to the nation's elite started before this run of conference success. Oregon's first taste of national title contention was in 2000 and 2001. After a middling, post-Joey Harrington, pre-Chip Kelly interim, it was ranked No. 2 and a national title contender in 2007 before quarterback Dennis Dixon blew out his knee. Oregon finished the 2008 season ranked 10th. It finished 11th in 2009 after losing the Rose Bowl to Ohio State. It finished third in 2010 after losing to Auburn in the national title game.
While opposing fans can still pull out the "They haven't won a BCS bowl game under Kelly" card, that tweak comes from beneath the Ducks in the Pac-12 pecking order, so as ripostes go, it's rather pyrrhic.
And the Ducks, even if they lose to Wisconsin, will be a preseason top-10 team in 2012, probably top-five if they win the Granddaddy. There certainly is a lot to like about the depth chart.
Not including junior running back
LaMichael James
, who is likely off to the NFL, the Ducks should welcome back six starters on offense, six on defense and both specialists in 2012. But that doesn't tell the entire story.
For one, the Ducks will have a two-year starter returning at quarterback in
Darron Thomas
. While Thomas has had runs of inconsistent accuracy, there are two bottom lines: He's 22-3 as a starter and has thrown 63 touchdown passes with just 16 interceptions.
But what's notable about the Ducks' depth chart is not just returning starters.
Oregon only lists a two-deep. That means 44 players on offense and defense. Of the 22 names on offense, just four are departing seniors, not including James. Of the 22 names on defense, just six are seniors.
And most of the players who are leaving -- or are expected to leave, as in James' case -- are presently backed up by intriguing young talents who already have significant game experience. James leaving? Well, you all know who
Kenjon Barner
is. Tight end
David Paulson
? Freshman
Colt Lyerla
caught five touchdown passes this season. Lose two offensive linemen? Junior Ryan Clanton and freshman Jake Fisher have seen plenty of action. Lose two linebackers? Kiko Alonso has started five games and Boseko Lokombo has played a lot. Cornerback Anthony Gildon out the door? Redshirt freshman Troy Hill has started five games while Gildon has been hurt (and is doubtful for the Rose Bowl).
Further, the Ducks have some redshirt freshmen on both sides of the ball -- particularly at linebacker and receiver -- who figure to make an impact next year. Receivers
Devon Blackmon
,
Tacoi Sumler
and
B.J. Kelley
were highly touted 2011 signees, who could bolster the Ducks passing game.
If you were connecting the dots, you'd actually project the Ducks to be better in 2012 than their 2011, 11-2, Pac-12 champion selves.
And, even with the loss of Thomas after next season, the Ducks appear to set up nicely for 2013. And beyond.
I know. I know. Fans of those 11 other Pac-12 teams are jumping up and down and waving their arms, bellowing, "What about Willie Lyles and the NCAA?"
True, major NCAA sanctions would seem the mostly likely way the Ducks get knocked from their ascent to the nation's elite. And it could happen. You never know with the NCAA.
But the more I talk to people who make educated guesses on NCAA investigations, not to mention a few who have specific knowledge of the NCAA's inquiry into the Ducks, the more I'm leaning toward the position that the NCAA will not pound Oregon. I suspect sanctions will fall short of what Ohio State
recently received
.
Of course, I thought USC would receive less severe penalties than Alabama
received in 2002
, so I've also learned to not expect the NCAA to be logical and fair.
The point is this: If you are wondering what Oregon is likely to be doing in, say, 2014, my projection is they still will be annoying 11 other teams.
The Ducks aren't going to go away.
October, 10, 2009
10/10/09
5:18
PM ET

Posted by ESPN.com's Ted Miller
Ten years ago, would you have believed UCLA and Oregon would be 3-0 at halftime?


The Pac-10 is now a defensive league.
The Bruins lead on Kai Forbath's 52-yard field goal. And that's our scoring summary.
Oregon sophomore cornerback Anthony Gildon -- the Ducks third option at the position after Walter Thurmond and Willie Glasper went down to knee injuries -- has been flagged twice for pass interference, but the Bruins have been unable to exploit the Ducks secondary, which is also missing safety T.J. Ward and was riddled with illness this week.
Quarterback report?
Kevin Prince
and
Nate Costa
are both playing OK, but neither has strung a few good passing plays together.
Turning point
: Oregon posted an impressive goal-line stand when two quarterback sneaks by Prince from the 1/2-yard line failed.
Stat of the half
: Ducks are 1 of 6 on third down. Costa has played fairly well, but he hasn't been able to string together first downs.
Best player in the half
: Ducks running back
LaMichael James
has 83 yards rushing on eight carries. Of course, one carry -- from the Ducks' 1-yard line -- went for 49 yards.
What Oregon needs to do; What UCLA needs to do
: Both teams need the same thing. They need to keep playing stingy defense while finding an offensive rhythm. In a low-scoring game, turnovers are almost always critical. No turnovers so far. And both teams have made nice plays in special teams. In low-scoring games, field position is almost always critical. Wonder who gets to play on a short field more?