February, 16, 2011
2/16/11
9:00
AM ET
Here is Part II of my pre-spring interview with South Florida coach Skip Holtz, in which we look forward to spring practice and the 2011 season. You can read Part I
here
. And if you missed Holtz's comments on his quarterback situation, you can find those
here
.
You don't bring back a lot of starters. But considering how many guys you played last year, how comfortable do you feel with your returning experience this season?

Skip Holtz:
I do feel like we return quite a bit of experience. You look at a guy like Mark Popek on the offensive line, who didn't start but played quite a bit, and Danous Estenor played quite a bit. Obviously
Bobby Eveld
started one game. I'll just use the quarterback position: last year in the spring, we had one quarterback on scholarship; this spring we're going to have four. I look at the improvements we've made there from a competitive standpoint.
[Tight ends]
Andreas Shields
and
Jeff Hawkins
played. We had a number of running backs play. I look on the defensive line and we played four defensive ends and even though we graduated two of them, Ryne Giddins, Patrick Hampton and Julius Forte played just as much as the starters did. We played about seven linebackers a year ago, so even though we lost three, you return four with a significant amount of experience. I think we redshirted some really good players. We return all four of our safeties a year ago. We played three cornerbacks and two of them return.
So I think we have a great nucleus to build on. I definitely feel like we're much farther ahead than we were a year ago at this time.
You brought in three transfers from other BCS programs last year. Can you tell me about each of them?

SH:
I'm really excited, and I'll start with the running backs. When we came in here a year ago, all of a sudden [Mike] Ford and [Jamar] Taylor were dismissed from the team. You start looking ahead and say Mo Plancher is going to graduate, and we're going to have a hole at the running back position. So we brought in some transfers in
Darrell Scott
from Colorado and
Dontae Aycock
from Auburn, and I think they're both very very talented players who are working extremely hard. They were both very impressive on the scout team with their attitudes and their work habits.
Darrell Scott came in about 240 [pounds]; he's down to about 226 and looks great. I think both of them are definitely going to be guys who make an immediate impact, and that's why we didn't sign a lot of junior college guys -- there was only one junior college player in our class. I think guys like Aycock and Scott are going to make a huge difference. And then a young man who transferred from Notre Dame,
Spencer Boyd
, is going to bring some depth to us in the secondary, where we graduated Mistral Raymond. He's a great athlete, and he's going to have an opportunity to come in and compete for time.
You had a good running game but not a lot of explosive gains there last season. How much can the new guys help that?

SH:
We didn't have a lot of big plays there, you're right. Both Dontae Aycock and Darrell Scott are bigger running backs. Mo Plancher was about 200, Demetrius Murray was about 200 pounds, where Darrell Scott is 226 and Dontae Aycock is about 230. I think they're bigger, stronger running backs who are going to be able to break more tackles maybe than we have in the past, and when I watch those two guys run, they've shown me some big-play potential. So I'm really excited to see how they develop and mature as we go through spring practice and fall camp.
How are receivers A.J. Love and Sterling Griffin coming along from the injuries that kept them out all of last season?

SH:
Well, it's nice to have them both back. A year ago we had four players returning with any type of experience at receiver, and Carlton Mitchell left early for the NFL before we got here. All of a sudden A.J. Love gets injured in the spring game, and Sterling Griffin gets injured in the summer.
Dontavia Bogan
had a great year for us, and what happened was a lot of these young guys got a chance to get experience last year. And then when you add A.J. Love and Sterling Griffin back to the mix, I think we'll be much deeper there. Plus, I'm excited about a couple of young signees we have that are coming into the program this season. But I think we'll be much deeper at that position, we'll be more experienced and we'll have more playmakers than we had a year ago.
Did it feel like, offensively, you were playing with one arm tied behind your back at times last year?

SH:
It really did, with our limited big-play potential in the running game and how inexperienced we were at the receiver position. But
Evan Landi
came on and gained some great experience. Terrence Mitchell converted over to wide receiver halfway through the year and made an impact. Steven Bravo-Brown got better,
Joel Miller
had a great game against Miami. And with those guys gaining that kind of experience and then being able to throw A.J. Love and Sterling Griffin in there, it may be one of the most experienced positions on our football team.
[+] Enlarge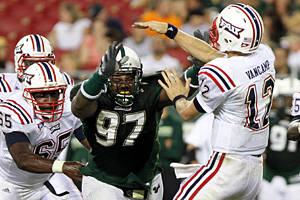 Kim Klement/US PresswireSouth Florida's departing defensive tackle Terrell McClain leaves big shoes to fill this coming season.
Defensively, it seems like Terrell McClain will be the hardest guy to replace. I know Bruce Feldman had some nice words about Todd Chandler the other day. How do you see the defense being able to replace McClain?

SH:
It's hard to replace a guy like Terrell McClain as a senior, whom they're talking about as a possible first-day draft pick, with a redshirt freshman. Keith McCaskill was solid for us last year and he's going to have to play more for us. Cory Grissom is going to be a year older as a starting nose guard. We're going to have to get a little more out of him.
Anthony Hill
is a guy who played a limited role for us a year ago that's going to be a junior; both him and Luke Sager, I expect more out of them. And then you hope Todd Chandler continues to mature into that position. And then there's a signee like Elkino Watson, who came in with an awful lot of accolades and is a talented player.
There are an awful lot of players there, and I don't think we're going to ask just one player to pick up that slack, that hole in the bucket left by Terrell McClain. We're going to ask a number of players to step their game up and fulfill that void.
Your season opener this year is at Notre Dame. How much does that help motivate everybody this offseason?

SH:
I think it's huge as a far as a motivational factor. I remember being at Notre Dame, and we used to open with Michigan every year, when I was at East Carolina, we opened with Virginia Tech. And what that does for your players' focus as they go into winter workouts and spring practice and summer conditioning and fall camp, it just keeps their focus maintained with what's on the horizon. Having the opportunity to play Notre Dame as a young football program like we are, I think it creates an awful lot of excitement in our program, and it's something I know the players are looking forward to.
Have you talked much with your dad about that game yet?

SH:
No, not enough yet. We'll get into that more as we get into summer breakdown. Right now, as we started winter workouts and are getting into out new practice facility, we're just trying to see where our players are and what we can do. Every team has a life expectancy of one year, and this time of year you start to put the pieces together. We're working on our own strengths and weaknesses before we start looking at our opponent and what they can do.
But I know they finished the season with wins at Southern Cal and a lopsided win against Miami. So I know it's going to be a great challenge, it's going to be a tall order. But it's going to be something as a young program that our players and fans are really looking forward to. It's going to be interesting to see what colors Dr. Lou is wearing that Saturday.
The team is drawing some offseason buzz because of how you finished. How do you address that, if at all, with the players?

SH:
I think it's a huge compliment to what this team has accomplished and a huge compliment to this program for what we've been able to accomplish in such a short period of time. The thing for us is, we've just got to stay focused on the task at hand. You start sitting around reading the newspaper articles and drinking the Kool-aid and start believing what everybody starts writing about you, your focus isn't where it needs to be as far as getting a team ready, getting it focused and getting ready for a season. I think it's nice to be able to have that type of exposure for our program, for our fan base and for our players, that they've earned and deserved.
But I think there are two aspects of building a program: I think you have to start by learning how to win, and then once you learn how to win as we started to do toward the end of last season, I think there's a whole another process that goes into being able to handle winning. That becomes maintaining your focus and not getting sidetracked by the circus of college football that goes with the media exposure and everything else.
I suppose that's a nice problem to have.

SH:
I'd much rather be here than still trying to learn how to win.
February, 9, 2009
2/09/09
11:46
AM ET
Posted by ESPN.com's Heather Dinich

With the NFL departures announced, and signing day officially over, it's time for a re-ranking heading into spring football. Keep in mind things change during spring practice -- some players get hurt, some win position battles, but here's the first early peek at how the ACC might fare in 2009:

1. Virginia Tech -- The ACC and Orange Bowl champs return 16 starters, and there are high expectations for an offensive backfield that will contain shifty quarterback Tyrod Taylor, and tailbacks Darren Evans and Ryan Williams. If the defense maintains its tradition without Victor "Macho" Harris, the Hokies could be a top 10 team.
2. Florida State -- The defense took some hits -- the most notable being the loss of defensive end Everette Brown -- but should have enough experience to compensate for it. The offensive line should be one of the best in the conference and give returning quarterback Christian Ponder and tailback Jermaine Thomas plenty of help. The question is the depth at receiver after the loss of Preston Parker, Greg Carr, and probably Corey Surrency. FSU also loses Lou Groza award winner Graham Gano.
3. Georgia Tech -- Overall, this team will be experienced and deeper -- it will return every starter at the skill positions -- but the Yellow Jackets must reload on the defensive front and improve on the offensive line. There will be three new starters on the defensive line, and Tech lost two senior starters on the offensive line. There are 25 players on the roster, though, who have at least one career start.
4. Miami -- Coach Randy Shannon brought in yet another outstanding recruiting class, and playing so many true freshmen in 2008 should help this season. There shouldn't be any quarterback drama this season, and Jacory Harris should only improve under first-year coordinator Mark Whipple. Defensive coordinator is still a question mark, though.
5. North Carolina -- Never count out a Butch Davis-coached team, but the Tar Heels will be a question mark until a new batch of receivers proves otherwise. Brooks Foster, Brandon Tate and Hakeem Nicks accounted for 114 receptions in 2008, and all three have left for the NFL. Safety Trimane Goddard is arguably the biggest loss on defense.
6. NC State -- If the Pack stay healthy -- something they haven't been able to do for the past two seasons -- NC State could be the sleeper in the Atlantic Division. It has to replace tight end Anthony Hill and running back Andre Brown, though, and 2007 leading receiver Donald Bowens will miss spring practice because of knee surgery.
7. Clemson -- Speedy playmakers C.J. Spiller and Jacoby Ford are back, but they'll be under the direction of a new quarterback and a new offensive coordinator. Let's see how the Tigers do without any expectations for a change.
8. Maryland -- The Terps graduated 30 seniors and junior receiver Darrius Heyward-Bey left for the NFL. One of the biggest question marks is how they'll fare up front after the graduation of three starting offensive linemen, including All-ACC center Edwin Williams. The defense, which loses four starters from its front seven, will be led by first-year coordinator Don Brown.
9. Wake Forest -- The good news for the Deacs is the offensive line should better, and they return veteran quarterback Riley Skinner. The bad news is they'll sorely miss some of the best defensive players the program has had in recent years, along with kicker Sam Swank.
10. Virginia -- If quarterback Jameel Sewell makes a smooth transition back into the lineup and quickly learns the new offense, the Cavs could surprise some people this season. They'll have to replace all three starters at linebacker, though, and will miss starting receivers Kevin Ogletree and Maurice Covington, as well as leading rusher Cedric Peerman.
11. Boston College -- Consider this a rebuilding year for the Eagles. The loss of defensive tackles B.J. Raji and Ron Brace will have an effect up front. With a new staff, a small recruiting class and a young starting quarterback, the only direction for BC to head is up.
12. Duke -- The Blue Devils have arguably one of the league's top quarterbacks in Thaddeus Lewis, but he won't have Eron Riley to throw it to this season. Duke also loses ACC-leading tackler Michael Tauiliili at linebacker. Still, the Blue Devils should take another step forward in their second season under David Cutcliffe.
December, 29, 2008
12/29/08
12:00
PM ET
Posted by ESPN.com's Heather Dinich
Here's a look at what's going on in the league today:
For what is considered by many to be a "lower-tier bowl," officials at the Papajohns.com Bowl couldn't be more pleased with this year's matchup. NC State tight end Anthony Hill has lost a lot of playing time because of injuries during his career, but he never lost an ounce of leadership.
Miami coach Randy Shannon has enough on his mind to keep him awake at night, among them the undecided future of quarterback Robert Marve.
Nebraska's offense has some concerns about Clemson's defense, and it should.
Maryland linebacker Dave Philistin says the Boise field is "a really Smurfy blue," but he's cool with that. There's a story behind that field, you know.
Here is a good recap of Florida State's season.
September, 12, 2008
9/12/08
9:20
AM ET
Posted by ESPN.com's Heather Dinich
Not only did the Tar Heels snap a 20-game out-of-state losing streak, but UNC also made Rutgers look bad in the process. There were all kinds of firsts for North Carolina under Butch Davis in Thursday night's nationally televised game, but it wasn't the first time the team couldn't have done it without Brandon Tate.
Odds are it won't be the last.
UNC proved in the second half it's a better team than what it showed in the season opener against McNeese State.
We now return to your regularly scheduled programming ... "Peter's Story" ...
Todd Lalich, the father of UVA quarterback Peter Lalich, called Jerry Ratcliffe of the Charlottesville Daily Progress and gave a public vote of support for UVA coach Al Groh. Said Todd Lalich:
"I would tell any parents out there that has a football recruit that Virginia is interested in, that if they want their boy to turn into a man, they should send them to Al Groh," Todd Lalich said. "Fans might not like [Groh's] X's and O's, or the way he deals with the media sometimes, but I am incredibly impressed with the way Al handles his players."
Lalich also told Ratcliffe that the decision to leave Lalich behind for the UConn game came from "on high," not from Groh. In this story, though, it sounds like Groh made the call. Regardless of who made it, Ratcliffe disagrees with this decision, and said "this just isn't right."
There is more to this story (there always is). It's important to remember that urine tests reportedly support Lalich's statement that he did not use drugs or alcohol while on probation. (It's also possible that he was dehydrated on the day he was scheduled to take the test and couldn't, um, produce the sample).
Nonetheless ...
UVA's starting quarterback -- its team leader -- was on probation. Yes, it was for something some of us may be all-too familiar with -- underage possession or purchase of alcohol (not that I'm condoning it, just saying welcome to college) and athletes have played football while accused of far worse. They've also been suspended for far less.
If you ask me, this whole disaster couldn't have worked out any better for Virginia. The coach gets a pat on the back, the administration looks like it won't tolerate wayward behavior, and the quarterback got to play against USC and beat Richmond.
And now, it's out of their hands because the court will likely decide whether or not Lalich plays against Duke.
For now, it's Marc Verica's turn. What do we know about UVA's new starter, other than he hasn't thrown a pass yet for UVA?
Moving on ...
September, 2, 2008
9/02/08
8:24
AM ET
Posted by ESPN.com's Heather Dinich
CORAL GABLES, Fla. -- It's time to talk Canes. Miami coach Randy Shannon will have his news conference today to preview the Florida game, so why don't we start there.
Moving onto Florida State since they're finally playing this weekend ...
I can't believe we're still talking about this. When I make it down to Florida State this season, I'm gonna have to personally introduce myself to each offensive lineman and let him tell me how he really feels. Of course, I'd like to be standing behind one of their defensive linemen when they do it.
Posted by ESPN.com's Heather Dinich
I thought this top 25 list was going to be difficult, but as it turns out, there are a gazillion things I can't wait to see in the ACC this season -- Chief Osceola and Renegade included. But this year, the quarterbacks top the list.
I can't wait to see ...
1. Miami quarterback Robert Marve in his first collegiate start against Florida. First there was the car accident. Then the suspension. Can we please get an official snap now?
2. Boston College quarterback Chris Crane. Finally. Let's watch what he can do and stop talking about the other guy.
3. Who will wind up as Florida State's most consistent starting quarterback. It was Drew Weatherford's job to lose this summer, but Christian Ponder and D'Vontrey Richardson both have Jimbo Fisher thinking too much.
4. Maryland third-string quarterback Josh Portis. So much hype, so little action. Not this season. After spending the past two years on the scout team, we finally get to see what this speedy transfer from Florida can do.
5. Which Miami freshman is going to have the most impact. There are so many to choose from, on both sides of the ball, including the two who are in the starting lineup for Thursday's season opener against Charleston Southern -- quarterback Jacory Harris and defensive end Marcus Robinson.
6. James Davis and C.J. Spiller try and get through B.J. Raji, Ron Brace, and the other guys in the Eagles' front seven. BC's defense should be even better than it was in 2007, and Thunder and Lightening only rushed for a total of 62 yards against them last year.
7. Macho Harris as a receiver. He switched to offense for a part of the spring, and the Hokies certainly could use him there, but will they?
8. Jacoby Ford used on a reverse in the same game he takes a kickoff or punt return all the way back. He's super fast, athletic and can be used just about anywhere on the field. Let's see it.
9. An upset -- I don't care who it is, and I don't care when it happens. That could mean Clemson shocking somebody in the postseason, or it could mean NC State shocking Clemson. Clemson losing to Wake? Not a shocker.
10. Georgia Tech QB Josh Nesbitt throw it. It's bound to happen sooner or later, and don't think the receivers were standing around at practice this summer gossiping.
11. James Franklin calling the plays. Go deep, Hey-Bey. The offense should be more fun to watch as long as the staff doesn't get caught up in Jordan Steffy throwing five-yard passes.
12. Michael Johnson absolutely flatten somebody. He hasn't started a game yet, but the Yellow Jackets' new defensive scheme will free him up to rush from the edge.
13. Preston Parker take one home. Sure, he's suspended for two games, but this guy is a playmaker. I saw what he did at Maryland last year in his first shot at tailback and would love to see more.
14. The Wake Forest defense score 11 touchdowns. Hey, they scored 10 last year. OK, so the odds of this happening are slim to none, but this defense is still one of the most exciting to watch because of its playmaking potential.
15. Butch Davis' return to Coral Gables. Davis' coaching ties make for a good subplot, but so does the fact that the Tar Heels beat these guys last season.
16. Al Groh in a good mood. Too bad I'm heading to the season opener. Odds are Charlottesville is a happier place around Week 10. Then again, maybe not.

17. NC State get a break that doesn't involve a body part. These guys are due for one. It's not the third-string left tackle that gets hurt for these guys, either, it's their leading rushers and receivers. I want to see what the Pack can do at 100 percent.
18. Thaddeus Lewis after a summer of instruction from some former SEC coaches. He was the third best QB in the league before he started taking advice from a coach that tutored the Manning brothers.
19. The return of NC State tight end Anthony Hill. This guy is a veteran playmaker, and after missing last season with a torn ACL, he's ready to rock.
20. The Blue Devils win more than one game. These guys have put in way too much work this summer not to.
21. The Tar Heels defense under Everett Withers. The first-year defensive coordinator is the first to admit his Minnesota defense last year was "awful." What can he do with the talent on the Tar Heels' roster?
22. Frank Beamer's hip-hop dance. I missed it last year after the Hokies won the ACC title. Then again, they've got to win it again in order for another show.
23. The Euro kicker make his first field goal against USC. Yannick Reyering has never played a game of football in his life, and here he is starting against USC. Fun.
24. Jim Grobe explain his gameplan to the well-to-do fans in Deacon Tower an hour before kickoff against Clemson. If only I were a well-to-do sports reporter ...
25. The inside of the Esso. I've heard a lot about this place, but didn't get a chance to go there this summer. I was too busy running down some hill.
Posted by ESPN.com's Heather Dinich
ACC Power Rankings
Rank
Team
Analysis
1.
Just about any coach in the league will admit these guys are loaded. There's no excuse for Tommy Bowden not to win the program's first ACC title since 1991. If they don't, it's only because they couldn't handle the hype.
2.
Frank Beamer is going to have to have one of his better seasons coaching if the Hokies are going to wind up winning the Coastal Division again. The only reason the Hokies are ranked above Wake Forest is because they should be playing for the ACC title. If those two teams played each other this season -- which they don't -- Wake would be No. 2.
3.
Riley Skinner has already led the Demon Deacons to an ACC title, and he can hand off to 2007 Rookie of the Year Josh Adams while they try to find a replacement for Kenny Moore. Wake Forest also has a veteran defense with a knack for turning turnovers into touchdowns. Any deficiencies these guys have will be compensated for by the coaching staff.
4.
The Terps could be this year's darkhorse, as Ralph Friedgen made a smart off-season hire in offensive coordinator James Franklin and has playmakers with the potential to flourish in the West Coast offense. The key will be how he uses -- not appeases -- his quarterbacks.
5.
Butch Davis has both the schedule and a watered down Coastal Division working in his favor for a premature rise to the top. The Tar Heels don't have to play Clemson, Wake Forest or Florida State. That's not to overlook the talent on his roster. Brandon Tate and Hakeem Nicks are among the best receivers in the league.
6.
Suspensions, plus a baby-faced offensive line make the Seminoles a second-half-of the season kind of team. There is still uncertainty surrounding Drew Weatherford and Seminoles fans are already pushing for Christian Ponder.
7.
As talented as they might be, they're still freshmen. They will make freshmen mistakes. The fact that there is no preseason depth chart for this team further asserts the number of question marks.
8.
The front seven on defense will have to carry this team until Chris Crane gets comfortable and freshman running back Josh Haden plays in his first few football games. We'll find out how good of a coach Jeff Jagodzinski is without Tom O'Brien's premier group of seniors.
9.
They've got A-back and B-backs, but will they get a bowl back? Probably not. Paul Johnson is giving his players the summer to learn the triple option, but odds are it's going to take a few games to work out the timing and the kinks. Don't be fooled, though. These guys are going to throw the ball. Just not a lot.
10.
Five options at quarterback and not one answer there is the main reason for this ranking, plus an almost entirely new defense. The Wolfpack will benefit greatly from the return of tight end Anthony Hill and its plethora of experienced running backs.
11.
Numerous offseason academic and legal incidents affected the Cavaliers at key positions -- namely quarterback -- and they've got to introduce the new lineup to USC in the season opener. Do college athletes make mistakes? Sure, but all it takes is a few players to throw off the chemistry of an entire team. And again, the Cavaliers failed to be
at Virginia Tech or play in the ACC championship game WITH Branden Albert and Chris Long.
12.
First-year coach David Cutcliffe has already revived the energy in this program, but until he resuscitates its record, the Blue Devils stay at or near the bottom. With talented players like receiver Eron Riley and Vince Oghobasse, Duke has a legitimate chance to improve upon last year's lone win. Maybe even triple it.
July, 9, 2008
7/09/08
12:42
PM ET
Posted by ESPN.com's Heather Dinich
After paying close attention this spring, visiting a few practices and talking with numerous players and coaches, I've come up with a revised ranking for the ACC Atlantic Division heading into summer camp. Agree or disagree, here it is:
1. Clemson -- With 14 starters returning, this is obviously the team to beat, and everyone in the ACC knows it. Here's why: They've got the best quarterback in the league in Cullen Harper, and two bruising backs in James Davis and C.J. Spiller -- not to mention a 1,000-yard receiver in Aaron Kelly. Sure, Tommy Bowden will tell you he's concerned about his offensive line, which lost four starters, but guess what? Davis and Spiller are talented enough to compensate for it. The only thing that will keep these guys from winning it all is themselves. Can they handle the hype?
2. Wake Forest -- If you haven't started believing in Jim Grobe yet, Wake up. He's the best coach in the league (sorry, Frank), and might have his best team with 16 starters returning. Quarterback Riley Skinner led the nation in completion percentage last year (72.4 percent), and Alphonso Smith is arguably one of the best corners in the country. All four guys in the secondary return. Specialist Sam Swank will be chasing the ACC's career scoring record.
3. Maryland -- Someone roll out the red carpet for James Franklin. Maryland fans and those within the program are thrilled with this hire and deservedly so. He recruited a fair amount of the Terps' top playmakers, and now he's back to teach them the West Coast offense -- a system receiver Darrius Heyward-Bey should flourish in. Ralph Friedgen is more rested now that he's not doubling up as offensive coordinator, and finally has time to act like the CEO of the program. The main concern for these guys will be how wishy-washy Friedgen is on picking a quarterback. Chris Turner has already proven himself, but Jordan Steffy had a good spring and his time is winding down.
4. Florida State -- Scheduling Western Carolina and Chattanooga was no accident. With numerous players suspended for the first three games and Wake Forest No. 3 on the schedule, these guys are going to need some time to get it together. The Seminoles could be one of the better teams in the ACC, but isn't likely to grow into that role until the second half of the season. Unfortunately for them, that's when the schedule gets tough. The biggest problem here will be the offensive line, where there's not a junior or senior in sight for the first time in school history.
5. Boston College -- This season will be tumultuous without Matt Ryan, Andre Callender, Kevin Challenger, Jamie Silva and DeJuan Tribble -- just to name a few. The good news? Offensive coordinator Steve Logan is still around. He knows what it takes to get newly annointed quarterback Chris Crane ready, and will tweak the offense to suit his strengths. It's going to take some time to develop a running game, though, as true freshman Josh Haden will be running behind an offensive line that hasn't quite come together yet. The Eagles' strength this season should be the front seven on defense.
6. NC State -- With only 11 starters returning and absolutely no answer at quarterback, it's a little too soon to be talking turnaround. The one thing Tom O'Brien has going for him is the return of tight end Anthony Hill and running back Toney Baker. Those guys, along with Andre Brown and Jamelle Eugene will help take some pressure off the quarterback. We'll see if O'Brien's revamped offensive line can pave the way for them. And let's face it: losing seven starters from a defense that was next-to-last in the ACC in total defense might not be such a bad thing.