NCF Nation:

Anthony Leonard
November, 22, 2010
11/22/10
3:16
PM ET
West Virginia and Pittsburgh both finished up their afternoon games Saturday at about the same time and with the exact same 17-10 scores. That meant that first place in the Big East would be at stake in this week's meeting between the old rivals.
Mountaineers linebacker J.T. Thomas didn't seem too interested when informed Pitt had beaten South Florida to maintain its one-game lead in the standings. That didn't change his feelings about the upcoming matchup.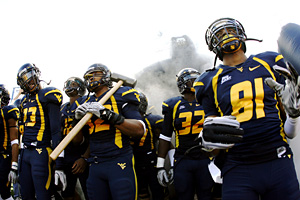 Charles LeClaire/US PresswireThe Mountaineers are one game back from Pitt in the Big East standings.
"It wouldn't matter if they were undefeated or if they had lost all their games," Thomas said. "I don't care if they were in the SEC, the ACC or whatever conference. The Backyard Brawl is going to be the Backyard Brawl."
In a league where several teams were thrown together just five years ago and where some programs have spent less than a decade in the FBS, there's nothing quite like the Backyard Brawl in the Big East. The series has history, as this will be the 103rd meeting between the schools. The geography creates natural tension, as the two schools are separated by about 75 miles. And, oh brother, is there good old-fashioned hatred.
Thomas said at Big East media day that he didn't even want to say hello to the Pitt players in attendance. On Sunday, Thomas tweeted: "Went to church this morning to ask god for forgiveness for what we're about to do this Friday ... Amen."
So, yeah, they could play this game in a parking lot in the dog days of summer or in a blizzard on a peak in the Andes, and both teams would go at it with everything they've got.
Still, this year's Brawl has some extra juice. If Pitt beats West Virginia, it will be just one win or one Connecticut loss away from capturing the Big East title and a BCS bid. West Virginia can effectively knock Pitt out of the race with a victory here and in its regular-season finale, and the Mountaineers would then head to a BCS game with a UConn loss.
The last time this game has had such a direct impact on the league title and BCS bid was in 2004, when Pitt slipped past West Virginia 16-13. The Panthers went on to win a four-way tiebreaker that included the Mountaineers, and they played in the Fiesta Bowl.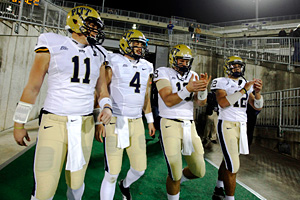 David Butler II/US PresswirePittsburgh will be just one win, or one UConn loss, away from capturing the Big East title if it beats West Virginia.
"Combine the fact that we're trying to win a championship with the emotion of the Backyard Brawl and the history of this game ... it makes for a lot electricity, that's for sure," Pitt coach Dave Wannstedt said.
The two teams have split the past 10 Brawls, and the last three have all been thrillers. Pittsburgh spoiled West Virginia's chances of making the BCS title game with a stunning 13-9 upset in Morgantown to end the 2007 regular season. The Panthers clipped the Mountaineers again by a 19-15 score in Pat White's final Brawl appearance. Last year, West Virginia got revenge by beating then No. 8 Pitt 19-16 on a late field goal.
Notice that neither team has scored 20 points in any of the past three meetings. This is often a physical game, and the way both defenses are playing this year it could be another low-scoring slugfest.
"It's going to be mano-a-mano, bone on bone," West Virginia linebacker Anthony Leonard said. "I can't wait."
Neither can others. Syracuse coach Doug Marrone said he doesn't watch many college football games that don't involve his team, because he doesn't have the time and he doesn't want them cluttering his head or his emotions. But he plans on watching Friday's game on TV.
"I don't really get excited about too many things in my life, but I will make sure I get a chance to see that game," he said. "I think it will be one heck of a game. People say the Big East is this or the Big East is that. I say, 'You know what? You need to watch this game.'"
The Big East's best rivalry could very well decide the Big East champion. And that's exactly how it should be.
November, 20, 2010
11/20/10
5:42
PM ET
LOUISVILLE, Ky. -- West Virginia defensive coordinator Jeff Casteel kept repeating the stats before and during practice last week: Louisville was leading the Big East in rushing at more than 192 yards a game.
"Man, we heard it all week," linebacker Anthony Leonard said. "If we even looked like we were playing sideways, coach Casteel jumped on us."
[+] Enlarge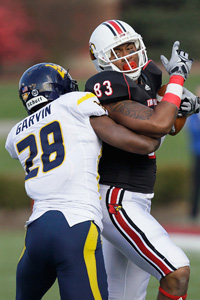 AP Photo/Ed ReinkeThe Mountaineers' defense clamped down on the Cardinals, allowing just 171 yards of total offense.
It was the coaching equivalent of poking a bear with a stick. The Mountaineers already have one of the nation's top defenses, and when challenged this week, they responded with arguably their
most dominating effort of the season in a 17-10 win
at Papa John's Cardinal Stadium.
The Cardinals, who hadn't been held below 100 yards rushing all year, managed only 26 rushing yards on 30 attempts. Star tailback
Bilal Powell
, already battling an illness, had a sickly 3 yards on four carries. The longest run by a Louisville running back? Six yards. Punter Chris Philpott had 21 of the team's rushing yards on a successful first-half fake.
Backed into a one-dimensional box, the Cardinals had no answer. Their only touchdown came on a defensive fumble recovery in the end zone. That's why West Virginia's slim seven-point lead in the final 24 minutes never felt in danger.
"The defense was just itching to get back out on the field," linebacker J.T. Thomas said. "We wanted to make more plays. We want to go out and dominate people."
Defense has kept the Mountaineers (7-3, 3-2) in the Big East title hunt. Their offense has failed to score more than 20 points in four of the past five games, but West Virginia still hasn't given up more than 21 points in a game this season.
That formula might be good enough to make a BCS game. The Mountaineers don't control their own destiny, but they will play Pittsburgh on Friday with a chance to tie for first place in the conference. Pitt won by an identical 17-10 score at South Florida on Saturday to maintain a one-game lead in the standings. These two defense-heavy teams figure to put the brawl in the Backyard Brawl.
"It's going to be a dogfight," safety Robert Sands said. "If you thought you've seen some hitting this year, you're really going to see some hitting come the day after Thanksgiving."
Pittsburgh will have to find a way to move the ball against Casteel's 3-3-5 scheme, which is playing as well as any defense in recent school history.
It's a unit loaded with seniors and with answers for seemingly everything. Noseguard Chris Neild rarely shows up in the stat column, but he occupies two blockers almost every play and blows up the middle of the line of scrimmage. That allows linebackers and safeties to fill every gap and bring pressure from different angles. There's so much experience in the back end that Casteel can disguise looks without worrying about overloading his players' circuit boards.
And once West Virginia gets the offense into a third-and-long situation, watch out. Sack specialist Bruce Irvin comes in at defensive end and is so fast that most teams have to use two blockers against him. Irvin had two sacks on Saturday, giving him 10 sacks on just 17 tackles this season.
Louisville was just 2-for-13 on third downs Saturday, and the defense has held its last two opponents to just 2-for-25 on third down.
[+] Enlarge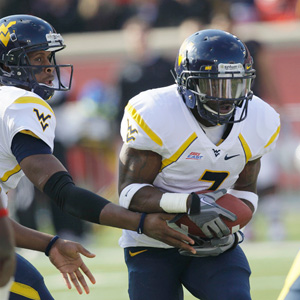 AP Photo/Ed ReinkeNoel Devine was West Virginia's most effective weapon on offense, gaining 119 combined rushing and receiving yards and scording a TD.
"We're just confusing the heck out of quarterbacks," Thomas said. "We're coming from all over the place, dropping here, dropping there. We're playing man coverage, zone coverage, a little bit of everything. I don't know what [our coaches] are doing in the lab, but they need to keep doing it."
If the Mountaineers could only get their offense playing at the same level, or even in the same neighborhood, they'd be virtually unbeatable in the Big East, and there would be no pressure on head coach Bill Stewart. But the offense struggled in gaining just 261 yards and had four three-and-outs in the second half, proving that last week's 37-point outburst was more a by-product of Cincinnati's inability to stop anybody who can fog a mirror.
"For offensive enthusiasts, that probably wasn't what they came to see," Stewart said. "And for that I'm sorry."
Stewart may have to win the Big East to keep his many critics off his back. Those detractors will be the ones apologizing if this defense leads the Mountaineers to a BCS game.
October, 8, 2008
10/08/08
11:44
AM ET
Posted by ESPN.com's Brian Bennett

Rutgers: Looking to spark his slumping offense, coach Greg Schiano made several changes to his offensive line last week at West Virginia. Only two starters, left tackleAnthony Davis and center Ryan Blaszczyk, remained at their original positions. Kevin Haslam moved from left guard to right tackle, Mike Gilmartin switched from right tackle to right guard and split snaps with true freshman Art Forst, and Kevin Haslam went from right tackle to left guard. Schiano was non-committal this week when asked if we would use that alignment again after the Scarlet Knights mustered only 72 yards rushing in Morgantown.

West Virginia: With senior Reed Williams shutting it down and planning for a medical redshirt, the Mountaineers have turned to sophomore Anthony Leonard at middle linebacker. Leonard made his first career start last week versus Rutgers and recorded a team-high nine tackles. He is the fourth different player to start at that position in five games for West Virginia. Meanwhile, a handful of Mountaineers are dealing with head injuries, including quarterback Pat White, center Mike Dent and defensive lineman Pat Liebig.

Louisville: The competition is on again for the Cardinals' backup quarterback spot. Matt Simms, son of former New York Giants quarterback Phil Simms, has returned from his four-game suspension and split reps this past week with Tyler Wolfe. Head coach Steve Kragthorpe said he would decide on a No. 2 signal-caller the day before Friday's game at Memphis. Although starter Hunter Cantwell has recovered well from his ankle injury against Connecticut, Louisville would like the peace of mind of having a reliable backup.

Connecticut: After Bruce Carter blocked three straight punts against UConn on Saturday, North Carolina coach Butch Davis said his team exploited the Huskies' new personal protector. That would be linebacker C.J. Marck, who filled in for injured tight end Steve Brouse. But Connecticut coach Randy Edsall said after watching the film that Marck wasn't to blame, and that it was another player who failed to execute his technique. He declined to identify which player was at fault. With Brouse out several weeks, Martin Bedard has moved into a starting role, and backup offensive lineman Dan Ryan has switched to No. 88 to play tight end in some packages.

Pittsburgh: One reason for the Panthers' resurgence this season is that they have avoided a rash of injuries that's plagued the program in recent years. Linebacker Adam Gunn (neck) is the only serious, season-ending injury that has struck the team through five games. Linebacker Shane Murray, who hurt his knee in preseason, hasn't played a lot of snaps this season but is nearing full strength. With a bye this week, Pitt should be close to full health as it heads into the final seven games.