NCF Nation:

Anthony Nixon
November, 25, 2013
11/25/13
11:00
AM ET
The final regular-season weekend is on deck. Time sure flies. So here's one last look at all that went down in the ACC this past weekend.
The good:
The ACC seemingly survived JV week without incident, with Florida State and North Carolina each putting up 80 points, Georgia Tech crushing Alabama A&M 66-7, and Clemson taking care of business against the Citadel with a 56-7 win. Two teams, UNC and Pitt, got to bowl-eligibility, setting up for some great showdowns this coming rivalry weekend.
The bad:
Well, there is always Virginia, which lost by 19 at Miami and remains winless in ACC play. And there is NC State, also winless in ACC play after a 14-point home loss to East Carolina -- which, to add insult to injury,
further declared its place in the Triangle in a season in which it beat both NC State and North Carolina
.
The ugly:
North Carolina's 80-20 win over Old Dominion featured a shortened fourth quarter, from 15 minutes to 10. And none of the Tar Heels' 80 points ended up coming in the final frame. Funny enough, this was actually a 14-13 game after the first quarter. I was at Notre Dame on Saturday, and when the out-of-town scores were announced in the press box, this game was announced: "North Carolina 80, Old Dominion 20. That's football, not basketball."
[+] Enlarge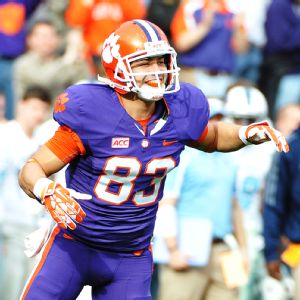 AP Photo/Rainier EhrhardtClemson walk-on WR Daniel Rodriguez, a Purple Heart recipient, caught a TD pass Saturday, providing a heart-warming moment.
The awesome moment:
It came at the 14:10 mark of the fourth quarter, with Clemson already holding a 45-3 lead over the Citadel. Then,
Daniel Rodriguez
caught a 2-yard touchdown pass from
Cole Stoudt
, for his first career touchdown. On Military Appreciation Day, no less. If you're not already familiar with Rodriguez's story,
become so
. Simply amazing.
The icers:
Paul Chryst, bravo. Randy Edsall, not so much. Up 17-16 with 1:03 left and Syracuse facing a fourth-and-8 from the Pitt 36, Chryst called a timeout right as the Orange were about to attempt a game-winning field goal, which was then revealed to be a fake, a fake that looked destined to be good.
Terrel Hunt
then threw an incomplete pass out of the timeout, sealing bowl-eligibility for the Panthers and leaving Syracuse with no other choice but to beat Boston College this Saturday in order to make the postseason. Edsall, meanwhile, called a timeout to ice BC kicker
Nate Freese
's 52-yard game-winning attempt, which hooked left. With new life from Edsall's timeout, however, Freese drilled it, giving the Eagles a 29-26 win at Maryland, their fourth straight victory.
The unconventional two-pointer:
Speaking of BC-Maryland, how about the wild extra-point sequence in the fourth quarter?
Alex Amidon
hauled in a 74-yard touchdown pass for BC with 5:02 left to take a 26-24 lead. But the extra point was blocked, and
Anthony Nixon
ran it back the other way to tie the game at 26. You don't see that every day.
The Heisman hopefuls:
In making your case for why you should win college football's highest individual honor, you can do a lot worse than what
Andre Williams
and
Aaron Donald
did on Saturday. Williams rushed for 263 yards, eclipsing the 200-yard mark for the third straight game. He also got to 2,073 yards on the season, becoming just the 16th player in college football history to reach the 2,000-yard plateau. His 36-yard run set up the game-winning field goal for Boston College. Donald, meanwhile, was named the Walter Camp defensive player of the week award, as the Pitt defensive tackle tallied nine tackles, 3.5 tackles for loss and a blocked extra-point attempt that provided the winning margin in a 17-16 win at Syracuse.
The three-headed attack:
Here's another box-score oddity you don't see every day: Florida State had three different players average better than 11 yards per carry.
Devonta Freeman
carried it 11 times for 129 yards and a touchdown (11.7 yards per carry),
Karlos Williams
ran it 10 times for 114 yards and two touchdowns (11.4 ypc) and
James Wilder Jr
. rushed four times for 85 yards and a score (21.3). The Seminoles had 336 rushing yards on the day, averaging 8.4 yards per attempt.
The Blue Devils:
Where do we start this time? Duke is in the BCS standings for the first time, at No. 24, after getting picked to finish last in the Coastal Division by the media in July. The Blue Devils have now clinched a tie of the division title after beating Wake Forest 28-21, and can win it outright by winning this Saturday at North Carolina. They have tied a school record with nine wins, something they have not done since 1941. And they have won seven straight games for the first time since 1994.
March, 1, 2013
3/01/13
9:00
AM ET
Maryland opens spring practice Saturday, with plenty of questions on both offense and defense. I had a chance to catch up with coach Randy Edsall earlier this week to preview the spring. Here is a little of what he had to say.
Going into the spring what's your No. 1 priority?
RE:
I want to get everybody to do their job, and to do their job to the best of their ability. Offensively, it's to make sure that we're going to take advantage of our playmakers and at least come out with eight offensive linemen we feel really good about and see how Ricardo (Young) can do handling all the snaps he's going to get. Then defensively, for us to come out as a swarming, tough physical defense in terms of trying to find out who our best 11 are and then work to create a top 22.
You mentioned Ricardo, obviously taking the majority reps with C.J. Brown still limited. How do you approach building the chemistry you need on offense and getting everything done to prepare for the fall knowing you don't have your starting quarterback?
[+] Enlarge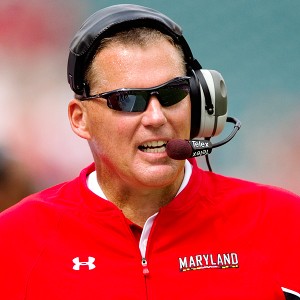 Howard Smith/US PRESSWIRERandy Edsall and Maryland begin spring practice on Saturday.
RE:
Hopefully from a 7-on-7 standpoint, C.J. gets some of that work. That will be great, but if not, just being on the field and having the presence and seeing things -- there's going to be plenty enough time between the summer and preseason practice in order to develop chemistry and consistency that we would want out of all those guys.
So the backup job is wide open for competition with Ricardo, and then Caleb Rowe and Perry Hills when they come back?
RE:
There's no question.
In terms of the running back situation, I know Justus Pickett transferred, and Wes Brown is out with an injury. Do you have concerns over depth?
RE:
Brandon Ross
is going to be the guy who's the No. 1 guy in the spring, and then
Albert Reid
, and
Joe Riddle
, and then we also have Kenny Goins. Kenny is a guy who can be a running back and/or a fullback. Wes had a shoulder done, then had ankle done from an old high school injury, so he'll be ready to go come the fall. We'll have four guys there, and then Kenny's a guy that can carry the ball, too.
What will you work on this spring to try and get the run game going?
RE:
That to me all starts up front with the offensive line and I really feel like going into the spring you've got
Mike Madaras
at left tackle, De'Onte Arnett at left guard, then you have Sal (Conaboy) and
Evan Mulrooney
at center,
Andy Zeller
at right guard, and
Nick Klemm
at right tackle. And Silvano Altamirano is a guard, and
Ryan Doyle
at tackle. My biggest thing is I want to find at least three tackles, three guards and we have two centers that have played. Now we have to get more consistent and do a better job up front. In terms of who we'll have at quarterback, who we'll have at running back, who we'll have at wide receiver gives us some weapons from a skill position. Now we have to do is make sure we're consistent up front, so that to me is the biggest thing offensively this spring is the offensive line and getting them to be more consistent with their assignments, more consistent with their technique and fundamentals and developing that cohesiveness with guys playing together and hopefully guys staying healthy.
You mentioned the skill position players you do have. At receiver, you've got this abundance of talent and depth. How do you see the competition playing out?
RE:
Deon Long and then
Amba Etta
behind him right now. Amba showed us a lot last year and we redshirted him. There we've got to have tremendous competition and guys with the ability to make plays. Then on the other side, you've got
Nigel King
, who came on at the end of the year last year, made some plays against North Carolina, and then another freshman
Malcolm Culmer
, whom we redshirted and then you have Stefon (Diggs) as a slot guy. It gives you a lot of opportunities to get the ball in peoples' hands who can make something happen after they catch it. Those are the things we have to do to make sure that we find guys who can make the plays on the ball and distribute that. We've got some weapons there. So if people want to load the box, you've got to make sure we can throw it and catch it, and if they want to worry about some of the receivers we have, then you've got to have the ability to run the football.
Is this the best group of talent and depth you've had at the skill positions?
RE:
Yeah I think so. That's where we have to get everybody to understand that yeah, they do have ability but they have to go out there and work hard each and every day. If they do that, we've got the ability to make a lot of things happen. We've got to get the people up front on the offensive line to be really tough, sound, good technicians and competing every play. If we do that, then because of the running backs and because of the receivers we have, that can make their job a little bit easier.
Defensively, you're losing a lot of your leaders. Where are you looking for the leadership on that group?
RE:
We played a lot of people on defense last year so it's not like we're going in with guys who haven't played a whole bunch. But now guys like
Dexter McDougle
,
Jeremiah Johnson
,
Cole Farrand
,
Darius Kilgo
,
Matt Robinson
, who we're going to make him an outside linebacker as opposed to a safety, and then
Keith Bowers
. Those are the guys that have to step up from a leadership standpoint. And then guys like
Quinton Jefferson
, who played last year as a true freshman. He has to be more productive for us this year and then
Anthony Nixon
is back, so it's just a matter of other guys stepping up in those roles. The thing is, we're going to be playing in the same scheme, so they'll be better from that standpoint. They'll be a year older more, a year more mature, a year stronger. But that's the thing: who are going to be those leaders?
What's the strongest part of the defense?
RE:
The one thing I take a look at in terms of up front, I really think Darius Kilgo has a chance to take his game to another level. Quinton Jefferson, him and
Justin Anderson
fighting it out at the one end and then Keith Bowers and,
Roman Braglio
-- a young man with a tremendous motor that we redshirted last year. We've got to get one of the safety spots shored up, between
Sean Davis
and
A.J. Hendy
and then I think at the corner, Will Likely and
Alvin Hill
, you may see them because they have a lot of skill set. They can find a way to get on the field, whether as a nickel or dime package. I think the strength of defense is the athletic ability and the ability to be able to run. That's something that's going to help us.