NCF Nation:

Anthony Smith
February, 6, 2013
2/06/13
6:49
PM ET
Penn State has signed larger and more decorated recruiting classes than the 2013 version, and brought in more big names. But the program has never faced NCAA sanctions, including scholarship reductions and postseason probation. Under the circumstances, the
17-member recruiting class PSU signed
Wednesday might be one of the most impressive in team history. Penn State brought in star power like quarterback
Christian Hackenberg
and tight end
Adam Breneman
, retained most of its top recruits and addressed several needs. Head coach Bill O'Brien and his assistants have received a lot of praise for their first recruiting class of the sanction era, and deservedly so.
ESPN.com caught up with O'Brien on Wednesday to discuss the class.
[+] Enlarge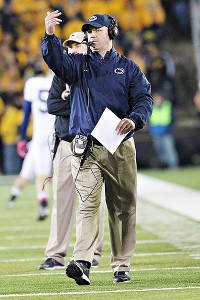 Reese Strickland/US PresswireCoach Bill O'Brien says Penn State filled immediate needs with its recruiting class.
How did you guys keep this class together with all the challenges you had?
Bill O'Brien:
I think it has a lot to do with two groups of people. Really the assistant coaches here, and then the prospects and their families that we signed. We started early on these guys, and we began to develop relationships with these guys right when I was hired here. And then we just began to keep grinding out those relationships. We never missed a phone call, we never missed an opportunity to talk to somebody that was influential in this young man's life. You have to give a lot of credit to our assistant coaches, and then give a lot of credit to these guys and their families who stuck with us.
Was there ever a point where you started to worry, or did you have faith all along that you'd keep the group together?
BO'B:
I was certainly concerned when the sanctions came out. That day in July, I was definitely concerned. What happened was a group of guys who were committed to us, about eight guys, they drove up here to State College and they met with us that weekend, maybe two days after the sanctions came out, and that was a very productive meeting. They reaffirmed their commitment to me and to our football program. So that was when I began to say, 'As long as we work at it and we stay with these guys and we stay committed and they stay committed, we'll be OK.' Right after that, it got a little bit better.
How did the season itself affect keeping guys on board or bringing in interest from other recruits?
BO'B:
Winning always helps. Any time you can go out and win eight out of your last 10 games -- we were on TV all the time, or these guys were actually at the game and they saw that atmosphere, that winning locker room and the atmosphere at Beaver Stadium -- that's a very positive thing for any football program.
What's the significance of Christian signing with you guys at the quarterback spot?
BO'B:
It's really important. At the end of the day, Christian comes from a great family and he's just a really good person who has got a lot of talent and is going to come in here and make us a better football program. It's important that all these other guys, not just Christian, stayed committed to us. That was such a big, big thing for us. We owe a lot to those guys and their families. We're proud that they stayed with us.
How does he fit what you want to do on offense?
BO'B:
He definitely fits what we're looking for. He's a tall guy who's athletic. He's an accurate passer, he's smart, he's competitive, he's made plays in big games, he's run 2-minute drills in high school to win games. So we feel really good about him. We felt good about him right from the start. He was the No. 1 guy we went after, and we were able to get him. It says a lot about him, and it says a lot about us. He fits our system to a T.