NCF Nation:

Antoine Hicks
August, 30, 2011
8/30/11
3:00
PM ET
TCU receiver
Josh Boyce
knows how badly Baylor wants to take down the Horned Frogs on Friday night.
He and Baylor quarterback
Robert Griffin III
played together in high school, and the two traded texts throughout the summer about the season opener for both teams. Baylor was embarrassed 45-10 last season, and Griffin was totally stymied in the game, going 16-of-28 for 164 yards while gaining just 21 on the ground.
"We know there will be a lot of motivation from them," Boyce said.
[+] Enlarge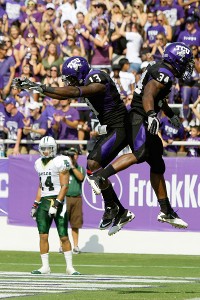 AP Photo/Tony GutierrezThe Horned Frogs trounced the Bears 45-10 in last season's meeting in Fort Worth.
TCU should be just as motivated. The No. 14 Horned Frogs are going into their final season in the Mountain West with their share of doubters, after losing Andy Dalton and several other key players to graduation. This is the first time since the 2006 season that TCU will play a game without Dalton, who guided TCU to 25 straight regular-season wins.
In fact, TCU has the second-longest winning streak in the nation at 13 games and the longest road winning streak in the nation at 11 going into the opener. But the Horned Frogs face a doozy of a challenge to open the season. Not only will they be facing what should be an improved Baylor team on the road, they then have to travel to Air Force, which always presents a challenge because of its unique ground attack.
"For us, like any team, the first game of the season is always the toughest -- especially when you go in with a new quarterback," coach Gary Patterson said Tuesday. "We have quite a challenge ahead of us in the first two weeks. We've been talking about it since January as a football team: What do we need to do to get where we need to get to? Now that time is getting a lot closer."
Casey Pachall
takes over for Dalton at quarterback. Though he missed a few days during fall camp with a sore shoulder, Pachall is ready to take over on offense. But he will not be expected to do everything. TCU has a talented backfield, with
Ed Wesley
,
Matthew Tucker
and
Waymon James
. There is talent at receiver, too, with Boyce,
Antoine Hicks
and
Skye Dawson
, and several true freshmen who could make an impact as well.
The biggest question is on the offensive line, where there are four new starters. When asked how that group has come together, Patterson said, "We'll see. Like anything else, you find out at your first ball game. We've lost four tackles to NFL camps in the last two years and we have younger guys there. That question will be answered against a really good front in Baylor."
Indeed, Patterson praised the hire of new Baylor defensive coordinator Phil Bennett and expects to see a much different group than the one from last season. Still, TCU has owned this series of late. TCU has won the last three meetings against Baylor, the longest string since a run of eight straight victories from 1964-71.
Once again, the TCU defense should be good even with several new starters. All-American Tank Carder returns at linebacker, and he was among the players who helped contain Griffin last season.
"I'm pretty confident they're going to come out with a chip on their shoulder," Carder said. "They're going to be ready to go."
So will TCU.
August, 4, 2011
8/04/11
1:14
PM ET
By now, we have come to expect to see Boise State and TCU in the Top 25 every season. So when the preseason
USA Today coaches Top 25
was released Thursday, the top non-AQ teams were right there in the top 15.
The Broncos will start the season ranked No. 7, while TCU is ranked No. 15. Boise State returns Heisman Trophy finalist
Kellen Moore
, along with
Doug Martin
, Nate Potter, Billy Winn, Shea McClellin and George Iloka, and expectations are high once again to return to a BCS game.
TCU, meanwhile, loses Andy Dalton off its Rose Bowl-winning team, which is why the Horned Frogs are outside the top 10.
Both teams open up their fall camps Thursday, so let us take a look at a few of the burning questions that they face.
Boise State

1. Developing depth.
No question the Broncos have some big-time senior players in Moore, Martin, McClellin and Iloka. In fact, 15 projected starters are seniors. That means Boise State has to develop its young players, something coach Chris Petersen emphasized at Mountain West media day in July. "We have some players that have played a lot of football that are very good players, and then we've got a big gap to some young guys that haven't played and need the experience and need the knowledge," Petersen said. "On our team right now, I think it's fairly wide. Our job as coaches is to narrow that gap."
2. Developing receivers.
Petersen and Moore both emphasized they are not worried about their receiving group. Rather than relying heavily on two players the way they did the past few seasons with Titus Young and Austin Pettis, you will see more players involved. That means
Tyler Shoemaker
,
Chris Potter
,
Kirby Moore
,
Mitch Burroughs
,
Aaron Burks
and
Geraldo Boldewijn
(formerly Hiwat) will have expanded roles. True freshman
Troy Ware
had a nice spring and could contribute as well.
3. The kicker is ...
Kyle Brotzman is gone, leaving a bit of inexperience at the kicker position. The Broncos have scholarship true freshman Jake Van Ginkel, who will practice for the first time this fall, along with walk-ons Dan Goodale and Michael Frisina.
TCU

1. Casey Pachall era begins.
Much has been written about how Pachall will do in replacing Dalton. Pachall has heard all of it. "I am ready,"
Pachall said
at a news conference earlier this week. "I am ready to be the guy that everybody looks to when things are good or bad. [The comparison to Dalton] doesn't bother me. It just gives me incentive and a little bit more motivation to be more of a leader and get more in that role."
2. Developing receivers.
Leading receiver
Josh Boyce
returns, but Jeremy Kerley,
Jimmy Young
and
Bart Johnson
are gone. There is talent in Fort Worth, but much of it is unproven. It is tie for players like
Antoine Hicks
and
Skye Dawson
to step up and help Pachall get the job done. Boyce is confident in his teammates. "We've worked really hard this summer with Casey, to get our chemistry going," Boyce said. "We will be just fine."
3. Can TCU be No. 1 in total defense again?
The stat is incredibly impressive -- TCU has led the nation in total defense for three straight seasons. Can TCU make it four in a row? Gary Patterson believes this unit can be even better than last season, even without defensive leader Tejay Johnson. Linebacker tandem Tanner Brock and Tank Carder return, and they should be the heart of the defense. Even with the potential, Patterson has no idea what type of identity this unit will take on. Each season, that changes. He will have a better idea once the season begins.
April, 13, 2011
4/13/11
1:30
PM ET
No question TCU is going to be a new-look team in 2011. But coach Gary Patterson realizes he does not have time to wait and see how his team develops.
Hence the motto for 2011: Do it now.
"We don't have time to say this year we're going to have young guys, we have to develop a new quarterback," Patterson said in a phone interview. "Now is our challenge to grow up and be a preseason top 25 team."
TCU is in a vastly different position today than it was a year ago at this time. Expectations were high for the Horned Frogs going into 2010, and even included talk about potentially becoming the first non-AQ team to play for a national championship.
That did not happen, but they did beat Wisconsin in the Rose Bowl and their 26 seniors left with a career 36-3 record. With players like
Andy Dalton
, Tejay Johnson and Jake Kirkpatrick gone, many expect this to be a rebuilding year -- many outside Fort Worth.
[+] Enlarge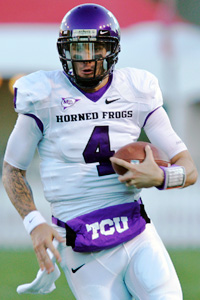 AP Photo/Jake SchoellkopfCasey Pachall replaces Andy Dalton under center for the Horned Frogs.
Whether this year is as good as the last few could hinge on what happens with the offense. The trademark defense is expected to be just as good, even without Johnson manning the defensive backfield. Linebackers Tank Carder and Tanner Brock return, and the defensive line could be even better.
The three biggest questions right now:
How will Casey Pachall do replacing Andy Dalton at quarterback?

Who will step up in the receiving corps?

How will TCU play on the offensive line?
Pachall had a good spring, but Patterson is holding off on any judgments until the season opener at Baylor on Sept. 3. "The only way you can judge a quarterback is by the way he plays in the fall," Patterson said.
The redshirt sophomore has several advantages over Dalton, who also made his first career start against Baylor back in 2007 (that game was at home, a key difference). For one, Pachall has had three spring practices to learn. Dalton did not. Pachall also has a better arm and better running ability. Depth at running back also is huge, with
Ed Wesley
,
Matthew Tucker
and
Waymon James
all returning.
But there are several other factors that will determine whether Pachall can be successful immediately. The offensive line loses four of five starters, including center Jake Kirkpatrick and tackle Marcus Cannon, expected to be high NFL draft picks. Both tackles are gone, and that is one of the biggest question marks headed into the fall. Senior Jeff Olson is slated to start at one spot, but plenty of other candidates are aiming for the other spot.
Three of the team's top four leading receivers are also gone, though leading wideout
Josh Boyce
returns. Antonie Hicks and
Skye Dawson
had good springs, but watch for true freshman receivers Brandon Carter and LaDarius Brown to see playing time immediately.
If all the pieces of the offense come together, this could be another great year. But everyone will be watching to see whether Pachall has what it takes to be a leader. When I asked Patterson whether quarterbacks are born with those intangibles or if they are something they learn through game experience, he went back to his quarterback in 2005 and 2006.
"Jeff Ballard was 19-2 and I fired him every Tuesday," Patterson said. "He was a terrible practice quarterback. Casey knows it's about wins and losses -- it's not about yardage, it's not about touchdowns. He has to do whatever he can to manage the game. We'll see how it works."