NCF Nation:

Antonio Langham
November, 18, 2013
11/18/13
1:50
PM ET
They will be talking about Nick Marshall's miraculous 73-yard touchdown pass to
Ricardo Louis
on the Plains for a long time.
As Hail Marys go, that one has to be right there at the top. But where does that play rank among some of the more thrilling and/or memorable ones in SEC history?
[+] Enlarge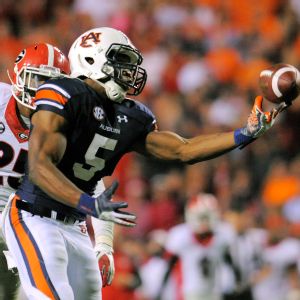 Shanna LockwoodRicardo Louis' catch will live in SEC lore.
Here's a look at a few more that will live eternally, and we've listed them chronologically.
Obviously, there are countless others. Let us know what we've missed.
Oct. 31, 1959: Billy Cannon's tackle-breaking 89-yard punt return on Halloween night stands as one of the most famous plays in college football history. It was the only touchdown scored that game, lifting No. 1 LSU to a 7-3 win over No. 3 Ole Miss in Baton Rouge.

Dec. 2, 1967: Alabama quarterback Ken Stabler's 47-yard touchdown to beat Auburn 7-3 is known simply as "The Run in the Mud." The game was played in a driving rainstorm, and Stabler saved the Tide that day with his scamper around right end in what was a quagmire of a field.

Dec. 7, 1972: Known as the "Punt, Bama, Punt" game, Auburn's Bill Newton blocked two Alabama punts in the fourth quarter, both returned for touchdowns by David Langner to lead the Tigers to a 17-16 win over the previously unbeaten and heavily favored Crimson Tide. Langner's game-winning score came in the final minute and a half.

Jan. 1, 1979: Who can forget Barry Krauss' fourth-down, midair stop of Penn State's Mike Guman just inches short of the goal line in the Sugar Bowl? It's one of the most memorable defensive plays in Alabama's storied history and preserved a 14-7 win over the Nittany Lions, leading to the first of two straight national titles for the Tide.

Sept. 6, 1980: It was the day Herschel Walker was introduced to the college football world. He ran over Bill Bates at the goal line on the first of two touchdown runs in his freshman debut, rallying Georgia to a 16-15 win over Tennessee in Knoxville and setting the stage for the Bulldogs' national championship run.

Nov. 1, 1980: Mississippi State snapped Alabama's 28-game winning streak with a 6-3 win over the Tide in Jackson, Miss. With the Tide threatening in the final seconds on first-and-goal from the 4, the Bulldogs got a huge defensive play to secure one of the more memorable upsets in SEC history. Tyrone Keys darted through and forced Alabama quarterback Don Jacobs to fumble on an option play, and Billy Jackson was there to recover for Mississippi State. Afterward, Bear Bryant came into the Mississippi State locker room to congratulate the Bulldogs.

Nov. 8, 1980: This one also has its own name, "Run, Lindsay, Run." Lindsay Scott's 93-yard touchdown catch and run on third-and-8 from Georgia's own 7 allowed the Bulldogs to pull out a 26-21 win over Florida in the final seconds in Jacksonville and keep alive their national championship season.

Oct. 8, 1988: There aren't many touchdowns that lead to earthquakes, but Tommy Hodson's game-winning 11-yard touchdown pass to Eddie Fuller on fourth down in LSU's 7-6 victory over Auburn registered vibrations on a seismograph in the LSU geology department.

Dec. 5, 1992: Antonio Langham returned an interception 27 yards for a touchdown with 3:15 to play in the inaugural SEC championship game, leading Alabama to a 28-21 win over Florida and setting the stage for the Tide's national championship victory over Miami in the Sugar Bowl.

Nov. 14, 1998: Clint Stoerner's stumble and fumble after it appeared all Arkansas had to do was run out the clock in the final 1:43 gave Tennessee new life, and the Vols zipped in for the game-winning touchdown to stay unbeaten and keep alive their 1998 national championship season in miraculous fashion.

Nov. 9, 2002: Yep, another one with a nickname, "The Bluegrass Miracle." Marcus Randall threw a desperation 75-yard touchdown pass that was batted around and caught by Devery Henderson as time expired, lifting LSU to a 33-30 win over Kentucky in Lexington.

Nov. 16, 2002: David Greene threw a 19-yard touchdown pass to a leaping Michael Johnson on fourth-and-15 with 1:25 to play, giving Georgia a 24-21 win over Auburn on the Plains and paving the way for the Bulldogs' first SEC championship in 22 years.
December, 4, 2009
12/04/09
1:15
PM ET
And we thought last season's SEC championship game was the biggest thing we'd see in this conference in a long time.
Well, we had to wait all of a year for a game that's even bigger.
[+] Enlarge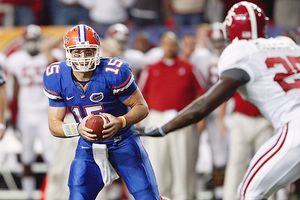 Kevin C. Cox/Getty ImagesAlabama didn't have an answer for Tim Tebow in the fourth quarter of the 2008 SEC title game.
In my book, it's not even close. Saturday's game will be the biggest game the SEC has seen, certainly since the split and league expansion in 1992.
If you want to go back further, I'd say Bear Bryant's last game in the 1982 Liberty Bowl would rate way up there, just seeing an icon coaching in his final game.
Here are some others that come to mind. Again, these are SEC games going in that you knew would be epic in some form or fashion, and/or games that ended up being memorable:
1. 2008 SEC championship game:
Boy, the game for the ages didn't disappoint. Both teams played excellent football for three quarters, and then
Tim Tebow
took over in the fourth to will the Gators to a 31-20 win, propelling them to their second national championship in the last three years. Alabama only had the football for six offensive plays in the final quarter.
2. 1992 SEC championship game:
The inaugural SEC championship game was a classic, and it was only fitting that Alabama and Florida would be the participants. The game was played at Legion Field. Alabama's Antonio Langham returned an interception 27 yards for the game-winning touchdown in the final minutes, keeping the Crimson Tide unbeaten in a thrilling 28-21 win. They went on to destroy Miami in the Sugar Bowl and win the national title.
3. 1994 SEC championship game:
The two heavyweights met for the third straight year in the title game, and Florida held on for a 24-23 win. Danny Wuerffel engineered an 80-yard touchdown drive to win it for the Gators, who intercepted an Alabama pass on the final drive to seal their second straight SEC title. It was the first SEC championship game played in the Georgia Dome. Alabama came into the game unbeaten and ranked third nationally.
4. 1998 Tennessee 28, Arkansas 24:
The Hogs were on the doorstep of going to 9-0 in Houston Nutt's first season in Fayetteville, but Arkansas quarterback Clint Storner stumbled and fumbled in the final minutes, paving the way for the Vols to miraculously escape and go on to win their first national title in 47 years.
5. 2006 Florida 17, South Carolina 16:
Steve Spurrier made his first trip back to the Swamp as an opposing coach and had the Gators beat. But Jarvis Moss blocked a field goal on the final play of the game, and Florida survived after losing to Spurrier and the Gamecocks the year before in Columbia. The Gators went on to win their first national championship under Urban Meyer.
6. 2001 Tennessee 34, Florida 32:
The game was moved to December because of the 9/11 terrorist attacks. Florida was No. 2 and Tennessee No. 5. The Vols, who were 18-point underdogs, got 226 rushing yards from Travis Stephens and had to survive a two-point conversion pass attempt by Rex Grossman in the final minute to hold on.
7. 2001 SEC championship game:
Nick Saban won his first SEC title, as LSU overcame injuries to its starting quarterback and starting running back to upset No. 2 Tennessee 31-20. The Vols were poised to play in the Rose Bowl for the national championship had they won.
8. 1994 Auburn 23, Georgia 23:
Auburn was ranked No. 3 nationally and had won 20 straight games, but an unranked Georgia team in Ray Goff's next to last year came into Jordan-Hare Stadium and played the Tigers to a stunning tie.
9. 1997 Florida 33, Tennessee 20:
Peyton Manning got one final shot at the Gators, but the result was a familiar one for Tennessee fans. The No. 2 Gators pulled away from the No. 4 Vols in the Swamp thanks in large part to Tony George's interception of a Manning pass and 89-yard return for a touchdown.
10. 2003 Arkansas 71, Kentucky 63:
The longest game in NCAA history. The Hogs prevailed in the seventh overtime when DeCori Birmingham scored on a 25-yard touchdown run. They then stopped the Wildcats on fourth down. The game lasted nearly five hours.