April, 16, 2013
Apr 16
1:00
PM ET
Four of the five Pac-12 teams that entered spring with wide-open quarterback competitions are now finished with practices and are headed into the offseason.
So ... what did we learn? A little but not a lot. We didn't expect much resolution and we didn't get it. So, hey, we lived up to expectations.
Arizona, California, Colorado, Oregon State and USC entered the spring with wide-open battles. Of them, only Oregon State is still practicing, and coach Mike Riley has said he won't decide between
Cody Vaz
and
Sean Mannion
until the fall.
Which is sort of the message with the other four, too.
Still, here's our best tea leave reading.

Arizona
When I was in Tucson at the beginning of spring practices, coach Rich Rodriguez and offensive coordinator Rod Smith kept saying they just wanted to find a QB with whom they could win.
At the time, I kept thinking, "Well, duh." But I get it now. The translation:
Matt Scott
isn't walking back down the stadium tunnel. It's difficult to imagine 2013 production at the position will approximate what the Wildcats had in 2012.
The general takeaway from spring practices? The Wildcats probably can be at least adequate on offense and win a few games and be competitive throughout the season with
B.J. Denker
at quarterback.
The second takeaway? The guys who weren't able to participate this spring -- USC transfer Jesse Scroggins and incoming freshman Anu Solomon -- are Denker's true competition.
So ... this is still wide open and it's wide open in a predictable way.
Denker has the most experience in the offense. Scroggins has a significantly better arm. Solomon is seen as the future. The question with him is readiness and whether he will benefit more from a redshirt season (Pac-12 blog guesses "yes") than playing immediately, even if in only limited packages.

California
California's QB competition also remains officially unresolved, but the scuttlebutt seems to strongly favor redshirt freshman
Zach Kline
.
Further, there was some movement. For one, senior
Allan Bridgford
, quite reasonably, recognized he was the odd man out and opted to transfer. Second, it became a three-man race between Kline, junior
Austin Hinder
and surprising true freshman Jared Goff.
The post-spring depth chart was sort of interesting, though it's likely the Pac-12 blog is reading more into stuff than it should. While all three were separated by the time-honored "OR," Goff was first, Kline second and Hinder third.
Typically, "ORs" go in alphabetical order. You don't need a Berkeley degree to know that's not what happened there. Perhaps this is a case of youngest to oldest?
A further wrinkle: Hinder is the best runner of the troika by a wide margin. It wouldn't be surprising if he's given some specific, situational packages to run next fall.

Colorado
Colorado started with six candidates -- though not with equal standing -- and the top two after spring practices might surprise some, particularly those hoping for new blood: juniors
Connor Wood
and
Nick Hirschman
.
Before spring practices began, more than a few folks believed redshirt freshman
Shane Dillon
was the favorite. But he often looked raw while Wood and Hirschman seemed far more comfortable with the new offense under Mike MacIntyre, something that likely is due to their having significantly more experience.
Of course, there's no reason Dillon can't find his stroke this summer and jump back into the competition. The most obvious precedent of a guy overcoming a poor spring to win the starting job is Arizona State's
Taylor Kelly
, who was well behind
Mike Bercovici
and
Michael Eubank
a year ago.
Further, just like Arizona, Colorado has its own touted incoming true freshman: Sefo Liufau.
Youth is an advantage in some ways. The Buffaloes aren't going to win the Pac-12 in 2013. There's something to be said for, if the race is close, going with Dillon or Liufau and accepting immediate growing pains with an eye toward 2014 and beyond.
+

+
USC
USC's
QB situation is interesting
, in large part because one guy clearly outplayed the competition this spring: Sophomore
Cody Kessler
.
But
Max Wittek
is undeniably a more talented passer; he might have the strongest arm in the Pac-12. He also is a strapping 6-foot-4, 235 pounds, while Kessler is a scrappy 6-foot-1 215.
USC isn't known for scrappy. Some might call that, on occasion, a shortcoming.
So there is a bit of controversy here as coach Lane Kiffin didn't seem inclined to say after the spring game -- Kessler passed for 242 yards and three touchdowns with no interceptions compared to Wittek's 145 yards, two touchdowns and two interceptions -- that Kessler was ahead.
Of course, this could just be a minor, media-driven quibble. For one, Kiffin might release a depth chart in a few days and put Kessler ahead. So there you go, media!
Or Kiffin, unlike his mentor and predecessor Pete Carroll, might want to keep the competition going as long as possible. He might want to see who asserts himself as the screws tighten. Nothing invalid about that. Will we media sorts similarly harrumph if Riley does the same even if Vaz/Mannion decisively outplays Mannion/Vaz?
(Carroll liked to "anoint" -- his frequently used term -- a QB as early as possible so he could take over requisite leadership for the position).
The problem Kiffin has is some see him sometimes prioritizing talent over performance (see, OT
Aundrey Walker
), which diminishes the perception of true competition. Carroll seemed to fall into that during his later years at USC before bolting for the Seahawks.
Anyone remember the old USC glory days of "Competition Tuesdays?"
Wittek might end up
earning
the starting nod. But it will not benefit him if there's a sense in the locker room that he didn't truly win the job. If Kiffin hands him the keys to the offense -- not saying he will, only "if" -- then it will be a disservice to Wittek as much as his teammates.
March, 14, 2013
Mar 14
1:00
PM ET
If someone had asked me before spring practices began who California's starting quarterback would be in 2013, I would have quickly said with my all-knowing look: "
Zach Kline
."
If that someone had gently protested with a "But what about..." I would have interrupted with another all-knowing look, "No. It will be Zach Kline."
Unfortunately, that would have been the same all-knowing look I gave while asserting USC's national championship prospects before the 2012 season. It might be wise for me to mothball that all-knowing look, and I just want to add that my wife and children owe Lane Kiffin and the 2012 Trojans an eternal debt of gratitude.
[+] Enlarge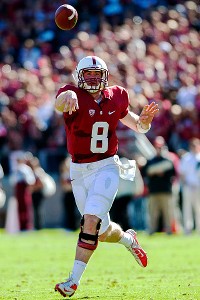 Ed Szczepanski/US PresswireThe success of young QB's like Stanford's Kevin Hogan is no longer a rarity in college football.
Kline might well end up the Bears' starting quarterback, but that's not what this is about. It's about Cal's quarterback battle looking like it's going to be
a showdown between
Kline, a redshirt freshman, and true freshman
Jared Goff
, who opted to graduate early from high school, skip all the riotous things high school seniors do during their final spring frolic and begin the serious business of Pac-12 football.
A redshirt freshman is the "veteran." A true freshman is the challenger.
There are two notable things about the Conference of Quarterbacks this spring: 1. There's an impressive crew of talented and already accomplished ones returning; 2. Youth now rules a position where that very quality was nearly a disqualifying negative not too long ago.
California is not the only school that might tap a true freshman. Arizona has Anu Solomon coming in this fall, and the look on both coach Rich Rodriguez's and co-offensive coordinator Rod Smith's faces when talking about him suggest his candidacy is legitimate.
"If the kid is good enough and he can handle it," Smith said." Some kids transition better than others. Anu is a kid who was a four-year starter in high school. That doesn't mean anything for college, but at least he's been in the mode when he's the new kid on the block competing with older kids and he performed well. He was 56-4 as a starter. The kid is a winner. He knows how to move the football and win."
That is not too far from the case Pete Carroll made in 2008 when he opted to go with true freshman
Matt Barkley
, only Carroll went all Pete Carroll-y and made Barkley into
some metaphysical quarterbacking beast
, citing Malcolm Gladwell and labeling Barkley an "outlier."
Still, that was a precursor to the new reality.
A redshirt freshman, Texas A&M's
Johnny "Football" Manziel
, won the Heisman Trophy, and a redshirt freshman, Oregon's
Marcus Mariota
, was first-team All-Pac-12, over seniors Barkley and Arizona's
Matt Scott
. Stanford's season transformed when it handed its offense to redshirt freshman
Kevin Hogan
. Utah started a true freshman,
Travis Wilson
, a few games into the season. Redshirt freshman
Brett Hundley
led a UCLA resurgence.
Further, USC again has a early arriving true freshman who is a legitimate candidate to win the starting job in Max Browe. More than a few folks believe the front-runner to win the job at Colorado is redshirt freshman
Shane Dillon
.
We might not be at the end of 2013's youth movement. While Washington and Washington State both welcome back veteran quarterbacks in
Keith Price
and
Connor Halliday
, there is a sense they both could be threatened by, yes, true and redshirt freshmen challengers.
The only Pac-12 teams certain to start upperclassmen at quarterback: Arizona State with junior
Taylor Kelly
, and Oregon State with junior
Sean Mannion
or senior
Cody Vaz
.
This youth movement doesn't include a sacrifice of quality and high-prospects. It's not primarily about a failure of the older guys. Does any conference offer a better array of returning quarterbacks than Mariota, Kelly, Hundley and Hogan? The answer is no.
There are many explanations for this youth movement. First of all, quarterbacks are better prepared in high school. They get private coaching, go to summer camps, play 7-on-7 in the offseason, etc. In high school, they don't just show up in August for two-a-days and draw plays in the dirt anymore.
Further, a player's recognition of and respect for the natural pecking order has been reduced, as has patience. If a touted guy loses out in a quarterback competition, he seems more likely to transfer now in search of playing time. A couple of coaches also have told me it's more difficult to recruit the position when a team has an entrenched, underclass starter. That then means the junior and sophomore quarterbacks on the roster might not be as good as the younger players who sign only when the starter is a junior or senior.
Or the job will be vacant, as is the case with Browne at USC.
Yet just because a guy starts as a freshman doesn't mean the death of the upperclassman quarterback. In fact, it should in most cases increase its likelihood of occurring.
The logic is simple: If a guy is good enough to start as a freshman and plays well, then you can project forward two or three years of improvement and future success. The most important position on the field is locked down and secure and worry-free. A good thing.
It doesn't always work out like that -- see Price at Washington this past season. Or the Barkley of 2011 versus the lesser version in 2012.
That noted, it's not unreasonable to hold high hopes. Know that just about every Oregon fan has projected improvement for Mariota over the next two years, though he could enter the NFL draft as a third-year player after this season. Even moderate improvement sets him up as an All-American and Heisman Trophy candidate. Same could be said for Hogan, Hundley and Kelly, by the way.
The youth movement at quarterback is a substantial shift in thinking. An experienced, veteran quarterback used to be the first preseason measure of a team. Now all a team needs to be highly esteemed is a returning starter, even if that's just a sophomore.
It's getting to the point, in fact, that youth at quarterback will be weighted less as a potential problem by prognosticators.
At least, it's possible that the next time someone frets a lack of experience at quarterback being a problem, I'll resurrect my all-knowing look and say, "No, it's not!"
March, 7, 2013
Mar 7
4:00
PM ET
TUCSON, Ariz. -- The old Canon camera commercial announced that "Image is everything!" If that's so, everything presently is wrong for Arizona running back
Ka'Deem Carey
, whose horrible offseason has obscured an All-American 2012 campaign that included him leading the nation in rushing.
Since closing out the season with 172 yards and three TDs in the comeback win over Nevada in the New Mexico Bowl, Carey has been in the news for three separate and unflattering incidents.
First, a domestic dispute with his pregnant ex-girlfriend led to misdemeanor assault and disorderly conduct charges. Second, he was ticketed for driving with expired registration and no proof of insurance. Third, he was thrown out of an Arizona basketball game against UCLA after a verbal altercation with arena security and then police.
[+] Enlarge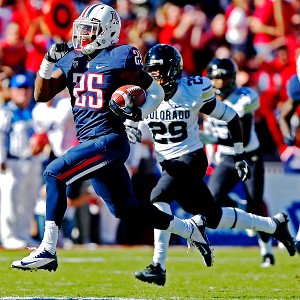 Rick Scuteri/US PresswireKa'Deem Carey rushed for 1,929 yards and 23 TDs last season, but has run into trouble this offseason.
That incident allegedly escalated after Carey, according the police report obtained by
the Daily Wildcat
, the student paper, told arena officials to "get the (bleep!) out of my face," then added, "Do you know who I am? I'm an All-American."
Ugh.
Instead of talking about how cool it is to be a potential Heisman Trophy candidate, Carey is taking a break from interviews this spring. The hope among Wildcats coaches and players is that Carey can rehabilitate his image this fall.
"It doesn't portray who he is, but that's Ka'Deem's fault," coach Rich Rodriguez said. "That's what I told Ka'Deem. He's got to work now to show people who he really is. He's a good teammate, he's a great worker, he's fun to coach because he plays hard. But he had a couple of incidents that made him look different than he really is. He's not a guy who walks around with a sense of entitlement, but his actions kind of portrayed that."
Rodriguez said Carey can work his way into good standing by the beginning of the 2013 season -- he's participating in spring practices -- but he added that his initial reaction wasn't terribly pleasant. He said, "I got a size 13, so it fits up in there pretty good."
Co-offensive coordinator Rod Smith wants people to know that Carey is not a "bad egg."
"Ka'Deem needs to understand the microscope he's under now," he said. "He needs to understand the responsibility that comes with that. He's got to mature a little bit, which I think he has through some of this. We're going to look to him for some leadership, so he needs to make sure he's right -- on and off the field."
Some other notes and observations from Arizona spring practices:
The quarterback competition won't truly begin until the fall, when USC transfer Jesse Scroggins is 100 percent -- he's out with a foot injury but could see some limited action late in the spring session -- and touted incoming freshman Anu Solomon arrives. Suffice it to say, that none of the three QBs who are full-go right now look anything like the departed Matt Scott.

It sounds like the Wildcats coaches are as high on Solomon as fans are. Smith pointed out he's started a true freshman before -- Tre Roberson at Indiana in 2011 -- but never in the season-opener. Still, he's not willing to rule out the possibility: "If the kid is good enough and he can handle it. Some kids transition better than others. Anu is a kid who was a four-year starter in high school. That doesn't mean anything for college, but at least he's been in the mode when he's the new kid on the block competing with older kids and he performed well. He was 56-4 as a starter. The kid is a winner. He knows how to move the football and win."

While some Pac-12 blog readers have taken issue with our ranking of Scott No. 4 among conference players in 2012, Rodriguez is not one of them: "He had not a good year, he had a dominant year. We rode him as hard as we could. He was phenomenal. He's an NFL player. Best thrower I've coached or coached against. And I've seen some good throwers."

Smith said sophomore running back Jared Baker, the Wildcats' fastest player, is the frontrunner to be Carey's top backup.

Rodriguez on the 2012 defense: "We had to be the smallest division I team in the country. It was scary. I quit watching the other team in warm-ups because I was losing confidence."

It's too early in spring to talk too much about defensive improvement. It's also clear the coaches expect a good handful of incoming players to see action next fall. Still, the fact that practically the entire 2012 two-deep is back is a positive. Said coordinator Jeff Casteel: "Their practice tempo and understanding of things that are asked of them are a lot better right now, and our evaluation process is a lot easier right now because we've been around them for a year."

Three starters are back on the offensive line, but Rodriguez is still a bit grumpy about the position. He said, "Physically, we're still not close to where we need to be. We're not strong enough and not explosive enough. Even though the numbers were productive [last year], we weren't overwhelming. And we're still not going to be overwhelming. We simply not big and strong enough."
February, 22, 2013
Feb 22
1:00
PM ET
The
Pac-12 likes quarterback talk
. After all, it's the conference of quarterbacks.
Arizona State, Oregon, Stanford and UCLA each have A-list signal-callers returning in 2013, but there's at least some degree of quarterback intrigue at the other eight schools. Arizona, California, Colorado and USC have wide-open competitions with no clear front-runner, while Oregon State, Utah, Washington and Washington State have varying degrees of uncertainty behind center.
So which situation is most interesting?
Kevin Gemmell
: What makes the Oregon State quarterback competition so interesting is the fact that you have two players who are already proven.
Sean Mannion
could probably start for most pro-style teams in the country. And so could
Cody Vaz
.
[+] Enlarge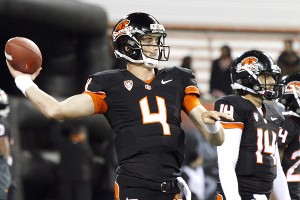 AP Photo/Don RyanThe Beavers are not in a rush to pick a starter between Sean Mannion (4) and Cody Vaz (14).
There is no single element in football more important than quarterback play. You could have the greatest defense in the world. But if the offense can't score points, it's a wasted effort. You could have an outstanding wide receiver -- but if no one can get him the ball, what's the point? A great running back is nice, but when teams load the box, you have to be able to pass.
No team enjoyed the spoils -- or spoilers -- of quarterback play more last season than the
Oregon State Beavers
, which seemed to have a love/hate relationship with its signal-callers all year long. Had it not been for outstanding quarterback play, there's a good chance Oregon State doesn't beat UCLA or Arizona (courtesy of Mannion). And had it not been for outstanding quarterback play, there's a good chance Oregon State doesn't beat BYU (courtesy of Vaz). Then again, if it hadn't been for shaky quarterback play, maybe the Beavers beat Washington (courtesy of Mannion) or Stanford (courtesy of Vaz).
At times, both quarterbacks were life preservers for their teams -- bailing them out in tough situations. Other times, they did the Santa thing, handing out free footballs. Both quarterbacks have outstanding potential and could certainly make waves for all-conference honors -- if they can square up their consistency. And if Mike Riley can decide on one.
It's a great problem to have. I promise you that Sonny Dykes, Mike MacIntyre, Rich Rodriguez and Lane Kiffin -- four coaches breaking in new quarterbacks this spring -- would love to have two quarterbacks with multiple starts competing for the gig. And not just starts -- but quality starts in big games at home, on the road, against ranked teams. Both guys know what it's like to win -- and lose -- a big game.
It's unlikely we're going to get an answer about the starter this spring. In fact, I wouldn't be shocked if it's not until a week and a half before the Beavers kick off the season at home against Eastern Washington (we're not expecting any Week 1 hurricanes in Corvallis), before Riley picks his guy. And with a rejuvenated running game and a rising star in
Brandin Cooks
catching balls -- whoever wins the job will have a nice well of experience from which to draw from. And whoever carries the clipboard will be the most experienced backup quarterback in the league. That's what makes this competition so intriguing.
Ted Miller
: This is a hard one for me. I think there are a lot of interesting quarterback situations in the Pac-12 this spring.
When USC has a quarterback competition, it's always national news. Just because it's USC.
I'm curious about how quickly new Colorado coach Mike MacIntyre can teach his quarterbacks the pistol offense -- and then pick one to lead his team. It seems as though new California coach Sonny Dykes and former elite recruit
Zach Kline
are a perfect match, but Berkeley has done funny things to promising quarterbacks the past few years. And do Utah (
Travis Wilson
), Washington (
Keith Price
) and Washington State (
Connor Halliday
) have decided front-runners to lead their offenses next fall? Probably, but you'd think at least one might surprise us.
Yet no team's trajectory seems so tied to what it can do at quarterback in 2013 as Arizona.
The Wildcats have 11 starters back on defense. Yes, it was a rotten defense in 2012, but that returning experience -- really the entire two-deep -- strongly suggests it should improve next fall. They also have six starters back on offense, including All-America running back
Ka'Deem Carey
, second-team All-Pac-12 receiver
Austin Hill
and three starters on the offensive line, including both tackles protecting the new quarterback.
Yet Rich Rodriguez's spread system demands a lot of a quarterback. Further, the next Wildcats quarterback will have huge shoes to fill, as you guys well know the Pac-12 blog
thinks very highly
of the departed
Matt Scott
, who was second-team All-Pac-12 and ranked sixth in the nation in total yards.
The question is whether
B.J. Denker
, Jesse Scroggins,
Javelle Allen
or incoming freshman Anu Solomon, who doesn't report until the fall, can approach the numbers and leadership Scott offered last year.
The Pac-12 blog, alas, is skeptical, and is therefore worried many, many Arizona fans will come to his Scottsdale home in December -- hat in hands -- and say, "You were right. Matt Scott was really that good. Sorry we participated in the bludgeoning of you in the comments section. Here's a chilled bottle of Grey Goose. And some fresh belon oysters. And $10,000."
Denker played pretty well in relief of an injured Scott against Colorado, but, well, that was Colorado, and Carey
was going nuts
against the hapless Buffs. Scroggins was good enough to be a USC backup, but he washed out academically and fell out of favor before going to a junior college. Allen is a redshirt freshman. Solomon a true freshman.
In other words, the position is a complete mystery. The Pac-12 blog loves mysteries. Fans, not so much.
If the Wildcats can get solid quarterback play in 2013, they will be a factor in the South Division. But if the position is shaky, they could stumble below .500.
The question is whether Arizona's quarterback mystery is like something
Hercule Poirot
will tie a nice bow around, producing satisfying clarity at the end, or if it will end up looking like something from
Dennis Lehane
-- dark, messy and fraught with human fallibility.
February, 7, 2013
Feb 7
9:00
AM ET
We're reviewing hits and misses in Pac-12 recruiting, starting with the South Divison.
ARIZONA

Needs filled
: The Wildcats have two incoming quarterbacks -- USC transfer
Jesse Scroggins
, who's already in school, and
Anu Solomon
-- who will be in competition to replace the departing
Matt Scott
. The class includes five linebackers, a need position. Don't be surprised if running back
Pierre Cormier
gets touches behind
Ka'Deem Carey
. It seems that coach Rich Rodriguez stocked up on athletes -- receivers and defensive backs.
Holes remaining
: The Wildcats' biggest weakness in 2012 was the defensive line -- they ranked last in the Pac-12 in sacks and gave up more than 200 yards rushing per game -- and this class of 23 includes just two defensive linemen. Who's going to rush the passer in 2013?
ARIZONA STATE

Needs filled
: The Sun Devils needed receivers and defensive backs. They signed five receivers and and five defensive backs -- and one athlete, who could play either. Defensive tackle
Marcus Hardison
, the nation's No. 5 junior college player, should help bolster a poor run defense.
Holes remaining
: The Sun Devils lost QB
Joshua Dobbs
to Tennessee on signing day, which means they haven't signed a quarterback in two consecutive classes. Nine JC transfers means the Sun Devils are counting on immediate impact rather than long-term development. That approach can be a gamble, though four of the juco recruits have three years of eligibility instead of two.
COLORADO

Needs filled
: The Buffs have a lot of needs, as they were last in the Pac-12 in scoring offense and scoring defense in 2012. The class includes six offensive linemen, and quarterback
Sefo Liufau
, 6-foot-4, 215-pound product of Bellarmine Prep in Tacoma, Wash., is a guy Buffs fans should be excited about. Considering the poor production at the position last season and the fact that there's a new scheme, he might get into the mix this fall.
Holes remaining
: This is a fairly balanced class but there isn't a single interior defensive lineman. The Buffs gave up 226 yards rushing per game last season. The Buffs did, however, sign nine defensive linemen last year. While Liufau is the star of the class, this crew is lacking pizzazz and will rank last in the Pac-12, which is not surprising for a 1-11 team that fired its coach.
UCLA

Needs filled
: Jim Mora said his top needs were offensive line, defensive back and linebacker. He signed seven offensive linemen, four defensive backs -- highly rated safety
Priest Willis
is still pending -- and three linebackers. As for the offensive line, two are ESPN 300 prospects and a third is a four-star lineman. Including Willis, who is expected to sign with the Bruins, two defensive backs are ESPN 150 players, a third is an ESPN 300 recruit and the fourth is rated with four stars. As for linebacker, two are ESPN 150 players.
Holes remaining
: The Bruins signed the Pac-12's top-rated class and had a great final week. There is little not to celebrate, other than defensive tackle
Eddie Vanderdoes
picking Notre Dame. The most obvious hole is running back, where there's no obvious replacement for
Johnathan Franklin
.
Craig Lee
had committed to the Bruins but hasn't signed, so there's no true RB in this class.
USC

Needs filled
: USC lost three of four starters from a secondary that underperformed last year, so signing two of the top three safeties in the nation --
Su'a Cravens
and
Leon McQuay
-- as well as the No. 11 cornerback in
Chris Hawkins
is a pretty nice haul. The Trojans also added a pair of elite running backs in
Ty Isaac
and
Justin Davis
, the nation's No. 3 DT in
Kenny Bigelow
and the No. 2 quarterback in
Max Browne
. All three spots were need areas.
Holes remaining
: The story of this class, as good as it is, is the handful of decommitments. In November, this was the No. 1 class but fell out of the top 10. Bigelow is the only defensive lineman; there are only two offensive linemen. In November, the question was how was USC going to finagle its way to just 75 scholarships, per NCAA sanctions. That's no longer an issue.
UTAH

Needs filled
: With the graduation of RB
John White
and three voids on the defensive line, those were two need spots addressed by this class of 23. The Utes signed five defensive linemen, including three defensive tackles. They also signed four running backs, including JC transfer
Devontae Booker
.
Holes remaining
: One bit of bad news for the defensive line is that DT
Lowell Lotulelei
, younger brother of Star and the Utes' highest-rated player, didn't sign because he's going on a Mormon mission right out of high school. This is a balanced class but it includes just two offensive linemen. The Utes also didn't get great linebacker play last season and this class only includes one,
Uaea Masina
.
February, 6, 2013
Feb 6
7:00
AM ET
ESPN RecruitingNation
has signing day covered. Follow ESPNU's coverage, chat with analysts and get breaking news on our
Signing Day Live
page beginning at 7:30 a.m. ET through 7 p.m. ET. For more on what to expect on signing day, check out the
Pac-12 conference breakdown

.
Bold prediction for the Pac-12:
UCLA is in a position to shock the conference and perhaps the country on signing day. Already in possession of a top-12 class, the Bruins have a chance to close with a bang, as UCLA is in a good position with ESPN 150 prospects
Eddie Vanderdoes
,
Isaac Savaiinaea
and
Asiantii Woulard
. If all goes well in Westwood on signing day, Jim Mora could finish the day with a top-five recruiting class.
Arizona
Biggest need:
Linebacker. Arizona's defense is in need of some immediate help in all three levels, but the Wildcats will add some serious depth at linebacker with five commitments at the position.
Biggest recruit:
QB
Jesse Scroggins
. A case could be made for either quarterback commitment --
Anu Solomon
is the other -- but with Scroggins' experience at USC and his status as an early enrollee, he could have an advantage when it comes to battling for the vacated starting quarterback spot.
Arizona State
Biggest need:
Secondary. Arizona State is set to add plenty of help at the offensive skill positions, but the Sun Devils needed to add depth on the defensive side of the ball, and they did so. Safeties
James Johnson
and
Jayme Otomewo
are strong additions, as are cornerbacks
Damarious Randall
and
Will Earley
.
Biggest recruit:
DT
Marcus Hardison
. Getting defensive tackle Will Sutton back for another year was a big win for Arizona State's defense. Getting the No. 5 junior college player in Hardison, a 6-foot-4, 275-pound defensive tackle who can help Sutton inside this year, is another big win.
California
Biggest need:
Offensive line. With head coach Sonny Dykes and offensive coordinator Tony Franklin, Cal is looking to take off offensively, but that can't happen without a dominant front. Six offensive line commitments, including four-star tackles
Aaron Cochran
and
Erik Bunte
, are a good way to continue building up front.
Biggest recruit:
OT Aaron Cochran. This is true figuratively and literally. Cochran, at 6-foot-8 and 364 pounds, is an important recruit for Cal, as the offensive tackle plays a position of need. He is the younger brother of Cal lineman Matt Cochran. Honorable mention here to
Cameron Hunt
, who committed to Cal last summer but opened his recruitment after the coaching change and now appears to be headed to Oregon.
Colorado
Biggest need:
Offensive line. The Buffaloes need help everywhere, but solidifying the offensive line is step one for the new regime. Colorado holds commitments from five offensive linemen as it looks to take a step forward in the Pac-12.
Biggest recruit:
QB
Sefo Liufau
. While building along the lines is important, Colorado needs to add playmakers at every position, and Liufau is definitely that at quarterback. He understands and appreciates the challenge at Colorado and is the kind of player the Buffs need to bring in and build around.
Oregon
Biggest need:
Running back. While the Ducks have been blessed with an embarrassment of riches at tailback, it's important that they continue to stock the cupboard in order to keep finding those gems and running the blur offense. Three tailbacks were a possibility in this class, as there will be an opportunity for playing time.
Biggest recruit:
RB
Thomas Tyner
. This was big on two fronts as Tyner has an opportunity to contribute as a freshman, and the Ducks were able to keep Oregon's top recruit from leaving the state. Tyner's commitment became even more important when
Dontre Wilson
flipped from Oregon to Ohio State on Monday.
Oregon State
Biggest need:
Defensive line. The Beavers looked to get bigger and better up front and did so in a big way. Six defensive linemen are headed to Corvallis, including four junior college defensive tackles capable of playing as soon as they arrive on campus.
Biggest recruit:
CB
Dashon Hunt
. Oregon State needed to add talent in the secondary as well and Hunt -- the Beavers' lone ESPN 300 commitment -- will help there. Hunt's commitment also helped Oregon State continue its presence in Southern California, which it recruited extremely well with this class.
Stanford
Biggest need:
Wide receiver. The Cardinal needed to add receiving threats in this class, and adding wide receivers
Francis Owusu
and
Taijuan Thomas
did that. Of course, at Stanford, no position poses more of an offensive threat than tight end, and the Cardinal have commitments from three high school standouts who will suit up there.
Biggest recruit:
WR
Jordan Cunningham
. As the Cardinal continue to hunt for pass-catchers in this class, snagging Cunningham -- an ESPN 150 wide receiver -- on signing day would nicely cap an undermanned but still impressive recruiting class. It would also carry over Stanford's terrific signing-day success from last year.
UCLA
Biggest need:
Offensive line. While it might not be the most immediate need for the roster, the UCLA coaches saw a need to infuse the offensive line with young talent and they went out and did just that. There are offensive line recruits, including two ESPN 300 prospects and a third four-star lineman.
Biggest recruit:
DT Eddie Vanderdoes. The country's top defensive tackle will announce at 5 p.m. PT and the Bruins are thought to be in good position. Landing Vanderdoes -- a former USC commitment -- would be another positive sign for the Bruins in their quest to tip the rivalry in their favor.
USC
Biggest need:
Secondary. The Trojans have been shaky in the secondary for several years now and are in need of players capable of adding depth and perhaps playing as freshmen. Signing day could offer a disappointment if cornerback
Jalen Ramsey
goes elsewhere, but the early enrollee group of safeties
Su'a Cravens
and
Leon McQuay
and cornerback
Chris Hawkins
, gives the Trojans three players capable of stepping in and offering a solution to the pass defense troubles.
Biggest recruit:
S Su'a Cravens. USC is set to add plenty of impact players in this recruiting class, but landing Cravens as an early enrollee was huge. A local player who plays a position of need and has the talent to make an impact as a freshman, Cravens was as close to a must-get recruit as the Trojans had in this class.
Utah
Biggest need:
Running back. With
John White
finished at Utah, the Utes have just one player returning in 2013 who logged more than 25 carries last season. While there are several tailbacks on the roster, Utah looked to add talent at the tailback position in this class and did so with four commitments from running backs, including junior college back
Devontae Booker
.
Biggest recruit:
DT
Lowell Lotulelei
. There is no guarantee that the defensive tackle will turn into his older brother, Star Lotulelei, a likely top-five pick in the upcoming NFL draft. But getting a commitment from Lowell Lotulelei was arguably the most important piece of Utah's recruiting puzzle. The four-star defensive tackle is Utah's top-ranked commitment and will look to take over where his brother left off.
Washington
Biggest need:
Offensive line. The Huskies hoped to find several big bodies to position as the future of the offensive line in this class and have commitments from three high school linemen, including four-star center
Dane Crane
. While the Huskies lost a commitment from
Sean Harlow
, who flipped to Oregon State, they could make up for it in a big way by grabbing ESPN 300 tackle
Nico Falah
away from USC on signing day.
Biggest recruit:
WR
Damore'ea Stringfellow
. The highest-ranked player in the class, the ESPN 150 wide receiver is a playmaker capable of providing an immediate spark for Washington's offense. He also gives the Huskies a big recruiting win in Southern California, as he was sought after by UCLA and USC.
Washington State
Biggest need:
Offensive line. While much of the attention with Mike Leach's offense goes to the offensive skill players, it can't take off without an effective offensive line. Six offensive linemen, including junior college tackle
Jacob Seydel
, are headed to Pullman in this class.
Biggest recruit:
QB
Tyler Bruggman
. The Cougars won a big recruiting battle for Bruggman, as they were able to pull him away from hometown Arizona State. He was someone Washington State targeted early on as a player who could fit into and succeed in the offense.
January, 29, 2013
Jan 29
1:00
PM ET
Arizona's biggest question heading into 2013 is at quarterback. Not only are the Wildcats replacing
Matt Scott
, who earned second-team All-Pac-12 honors and was sixth in the nation with 343.8 yards of total offense per game, but the options on hand this spring are decidedly unproven.
There's 2012 backup B.J. Denker, a JC transfer who was a late addition last summer. And there's Jesse Scroggins, another JC transfer who had academic issues at USC after signing in 2010.

Both have some skills. Neither, however, would be considered a sure-thing, particularly when you consider how valuable Scott was in 2012.
It's possible then that coach Rich Rodriguez might consider a third, youthful option, and it turns out that he's received a commitment from a quarterback that Sports Illustrated believes might have an "instant impact": Anu Solomon.
SI ranks Solomon
No. 1 among incoming freshmen QBs
in terms of potential "instant impact":
Solomon was a four-year starter at Bishop Gorman. Over that span, the Gaels went 57-3 and won four state championships. Solomon passed for 10,112 yards and 138 touchdowns to just 17 interceptions throughout his career, and he participated in nationally televised showcases against high school powerhouses from California, Florida, Arizona, New Jersey and Maryland. He told Rivals.com analyst Dallas Jackson in October, "The coaches have told me that they want me to come in and compete for the starting job."
Arizona fans are rightfully excited about Solomon, who seems like a nice fit for Rodriguez's spread-option offense.
But the Pac-12 blog would like to insert a "Be Careful What You Wish For." The Wildcats might be better off if Solomon ends up redshirting. At the very least, it would be better for Solomon to see spot action rather than take over the starting job.
Why? Well, the history of true freshman QBs is pretty spotty, other than Jamelle Holieway, who won a national championship as a true freshman at Oklahoma in 1985. And, of course, Holieway's best season was his first for the Sooners.
Few true freshmen QBs start from Day 1, and most are forced into action, rather than winning the job outright. Holieway only stepped in due to an injury to Troy Aikman. Same with Peyton Manning at Tennessee. Ohio State's Terrelle Pryor, Notre Dame's Jimmy Clausen and Georgia's Matt Stafford all became the starters when more senior players faltered.
Chad Henne went 9-2 as a true freshman leading Michigan in 2004, but he was surrounded by a lot of talent. We can all agree Robert Griffin III became a spectacular player, but Baylor went 4-7 with him as a true freshman QB.
The best recent example of a true freshman QB in the Pac-12 is USC's
Matt Barkley
in 2009. He was the first true freshman to start at QB for a top-five team since Michigan's Rick Leach in 1975. That USC team finished 9-4, losing three of its final four regular season games. The Trojans had lost seven games the preceding six seasons. Barkley threw 14 interceptions and 15 TD passes.
We've seen a number of freshmen QBs play really well of late. Texas A&M's
Johnny Manziel
became the first freshman to win the Heisman Trophy, and in the Pac-12 Oregon's
Marcus Mariota
and UCLA's
Brett Hundley
posted outstanding seasons this past fall, with Mariota winning first-team All-Pac-12. And, of course, there's Andrew Luck. He turned out OK.
But they all were redshirt freshmen when they became starters.
It's also notable that a lot of true freshmen QBs, such as Barkley, enroll early and participate in spring practices. That gives them a significant advantage in terms of getting use to the speed and complexity of the college game.
Solomon won't report until fall camp.
Solomon might indeed become a revelation for the Wildcats next fall. He could win the job, play admirably and three years later become an All-American.
But history suggests he won't be immediately ready, and that the best course is patience. It seems like at least a year of seasoning really helps create a tastier quarterback.
TOP 25 SCOREBOARD
Thursday, 12/5
Friday, 12/6
Saturday, 12/7
TOP PERFORMERS