NCF Nation:

Ara Parseghian
December, 13, 2012
12/13/12
1:00
PM ET
Brian Kelly took home his second coach of the year award of the season Thursday, this time
winning the Eddie Robinson award, presented by the Football Writers Association of America
.
Kelly is the fourth Notre Dame coach to win the award, following Charlie Weis (2005), Lou Holtz (1988) and Ara Parseghian (1964).
Last Wednesday, Kelly was named the Home Depot coach of the year, becoming the first coach to win that award two times. (He won it in 2009 at Cincinnati.) He is also a finalist for the Maxwell and Liberty Mutual coach of the year awards, in addition to being on the watch list for the Bear Bryant award.
Kelly will be presented the Eddie Robinson Trophy on Jan. 6 -- the night before the Irish's national title game matchup with Alabama -- during a reception at the media hotel in Fort Lauderdale, Fla. Robinson's son, Eddie Jr., will be in attendance.
November, 20, 2012
11/20/12
1:11
PM ET
Brian Kelly received a card from Ara Parseghian this week, just like he does every week. Kelly picks Lou Holtz's brain from time to time as well, seeking advice from coaches who have won national titles at Notre Dame.

The gestures aren't limited to legends, though.

"Charlie Weis knows Notre Dame," Kelly said during his Tuesday news conference. "I got a wonderful note from Charlie last week. It was heartfelt, and it talked about the seniors and wishing them the best, and it was really a terrific note from Charlie. It was very classy. We get a lot of that communication with the former Notre Dame coaches and it's really nice."

As much as the players have been showered with attention in class and online, as much as campus has been buzzing about being home to the nation's No. 1 team, Kelly has heard from all corners as well, saying he received a handful of congratulatory texts when Kansas State and Oregon fell and that the communication lines have been open with Notre Dame icons past and present.

"I get my weekly card from Ara each week; he hand writes a note to me," Kelly said. "The great thing is he's so unassuming. He's done this and been there, but he'll write a note like he doesn't want to assume anything. He's never given any advice, just talking as a Notre Dame fan and alum. It's just great to get that combination with him.

"As it relates to Lou, I talk to him about some specific things that I would like his opinion on. Ara's much more of a fan, supportive. I invite him up every home game to my box and he politely declines because he thinks he's got the best seat in front of the television. That's our conversation. And then with Lou it's more about some specific things."

The players, meanwhile, have noticed the No. 1 sign lit up atop Grace Hall, so Kelly hasn't ignored the obvious.

He insists, however, that whatever celebration period there may have been is now over, and the team is back to the usual business of reviewing its Wake Forest tape and preparing for Saturday's game at USC.

"It's a lot better when that light's on than when it's not on," Kelly said. "I'm sure it's better going to class. I'm sure it's better in the dorms. I'm sure it's a better feeling, a more positive approach to everything. That's unquestionable. But does it affect way they way they come to work every day? No, it does not."
May, 15, 2012
5/15/12
12:15
PM ET
The College Football Hall of Fame enshrinement festival will be getting some local flavor.

Former Notre Dame tight end Dave Casper will have the chance to return to South Bend, Ind., as part of the 2012 College Football Hall of Fame class, his second Hall of Fame induction in the past decade.

Casper, who was selected Tuesday to the College Hall, was also a member of the 2002 Pro Football Hall of Fame class after his 11-year NFL career with the Raiders, Oilers and Vikings.

Prior to those stops, Casper spent two years as an offensive tackle with the Irish before switching to tight end for the second half of his college career (1972-73). He also saw some time on the defensive line at Notre Dame, prompting coach Ara Parseghian to later call him the best athlete he ever had.

Casper was a consensus All-American, a team captain and Notre Dame's offensive MVP in 1973, helping lead the Irish to the national title that season. The 1973 campaign also included National Football Foundation National Scholar-Athlete honors, CoSIDA Academic All-American honors and an NCAA Postgraduate Scholarship.

The Chilton, Wis., native caught 21 career passes for 335 yards and four touchdowns before being picked by the Raiders in the second round of the 1974 NFL draft. Casper made five Pro Bowls in his NFL career and helped the Raiders win Super Bowl XI. He was selected to the CoSIDA Academic All-America Hall of Fame in 1993 before receiving the NCAA Silver Anniversary Award six years later.

Casper was the only one of the three former Notre Dame players on the College Football Hall of Fame ballot this year to be selected. Raghib Ismail and Jim Seymour were also on the ballot.
April, 23, 2012
4/23/12
3:00
PM ET
COLUMBUS, Ohio -- From his 10th floor office across the street, Ohio State athletic director Gene Smith has an excellent view of the football practice fields next to the Woody Hayes Athletic Center.
Smith only attended three practices this spring -- a busier-than-normal schedule, highlighted by the men's basketball team's run to the Final Four, kept him occupied -- but he occasionally used his binoculars to check in on the team. When the Buckeyes resume workouts in August, he'll be a regular fixture on the sideline.
"I see things," Smith told ESPN.com. "And the players talk to me. Because of my background [Smith played defensive end at Notre Dame], they come and talk to me. I know when something's out of whack in that regard."
[+] Enlarge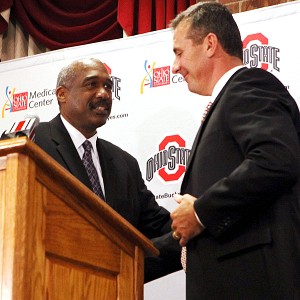 AP Photo/Terry GilliamOhio State AD Gene Smith, left, said he has "a great deal of trust" in Urban Meyer's football program.
But Smith doesn't expect any issues to surface. He has full confidence in the way new head coach Urban Meyer manages his players.
Smith took notice of the recent
Sporting News investigation
alleging, among other things, that Meyer coddled star players, oversaw a program filled with drug use among players and let character issues get out of control during his time as Florida's coach. Smith encouraged Meyer to respond to the reporter, Matt Hayes, which Meyer did.
The report "disturbed" Smith because of its timing, not its content.
"It bothers me that there's a continued attack on him about something that happened supposedly two, three years ago," Smith said. "Where are we? I just don't get that. Those are things Urban and I talked about in the hiring process."
Smith addressed the number of Florida players arrested during Meyer's six-year tenure, which varied in media reports.
"There were reports of everywhere from 41 to 26 arrests," Smith said. "I never could figure it out, so I said, 'Urban, where are we at? What's the number?' We actually talked about the issues he had at Florida, talked about the behavioral issues he had at Florida.
"But he talked about his system. He has a system like you and I deal with. As an employee, we get rewarded when we do well. We get bad reviews when we do poorly."
Meyer acknowledges he gives preferential treatment to players who earn it through their commitment to the program both on and off the field. He plans to operate the same way at Ohio State.
"It reminds me of Ara Parseghian a little bit," said Smith, who played for Parseghian at Notre Dame, "in that he's rewarding the guys that ultimately commit themselves. Whether you're a 4.0 student or a 2.2 student, it doesn't matter. If 2.2 is your capacity, that's you, you still get rewarded. We had a long conversation about it, and I like it."
Most Ohio State fans could not care less about the allegations during Meyer's time at Florida, and there haven't been any major player-management incidents during his time with the Buckeyes. Yet the lone connection between the allegations and Ohio State is an important one. Many say Ohio State's recent NCAA maelstrom stemmed from the head coach (Jim Tressel) failing to rein in a key player (Terrelle Pryor).
While Ohio State has put measures in place to prevent problems, Smith reiterates he has full faith in Meyer and his staff.
"We have a compliance officer in the [football complex] now," Smith said. "He's in the building, right next to Urban's office. So that changes things a little bit. We continually talk about how we treat kids, not just in football but all sports. So I don't feel the need to micromanage that.
"I really have a great deal of trust in what they're doing."
December, 9, 2011
12/09/11
3:35
PM ET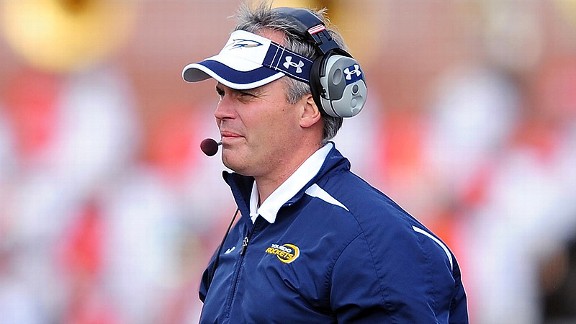 Andrew Weber/US Presswire Tim Beckman must change the culture at Illinois and bring consistency to the program.
The next time a Big Ten fan base gets excited about a MAC coach likely will be the first.
Big Ten fans want big names, even if they're more hyped than proven. There's a sense that Big Ten programs should be able to reach further than the MAC, even though the MAC has produced some excellent major-conference coaches, many of whom have done well in the Big Ten. Some are known only by their first names: Woody, Bo and Ara. All three succeeded at Big Ten programs after coming from a MAC school, Miami (Ohio).
Still, coaching searches are often the time when fan perception meets program reality. It happened this week at Illinois.
The rumor mill began buzzing Tuesday that Illinois was close to a deal with Houston coach Kevin Sumlin. Regarded as a rising star in coaching, Sumlin is one of those names that gets fans excited, even if his track record doesn't quite match the hype around him. He runs an exciting offense at Houston, led by quarterback
Case Keenum
. He's a Big Ten guy (Purdue product) who had great success as a Big 12 assistant. Perhaps most important, he's wanted by others.
I never bought the Sumlin-to-Illinois talk. With a vacancy at Texas A&M, it makes too much sense for Sumlin to eventually move up the road to College Station. Illinois wanted him, but he didn't want Illinois. Predictably, the Sumlin buzz died down and Toledo's Tim Beckman became the target for Illinois first-year athletic director Mike Thomas.
Beckman will be
introduced as Illinois' coach at a 4 p.m. ET news conference
Friday in Champaign, Ill. He comes to the Illini after recording a 21-16 record in three seasons with Toledo.
There's a lot to like about Beckman. He's an Ohio native who knows the Big Ten and has recruited well, particularly in his home state. He has worked for successful programs (Oklahoma State, Ohio State and Bowling Green) and for successful head coaches (Mike Gundy, Jim Tressel, Urban Meyer). He took over a Toledo program dealing with a point-shaving scandal and led the Rockets to 8-win seasons in each of the past two years. He's known as a tireless worker with a fiery personality.
I have a feeling Illinois fans will feel better about the hire after Friday's news conference.
But some still will only see "MAC coach." And that's fine. Beckman will have to win them over by winning. If he mirrors what former Toledo coach Gary Pinkel has done at Missouri, or what former Toledo coach Nick Saban did at Michigan State, or what Bo, Woody and Ara did at Michigan, Ohio State and Northwestern, respectively, no one will remember where he came from.
When Thomas announced Ron Zook's firing, he noted that
his track record shows he hires coaches with previous experience
leading programs. He didn't add that he hires them from the MAC, as he brought both Brian Kelly and Butch Jones to Cincinnati from Central Michigan. Kelly had historic success at Cincinnati before moving onto Notre Dame, while Jones has the Bearcats at 9-3 this season. The Beckman hire follows the pattern for Thomas, who also reportedly expressed interest in two other MAC head-coaches: Eastern Michigan's Ron English and Temple's Steve Addazio.
If Beckman succeeds at Illinois, Thomas will be hailed as strong evaluator of under-the-radar coaches. If Beckman fails, Thomas will be seen as an AD who couldn't reel in the big fish. While Illinois reportedly was
willing to spend big bucks for Sumlin
, Beckman likely comes as a bargain, as he made $400,000 at Toledo.
Beckman inherits some talent at Illinois. Talent never was the problem for Zook, who recruited well. But Beckman will need to develop players better than his predecessor.
There are some potential concerns with Beckman, namely that he's a defensive coach whose defenses didn't exactly rank among the nation's best.
Here's a look:
2011 (Toledo):
76th in total defense, 89th in scoring defense
2010 (Toledo):
56th in total defense, 73rd in scoring defense
2009 (Toledo):
95th in total defense, 116th in scoring defense
2008 (Oklahoma State):
93rd in total defense, 73rd in scoring defense
2007 (Oklahoma State):
101st in total defense, 79th in scoring defense
To be fair, fielding a decent defense in the MAC is no easy task. But Toledo also surrendered 63 points in back-to-back games, including a 63-60 loss to Northern Illinois in which Beckman's timeout decisions came under heavy scrutiny.
Beckman could win points with many Illini fans by retaining Vic Koenning as his defensive coordinator. Koenning has done a masterful job with Illinois' defense, which boasts an All-American in defensive end Whitney Mercilus and ranked No. 7 nationally in yards allowed, No. 4 against the pass, No. 5 in tackles for loss and No. 9 in sacks. Whether their defensive philosophies match remains to be seen, but Beckman certainly should consider keeping Koenning.
His bigger task will be establishing consistency with an Illinois program that hasn't seen nearly enough in the past two decades. Although Illinois has reached back-to-back bowl games for the first time since 1991-92, the team has too often been a tease, arguably never more so than this season when it started 6-0 and finished 0-6. The talent has been in Champaign, but Illinois has been too fragile of a team. Beckman must change the culture.
Some coaches create buzz just by showing up (see: Meyer, Urban). Others create it by what they do on the field.
Beckman must show he can do the latter at Illinois.
September, 16, 2011
9/16/11
10:00
AM ET
SOUTH BEND, Ind. -- Harrison Smith could do nothing but watch from the sideline four years ago. The frustration that mounted with every play and every loss on seemingly every Saturday had to be put in reserve until he took the practice field the following Monday.
But Smith doesn't want to relive the year he didn't play, his freshman year -- the last time, and only the second time, Notre Dame started a season 0-3.
"All I'm looking at is Michigan State," Smith, now a fifth-year captain, said. "I'm not worried about what happened a couple of years ago, a week ago, yesterday. Focus on right now. Focus on Michigan State and that's where the team's at. That's all we can control, so we're putting everything into preparing for Michigan State."
Smith is one of just six current scholarship players who lived through the Fighting Irish's 2007 season, a campaign that got off to an 0-5 start and ended with a 3-9 record.
[+] Enlarge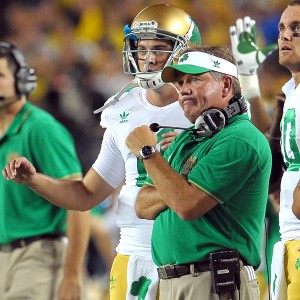 Matt Cashore/US PresswireDespite their 0-2 record, Brian Kelly's Irish have piled up over 1,000 yards of total offense.
But through two weeks and two losses this season, the similarities between the 2007 team and this one ends with the win column and a few familiar faces.
And, in the case of the only other Irish squad to start 0-3, the 2001 group, the parallels are even thinner.
No, Notre Dame certainly didn't envision itself still searching for win No. 1 as it welcomes the defending co-Big Ten champions into town Saturday, not in a season that began with a No. 16 ranking and BCS bowl aspirations.
But the Irish have done enough through two games to suggest that better days are on the horizon.
In two losses this season by a total of seven points, Notre Dame has 1,021 total yards of offense, something it hasn't done through two games since 1974. That season, Ara Parseghian's last as head coach, began with two wins by a combined score of 80-10. More importantly, it ended with a No. 6 ranking after an Orange Bowl win over Alabama made Notre Dame 10-2.
Quite a far cry from 2007, when the Irish were outscored 64-13 through two games. Or even 2001, Bob Davie's fifth and final season as head coach, when Notre Dame was outscored 44-20 and finished the season 5-6.
Which would explain Smith's reaction when asked if any memories from 2007 have popped up this week.
"No, I play DB, so we have a short memory," the safety said flatly, "so I don't remember anything."
The edgy demeanor pleased head coach Brian Kelly, whose message this week was sent by running a live practice Wednesday, the first time he's done so during a game week in his two seasons on the job.
"I think everybody's probably a little bit, I don't know -- I don't want to say annoyed -- but nobody's happy, and I'm OK with that," Kelly said. "Nobody should be in a great mood. We've got work to do, and I think those guys probably reflect the feelings of the entire team."
Kelly has been in this situation before, just never under the spotlight that comes with coaching the third-winningest program in college football history. He has suffered through five 0-2 starts in his previous 20 years as a head coach, even going 0-3 in 1999 and in 2000 at Div. II Grand Valley State. But Kelly finished only one of those five seasons with a losing record, going 4-7 in his first year at Central Michigan in 2004.
Naturally, Kelly has refused to call Saturday's contest against the No. 15 Spartans the most important game of his two-year tenure with the Irish.
And he won't look ahead to what's still left for Notre Dame to accomplish over 10 more games.
"I don't think you can look at it anymore about what's at the end of the season other than playing better right now," Kelly said. "We have to be focused right now on Saturdays, because we haven't played well. We can't think about what's in the future; we have to focus on making money right now. And that means winning for our guys. So it hasn't been hard for me to keep our guys focused because they're 0-2. They're focused on one at a time.
"Hey, if we string together seven or eight in a row, then we can start thinking about hey, what's it look like at the end of the season. But it's too early."
For now, a loss Saturday would be nothing more than just that.
"0-3," guard Trevor Robinson said, "would mean the fourth game is that much more important."
October, 24, 2010
10/24/10
3:04
PM ET
EVANSTON, Ill. -- Like most college football fans, Ara Parseghian watched the Michigan State-Notre Dame game in Week 3 from the edge of his seat.
As the Spartans lined up for the potential tying field goal in overtime, Parseghian thought the Spartans probably were toast. It was a long kick, 46 yards, and a ton of pressure for a first-year starter (Dan Conroy). But would Michigan State go and ahead and kick? Of course it would.
[+] Enlarge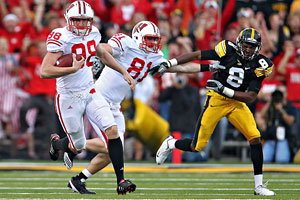 Stephen/Icon SMIWisconsin's fake punt set up the game-winning score in the Badgers' 31-30 win over Iowa.
Until the Spartans didn't.
Parseghian, the Hall of Fame coach, was as surprised as anyone when Michigan State ran a fake field goal labeled "Little Giants" and scored the winning touchdown.
"That was a gutsy call," said Parseghian, the former Notre Dame, Northwestern and Miami University coach who returned to Northwestern as an honorary captain. "I tell you, I've never seen a gutsier one than that."
The 87-year-old might have revised his statement after Week 8 of Big Ten action.
The league known for percentage plays and conventional coaching has been overtaken by unlikely gamblers. Terms like "Little Giants," "Mousetrap" and "Chain" have become part of the Big Ten vernacular, thanks to coaches who went all-in and hit the jackpot.
Parseghian had a front-row seat for Michigan State's latest wager: a fake punt pass into the wind with a 10-point deficit in the fourth quarter on the road.
It's called "Mousetrap" because, as coach Mark Dantonio explained, "We had to get them to take the cheese."
Michigan State fooled Northwestern, and punter Aaron Bates found redshirt freshman receiver
Bennie Fowler
for a 23-yard completion. The Spartans scored on the next play and went on to win 35-27, preserving their perfect record while improving to 8-0.
Bates, who also made the unforgettable pass on "Little Giants," now boasts a passer rating of 475.
"I just felt like we had to take the shot," said Dantonio, who returned to the field Saturday for the first time since calling "Little Giants."
Michigan State had installed the play specifically for the Northwestern game, and although the situation to use it was far from ideal, players such as receiver
Keith Nichol
knew Dantonio would pull the trigger.
"It gives us that motivation to go out there, that extra yard, that extra inch, make that big play," Nichol said, "knowing that he's going to trust us to make another big play. It gives our whole team a lot more confidence when the coach does something like that."
Wisconsin knows the feeling after coach Bret Bielema took the biggest gamble of his coaching career. The Badgers trailed 30-24 at Iowa's Kinnick Stadium and faced fourth-and-4 from their own 26-yard line with about six minutes left in the game.
"Once we saw the personnel out on the field, it was game on," Bielema said.
Bielema called for "Chain," a play installed only days earlier, and designed to -- you guessed it -- move the chains. Punter Brad Nortman followed second-string guard Ryan Groy and raced up the gut for 17 yards.
Eleven plays later,
Montee Ball
scored the winning touchdown. Wisconsin notched back-to-back signature wins and kept its hopes for a BCS bowl very much alive.
"Great execution," Bielema said. "Great faith."
October, 23, 2010
10/23/10
11:44
AM ET
EVANSTON, Ill. -- The wind is blowing to the northeast, and the heavy rain is supposed to hit soon here at Ryan Field.
A couple of pregame notes:
Northwestern junior superback Drake Dunsmore went through warm-ups after tweaking his ankle in practice this week.
Michigan State coach Mark Dantonio was on the field pregame, and he might try to coach from the field today, despite the weather.
Legendary coach Ara Parseghian is back at Northwestern today as the team's honorary captain. Parseghian spent eight seasons as Northwestern's coach, compiling a 36-35-1 record, before moving on to Notre Dame. The 87-year-old addressed Northwestern players Friday during the walk-through.
I'll have plenty more from Evanston, and I'll be monitoring the other three early Big Ten games as well.
August, 31, 2009
8/31/09
11:56
AM ET

Posted by ESPN.com's Brian Bennett
Link like a champion today ...
August, 17, 2009
8/17/09
9:30
AM ET
Posted by ESPN.com's Adam Rittenberg
There's enough hero worship in college football these days. Let's talk about the villains.
Which player, coach or opponent haunts your favorite Big Ten team like none other? Some Penn State fans might still have Richard Nixon dartboards in their homes. Jim Tressel has become a modern-day villain for Michigan fans, but who holds the all-time title?
Here are my picks for Big Ten villains, current and all-time. But as always, I want to hear from you as well. Send me your top villains, current and all-time, and I'll have a post Tuesday with the responses.
ILLINOIS FIGHTING ILLINI

Current villain: Iowa. Until last year, the Hawkeyes had won five straight against the Illini, and even though Iowa is off the schedule until 2011, Illinois star wideout Arrelious Benn still hates the black and gold.
All-time villain: Missouri. The rivalry might be bigger in hoops, but Missouri accounted for Illinois' only regular-season loss in 1983. Illinois began its 2007 Rose Bowl run with a loss to Mizzou and has dropped 10 of the last 13 meetings.
INDIANA HOOSIERS
Current villain: Purdue. The hate for the Boilers always runs deep, and Indiana still seethes from the 62-10 loss at Ross-Ade Stadium that ended the 2008 season and the coaching career of Purdue's Joe Tiller, who went 10-2 against IU.
All-time villain: Basketball. The sport is king in the state and especially in Bloomington, thanks to Bob Knight. Football always will play second fiddle to hoops, which makes things tough to compete in the Big Ten.
IOWA HAWKEYES
Current villain: Bret Bielema. The former Iowa defensive lineman now coaches at rival Wisconsin, despite still having a Hawkeye logo tattooed on his leg. Bielema has won two of his first three games against his alma mater.
All-time villain: Eric Ball. The UCLA freshman rushed for 227 yards and four touchdowns against Iowa in the 1986 Rose Bowl, leading the Bruins to a 45-28 victory and preventing Iowa from a No. 2 finish behind Oklahoma.
MICHIGAN WOLVERINES
Current villain: Jim Tressel. The Vest has dominated Michigan since his arrival as Ohio State coach, going 7-1 and claiming the last five games.
All-time villain: Woody Hayes. The legendary Ohio State coach stoked the rivalry against "That school up North" whenever he could and dominated the series with Michigan in the 1960s, going 7-3.
MICHIGAN STATE SPARTANS
Current villain: Mike Hart. Hart no longer plays for Michigan, but his "little brother" reference after the Wolverines' 2007 win at Michigan State still angers Spartans fans, who point to head coach Mark Dantonio's comeback: "Pride comes before the fall."
All-time villain: Ara Parseghian. The Notre Dame coach went for the tie in the 1966 "Game of the Century," and the Fighting Irish finished ahead of Michigan State in the final polls (the schools shared the national title).
MINNESOTA GOLDEN GOPHERS
Current villain: The Little Brown Jug. Minnesota should implode this thing after losing 39 of its last 42 games against Michigan.
All-time villain: The Metrodome. A former national powerhouse, Minnesota became largely irrelevant after moving inside the dome in 1982. The Gophers won more than eight games just once in 27 years indoors, endured 15 losing seasons, never beat Michigan at the dome and ended things with a 55-0 loss to archrival Iowa.
NORTHWESTERN WILDCATS
Current villain: Ohio State. Northwestern has beaten the Buckeyes just once since 1971 and dropped its last four meetings by a combined score of 205-34. Ouch.

All-time villain: The streak. Northwestern's NCAA-record 34-game losing streak still haunts the program as it strives for national respect.
OHIO STATE BUCKEYES
Current villain: The SEC. Whether it's Urban Meyer, Les Miles or Albert E. Gator, the Buckeyes can't stand anyone or anything associated with the SEC, which handed Ohio State losses in consecutive national title games.
All-time villain: Bo Schembechler. Buckeyes fans have no love lost for Bo, who worked for Hayes at Ohio State and earned his Master's degree in Columbus before coaching archrival Michigan. Schembechler's Wolverines upset Ohio State in 1969, and he held a 5-4-1 edge in the Ten-Year War.
PENN STATE NITTANY LIONS
Current villain: Terrelle Pryor. The nation's No. 1 recruit spurned his home-state school for Ohio State and didn't make many friends in State College by calling it "too country" for him. Penn State won Round 1 against Pryor last year and will face him at least two more times.
All-time villain: Richard Nixon. The president declared Texas the national champion in 1969 before the poll voters had cast their final ballots, depriving an undefeated Penn State team of the crown.
PURDUE BOILERMAKERS
Current villain: The Top 25. Purdue simply can't get over the hump against ranked opponents, failing to beat a Top 25 team since Nov. 8, 2003. Longtime coach Joe Tiller went just 12-38 against ranked teams.
All-time villains: Ted Provost and Jack Tatum. The Ohio State defensive backs starred in a win against No. 1 Purdue in 1968, and the Buckeyes went on to the national title while Purdue didn't make a bowl game with one of its best teams ever.
WISCONSIN BADGERS
Current villain: Michigan. Despite Wisconsin's renaissance since 1990, the Badgers have struggled against the Maize and Blue, dropping 31 of their last 36 meetings. Michigan handed Wisconsin its only loss in 2006 and started the Badgers' four-game losing streak last season with an upset in Ann Arbor.
All-time villain: John Coatta and Don Morton. The former Badgers coaches share the tag after combining to go 9-53-1 as Wisconsin became largely irrelevant from 1967, Coatta's first year, until program savior Barry Alvarez took over.
June, 23, 2009
6/23/09
1:37
PM ET
Posted by ESPN.com's Adam Rittenberg
Pat Fitzgerald has changed the face of Northwestern football, and, in the process, has become the face of the Wildcats program.
Northwestern took a big step toward keeping the face in place Tuesday, rewarding Fitzgerald with a seven-year contract extension through the 2015 season.
| | |
| --- | --- |
| | |
| | AP Photo/Charlie Neibergall |
| | Pat Fitzgerald received a contract extension, keeping him at Northwestern. |

"This has been one of our top priorities the past few months," Northwestern athletic director Jim Phillips said in a prepared statement. "There is no doubt that Pat is the right individual to lead Northwestern's football program well into the future. In three years, Pat has quickly developed into one of the nation's top young head coaches. He bleeds purple and has tremendous passion for Northwestern."
Phillips wanted to get a contract done by the start of the summer and nearly reached his goal. Northwestern has improved its wins total in each of Fitzgerald's past two seasons, finishing 9-4 last fall and reaching the Alamo Bowl.
Fitzgerald stepped into a very difficult situation in 2006, taking over as the nation's youngest head coach just a week after the sudden death of program stabilizer Randy Walker. The 31-year-old showed his age at points during a very shaky first season in which the Wildcats stumbled to 4-8.
He began to find himself as a head coach after the 2007 campaign, blending competition into every element of the team's offseason program. He made the Big Ten's best coaching hire in defensive coordinator Mike Hankwitz, who transformed a sorry unit into a group that reflects Fitzgerald, a former two-time National Defensive Player of the Year at Northwestern. The result with a nine-win team that amazingly included only one All-Big Ten selection (defensive end Corey Wootton).
But with success comes speculation, especially at a place like Northwestern. With Notre Dame head coach Charlie Weis on the hot seat late last fall, many tabbed Fitzgerald as a potential successor. It seemed like a perfect fit: An Irish kid from Chicago's south suburbs coaching the Fighting Irish.
Don't hold your breath on that one.
Fitzgerald is extremely happy at Northwestern. He played there. He got his degree from there. He loves Evanston and living near his family and his wife's family in Chicago's south suburbs. He has three sons who he'd love to send to Northwestern. He loves the Big Ten.
And if he did decide to leave, I highly, highly doubt it would be for Notre Dame.
"It's no secret that I want to be the head football coach at Northwestern for many years to come," Fitzgerald said in a statement. "Our football program is succeeding both on and off the field, and we're proud of our recent accomplishments. We have greater aspirations, however, and I'm thankful to our administration for helping us support that vision."
The idea that someone would want to stay at Northwestern for the long haul seems unlikely, and the school has lost successful coaches like Ara Parseghian and Gary Barnett to more prestigious programs (Notre Dame and Colorado). But Fitzgerald's roots run much deeper at the school, and as long as he continues to receive support from the administration -- not just salary but program support -- he should stay put.
You never know what happens in the coaching business, but with Fitzgerald's age (34), he could have a Joe Paterno-like run at Northwestern.