April, 12, 2010
4/12/10
8:30
AM ET
Colorado finished its spring workouts with the annual spring game on Saturday, and
Tyler Hansen
sat atop the depth chart at quarterback for the Buffaloes. Hansen and
Cody Hawkins
suited up against each other in the spring game and both performed well, but coach Dan Hawkins remained non-committal after the game in deciding on a clear starter entering the lengthy summer break.
[+] Enlarge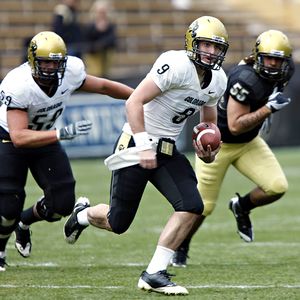 AP Photo/David ZalubowskiIt appears the battle for the starting quarterback job between Tyler Hansen (9) and Cody Hawkins will go into fall camp.
"You'd love to make a decision after the spring's over, but it's great for our competition and great for our guys to keep battling,"
Hawkins said.
But it could also be great for Hawkins' "guys" to have a clear starter and leader entering summer workouts, allowing either Hawkins or Hansen to embrace the role of "starting quarterback," and all the off-the-field effects of that role. Clearly, Hawkins prefers the former.
Hansen took over for Cody Hawkins mid-game during an Oct. 10 loss to Texas and started for the remainder of the season. During that stretch, the Buffaloes were 2-5, with wins over Kansas and Texas A&M. In Hawkins' starts, the Buffaloes went 1-4 with the lone win coming against Wyoming and losses against West Virginia, Toledo and Colorado State.
In Saturday's spring game, Hansen threw three touchdowns and completed 17 of 22 passes for 170 yards. Hawkins threw two touchdowns and completed 20 of 26 passes for 220 yards.
You can't put too much stock into it, but Hansen led the Gold team to a 37-27 win. Both have to be encouraged by completing over 75 percent of their attempts.
"I don't know why, unless you had a guy who won 10 games, would say, 'Yeah, you're the guy,'" Dan Hawkins said.
Judging by those comments, only wins will secure either quarterback a job, and the Buffaloes won't have a chance at any more for almost four months.
A few other notes from the Buffaloes spring game:
Michigan transfer Toney Clemons had plenty of eyes on him all spring, and they must have liked what they saw. In the draft for the spring game, the Colorado captains selected Clemons with the first overall pick. Clemons caught four passes for 33 yards.
The second pick in the draft, All-Big 12 offensive tackle Nate Solder, caught a touchdown pass from Hawkins on a tackle-eligible play at the goal line in the fourth quarter. "We were supposed to run it all last season," Solder said. "We finally got the chance."
The Gold team busted out the Haka before the game, a Polynesian war dance made popular most recently by Hawaii in college football and the All Blacks, New Zealand's rugby union team.
Freshman quarterback Nick Hirschman threw one pass in the scrimmage -- and completed it to Andre Simmons for an 83-yard touchdown. That's good enough for a quarterback rating of 1127.20.
February, 4, 2010
2/04/10
10:47
AM ET
By
Tim Griffin
| ESPN.com
Colorado Buffaloes
Total class:
21
ESPN 150:
0
By position:
TE 3, RB 3, ATH 2, WR 2, OT 2, G 2, LB 2, DE 2, QB 1, CB 1, K 1
By state:
California 8, Colorado 2, Texas 2, Hawaii 1, Ohio 1, New Jersey 1, Louisiana 1, Arizona 1, Alabama 1, Florida 1, North Carolina 1, Maryland 1.
Already enrolled in school:
2.
The big ones:
QB
Nick Hirschman
, the nation's No. 26 quarterback, has already enrolled in college with hopes of getting a head start at playing time. WR
Harold Mobley
, the nation's No. 64 wide receiver, is the physical kind of pass-catcher who will mesh well with Marques Simas as a pair of bookend receivers.
Sleeper:
K
Justin Castor
will receive the chance to contend for immediate playing time as he battles slump-ridden Aric Goodman for playing time.
Needs met:
After losing Darrell Scott and Demetrius Sumler, the Buffaloes needed depth at running back and met it with the addition of underrated
Tony Jones
and sleepers
Trea Jones
and
Justin Torres
. Six tight ends or H-backs graduated from the team last year and coach Dan Hawkins addressed the need with three players keyed by three-star recruit
Justin Favors
, the nation's No. 38 tight end. Hirschman will help at quarterback, but the Buffaloes missed out on
Munchie Legaux
, a late defection to Cincinnati.
Analysis:
The critics are out after Hawkins' class, which featured no recruits with more than three stars and only two players from Colorado. It was the first time in Hawkins' tenure the Buffaloes failed to crack the top 50 nationally in recruiting rankings. And they were hurt by the defection of RB
Mister Jones
(Texas A&M) and QB
Danny Spond
(Notre Dame), two top in-state prospects who both chose to go elsewhere after originally committing to the Buffaloes.
What Dan Hawkins said:
"Athletically, top to bottom, they might be the most-athletic class we have had. ... There are a ton of guys you miss on. There are always guys that you don't get and that's the nature every year. ... Everyone around America is fired up on signing day with optimism. I think with this class, there is just a tremendous amount of quality there and I am very impressed by the kind of people they are."
Scouts Inc. grade/rankings:
C-minus, ninth in Big 12.
November, 15, 2008
11/15/08
10:10
PM ET
Posted by ESPN.com's Tim Griffin
After being blown out last week at Texas Tech, some wondered how Oklahoma State would respond after such a one-sided defeat that ended its Big 12 South title hopes.
But after watching them cruise to a 13-3 halftime lead against Colorado, there seems to be little hangover for the Cowboys.
The Cowboys' strong performance is showing that even being the fourth-best team in the South Division perhaps perhaps could qualify a team to be considered among the top 10 teams in the nation.
Zac Robinson has directed a Cowboy offense that cracked the Colorado 5-yard line on its first two possessions, but came away with only a pair of field goals.
"Our defense did a good job of turning them away when they got close," Colorado coach Dan Hawkins told ABC-TV as he left the field at halftime.
Dez Bryant's one-handed 29-yard TD grab boosted the Cowboys to a comfortable lead that really isn't indicative of how they have dominated.
Hawkins has implored his team to "play with their horns out." The Buffaloes have played well within the shadow of their own end zone so far. Colorado just needs to expand that area outwards in the second half.

Here are some other observations I've gleaned after watching the first half and the end of Missouri's victory over Iowa State.
Colorado kicker Aric Goodman finally snapped a streak of eight straight missed field goals when he converted a 31-yard field goal to account for all of Colorado's scoring in the first half. "He's been money on hitting the upright," Hawkins said.
Backup Colorado running back Derrick Sumler has looked good in the early going, rushing for a team-best 52 yards. He's getting the majority of carries after Darrell Scott was dinged up in practice and unavailable for tonight's game. For all of the disappointment about Colorado's makeshift line this season, an even bigger one has to be Scott's injury-plagued freshman campaign.
Colorado's defense took a big hit when free safety Ryan Walters, one of the unit's most experienced and dependable players went down with a knee and ankle injury. His return is questionable -- and you can tell a difference in the Buffaloes' defense after he left.
Bryant was understandably whining about not getting the ball in the red zone after Colorado cornerback Jimmy Smith was briefly knocked out of the game. Bryant appeared to be open on the play, but Robinson instead overthrew tight end Brandon Pettigrew in the end zone. Bryant put aside his anger later in the half with his TD reception - his first career touchdown at a road game.
As expected, Missouri didn't look back in a 52-20 victory over Iowa State that wrapped up the Big 12's North title and brought home the coveted Telephone Trophy back to Columbia. The Tigers now have a week off before a season-ending game against Kansas before the Big 12 title game Dec. 6 in Kansas City. I think they've got a better chance to win that title than most might realize.

November, 12, 2008
11/12/08
1:35
PM ET
Posted by ESPN.com's Tim Griffin
Grab a link and enjoy your lunch with them.
October, 24, 2008
10/24/08
10:59
PM ET
Posted by ESPN.com's Tim Griffin
Here's a collection of factoids, notes and quotes that I came up with during the course of the week.
HOT AND NOT
Sizzling
Nebraska's ball-control offense in the last two games. The Cornhuskers have dominated time of possession by a 77:23 to 42:37 difference -- an incredible margin of nearly 35 minutes. And Nebraska's 10 scoring drives in those two games have averaged 10.3 plays, 73.6 yards with an average time of possession of 5 minutes, 7.6 seconds.
Hot
Oklahoma State's run defense, which has limited opponents to 53 yards and 2.2 yards per carry in the last two games.
Not:
Texas A&M, which started the season at 2-5 for the first time since 1980.

Hot
Missouri tight end Chase Coffman who has produced 38 catches in his last four games, including more than 10 receptions in three of the games.
Not
Missouri running back Derrick Washington, who has rushed for an average of 14 yards per game and 1.9 yards per carry in his last two games. Washington produced an average of 100 yards per game and 7.5 yards per carry in his first five games.
Hot
Not
Missouri's defense, which slid to 114th in pass defense and 100th in total defense after losing to the Longhorns last week.
Hot
Kansas, which has won 13 straight games at home. Texas Tech, however, will be the first foe during that streak that has been ranked.
Not
Baylor has lost 15 straight games to ranked teams
Hot
Texas Tech's defense, which limited Texas A&M to 32 yards in the second half and 20 yards rushing in the game to nail down a 43-25 victory over the Aggies.
Not
Texas Tech's kicking game, which has missed six extra point opportunities and made only 4 of 8 field goal attempts. No wonder coach Mike Leach is considering walk-on Matt Williams as an alternative.
Hot
Colorado running back Rodney Stewart, who last week tied the school freshman record with his third 100-yard game of the season.
Not
Colorado kicker Aric Goodman has missed six straight field goals since earning a scholarship after his game-winning kick against West Virginia on Sept. 18.
Frigid
Missouri's ballyhooed offense at the start of last week's game against Texas. In their first four possessions, the Tigers produced 14 yards on 15 plays.
September, 19, 2008
9/19/08
6:38
PM ET
Posted by ESPN.com's Tim Griffin
I would be remiss if I didn't congratulate Colorado for a strong performance in last night's 17-14 overtime victory over West Virginia.
It wasn't an artistic success, but the Buffaloes did just enough to win the game.
That, along with some questionable clock management by West Virginia coach Bill Stewart, who appeared befuddled with the use of time outs late in regulation.
I was particularly impressed with the play of Colorado TB Rodney "Speedy" Stewart, who looked like the second coming of Darren Sproles in the way he changed the game's momentum. It was Stewart and not heralded fellow freshman Darrell Scott who became the key player for the Buffaloes down the stretch.
And even as Colorado's offense struggled down the stretch with 10 scoreless possessions in a row, the defense kept them in the game late.
The game hinged on a made field goal in overtime. West Virginia's Pat McAfee plunked his off the left goalpost. And Colorado's Aric Goodman drilled his through on the following possession, earning Colorado the victory.
According to the Rocky Mountain News, Colorado teammates have dubbed Goodman "Money" because of his consistency with clutch kicks. The former walk-on earned the nickname another way when Colorado coach Dan Hawkins told him after the game that he had earned a scholarship.
I hate seeing how overtimes often result in kicking contests. And I'd like to see both teams get the ball at the 50-yard line rather than the 25 to ensure a couple of first downs before a field-goal attempt would result. That's just my own pet peeve, however.
Colorado isn't complaining about overtimes rules -- with good reason. But they still ought to thank Stewart for his new takes about clock management.
And the triumph likely will put Colorado into the top 25 on Sunday. And it should set them up for an interesting game at Florida State next week.
September, 19, 2008
9/19/08
9:27
AM ET
Posted by ESPN.com's Tim Griffin
The remnants and reminders of Hurricane Ike can be found scattered across the Texas A&M campus.
Parking will be at a premium for the Aggies' game Saturday against Miami because many surface lots have been taken over by the arrival of refugees from the storm. Nearby Reed Arena is a government-designated emergency site. About 300 special-needs patients are being treated on the floor of the arena after being transported there from throughout the hurricane-ravaged area.
Aggies officials took down banners, goal posts and wind screens with the approach of the storm. The campus was largely untouched.
Not as fortunate was the nearby campus of Texas A&M at Galveston, which suffered some significant damage. It has led to the relocation of about 1,000 Galveston-campus students to College Station, where they could remain for the rest of the semester.
Hotel rooms, already tough to come by on a football game day, are at even more of a premium this weekend in the Bryan-College Station area because evacuees have been using them since the storm blew through. It's led the 12th Man Foundation at Texas A&M to start anorganized drive of releasing additional rooms in the area that might have been reserved for Saturday's game.
Some might wonder why the game should be played this weekend after the recent catastrophe. But in a way, having a game on Saturday will be good for the Southeast Texas area. It will give everyone a chance to forget about their recent troubles, at least for a few hours.
Here are some links from around the Big 12 this morning.
August, 13, 2008
8/13/08
10:03
AM ET
Posted by ESPN.com's Tim Griffin
It wasn't that long ago that the bedrock of the Nebraska football program was its imposing offensive and defensive lines. The Cornhuskers' weight-training program was the foundation of a program that claimed a share of three national championships during a four-season period in the 1990s under former coach Tom Osborne.
Lincoln Journal Star columnist Steven Sipple had an interesting point today about why the Cornhusker program has atrophied in recent seasons.
The Cornhuskers haven't had an all-conference offensive lineman since Toniu Fonoti in 2001 and an all-league defensive lineman since Steve Warren in 1999.
Bo Pelini has his work cut out as he tries to rebuild the once-proud Cornhusker program. But here's a suggestion for the new Nebraska coach: Be sure your team gets a heaping dose of Big 12 links every morning. Because like Wonder Bread, they help build strong bodies 12 ways.
Here's a little nourishment this morning for the Cornhuskers -- and for everybody else.