NCF Nation:

Arie Kouandjio
September, 2, 2013
9/02/13
7:00
AM ET
ATLANTA --
Anthony Steen
,
Ryan Kelly
and a few of their fellow offensive linemen huddled near the makeshift stage at the 50-yard line, outside a yellow rope that separated players from the media on the field of the Georgia Dome in Atlanta. Alabama was being presented a leather helmet for beating Virginia Tech 35-10 in the Chick-fil-A Kickoff Game, but this group of disgruntled players weren't interested in watching the celebration.
AJ McCarron
,
Christion Jones
and the rest of the stars of the game smiled for the cameras while Kelly and Steen had their backs to the action. Turning toward one another, they did their best to figure out what just went wrong. A year after having the best offensive line in college football, the Crimson Tide's front five looked underwhelming. It was a foreign site for the mass of Alabama fans that packed the domed stadium hoping to see what three new starters could do against a Virginia Tech defense decimated by injuries and attrition. In an unusual sight, the line of scrimmage wasn't awkwardly disjointed.
Steen, a third-year starter at right guard, wasn't expecting the amount of movement Hokies defensive coordinator Bud Foster threw at them. The defensive line went east and west where the Tide expected it to go north and south. Alabama wants to go straight at you on offense, and against Virginia Tech it couldn't get the correct angles to do that. The result: 12 tackles for loss, four sacks and a running game that could never really get going. Even AJ McCarron struggled to set his feet and deliver the ball downfield. Alabama's 96 rushing yards and 110 passing yards would have both been the worst production of any game last season.
"We celebrated a little bit, but it was just a little quiet," he said. "We expected to go out there and win by 50."
NFL scouts on hand for the game put it in more striking terms.
"The O-line got their a-- kicked," one scout said.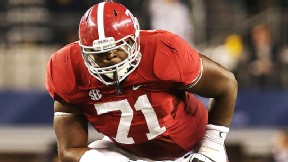 Kevin Jairaj/USA TODAY SportsLeft tackle Cyrus Kouandjio said "all the little things" stacked up against the Alabama offensive line against Virginia Tech.
The general consensus among professional evaluators was that if Alabama doesn't get better up front and runs the ball effectively, it won't be able to win a third national championship.
It wasn't the newcomers on the line that stood out the most, though. Left tackle
Cyrus Kouandjio
, the anchor of the group and a presumptive early first-round pick in the coming draft, was a turnstile at times, slow of foot as Virginia Tech's defensive ends cut around him to reach the quarterback. Alabama tried running behind Steen to start the game, having
T.J. Yeldon
carry the ball in his direction for the first three carries, but the results were gains of 2, 4 and 4 yards.
"We had good plays and we had bad plays," Kouandjio said. "It's a good thing this is the first game and we have a bye week to iron out the kinks and go back at it.
"They moved around a lot. It's all the little things that kind of got to us tonight."
Alabama coach Nick Saban put it more succinctly: "They outplayed us up front, if you want to know the truth."
"We were soft," he added. "Didn't have a solid pocket. Quarterback didn't feel comfortable. Timing in the passing game wasn't what it needed to be in terms of how much time we had to throw it, how much time we had to get open. Those are the kind of things I think we really need to improve on."
Saban replaced left guard
Arie Kouandjio
, a first-time starter after back-to-back knee injuries early in his career, for backup
Kellen Williams
, who performed ably but not spectacularly in the second half. The other new addition to the line, right tackle
Austin Shepherd
, couldn't do much to get the running game going on his side.
The result was obvious: This is not the Alabama offensive line that dominated offenses with the likes of Barrett Jones, Chance Warmack and D.J. Fluker. This line had trouble with an unranked Virginia Tech team that, while enthusiastic, doesn't have the depth of many SEC defenses Alabama will face this season.
The good news is Alabama gets the benefit of the bye week and will have a full two weeks to prepare for No. 7 Texas A&M, which had nine tackles for loss in a season-opening win over Rice. The matchup in College Station, Texas, is arguably the biggest game of the season for the Tide, who lost to
Johnny Manziel
and the Aggies last season.
"We had a lot of guys out there that were ready to get out there and play," Steen said. "Some of us were nervous. Heck, I was nervous a little bit in the beginning -- first game of the season, who's not? As the season goes on, we'll be able to tell how good we'll be."
August, 31, 2013
8/31/13
11:38
PM ET
ATLANTA -- The scoreboard read the way everyone pretty much expected it to. It showed an SEC team trouncing another almost helpless victim from the ACC.
[+] Enlarge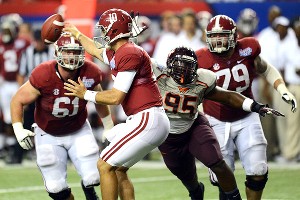 Dale Zanine/USA TODAY SportsAJ McCarron threw for just 110 yards in Alabama's win over Virginia Tech.
But Alabama's 35-10 win didn't feel like the blow out that the scoreboards inside the Georgia Dome indicated. For a team picked by the masses to win its third straight national championship -- and fourth in five years -- Alabama wasn't the well-oiled machine we're accustomed to seeing, but the Crimson Tide still won by 25 points.
The offensive line looked shaky and overmatched at times, and Alabama rushed for just 96 yards (averaging 2.5 yards in the process), but the game never seemed in doubt for the defending champs.
The offense had less than 120 total yards with six minutes remaining in the third quarter, but Alabama's victory appeared sealed before the teams took off for halftime.
Amari Cooper
dropped a couple of passes and
AJ McCarron
's timing was far from great. Yet, Alabama will still be ranked No. 1 in the polls on Monday.
Alabama could still be the nation's best team, but even the Tide showed that it has issues that have to be corrected before this team can make history by being the first team to win three straight national championships since Minnesota from 1934-36.
"I don't know how good we need to be, I just know we need to get better," said McCarron, whose 110 passing yard marked his lowest amount as a starter.
"We just have to get better all the way around."
The first place people will look is the rebuilt offensive line. With three NFL draft picks gone from last year's unit, Alabama started three new players in
Ryan Kelly
,
Arie Kouandjio
and
Austin Shepherd
.
Communication issues, first-game jitters, blown assignments and an aggressive Virginia Tech front seven caused Alabama's line to look dazed for most of the night. McCarron was only sacked once, but he spent a lot of his time running around to avoid pressure. He only completed 10 of his 23 pass attempts and found himself late on a few easy throws.
To McCarron, he was the reason for an ugly passing game.
"To me, unbelievable job (by the offensive line) tonight," the senior QB said. "You can put the blame on me and say that I gotta get rid of the ball a lot faster. I thought they played excellent. I'm proud of those guys. Unbelievable jobs in the first game, especially against a tough Virginia Tech defense. I thought they played their butts off. I'm proud of them."
But when it came to blocking the run, McCarron wasn't to blame. The line just didn't get enough push, as Alabama failed to cross the century mark on the ground for the first time since gaining just 96 yards in its 9-6 overtime loss to LSU in 2011.
Left tackle
Cyrus Kouandjio
said the communication issues from Saturday night weren't problems in practice, but guys didn't seem ready for the actually game speed and the Hokies' defense ran plays the line wasn't prepared to see.
With two weeks until Alabama's next game, Kouandjio isn't worried about a repeat performance.
"It's great that it's the first game and it kind of tests us to see where we're at," Kouandjio said. "It's perfect because we have the bye week to iron out the kinks and get back at it."
Look, it's way too early to start jumping on the "Alabama is overrated" train, or thinking about a new BCS title favorite. Alabama was sloppy, but it was still the much more talented team. Alabama showed that even though it currently has some glaring issues along its offensive line, its problems are some that teams around the country would love to have.
When the offense shrank and was mauled by a very impressive Virginia Tech defense and was held to just 206 yards of offense -- the lowest by Alabama since it gained just 172 against Tulane in September of 2008 -- special teams stepped up with two touchdown returns by
Christion Jones
.
Then there was the defense that dazzled for most of the night and limited the Hokies to just 212 yards, including 59 passing yards from future NFL draft pick
Logan Thomas
.
Take away Trey Edmunds' 77-yard touchdown run, and the Hokies might not have even sniffed the end zone.
It wasn't a pretty victory, but Alabama looked like the better team all night and is 1-0. It now gets two weeks to prepare for
Johnny Manziel
and his
Texas A&M Aggies
.
There's no question that this team has to get better soon, but with Nick Saban's obsession with detail and preparedness, it's hard to imagine another sloppy performance.
"We got a week off to prepare for Texas A&M and we're going to work on our fundamentals, get back right and we'll see them in Texas," defensive lineman
Jeoffrey Pagan
said.