NCF Nation:

Arik Armstead
January, 7, 2015
Jan 7
9:00
AM ET
Michigan State's 2014 season will be remembered most for the way it ended: a furious fourth-quarter comeback against Baylor in the Goodyear Cotton Bowl Classic, giving the Spartans a signature win.
But the Baylor triumph, combined with the results of the College Football Playoff semifinals that took place later on Jan. 1, provided Michigan State another distinction. No team in college football has better losses than the Spartans, whose only two setbacks came against the teams that meet Monday for the College Football Playoff National Championship Presented By AT&T.
"It's crazy how things work out," Spartans safety
Kurtis Drummond
said, "that your two losses come to national title contenders."
[+] Enlarge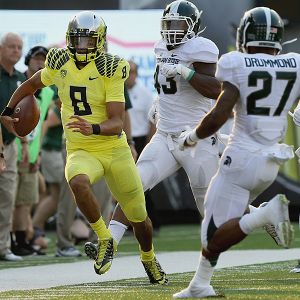 Chris Pietsch/Associated PressMarcus Mariota kept the Spartans off-balance with both his legs and his arm.
MSU fell Sept. 6 at Oregon and Nov. 8 against Ohio State at Spartan Stadium. The Spartans led both games for stretches before stumbling midway through. They piled up yards in both contests -- 466 against Oregon, 536 against Ohio State -- but couldn't slow down their opponents' potent offenses, which combined for 95 points and 1,059 yards against a typically formidable Spartans defense.
The Spartans aren't offering title game predictions, but they weighed in on several elements of the mega matchup.
Oregon quarterback Marcus Mariota
Michigan State faced only half of Monday's quarterback pairing, as Ohio State's
J.T. Barrett
was still healthy for the game in East Lansing, Michigan. Mariota had 318 pass yards, three touchdowns, no interceptions and 42 rush yards in Oregon's Week 2 win against the Spartans.
"I remember his composure and his confidence," Drummond said. "He's not a guy who's going to make the first guy miss and just take off running. He can do that, but he's a guy who can still throw the ball downfield."
Mariota made the game's defining play with his feet, and then his arm. Michigan State led 27-18 in the third quarter and appeared to have sacked Mariota on third-and-long, but the Oregon star escaped several would-be tacklers before shoveling the ball to
Royce Freeman
for a first down.
Oregon converted another third down moments later and reached the end zone, sparking a 28-0 run to end the game.
"He's extremely gifted in terms of riding the fake-out," Michigan State coach Mark Dantonio said. "You can see a couple times in the film where our guys are sitting right there and eyes on the ball, eyes on him and we lose him. And then, in the pocket getting out of problems, he's a fast guy, he's extremely elusive."
The offenses
Both offenses fall under the spread canopy and have similarities in personnel and operation.
For years, Oregon's pace has staggered opposing defenses, especially when the Ducks get rolling. They lead the FBS this season in scoring percentage after the initial first down is gained, scoring on 66.2 percent of such possessions. Dantonio said Ohio State doesn't operate as quickly as it did with
Braxton Miller
at quarterback, but a tempo element remains.
"They both create run-pass conflicts," Dantonio said. "They both have coaches that are on the cutting edge of what we see now as offensive football."
The skill-position contingents are similar: fast and physical backs such as Ohio State's
Ezekiel Elliott
and Oregon's Freeman, big-play receivers such as Oregon's
Darren Carrington
and
Devon Allen
and Ohio State's
Devin Smith
and
Michael Thomas
. Oregon has six players with at least 20 receptions who average more than 13 yards per reception; Ohio State has four.
"Oregon has guys who ran track, Ohio State has guys who ran track," Drummond said. "They both have explosive-type players out there on the edges, guys who can make plays on the ball."
One difference, Drummond noted, is that Ohio State lines up its tight ends closer to the line of scrimmage. The Buckeyes'
Jeff Heuerman
is a strong blocker with the ability to catch passes. Oregon lost standout tight end
Pharaoh Brown
to a season-ending leg injury in November.
The defenses
There are more differences in scheme -- Oregon runs a 3-4, Ohio State a 4-3 -- and personnel with these less distinguished units. Oregon's height at defensive end with
Arik Armstead
(6-foot-8) and
DeForest Buckner
(6-foot-7) stood out to both Dantonio and MSU offensive coordinator Dave Warner.
Ohio State isn't quite as tall up front but boasts power inside with tackles
Michael Bennett
and
Adolphus Washington
.
"That's going to be a test for both offenses, to try and establish the run game," Warner said. "They've both got some run-stoppers up front."
[+] Enlarge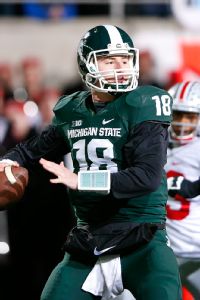 Joe Robbins/Getty ImagesOhio State forced Connor Cook and Michigan State to pass more than they otherwise would have liked.
Offensive balance was among Michigan State's top goals entering both games, but the Spartans became pass-heavy in both contests, especially as they fell behind in the second half.
The Ducks' defensive backs also caught Warner's attention. Oregon safety
Erick Dargan
had the first of his team-leading seven interceptions against the Spartans.
"Those guys are playmakers, so you've got to be pretty smart as far as how you attack them in the pass game," Warner said. "We had a little bit of success but screwed up there toward the third and fourth quarter. Those guys don't let you get away with many mistakes."
Keys to the game
The offensive firepower on both sides has many anticipating a shootout. It's why Warner thinks conversion rates -- third downs and touchdowns -- will be so important.
Michigan State's inability to convert a red zone opportunity late in the first half against Ohio State -- a holding penalty nullified a touchdown run and the Spartans subsequently missed a short field goal attempt -- turned the momentum and MSU never recovered. Ohio State and Oregon rank third and fourth nationally in third-down conversions, so the team that better moves the chains will have a significant edge. Ohio State is better (20th nationally, 35 percent conversions) at preventing third-down conversions than Oregon (60th, 39.5 percent).
"Third downs become very critical, whether it's third-and-short or third-and-long," Warner said. "When you get in the red zone, you want to get touchdowns, not field goals. Those things become even more important when you're going against a high-powered offense."
Dantonio expects turnovers and special teams to loom large. Oregon used three third-quarter takeaways against Florida State to pull away from the Seminoles. Ohio State committed two early turnovers against Alabama but rallied to win the turnover margin 3-2.
Oregon leads the nation in turnover margin (plus-20), while Ohio State is tied for 15th (plus-10).
"This isn't a game," Drummond said, "where it's going to be easy to win beating yourselves."
November, 16, 2012
11/16/12
1:00
PM ET
Stanford is 31-5 since the beginning of the 2010 season. The Cardinal have lost three games during that span by a combined 14 points, and two of those were in overtime.
And they lost the other two, both to Oregon, by a combined 44 points.
Stanford has an Oregon problem.
"I think the entire conference has an Oregon problem," Stanford coach David Shaw countered reasonably.
True that. Oregon is on track for its fourth consecutive outright Pac-12 title. As ESPN's Brad Edwards
noted this week

: "If [the Ducks] can win [the Pac-12 title game] again this season, they will join John McKay's USC teams from 1966 to 1969 as the only groups in the history of that conference to win four consecutive outright titles."
[+] Enlarge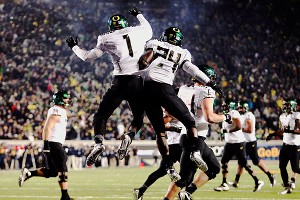 Kelley L Cox/US PresswireOpponents haven't been able to slow down the Ducks' potent offense for four quarters.
So Oregon is historically good.
And Stanford, though on a historically good run for its own program, has been Wile E. Coyote to Oregon's Road Runner.
Stanford (8-2) will get another chance to change that Saturday in Autzen Stadium, with ESPN's "College GameDay" on hand. The stakes, just like the previous two seasons, are big. The winner takes control of the Pac-12 North Division. The Ducks, of course, need to win to remain in the national title chase.
Shaw didn't hold back praising Oregon (10-0) this week. It could be gamesmanship, but Shaw also seems to genuinely appreciate what coach Chip Kelly has built at Oregon. As Shaw said: "Great athletes, great scheme in all three phases."
"They know how to adjust those schemes based on what you are doing, which to me is the biggest key," he said. "You don't see them stopped for long. If you're doing something that is slowing them down, they are going to make a tweak and make you pay for it."
Well-put. That about sums up Oregon.
And yet ... what about Oregon's injury-riddled defense?
"It doesn't matter," Shaw said. "They put young guys in there, they put new guys in there, and those guys go out there and play great."
Maybe. But maybe not.
There are cracks in the Oregon facade, mostly because a number of front-line players on the Ducks' defense -- once a nationally elite unit -- are questionable or out for Saturday.
Safety
Avery Patterson
is out for the year with a knee injury. You might recall Oregon previously lost All-America safety
John Boyett
to a knee injury. Defensive tackle
Wade Keliikipi
also is almost certainly out with a leg injury.
Also banged up and of questionable health on the defense: DE/DT
Taylor Hart
(foot), DE/OLB
Dion Jordan
(shoulder), DT
Isaac Remington
(ankle) and NT
Ricky Heimuli
(knee). And backup cornerbacks
Troy Hill
and
Dior Mathis
didn't play last weekend against California, which is why word coming out of practice this week was that
De'Anthony Thomas
was taking reps on defense.
That's a lot of banged up high-quality players, particularly on the defensive line. The past two weeks, Oregon has had to rely on three true freshman D-linemen --
Arik Armstead
,
DeForest Buckner
and
Alex Balducci
-- often playing them at the same time.
While Stanford's offensive line is not what it was last year with David DeCastro and Jonathan Martin, it still is an above-average unit, one that likes to go mano a mano in the trenches. It's certainly much better than the Cal unit that did a fairly good job against the Ducks last weekend.
So the Cardinal may be able to control the football with
Stepfan Taylor
running the ball, though you can expect Ducks "Stop the Run First" defensive coordinator Nick Aliotti to dare Stanford to throw the ball with redshirt freshman quarterback
Kevin Hogan
, who is making his first road start.
But the bigger issue, as usual, is slowing the Ducks' explosive offense, which has gashed Stanford the past two years with big plays -- seven TD plays of 25 or more yards, not including a 40-yard pick-six last season.
Stanford has the nation's No. 1 run defense, but few teams run the ball as well as Oregon. And Ducks redshirt freshman quarterback
Marcus Mariota
leads the nation in passing efficiency.
Oregon, particularly playing at home, seems fully capable of outscoring Stanford if the Ducks' defense is having a bad day. A few teams have been able to slow the Ducks for a quarter here or a quarter there. But even then -- boom! -- things go haywire. Stanford has experienced that itself. Twice in the past two years, in fact.
The question then becomes simple for Stanford: Can it somehow make Mariota and the Oregon offense have a bad day for four quarters?
It's the Oregon problem, and it's not easy to solve.
May, 15, 2012
5/15/12
5:30
PM ET
USC might be No. 1 in the College Football Live spring Top 25 rankings. But it's No. 4 Oregon that has the best chance to knock the SEC off its six-ringed mountain. So says ESPN college football analyst
Brock Huard
, who laid out three reasons (all extremely sound and logical)
why Oregon is actually the team to beat

in the Pac-12 this season.
Here's a minor re-hash of his three points.
Regarding the quarterback situation: Cam Newton and AJ McCarron won BCS titles the past two seasons as first-year starters under center. McCarron filled the role of game manager, while the Heisman Trophy-winning Newton was the ultimate game-breaker. For Oregon in 2012, either redshirt freshman Marcus Mariota or sophomore Bryan Bennett will be under center as a first-year starter, a point that isn't lost on coach Chip Kelly, but also one that doesn't scare him, either.
The Ducks have an SEC-worthy defensive front: "Yeah, our group thinks they could be [on that level]," Kelly said. "We have some size with Wade Keliikipi [6-foot-3, 300 pounds] and Ricky Heimuli [6-4, 321] that will match some of those guys. Football starts up front. We've learned that in our battles with LSU and Auburn. I really think our defensive line will be the strength of this football team."

Throw in returning first-team all-conference defensive end Dion Jordan (6-7, 245), lengthy and productive redshirt junior Taylor Hart (6-6, 289) and four-star recruit Arik Armstead (6-8, 297) and it becomes clear as to why the normally reserved Kelly gets so excited about his team's prospects up front.
The schedule favors the Ducks: The only road trip in the first six weeks is to face the Washington State Cougars, and not even in Pullman, but rather at Century Link Field in Seattle where the Green and Gold could very well equal the Crimson and Grey in the stands. The easy early slate will provide a soft landing for Oregon's first-year QB.
This will obviously be a major point of contention for both USC and Oregon fans, assuming both teams do as expected, until Nov. 3 rolls around. [Utah fans, feel free to jump in on this until Oct. 4 -- and beyond if your team can top the Trojans at home]. Still, it doesn't mean we can't stoke the fires a little early.
April, 3, 2012
4/03/12
11:00
AM ET
Most Pac-12 teams will have new faces on hand this spring -- early-entry high school or JC players or transfers -- who are expected to provide immediate help, if not win starting jobs.
Here are seven we expect to make a mark in 2012 (feel free to comment on how you can't believe we left out so-and-so).

LB Brian Wagner, Arizona
: Wagner was prolific tackler at Akron, collecting at least 100 stops in three years as a starter and earning All-MAC honors in two out of his three seasons with the Zips. He might not have top-flight Pac-12 speed, but the Wildcats are fairly desperate at linebacker.
QB Connor Wood, Colorado
: Wood, a Texas transfer, was expected to win the job even before
Nick Hirschman
re-injured his foot. But with Hirschman out, it's Wood's offense -- at least for the spring. In the fall,
Jordan Webb
, a two-year starter at Kansas with two years of eligibility remaining, is expected to join the fray.
DE Arik Armstead, Oregon
: The true freshman arrives in Eugene this spring after one of the more
closely watched recruiting sagas on the West Coast
. While more than a few folks believe the 6-foot-8, 280 pounder is a prototypical left OFFENSIVE tackle, he's going to at least start off on defense at Oregon. He's athletic enough to play end, and could immediately be in the picture to replace the departed
Terrell Turner
.
TE Caleb Smith, Oregon State
: The Beavers use both a tight end and an H-back, and Smith, a touted recruit from Kentridge High School in Renton, Wash., looks like a good candidate to replace departed -- and productive -- H-back
Joe Halahuni
. He could challenge sophomore
Connor Hamlett
, the backup tight end in 2011, for the starting job.
DE Brandon Willis, UCLA
: Willis' wanderlust has been almost comical -- he's transferred between UCLA and North Carolina twice -- but he was once a touted recruit and could compete for immediate playing time on an experienced but underachieving Bruins D-line.
RB Kelvin York, Utah
: York, a 5-foot-11, 225-pound transfer out of Fullerton College, picked the Utes over a host of suitors. At the very least will be Robin to
John White
's Batman. It's also possible they could be 1A and 1B, almost splitting carries equally.
RB/WR Antavius Sims, Washington
: Sims is a JC transfer who signed with the Huskies in 2011 but didn't qualify academically. He was expected to play cornerback, but has been shifted to offense so he can use his speed both as a runner and receiver.
March, 7, 2012
3/07/12
1:30
PM ET
The strange college career of Armond Armstead is over — at USC and anywhere else.
The former starting Trojans defensive lineman, who sat out last season due to an undisclosed medical condition, has decided to enter the NFL draft, his father told the
Orange County Register
.
Guss Armstead confirmed that his son has hired an agent and will participate in some portion of USC's pro day Wednesday. Guss Armstead referred further questions to the agent, Carter Chow, who did not immediately return a call seeking comment.

Because he graduated in December, Armond Armstead will be eligible for April's NFL draft, a league spokesman said.
Armstead started for two seasons, playing both end and tackle, and had 59 tackles, including 10.5 for losses (with two sacks) in 17 career starts. He missed spring practices in 2011 with a medical condition that was never made public. Further, there was some difference of opinion over the severity of the condition between USC officials and the Armstead family.
That disagreement is largely why his brother, touted 2012 prep lineman Arik Armstead, de-committed from USC and ended up at Oregon.
There was a lot of talk during recruiting, in fact, about the two being a package deal, but transfer rules — Pac-12 as well as NCAA — made that difficult to work out.
As for Armstead's NFL prospects, that should be interesting. He was certainly an NFL prospect before his medical issue was diagnosed. And USC fans might recall that at least one Trojans transfer
who wasn't cleared medically to play
at USC is doing pretty darn well.
But Armstead has missed a year of action and will have to prove to NFL scouts he's good to go. If he does that, it wouldn't be surprising if he ends up getting picked late in the draft. At the very least, he'll have plenty of free-agent suitors.
February, 1, 2012
2/01/12
8:00
PM ET
Even before his flirtation with the Tampa Bay Buccaneers, Oregon coach Chip Kelly heard a lot of rumors during recruiting. Rumors about himself.
"When I heard I was going to Manchester United in the English Premier League, that was a little far-fetched," he said.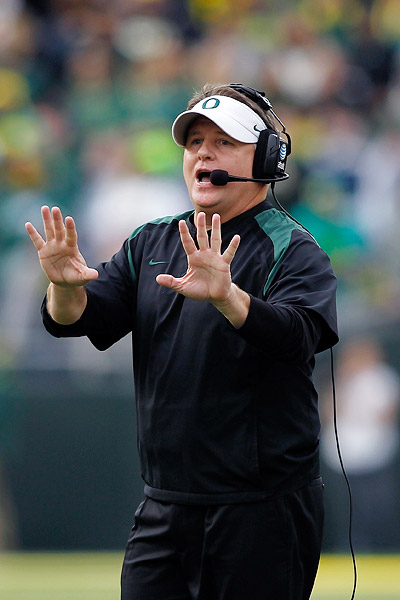 Jonathan Ferrey/Getty ImagesChip Kelly didn't let rumors about his leaving Oregon keep him from landing a top-10 class.
Yes, that was far-fetched, but even the general rumors about Kelly not being long for Oregon didn't seem to work well. The Ducks
signed 21 recruits
for what is likely to
become a top-20 class
.
There were no negative surprises on signing day. The Ducks flipped a couple of receivers --
Bralon Addison
from Texas A&M and
Chance Allen
from Oklahoma State -- without losing any players who were previously committed. On a day of flips, the Ducks weren't victimized.
Not that Kelly wasn't bothered by other programs using rumors, as well as the Bucs courtship, against the Ducks.
Said Kelly, "I don't understand that approach: 'Please don't go to that school because that coach is successful. Come to ours because our coach is really mediocre and will never be offered a job."
Hmm, wonder to whom he might be referring?
As it was, the Ducks' highest-rated recruit, defensive lineman
Arik Armstead
, actually
cited Kelly's honesty before he committed
, saying it was meaningful that Kelly refused to give him a guarantee that he'd remain in Eugene for Armstead's entire career.
In fact, Kelly was able to use his NFL vs. Oregon situation to his advantage. After all, he was asking prospects to choose Oregon over other intriguing suitors.
"I told them I was in the same situation they are in," Kelly said. "I was presented good opportunities and made an educated decision about what the best situation for me was."
Kelly's class featured 10 players on defense, eight on offense, two athletes and one special teams player. The Ducks inked 18 prep players and three junior college transfers. Three were ESPNU 150 players. Nine earned some sort of high school All-Americans, the most in a single recruiting class in program history.
The Ducks signed five defensive linemen and four defensive backs. The only other positions with multiple signees were quarterback, tight end and wide receiver with two apiece.
You can check out the Ducks
full class here
.
January, 31, 2012
1/31/12
10:01
AM ET
Monday wasn't a Banner Day for Washington recruiting, but sometimes it takes a
Shaq to shelter a class
.
(I know. Sorry).

After offensive lineman
Zach Banner
(Lakewood, Wash./Lakes) picked USC over Washington, the Huskies shortly thereafter landed a commitment from perhaps the nation's No. 1 safety:
Shaq Thompson
(Sacramento, Calif./Grant).
Thompson was previously committed to California, so this could be termed the first flip from the Bears to the Huskies for former Cal assistant Tosh Lupoi.
It turns out, however, that the Huskies actually beat out Oregon for Thompson's services. From ESPN Recruiting's Greg Biggins:
Here's how close it was between Washington and Oregon. Last week, Thomson met with Arik Armstead and the two made a pact to play their college ball together. Oregon was the choice for both, and Thompson even went out and bought a Ducks hat and engraved his name in it.
Shortly afterwards, Thompson thought more about his decision and decided that Washington was a better fit. He let Armstead know and then took an unofficial visit over the weekend to Seattle to check out the Huskies one more time. Just one more look was all it took for the talented safety, and the Huskies landed what could arguably be their biggest recruit in years.
But, yes, Lupoi made a difference for the Huskies -- as well as new defensive coordinator Justin Wilcox:
"He was the one guy I was close with on the staff," Thompson said. "I knew he wouldn't be coaching me, but just knowing he was there was big for me. When he left, I immediately opened up my recruitment and decided to check out my options."
As big as Lupoi was, new Husky defensive coordinator Justin Wilcox might have played an even bigger role. Wilcox recruited Thompson's older brother Syd Thompson to Cal seven years ago, and the family was very comfortable with him.
The Huskies have
19 commitments
, and Thompson is the highest rated.
The Huskies will go up against Cal for a number of other recruits on Wednesday, national signing day. Will Lupoi make a difference again?
January, 29, 2012
1/29/12
7:43
PM ET
Oregon won the Arik Armstead lottery on Sunday.
Armstead, one of the nation's top-rated linemen,
picked the Ducks

over California, Washington, Auburn and Notre Dame. The one-time USC commitment will play defense for the Ducks -- he's rated higher as an offensive lineman -- and also will play basketball and will enroll at Oregon in time to participate in spring practices.
From ESPN Recruiting's Greg Biggins:
Before Cal defensive line coach Tosh Lupoi left for Washington, Armstead seemed like a very solid bet to end up with the Bears. Even late last week, there was talk among a few other 2012 recruits that it looked good for Cal to land Armstead.

Oregon, led by head coach Chip Kelly and linebacker coach Don Pellum, came in for a home visit last week and wowed the family.

Kelly was able to sell the opportunity to play for a national championship right away and Pellum sold Armstead on how he would fit in with the defense.
Interesting twist here. While Cal fans will be sour that Armstead didn't pick the Bears -- allegedly because of Lupoi's departure -- they also can take heart from the fact that he didn't make the flip for the Huskies.
Further, this seems to validate the contention of many -- including yours truly-- that Oregon coach Chip Kelly may actually have helped recruiting by flirting with Tampa Bay.
The real test of Lupoi's jump to Washington: Shaq Thompson. He's choosing between Cal, where he has committed, Washington and Oregon. Thompson and Armstead are close, but not necessarily a package deal.
If the Huskies get Thompson, Lupoi immediately yields fruit. If Cal does, Lupoi's loss gets muted, at least in the short term.
And if Oregon gets him, then the Ducks start to show signs of taking a step toward elite recruiting.
Some
good stuff on Armstead here
.
National signing day, if you haven't heard, is Wednesday.