NCF Nation:

Arkansas fires Petrino
April, 24, 2012
4/24/12
8:47
AM ET
Not surprisingly, former Arkansas coach Bobby Petrino supported the hiring of his longtime mentor, John L. Smith, to come in and coach the Hogs for the 2012 season.

Petrino and Smith coached together at four different stops, and Petrino brought Smith to Arkansas in 2009 to coach special teams and outside linebackers.
Petrino's statement, which was released through his agent, Russ Campbell, read:
"I think Jeff Long made a great hire. While there were several outstanding internal candidates, John L. brings a lot of head coaching experience to the table that will help Arkansas transition. He will unify the staff, the team and the Razorback fan base. I wish Coach Smith, his staff and the Arkansas football team the very best."
April, 24, 2012
4/24/12
5:00
AM ET
1. When the Fiesta Bowl invited NCAA president Mark Emmert to attend a panel discussion next week on concussions, Emmert not only accepted, he offered to serve as moderator. Emmert joins NFL commissioner Roger Goodell in being overt in taking head injuries seriously. The panel discussion also provides gravitas to the Fiesta's resumption of its annual gathering of athletic directors and head football coaches. The former Fiesta Frolic used to be known for a lot of things. Gravitas was never one of them.

2. Typical, isn't it? Arkansas made the best possible choice in an impossible situation when it hired John L. Smith to serve as caretaker of the Razorbacks for 2012. Smith, a veteran head coach, had spent the last three seasons on Bobby Petrino's staff in Fayetteville. He knows the players. He knows the staff. The typical part? Weber State, which hired Smith as its head coach in December, becomes just another FCS victim of a big-spending school.

3. The Penn State administration continues to botch its dealings with Joe Paterno, weeks after the legendary coach died. The university contractually owed the Paterno estate $6.7 million, yet tried to negotiate the family into signing a legal release before it would pay the money. To call it ham-handed is an insult to hams everywhere. The university, after embarrassing itself again, paid the money last week.
April, 23, 2012
4/23/12
11:36
PM ET
The Arkansas players pledged solidarity two weeks ago when their head coach, Bobby Petrino, was sent packing.
Their message to Hog fans everywhere was that they would stay the course.
That's essentially what Arkansas athletic director Jeff Long did Monday in bringing back Petrino mentor and former Arkansas assistant John L. Smith to see the Hogs through the 2012 season.
It might not be a big splash nationally. Then again, who does make a big-splash hire in late April in college football?
More importantly, the Hogs weren't looking to make a splash. They were looking for stability, and that's what the 63-year-old Smith brings to an Arkansas program that seemingly has most of the pieces in place to break through and win its first SEC championship next season.
[+] Enlarge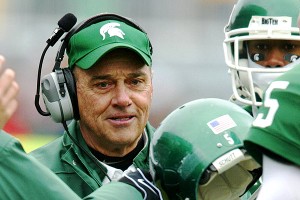 AP Photo/Al GoldisJohn L. Smith, fired by Michigan State in 2006, gets another crack at big-time college football.
Smith knows the Arkansas program. He knows the players. He knows this staff. He knows what needs to happen if the Hogs are going to indeed make a run next season.
Petrino brought Smith aboard in 2009 to oversee special teams and coach outside linebackers. But Smith was much more than just an assistant coach to Petrino, who had previously worked with Smith at Louisville, Utah State and Idaho.
Petrino used Smith as a sounding board for an assortment of things, and Smith was never one to hold back.
It's also noteworthy to remember that Smith approached Arkansas about this gig. Yes, he will have his detractors about leaving Weber State high and dry, but he also viewed this as his last chance to do something really special in coaching.
He doesn't need a crash course when it comes to the Hogs' personnel. He's also worked with eight of the nine coaches on the staff, and there won't be any transition this preseason in terms of putting in new offensive or defensive systems.
Smith is smart enough to realize that he has a veteran staff in place, and he's going to let his coaches coach.
Sure, he'll be the one making the big decisions. He'll decide when it's time to gamble on fourth down, and he'll make the final call on personnel issues.
But he's not going to tinker just to be tinkering, and because of that, the collective sigh you heard coming out of the Arkansas locker room late Monday afternoon reverberated throughout the SEC.
There's a reason star running back
Knile Davis
tweeted, "The happiest day of my life."
The Hogs' players didn't want change. They didn't want an outsider coming in and tearing up the staff and putting in a new system they'd have to learn in one preseason camp.
They wanted this staff to remain intact, and they wanted one of their own to be put in charge.
Even though Smith had been gone for a few months, he qualifies as one of their own.
He was right there with
Tyler Wilson
,
Tenarius Wright
and Davis as they fought to push this program out of mediocrity and into the national limelight the past three years.
Like the players on this team, Smith has a lot invested in making Arkansas football more than just a temporary resident of the SEC's penthouse.
Plus, you know he has to be hungry for one more shot after the way his last head-coaching stint ended. He was fired at Michigan State following the 2006 season. That's after being named Big Ten Coach of the Year his first season in East Lansing. The Spartans were 8-5 that 2003 season, but Smith never won more than five games in any of his next three and he was ousted after going 22-26 in four seasons.
Smith had some talented teams at both Michigan State and Louisville, but it's hard to imagine either of those teams being more talented than the one he'll put on the field this fall, especially on offense.
At Michigan State, Smith was renowned for his emotional outbursts. His halftime meltdown in the 2005 Ohio State game was epic. As he stormed off the field, Smith fumed, "The kids are playing their tails off and the coaches are screwing it up."
Never boring, Smith has climbed a 19,340-foot peak on Mount Kilimanjaro. He's skydived from a Cessna at 14,000 feet, and he's run with the bulls in Pamplona, Spain.
But now comes the challenge he's been waiting on his entire life.
Rescuing this coming football season and bringing an SEC and/or national championship to Arkansas would reduce all those other feats to mere footnotes, and in the process, make that ill-fated motorcycle ride back on April 1 seem like a bad dream.
April, 23, 2012
4/23/12
10:59
PM ET
My favorite moment of the John L. Smith era at Weber State -- all 4½ months of it -- was the crock pot full of alma mater nonsense he served during his introductory news conference.
It was passionate. It was poignant. And as it turned out, it was crap.
"No. 1, I've always had a place in my heart for Weber State," said Smith that December day in Ogden, Utah. "You do that naturally. That's your school, that's where you graduated from, so that fondness, that love is always with you. And again, to come back to run your own program as a head coach again is crucial for me. This hopefully can serve as an opportunity for me to give back something to the university."
Smith gave something back to Weber State. It's called a kick to the groin.
For the rest of Gene Wojciechowski's column, click
here
.