NCF Nation:

Armand Robinson
January, 18, 2011
1/18/11
11:00
AM ET
What would a season wrap be without a list of the top 10 moments of the non-AQ season? So here it goes.
1. Tank Carder bats down Scott Tolzien's 2-point conversion attempt.
The best moment of the season simply because it preserved TCU's 21-19 win over Wisconsin in the Rose Bowl, allowing the Horned Frogs to finish No. 2 in the final rankings as the top non-AQ team in the nation.
[+] Enlarge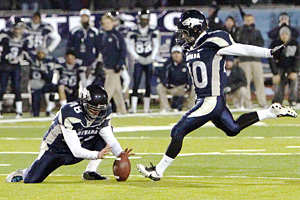 AP Photo/Cathleen AllisonAnthony Martinez's game-winning kick in overtime shocked Boise State and led Nevada to its best season ever.
2. Anthony Martinez kicks a 34-yard field goal in overtime to beat Boise State.
In one of the biggest upsets of the season, Nevada took advantage of two misses from Broncos kicker Kyle Brotzman to pull off the 34-31 win. It was Martinez, a redshirt freshman, who calmly delivered the game-winning kick, triggering a wild celebration and helping the Wolf Pack finish with the best season in school history.
3. Kellen Moore delivers the game-winning touchdown over Virginia Tech.
Moore threw the 13-yard touchdown pass to
Austin Pettis
with 1:09 remaining, lifting the Broncos to a 33-30 win over Virginia Tech. The win may have lost its luster at the end of the season, but at the time, it kept Boise State in the national conversation and proved once again the Broncos had what it took, not only to compete, but to beat the teams from the automatic qualifying conferences.
4. TCU smacks Utah.
The stakes were high. College GameDay was in Salt Lake City for the huge clash between No. 3 TCU and No. 5 Utah, two undefeated non-AQs jockeying for BCS positioning. The Horned Frogs dismantled Utah 47-7 as
Andy Dalton
threw for 355 yards, including a 93-yard touchdown pass to
Josh Boyce
early in the first quarter that set the tone for the game.
5. Brandon Burton blocks BYU's game-winning field goal attempt.
Not only was this the last game between BYU and Utah as conference rivals, it's also presumably the last time they will end the season against each other. Burton delivered a classic finish, blocking a 42-yard attempt by Mitch Payne to help Utah hold on for a 17-16 victory. Utah had erased a 13-0 deficit to come from behind and win.
6. Austin Boucher throws a 33-yard touchdown pass to Armand Robinson with 33 seconds left to help Miami (Ohio) win the MAC title game.
This was supposed to be Northern Illinois' night. The Huskies finished unbeaten in league play and were the overwhelming favorites to win. But Boucher, a redshirt freshman, converted a fourth-and-20 on the final drive, then hit Robinson for the game-winning touchdown as Miami (Ohio) completed the best turnaround in college football. The RedHawks went 1-11 last season.
7. Navy beats Notre Dame.
Alexander Teich
had his way against the Irish, running for 210 yards as the Midshipmen won in a 35-17 rout. It was Navy's third win over Notre Dame in four years, as it racked up 367 yards on the ground – the most ever for Navy against the Irish. Teich also became the first fullback in school history to run for over 200 yards in a game.
8. Dominique Davis' prayer answered.
Trailing 49-45 with seconds remaining in the season opener for both teams, the only option East Carolina had to win was to throw a Hail Mary into the end zone. Davis heaved the football into the end zone, and James Jones came up with the 33-yard touchdown to complete the improbable 51-49 victory. The teams combined for 1,117 yards and swapped the lead 12 times. If Tulsa had won, the Golden Hurricane would have played in the C-USA championship game and East Carolina would not have made a bowl.
9. Air Force knocks off Navy.
When the Falcons beat the Midshipmen 14-6 early in the season, they got the upper hand in the race for the Commander-In-Chief Trophy. Air Force beat Navy for the first time since 2002 and also ended the Midshipmen's 15-game service academy win streak. It was an emotional win for the Falcons, whose win over Army later in the season ended Navy's seven-year hold on that CIC Trophy.
10. FIU kicks a last second field goal to beat Toledo.
In what was one of the best finishes during bowl season, FIU kicker Jack Griffin booted a 34-yard field goal with no time left to give the Panthers a 34-32 win over the Rockets in the Little Caesars Pizza Bowl. It was a great moment not only because of the heart-stopping ending, but because FIU won its first bowl game in its first bowl appearance and finished with its first ever winning record.
January, 5, 2011
1/05/11
2:59
PM ET
There was some cause for concern when Miami (Ohio) quarterback
Zac Dysert
went down with a rib injury in November. The RedHawks were in the thick of the MAC race, and would now turn to a redshirt freshman who had attempted 14 passes in his career.
Austin Boucher
had no concerns. He knew he would take the opportunity and run with it. He most certainly did that, going 3-0 in his three starts since replacing Dysert. Among the wins were a 23-3 victory over Temple that kept the RedHawks in the race and a come-from-behind thriller to beat Northern Illinois in the conference title game.
[+] Enlarge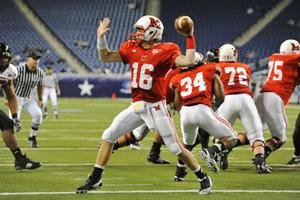 Steven King/Icon SMIThe RedHawks are 3-0 in Austin Boucher's starts, including a win in the MAC championship.
He now leads Miami into its first bowl game since 2004, when it plays Middle Tennessee in the GoDaddy.com Bowl on Thursday night in Mobile, Ala.
"I came here to play and this is the game I love," Boucher said in a recent phone interview. "I knew once I got my start, I would take advantage and enjoy it. You want to be a part of something like that. The team rallied around me. They picked me up in my first game or two, and I tried to be the best leader I could be."
In his three starts, Boucher has gone 72-of-115 for 765 yards with three touchdowns and no interceptions. The defining drive happened with less than three minutes left against the heavily favored Huskies. Down 21-20, the RedHawks seemed on the outs with a fourth-and-20 on its 38 staring them down. But Boucher completed a 31-yard pass to
Chris Givens
. Boucher was sacked on the next play, but recovered on second down, throwing a 33-yard touchdown pass to
Armand Robinson
with 33 seconds left to give Miami a 26-21 lead. The ball was tipped, but Robinson was wide open and waltzed into the end zone.
"It was crazy at the time," Boucher recalled. "I couldn't tell you what I was thinking about. I was reading the defense, we had a wide-open guy. I just focused on hitting the play that was unfolding."
The win helped Miami complete the best turnaround in the NCAA this season, going from 1-11 to 9-4. But it has been over a month since the RedHawks have played. For a team that closed the season with five straight wins and a conference title, you wonder how the layoff will impact the players.
"Every team has to wait, so it's the same on every field," Boucher said.
As for his future, there is certainly going to be a quarterback competition between Boucher and Dysert in the spring, with new coach Don Treadwell watching intently. Dysert was playing well before his injury, throwing for 2,406 yards with 13 touchdowns and 12 interceptions. Boucher said he had no intention of transferring regardless of how the quarterback situation unfolds. Dysert is a sophomore this season.
"Just like every player here, including Zac, everyone wants to play," Boucher said. "I didn't come here to be a backup. God's given me an opportunity late in the season, so I've been enjoying it and I've taken advantage of it. It will be a battle in the spring. Zac is a phenomenal quarterback. I helped out toward the end of the season, so I think it will be a good battle in the spring."
January, 5, 2011
1/05/11
11:00
AM ET
You saw the preview and prediction. Now here are three keys each for Middle Tennessee and Miami (Ohio) headed into the GoDaddy.com Bowl on Thursday night in Mobile, Ala.

Middle Tennessee (6-6)
1. Get Dwight Dasher going.
That has been easier said than done this season. Dasher has had an inconsistent season after being suspended the first four games for violating NCAA rules. He did play well in the finale against FIU, so the Blue Raiders are hoping he can pick up where he left off. But he did show signs of rust when he returned after his four weeks off, so it will be interesting to see whether the same rust returns with such a long layoff between games. One of the big keys will be to break contain and make plays with his legs, something that he has not done as much this season as he did in 2010.
2. Contain Miami running back Thomas Merriweather.
The RedHawks have relied more on their run game with
Zac Dysert
out, and Merriweather has responded with three of his best games of the season. Still, with a redshirt freshman quarterback in
Austin Boucher
starting once again for Miami, you can bet the Blue Raiders will want to shut down Merriweather and make Boucher beat them with his arm. To be successful, not only will Miami have to put pressure on Boucher with Jamari Lattimore, they will have to account for Miami receivers
Nick Harwell
and
Armand Robinson
, one of the finest duos in the MAC. The two combined for 1,766 yards and 11 touchdowns this season.
3. Limit the mistakes.
Middle Tennessee has been a turnover machine this season, ranking last in the FBS in turnover margin. The Blue Raiders have given the ball away 33 times and taken it away only 17, a large reason why they had a .500 season this year. Miami, meanwhile, is at plus-8 on the season in turnover margin, so it is even more imperative in this game for the Blue Raiders to hold onto the ball.

Miami (Ohio) (9-4)
1. Make life easy for Boucher.
There is no question that Boucher has filled in well as the starter since Dysert went down with a rib injury in November. Boucher has started three games and won all three, thanks in part to an increased reliance on the run game and Merriweather -- who has posted two 100-yard games with Boucher as the starter. It will be important to get Merriweather going early, to help open up passing lanes for Boucher and keep the Middle Tennessee defense honest. Balance is a must for Miami to be successful in this game.
2. Block defensive end Jamari Lattimore.
That is no easy task. Lattimore was named Sun Belt Defensive Player of the Year after leading the league with 11.5 sacks and 14 tackles for loss. He also ranks third on the team in tackles with 64. Lattimore has good speed, and should be able to take advantage of that against an offensive line that has given up 34 sacks this season, one of the worst in the country. Left tackle Matt Kennedy is on the hot seat.
3. Intangibles.
There are a couple of questions for Miami headed into the game that have nothing to do with what will happen on the field. First, how will the team do with interim coach Lance Guidry on the sideline guiding the team? Mike Haywood is the coach who led this squad to the biggest turnaround in the NCAA this season, going from 1-11 to 9-4. But he resigned to coach at Pittsburgh and has since been fired following being arrested on a domestic violence charge. Northern Illinois responded with an interim coach at the helm in its win over Fresno State, so the same could happen here. Also, none of these players have been in a bowl game before, so it will be important for them to keep their poise early on this game.
January, 3, 2011
1/03/11
12:00
PM ET
December, 7, 2010
12/07/10
10:00
AM ET
Nobody pegged Miami to do much of anything this season, not after a 1-11 record in 2009 made them one of the worst teams in college football. But as the old cliché goes, that is why they play the games. From the season opener against Florida, you knew something special could happen this season. Miami challenged the Gators hard, and though the RedHawks lost 34-12, they came away with the sense that they could play with anyone. It helped that nearly the entire starting offense and defense returned, because those players had another opportunity to get better.
Zac Dysert
showed flashes as a freshman last season, and he put together a nice season before lacerating his spleen late and making way for redshirt freshman
Austin Boucher
.
Armand Robinson
had another good year at receiver, but
Nick Harwell
also emerged to give the RedHawks a powerful duo -- the two combined for over 1,700 yards and 11 touchdowns. But perhaps the biggest improvement came on defense, where Miami ranked No. 5 in the MAC. Defensive tackle Austin Brown emerged as a force, and Miami was able to put itself in position to make the MAC championship game with a win over Temple late in the season. After Ohio lost in the last regular-season game of the year, Miami went into the MAC title game as heavy underdogs but beat Northern Illinois 26-21 with 33 seconds to go. The win completed the best turnaround in the country this season as the RedHawks finished 9-4, making MAC Coach of the Year Mike Haywood one of this season's best stories.

Offensive MVP: WR Armand Robinson.
Tough one here, because Dysert, Harwell and RB
Thomas Merriweather
all deserve recognition. Robinson had 90 catches for 981 yards -- both career highs -- along with six touchdowns en route to second-team All-MAC honors.
Defensive MVP: DT Austin Brown.
A co-captain, Brown anchored the defensive line and had 10 tackles for loss and three sacks, and also was an All-MAC second-team selection. LB Evan Harris also deserves recognition for leading the team in tackles.
Turning point:
34-13 loss to Ohio on Oct. 23. Miami had the chance to get itself in the driver's seat in the East but lost. Instead of going in the tank, the RedHawks reeled off five straight wins, including a crucial 23-3 win over Temple in the season finale that helped get them into the MAC title game.
What's next:
Miami plays Middle Tennessee in the GoDaddy.com Bowl on Jan. 6 and will have plenty of returning players for next season. About 45 freshmen, redshirt freshmen and sophomores traveled to the MAC title game.
November, 17, 2010
11/17/10
2:31
PM ET
Being one of the nation's most improved teams is gratifying for Miami (Ohio) coach Mike Haywood. Being bowl eligible is even better.
But the RedHawks know they have to keep winning to improve their chances of making it to the postseason for the first time since 2004.
Miami (6-4, 5-1) enters its game against Akron (0-10, 0-6) tonight hoping to pad its bowl résumé and keep its MAC East hopes alive. The RedHawks are tied atop the division with Ohio, but the Bobcats hold the head-to-head tiebreaker. Miami has to win out and hope Ohio loses next week to Kent State to play in the MAC championship game.
If that does not happen, a bowl berth is in sight, but nothing is guaranteed. Non-AQ teams with winning records will no longer be given preference over .500 teams from the major conferences for an at-large berth. The MAC only has three guaranteed bowl slots, and those most likely will go to Northern Illinois, Ohio and Temple.
"We have a bowl banner that sits in the end zone, and I was looking out there and I realized we hadn't been to a bowl game since 2004. So it's really important for our program if we want to get back to the tradition of Miami football to get back to a bowl game," Haywood said. "But we can't take anything for granted. We have to go out there and get a win to solidify our bowl status."
So Haywood knows what's at stake. Unfortunately for the RedHawks, they are going to have to do it without starting quarterback
Zac Dysert
, who is out four to six weeks with a lacerated spleen.
Redshirt freshman
Austin Boucher
, who has thrown 14 career passes, will get the start. Dysert was hurt last week in a win over Bowling Green, but Haywood initially said it was a rib injury. Either way, losing Dysert is a big blow, considering he had a good chemistry going with
Armand Robinson
and freshman
Nick Harwell
.
Still, the fact that Miami made it to this point is impressive. The RedHawks went 1-11 last season, Haywood's first, and are tied with Maryland for biggest turnaround in the win column at plus-five.
It has taken a lot of hard work to get to this point off the field. Haywood said the top priority was to change the culture around the program, putting down strict rules for his players to follow.
"After the second week we were here on the job, I sat in my office and I told Bill Elias, my assistant head coach and recruiting coordinator, I said, 'Wow, I can't believe this place is as bad as it is,'" Haywood said. "We're in the process of changing the culture of the daily lives in which these players live, the way they dress, the way they attend classes, the way they handle themselves as men, making sure they're living a quality life and it's starting to carry over in football. We still have a long ways to go."
When asked to elaborate on just how bad the situation was, Haywood said, "The first day that students got back, we had our meeting to implement rules and regulations. We had nine violations on the first day. On the first weekend, several people had altercations uptown. This went on for two or three weeks. We had to lead with an iron fist."
Haywood estimates he lost between 25 and 30 players from the team that first year. But now, he is trying to lead a little differently because his players know what to expect.
"We're trying to loosen up the reigns a little bit to let them develop into men," Haywood said. "I'm 46 years old, and sometimes my dad doesn't allow me to grow up. If there was anything I could change about my father that would be it. We're in the process of giving them more freedom."
And getting them back to respectability.