NCF Nation:

Arryn Chenault
March, 25, 2011
3/25/11
4:00
PM ET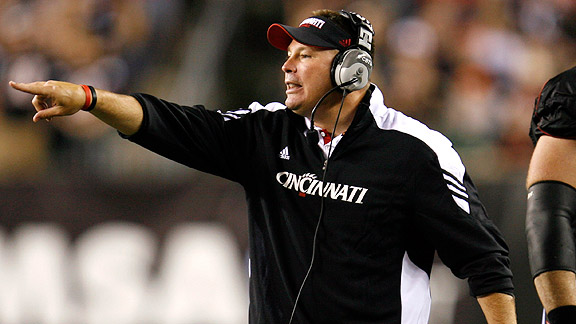 Jim Owens/Icon SMIButch Jones hopes a productive offseason will translate into victories on the field in 2011.
Cincinnati coach Butch Jones will kick off his second spring practice with the Bearcats on Tuesday, looking to improve upon a disappointing 4-8 debut campaign. I caught up with Jones to preview the spring, and here's Part I of our conversation.
After the rough year in 2010, how are the players' attitudes heading into the spring?
Butch Jones:
I've been very pleased. I think we've had a very, very productive offseason. I've liked our leadership, and that's the biggest thing -- teaching our players about leadership and team unity. We've talked about each day is a different challenge. Each day you've got to win the day. We've talked about how before you can even be in contention to win a championship, your team has to be comprised of individual champions. Yesterday our winter quarter grades came out, and we have 83 players, scholarship and non-scholarship. We had a 2.9 GPA, which is very impressive. So they've answered that challenge, and they've answered the challenge in the strength and conditioning area. And now we need to answer the challenge for spring football.
It's the second year for your system now, and your entire coaching staff returns. How much positive impact will that have?
BJ:
You win with continuity. At Central Michigan, we were very fortunate to keep our coaching staff intact. This year was extremely challenging, because we had four staff members be offered other BCS, high-caliber, high-profile jobs. And all four stayed. I think that speaks volumes about how they feel about the direction of our program and our players, loyalty, all that stuff. You look at what our defensive players have gone through, with three defensive coordinators in three years, and I'm just a firm believer you win with continuity. Everyone knows what's expected. That's been a huge benefit this offseason.
Looking at your defense, you have all 11 starters back. But the defense obviously struggled last year. So do you look at it as a good thing that every starter is back, or that there needs to be some major change there?
BJ:
The key there is, we can't just be older; we must get better. We have to take major, major strides on that side of the ball. It comes first and foremost with a physicality and presence, and we've got to get much more tougher, much more physical. When I say tougher, it's both mental and physical. It's being able to handle sudden changes, it's creating turnovers, it's third down and getting off the field. So there's so much that goes into improving the defense and making us a better tackling team. This spring is going to be very, very physical. We're going to challenge them as we did in our winter conditioning.